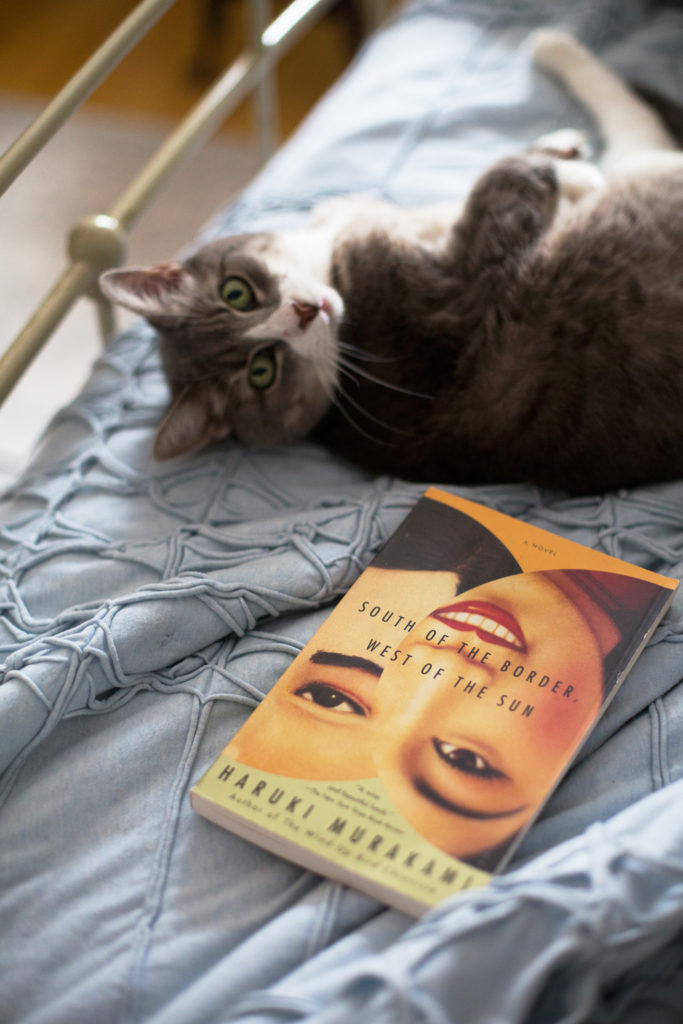 It has been a whirlwind eight weeks for your friendly, neighborhood moonspinner. Full of honeybees and citrine, the dreaded tax season, untimely illnesses and cat snuggles. So as you can tell, some ups and downs. But through it all, I continued to work on this batch for you, part II of the Honeybee Collection. And in the end, this next offering boasts an even 100 pieces!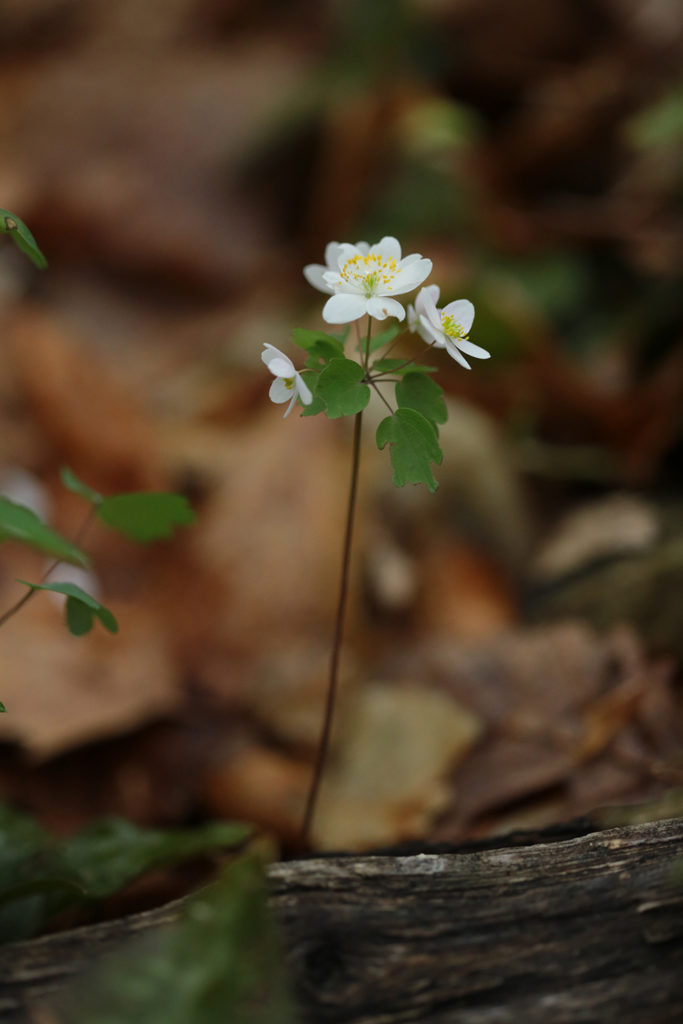 Everything previewed here will go live in my Etsy shop tomorrow at 3 p.m. EST as planned.
However, as I have mentioned elsewhere, I am planning on trying out a webstore here on my website. There are a few designs I haven't shared with you yet, and I will be saving those for some surprise updates on the webstore I have been working on.
So after April 28th, I will be posting on Instagram with a handful of surprise Honeybee updates! I have chosen one ring design, a few necklace designs, and one cuff design to hold back from the regular update. But I will wait to share photos of them until the times of their debuts.

Anyways! On to the preview for tomorrow's regularly scheduled collection release.

————————————————————–
Apiary Rings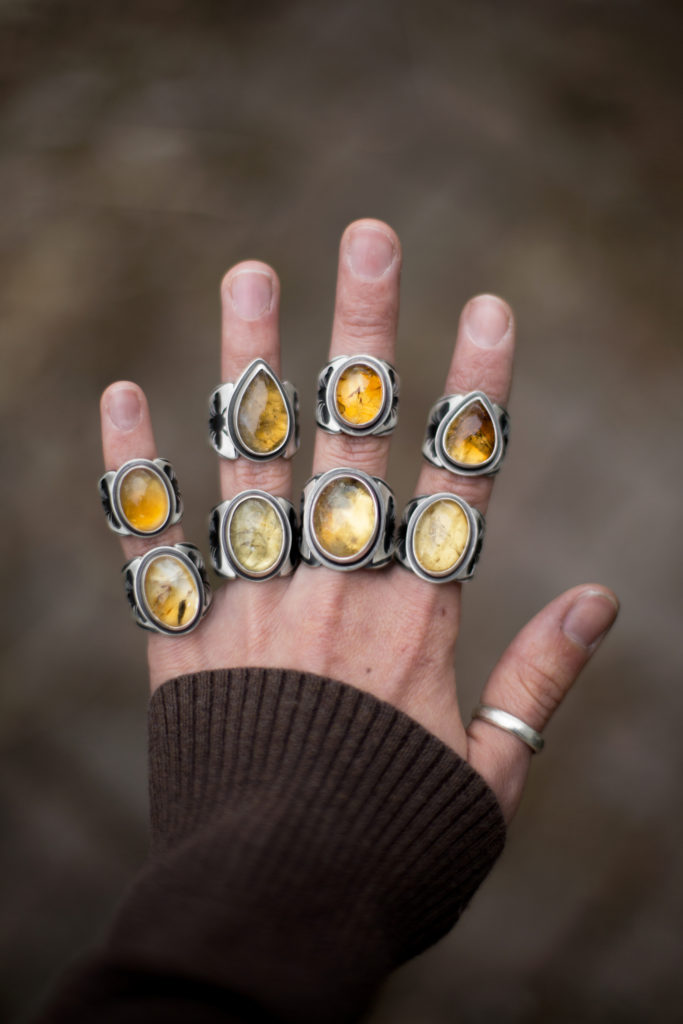 The first of two repeat designs for this collection release is the Apiary Rings. After Part I of this series, so many people contacted me about missing out on these. So I pulled every single ring-sized citrine I could find in my studio.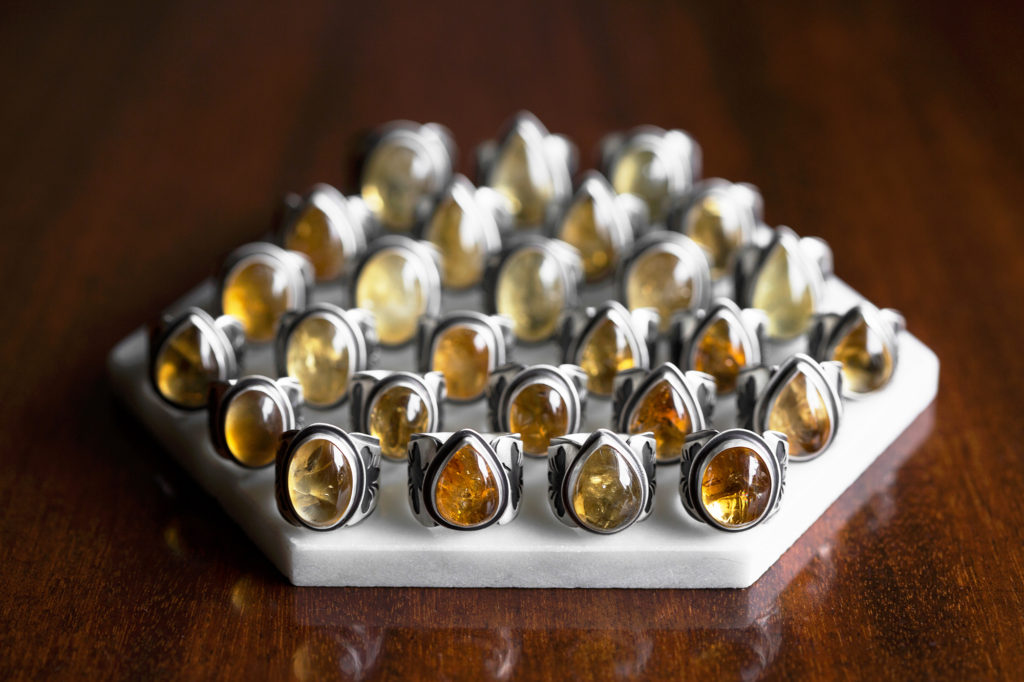 To make this batch, it took over a hundred hours of finger-numbing, wrist-aching work. These are not cast, so each band and every bee silhouette were shaped and sawn one by one.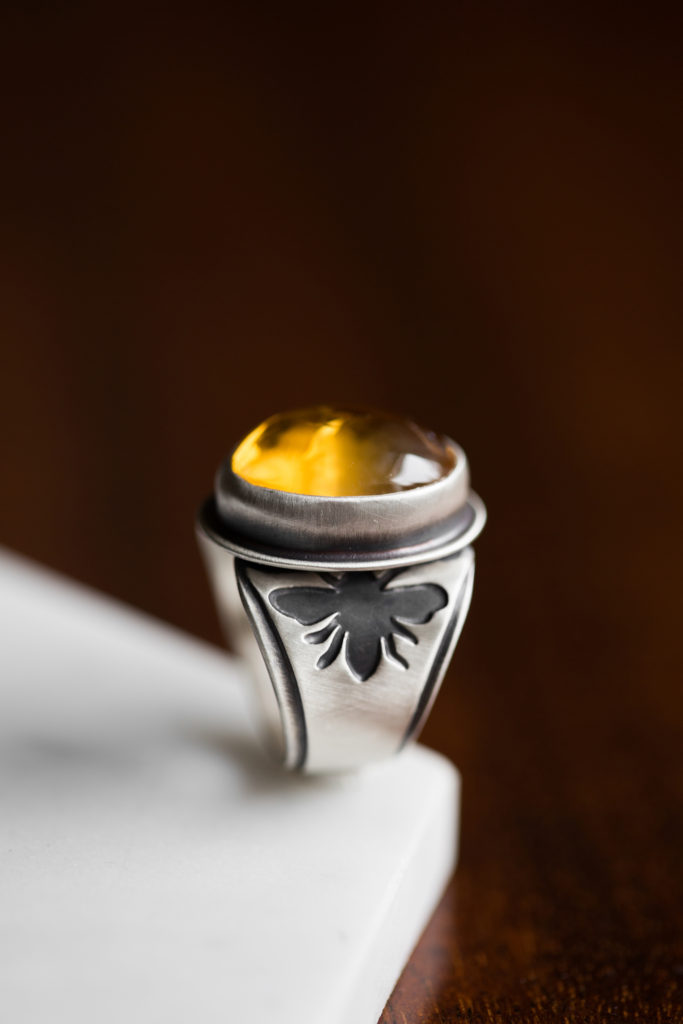 And the result of all that work: a few dozen little cups of citrine honey with two little honeybee silhouettes in either side of each double-layer sloping band. This is the last batch I will be making of these rings for quite some time. I have spent so many hours in recent weeks with them, it is a little bittersweet tucking the design away. But, I have used up all my citrine, so there's no turning back now!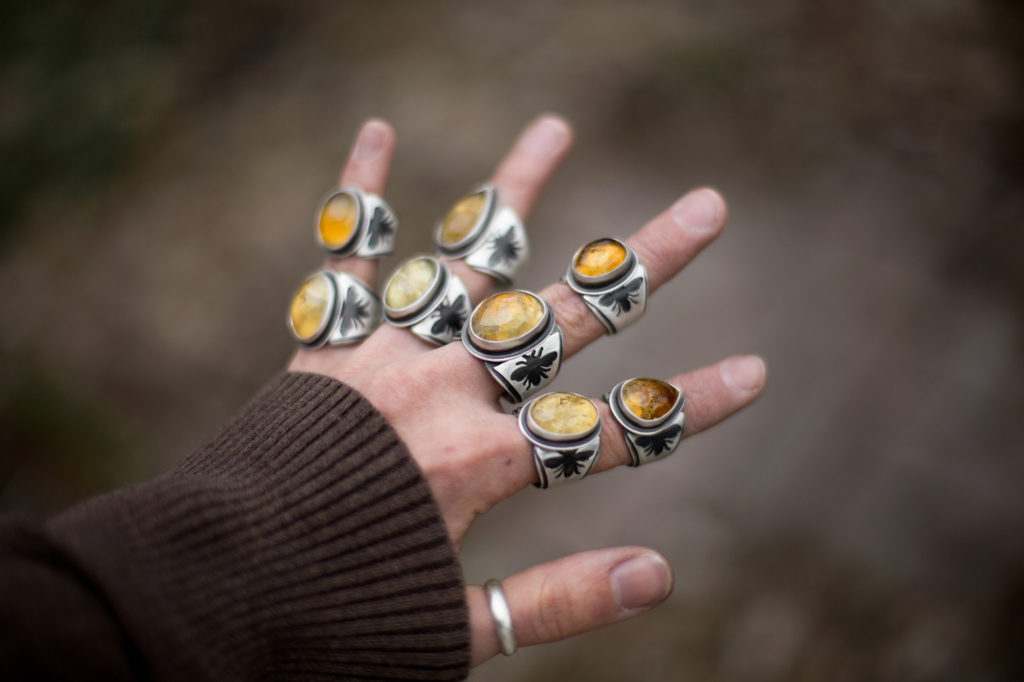 They sit so well upon the hand, and I am convinced they can call the honeybees from their hives.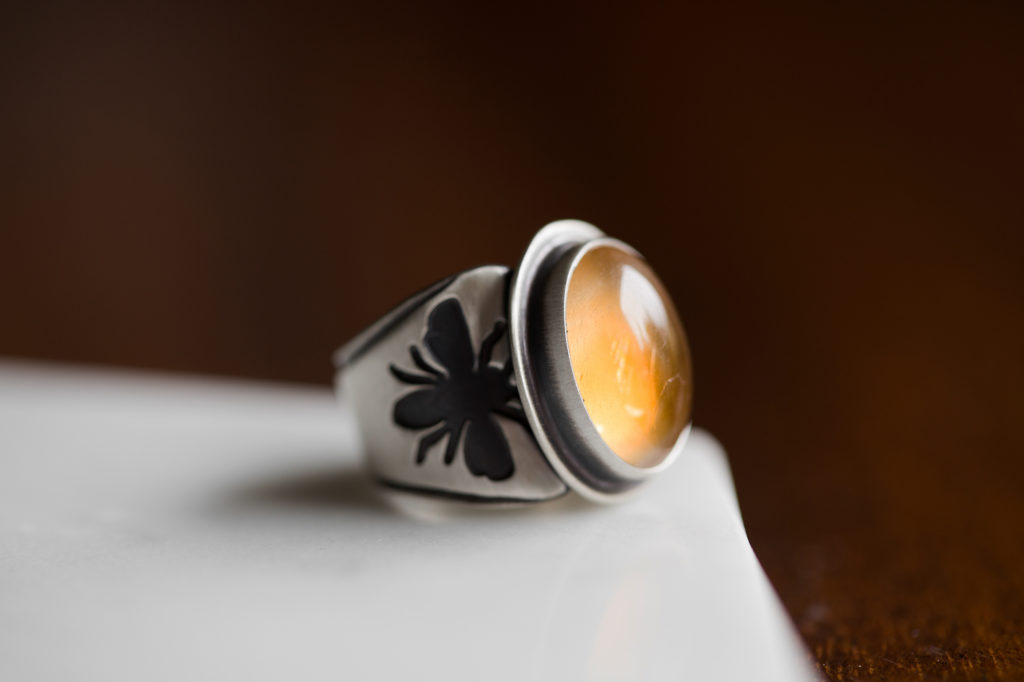 If you are planning to try to scoop one up, remember to look for a ring sized at least half a size up from your regular size. I list the rings as they measure on the mandrel, but since these have wide bands they will fit snug. For example, if you normally wear a size 7, look for a 7.5 or 7.75.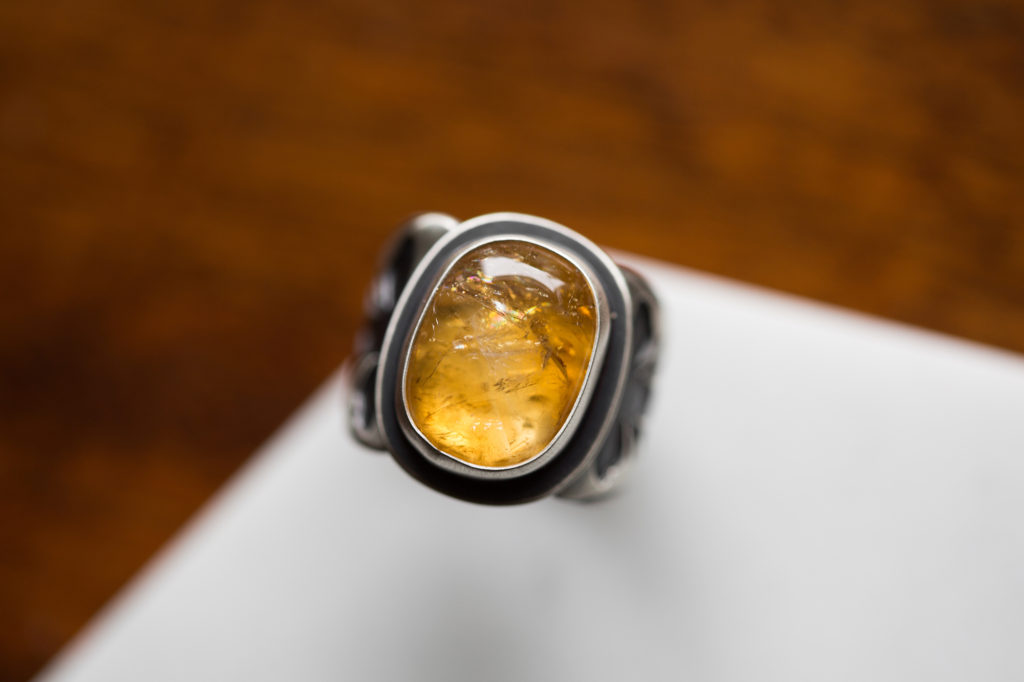 Queen Bee Necklaces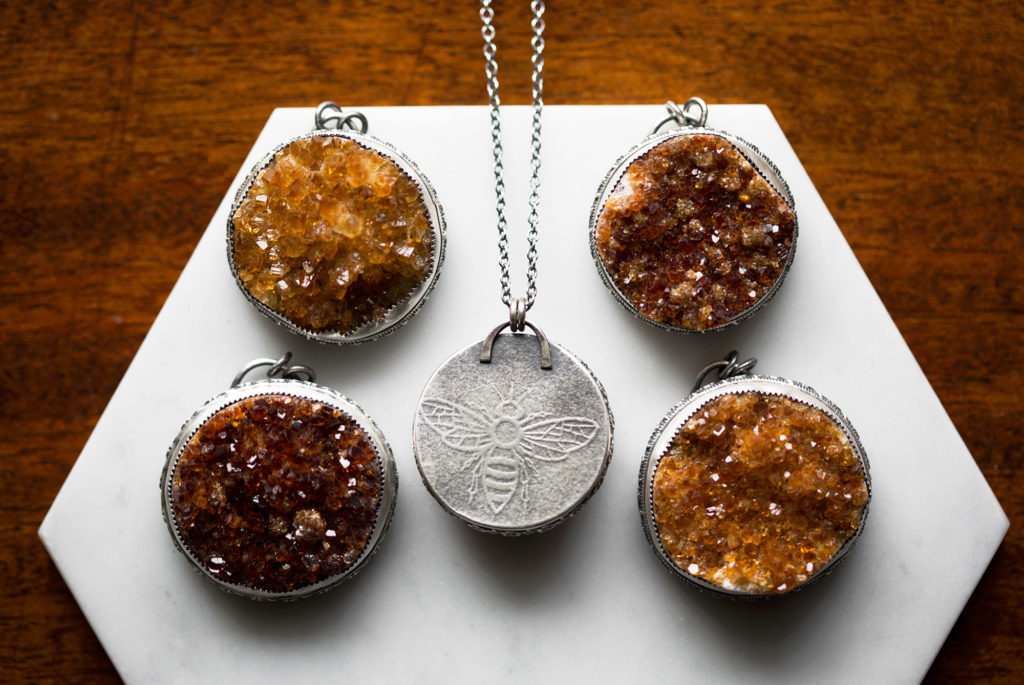 The other design repeated from Part I, the Queen Bee necklace. Let me explain how I ended up making five more.

I am a bit of a gemstone squirrel. I tend to sort stones into little carnival glass dishes and salt cellars scattered around the studio, which means that every now and again I will come across a stash of stones I didn't know I had. And that is what happened with this surprise repeat design. I found a little orange dish with five perfect stones, and I knew I had to offer them up for you.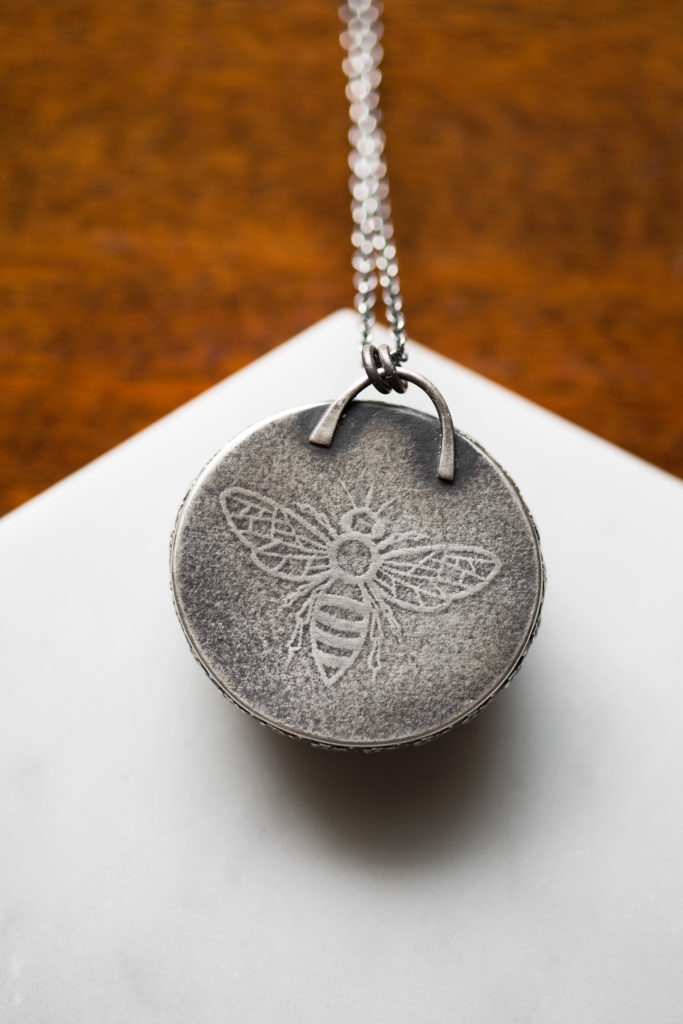 And so here they are, five more Queen Bee necklaces. The grandest design in the collection. These necklaces are comprised of freeform, round heated citrine druzy clusters set inside floral borders. The backs of the pendants feature the impression of a large honeybee, the only design in the collection with this detail.
Large and bold and crowned with a circlet of flowers, like the queen bee herself.
Tending Necklaces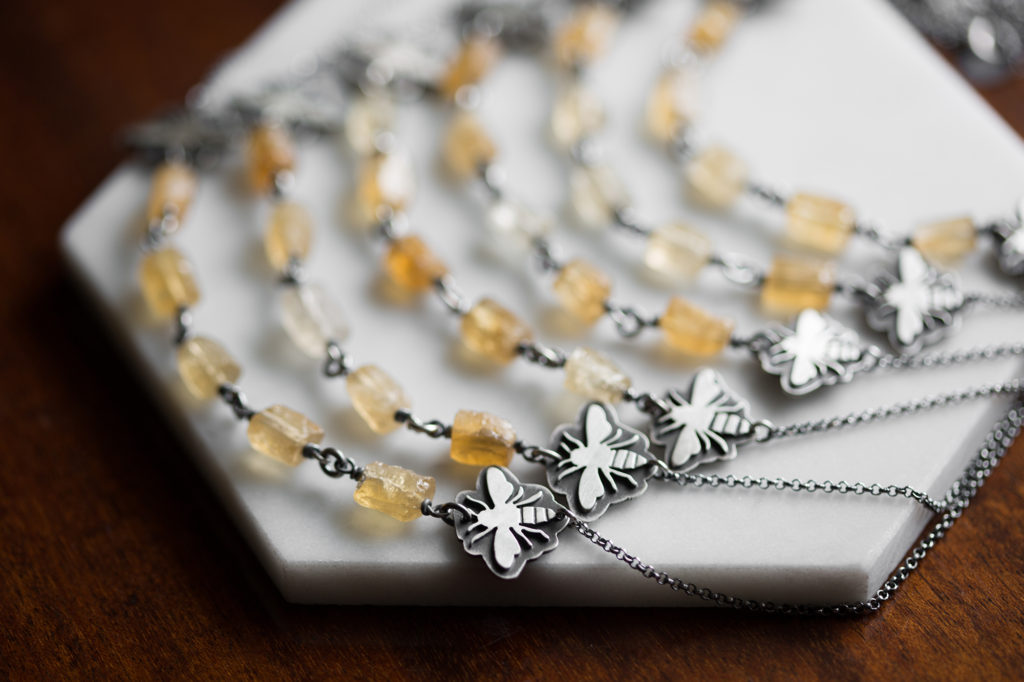 For a long time I had been wanting to design a necklace that felt reminiscent of an old-fashioned cloak clasp. When ladies and gents of yesteryear would wear cloaks, they would put a pin on both edges of the cloak below the neck, and the pins were connected by a chain. This would keep the cloak on the shoulders.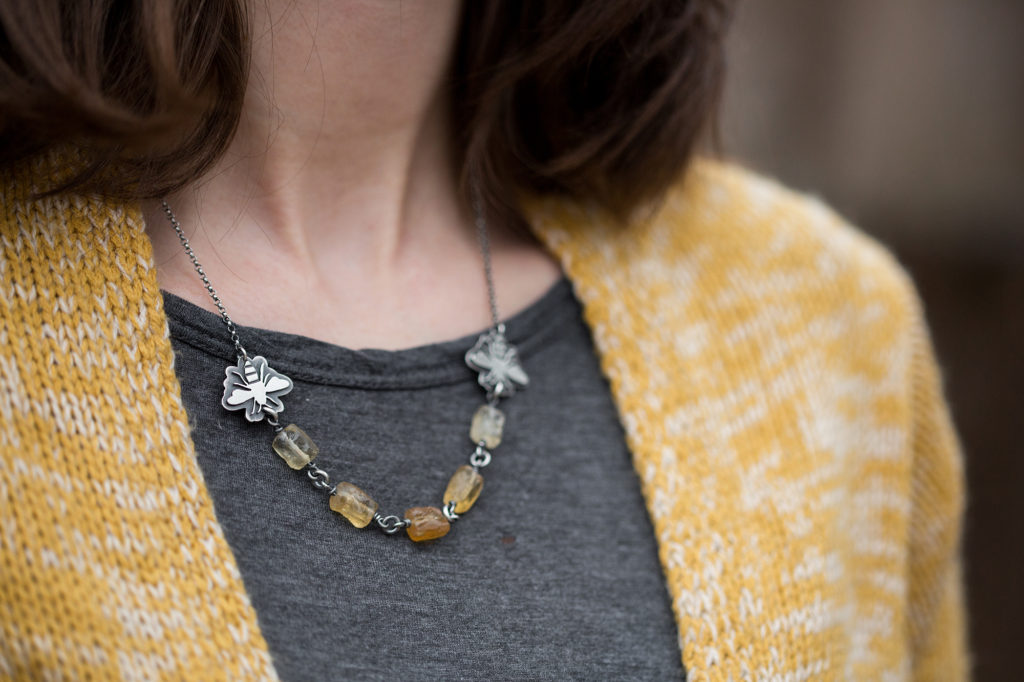 And this is my necklace that echos that shape, the "Tending Necklace." Each necklace features two swooping honeybees reminiscent of cloak pins, and a gradient of rough citrines to comprise the "chain."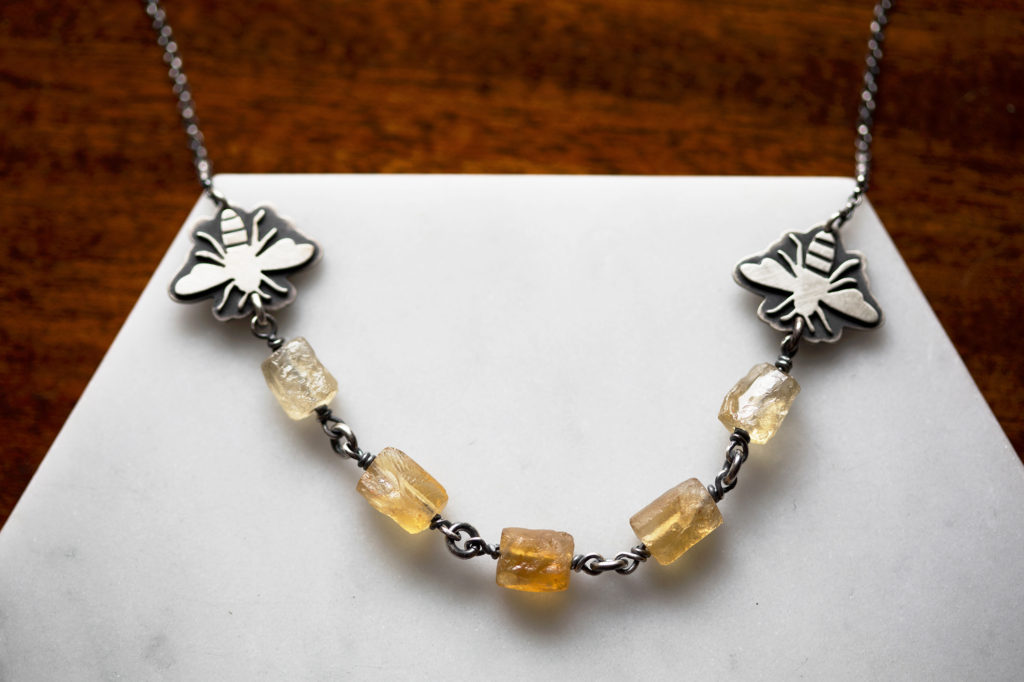 In my mind, I designed this for dedicated beekeepers and early spring gardeners, trudging through muck and detritus to check on sleeping bees or sprouting bulbs with a cloak over the shoulders, because not even the rain could keep them from that which needs tending.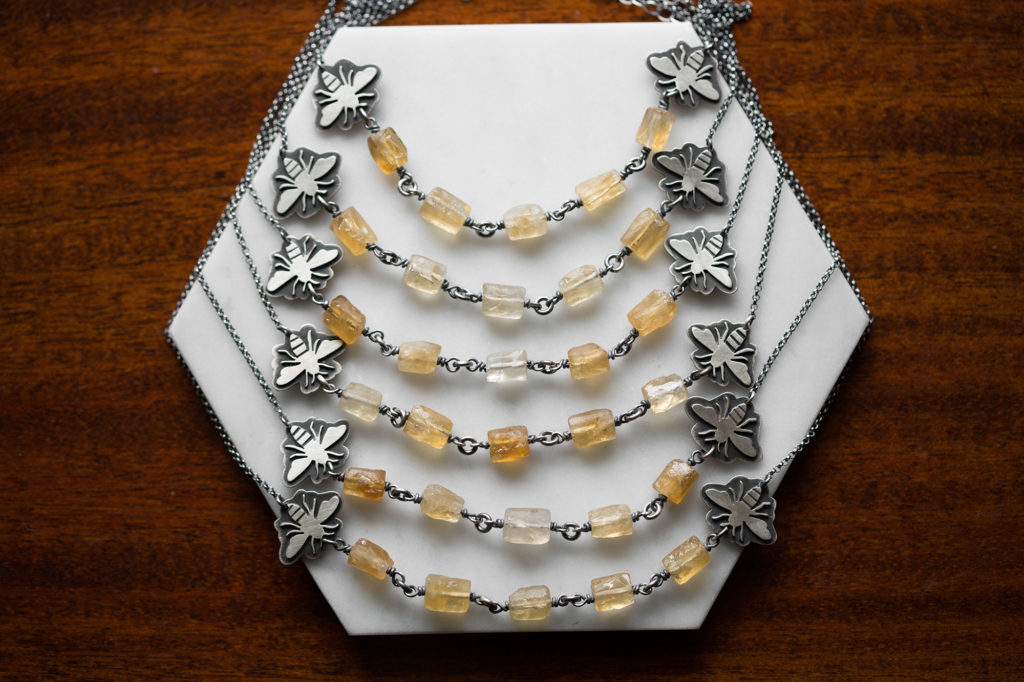 Bee Bloom Earrings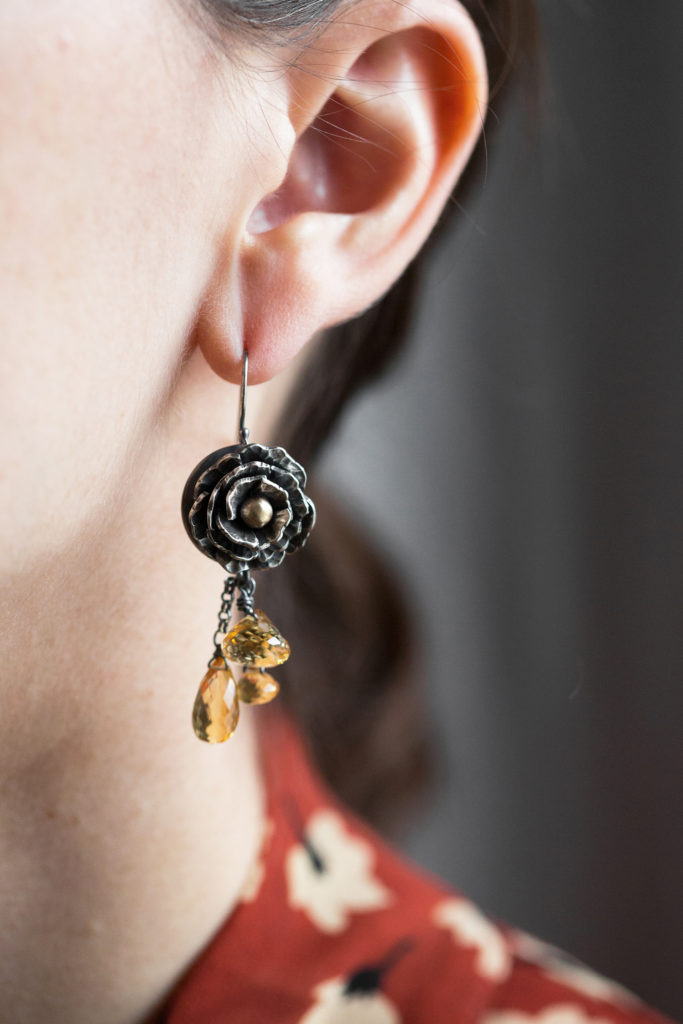 So many people contacted me asking if I would be making any dangle earrings. And so I have!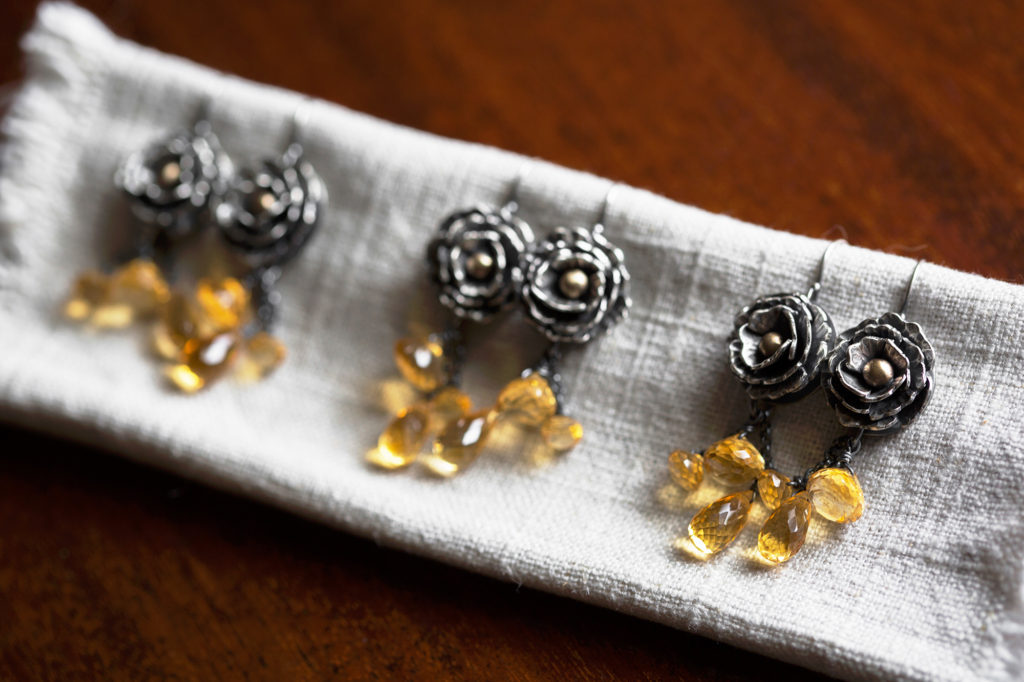 I made just three pairs of earrings, and they are the sweet, tinkling kind for wearing in a breezy, sun-warmed garden. Droplets of citrine honey drip below hand-forged ruffly roses, carefully constructed petal by petal, with brass pollen centers.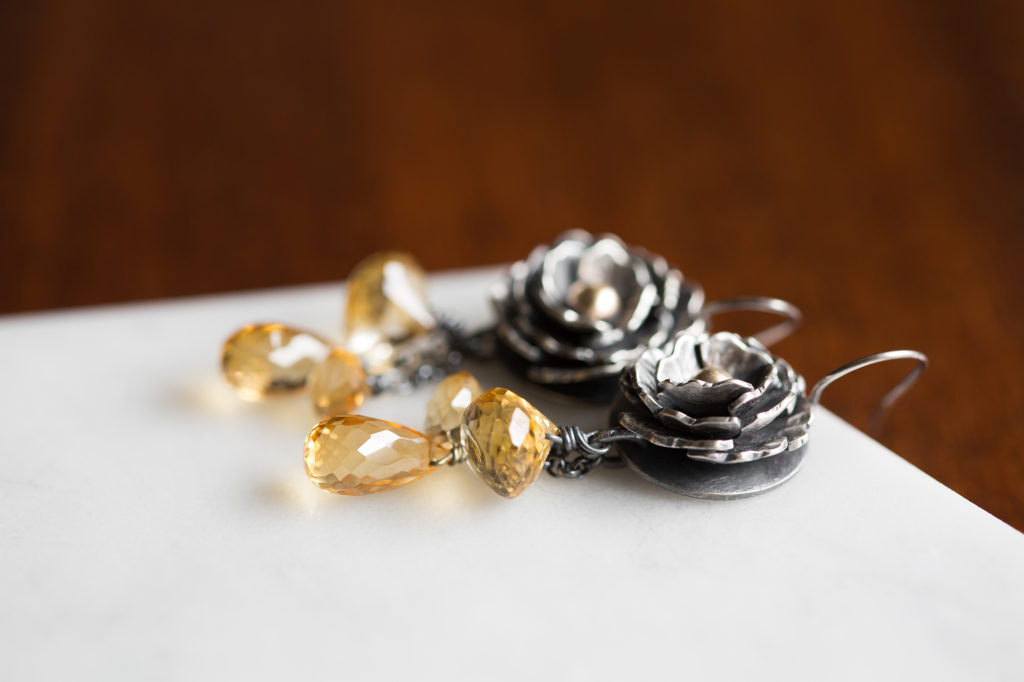 Bee Bloom Rings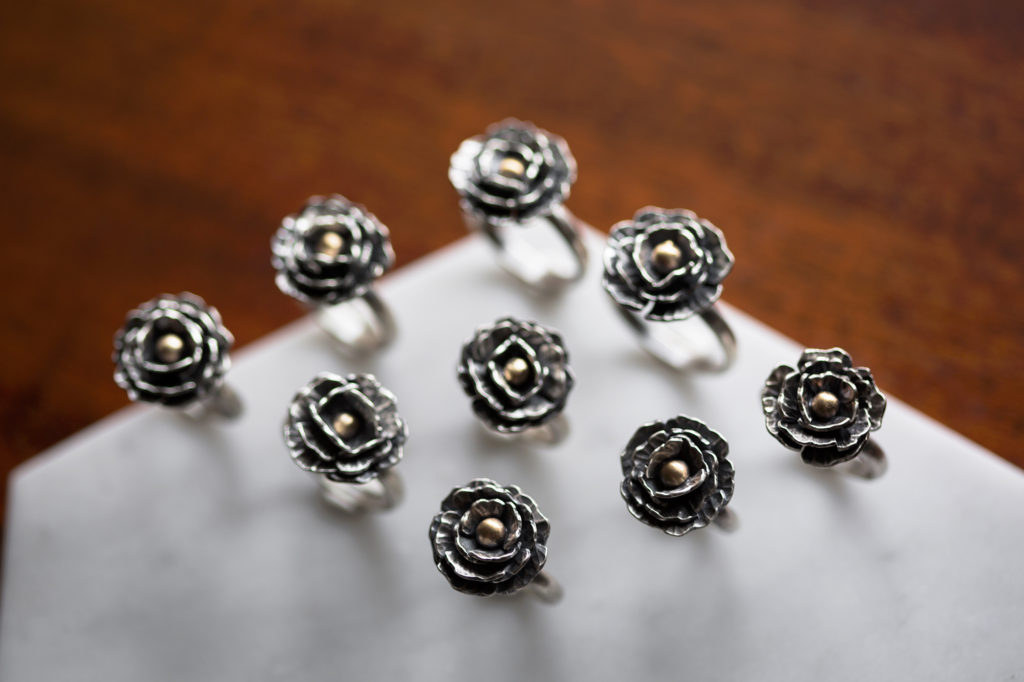 For this collection release, I also picked you a handful of roses.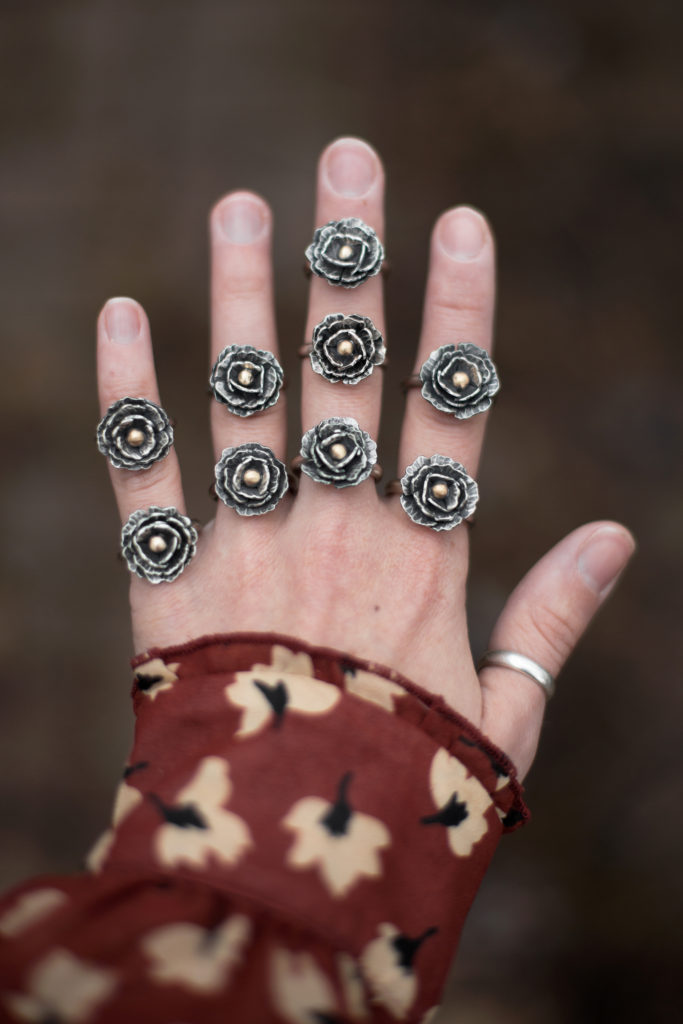 Carefully forged sterling silver flowers with brass pollen centers.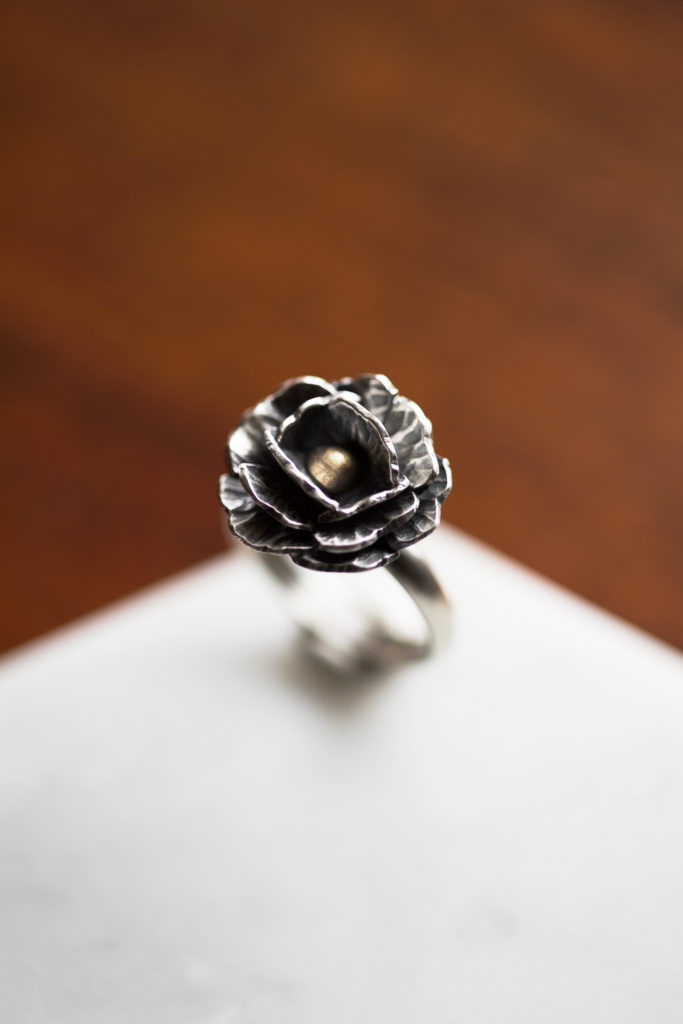 Rings for calling the bees.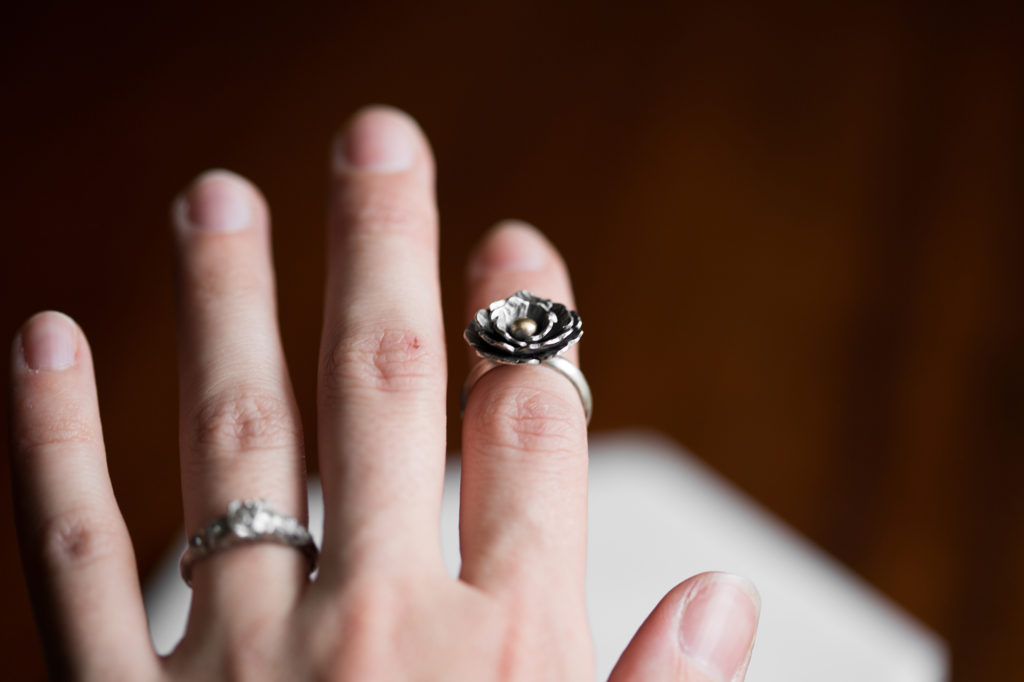 Wild Hive Necklaces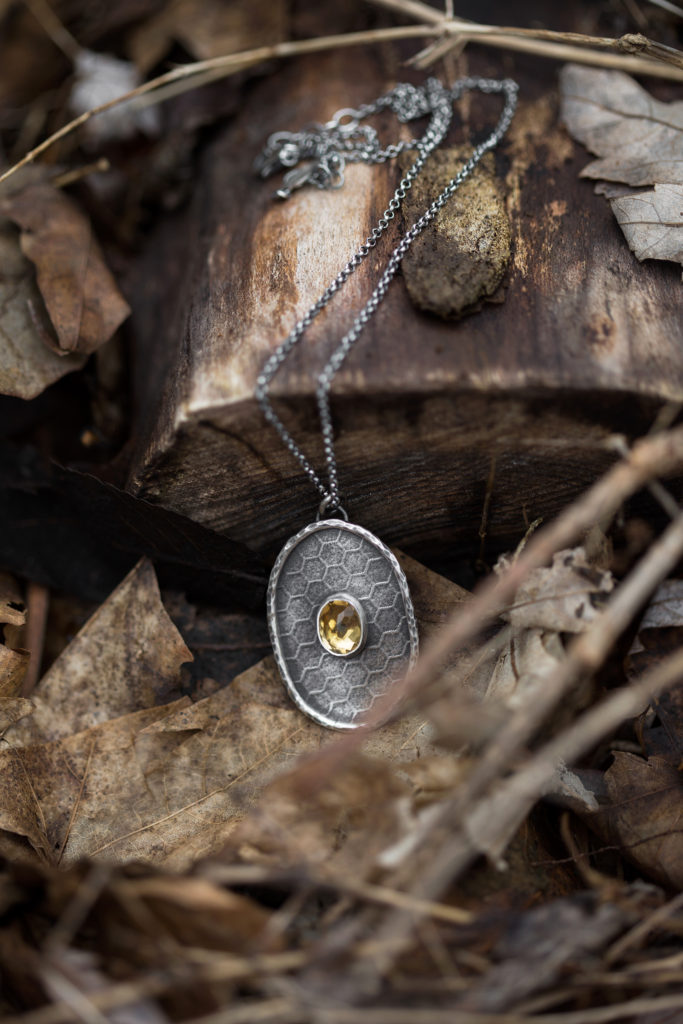 A few months ago when I was telling you about my experiences with bee lining with my fella, and idea for a design struck me. While imaging all the wild honeybee hives tucked into craggy mountain cliffs and held by gnarled trees, I thought of this piece.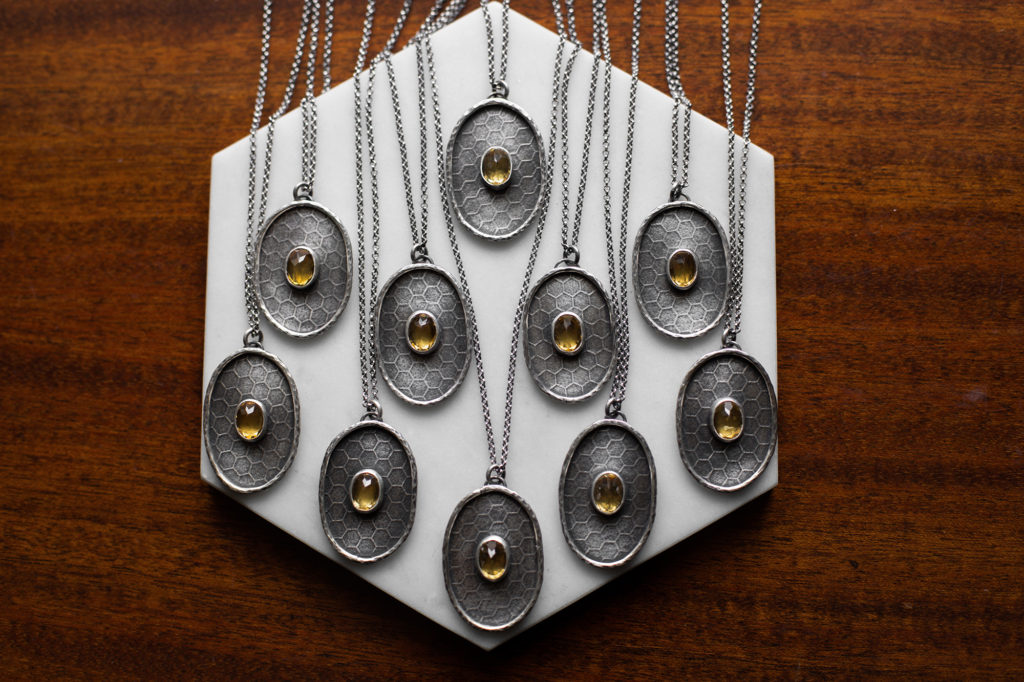 It features a sparkling faceted citrine like droplet of honey, set atop a honeycomb patterned base, all of which is being held by a hammered branch border. Like golden treasure hidden by bees, tucked away in the forest, encased in silver and oak.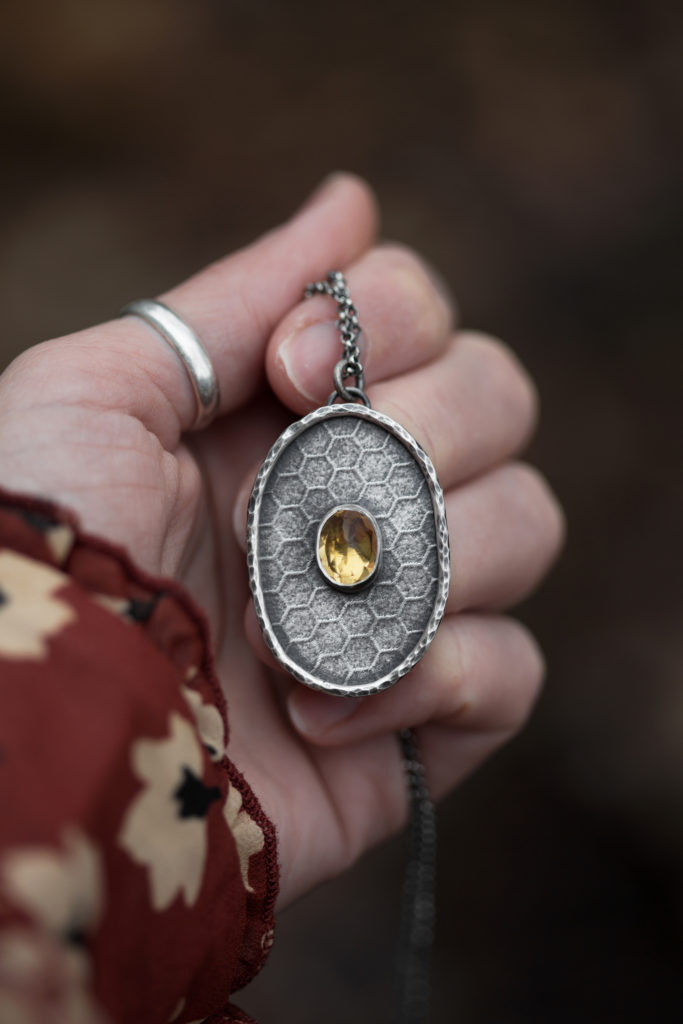 My talisman for finding the quiet, secret places of the wild bees. Never to disturb, only to observe.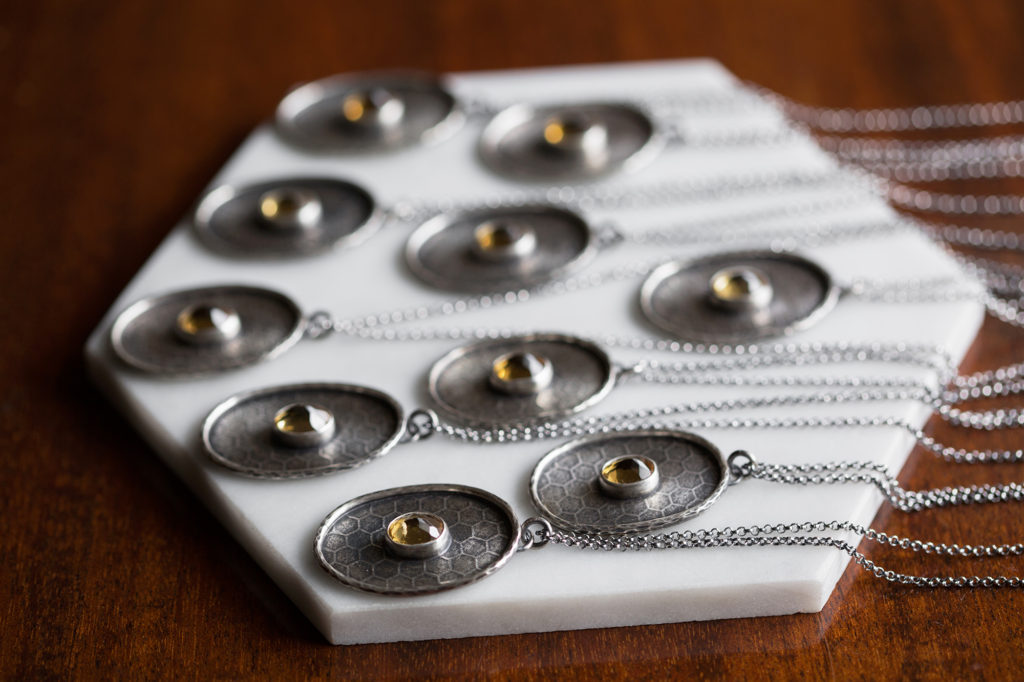 Solitary Bee Necklaces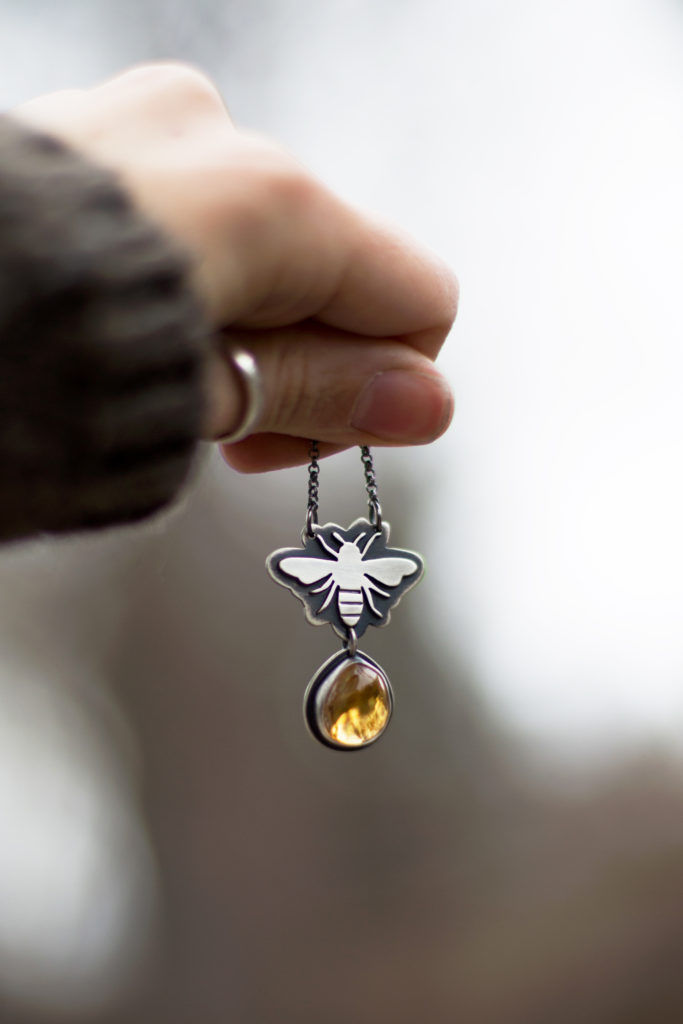 A single, bright honeybee set above a smooth cupful of honey-colored citrine. In the backs I have sawn little hexagon windows to let the light through, like a little honeycomb cell full of glowy orange citrine.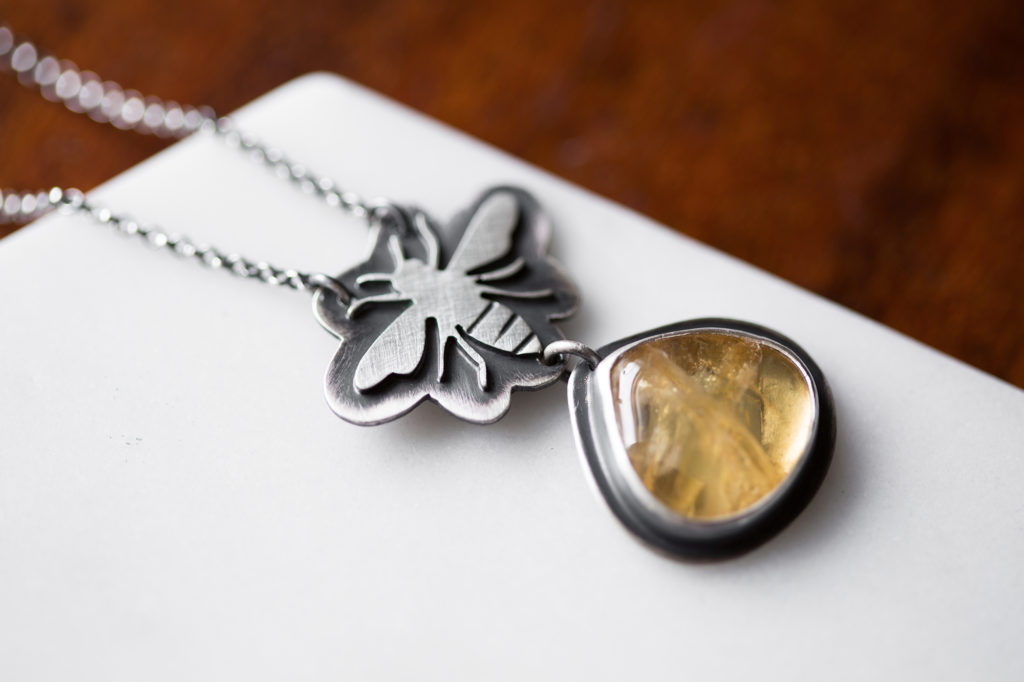 Little worker bees gathering up the warmth of summer into a honeycomb cell's worth of citrine. Perhaps the most lightweight, every-day designs in tomorrow's release.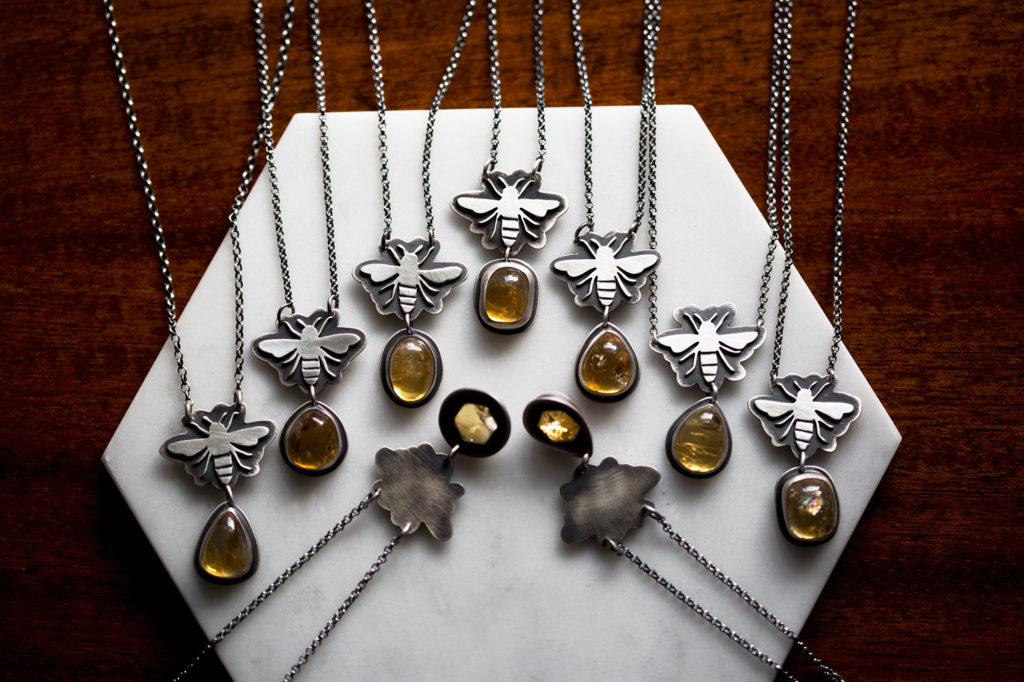 Simple and straightforward, a necklace meant for a bustling beekeeper who always wishes to keep a honeybee close by.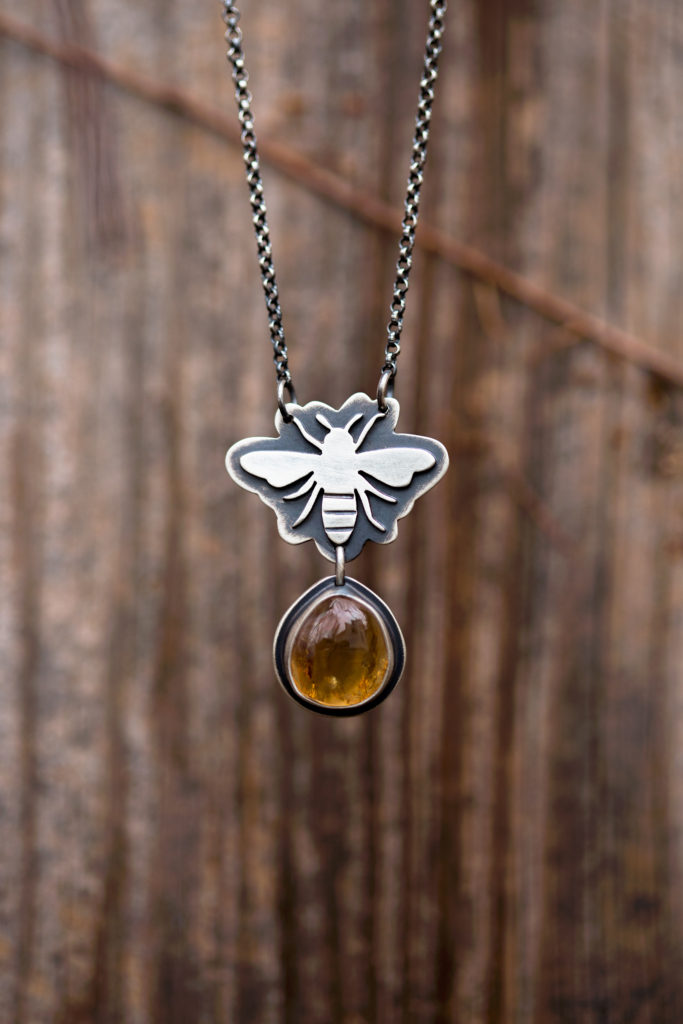 Midsummer Necklaces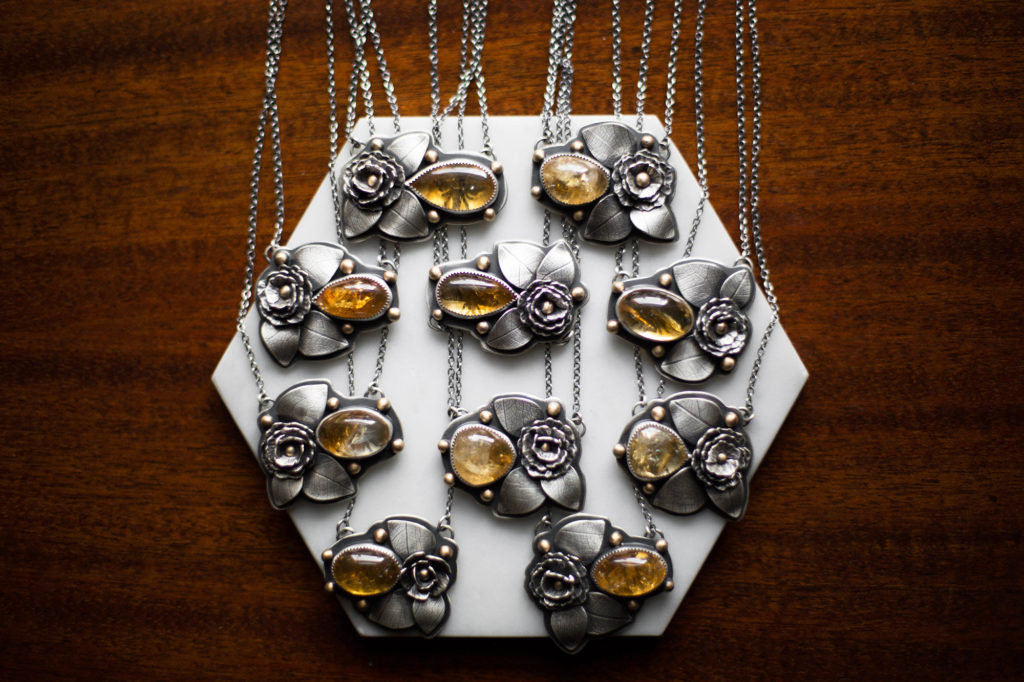 Each of these Midsummer Necklaces has a unique gemstone focal surrounded by a swirl of summer.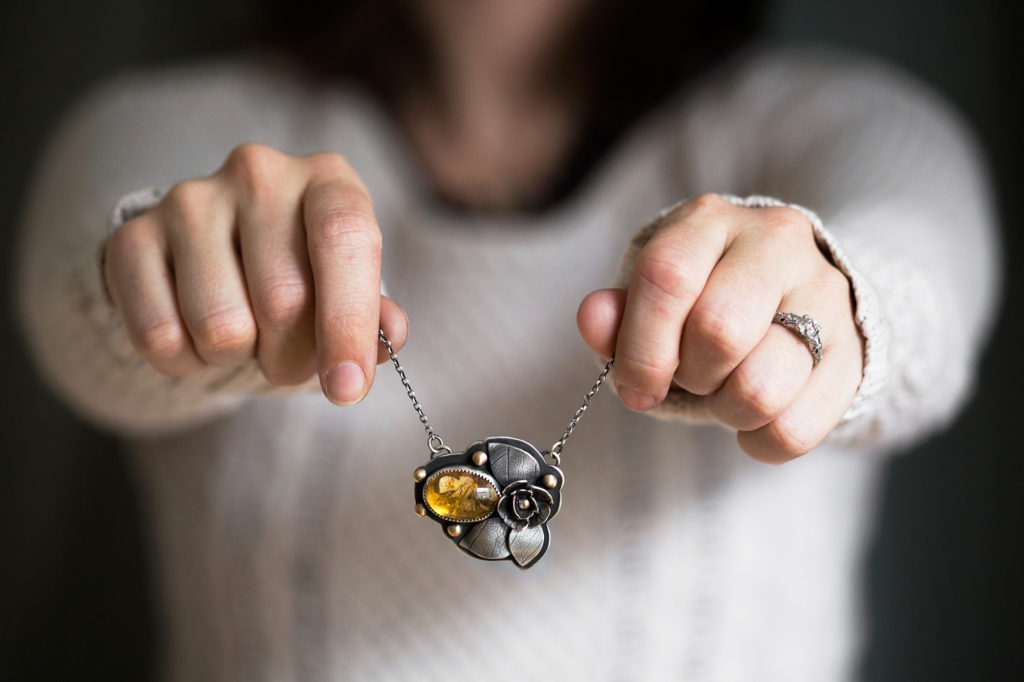 Leaves with the patterning taken from once-living leaves, little brass pollen granules floating on the breeze, hand-forged ruffly roses blooming all at once, warm citrine gemstones heated to the color of orange blossom honey, and tiny honeybees on the back made of light and citrine.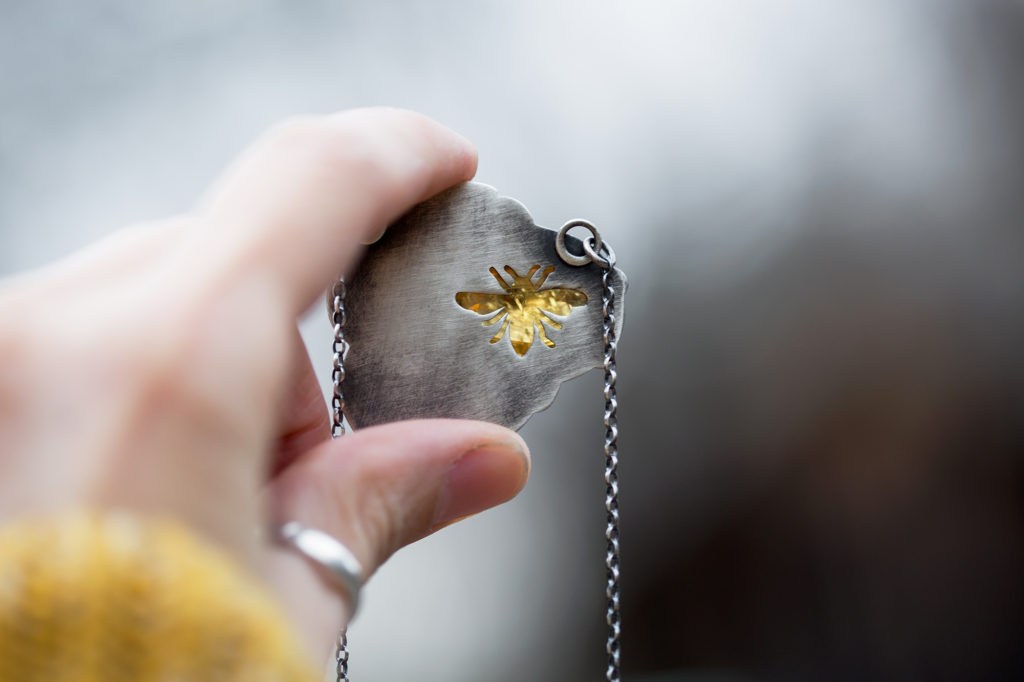 The most detailed and work-intensive design in the entire collection, these necklaces are like little slices of summer you can wear about the neck.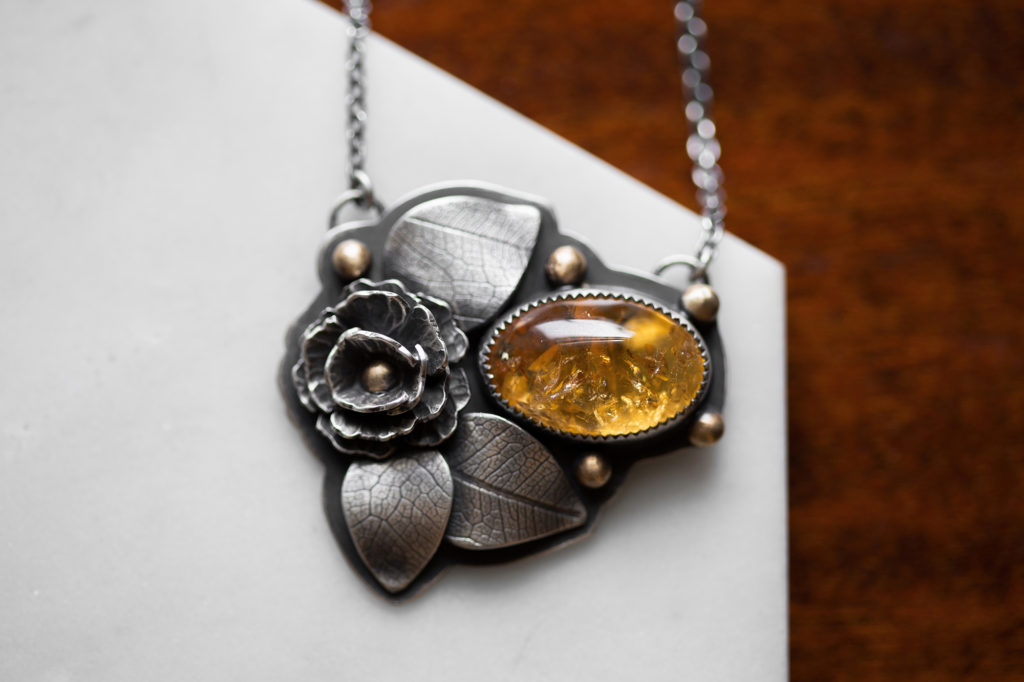 And there you have it! Everything which will be in tomorrow afternoon's collection release.

Everything will land in the Etsy shop at the same time at 3:00 p.m. EST.
—————————————————————–

A few things to remember if you plan stopping by the collection release:

🔸 This is the last of these particular designs for a few years. I am actively using up the very last of my citrine/yellow amethyst for this offering and what few stones I have left are reserved for a few designs in progress. So if one of the designs I have shared has been calling to you, be sure to stop by tomorrow's update because I won't be able to make more.

🔸 Make sure you look at all the photos of the pieces you are looking to purchase, because I try to photograph these pieces from every angle, in my hand for size reference, and in natural light, so you can see exactly what you will receive. I want you to be sure you are purchasing the perfect pieces!

🔸 That being said, an item isn't "yours" until you complete checkout. Meaning that other people can purchase items you are looking at, or that you even have in your cart. Unfortunately, this is an Etsy feature that I cannot change.

🔸 My advice is to decide which piece you want the most, complete checkout with that item first. And then go back for the other pieces you want. Checking out separately allows you to claim your pieces more quickly, and you have less of a chance of a piece being scooped out of your cart. I will refund any shipping overages in the following days!

I wish there was a less hectic way to do this. My number one priority is that it is fair for everyone, which is why I don't take reserves, but it does make for a rather stressful shop update.

That being said, I hope you are able to claim any pieces that have been calling to you!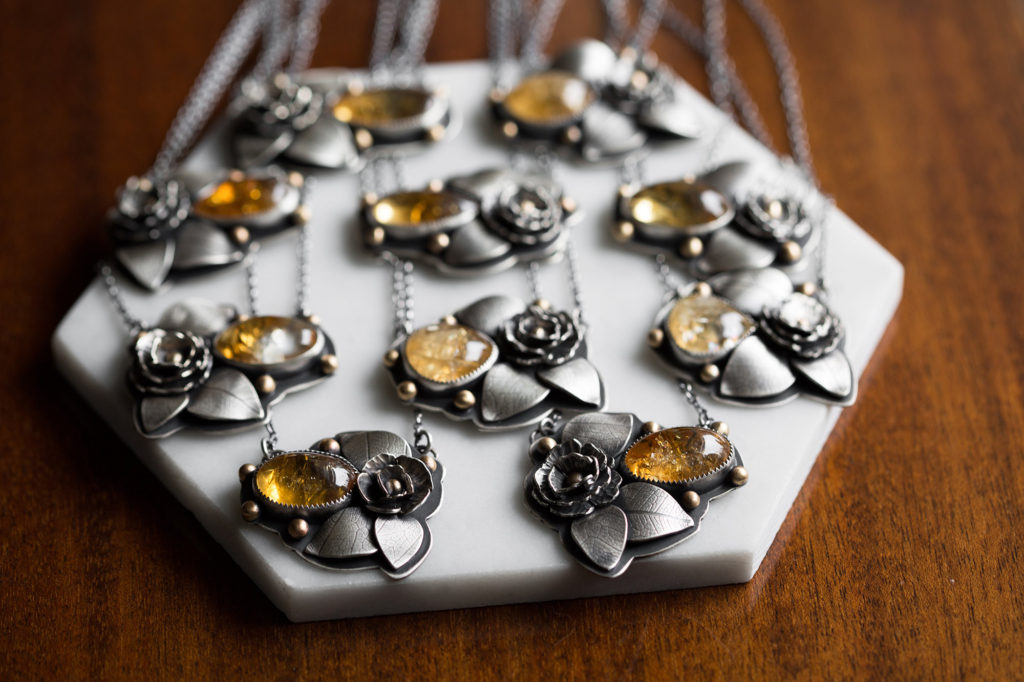 See you at tomorrow's collection release, all you bee-charmers and garden-walkers!