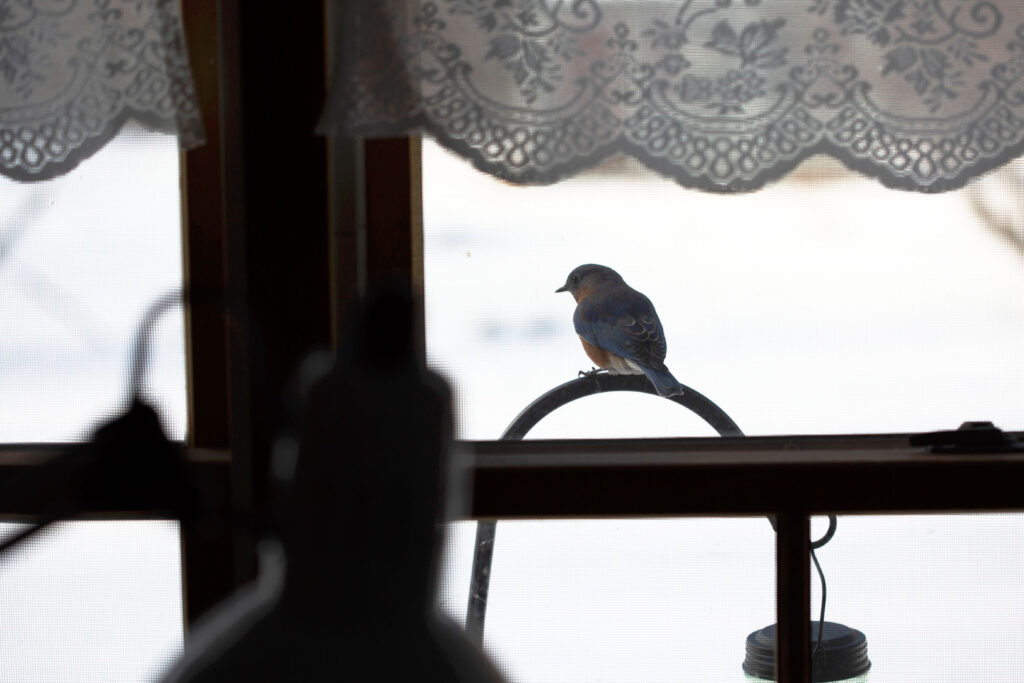 The third preview for Part II of the North Wind Collection,
brought to you by the sweetest little Eastern Bluebird!
(He was too beautiful not to share, even though this picture is terribly dim!)
---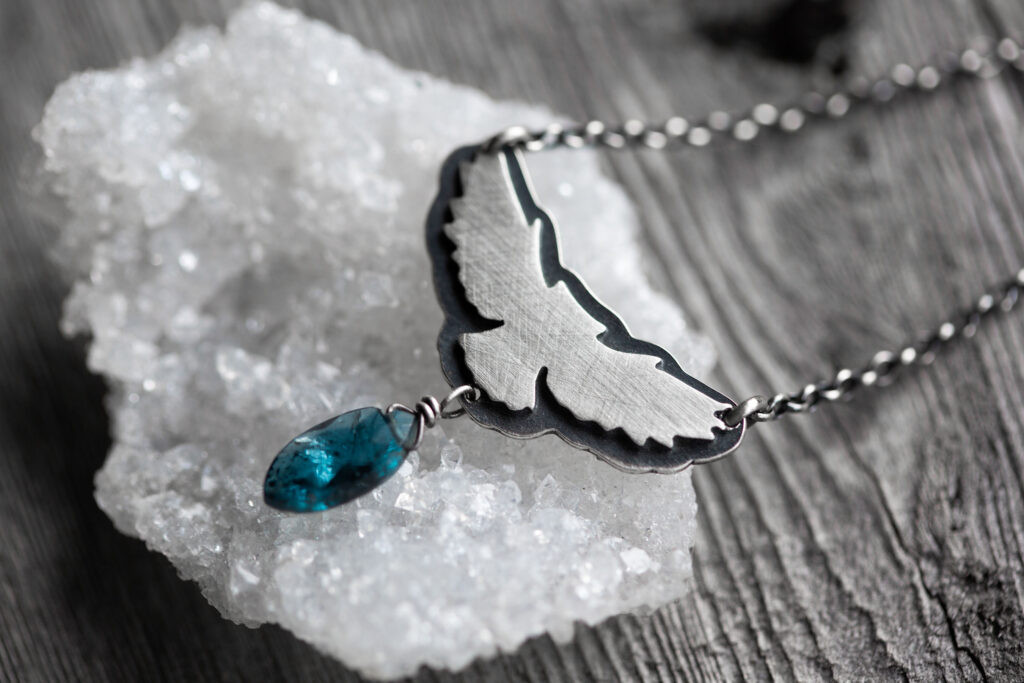 December Flight Necklaces
There will be 30 of these necklaces available.
Price: $110 per necklace.
Pendant measures about 1″ (25mm) across.
Comes suspended from an oxidized sterling silver chain,
adjustable between 14 – 17″.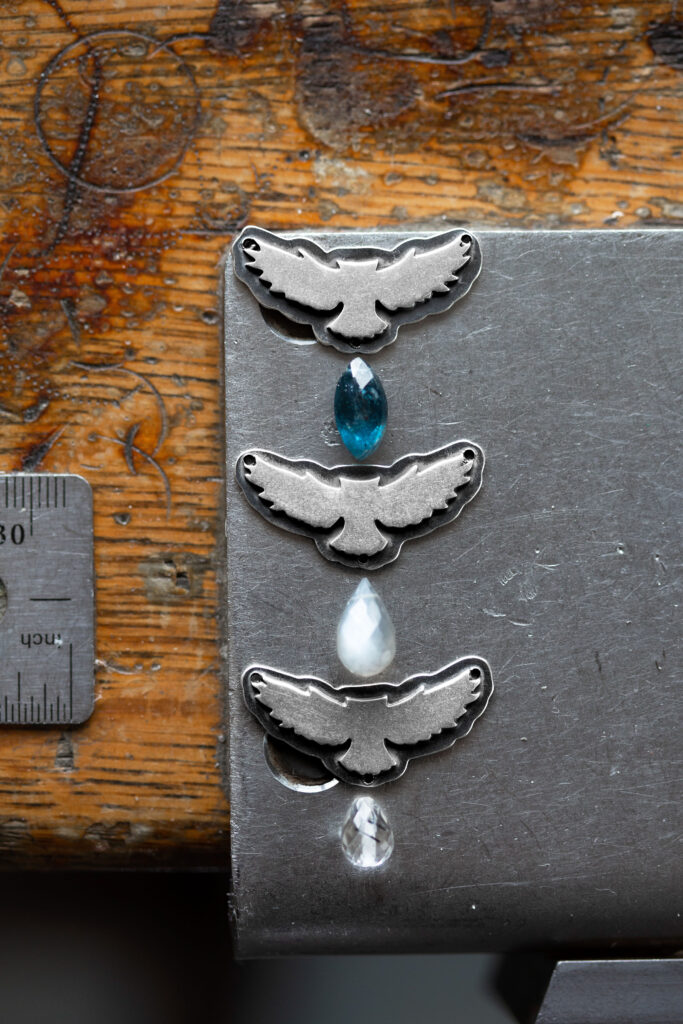 When I finished the December Flight Necklaces, I decided to include at least a few of each gemstone. Marquise-cut teal green kyanites, shimmering gray moonstone teardrops, and rutilated quartzes with the tiniest, most sparkly micro-facets.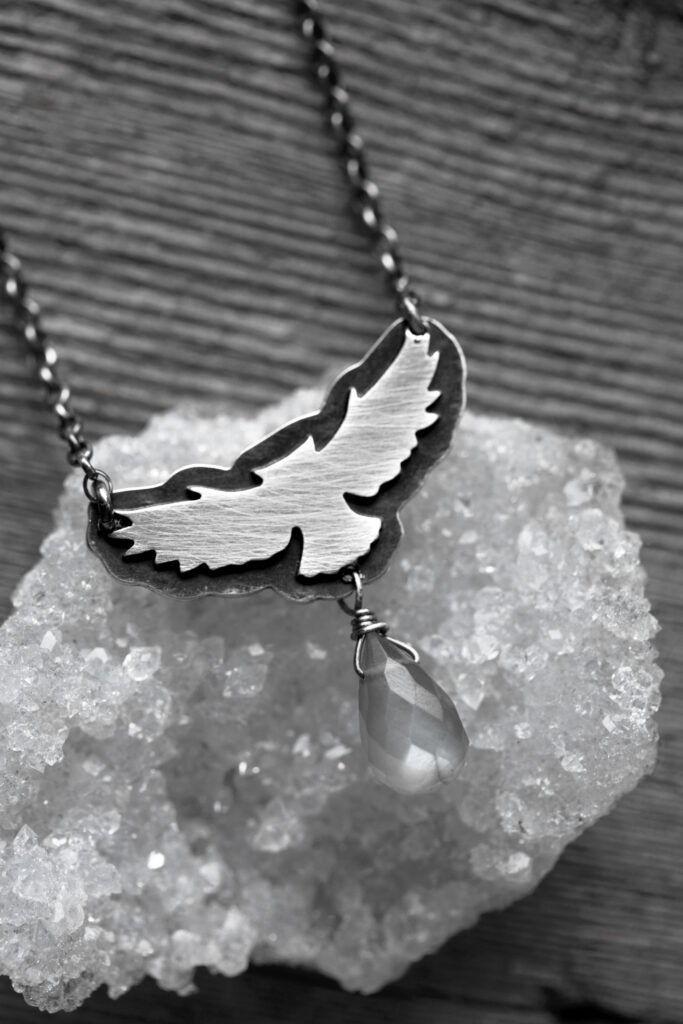 There will mostly be teal kyanites, but for those who fell in love with either the gray moonstone or rutilated quartz, there will be a few special owls that will feature those!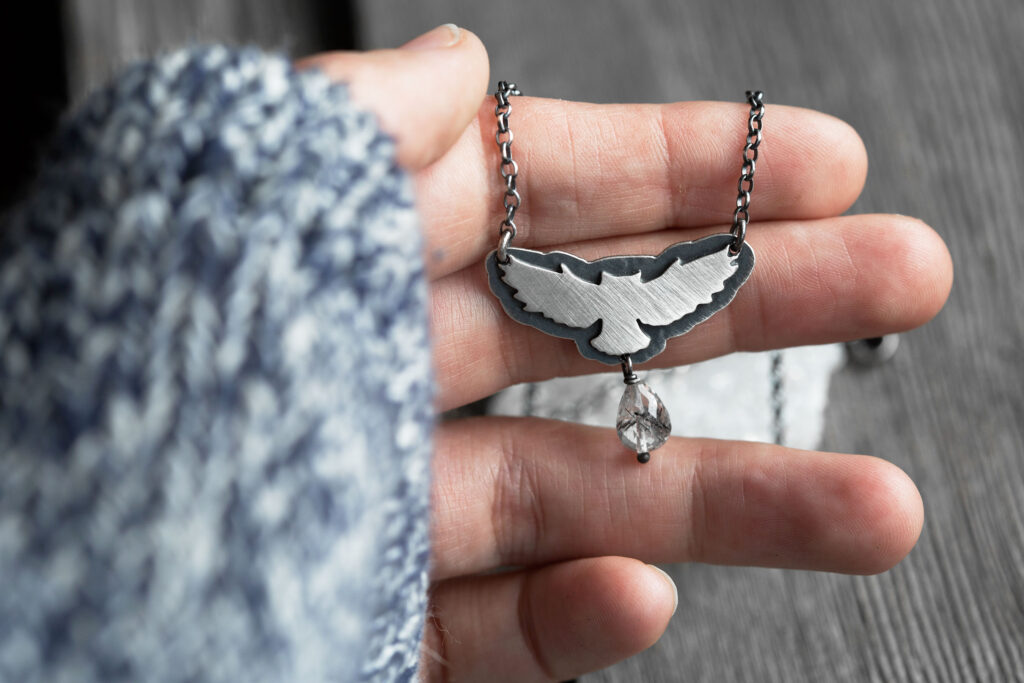 Goodness, I love these simple necklaces. An owl in flight, clutching a sparkling winter gemstone.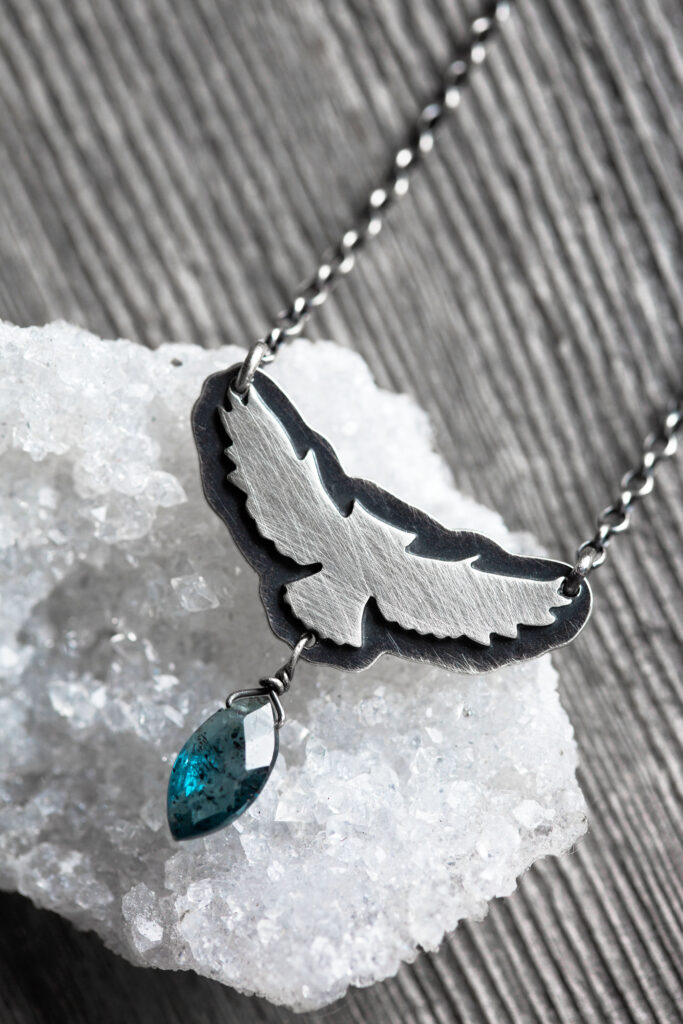 Each of these is hand-forged from solid sterling silver. They feature tiny flying owls silhouetted against a black background, like an owl in the night sky.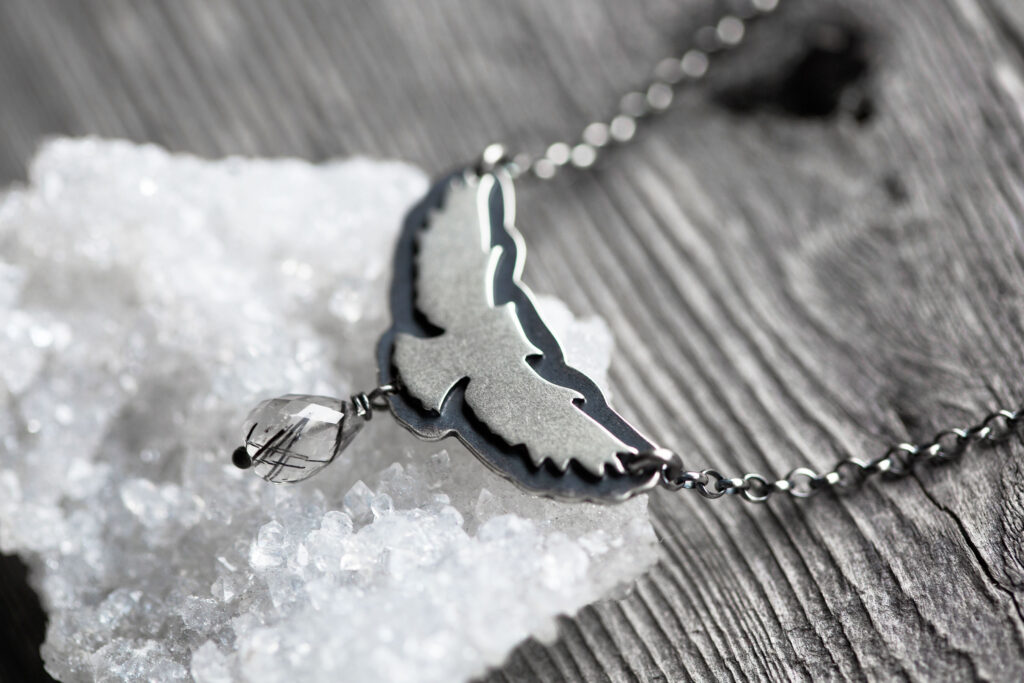 Below each owl is a faceted gemstone to sway gently like a last leaf in the breeze. And the back of the pendants have been textured on granite to resemble a winter stone.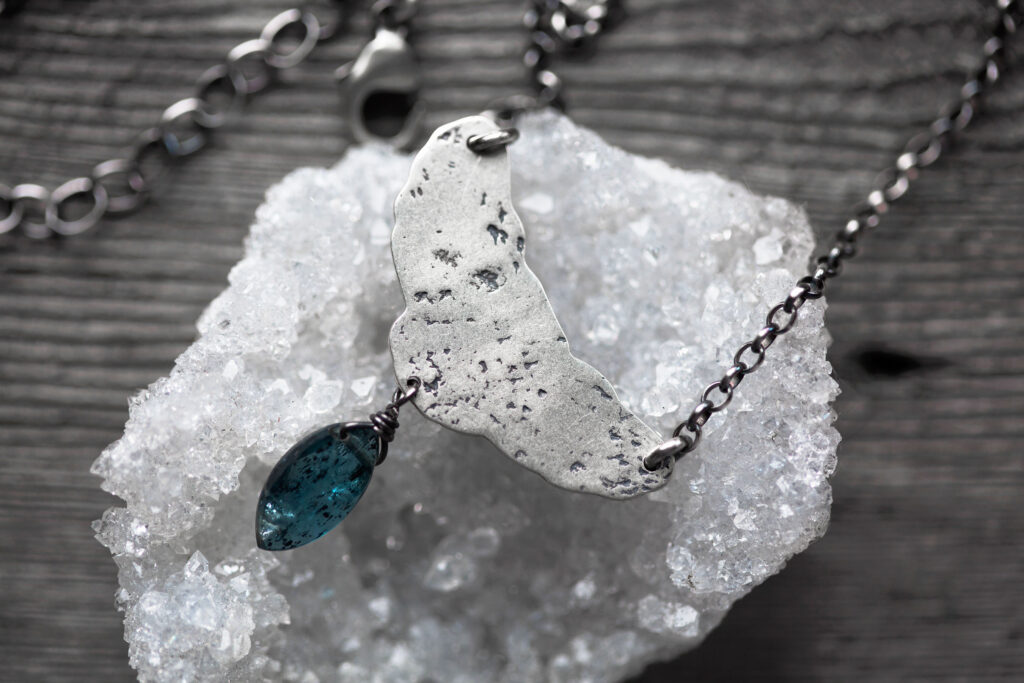 I have made them on shortish chains to sit just below the clavicle. (Though each will have about 3" off adjustable chain so you can get the perfect length.) Sweet familiars to carry through the day.
---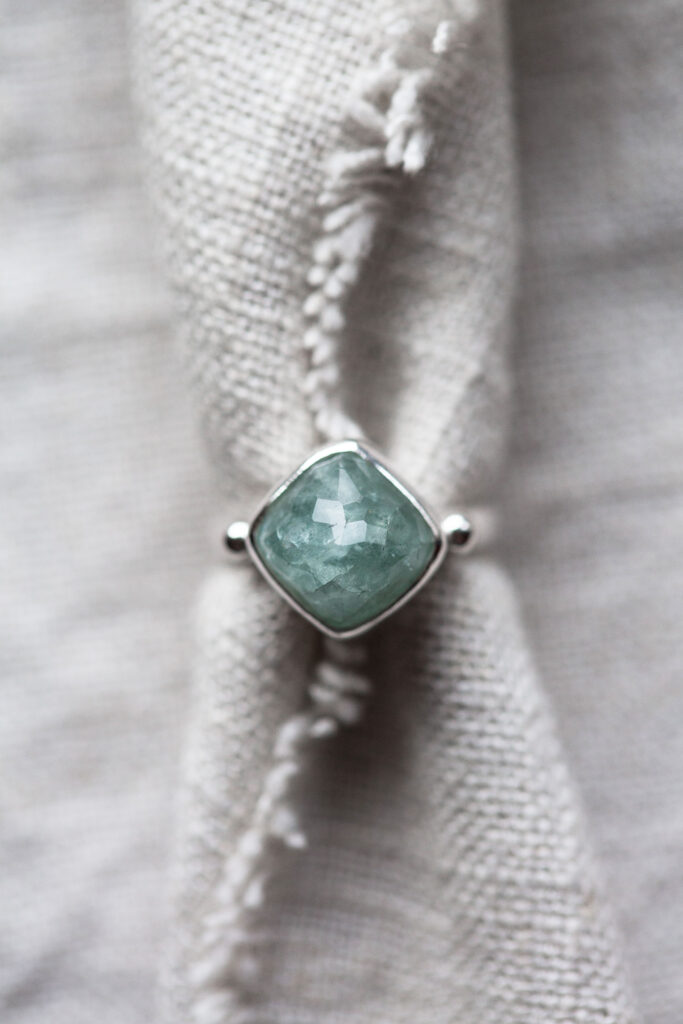 Glimmer Ice Rings
There will be 30 of these necklaces available.
Price: $90 – $120 per ring, dependent on the stone.
Sizes available:
4.5 | 5 |5 | 5.25 | 5.5 |5.5 | 5.75 | 5.75 | 6 | 6 | 6 | 6 | 6 | 6 | 6.25 | 6.5 | 6.5 | 6.75 | 6.75 | 6.75 | 6.75 | 6.75 | 7 | 7 | 7 | 7 | 7.25 | 7.25 | 7.25 | 7.25 | 7.5 | 7.5 | 7.5 | 7.5 | 7.5 | 7.75 | 8 | 8 | 8.25 | 8.25 | 8.5 | 8.5 | 8.5 | 8.75 | 9 | 9 | 9 | 9.25 | 9.25 | 9.5 | 9.5 | 10 | 10 | 10.75 | 11 | 11 | 11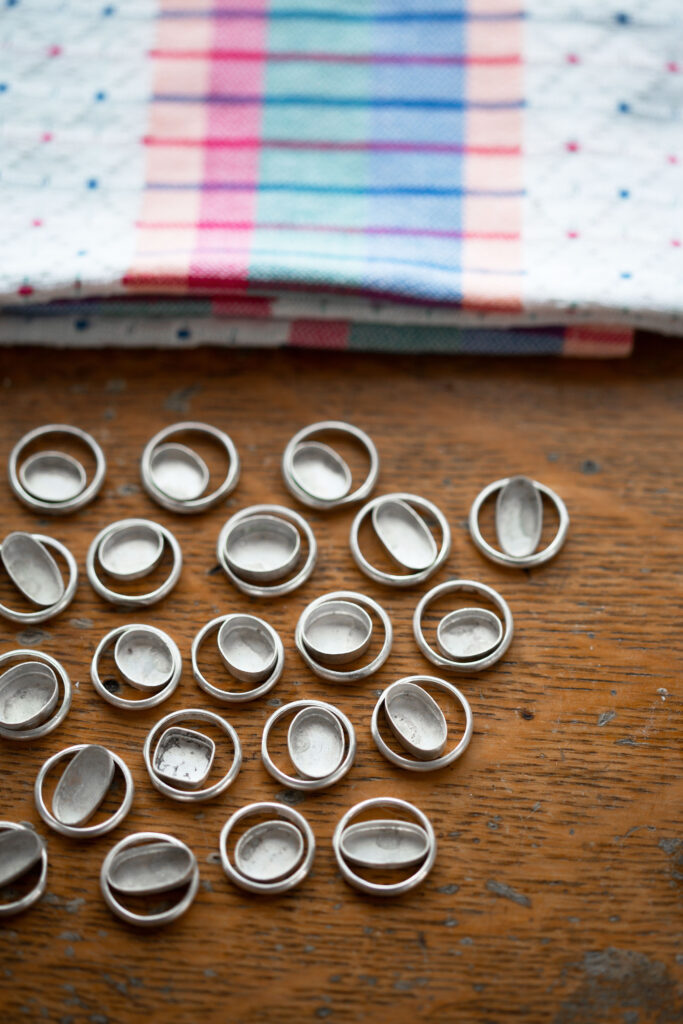 I designed these rings after the type of ice we see in late winter/early spring. When the ice on lakes and pools begins to groan and crack, and spring is beginning to lace its fingers around the vestiges of winter, on some mornings you can find bits of glimmer ice. The technical definition is the delicate ice that forms in the cracks of or on top of old ice. Glimmer ice appears when old ice has begun to melt and pools of water are collecting, and then a cold night and the North wind lays down a new thin layer of ice.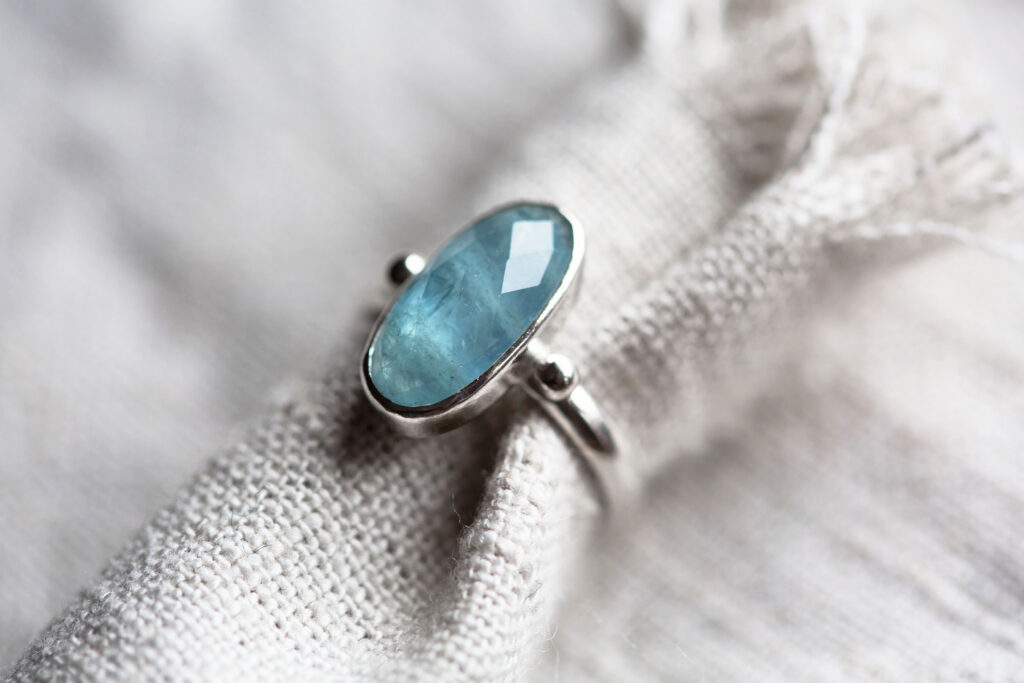 When I came across that late-winter term, I knew I had to catch it in a ring and save it for late winter. I chose the lightest blue aquamarines I had. Small and glowing, like little frozen puddles. Soft and gentle, like late winter.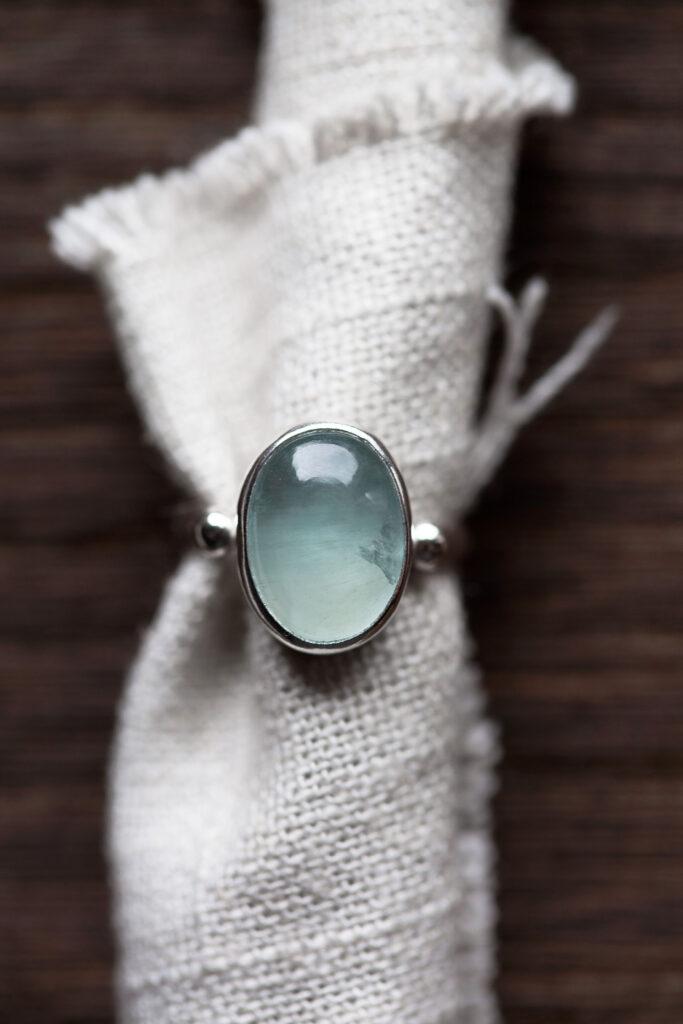 I set them simply, but decided to give them a polished finish to give them a glimmer. I don't often polish my pieces, I love the earthiness of matte and the shadows of oxidization. And sometimes polishing feels too easy, because polished pieces always looks beautiful! (Learning to create a perfect antique patina without odd colors, flaking, or going too far in the removal took a fair while to get right!) But after finishing these pieces, I think I might have fallen in love with a polished finish.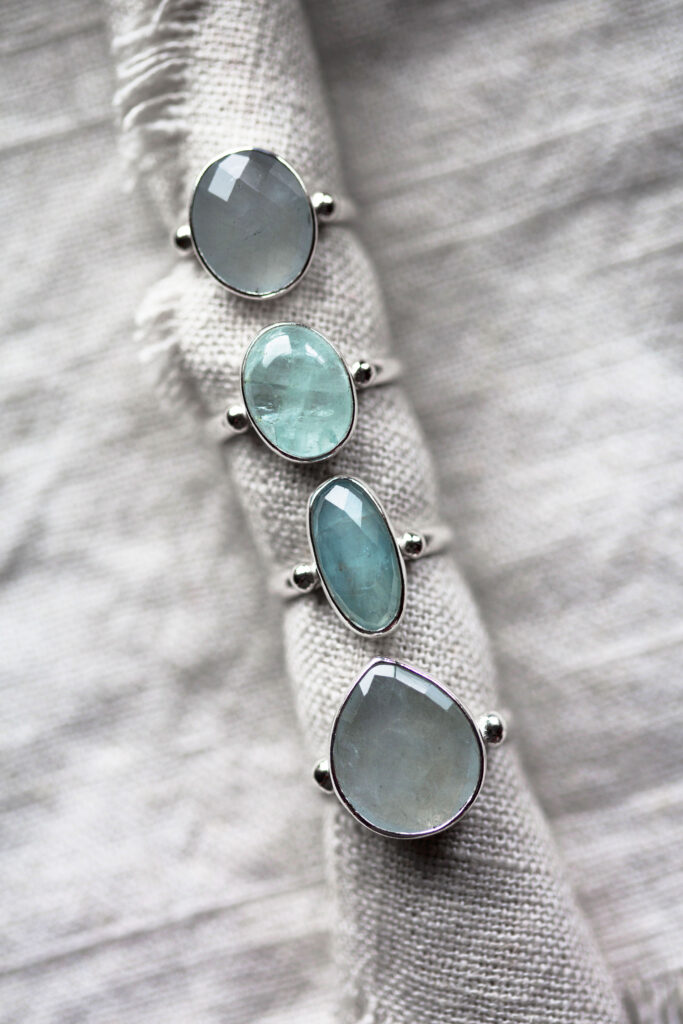 Some of these aquamarines are the impossible blue of a summer day, others are a watery blue with flecks of algae floating through. And others are this unreal, misty grey-blue. I can't even decide what those stones remind me of!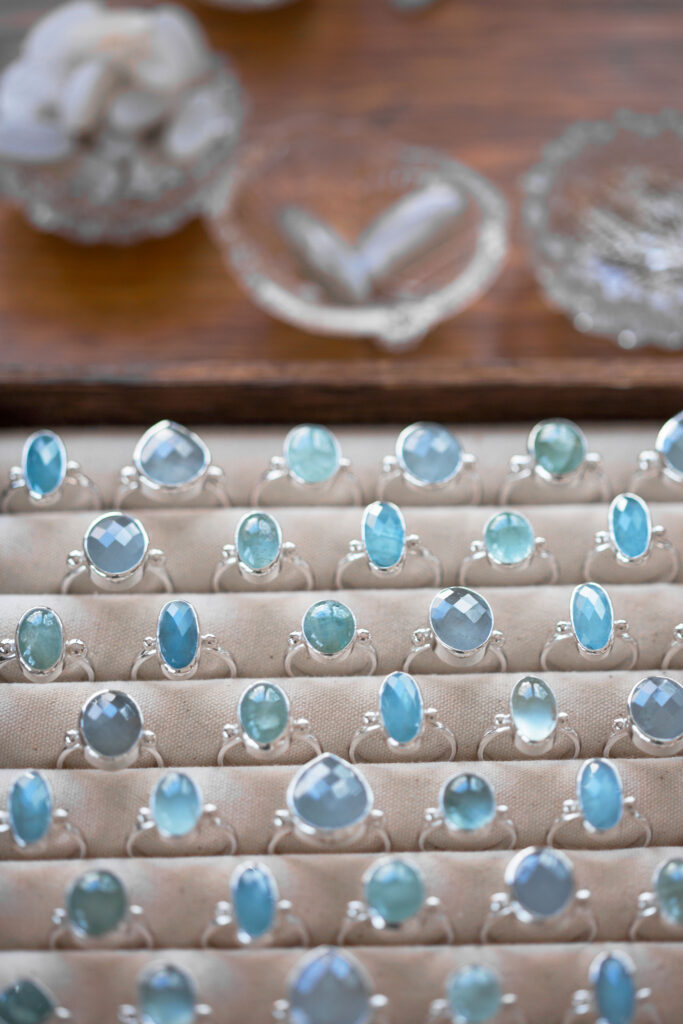 Some are faceted to catch and throw the light, others are smooth like a still pool. And they are cut in all different shapes. Many of the stones have feathery inclusions and crackles running through the stones.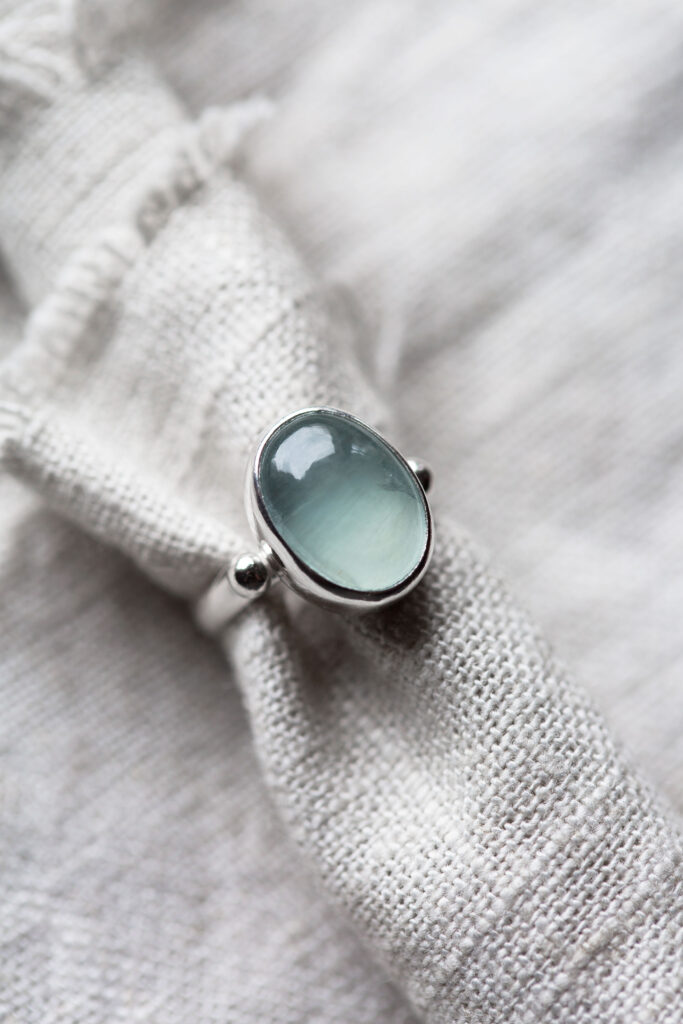 A few of the stones have surface crackles, where you can feel the tiny fissures beneath your fingernail.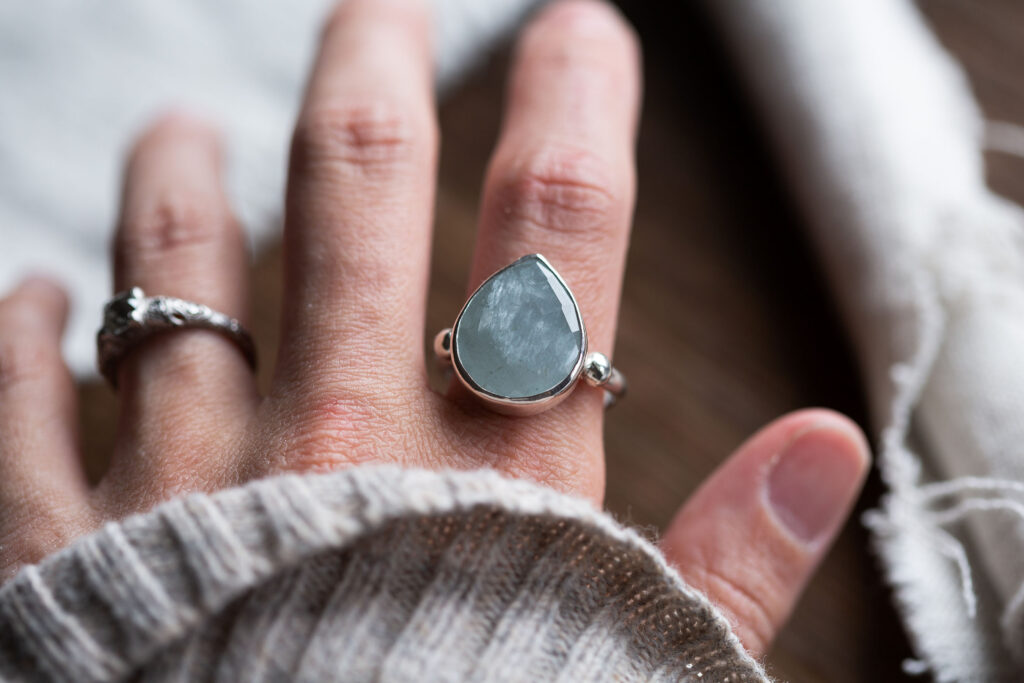 I considered not using any of these stones, tucking them into my box of stones needing resurfacing. But some of them were just TOO beautiful. So I used them anyway! They will of course be marked down a bit and I will let you know in the titles of each which rings they are. I ended up keeping one of the rings with surface crackles, it was just too beautiful to part with.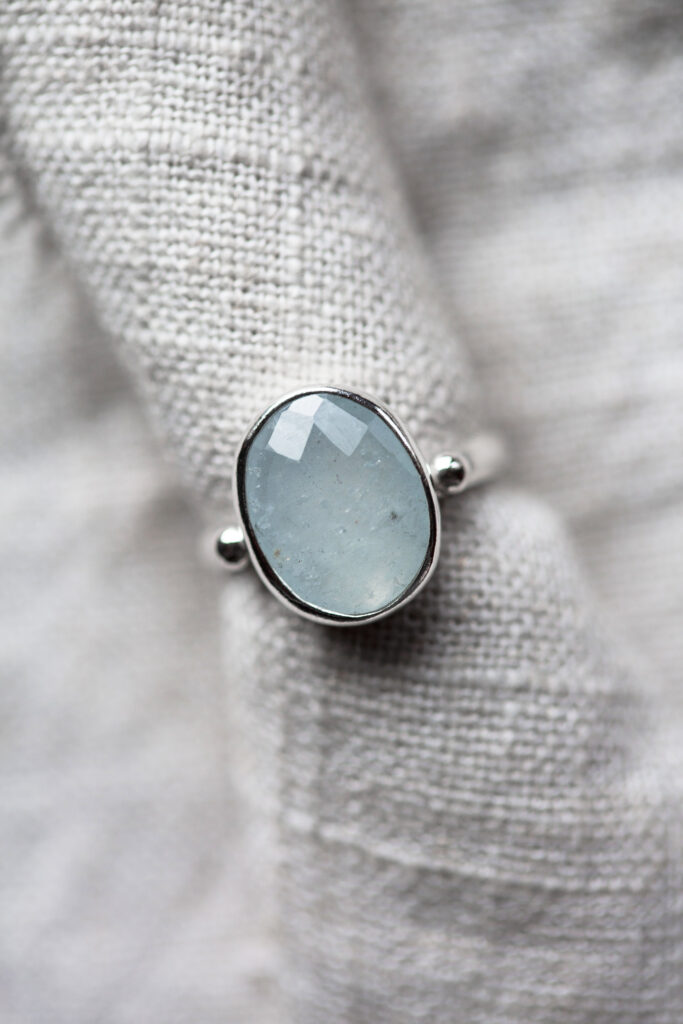 ---
There is one more preview coming up, including a design I haven't shared yet. Stay tuned!
North Wind Collection Release, Part II: Sunday, May 16th at 7PM EST in the Etsy shop