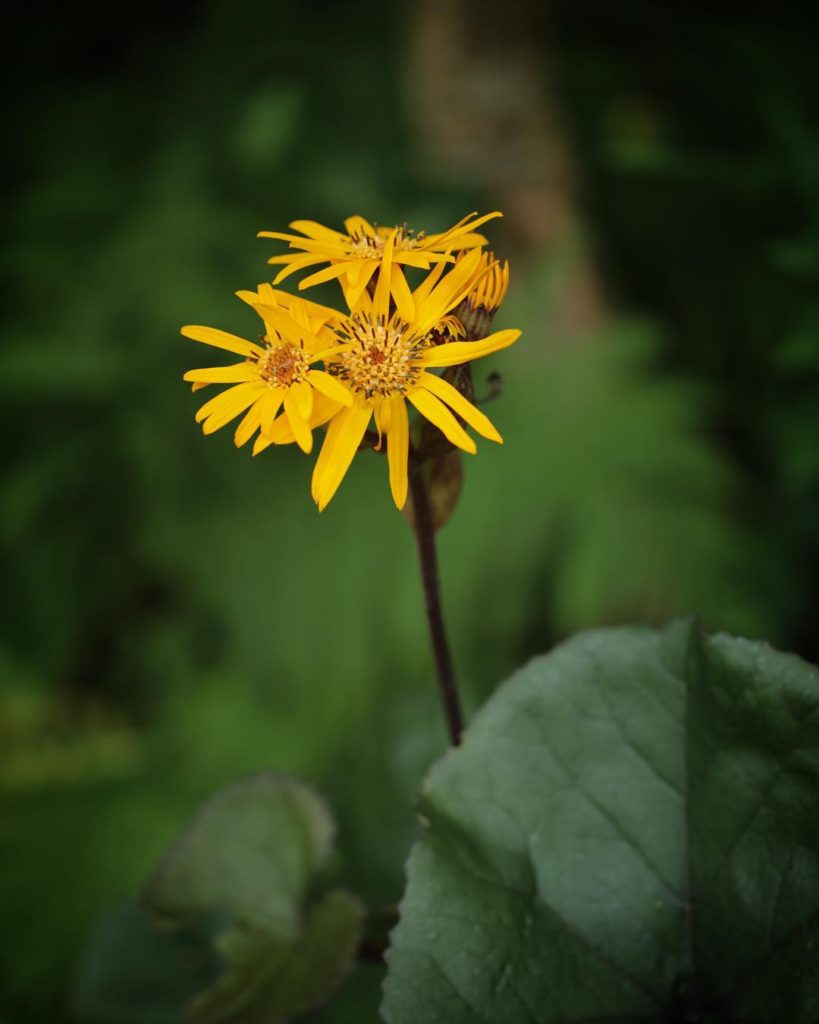 "Forget not bees in winter, though they sleep." – Vita Sackville West
Winters here have been difficult. Usually, I revel in this season, but not since we've been here. I long for Maine winters. Rather than pillowy snow that piles up for months, air so cold and clear you can hear the crack of your footsteps echo off into the distance, and a freshness that is palpable even indoors, rather than those glorious aspects of winter, we have muck. Dead grass and mire. Air that is chilly and damp, seeping under sweaters and down the spine. Too warm for snow, too cold for flora.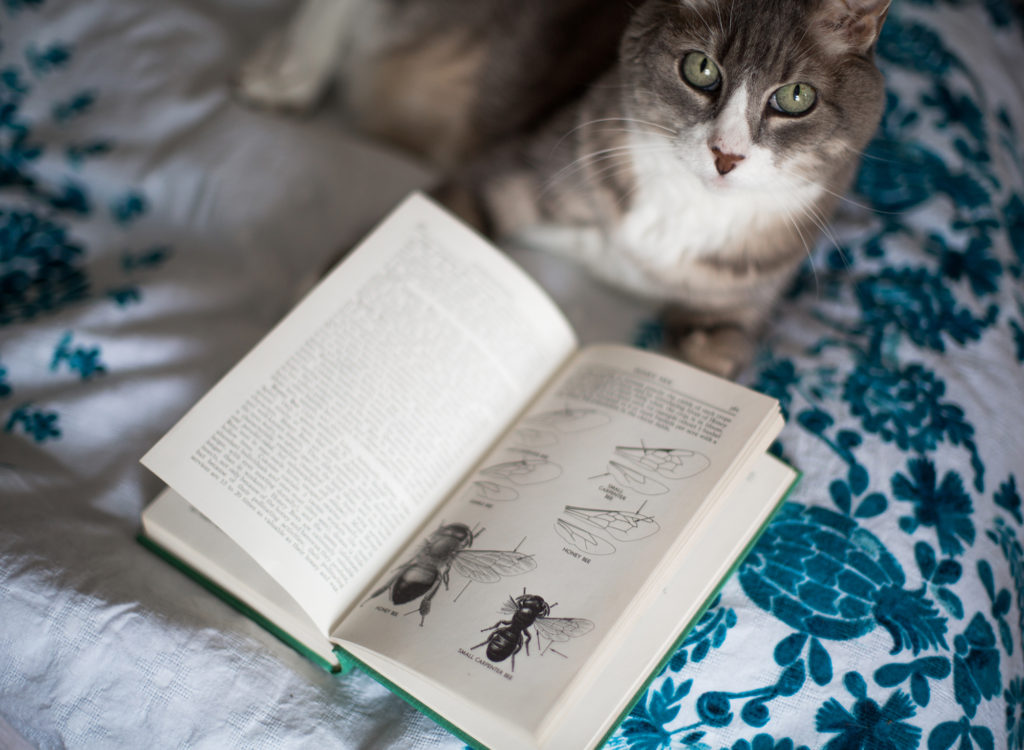 But how wonderful it has been to have the honeybees with me during these dreariest months, spending time with these colors again. Gray and brown prevail outside my window, an everlasting twilight washing the rest of the palette right out of the landscape. But inside my studio, there has been the warm glow of citrine and the hum of honeybees. It is a strange, but lovely experience working on a summery collection despite what is on the other side of my front door. I have worked with the seasons for a little while now, allowing the palette and forms within what I create to reflect what is outside my window. And with that frame of mind, I can't help but feel like I am a bee myself, tucked away in the hive, sticky with the preserves of summer and humming warmth into my neighbors. My house is a winter hive.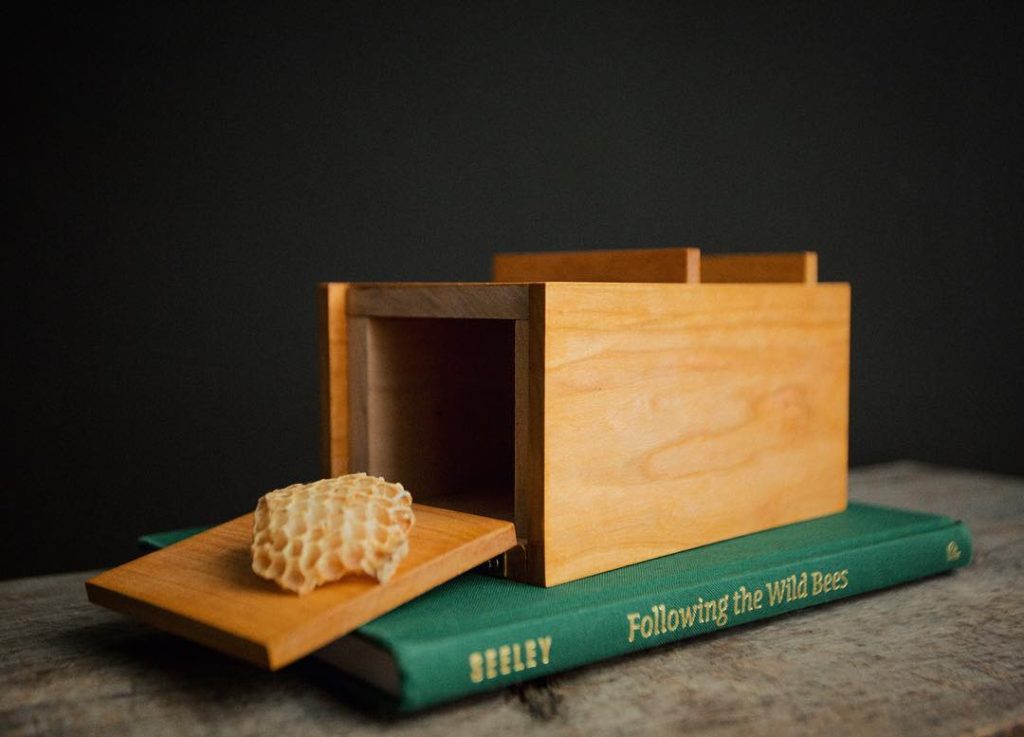 Working on this collection had me remembering a few summers ago, when my fella built a perfect little bee box so that we could go beelining and find wild beehives. (Not to disturb, just to observe.) He painstakingly measured, dadoed, sanded, and oiled until it was silky and perfectly proportioned. I am shocked the bees don't just move right in!
Beelining is where you catch a honeybee in a special, two-doored wooden box, feed it some sweet stuff on a bit of honeycomb, and release her. Then she zooms off into the forest, straight to her hive to let her hive mates know where some tasty sweets are. And every time your bees visit, you move a little bit in the direction from whence they come. And eventually you find yourself at the base of a gnarled oak or a rock crevice where a colony chose to build their home. Of course, its a little bit more complicated than that, requiring compasses, paint markers, stopwatches and the average flight speed of a honeybee.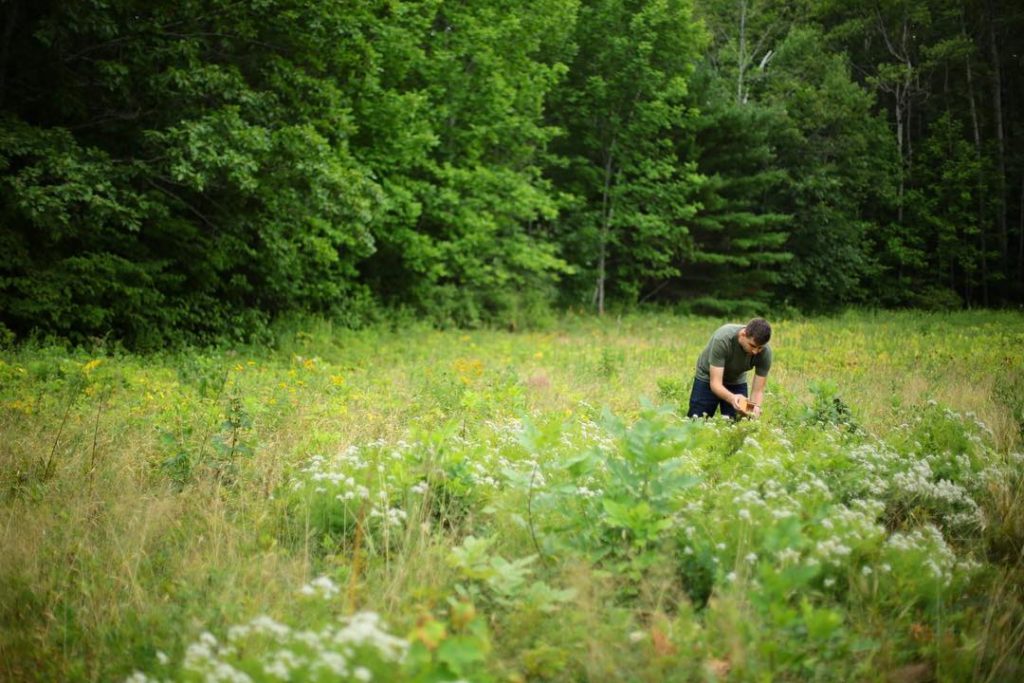 This picture is from an afternoon begun in a somewhat secret wildflower field that our dear friend Jill knew. We spent our time looking at giant spiders in dewy webs, snacking on water crackers, and holding praying mantises while we waited for the bees. A good day.
With the sunshine of a remembered summer on my shoulders and my heart full of wonder for the bees, and after six weeks of endless inspiration and zealous work, I have this first of two offerings for you.
_________________________________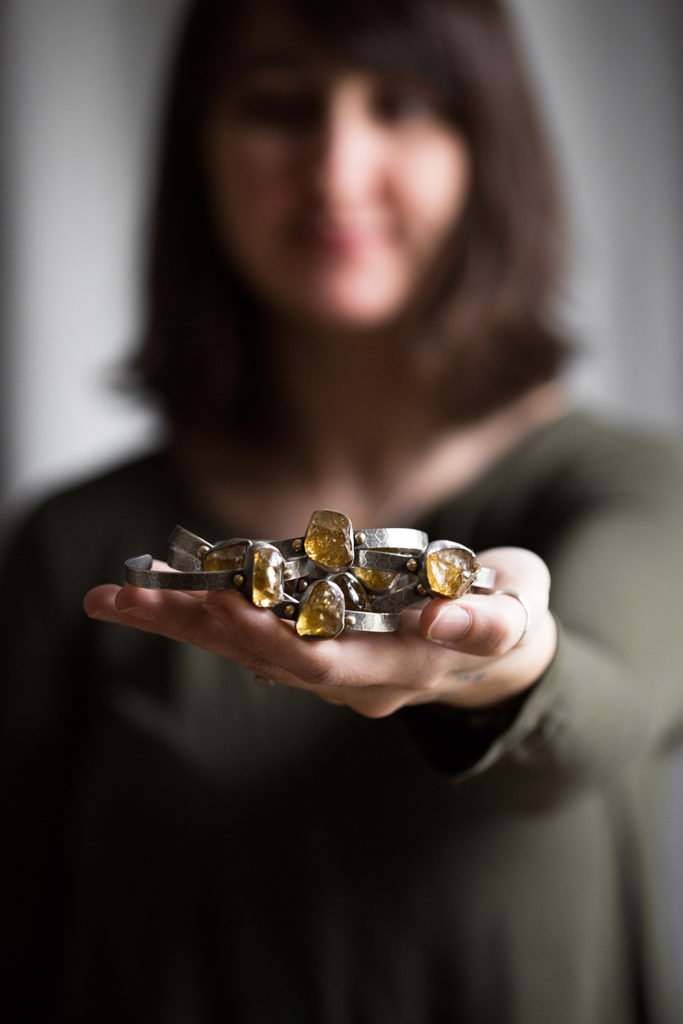 Beekeeper's Cuffs
"There are certain pursuits which, if not wholly poetic and true, do at least suggest a nobler and finer relation to nature than we know. The keeping of bees, for instance." – H.D. Thoreau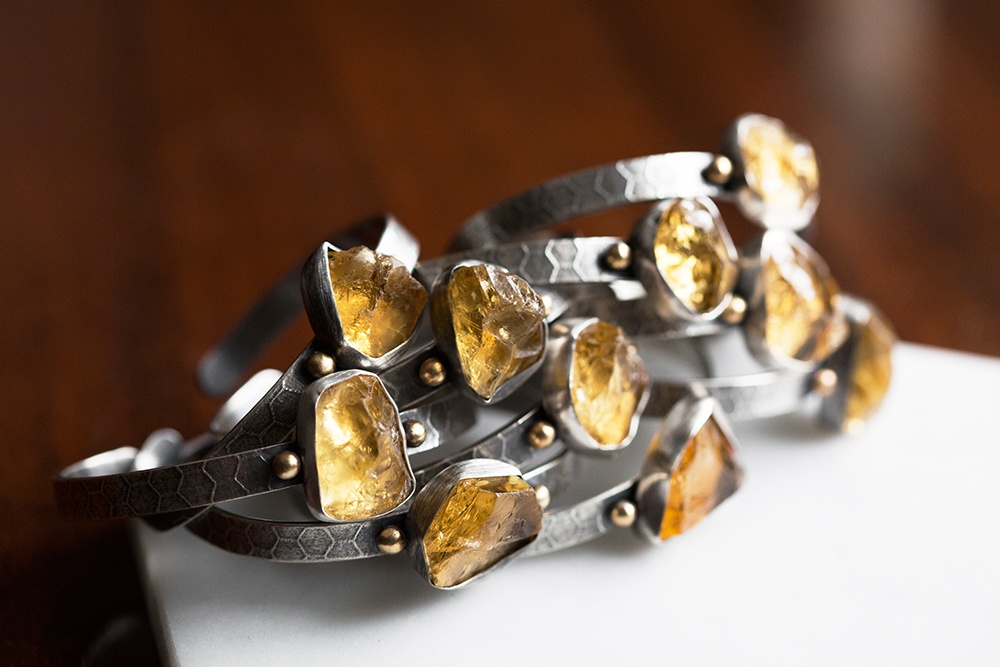 Cuffs featuring rough citrine focals, two little brass pollen granules, and a honeycomb pattern across the top of the band.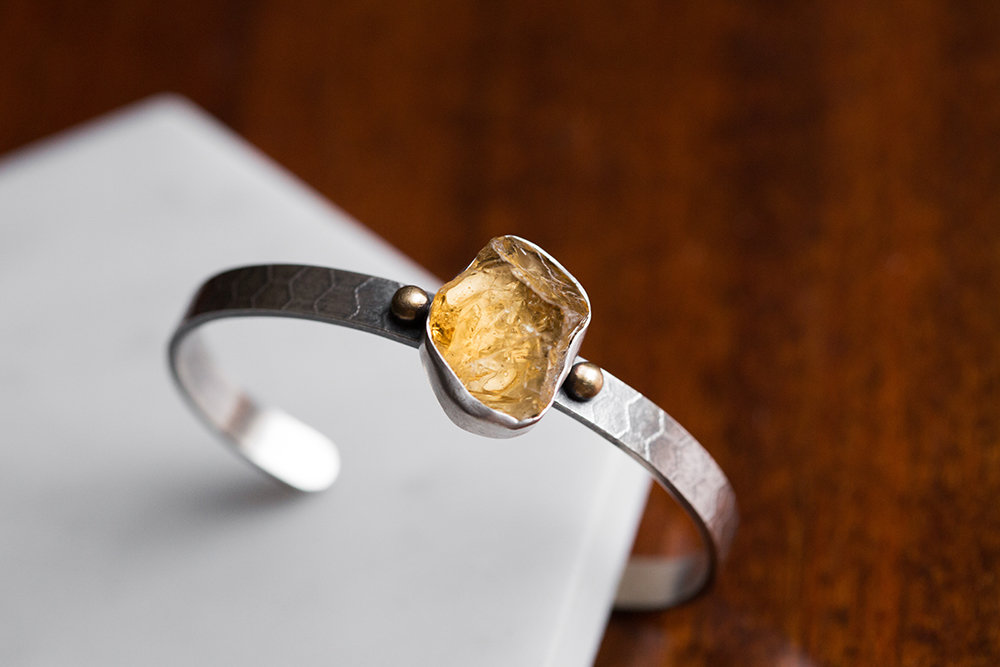 Rough and warm, each one unique. These are cuffs to be worn while bee lining through the forest in search of wild hives, or spinning honeycomb on summer afternoons. A beekeepers cuff.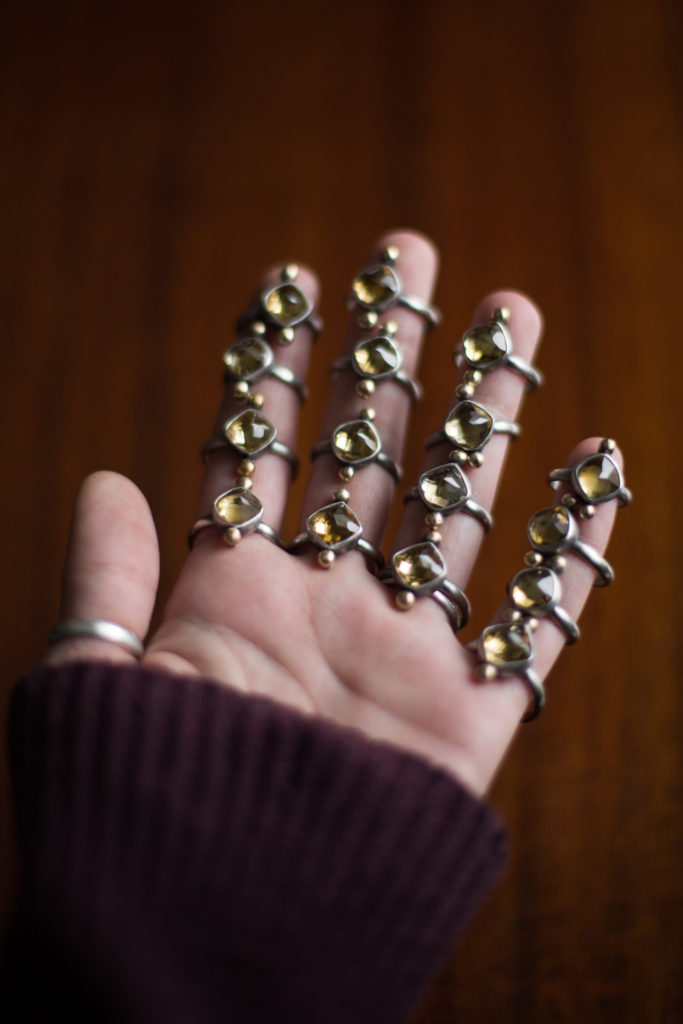 Nectar Rings
(US Ring Sizes: 5, 5.5, 6, 6, 6, 7, 7.5, 7.5, 7.5, 8, 8, 8, 8.25, 8.5, 9, 9)
And here, a handful of Nectar Rings, little square cupfuls of sunshine amongst the pollen. These rings features single cushion cut faceted citrines set between two brass pollen granules, the result of the hard work of a little honeybee.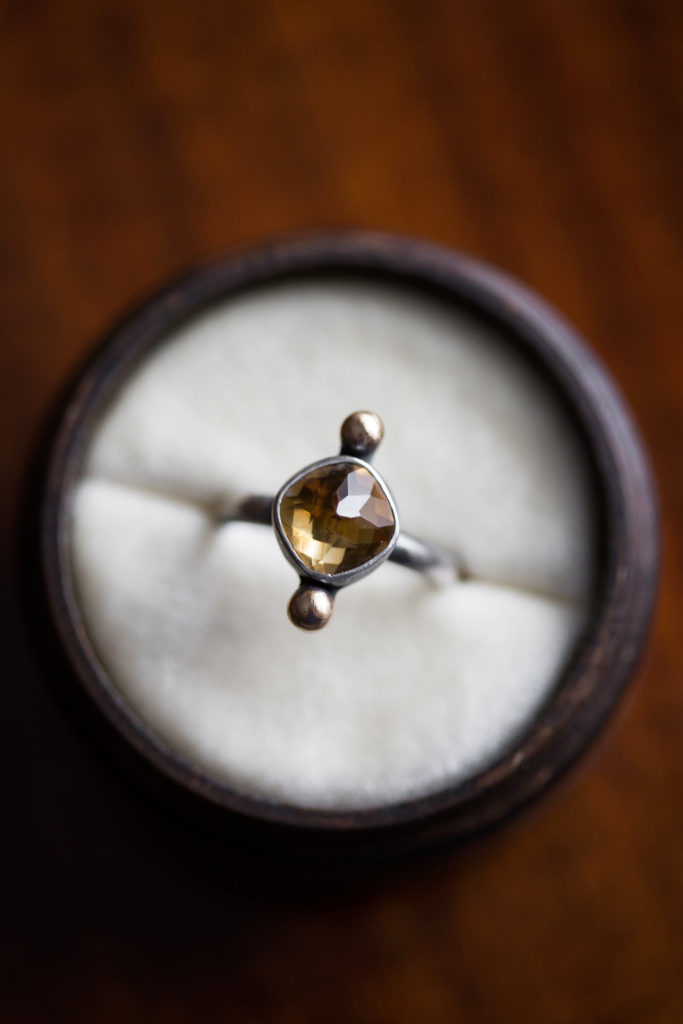 Like the sweet nectar at the bottoms of flowers, yielded with the exchange of pollen.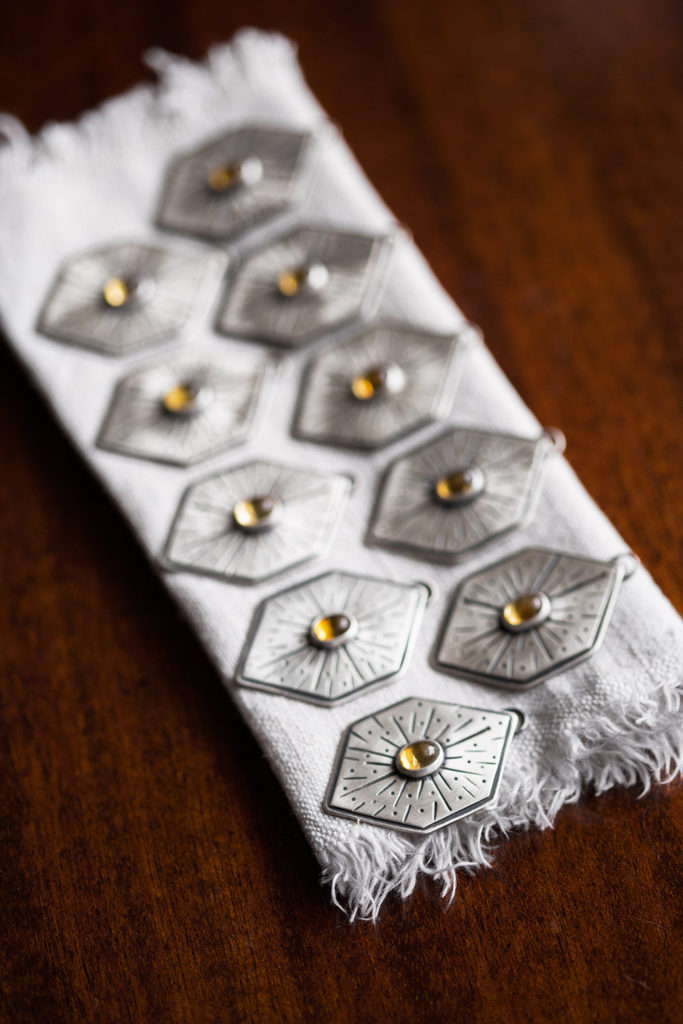 Honeybee Compasses
The final Honeybee Compasses, all lined up and ready for the shop update. As I wrote the listings for these compasses, I carefully felt each one, noting their weight and frenetic lines radiating from sunny citrines in the centers. These compasses feel so at home in the palm. When you wear them, I am sure you will be instantly called to set off in search of summer sunlight!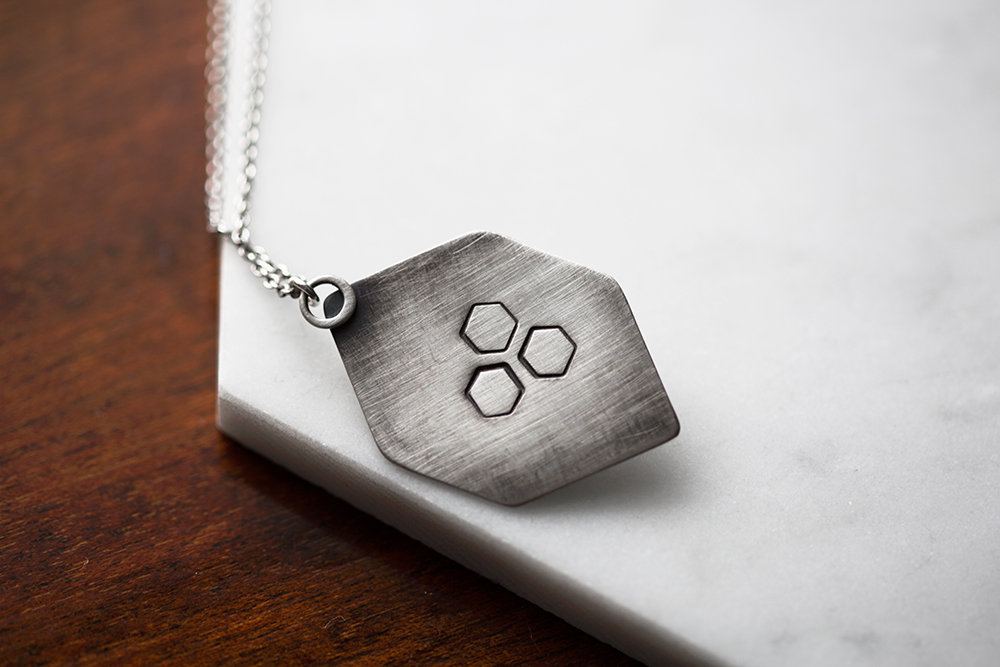 Some words about this design from a past blog post:
Truly creatures of summertime, bees use the sun as a fixed reference point. As such, the sun anchors their internal compasses, even on cloudy days. When a bee finds a lovely patch of pollen and nectar-rich flowers, it maps the location by remembering the angle between the hive, the flowers, and the sun.
And so, I have created this piece for that glorious aspect of bee behavior: a honeybee compass. These large hexagon pendants feature dots and lines radiating from the sunny citrine gemstones at the center. I wanted the inscribed dot/line pattern to resemble a compass, though still feel a bit unruly and natural.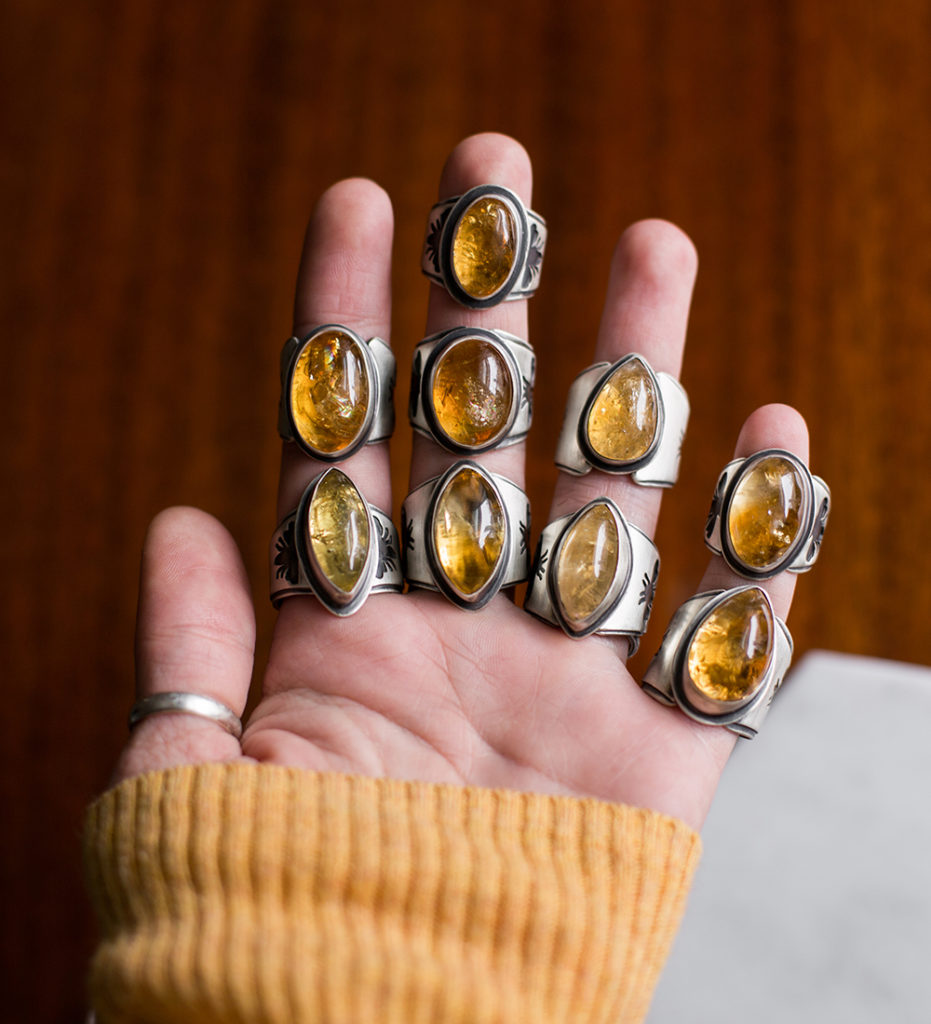 Apiary Rings
(US Ring Sizes: 6, 6.75, 7, 8, 8, 8, 8.25, 9, 9)
Since this is a saddle band, it is a good idea to size up a bit. It is generally recommended to purchase a ring that is about ½ a size larger than your regular size. (For example, if you are a size 7, look for a ring that is a 7.5 in the update.)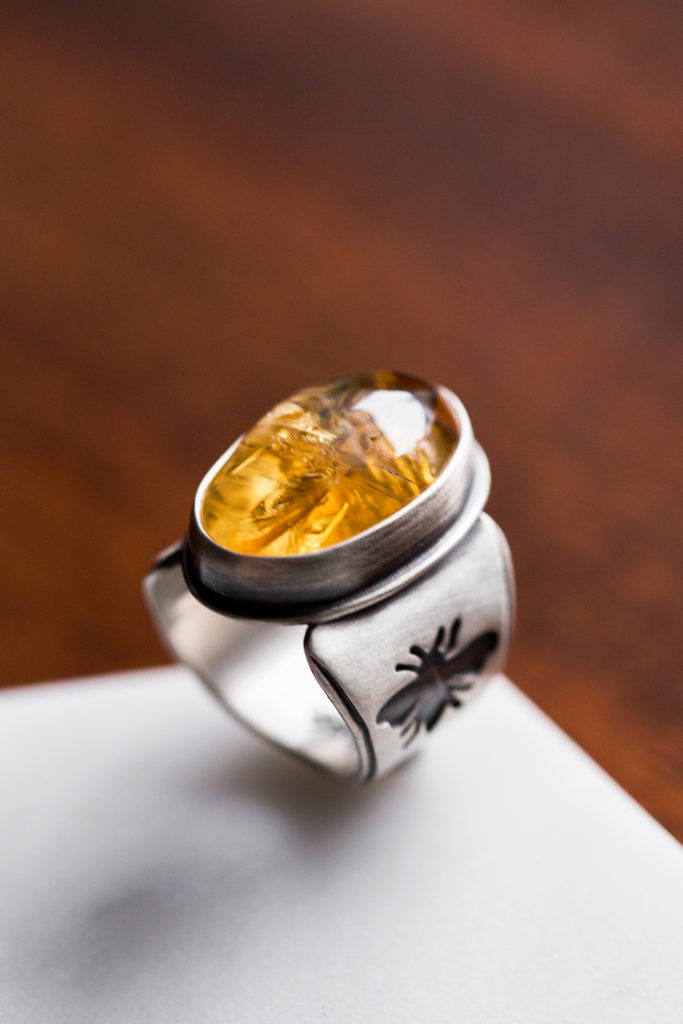 This past summer during our trip home to Maine, my father showed me the honeybees he was keeping. He excitedly told me all about undertaker bees and royal jelly and how the honeybee is the official insect of Maine. While standing there discussing his plans for how to best winter the bees and his hopes of getting another hive, we watched the bees coming in and out of the slit at the bottom of the hive. The endless rotation of worker bees depositing their pollen collections and then flying back off into the summer air. I imagined the incredible bustle inside the hive: hexagonal cells being filled with wildflower honey and the bees tirelessly tending their stores.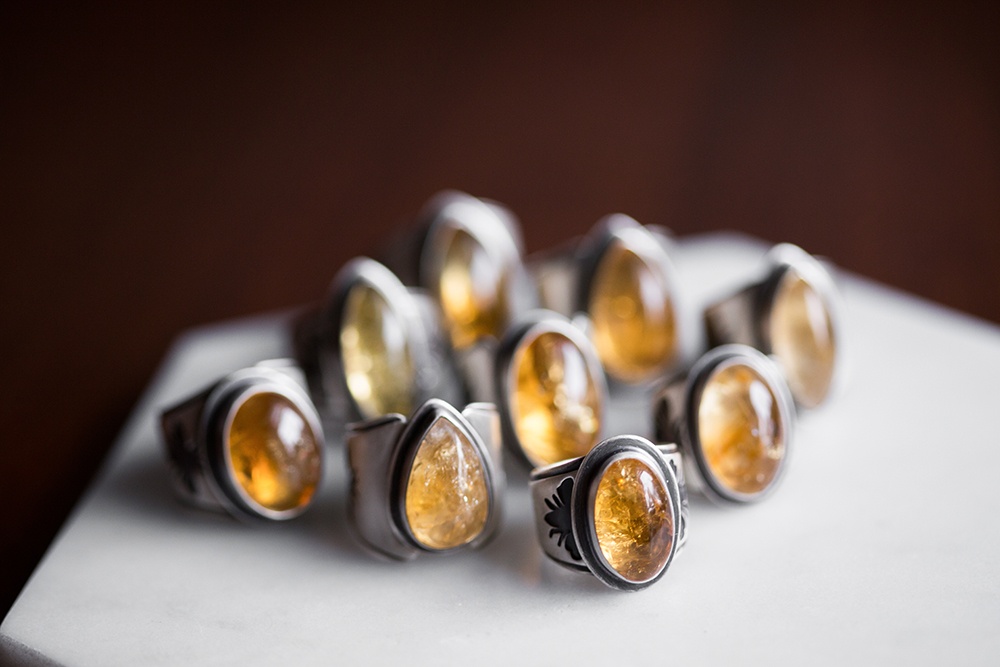 This ring design is my attempt to capture those moments of observation. Each ring features a golden citrine gemstone, like a cup full of gooey honey to sit upon the hand. And on either side of the stone built into the band are quick, shadowy bees heading towards or disappearing under the rim, like bees entering the slit to their hive. A summery ring to honor that good, steady work of bees.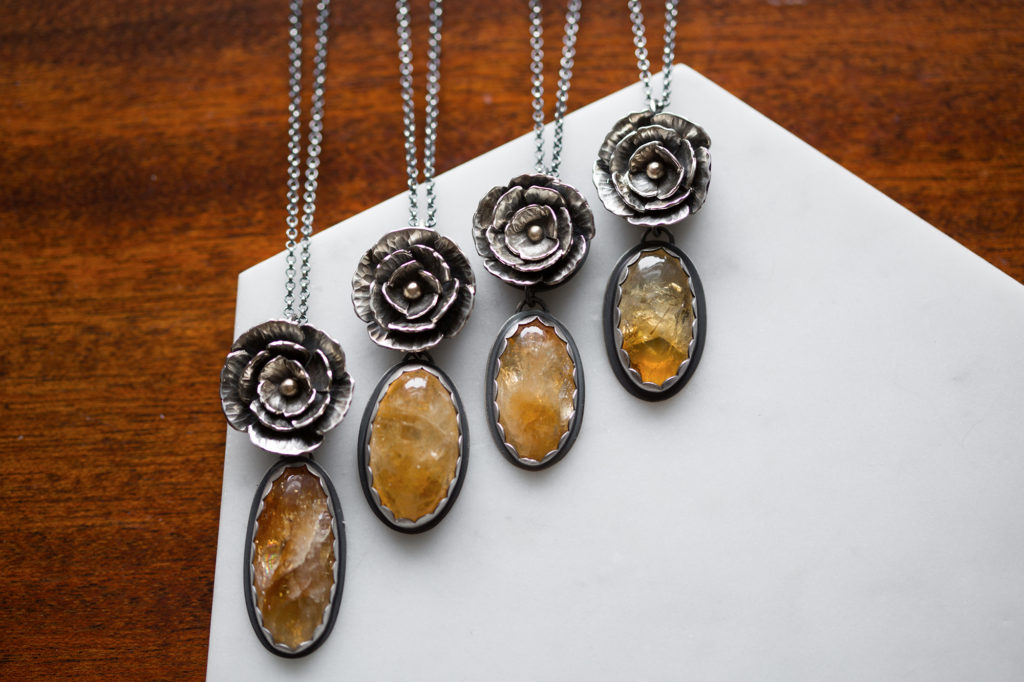 Bee Bloom Necklaces
Fluffy, sterling silver roses set above rich citrine gemstones. For a few of these pieces I chose citrine that was heated by the lapidarist to get that dark amber color, like a rich wildflower honey.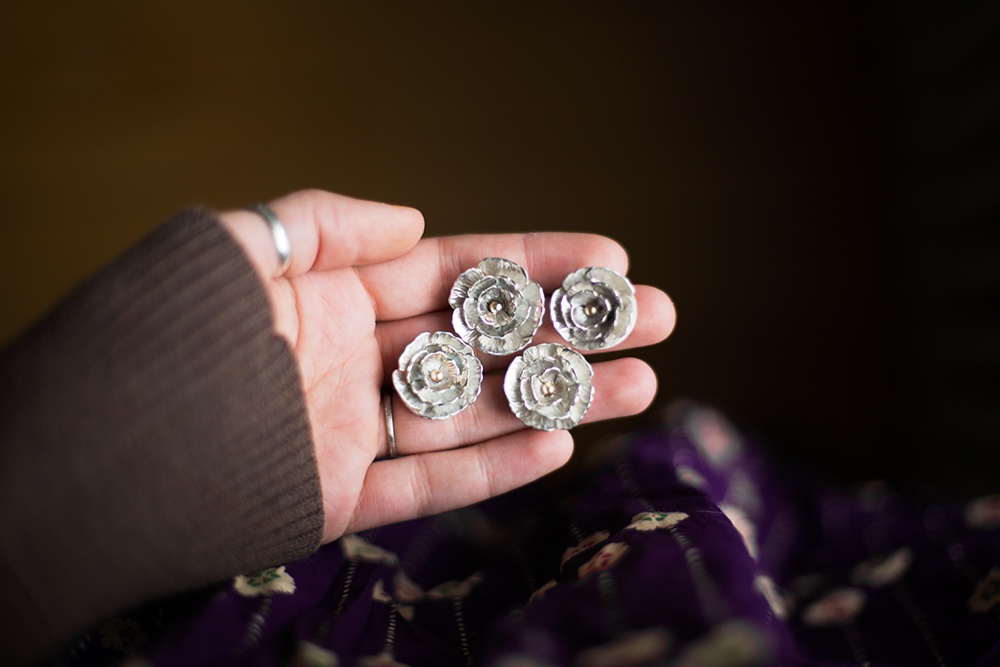 Each rose is painstakingly sawn, textured, smoothed, and shaped by hand, petal by petal.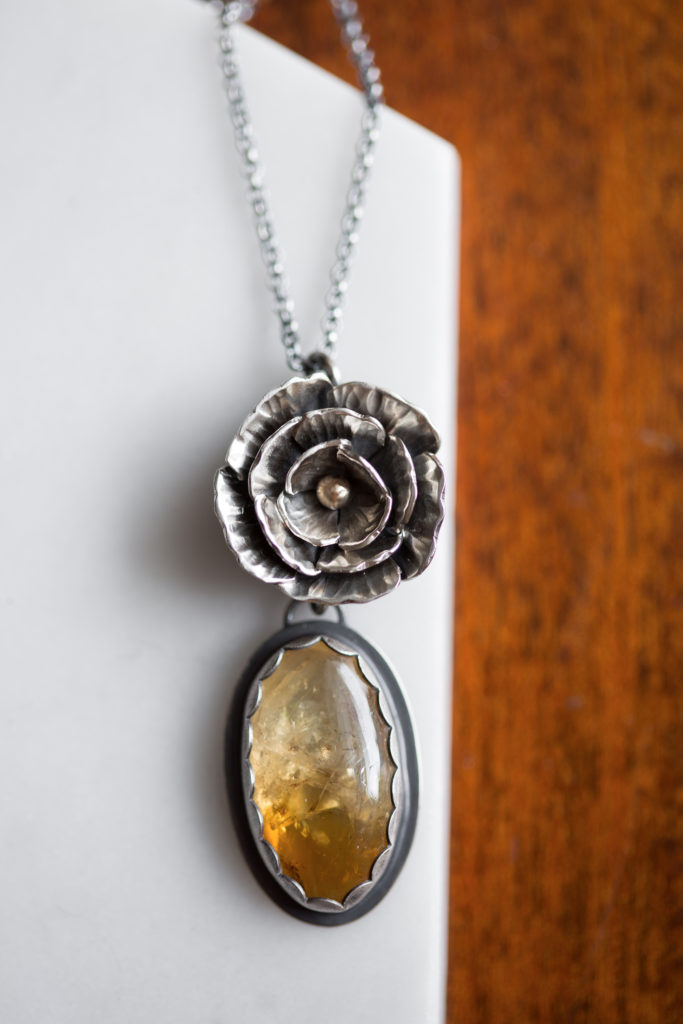 And in the center, little brass pollen granules; the bees can scarcely resist!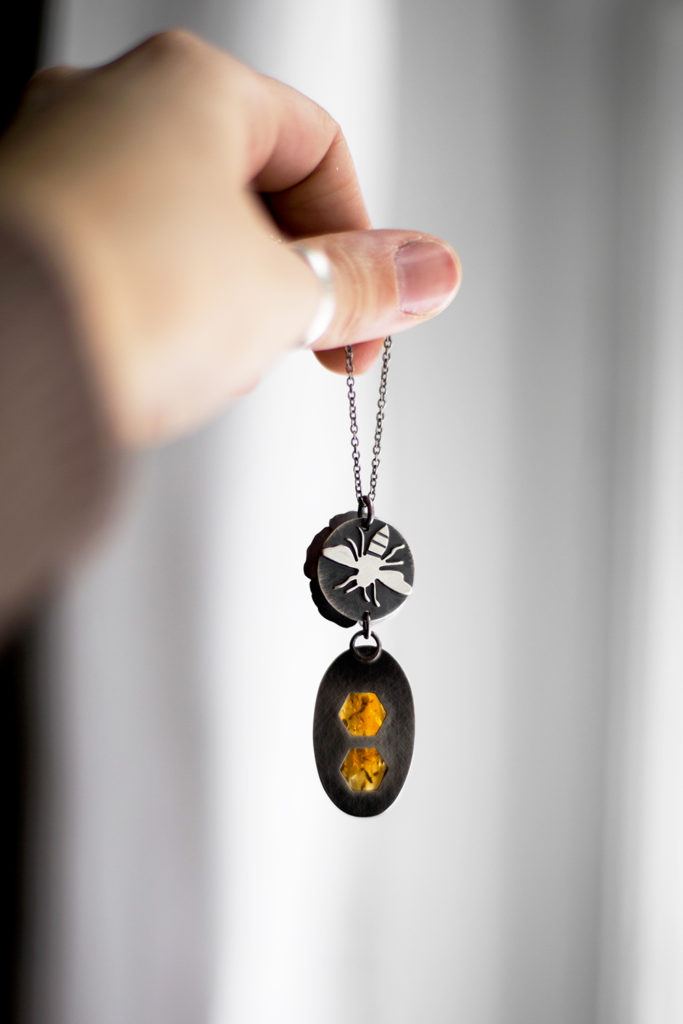 The back features the silhouette of a little honeybee heading down the necklace towards two honeycomb cells full of glowy orange citrine.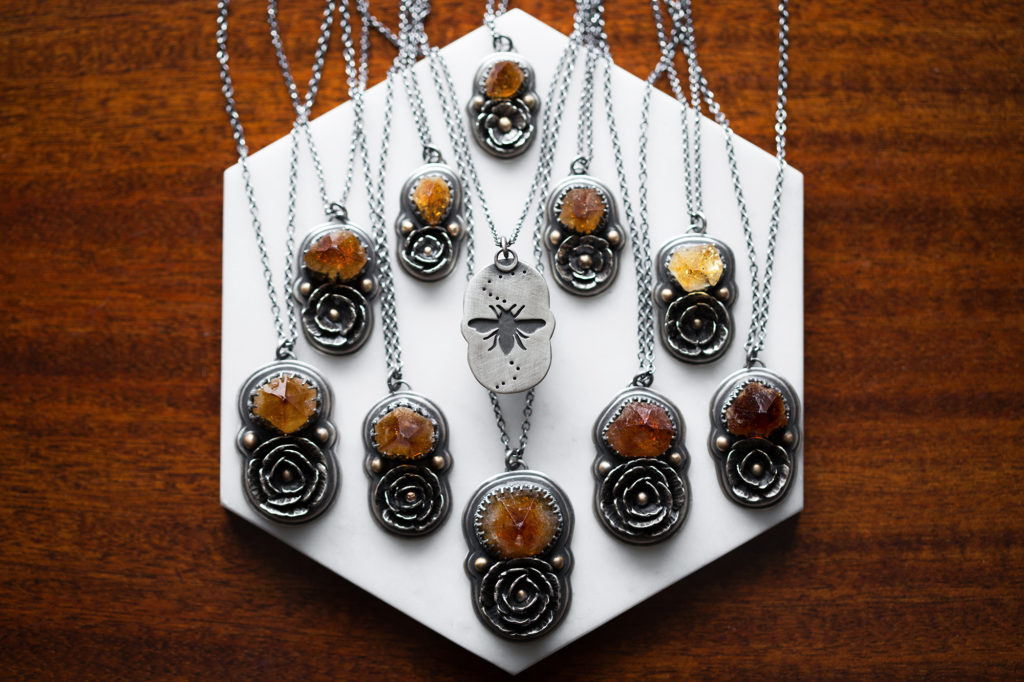 Bee Garden Necklaces
Necklaces with red brass pollen granules set beside painstakingly hand forged flowers, all below rough citrine/heated amethyst points perfectly cut by @daileycutgems.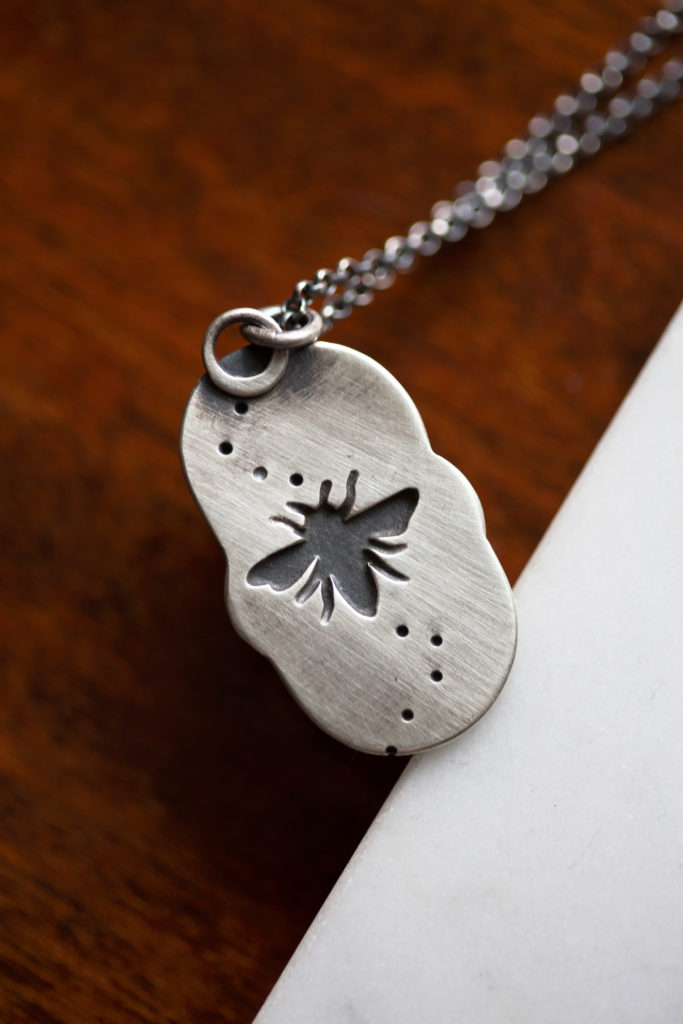 On the backs, single shadowy bees skirt along the pendant, like a gatherer gliding under leaves and around trees following the scent of asters and foxglove in your bee garden. To and from the hive in that lolling, summer-dazed flight of the bee dipping and arcing from flower to flower.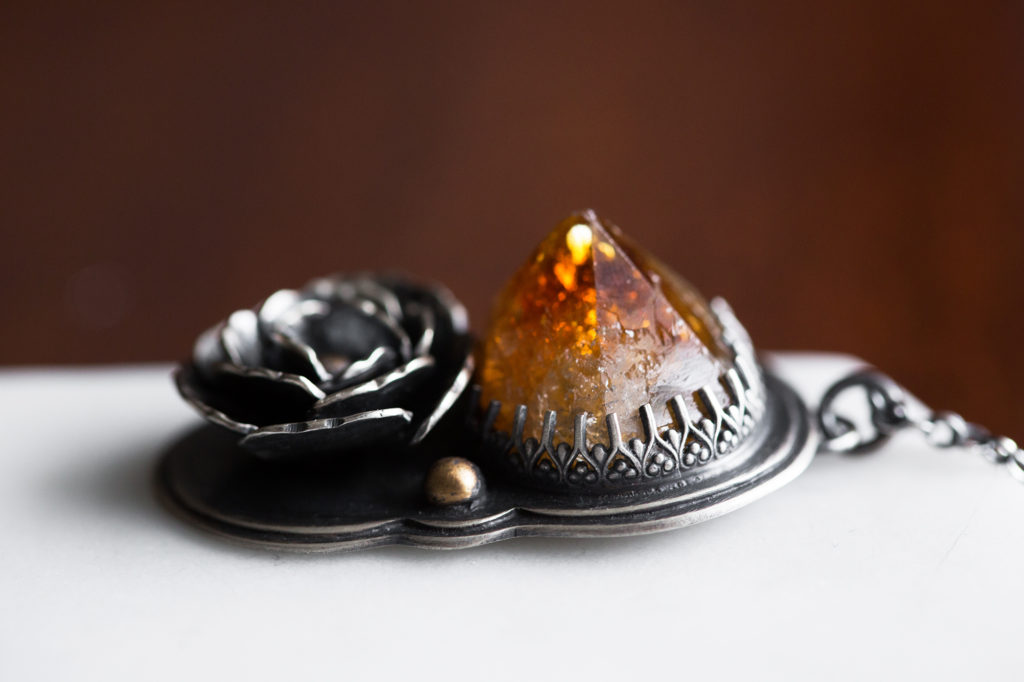 All but two of the Bee Garden pendants have a bee and its flight path on the back. (I had finished two little pendants before I decided to add this back detail. The two without will have a bit of a price reduction!)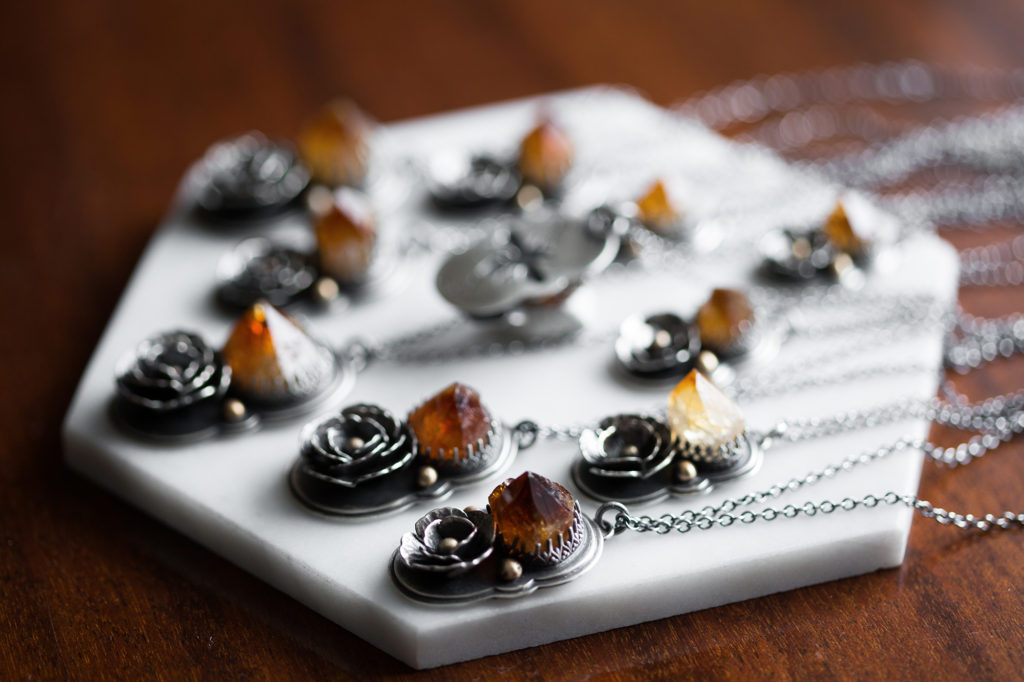 I love these pieces. They remind me of the garden beside my childhood home: rose-scented air swirling around lilac bushes, and the bright red poppies that grew flat against the house in constant embrace with the wind off the bay.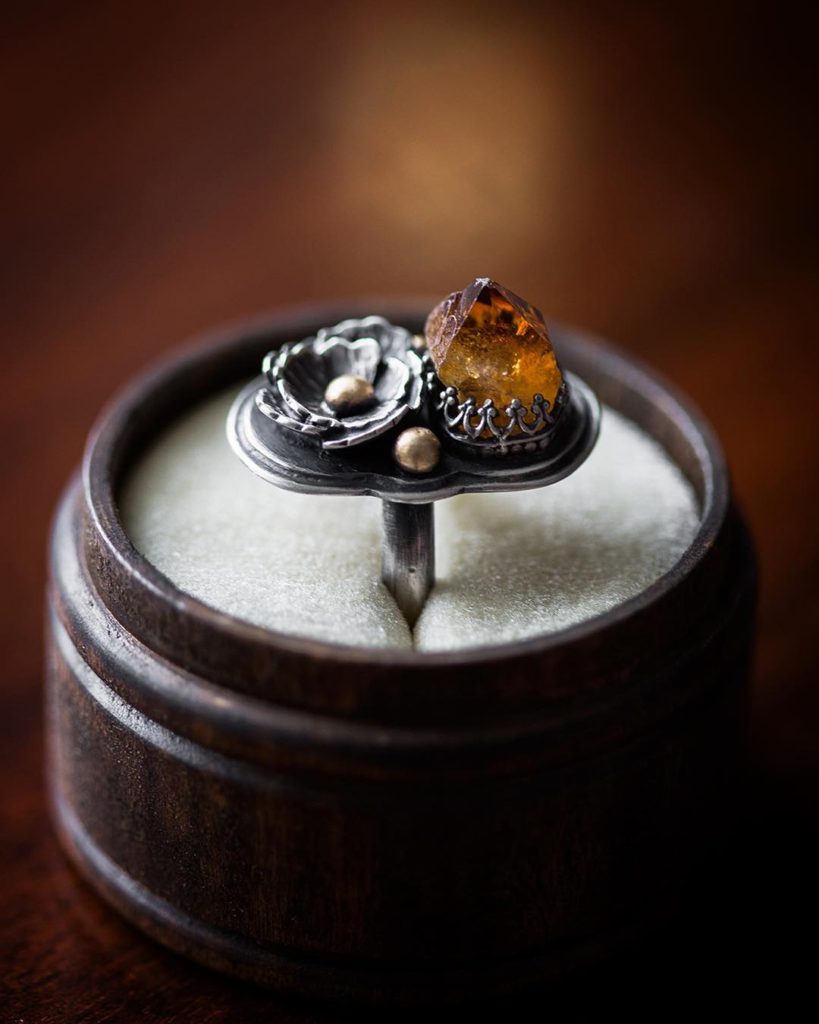 Bee Garden Ring
(US Size 5)
In the first Honeybee Collection, there was only one Bee Garden Necklace and several Bee Garden Rings. But this time, there will be a dozen or so necklaces and only this one Bee Garden Ring.. A heated quartz point sits above a fluffy rose and two pollen granules. To be worn when you would like to bring bees down from the air to alight on the hand.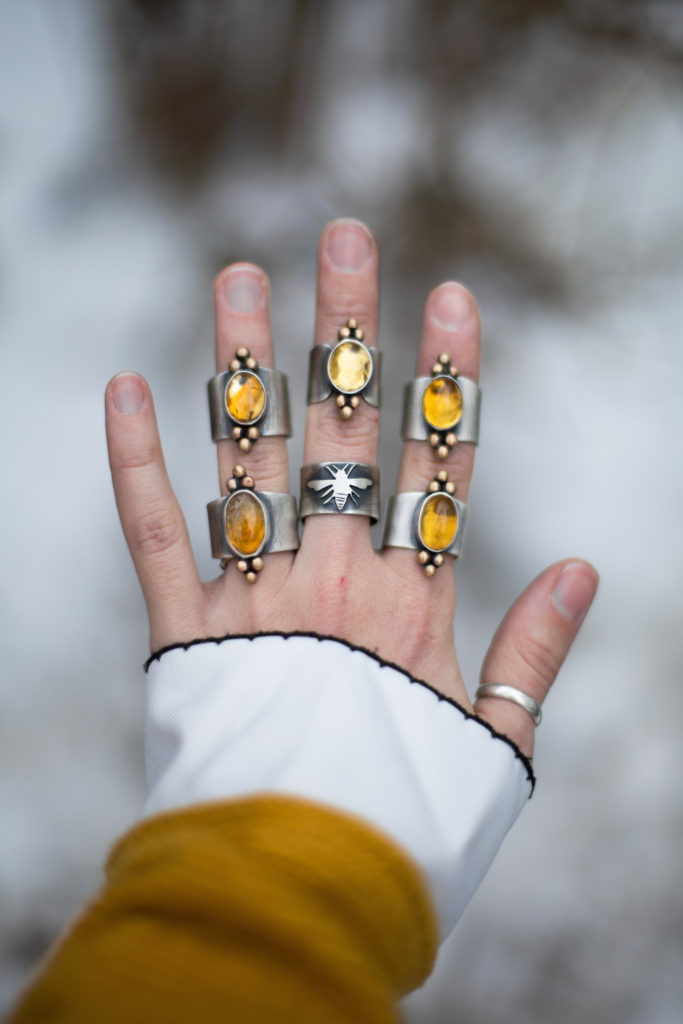 Bee Charmer Rings
(US Sizes: 6, 7.75, 8, 8.25, 8.5, 10.5)
As with the Apiary Rings, it is a good idea to size up on these as well. It is generally recommended to purchase a ring that is at least ½ a size larger than your regular size. But I find these are most comfortable at a full size larger than my regular size. In the end, you are the best judge!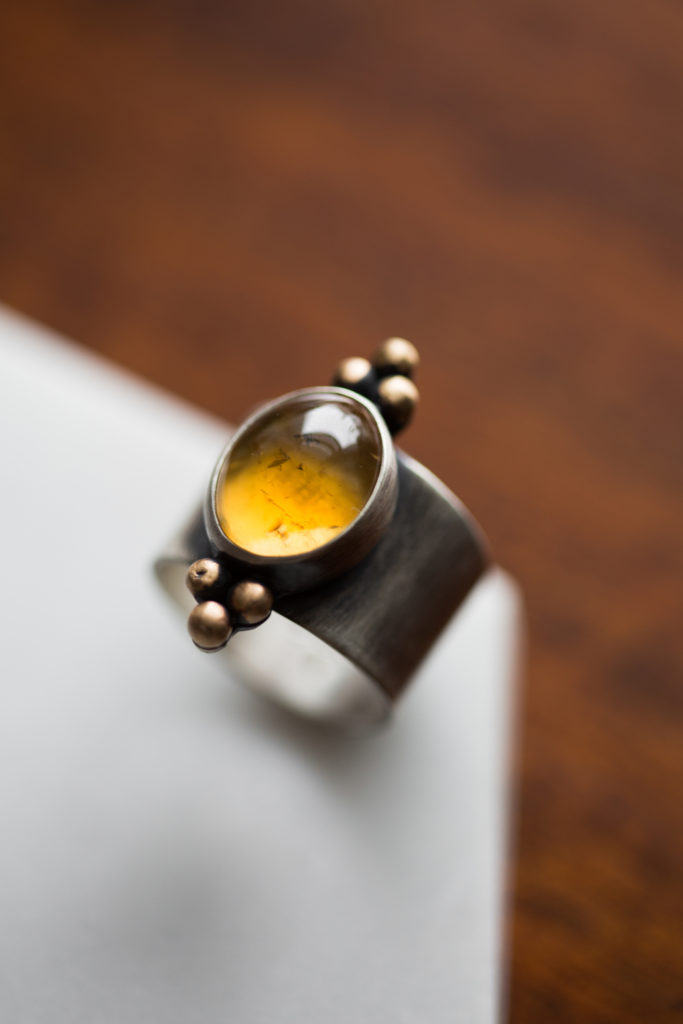 These rings feature smooth oval citrines, like cups of honey balanced upon the hand. There are brass pollen granules above and below the stones.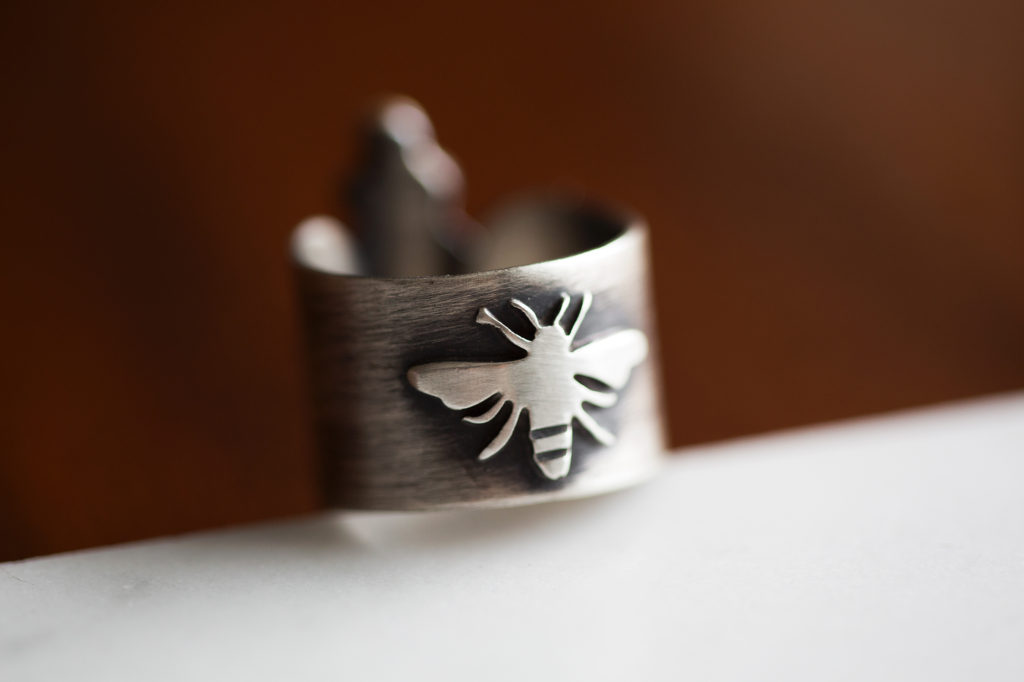 And I even charmed a few more little honeybees into settling in your open hands. On the underneaths of the rings are tiny bee silhouettes (the bottom ring is what the backs look like). Hidden honeybees to hold through the day.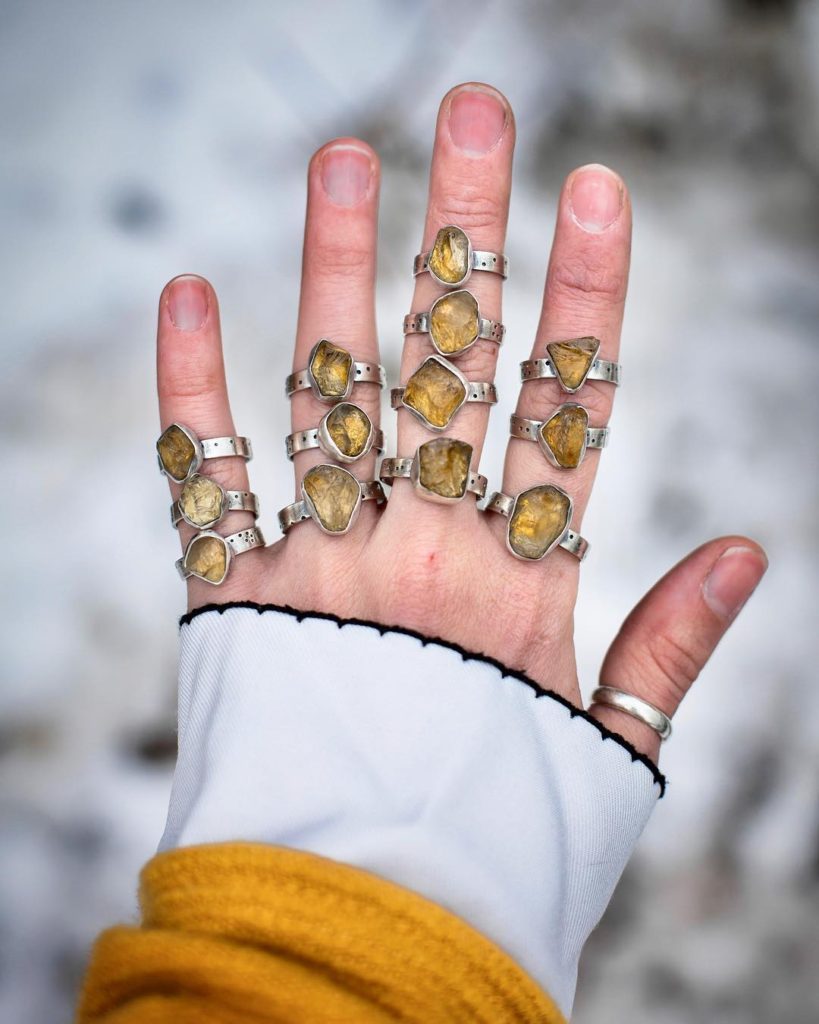 Flight Path Rings
(US Sizes: 4.5, 5.5, 6, 6.5, 7.25, 7.5, 7.75, 7.75, 8, 8.75, 9, 9.75, 10.75, )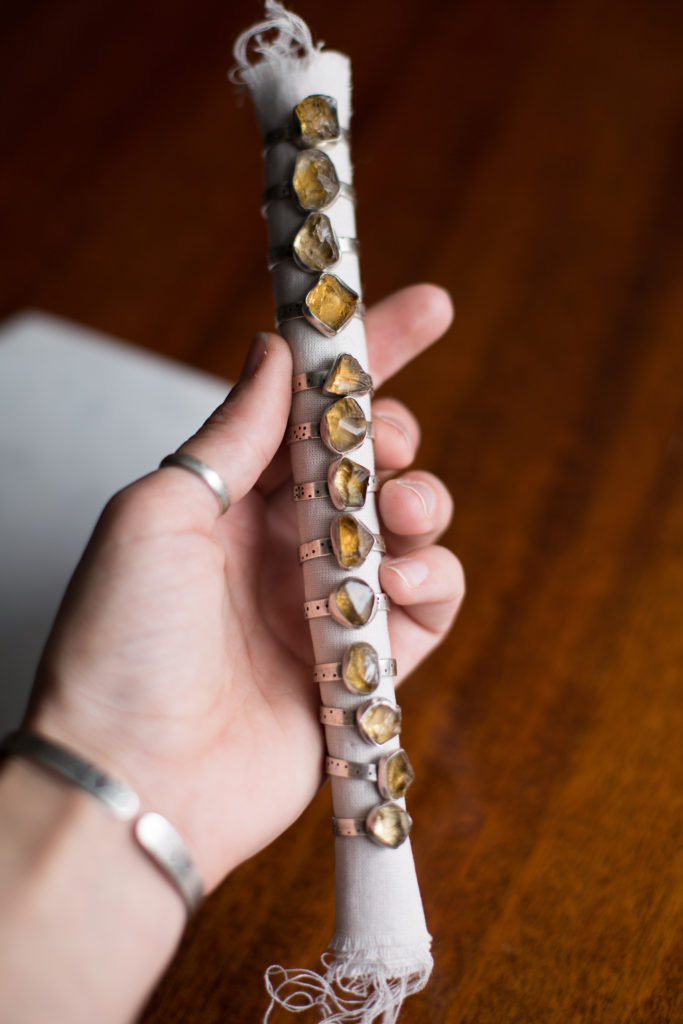 A simple design for apiarists, bee charmers, and garden-walkers. Rough citrine simply set, like warm sticky honeycomb resting atop the hand. For these rings I hand-selected several small rough citrines in various pleasing shapes. Some sit low, and others sit proudly tall. I set them modestly because I wanted the focus to be on the stone, as well as the patterning around the band.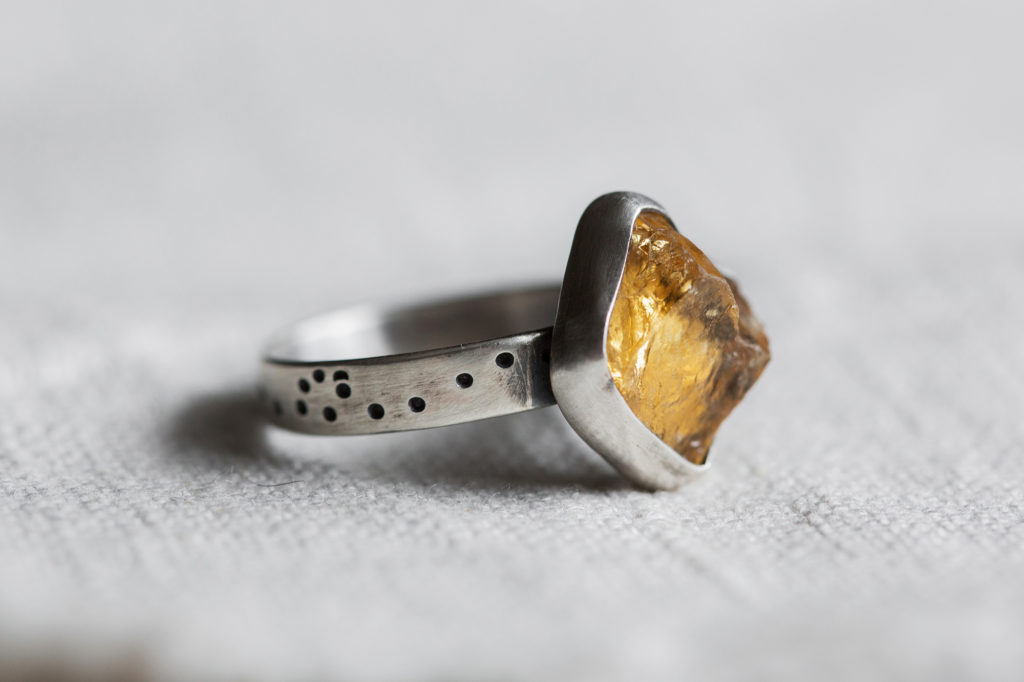 Last fall I made several pieces with a dot pattern lolling and spinning on the backs of pendants and on the insides of rings. And so I incorporated that pattern on the outsides of these rings, making their way to and from the sticky, warm citrine. An unruly, jubilant path, skirting the edges of the ring band. Which to me reflects the flight of a bee as it bounces from flower to flower, dipping and arcing for the sheer joy of sun-warmed wings and the promise of honey.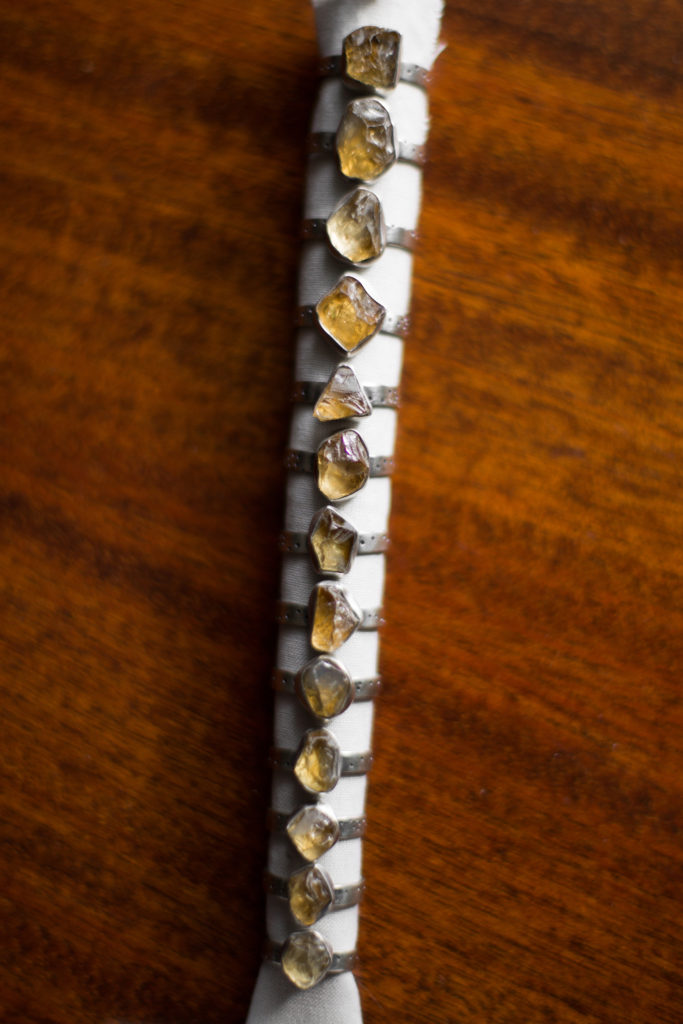 Don't these citrine look just like raw honeycomb? As though I opened up the beehive at my parents house and deftly cut-away tiny pieces of a warm summer day to set in silver.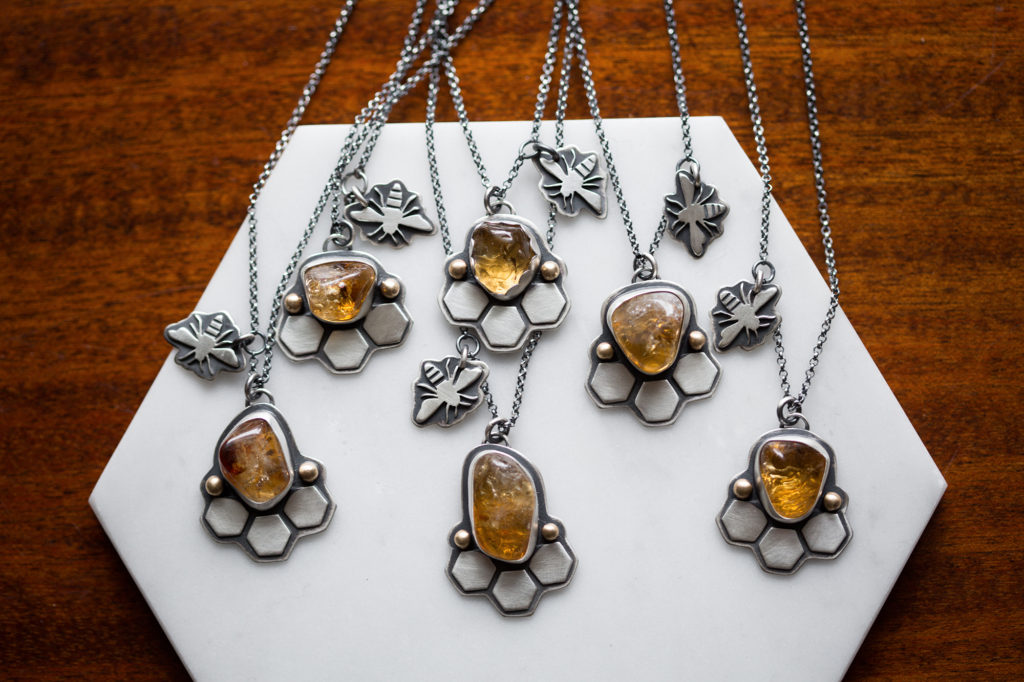 Hive Necklaces
Each of these necklaces feature a warm freeform citrine polished to a glossy finish, like gobs of honey. They are set above a few honeycomb cells and between brass pollen granules.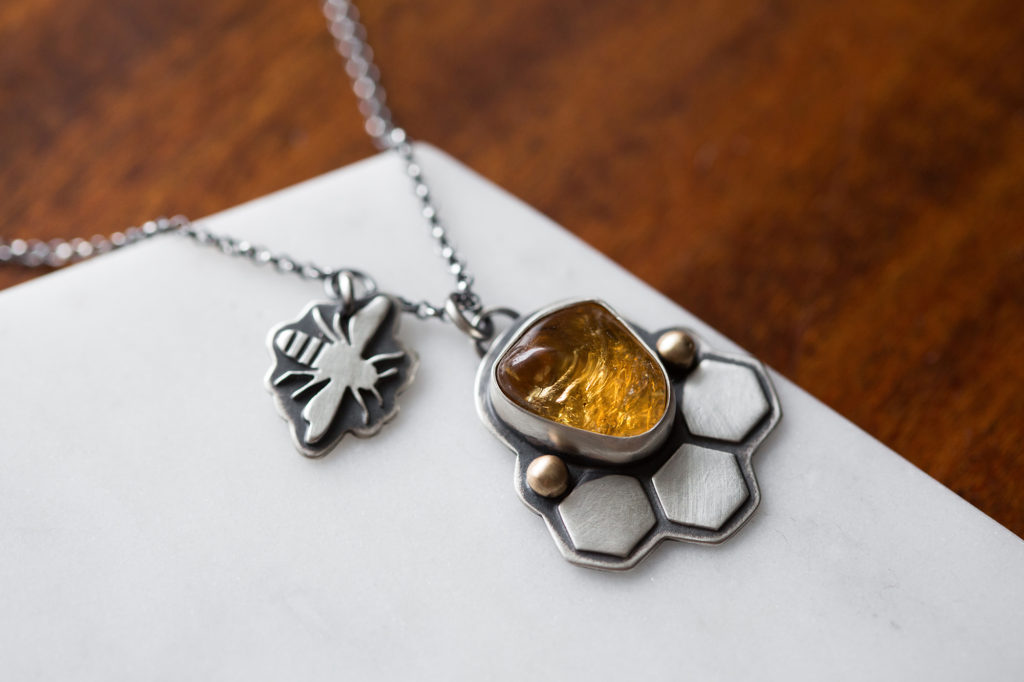 Fixed to the chain above the pendant, a dedicated little worker bee swinging down toward the hive. The bees are built into the chain which is adjustable, so you can change the position of the bee.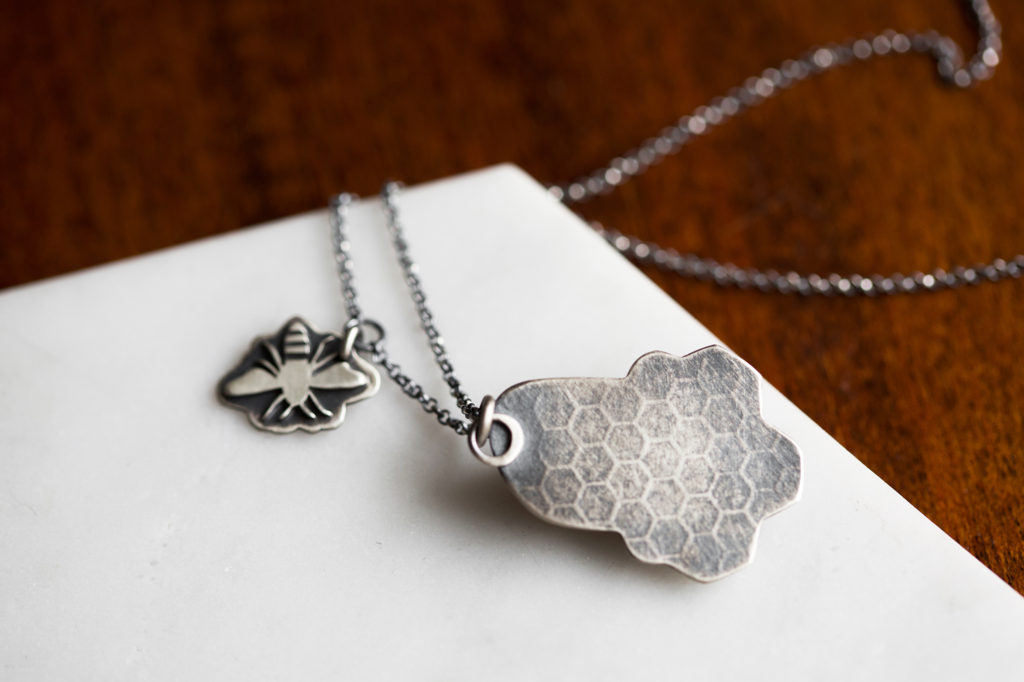 And the back is lightly printed with a honeycomb pattern, to wear against the skin in remembrance of the good work of bees.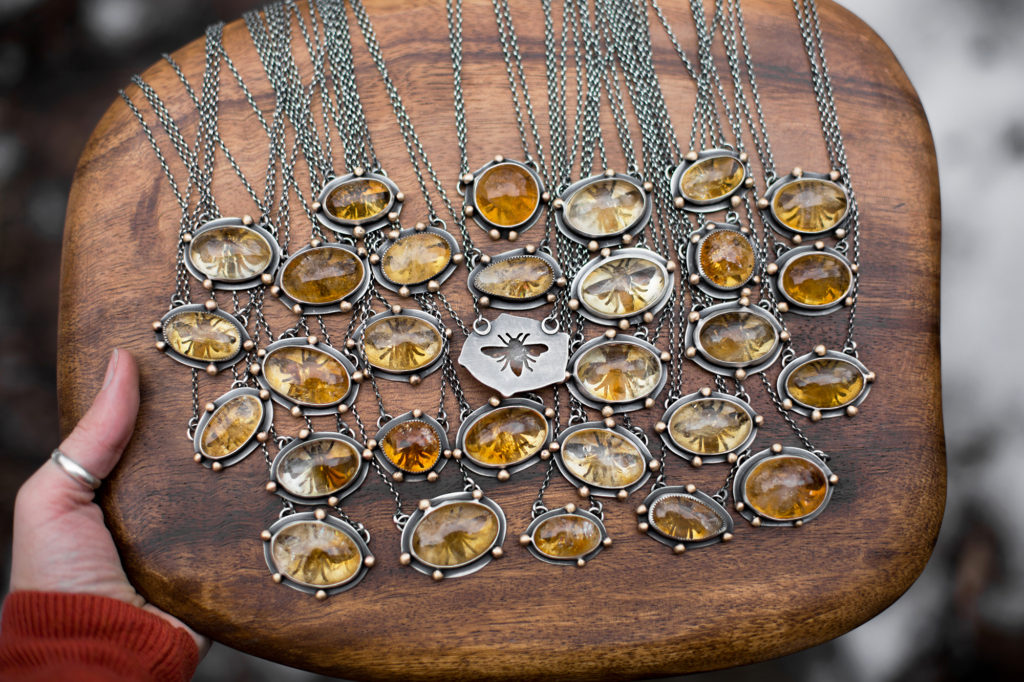 Honey Necklaces
To me, this piece looks like a cup that has been filled to nearly spilling with honey! It features a citrine gemstone with a few brass pollen granules placed sporadically around the stone.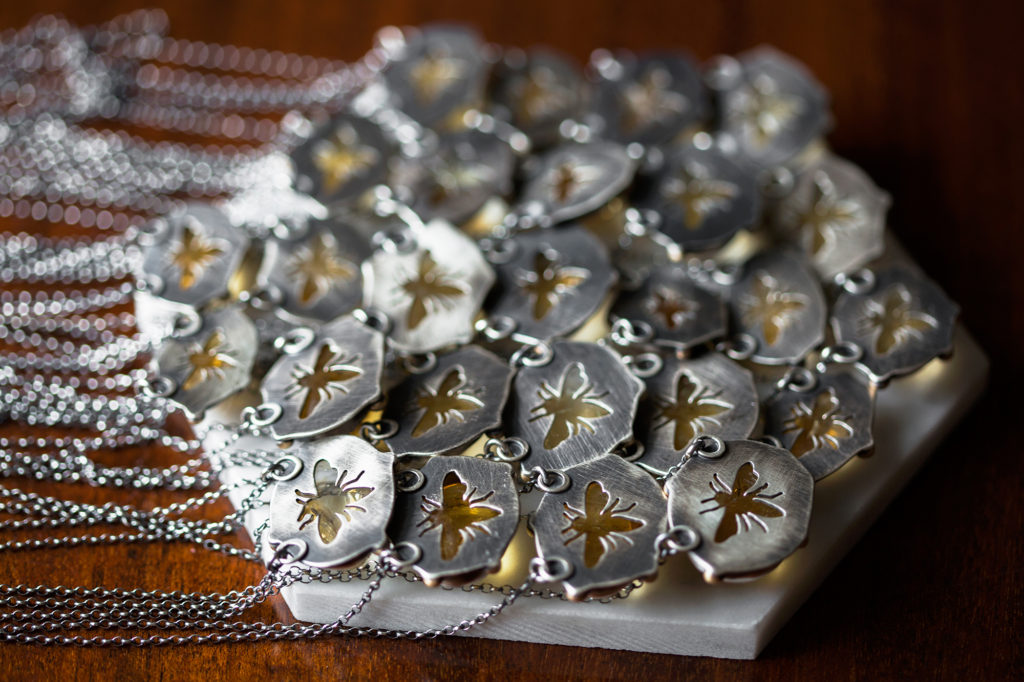 When designing this piece, I thought often of this quote by Henry David Thoreau: "The keeping of bees is like the direction of sunbeams."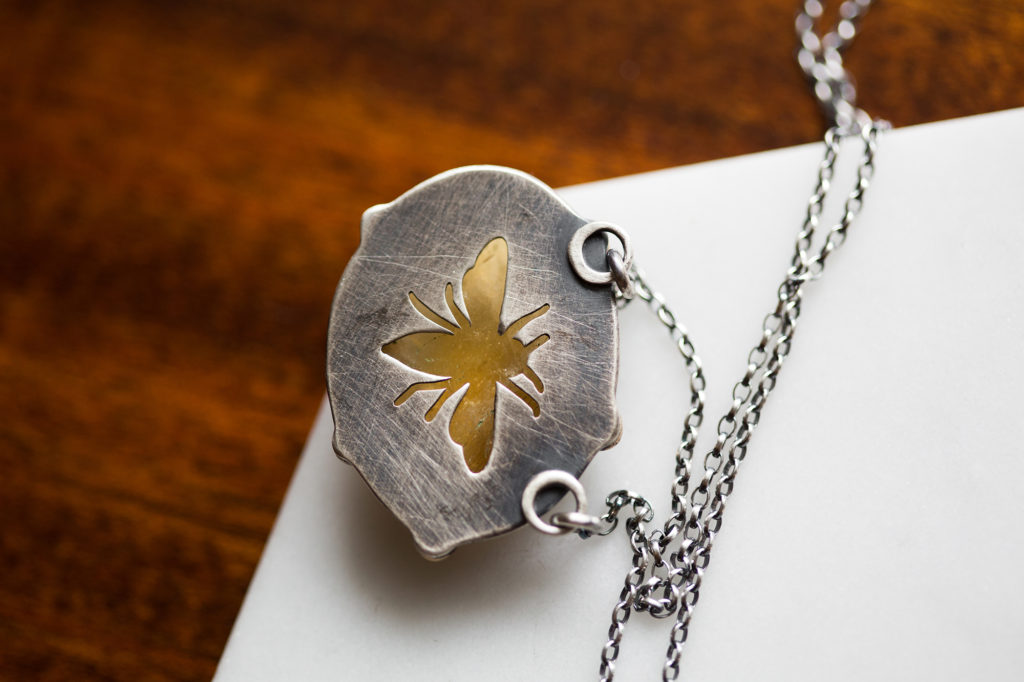 This thought I translated into metal by sawing out a window in the shape of a bee on the back; a sticky, sweet thing made entirely of honey! And when you hold the pendant up to the light, the bee glows warmly. The direction of sunbeams, summer preserved in a pendant.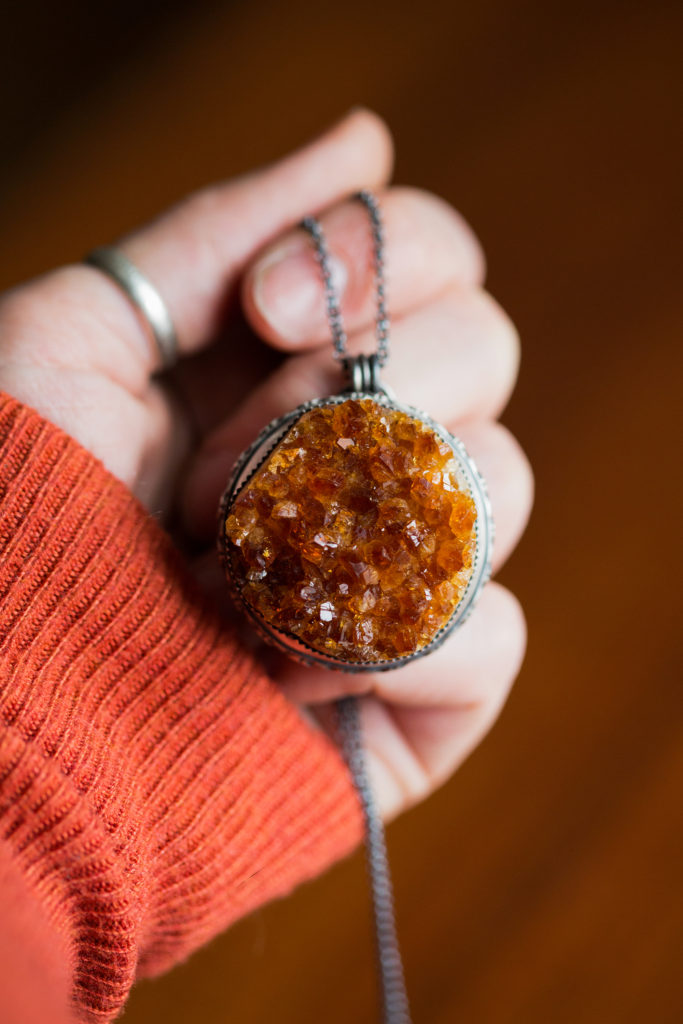 Queen Bee Necklaces
And here, the grandest design in the collection. These bold necklaces are comprised of freeform, round heated citrine druzy clusters set inside floral borders. The backs of the pendants feature the impression of a large, detailed honeybee.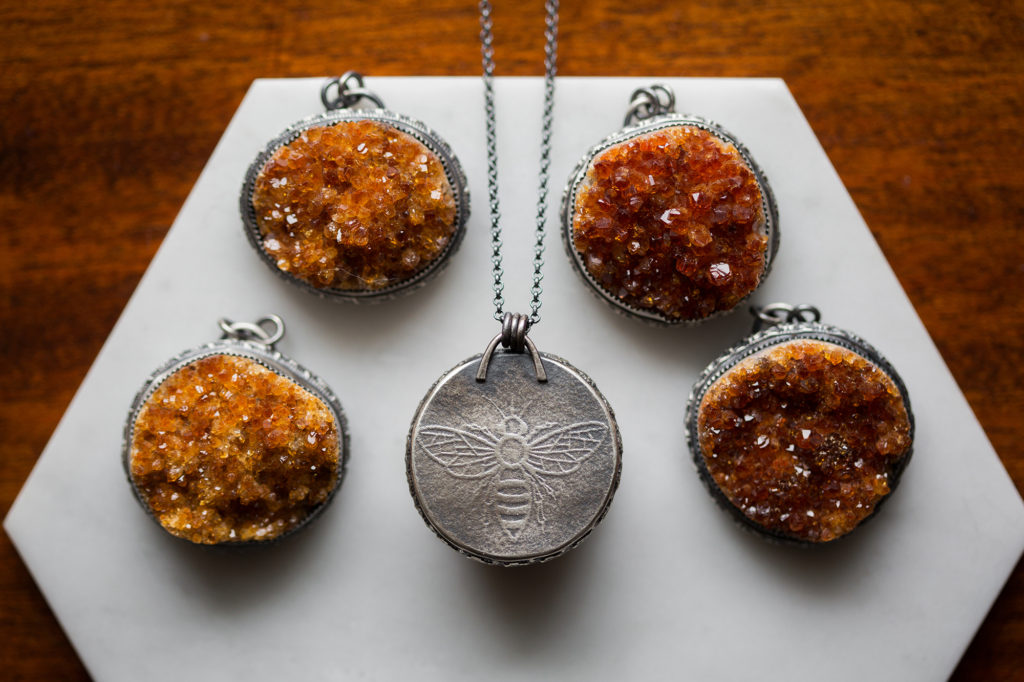 The inspiration behind this design was the queen bee herself. Did you know that honeybees are matriarchal? All the honey of the world and the fruit of honeybee pollination are the good work of female worker bees. Endlessly burdened by pollen and braving the wide unknowns for the good of the hive. Tending, gathering, and protecting all their days.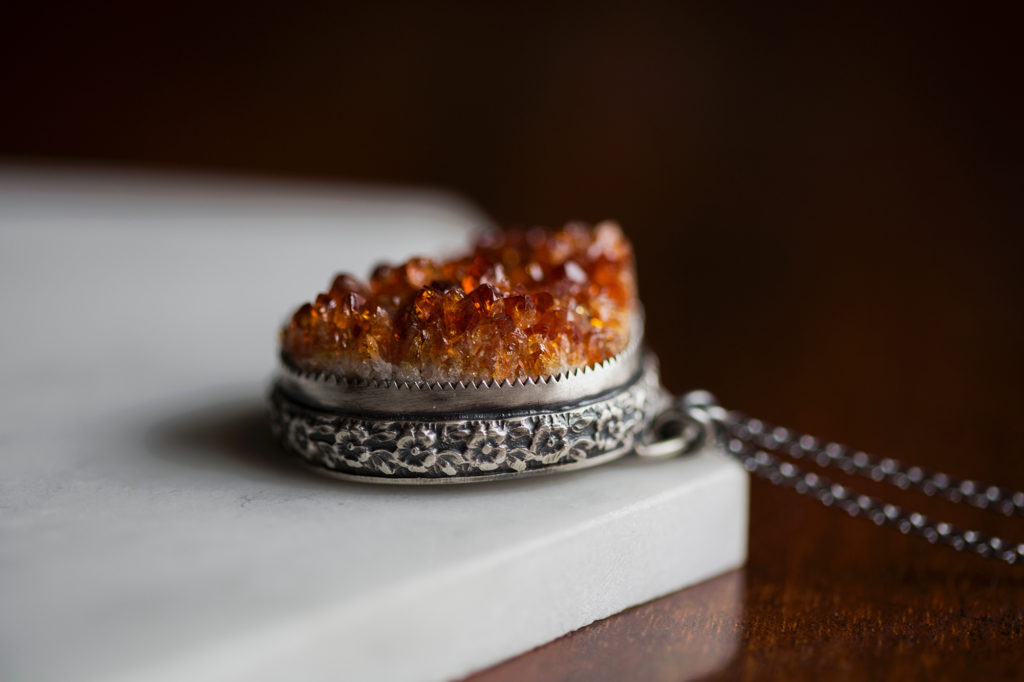 The workers carry this incredible responsibility, but the queen is the mother to the entire hive, and larger than the other honeybees. This piece is a reflection of her. Large and bold, and crowned with a circlet of flowers. The most fitting adornment for a honeybee queen.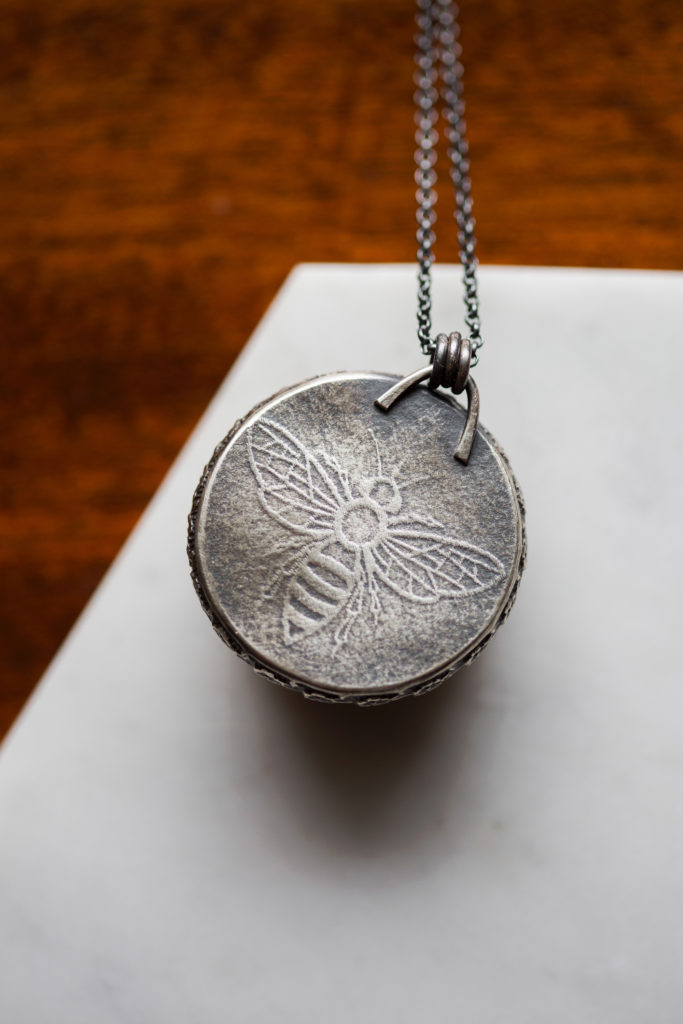 These necklaces will be finished with a strong chain that will be custom cut to the length of your choosing.
_________________________________
And that is everything that will be a part of Sunday's shop update! A veritable swarm of honeybees prepared to fly off into the world and alight upon your wrists, fingers, and chests.
Everything will be in the Etsy shop at 7:00 p.m. EST on Sunday, February 24th.
Cheers!
Michaela