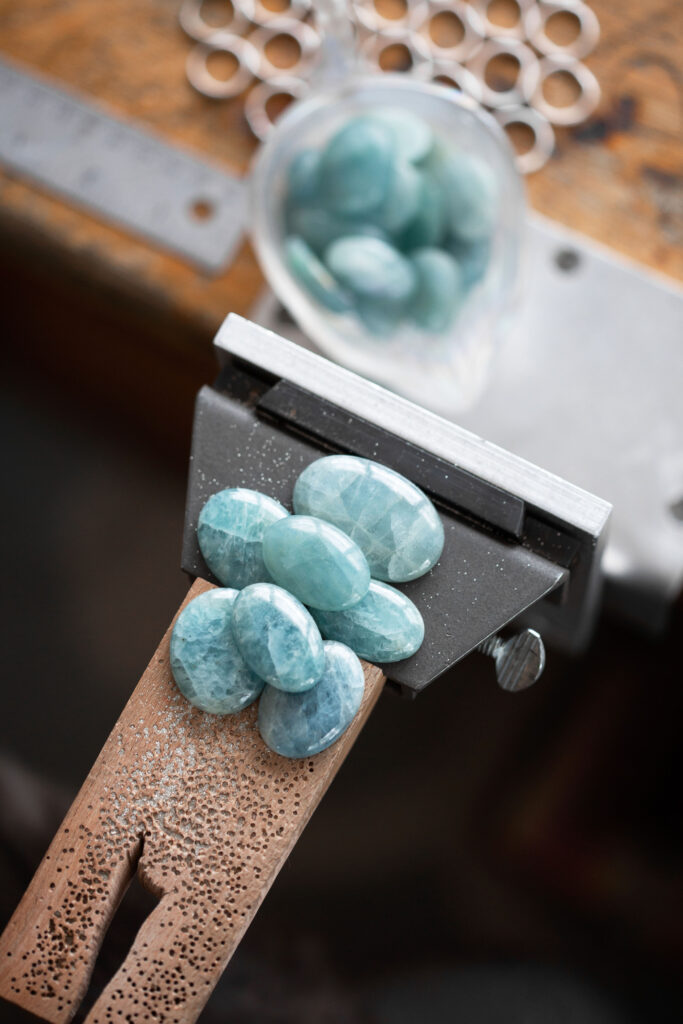 And here, the very last of the pieces that will be included in Part II of the North Wind Collection. A brand new ring design, and two single familiar designs from last year.
---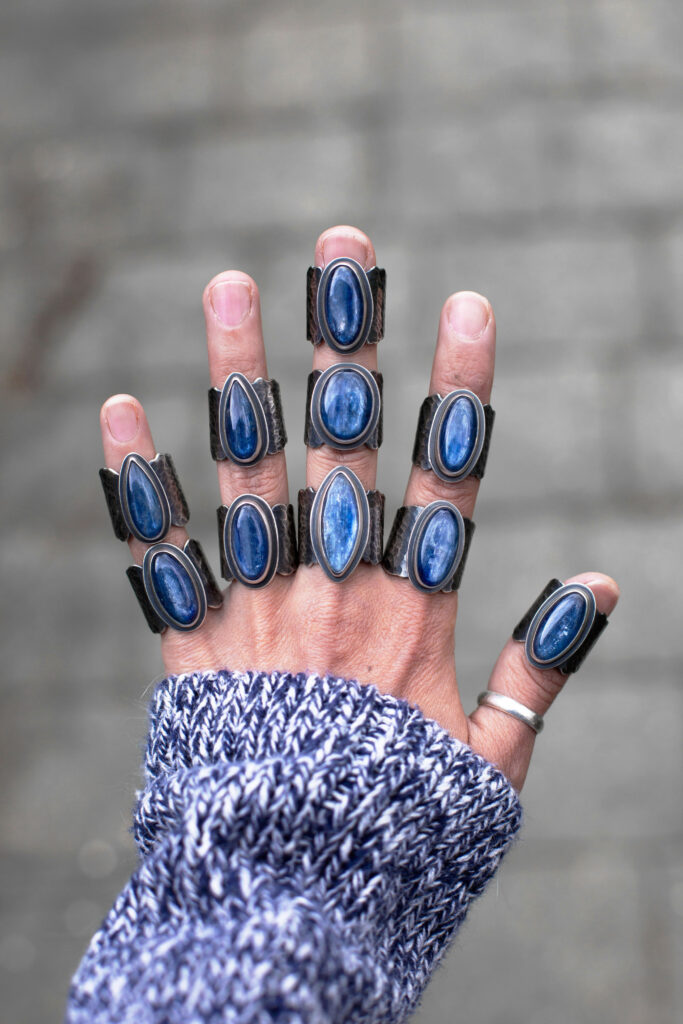 Alpinist Rings
There will be 23 of these rings available.
Price: $160 per ring
Sizes available:
6 | 6.5 | 6.5 | 6.75 | 6.75 | 7 | 7 | 7 | 7.5 | 7.5 | 7.5 | 7.5
| 8 | 8 | 8 | 8 | 8.25 | 8.5 | 8.75 | 8.75 | 9 | 9.25 | 9.75 | 10 |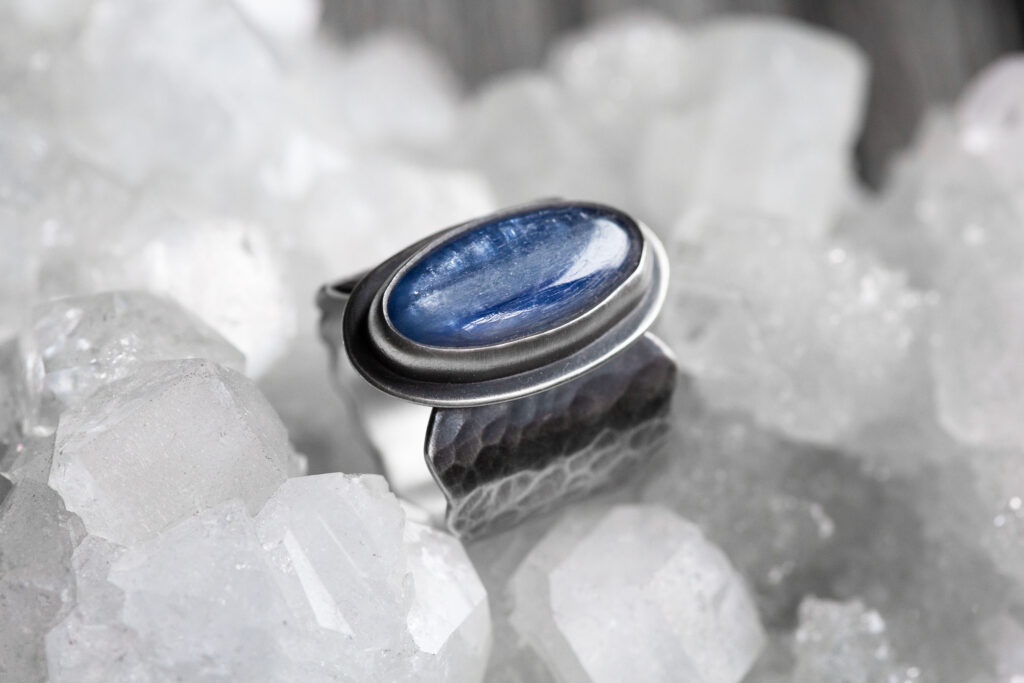 I designed this ring as an ode to climbers of high mountains. Rough and sturdy, like those who trudge for long hours and days to reach mountaintops that few others visit.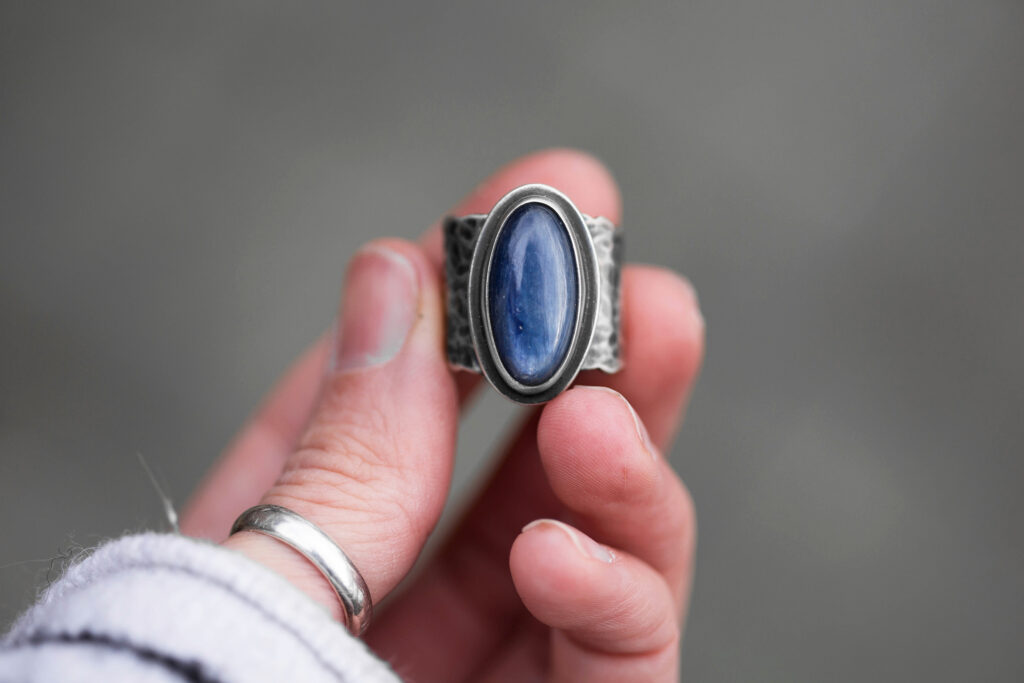 Conquering peaks far above the tree-line, and then tracing outlines of mountain ranges on the horizon with scuffed fingertips. Dreaming of going further, hiking higher. A ring for snowy ascents and reaching up into bluebird skies.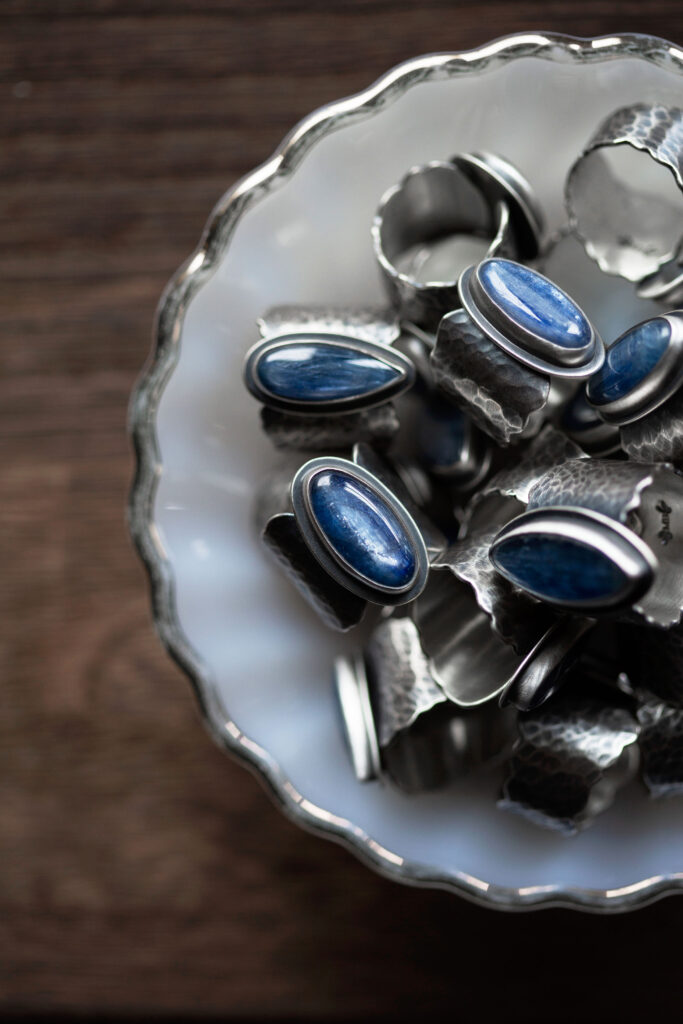 Each ring features a single dark blue kyanite gemstone, the color of the sky on those impossibly clear days.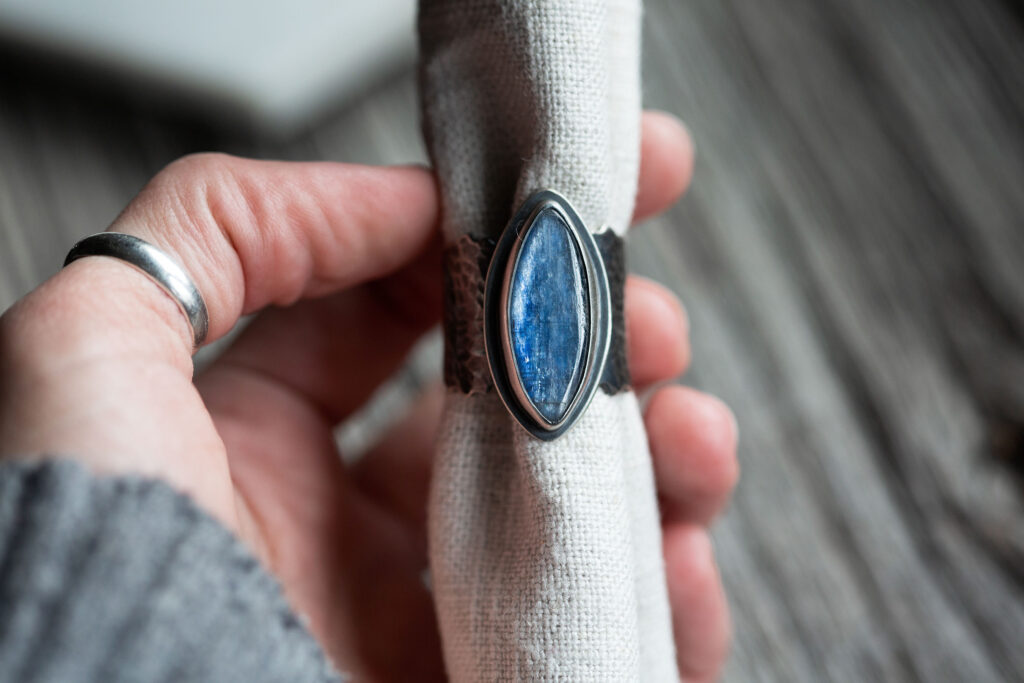 The band is a sturdy, wide band that has been given a hammered texture, rough and weathered.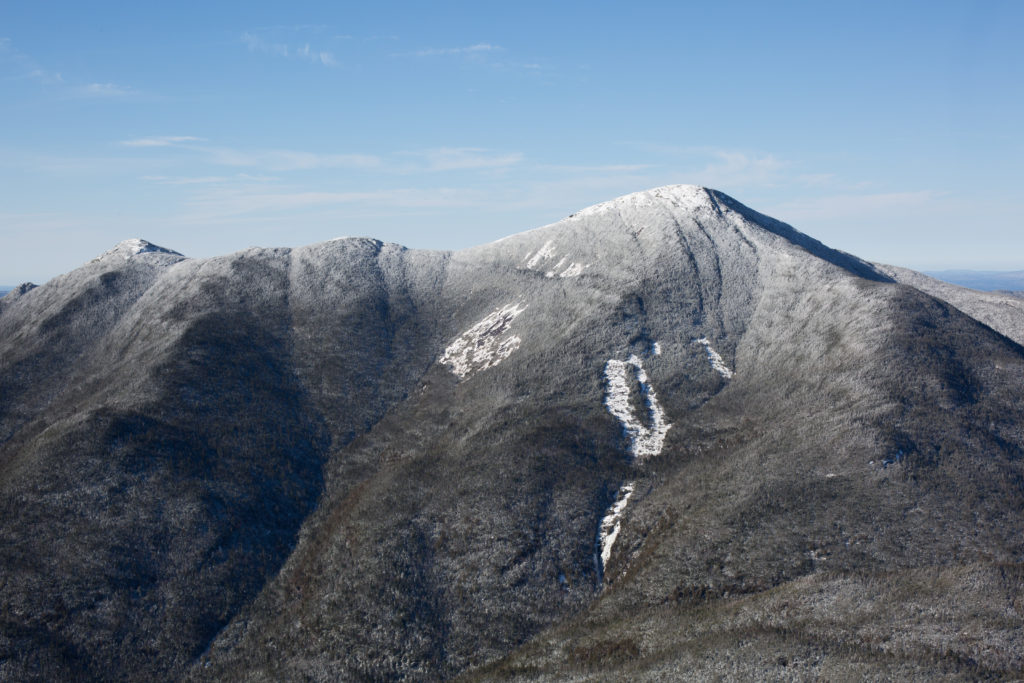 And the bands have been given irregular, undulating edges to resemble a mountainous skyline. Peaks and valleys, saddlebacks and passes.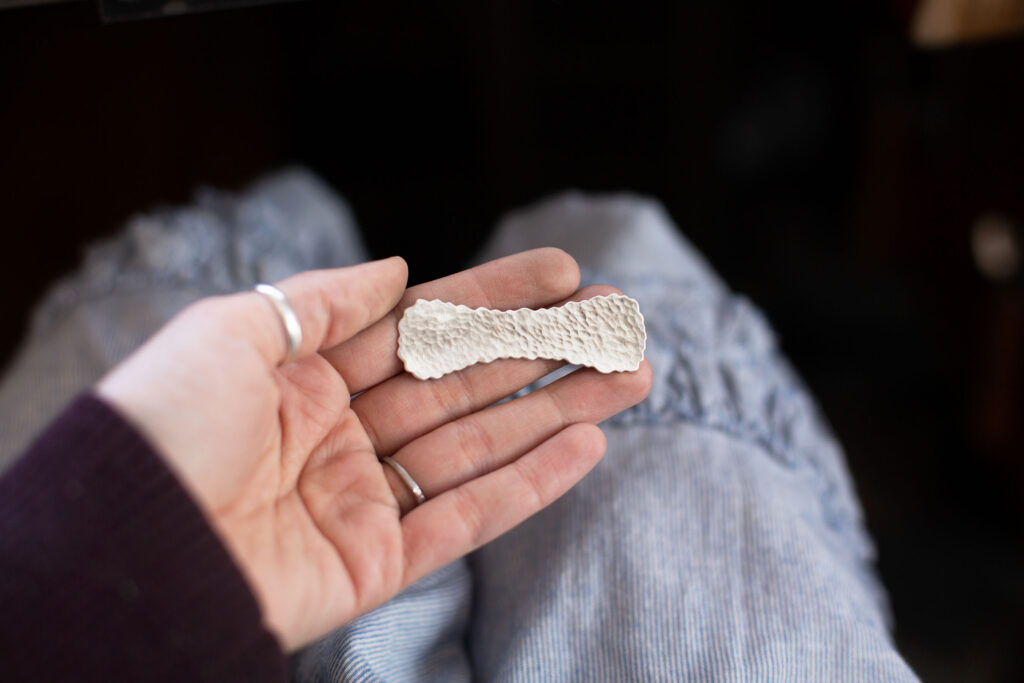 As always with my wide bands, I give the size that it reads on the mandrel. But since it is wide, it will fit snug. Therefore it is recommended to purchase a ring that is listed as 1/2 – 1 full size larger than your regular size. I prefer my wide bands a little looser so my hands can breathe, so I go a full size up.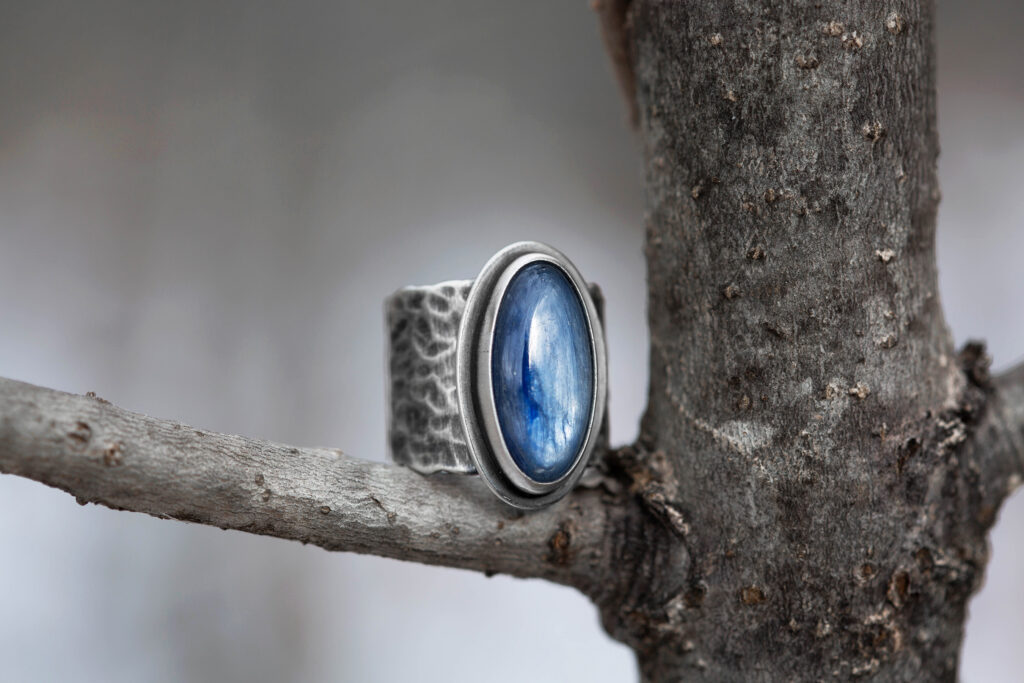 For example, if you are usually a size 7.5, look for a ring that is listed as a size 8, 8.25, or 8.5 (depending on how snug you like your rings).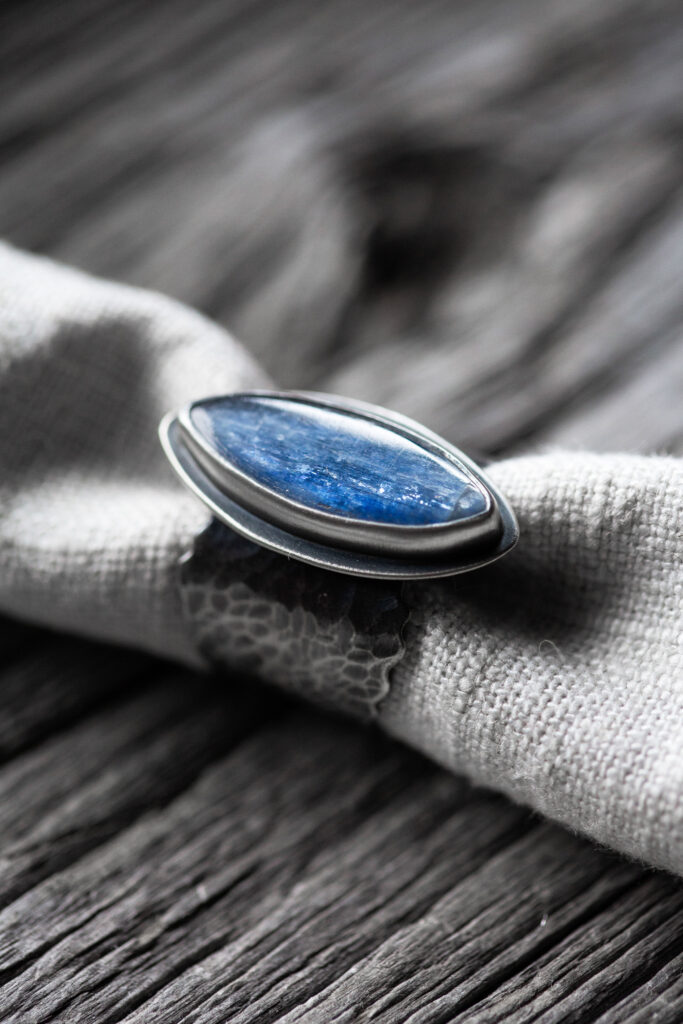 I also made them directional, meaning that the bottom of the band is a bit flared. Our fingers are tapered and so the ring will fit more comfortably this way.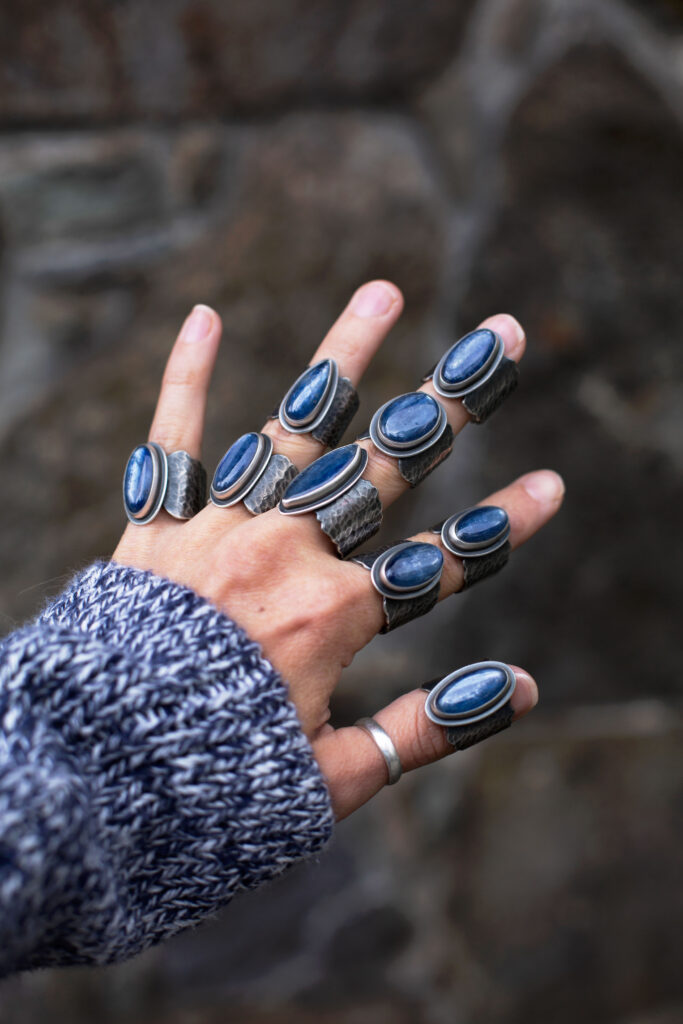 ---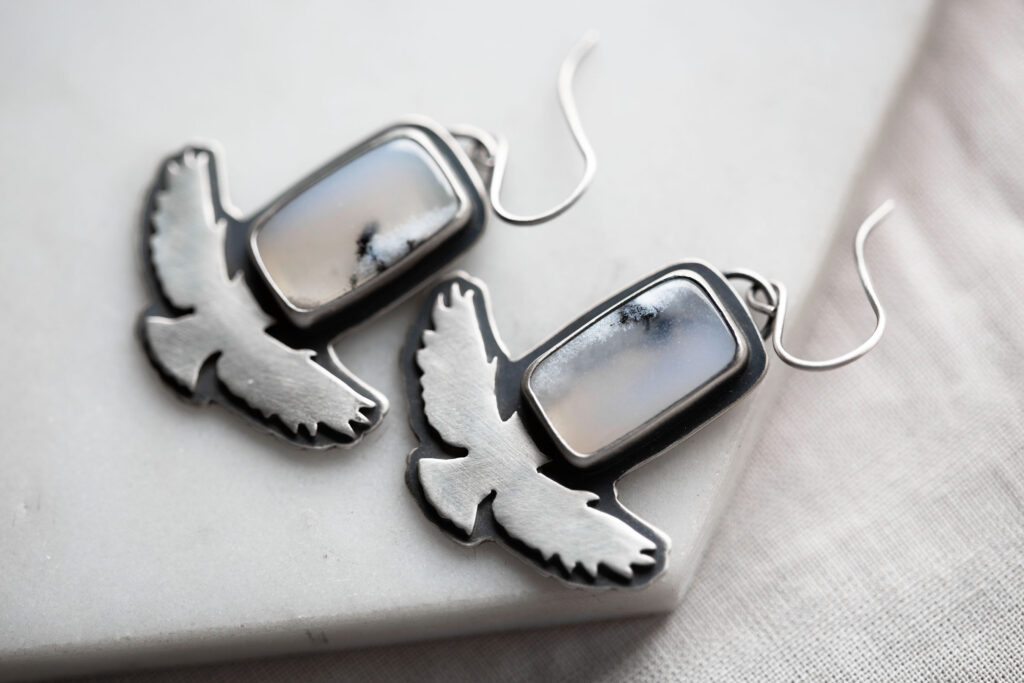 Winter Owl Earrings
There will be only one pair available.
Price: $145 per pair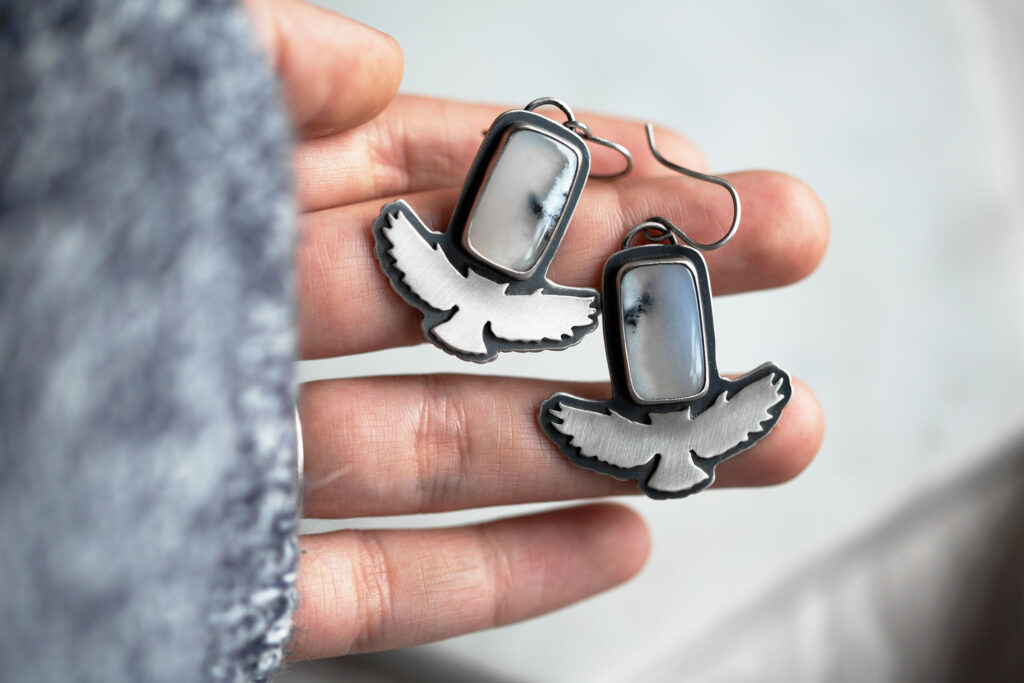 I made just one single pair of these earrings! Destined for one lucky person who missed them last year.
These earrings are made from natural, snowy dendritic agate/merlinite stones cut from the same rough so they match one another. They are set in hand smithed bezels of sterling silver. Below the stones are sterling owl silhouettes, watchful forest stewards.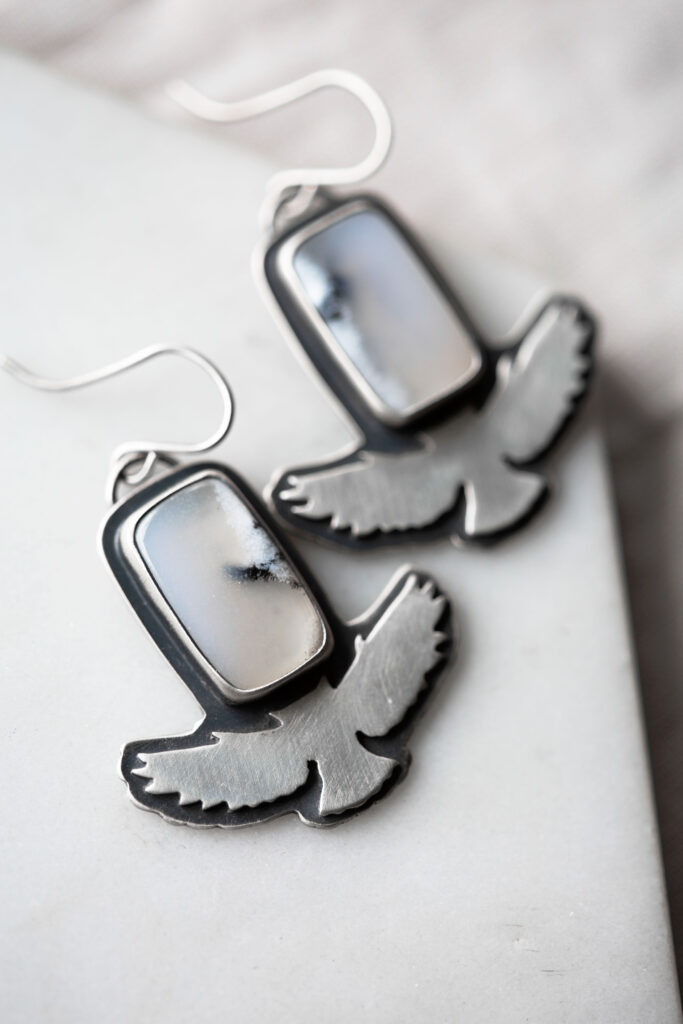 The earrings are suspended from sturdy, simple french earwires. The earrings has been oxidized and polished to give the it an organic and weathered feel.
---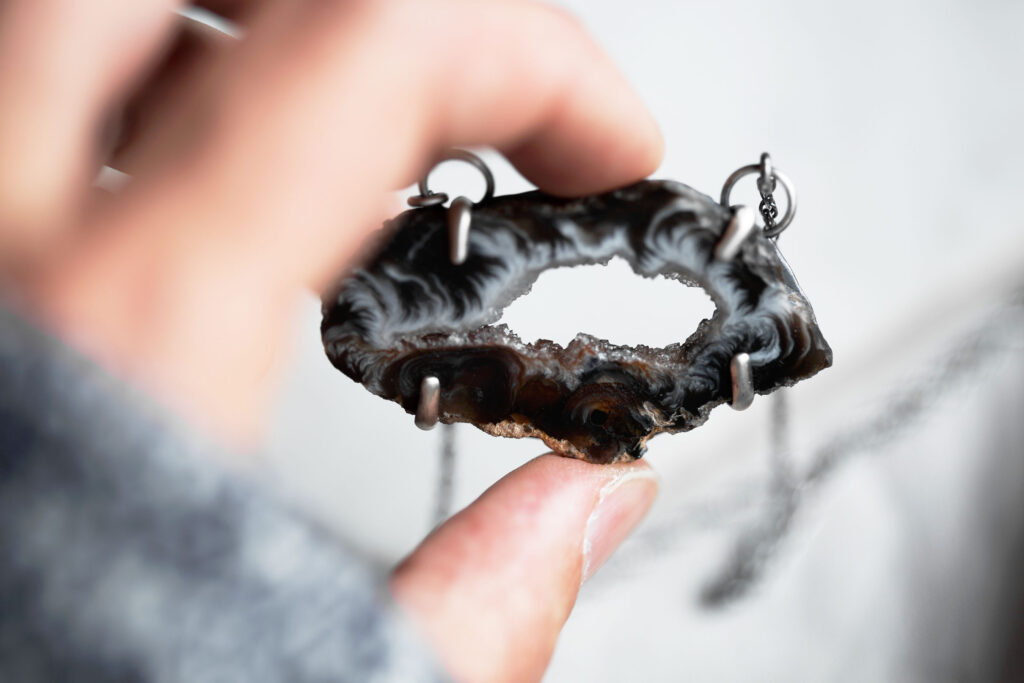 Crystal Cave Necklace
There will be only one necklace.
Price: $135 per necklace
Suspended from a rope chain that is adjustable from 17 – 20″.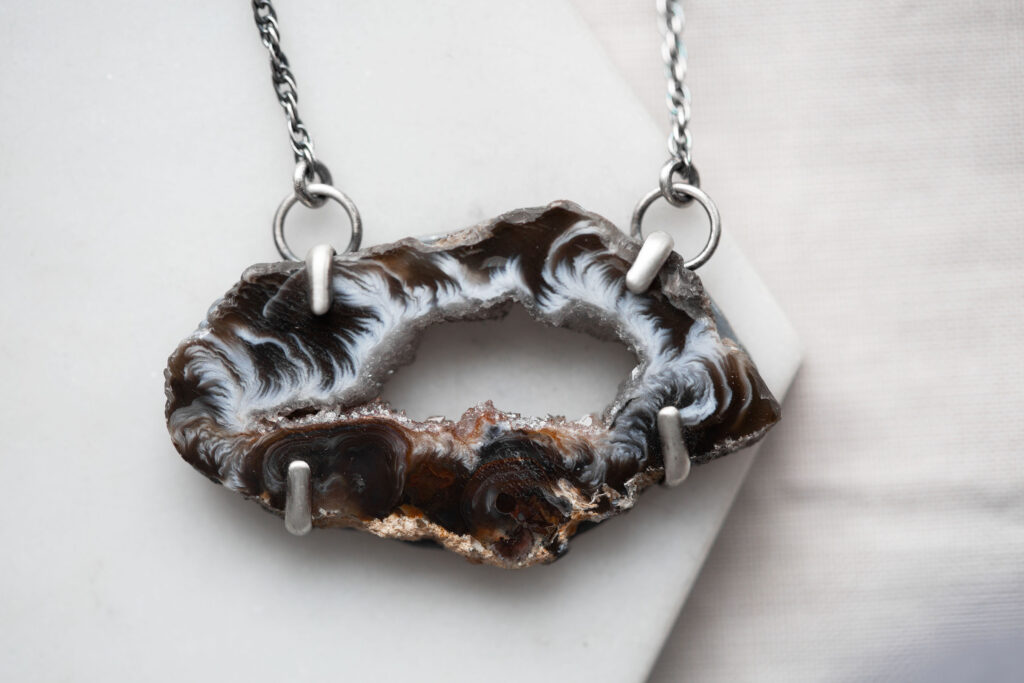 As with the owl earrings, I made just one Crystal Cave Necklace.
Tiny quartz points encrust the centers of these agate slices.
Hewn from rock and filled with magic.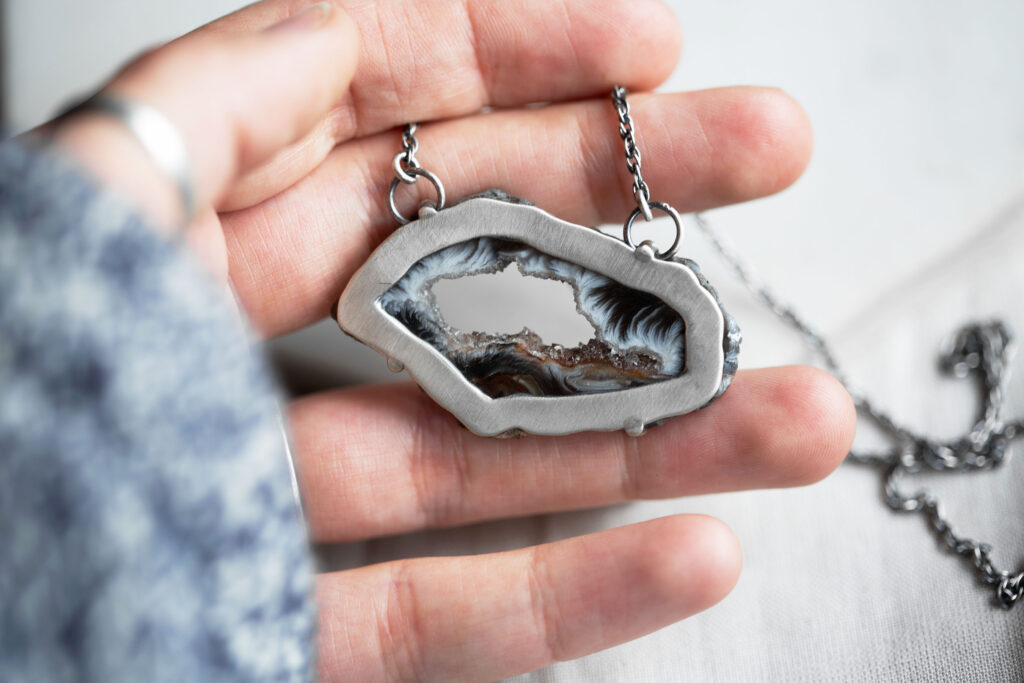 This necklace is made from a beautiful agate geode slice with a crystalline center carefully held in a hand-fabricated, custom fit sterling silver claw setting.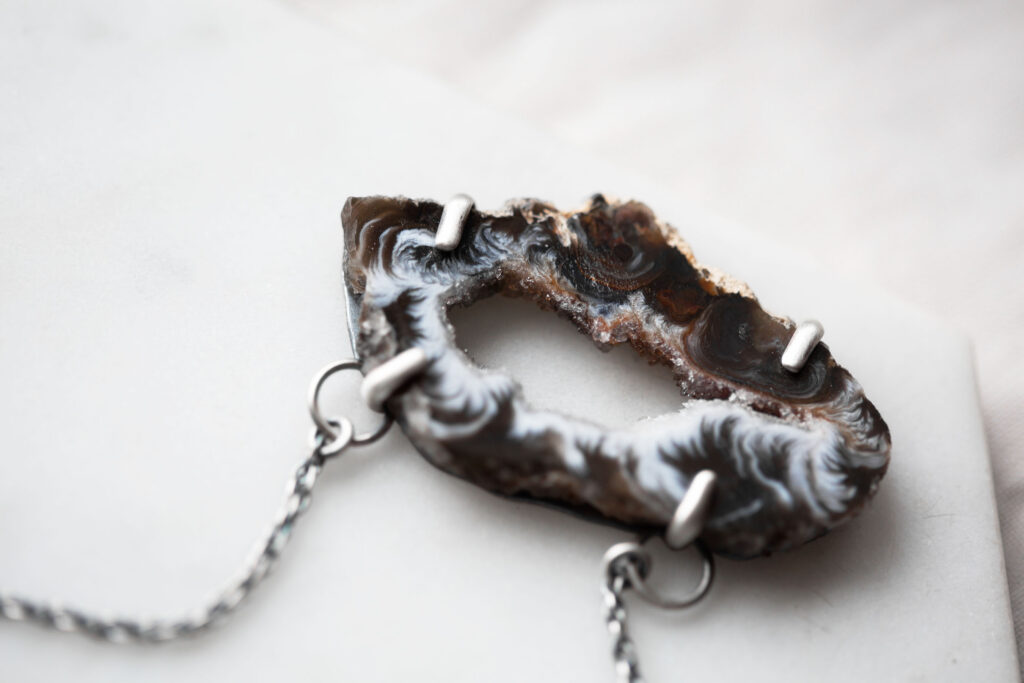 ---
And that's it for the previews!

A few reminders for the release:
🔸 PLEASE double check your shipping address on your Etsy account before the release to make sure it is correct before you place an order.
🔸 All the pieces I have been previewing the last several weeks will in Sunday's 7:00 p.m. EST shop update. It is first come first served, to give all a fair chance to claim the pieces that are calling to them.
🔸 A few of the designs will only have 4-6 available. Sometimes I like to keep the run small, this makes it feel more intimate and special. Other designs I made 30+ pieces in the hopes that everyone who would like one is able to claim one.
🔸 Remember! Etsy won't reveal my new listings for you right at the release time, you have to refresh and reload my shop page, sometimes a few times, before they all show up. It even does that for me to see all my new pieces!
🔸 Etsy is often slow with populating my shop after I publish my listings, I believe because I list so many pieces at once! I have been told this is because they work out of the cloud now rather than dedicated servers.

So if you want to try for a piece at release time, start on the home page and move through the pages from there. If you click on the collection section on the left, sometimes it takes 15 minutes or so for listings to show up. A very strange glitch, but it happens. Refresh often!
🔸 Make sure you look at all the photos of the pieces you are looking to purchase, because I try to photograph these pieces from every angle, in my hand for size reference, and in natural light, so you can see exactly what you will receive. I want you to be sure you are purchasing the perfect pieces for you!
🔸 That being said, an item isn't "yours" until you complete checkout. Meaning that other people can purchase items you are looking at, or that you even have in your cart. This is an Etsy feature that I cannot change.
🔸 My advice is that if you have a piece you have your heart set on, complete checkout with that item first. And then go back for the other pieces you want. Checking out separately allows you to claim your pieces more quickly, and you have less of a chance of a piece being scooped out of your cart.
🔸 In the days following the release, I will refund any shipping overages for those of you who place more than one order. I will be shipping out all the Part I orders together though, that way I don't get confused when it comes time to ship Part II orders.
See you on Sunday!

North Wind Collection Release, Part II: Sunday, May 16th at 7PM EST in the Etsy shop