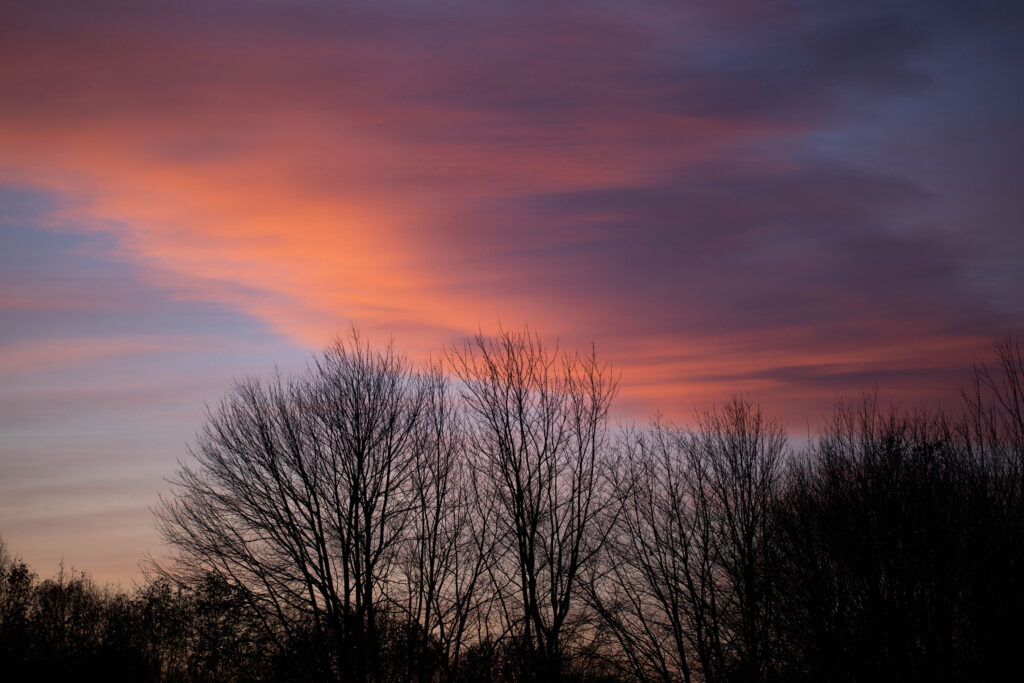 I always love beginning this collection each year, knowing some little ravens will settle on the backs of Picasso jasper gemstones, corvids made of leafless autumn trees set against dim skies.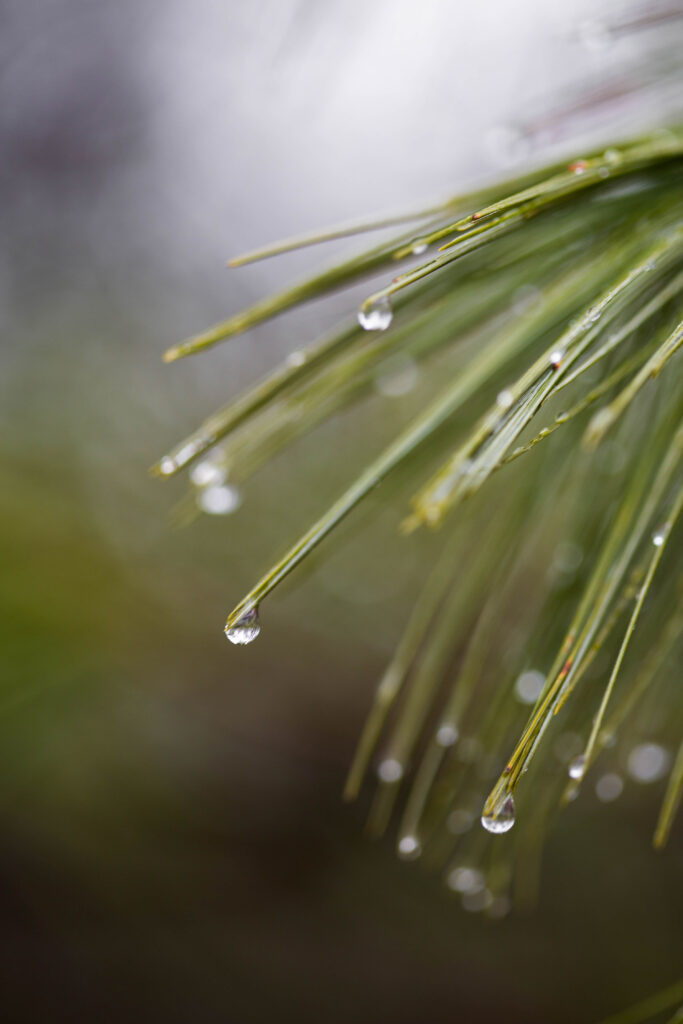 Others will perch on either side of ink black onyx gemstones and built onto cuff bracelets.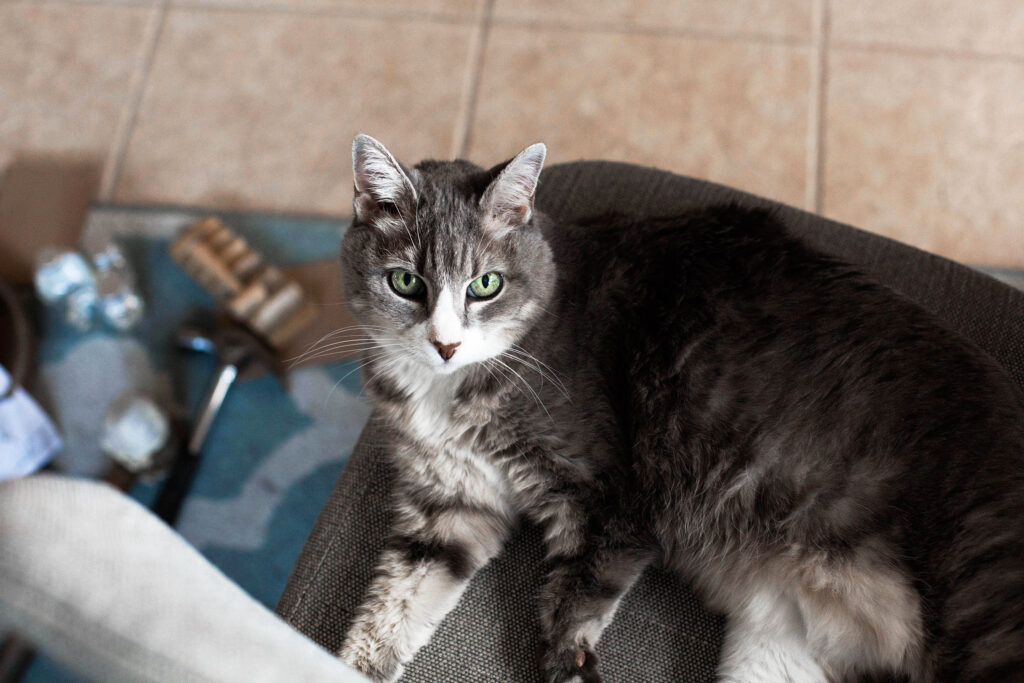 And a small handful, about ten little birds, will settle atop simple split half-round bands; raven shields to accompany the wearer through quiet November walks.
________________________________________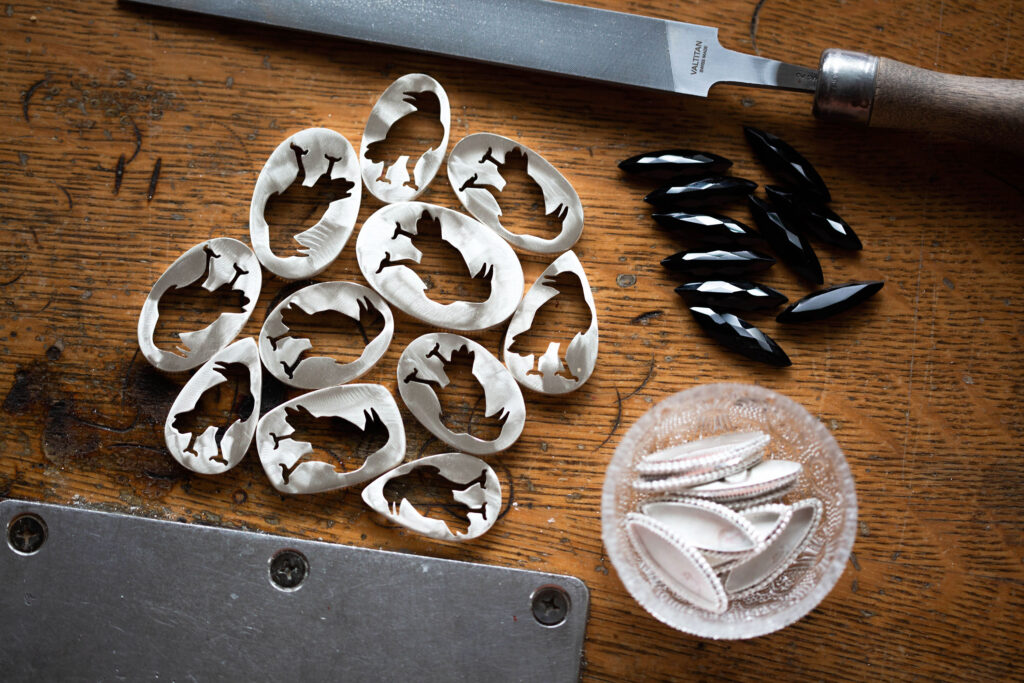 All the while I have been working on these pieces, there have been crows hopping around on the grass outside my studio windows; croaking to one another, picking up leaves in their beaks, and then taking flight to the leafless birches alongside the house.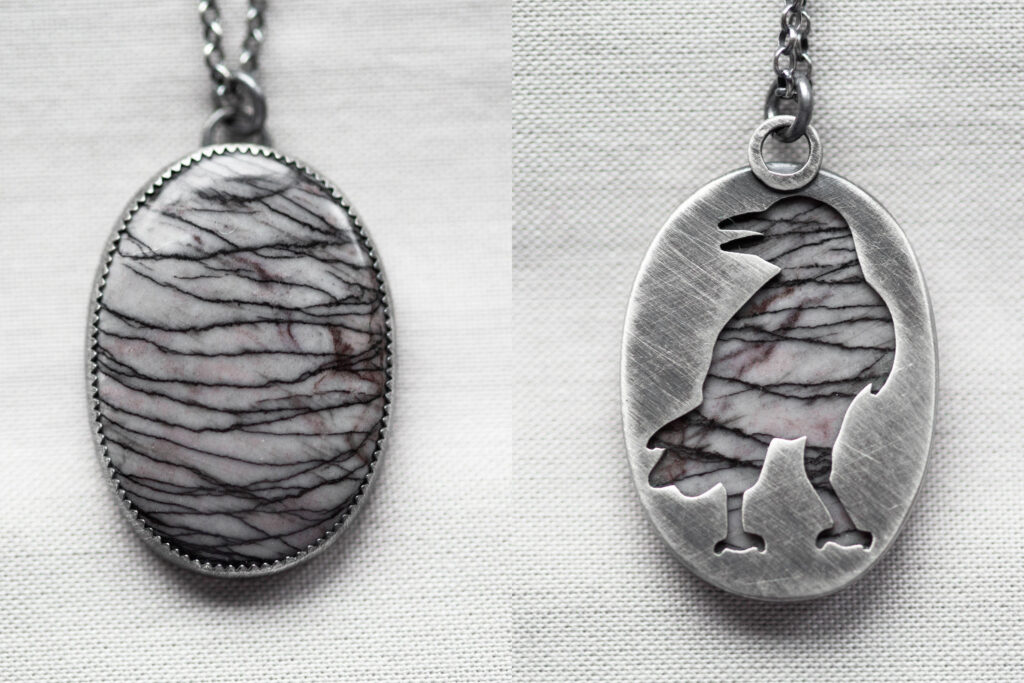 I only create raven pieces once a year in November, when the trees against gray skies look just like the Picasso jasper on my bench.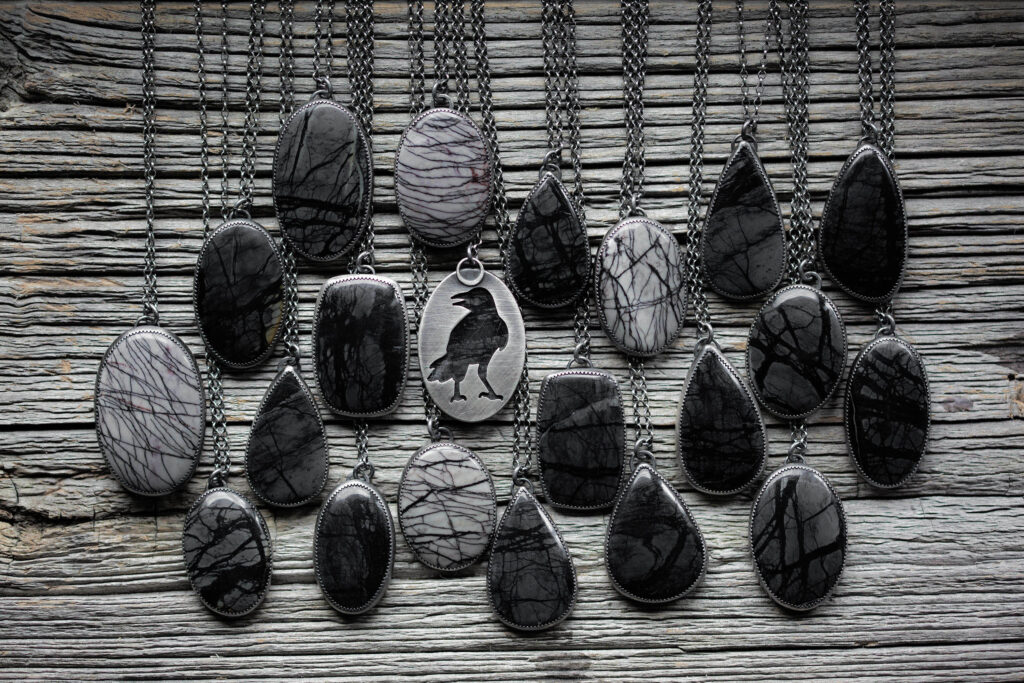 Ravens made of tree branches and rainy November skies.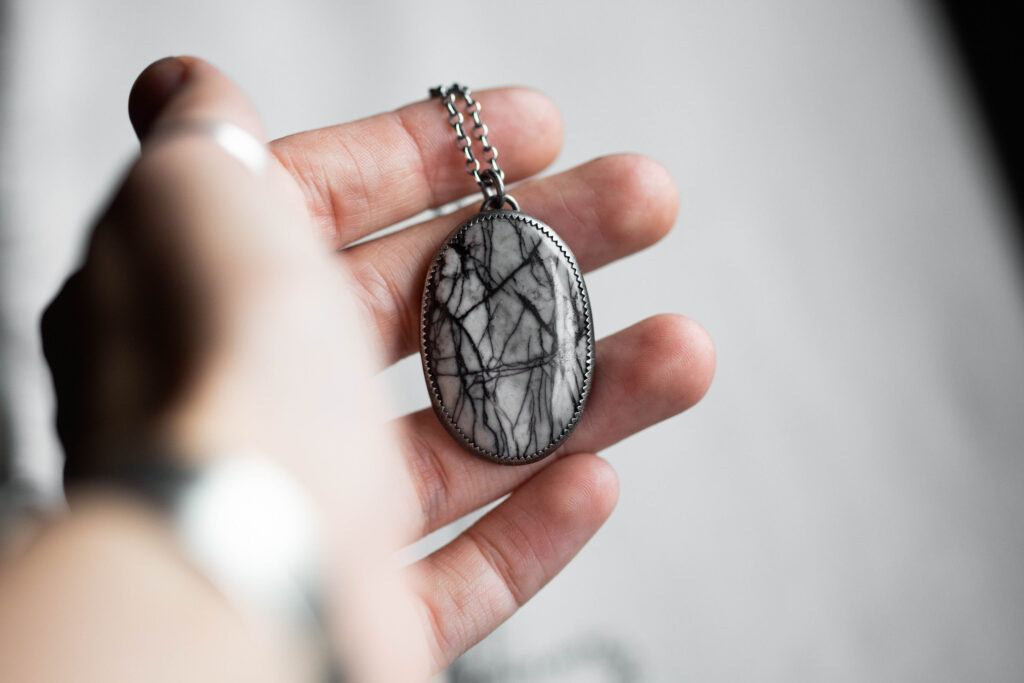 Each jasper is so incredibly different. The stones come in a range of grays: rainy afternoons fading into a dark evenings.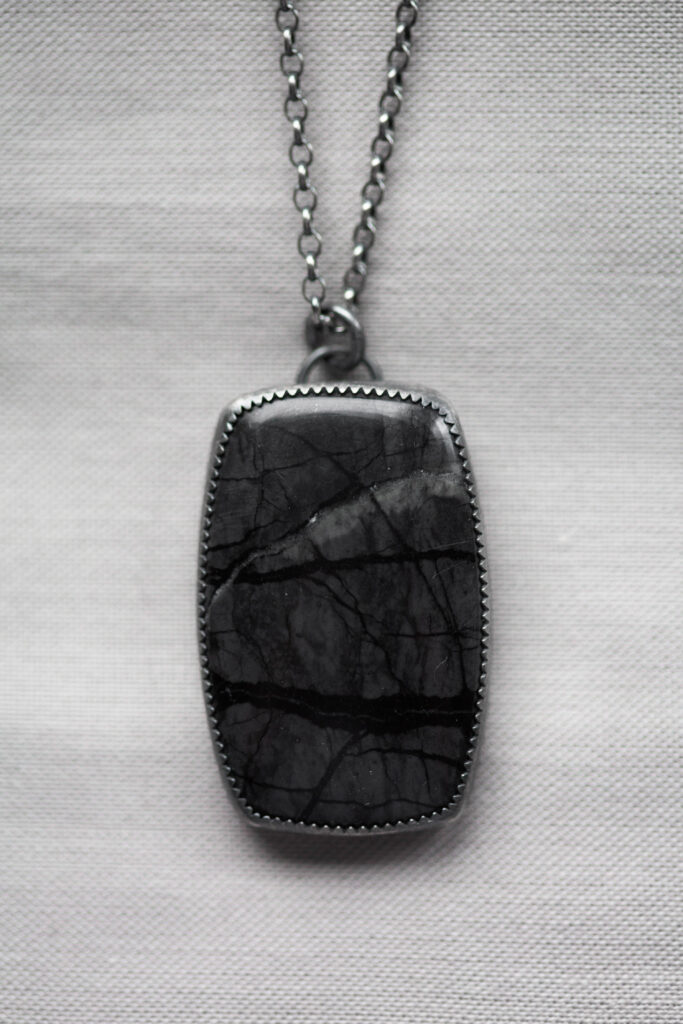 And the matrixes are all so beautifully different as well: the bare branches of an entire forest reaching across the pendants.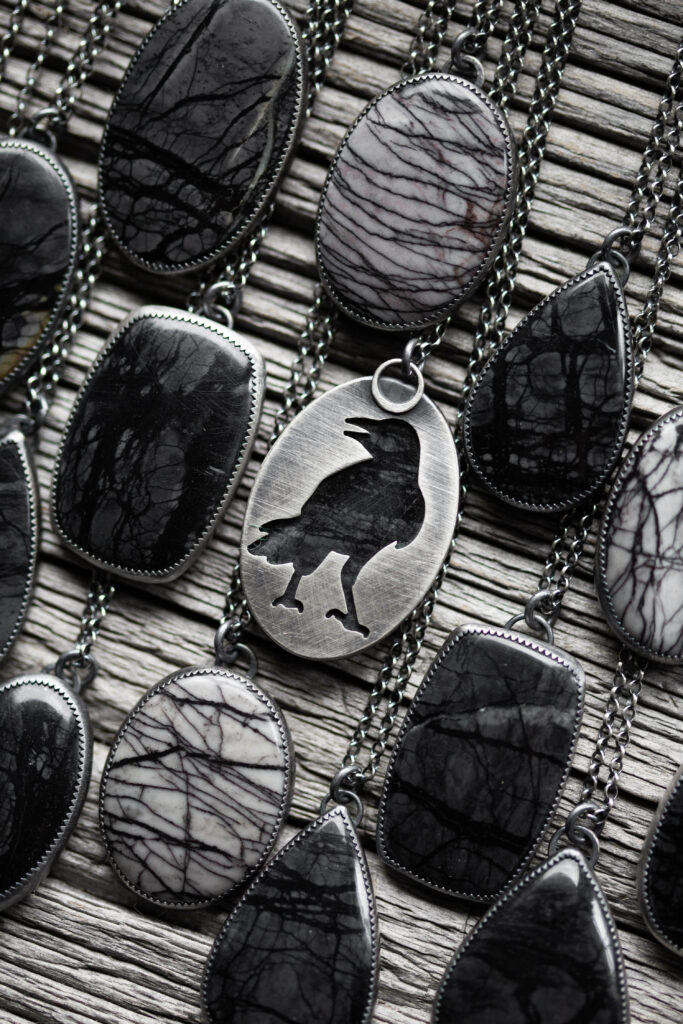 ____________________________________
There will also be ten cuff bracelets in tomorrow's release.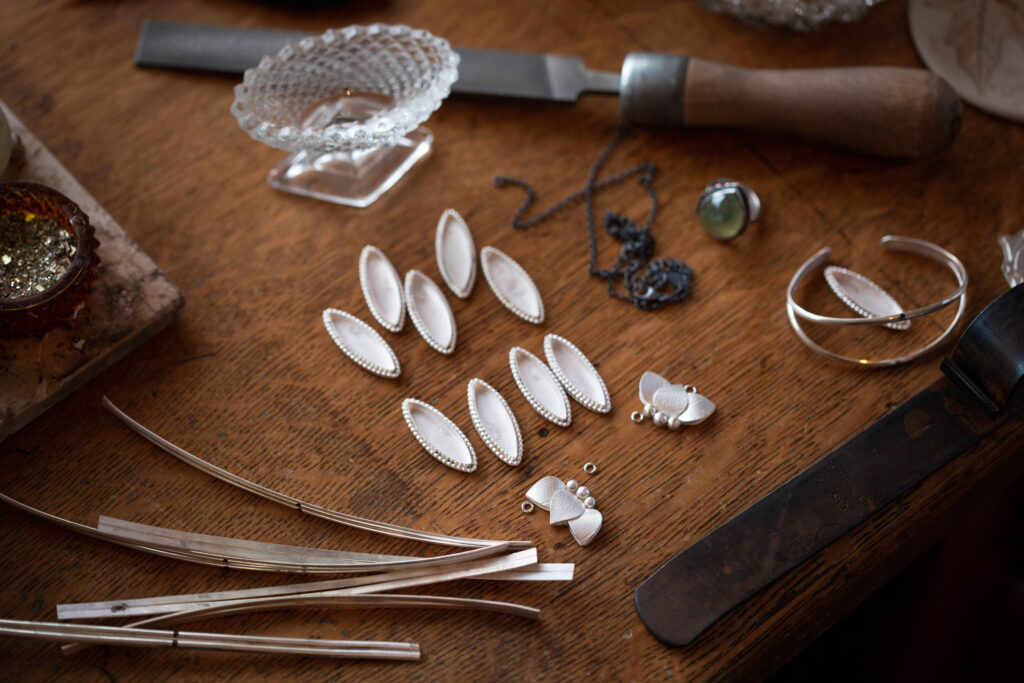 Eight small/medium sized bracelets (5.75″ + a 1″ gap) and two med/large sized bracelets (6.75″ + a 1″ gap). They are easily adjustable.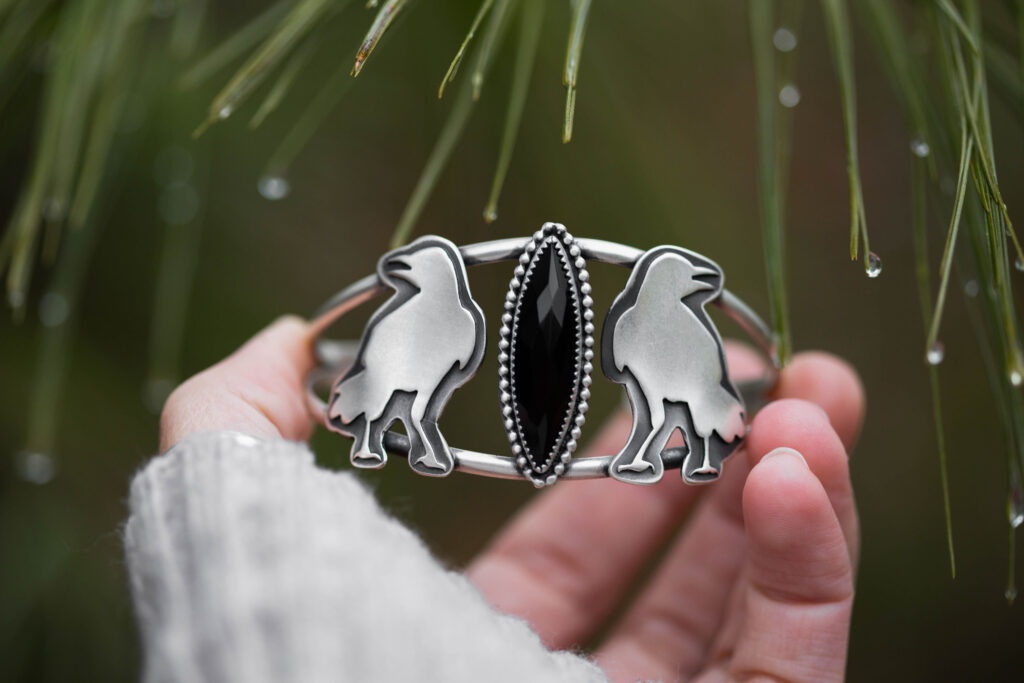 Dark shadows collecting around jet black onyx lined with sterling silver pebbles, and ravens perched amongst the branches.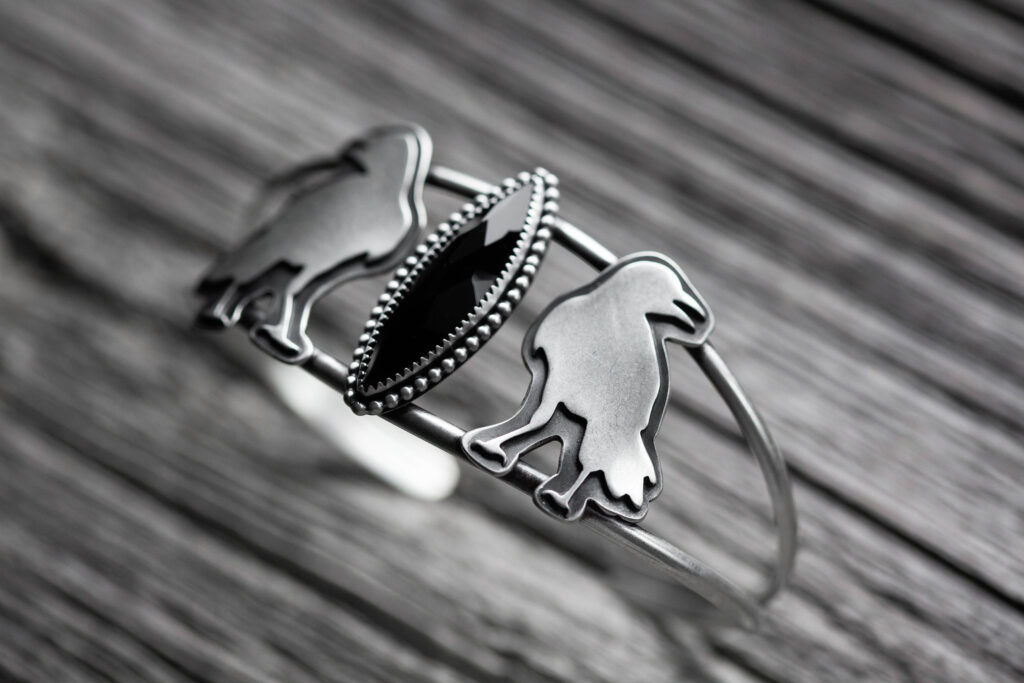 ___________________________________
I don't often make Waiting Raven rings, but this year has been a long and difficult one. I thought now would be the perfect time to bring a small batch of them back.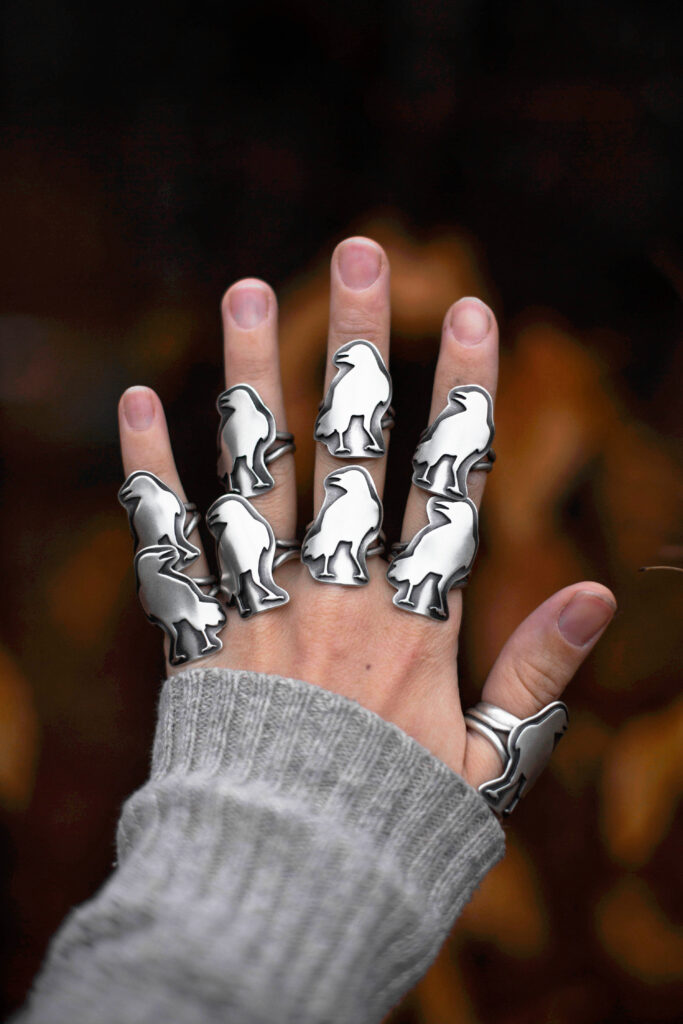 Corvid strength and resilience for the wearer.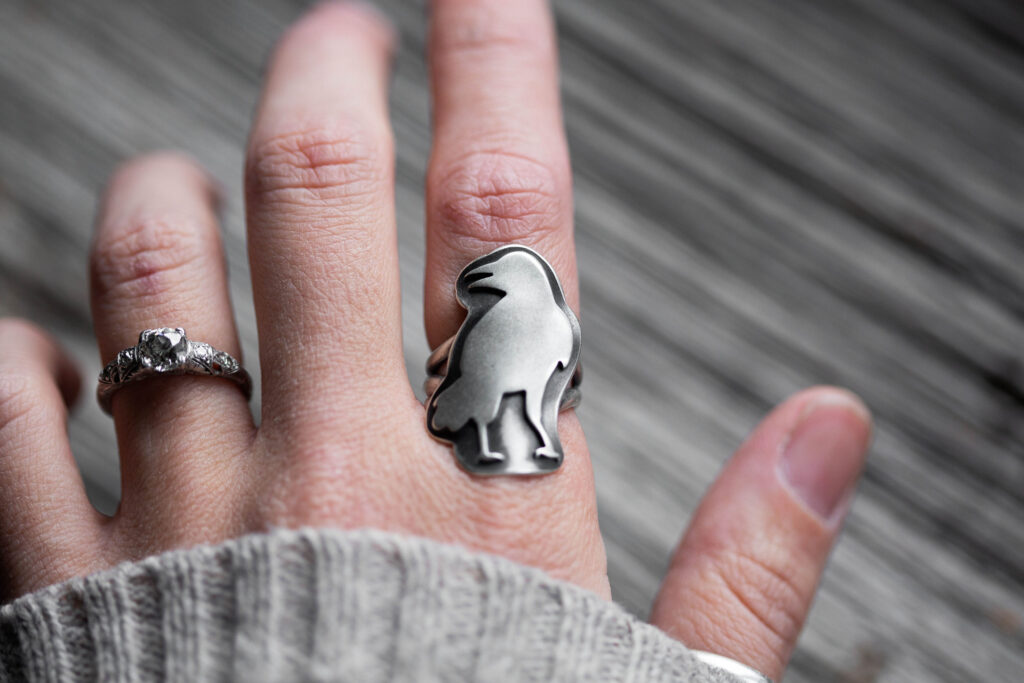 Each ring features a hand sawn raven atop a sturdy base. The silhouette of the base follows the shape of the raven. It is curved slightly to comfortably sit atop the finger.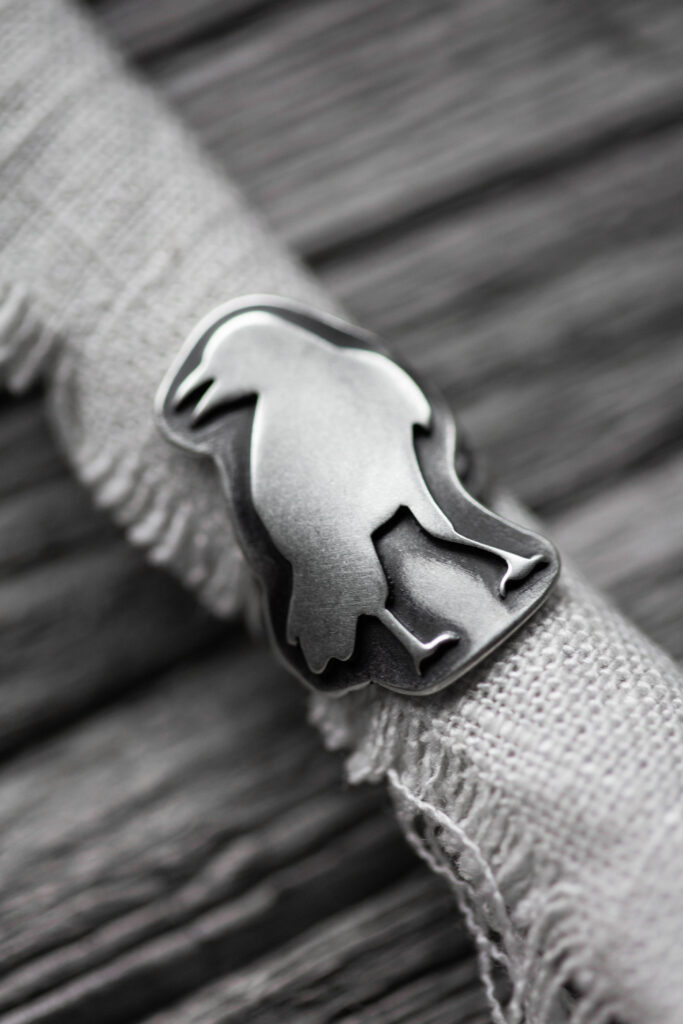 They are oxidized and hand polished for a textured, organic look.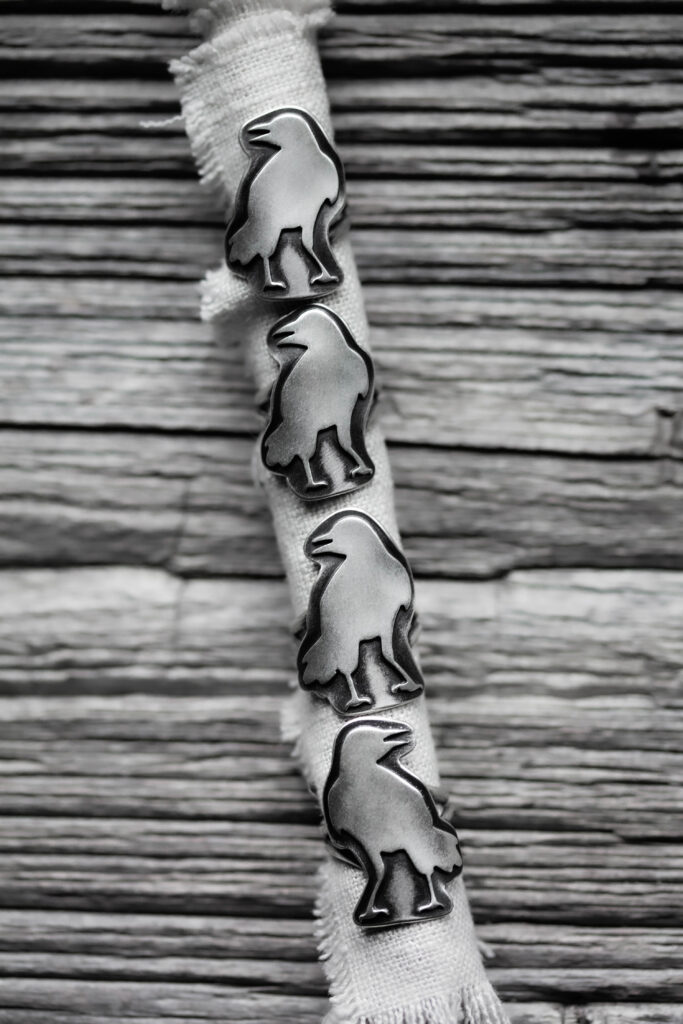 (Sizes available: 5, 5.5, 6, 6, 6.75, 7, 7, 7.5, 7.5, 8, 8.75, 9, 11)
____________________________________
And here is the surprise element to this year's Waiting Raven Collection I have been teasing for a few days!
My sweet fella, who is also an artist who creates predominantly through woodworking, paper ephemera, and photography, has made these mixed media mechanical sculptures for the release.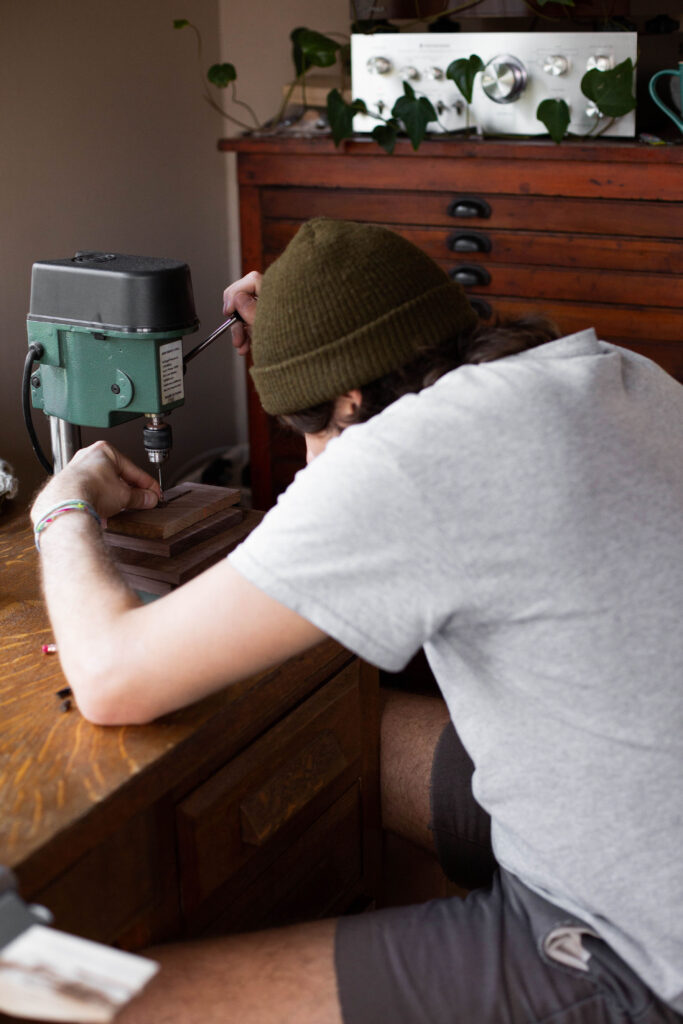 Black walnut
Blonde shellac
100# black cardstock paper raven

With a brass "Scotch Yoke" mechanism converting rotational (crank) motion to linear motion via the slotted yoke. With respect to time, the position of the yoke follows simple harmonic motion given a constant crank speed.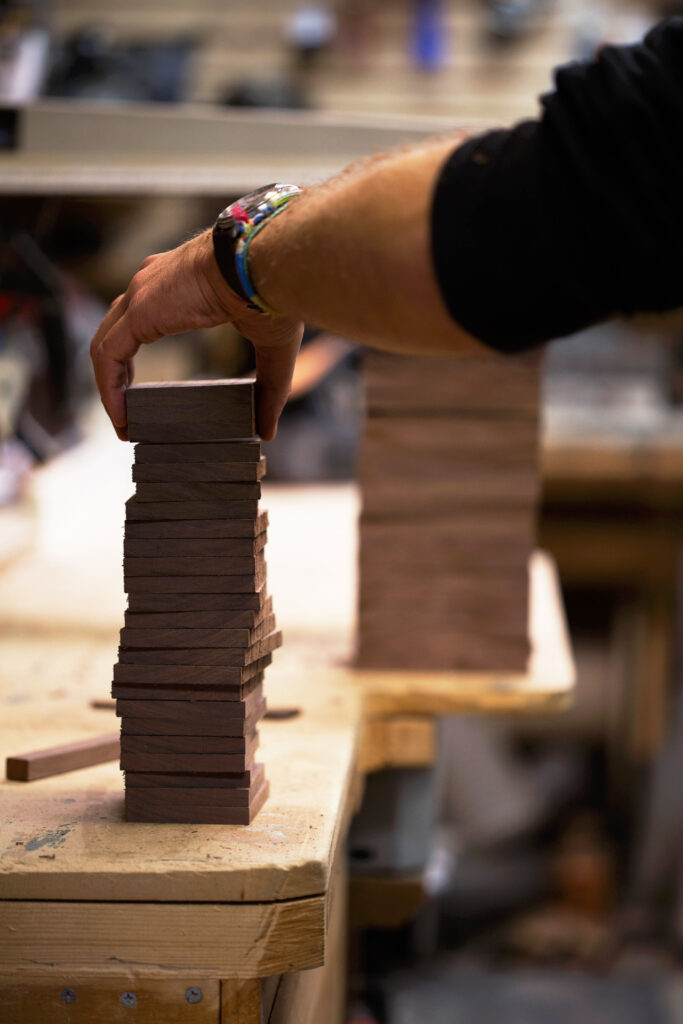 He has made eighteen of these sweet little familiars, and one will be included with the first eighteen orders from the raven collection.
(*One per person*)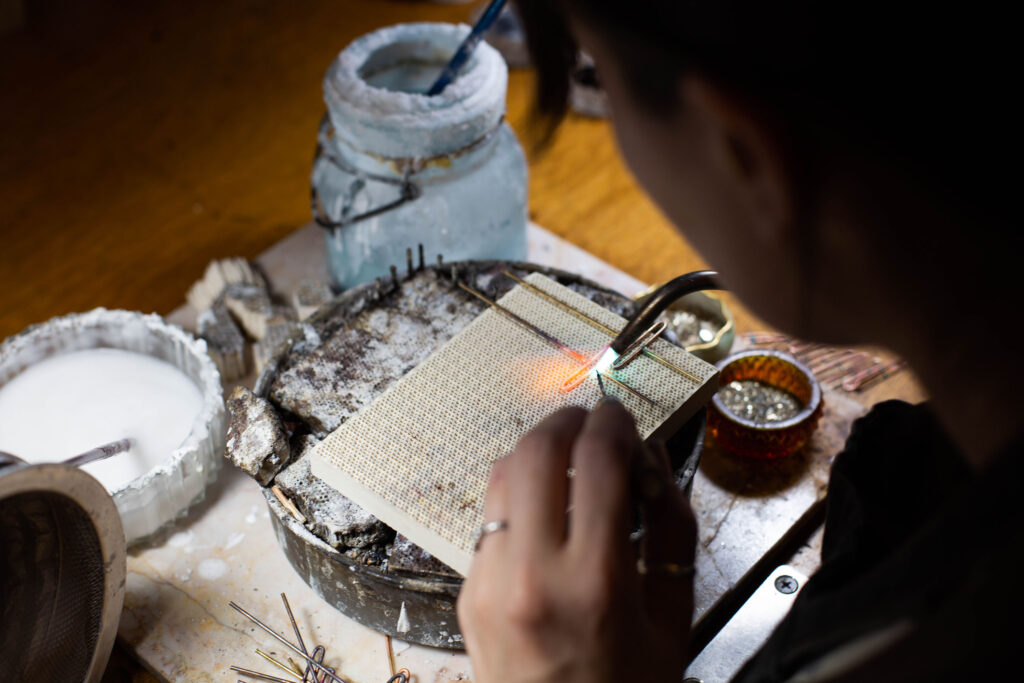 I cannot wait for you to see them in person! Little corvids to sit upon your fireplace mantel or in a curio cabinet, steady companions on days of leafless trees and November rain.
____________________________________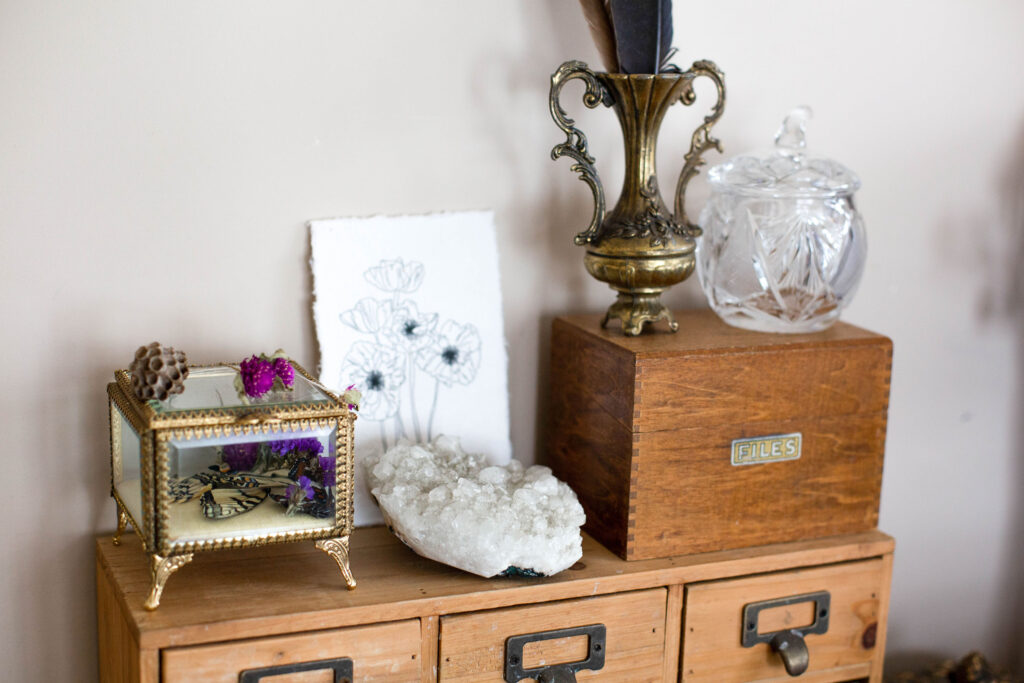 Everything previewed here will be landing in the Etsy shop Sunday, November 29th at 7pm EST.