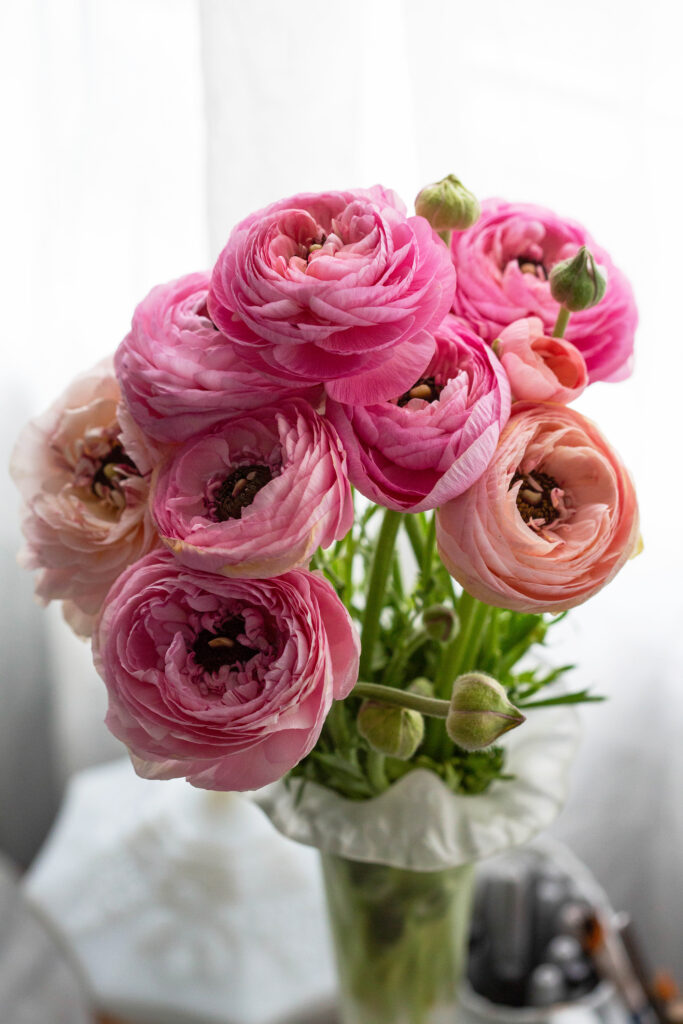 Hark, all you springtime souls and wildflower hearts! A collection made for springtime. Oh friends, this collection has my heart positively abloom.
I spent the season gathering up as much springtime as my arms could hold; plucking cherry-scented sunshine from branches and gathering up blush pink warmth from the ground.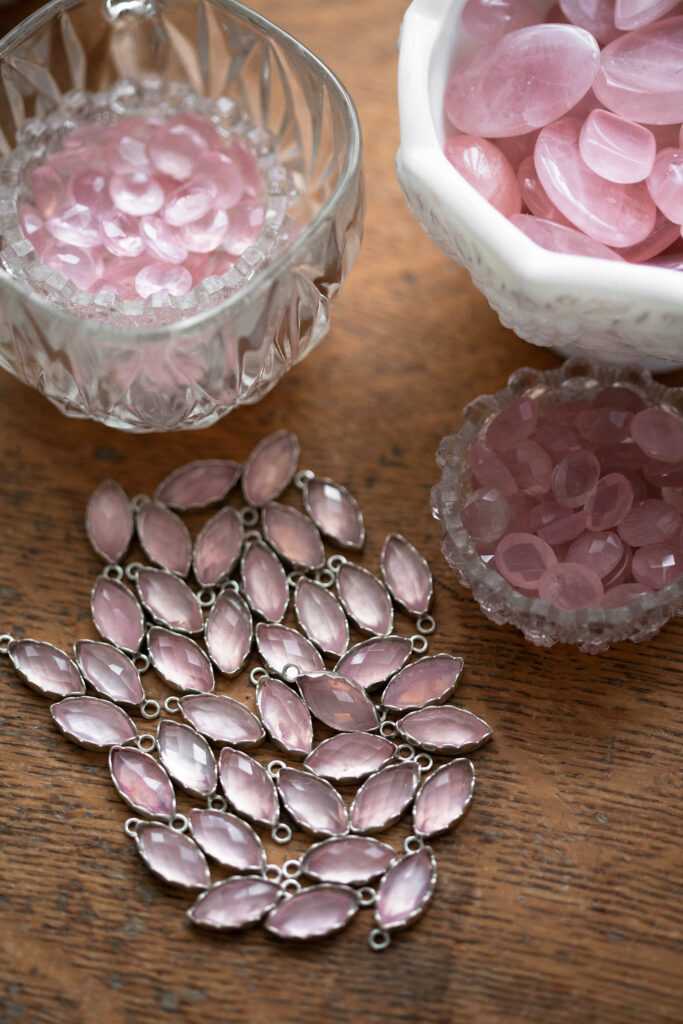 And I took all of that goodness and spun the last of that magic into jewelry for you. Small odes to springtime, reminders of ever-possible new beginnings.
I very much loved having sweet bowls of rose quartz covering my bench for the last month or so. Couldn't you just bathe in rose quartz?? Dunk yourself in cherry blossom bubbles and sunshine infused water? I have no doubt you'd come out glowing and smelling a treat.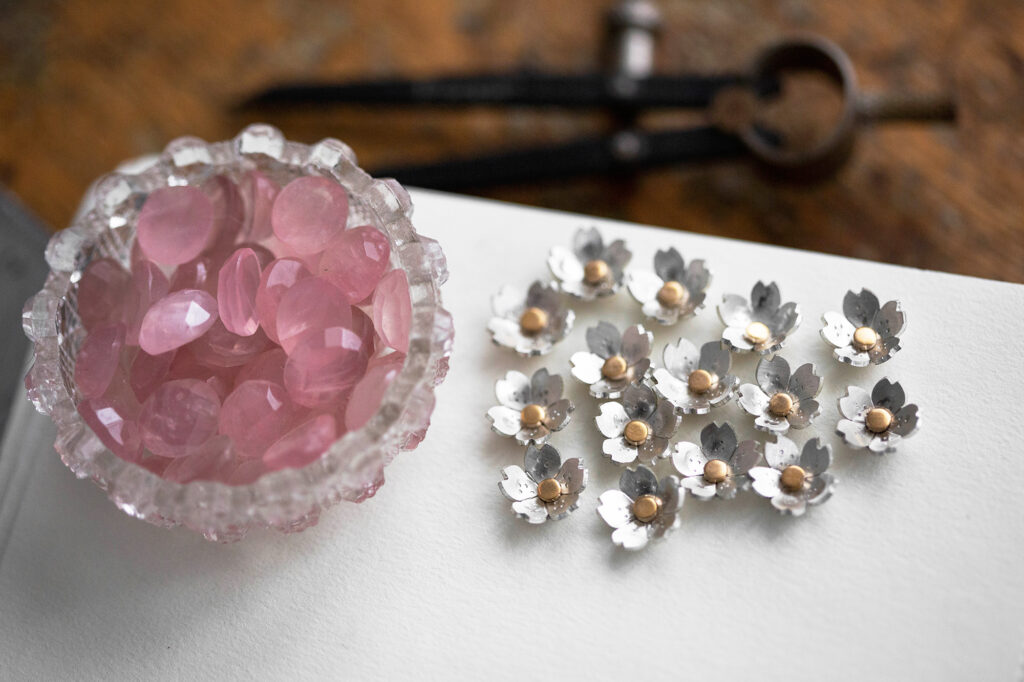 These sweet little silver and brass blooms are such a labor of love. Each carefully sawn, textured, and shaped individually.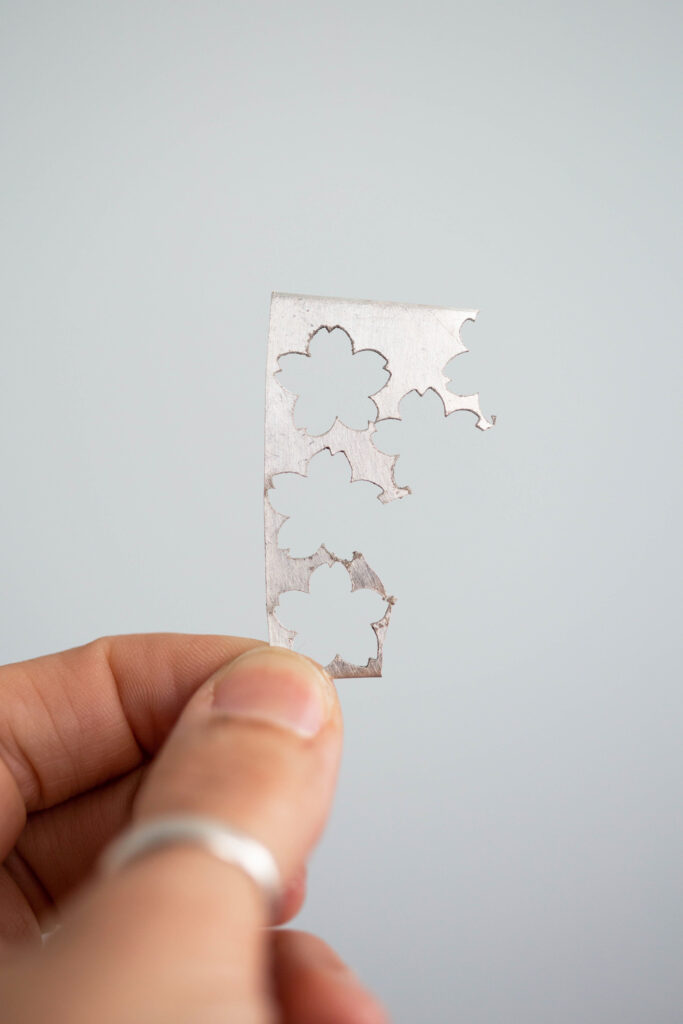 My fingertips and wrists are sore just looking at them!
---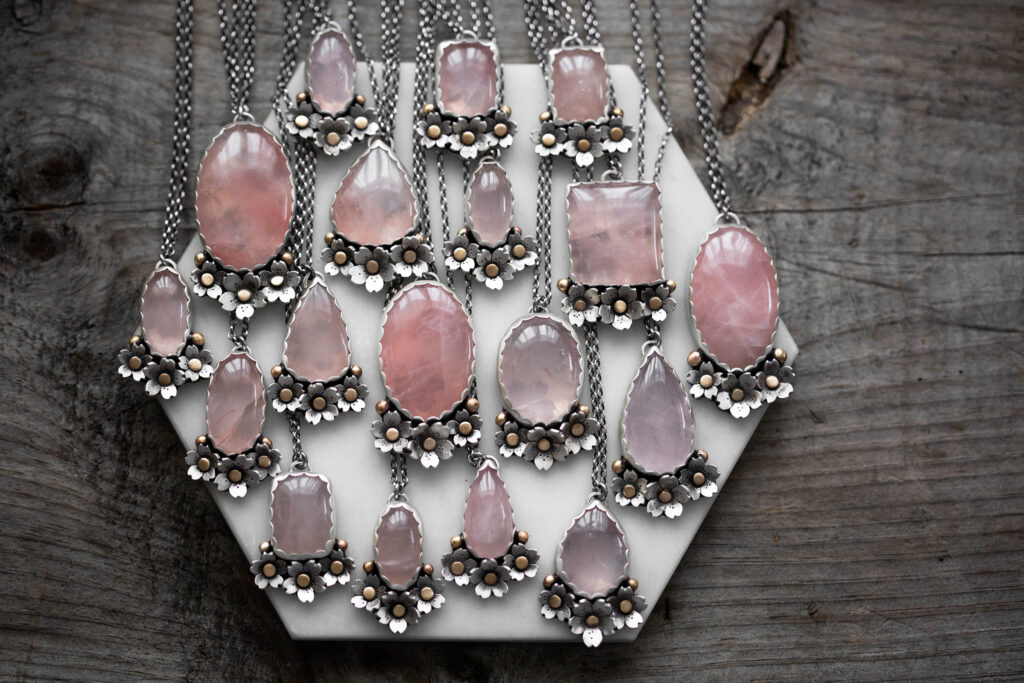 Ode to Spring Necklaces
* There will be (34) necklaces in various sizes available.
* Prices: range from $155 – $175 per necklaces, depending on the size
* Suspended from sterling silver chain, adjustable between 17″ – 20″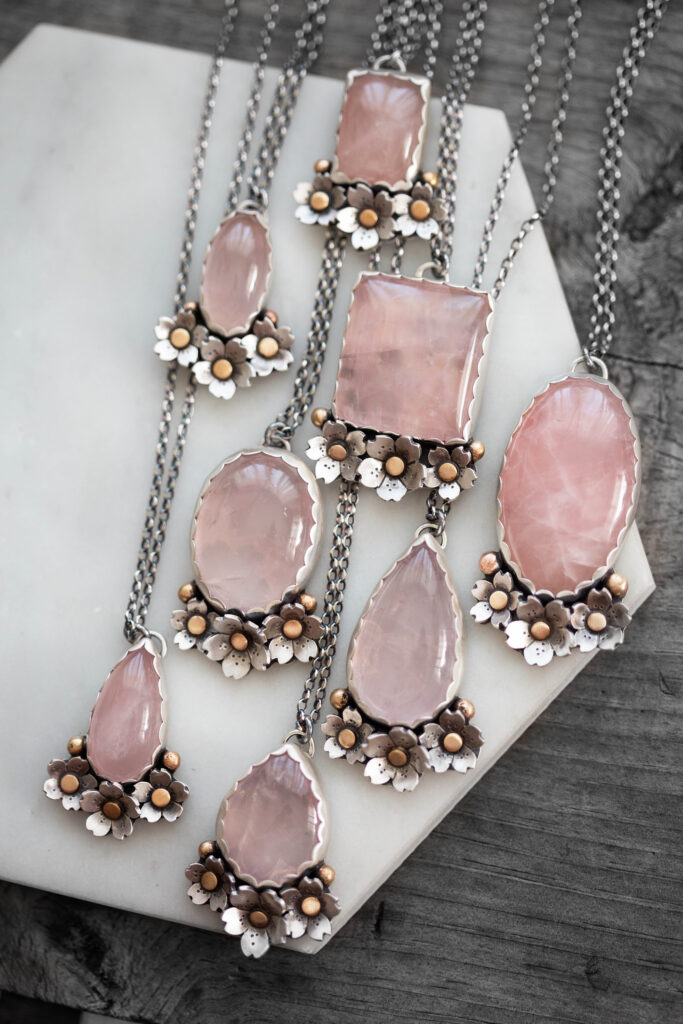 Soothing rose quartz gemstones with feathering inclusions and swirls. Accompanied by clusters of sterling silver and warm brass cherry blossoms.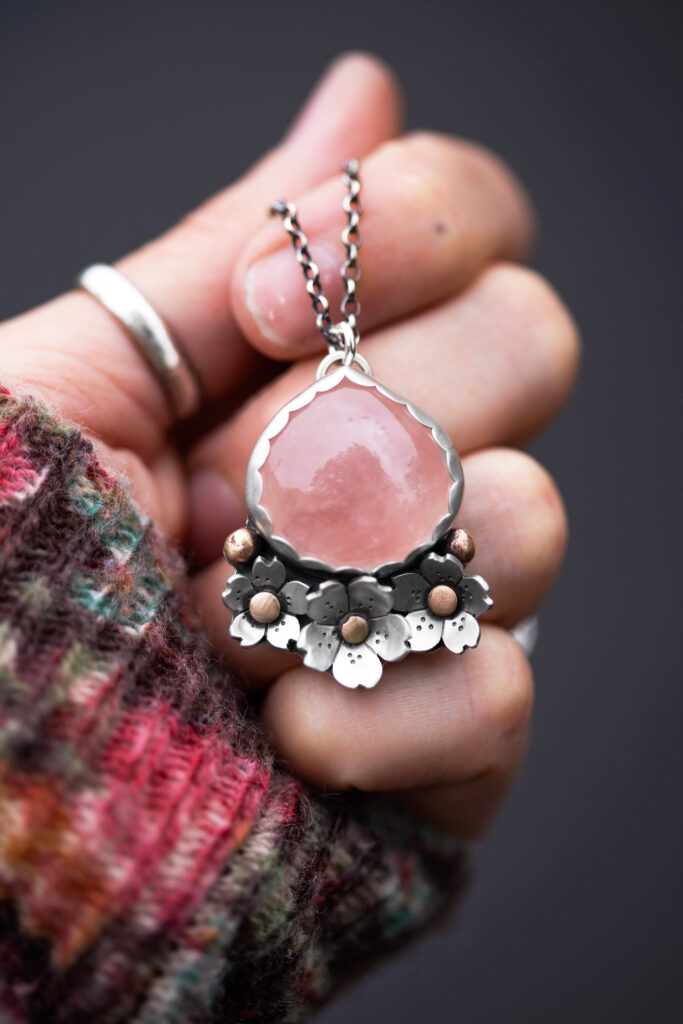 I made as many as my hands could manage in lots of varying sizes and shapes, each unique to suit its intended wearer.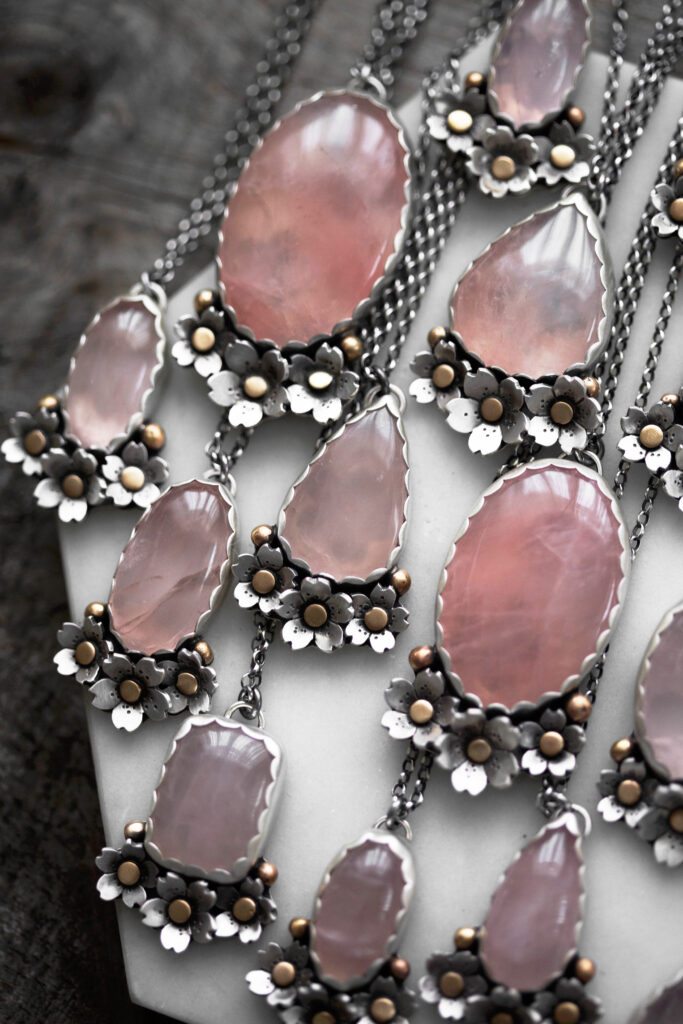 And on the backs of each, secret flower shaped windows showing the backs of the stones.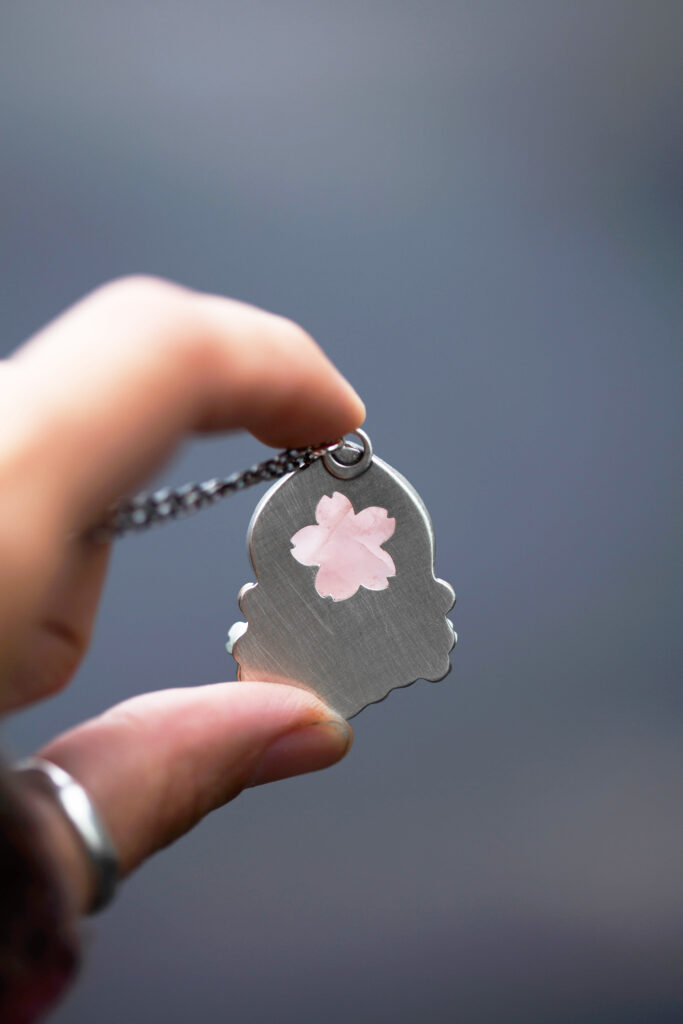 Reminders of the promise of spring.
---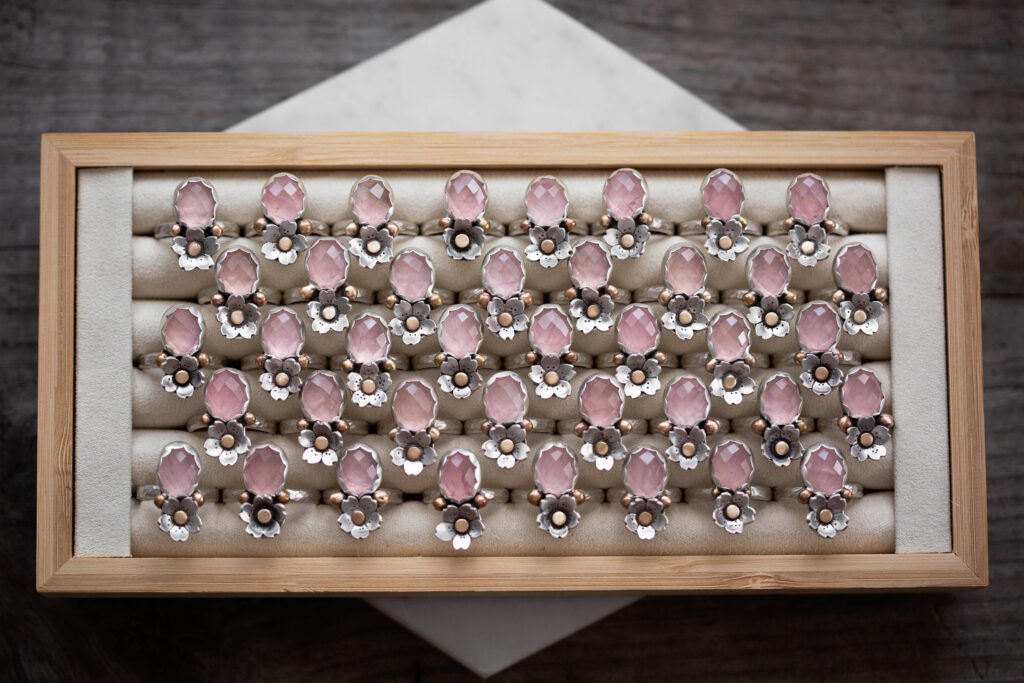 Ode to Spring Rings
* There will be (42) rings available.
* US Ring Sizes: 4.5, 6, 6, 6.5, 6.5, 6.5, 6.5, 7, 7, 7, 7,
7.5, 7.5, 7.5, 7.5, 7.5, 7.5, 7.75, 7.75, 8, 8, 8, 8, 8,
8.25, 8.25, 8.5, 8.5, 9, 9, 9, 9, 9, 9, 9.25,
9.5, 9.5, 9.5, 10, 10, 10, 11.5
* 4mm wide band, so they fit true to size.
* All sizes are as read on the mandrel.
* Price: $145 per ring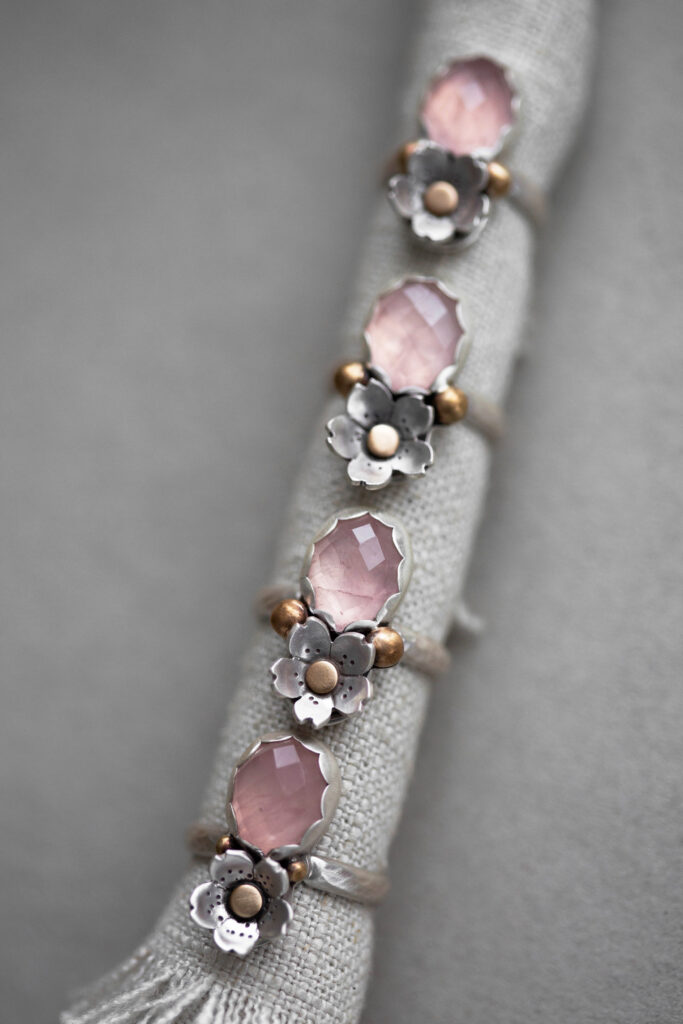 And here are the rings!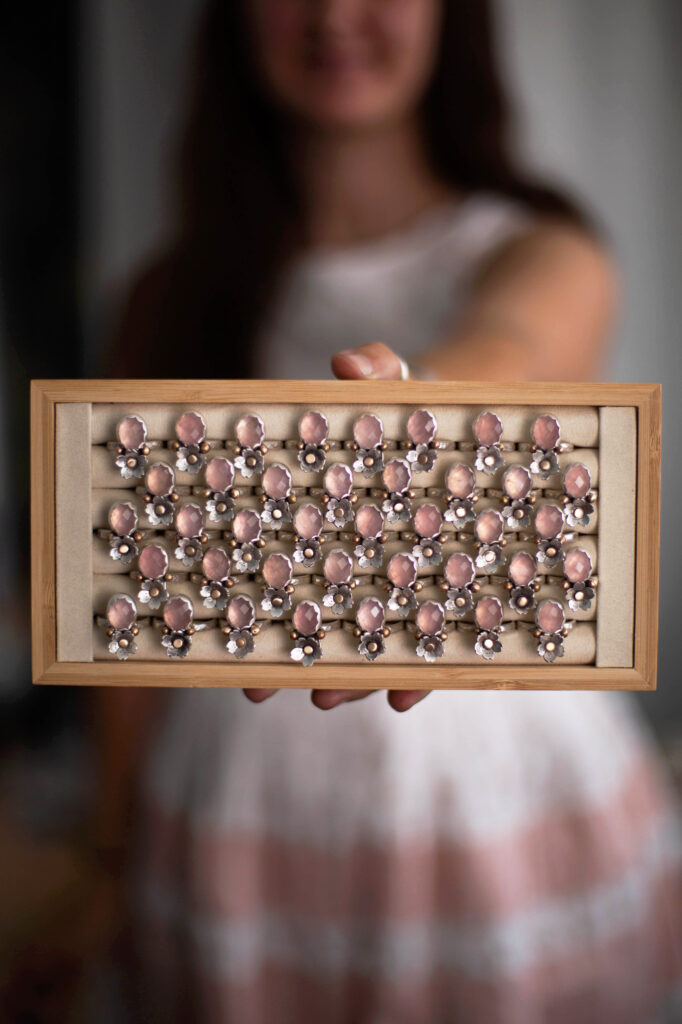 This design features a soft pink rose quartz, faceted to pull the light and glow from within, set in an undulating bezel, scalloped like a flower.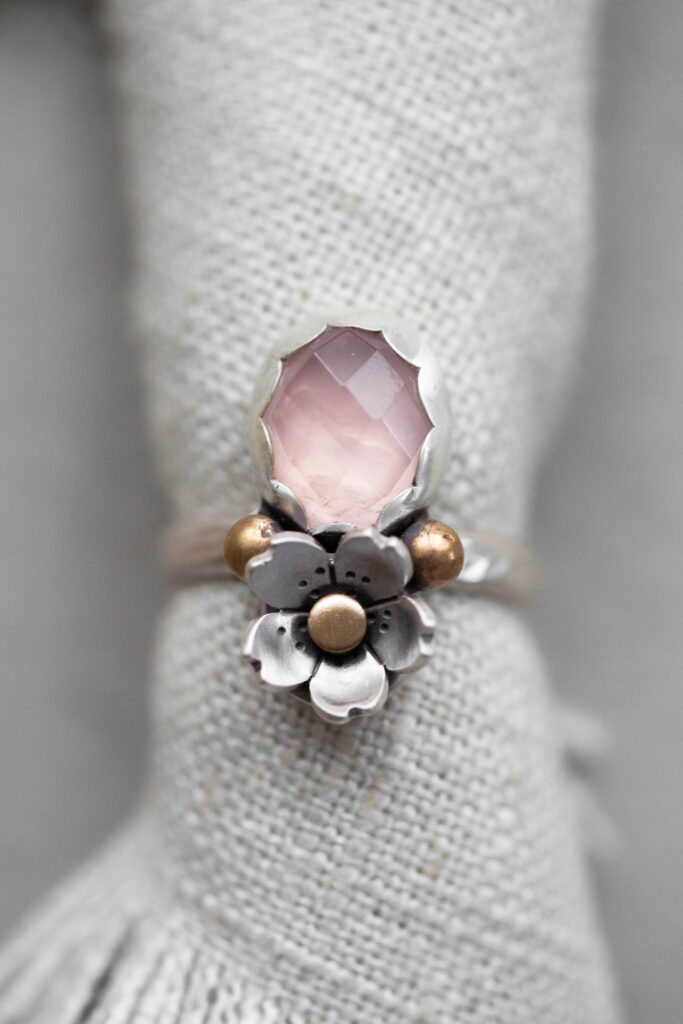 Below the gemstone is a small cherry blossom with a warm brass center.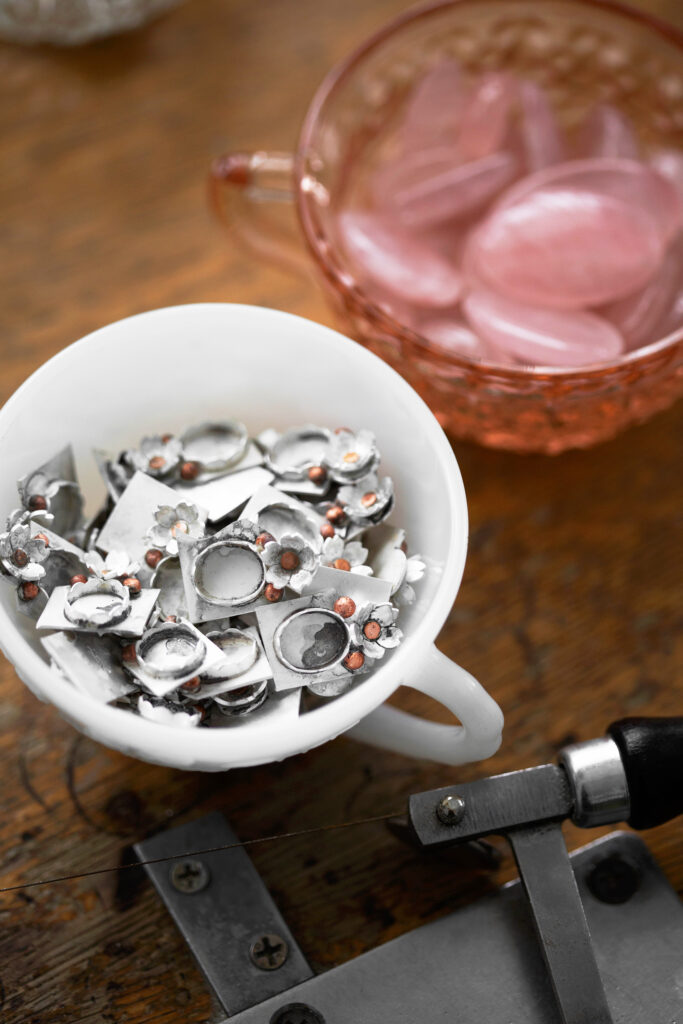 To either side, brass granules like clumps of pollen gathered by a honeybee.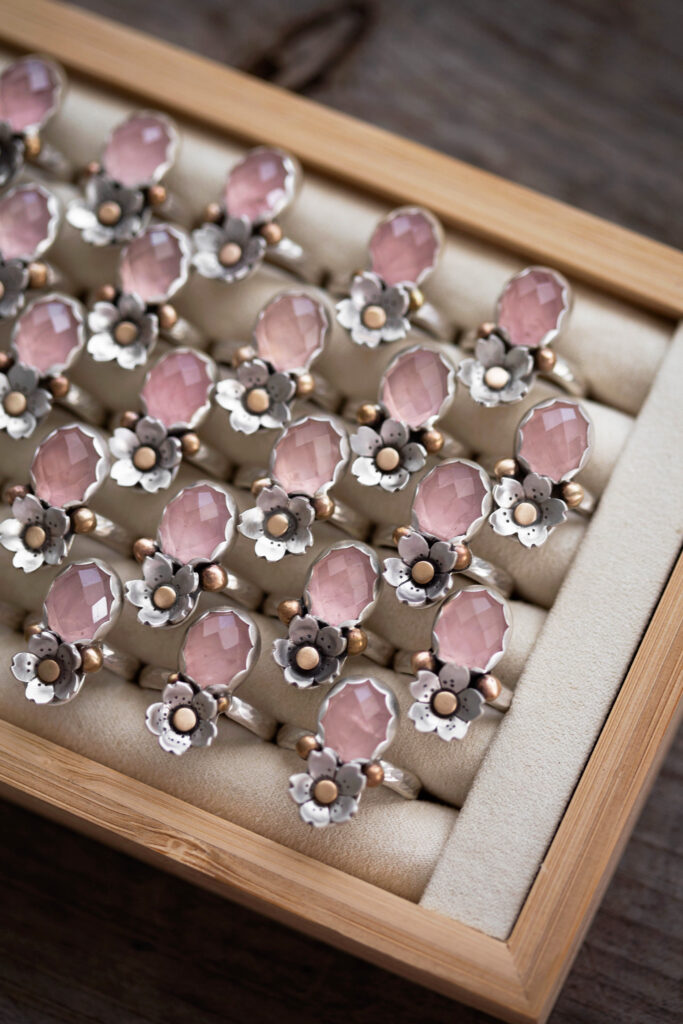 The band has been lightly textured to give the ring an organic feel, and to resemble tree bark.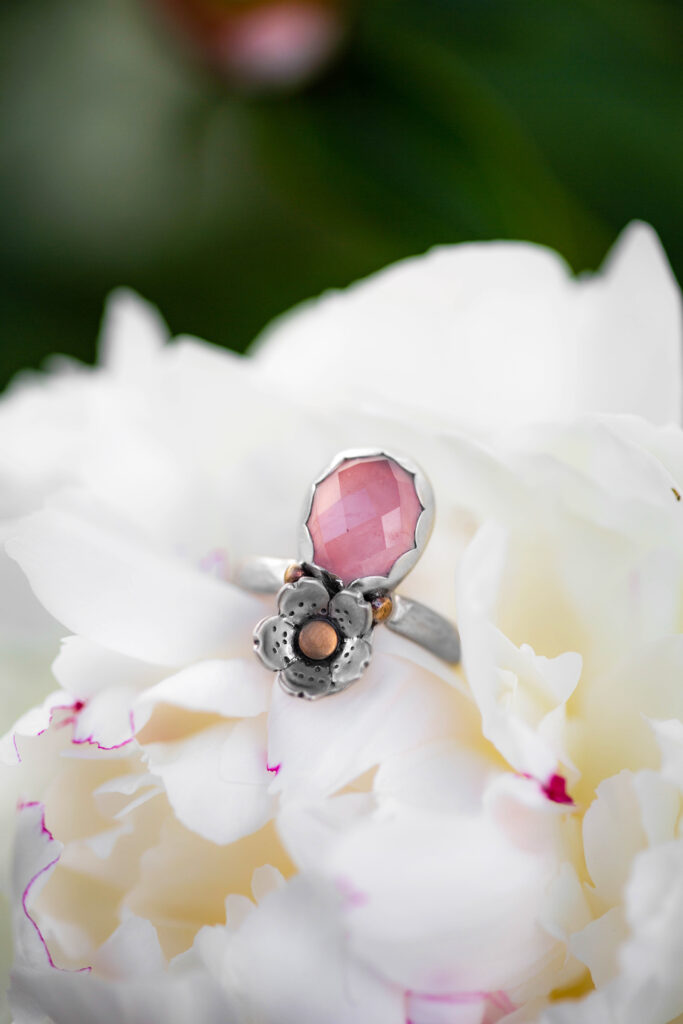 These have a slightly wide band, but they fit true to size and will be listed with the US Ring Size as it reads from the mandrel.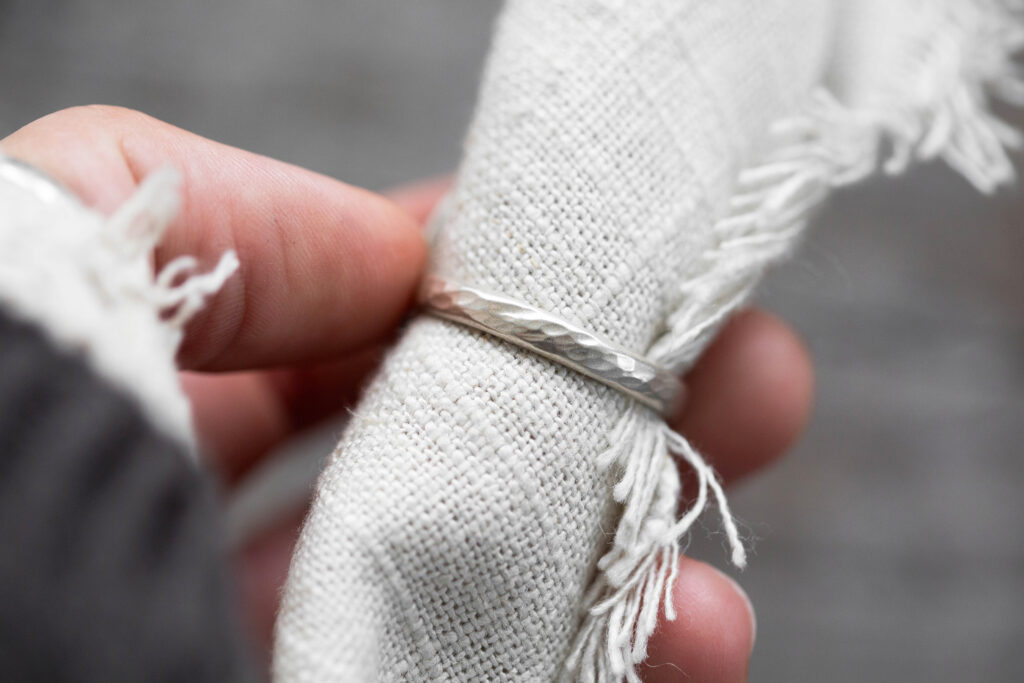 Simple and sweet, like a singular cherry blossom.
---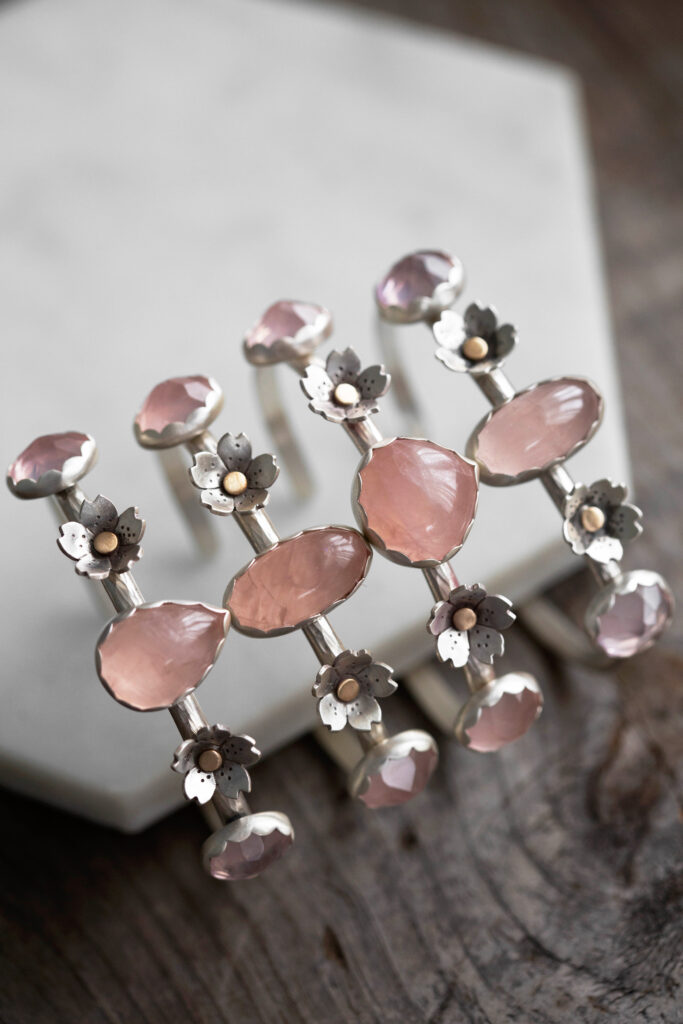 Ode to Spring Cuff Bracelet
There will be (21) bracelets available.
Sizes: There will be (14) S/M bracelets, and (7) M/L bracelets available.
Price: $158 per bracelet
* S/M = 6″ around with a 1″ gap
* M/L = 7″ around with a 1″ gap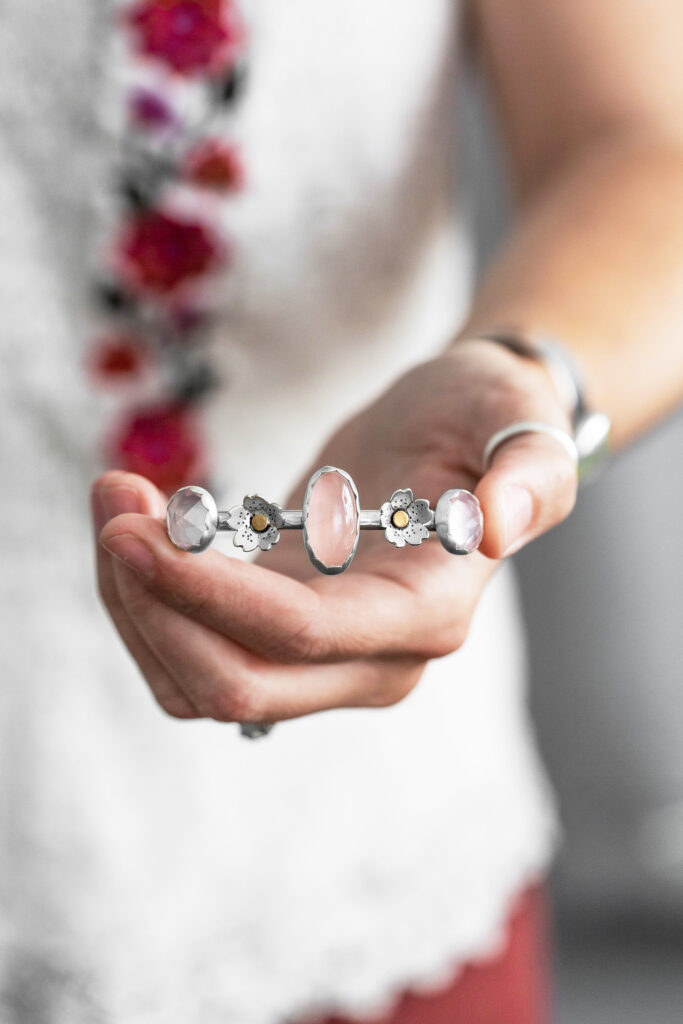 I just love these bracelets! The rose quartz focal gemstones are such a delicate pink, the most subtle accompaniments.
And on either side of it will be silver cherry blossoms with brass centers, and two liquidy rose quartz gemstones, faceted to pull the light.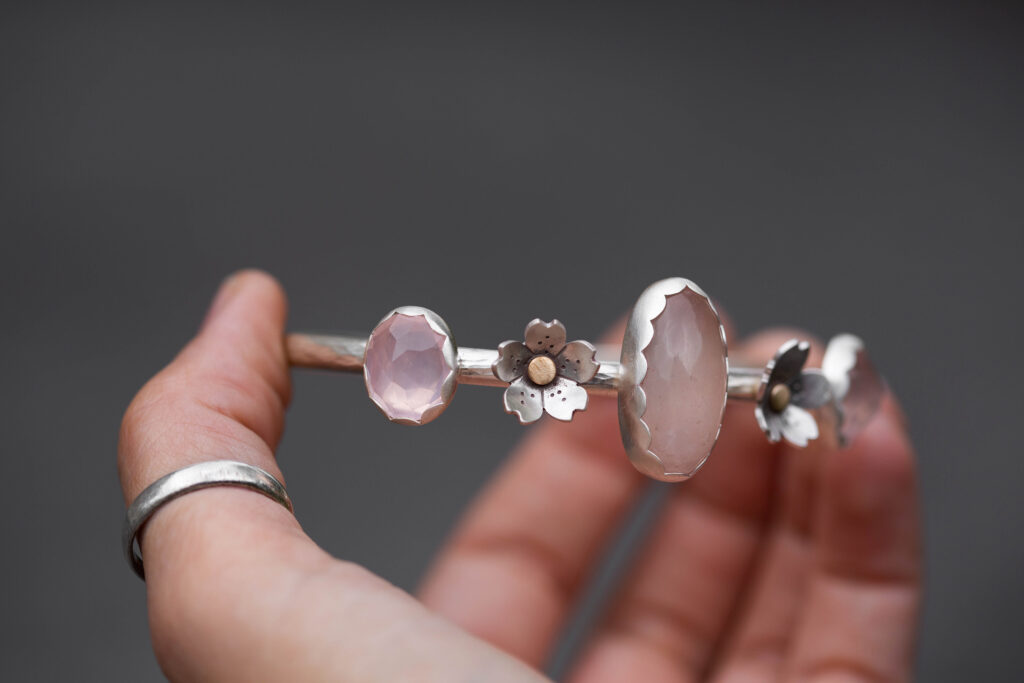 The bands have been lightly textured to look like tree bark, rippled and smooth.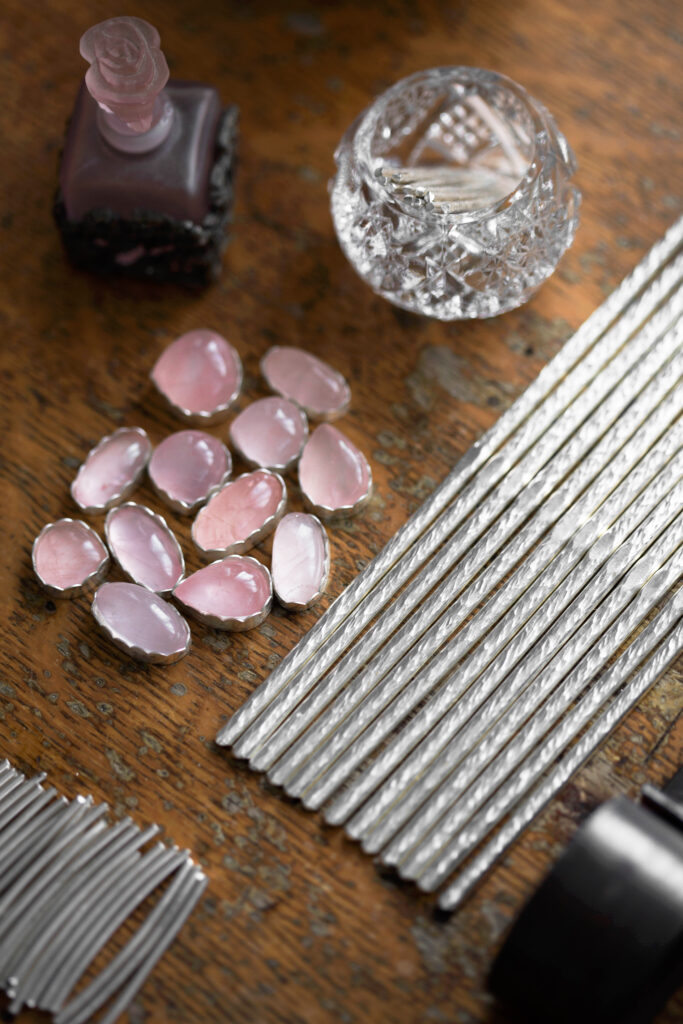 They are adjustable and are shaped with a gap to slip your wrist through. The Sm/Med sizes measure about 6″ (just the bands, not including the gap) and the Med/Lg sizes measure 7″.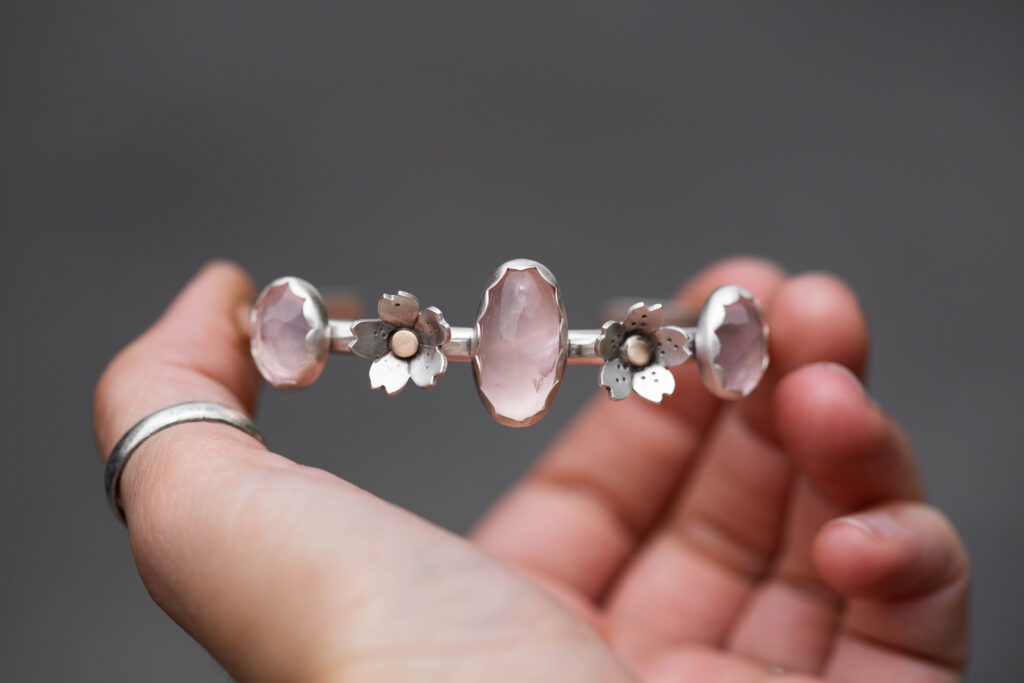 Simply designed, but festooned with flowers and stones. (The design echoes the Memento Mori Bracelet from a year or two ago, if you remember that one.)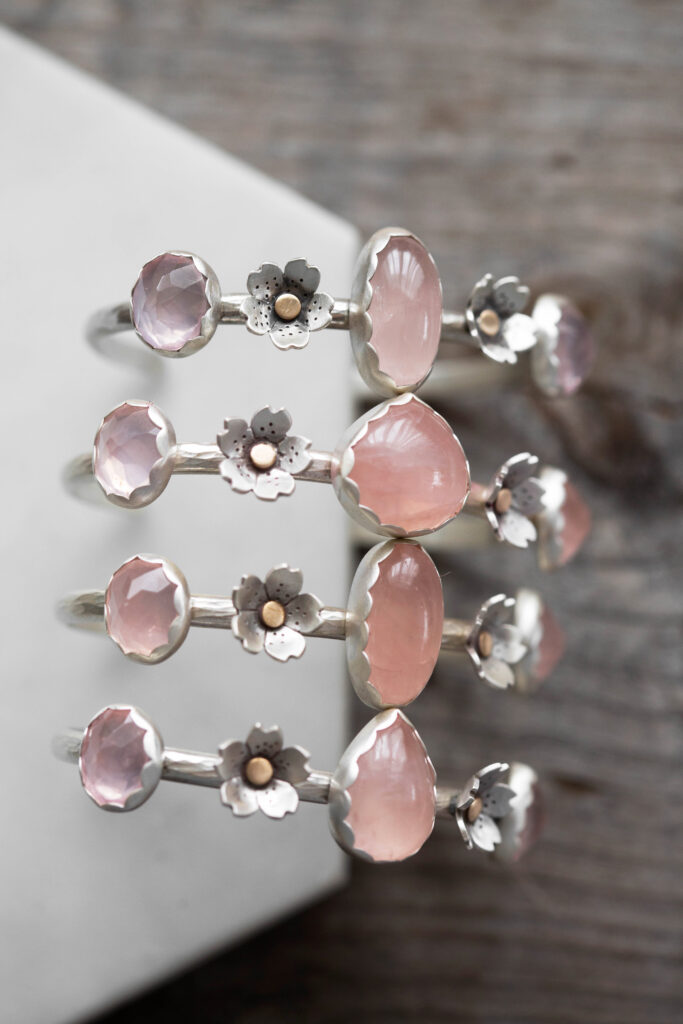 ---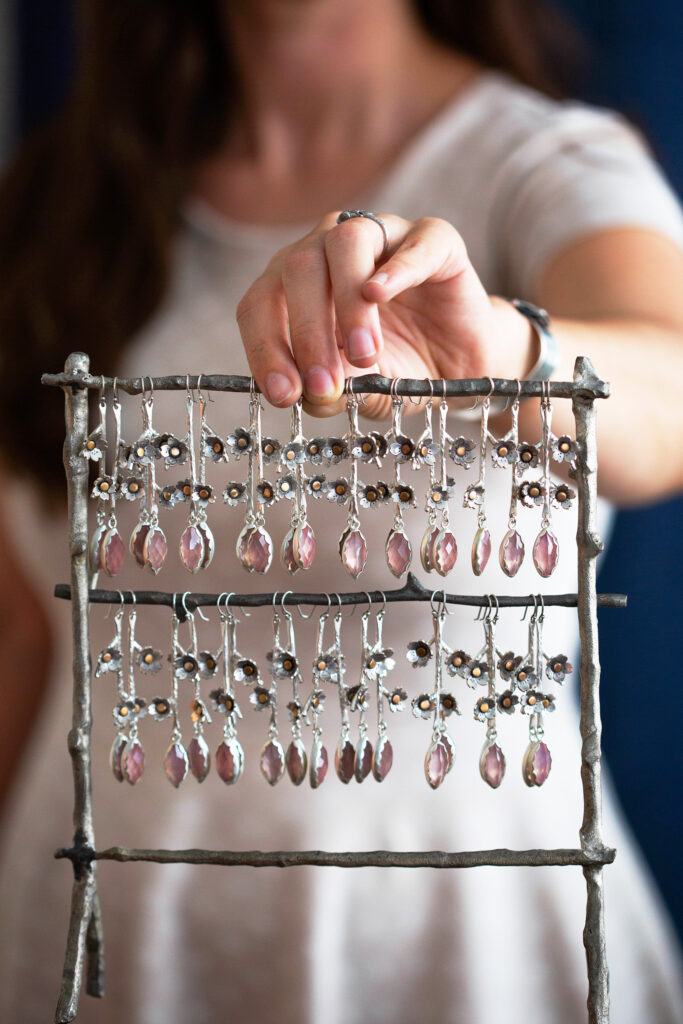 Ode to Spring Earrings
There will be (19) pairs of earrings available.
Earrings measure about 2.75″ (70mm) from the top of the earwire to the bottom of the earring.
Price: $140 per pair of earrings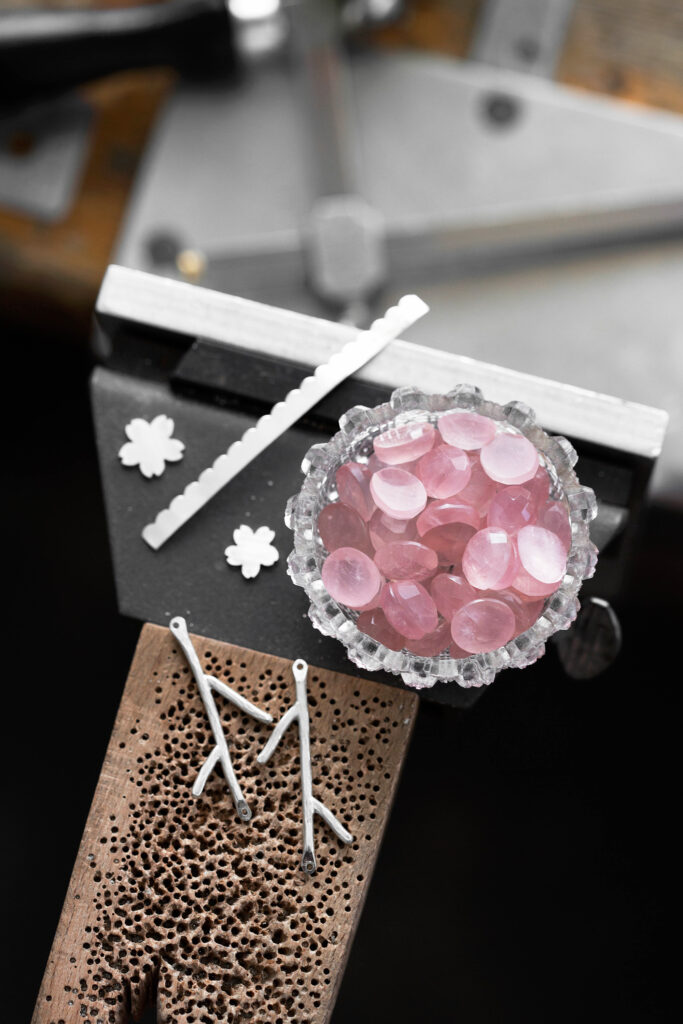 "Loveliest of trees, the cherry now is hung with bloom along the bough." – A.E. Housman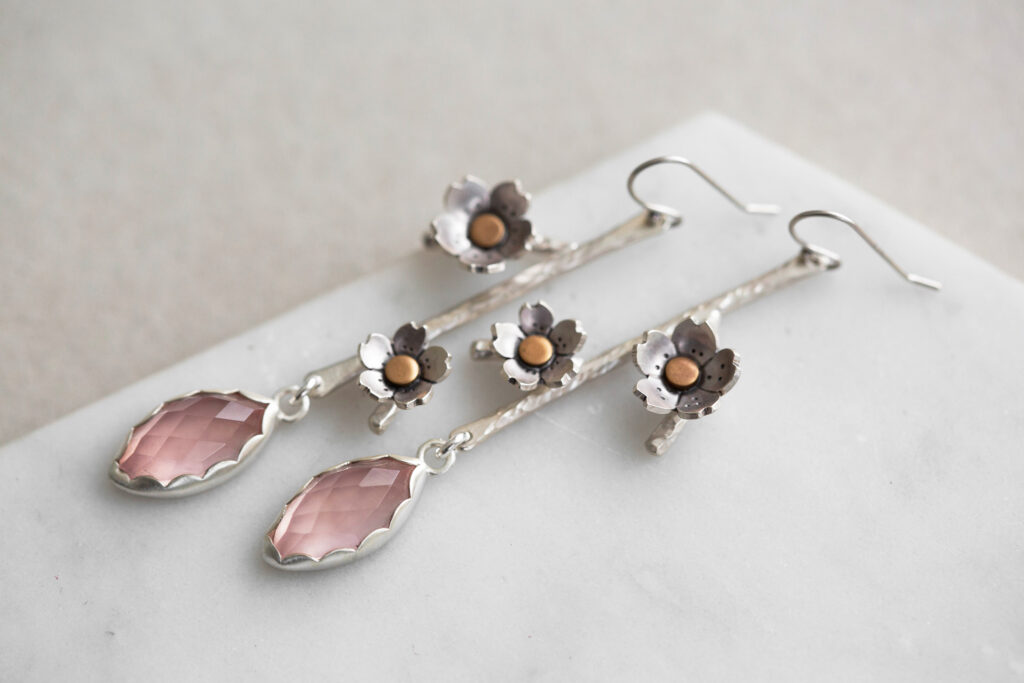 I have made a few dozen pairs of sterling silver dangle earrings that feature soft pink rose quartz gemstones, faceted to pull the light and glow from within, set in an undulating bezel, scalloped like a flower.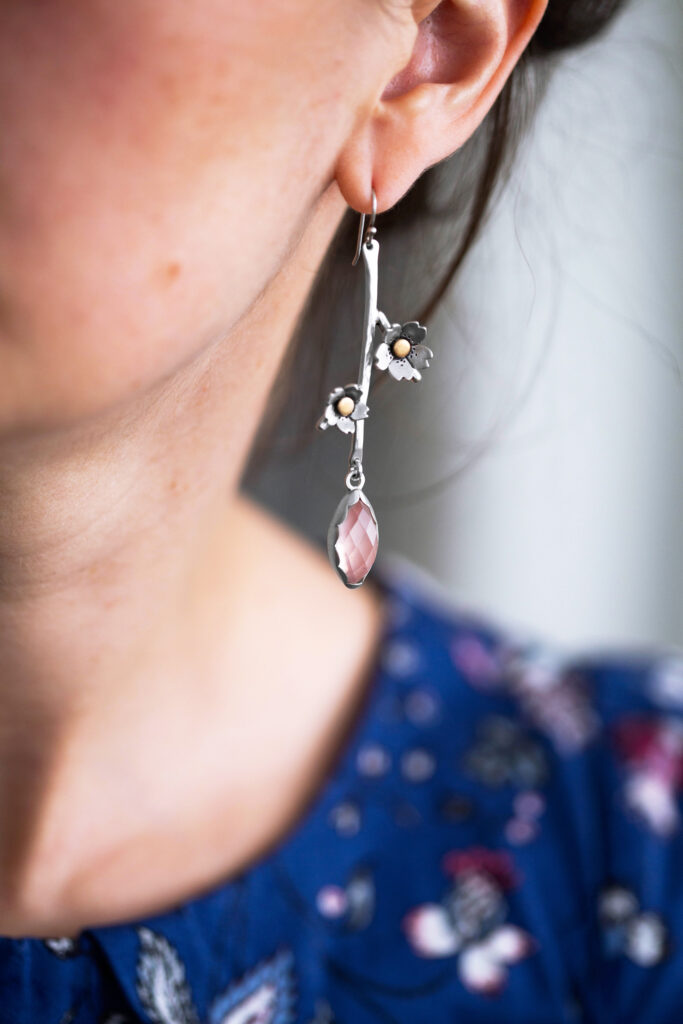 Dangling from a carefully hand-fabricated branch with hand-sawn cherry blossom flowers with a warm brass centers.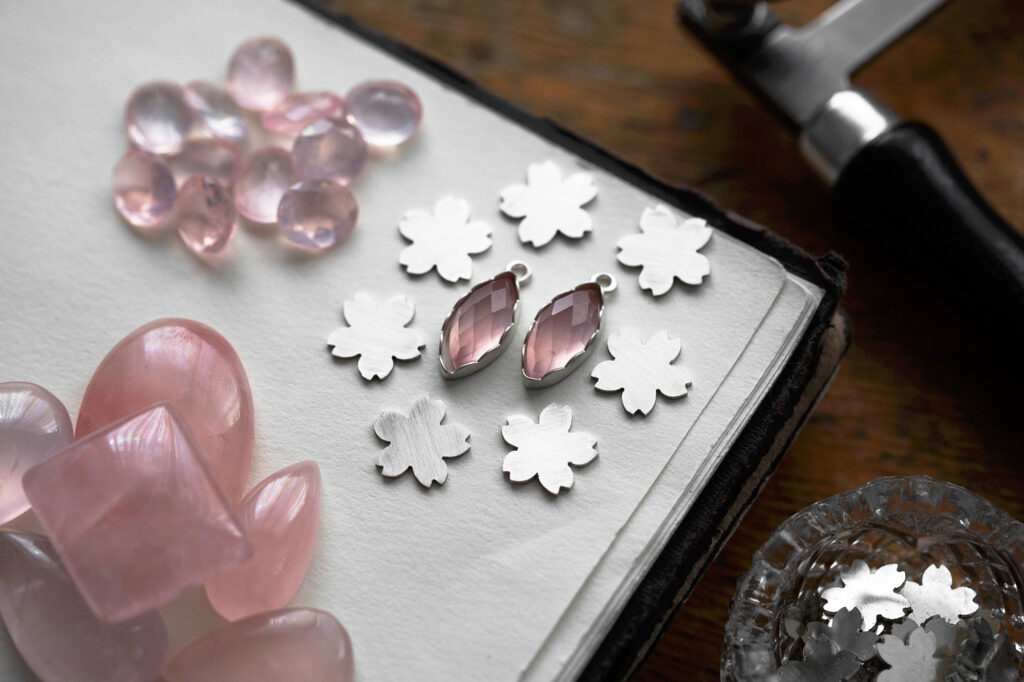 The branch has been lightly textured to give the ring an organic feel, and to resemble tree bark. I decided to give the bracelet a matte texture, a soft glow.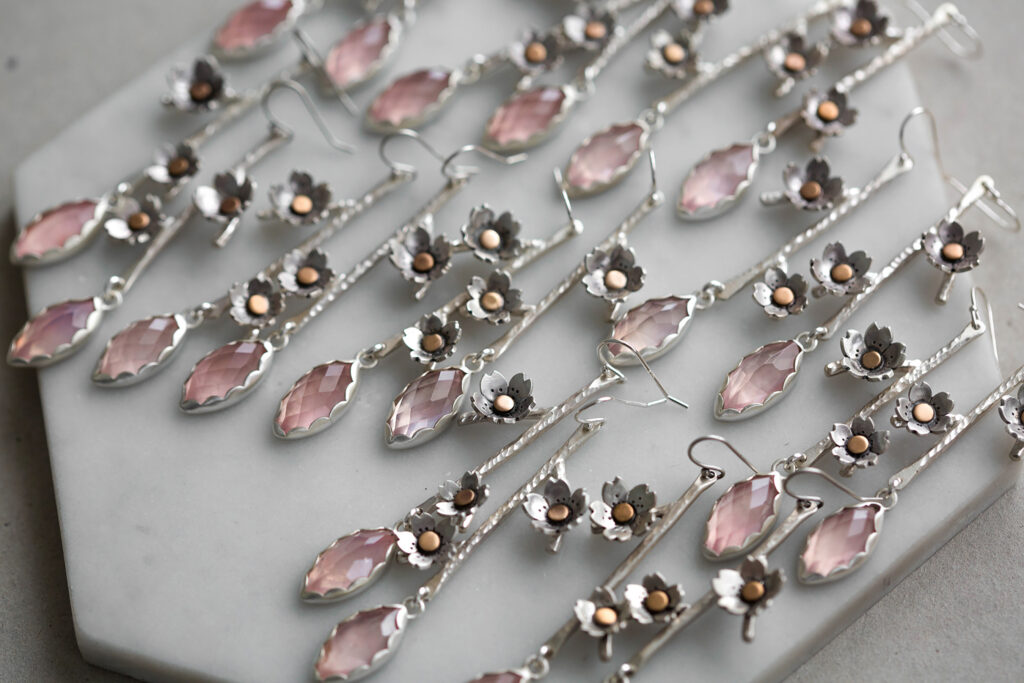 Perhaps my favorite earrings I've ever made.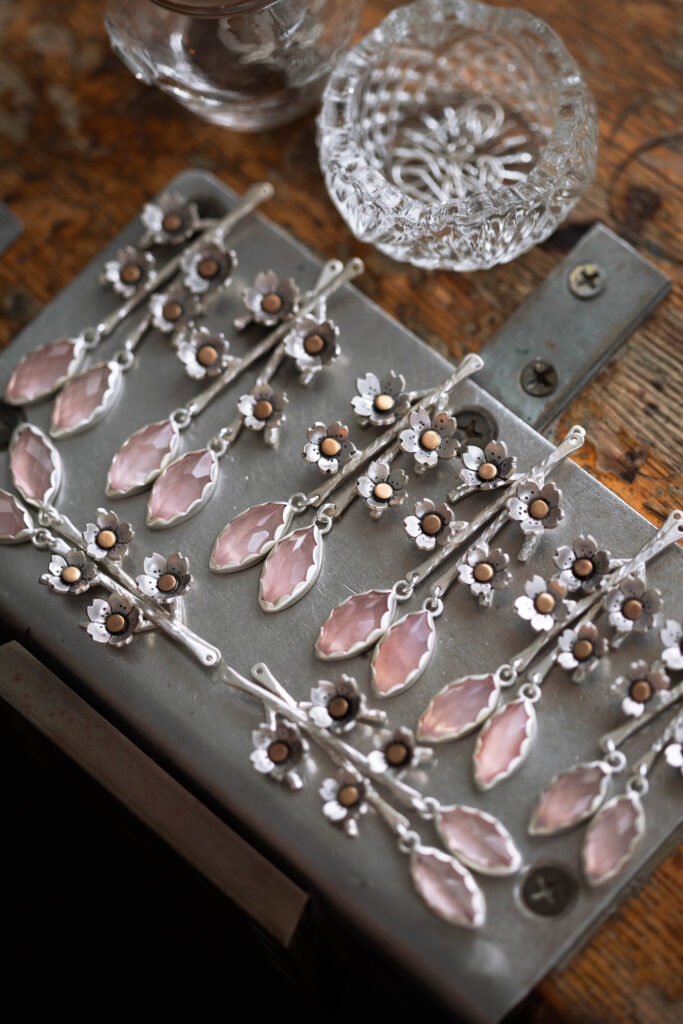 The gentle susurrus of cherry blossom boughs with soft rose quartz falling onto shoulders like petals.
---
And that is everything that will be part of tomorrow's collection release!
The Ode to Spring Collection will alight in my new shop at 7pm EST on Sunday, July 2nd at 7:00 p.m.
Click here for a direct link to the section they will appear in.
And remember, refresh your page often once the clock strikes 7:00, until they all appear!
_______________________________________________________
A quick tip for if you are trying to catch something quickly:

The "Shop All Available" tab on the home menu takes you to everything that isn't sold out.
The "Shop by Collection" option will show you everything from the collection, including what has sold.
I thought I would leave the sold items on the collection pages for a little bit on each release night, so that if you are looking for a certain piece, you can actually see whether it has been sold on the collection page.
Whereas if you just want to see what's currently available in order to catch a piece more quickly, you have that option too.
Also! If you change the sort option to Alphabetical, it will put all the designs of the same types together (for example, large necklaces or smaller earrings) as well as put the ring sizes in order.