February Rings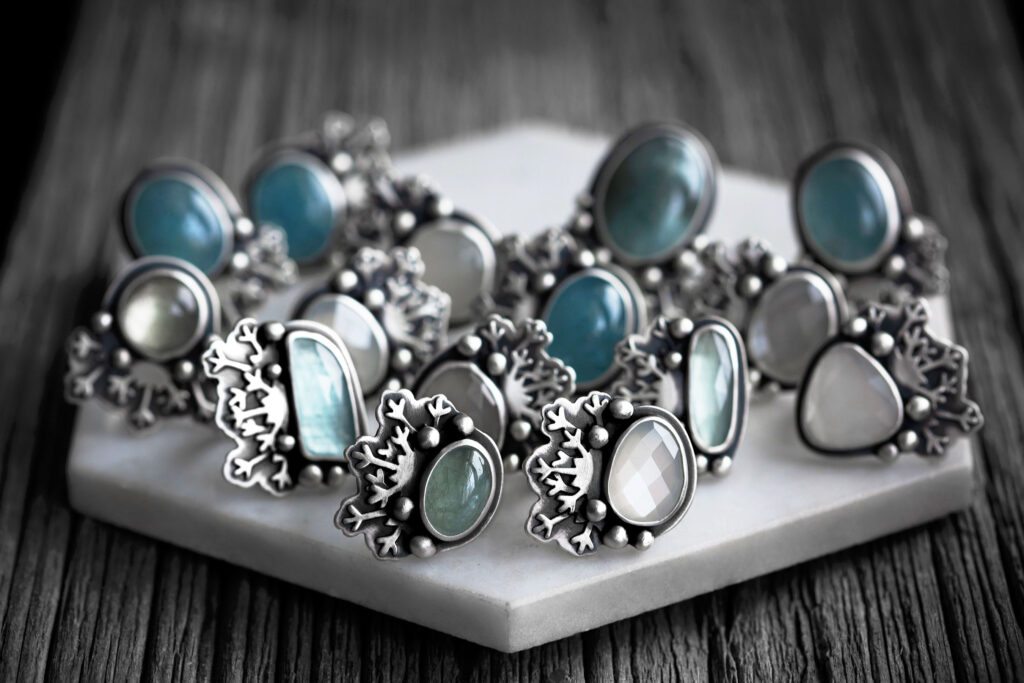 ( Sizes that will be available: 5, 5.5, 6.25, 6.75, 7, 7, 7, 7,
7.5, 7.5, 7.75, 8, 8, 8.25, 8.25, 9, 9.75, 10.5 )
Price: $160 – $165
Keep in mind these fit a bit snug because of the 6mm band!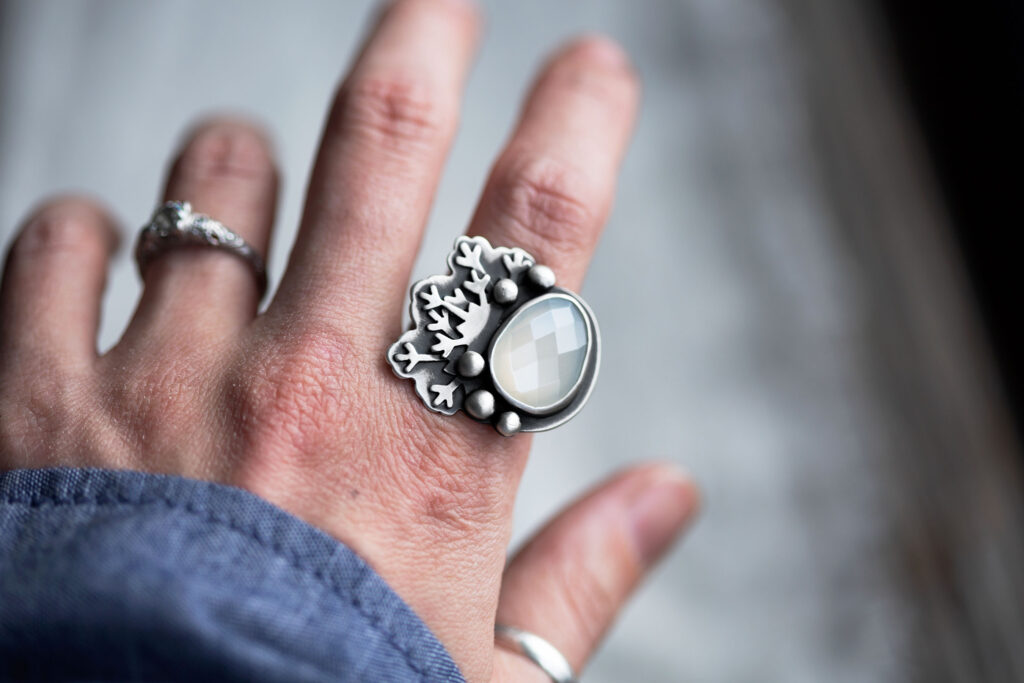 The companion design to last year's January Rings. These rings feature shimmering white moonstones and icy aquamarines, varying in surface cut.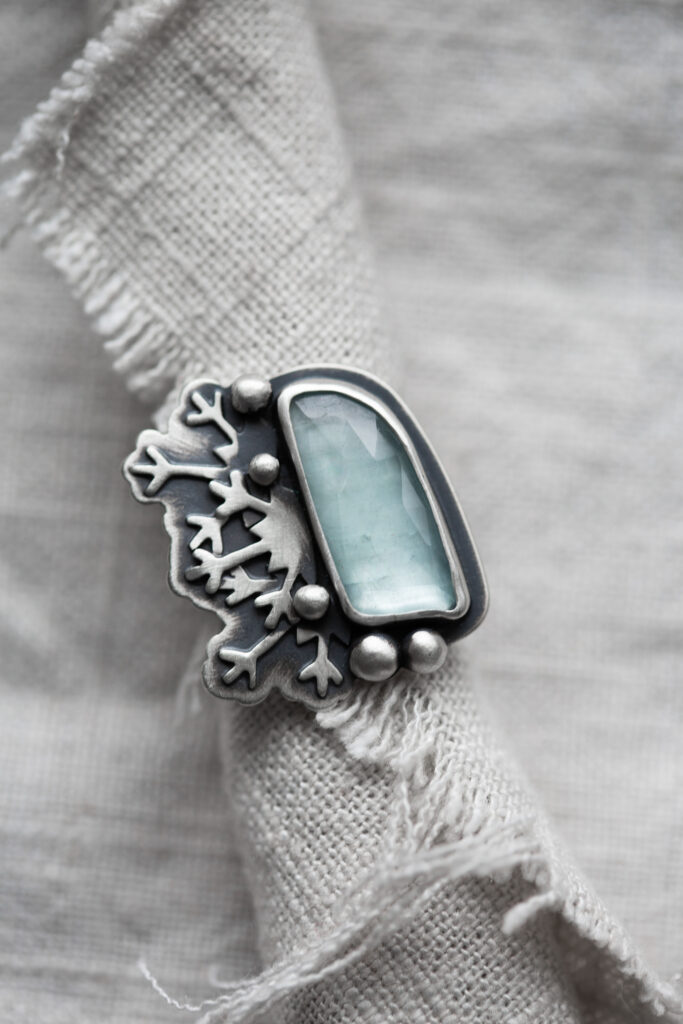 Some of the aquamarines are the deep blue of an arctic lake, and others the softest blue, like early morning blue skies above a winterscape.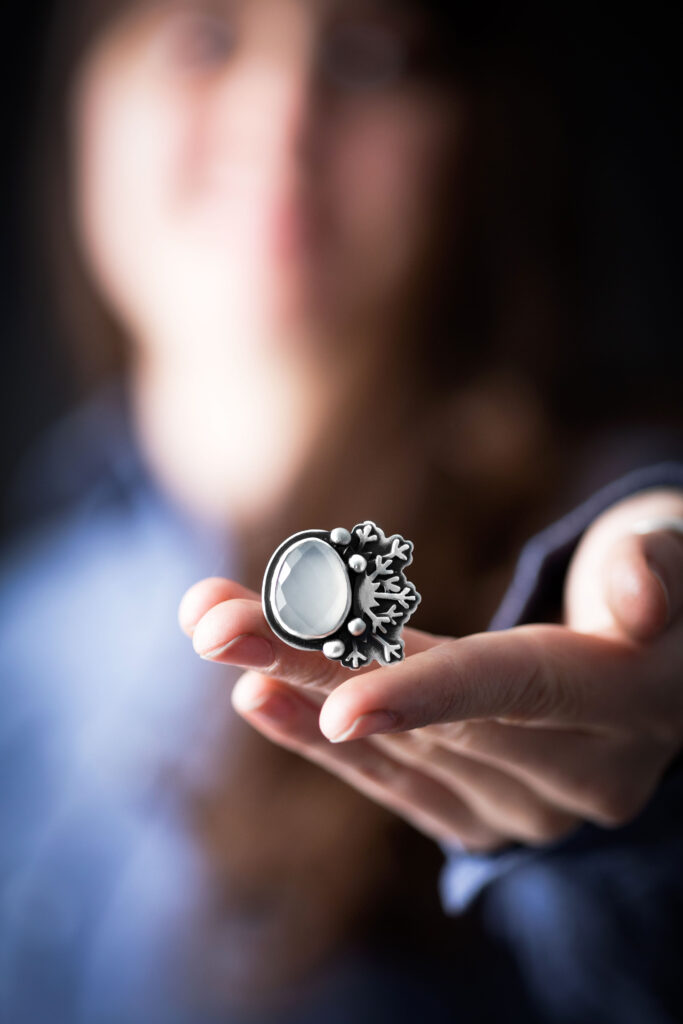 The variations of blues and the different ways in which they shimmer and glow will be so splendid to see all together.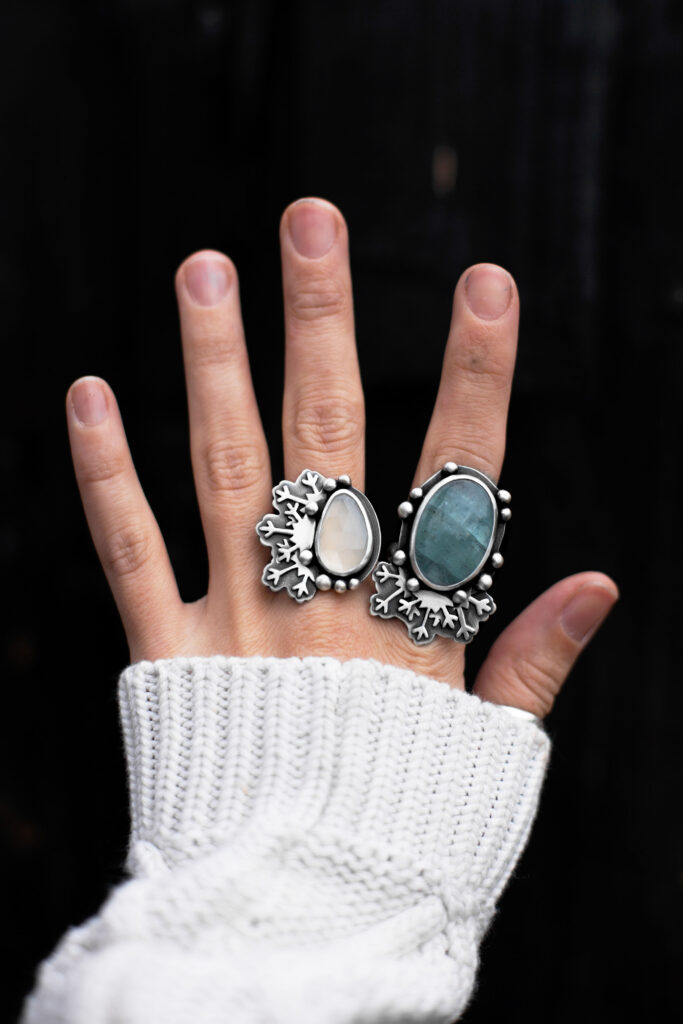 I finished these just as the fresh snow arrived, and I was able to catch a few snow crystals and place them daintily around these gemstones.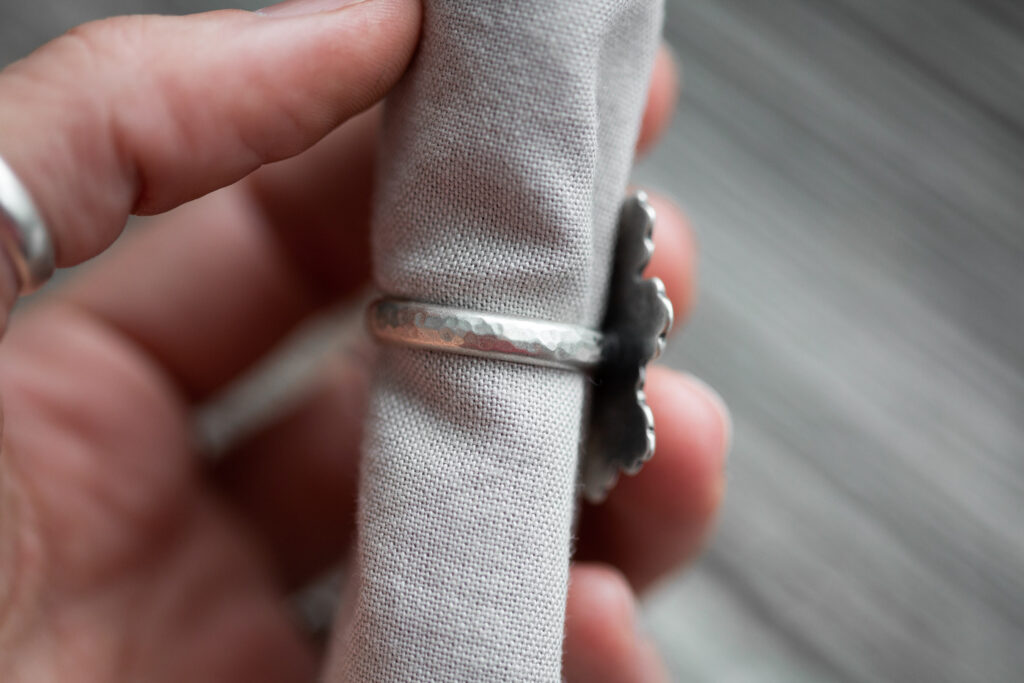 I tucked a few frosty pebbles around the stones, and set them all atop a heavy-weight half round band. I have lightly textured the surface of the bands to look like a lightly trod footpath over fresh snow.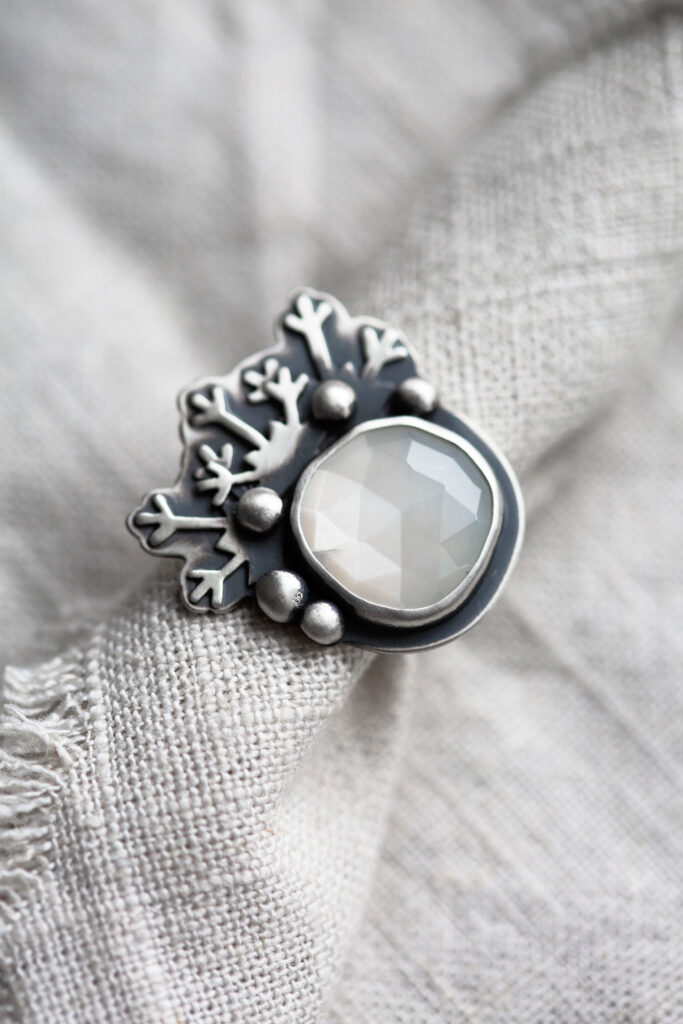 I am in love with this design! For several days after I finished it, I wore the large vertical aquamarine ring, tilting it into the light to look down into its crackling depths.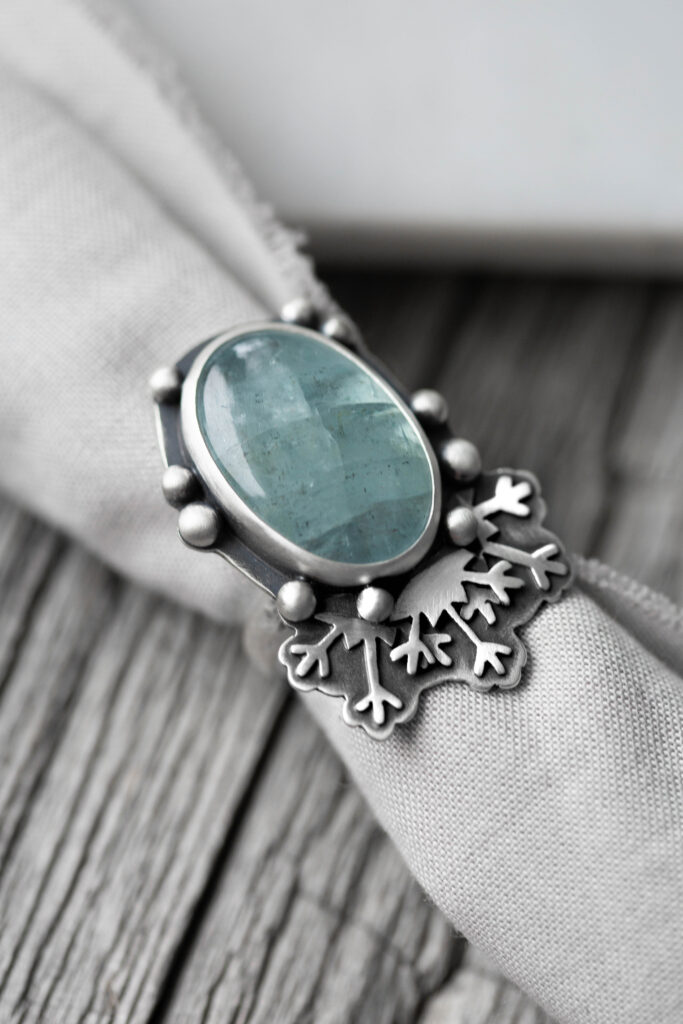 These are truly rings made for queens of winter. Made for holding snow squalls in the palm, and reaching into frozen pools towards the deep undercurrents. Rings for February.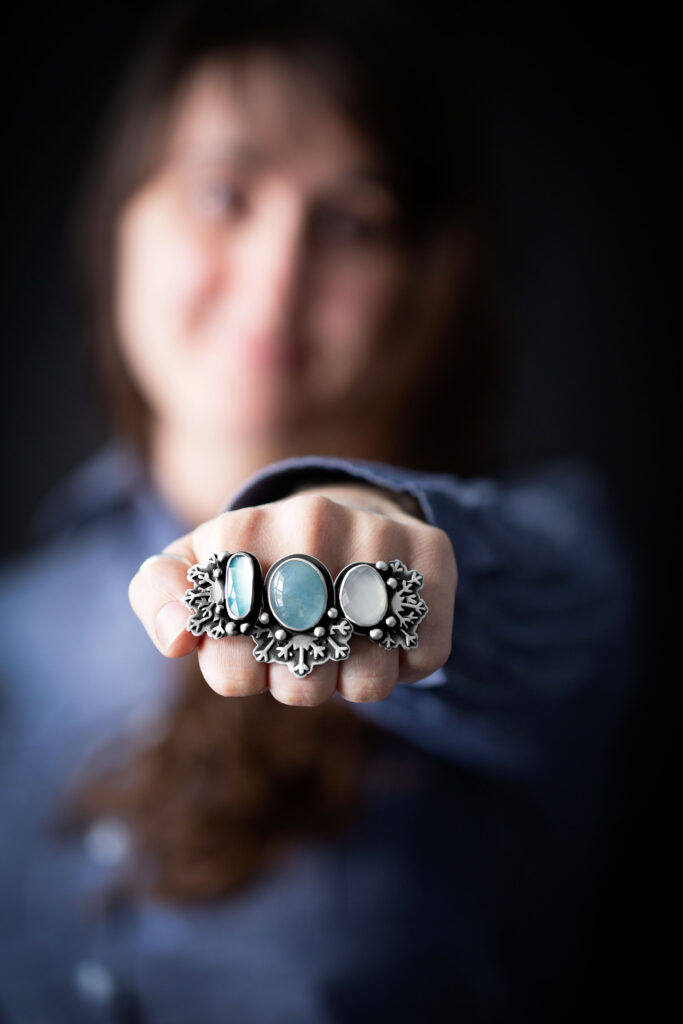 ___________________________________
Winter Oak Earrings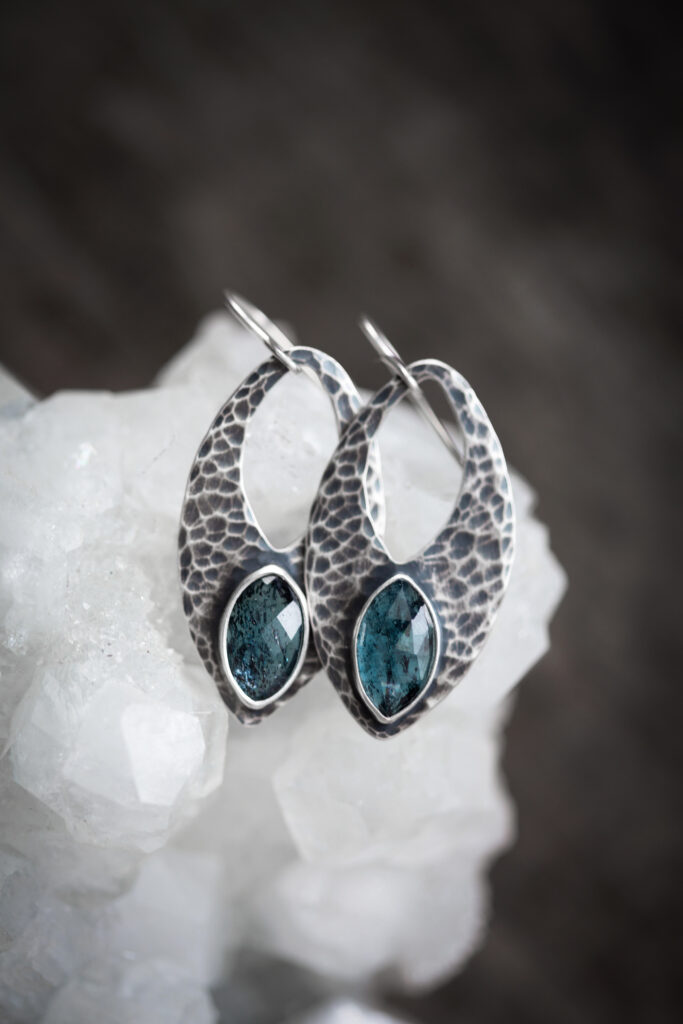 (There will be 25 pairs available. Price: $130 per pair)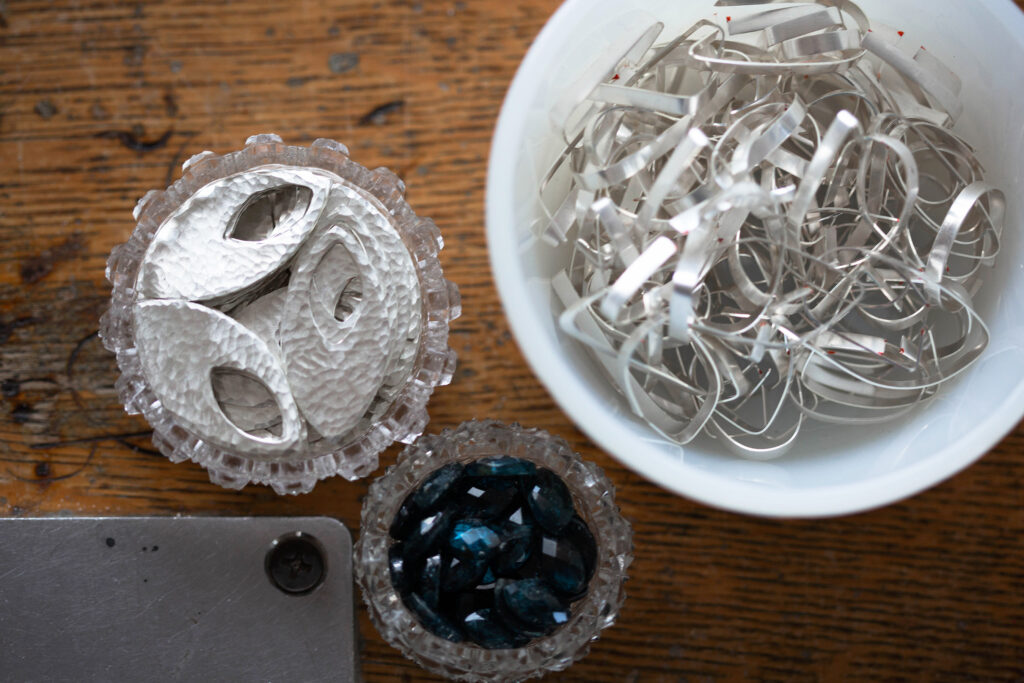 I made a version of these for my very first Mossflower Collection, featuring a round shape and little prehnite gemstones. My initial vision for these were of sturdy oaks, rough in texture and bold in their size. And those earrings reflected that.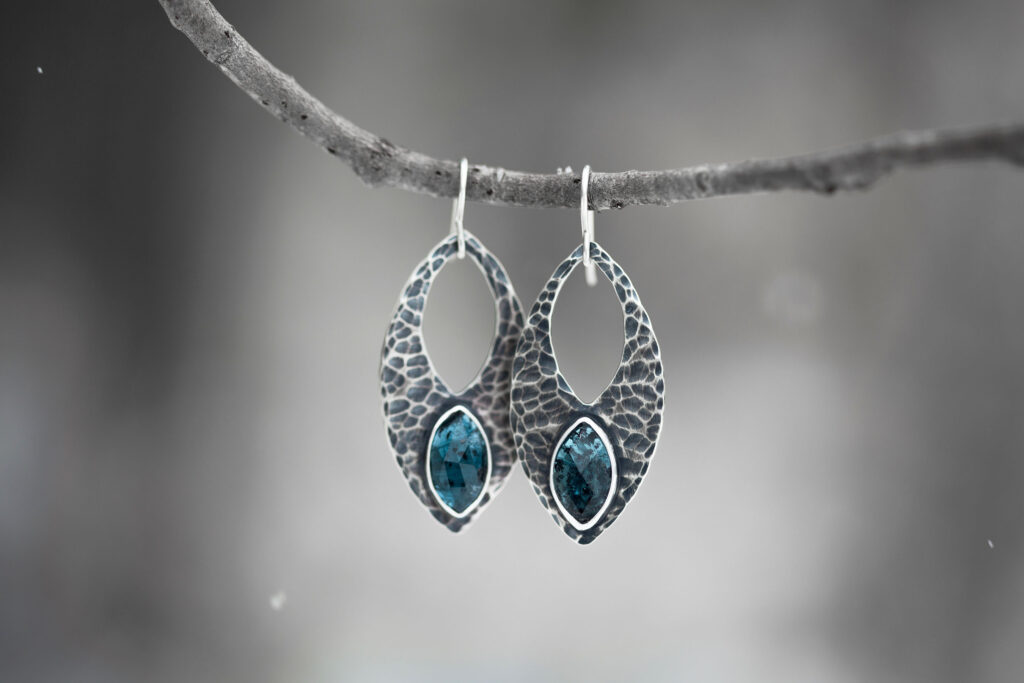 While I smith in the studio, I can look out towards the slender, leafless birches and tremendous trees beyond them, thick and sturdy. And what a thing to see a tree in winter: weathered, bare, still. To run hands along branches slick with ice, touch the coarse bark in its hibernation.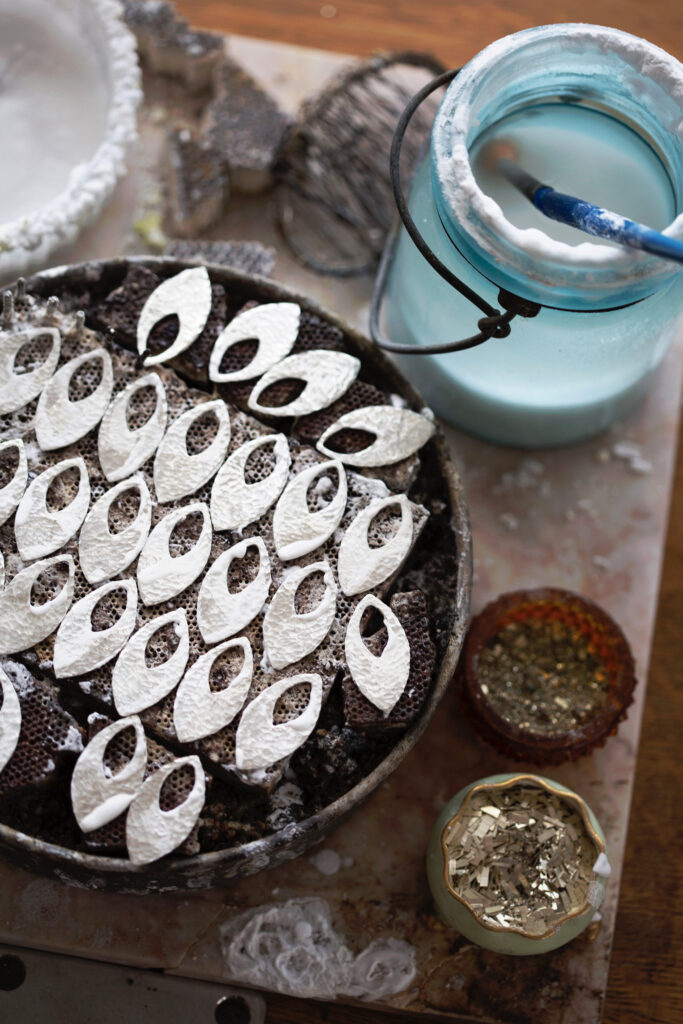 But in that same moment to know that they will soon shake the ice off their arms, kick the snow off their toes, and then toss on their green, glowing mantles.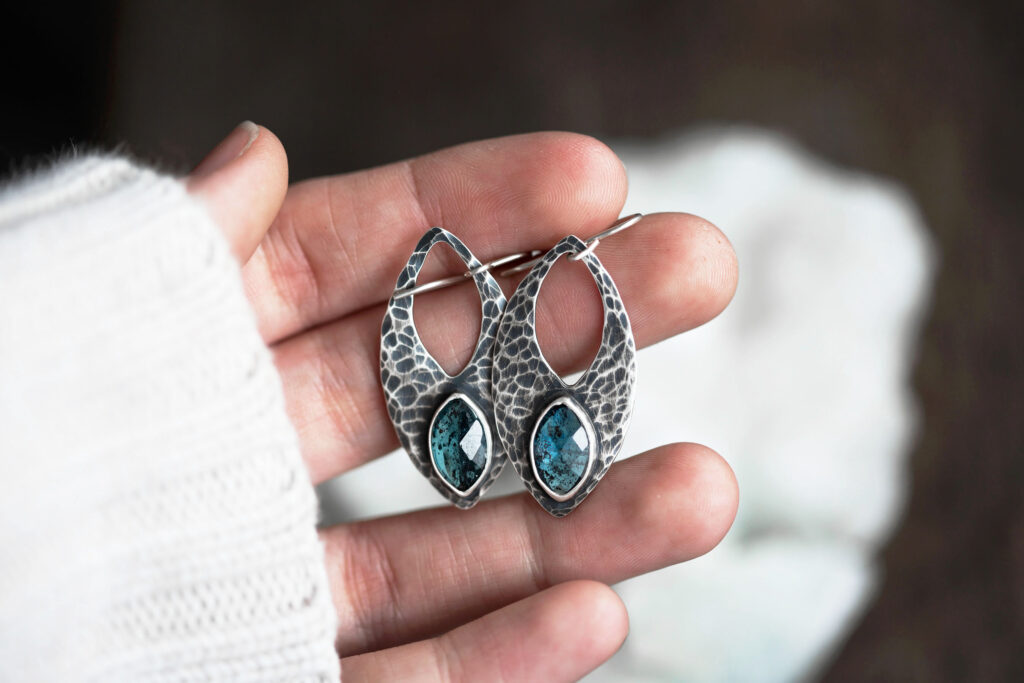 And so, these earrings are for them. The winter version of my Oak Earrings. Emulating the beauty of great, frozen trees, lovely in their roughness and glowing with winter.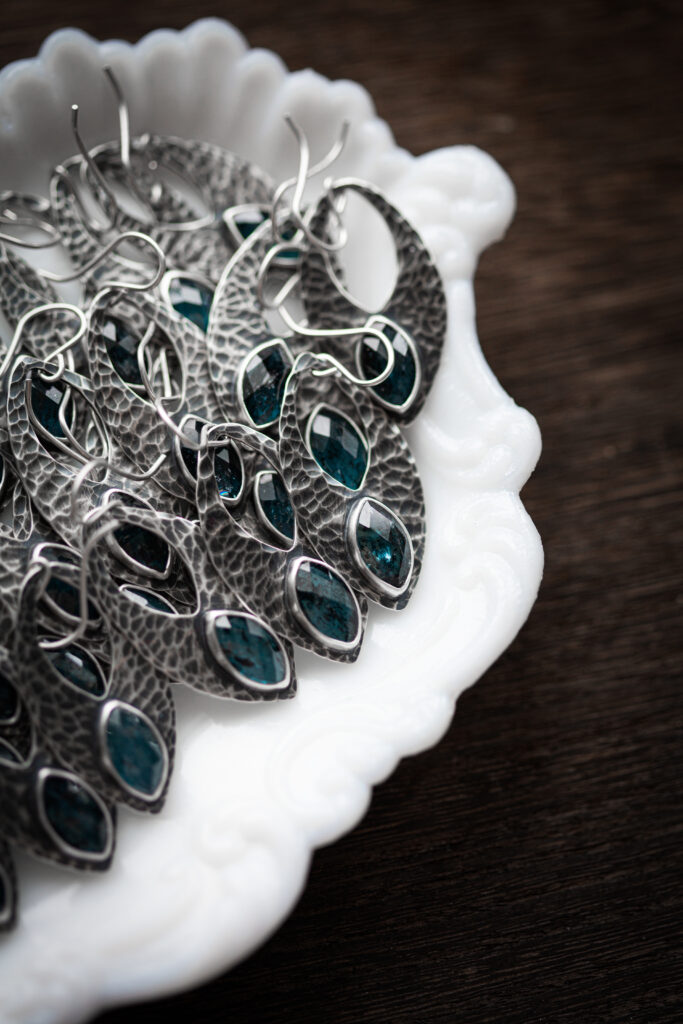 Earrings for walking through frozen oak glades and filling your pockets with winter.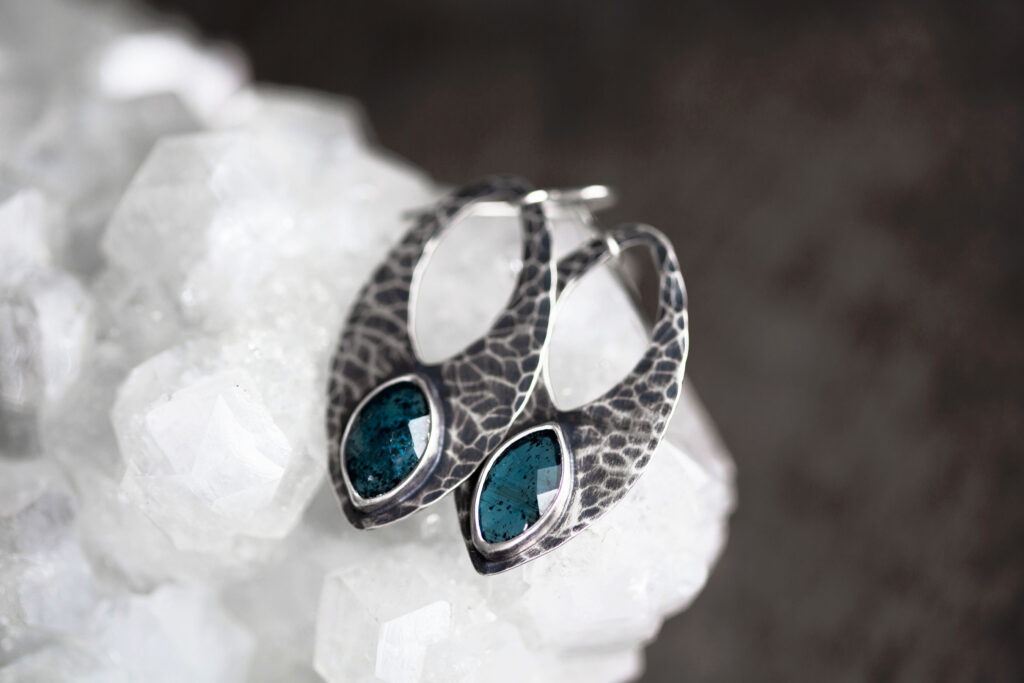 They are sawn in a marquise shape, seemingly spilling below the ear.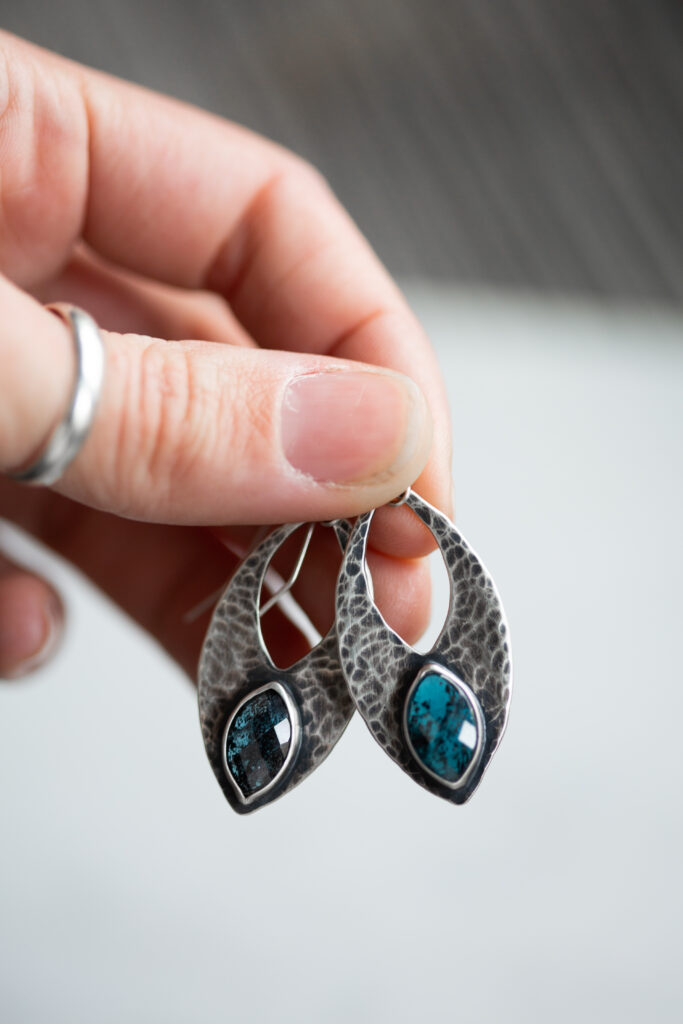 The surface is textured, weathered, and oxidized.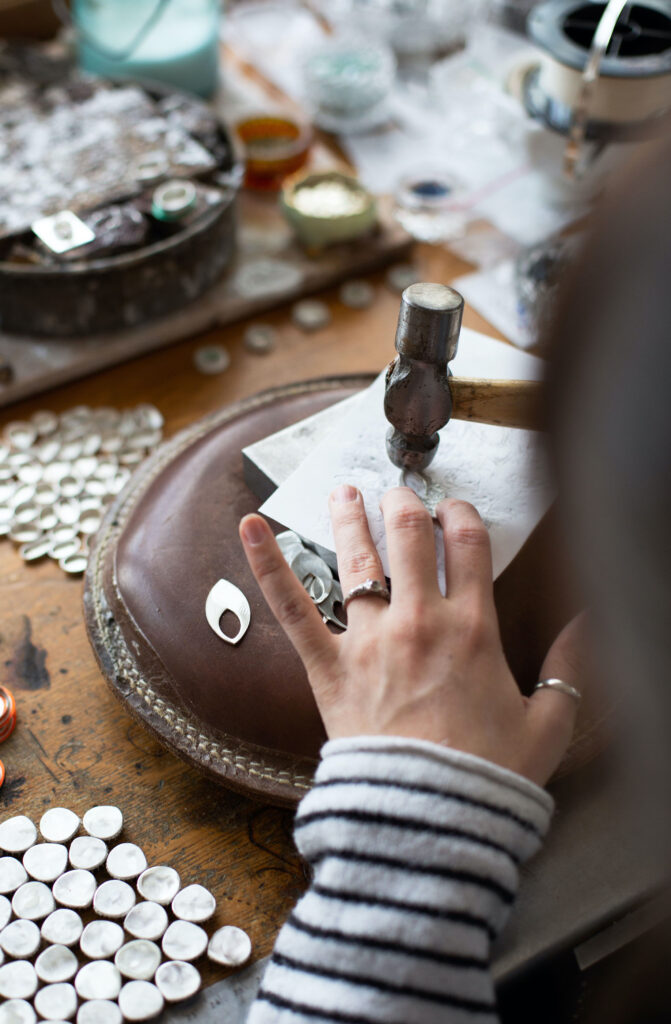 And at the bottom of each earring, a beautiful kyanite. I have sawn a window behind the stone so these gemstones truly glow below the ear.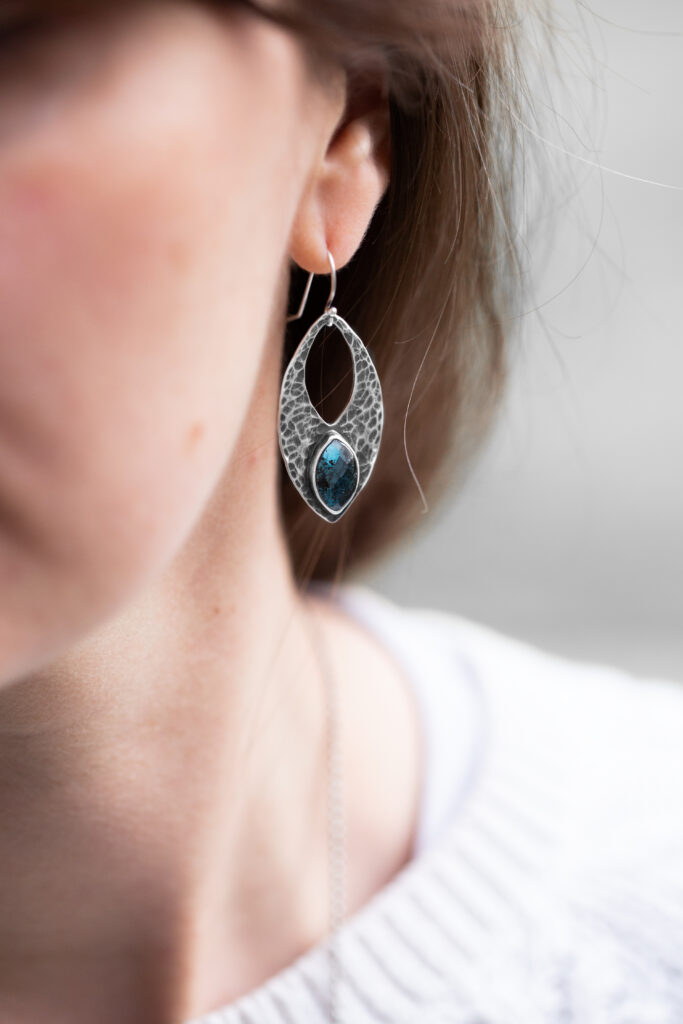 ___________________________________
February Forest Necklaces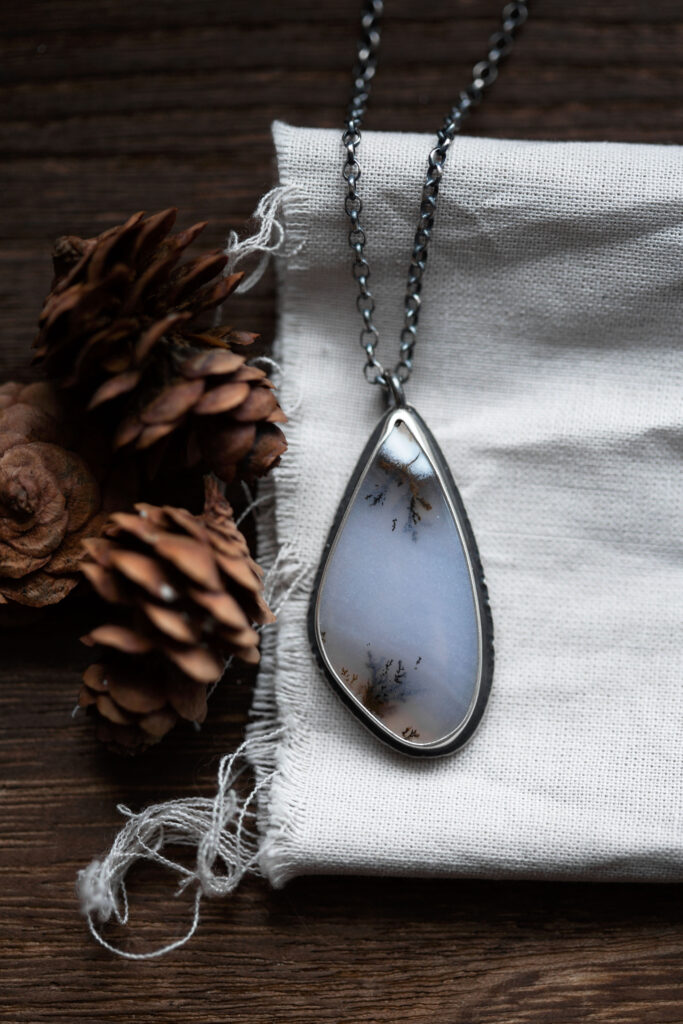 ( There will be 19 of these necklaces available. Price: $125 each )
I have made a small handful of February Forest Necklaces for you as well! Sweet and simple winter totems made of dendritic agate and silver.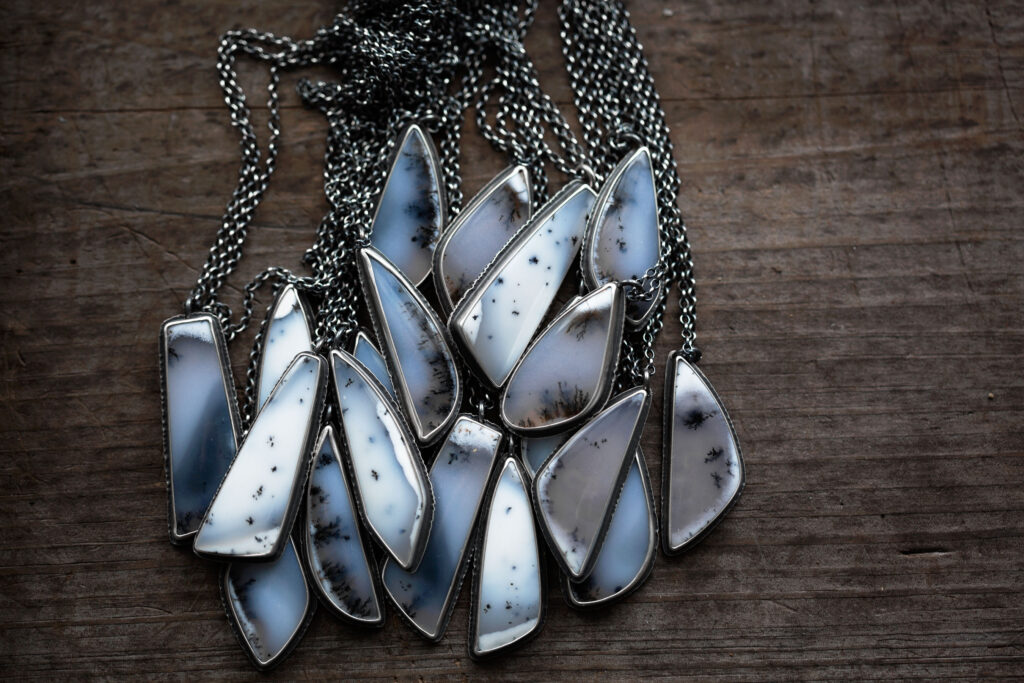 Sawn with rims around the stones and then textured to look like tree bark. Rough and silver, like a wintery pine.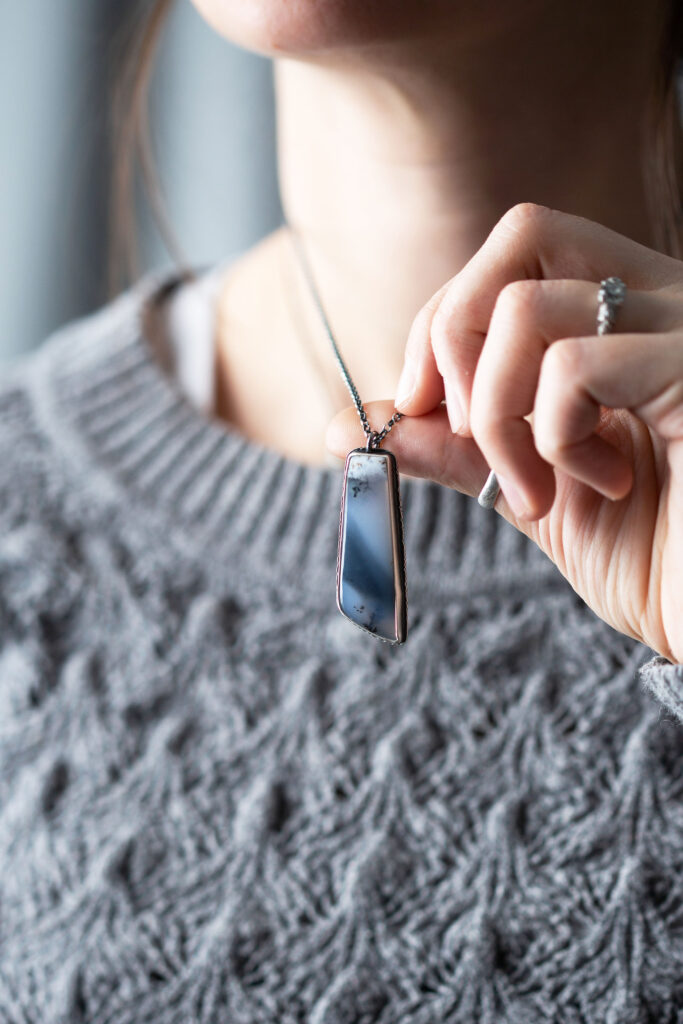 The fun part of these necklaces is they are made from matching pairs, which means that each necklace has a mate which will also be part of the release.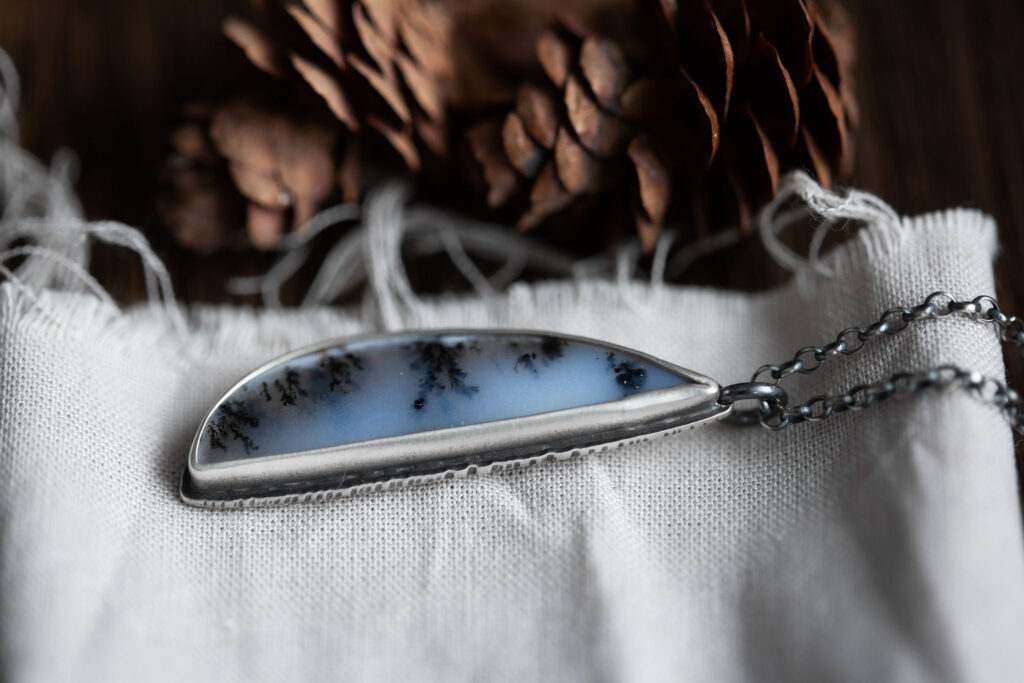 And this means that if you claim one of them, someone out there will have the other half of your paired gemstone.
A fellow lover of winter walks through snow-laden forests. A kindred spirit. Isn't that a sweet notion?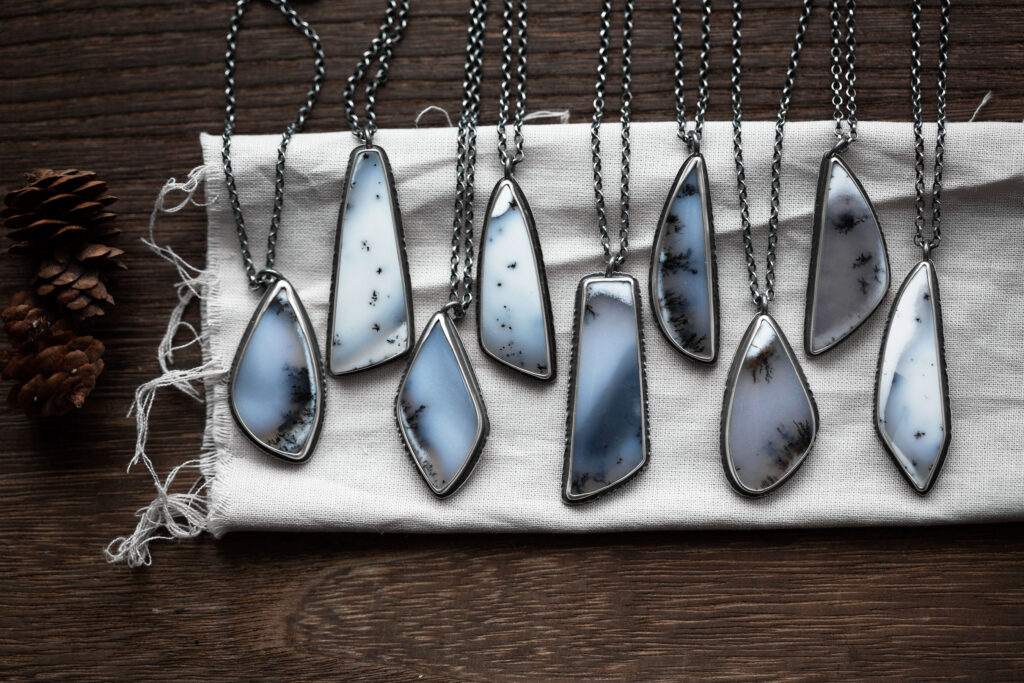 Next and final preview coming soon!