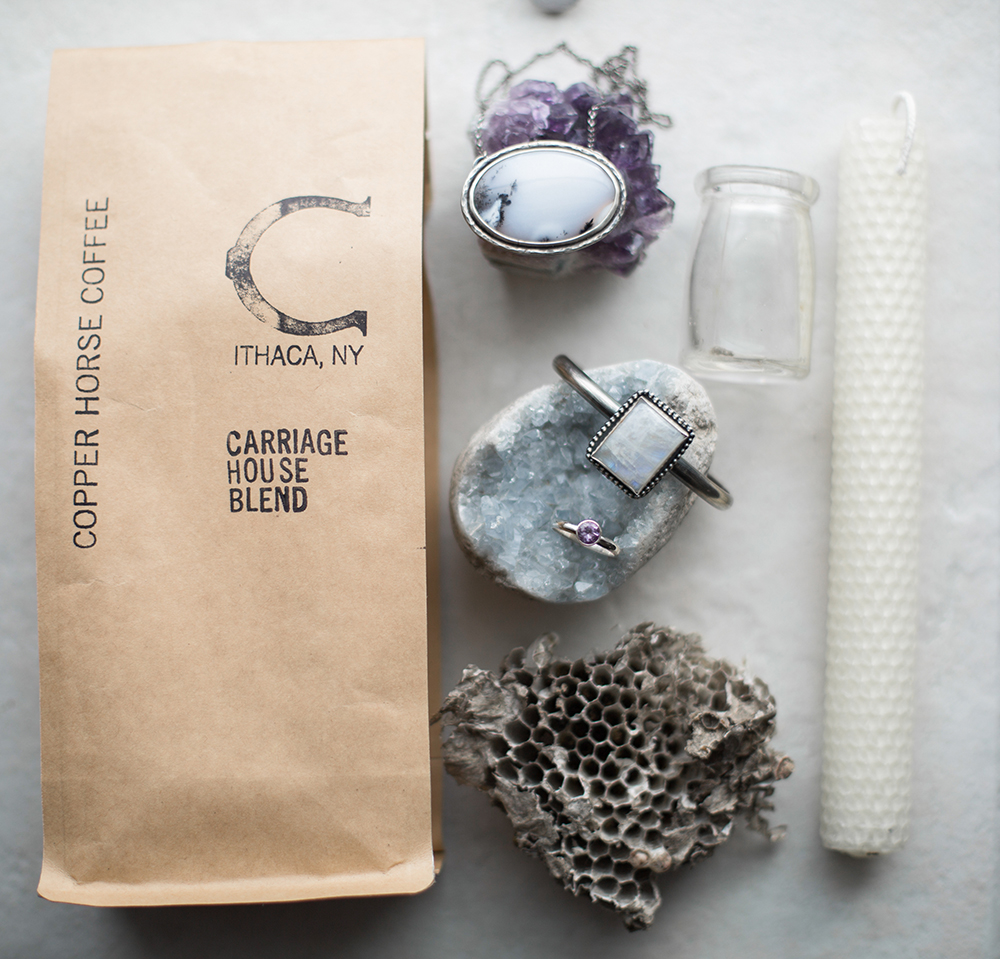 My friends! I am a month later than I would have liked to be, but here it is, the winter giveaway. The final in my series of four, each influenced by the seasons. The whites and grays of winter have nestled in the corners of my home, so I gathered those colors up in the pockets of my coziest sweater and shaped them into this collection of items.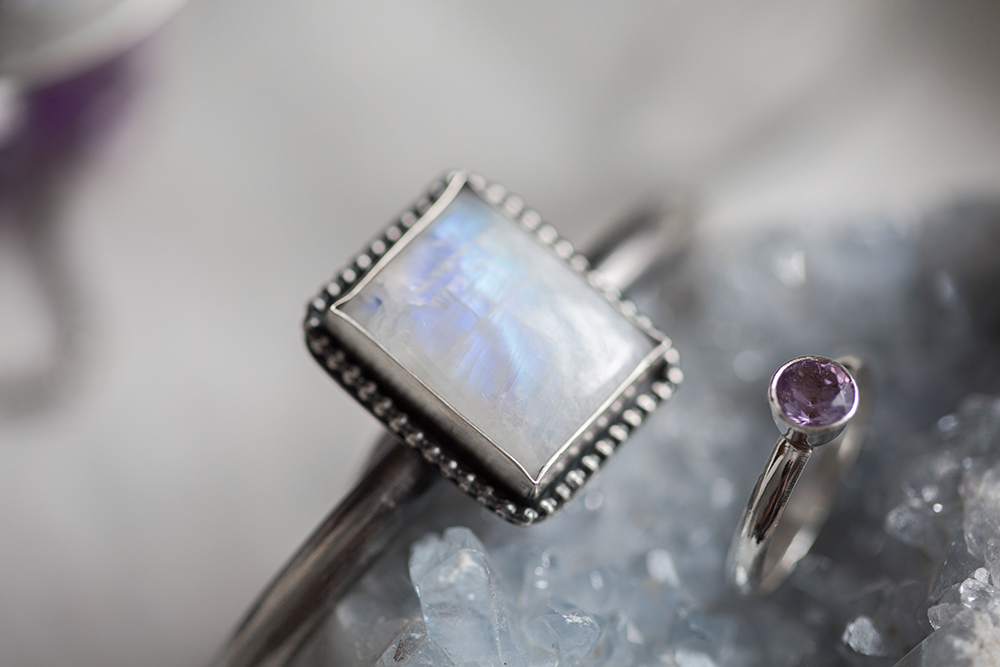 To reiterate what I said in the first giveaway, this series is an effort to connect with those who have been championing me with words of encouragement, recommendations to others, and generous orders. They are made up of a few of my favorite things. The things that adorn my aesthetic and artistic landscape. I cherish your support, so I want to give you some things I cherish. These are the sorts of care-packages I would send a long-time pen pal if I wanted them to know me better. There will be beloved books, gemstones to place about your home, edible bits, and of course, artisan jewels and baubles to adorn yourself. These are the things I would give someone if I wanted them to know me better.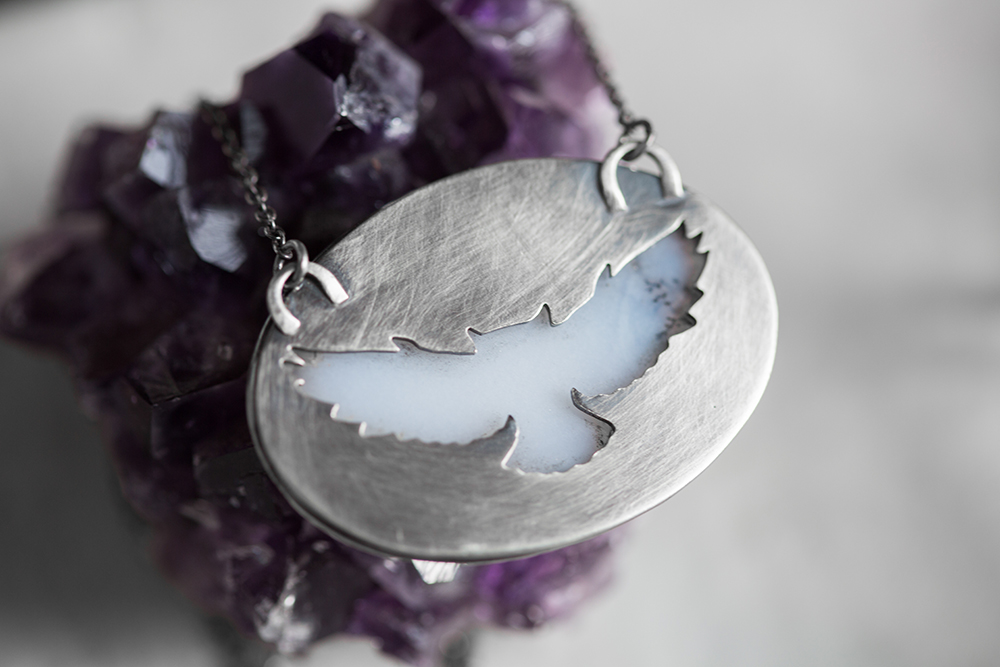 ________________
This giveaway features:
* A selection of artisan jewels
I chose the most wintery of stones for this collection. I have included a simple cuff bracelet featuring a white moonstone with a shimmer of blue that plays across the surface of the gemstone in the right light. It has been darkly oxidized and then polished.
There is a necklace made from a natural, snowy dendritic agate/merlinite stone.  The gemstone features a winterscape that has been set in the pendant to emphasize the frosty landscape. Bordering the stone is a hammered border made to resemble the twisting gnarled roots of an old tree clinging to rock. And the back of the pendant features a sawn out owl in flight, surveying the frosty landscape.
And finally, a simple, light purple amethyst stone set in a tapered bezel on a polished half round band that measures size 7.5.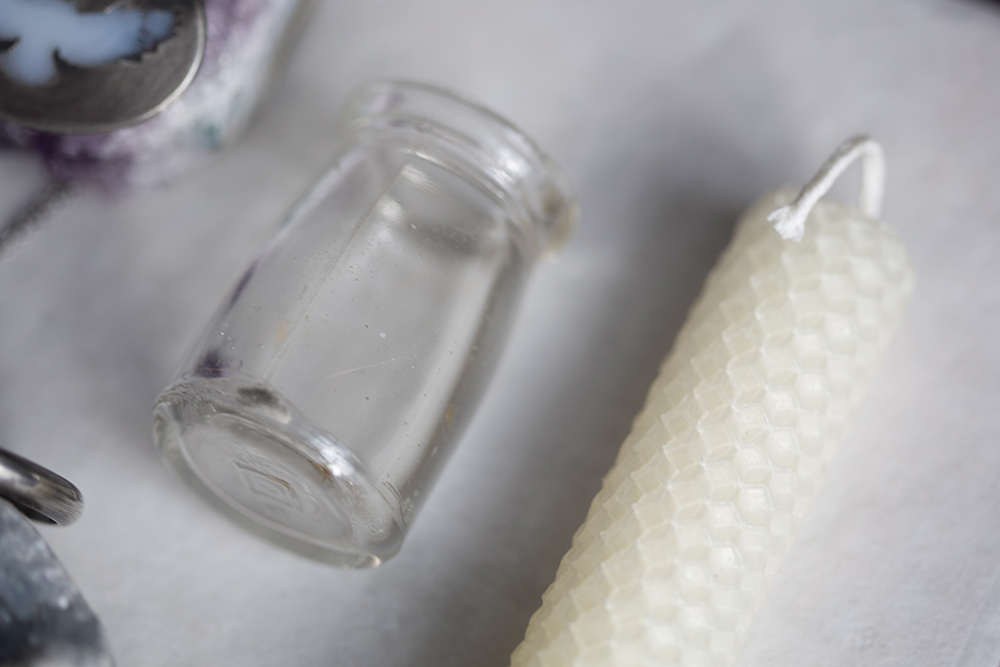 * A little antique bottle
It has been a year, and I still have an unmanageable collection of tiny, antique glass bottles – ointment pots, dental powders, homeopathy vials, oil of vitriol – and so to reduce they numbers and rescue some shelf-space, I have chosen a sweet, little clear apothecary bottle for you. And I hope in the springtime, you pluck the very first forget-me-not you see and display it in this bottle on your sunniest of windowsills.
* A hand-rolled beeswax candle
Because is there anything more pleasing than the glow of a candle? And better yet, a hand-rolled, honeycombed beauty to light in the window on blustery, frosty nights to guide a love home.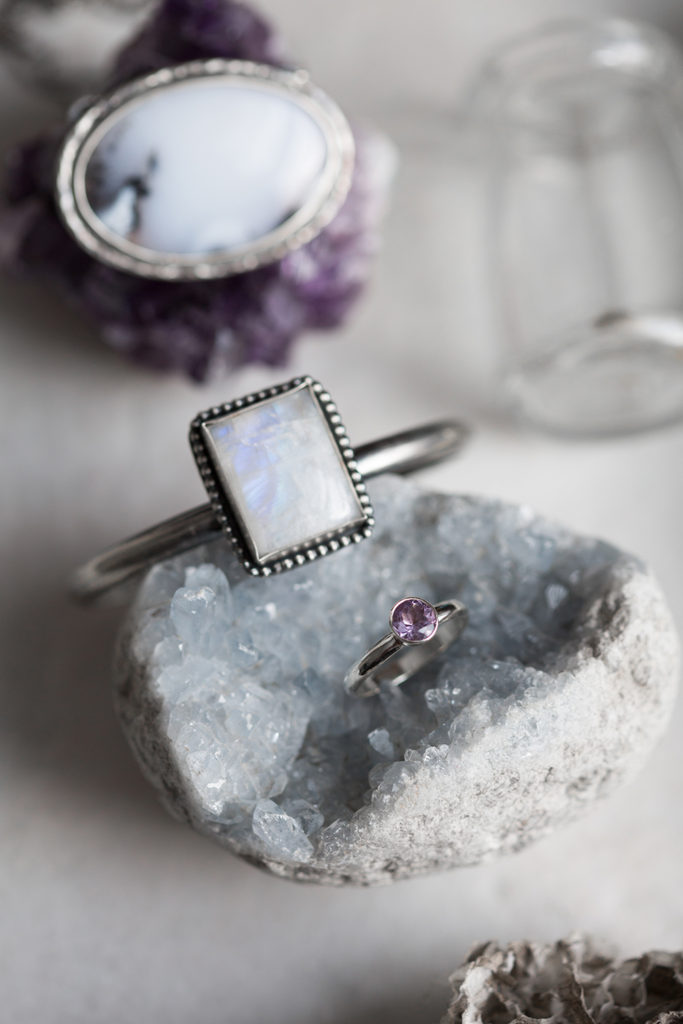 * A few crystals and minerals
An amethyst cluster and a celestite egg.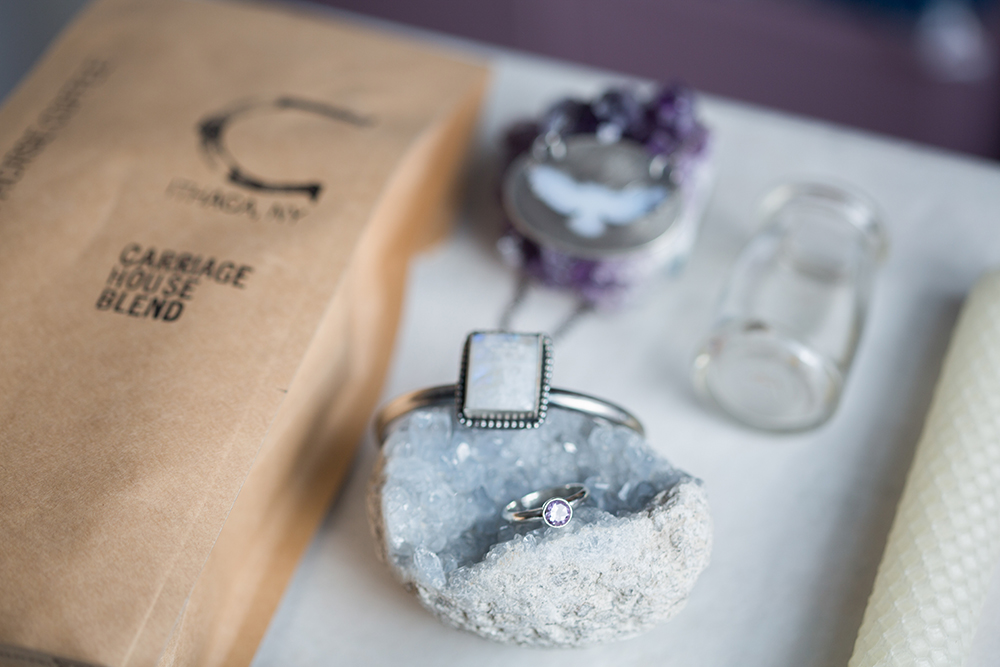 * A bag of local coffee
Rather than a book of poetry this time, (even though I had about a thousand more I would have loved to give you!), I decided to include a bag of my favorite local coffee. These past months have been a time of whirlwind activity, despite the lull of hibernation. It took all of my strength, and about 80 pounds of coffee beans, to accomplish everything. And so I thought perhaps you too might need something warm and bright to help carry you through the darkness of winter.
(If coffee isn't you're thing and you prefer tea, I totally understand. I drink tea and coffee in nearly equal parts, and would love to share some beloved tea blends with you!)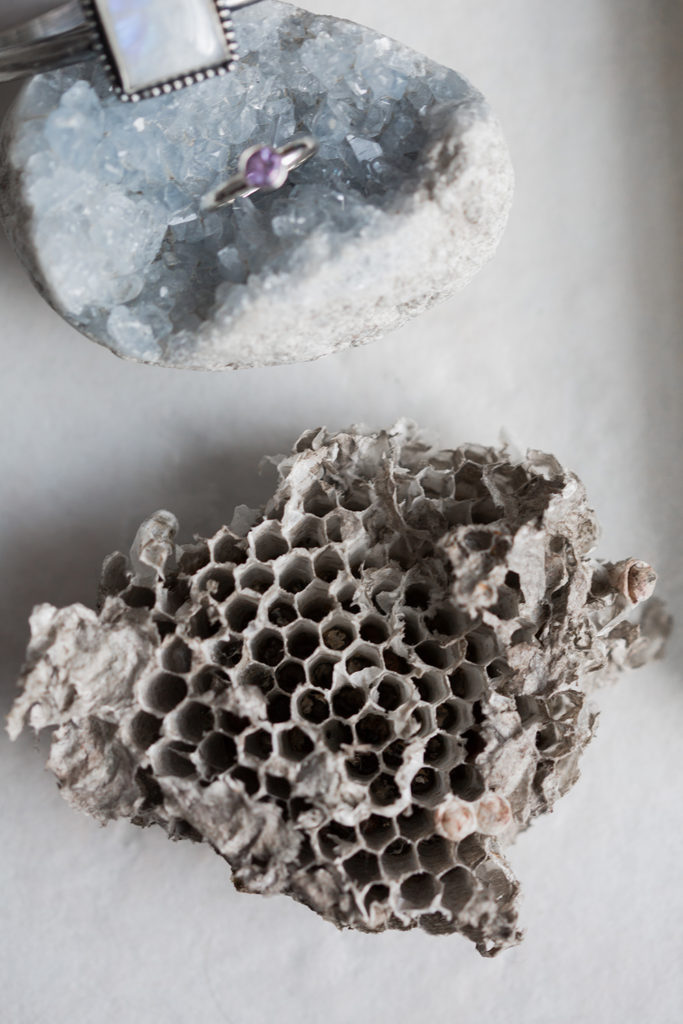 * A remnant of a wasp's nest
This I found while tromping through the woods looking for a tourmaline mine with a group of the finest people you'd ever hope to meet. It was an unexpected hike, and I was not prepared. It was blisteringly hot without a breath of a breeze, I had forgotten to bring any water at all, and jeans were not the ideal choice for such a trudge. But despite my preoccupation with all of these things, I happened upon a long-empty wasps nest beside the trail. And so I took two pieces that had fallen away and gently tucked them into my pack. One for me, and one for you.
_______________________________________
To Enter:
Follow my Instagram account and repost the giveaway picture of the care-package contents that I featured on my Instagram page. Re-gram it to your own Instagram account, and tag @moon.spinner and #mswinter2018 in the description.
That's it!
For an extra entry, you could give my shop's Facebook page a share.
I like doing repost giveaways because it is such an honest way to participate in a giveaway. Those who enter are showing they are proud to support and share my work, and to those people I would give all the things! That is also why these giveaways have been such generous ones.
I will draw a winner on February 5th.
_______________________________________