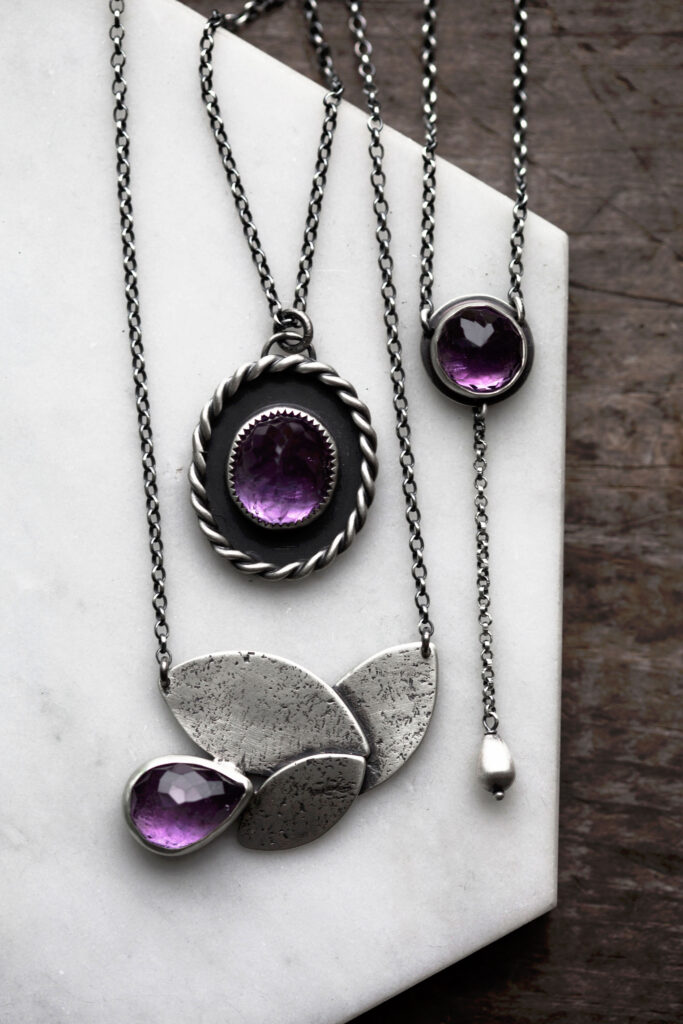 It has been a joy naming these designs after resilient, purple wildflowers. Some resemble the flowers in design, other are merely a similar shade of purple, and then others are just in namesake.
---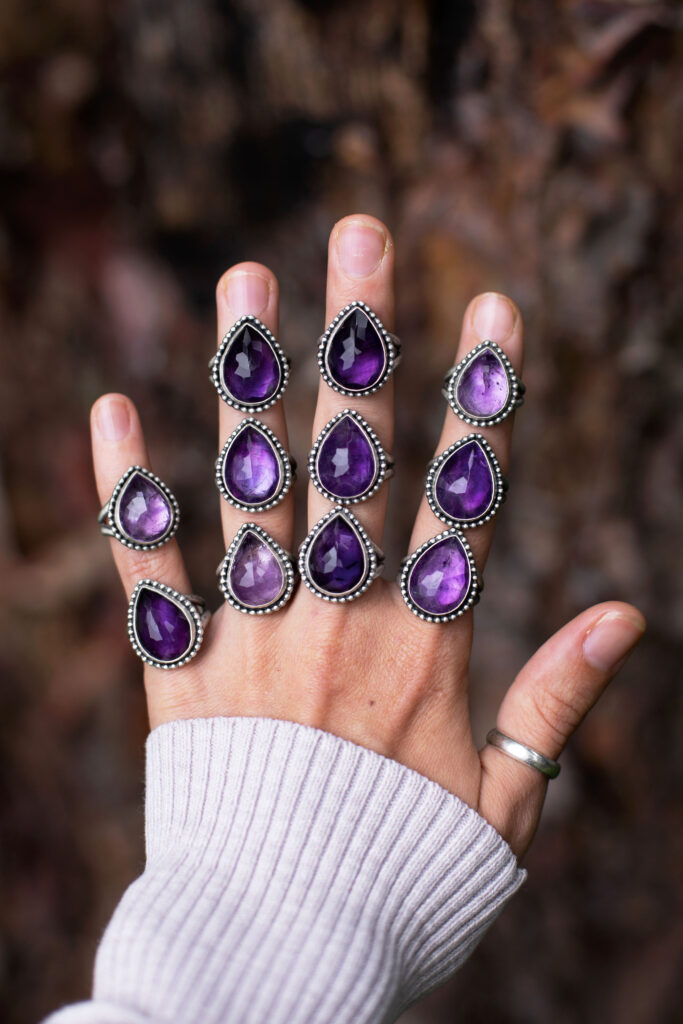 Iris Rings
There will be 30 rings available.
Available sizes (in US sizing): 4.25, 5.25, 5.75, 6, 6, 6, 6, 6, 6, 6.25, 6.75, 6.75, 6.75, 6.75, 6.75, 7, 7.25, 7.25, 7.5, 7.75, 7.75, 8, 8, 8.25, 8.25, 8.5, 8.5, 8.75, 9, 9.25, 9.75, 10, 10.5, 10.5.
Set on split double half-round band, so they fit a bit snug, about 1/4 size small.
Price: $135 per ring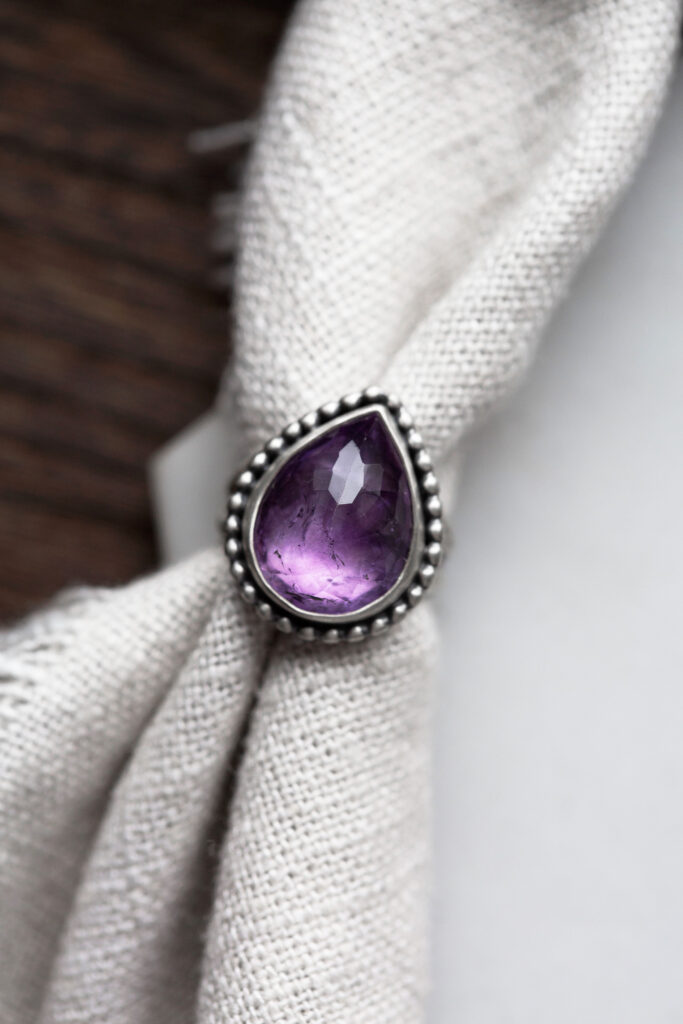 Named for the flower that prompted the shift in this collection. As I mentioned before, when things felt overwhelming, the fella and I would walk down to the pond behind the house and crouch among the cattails, looking for the snapping turtle that summers here and watching the dragonflies. And of course, I would come back to the studio with a handful of irises to cheer my studio with.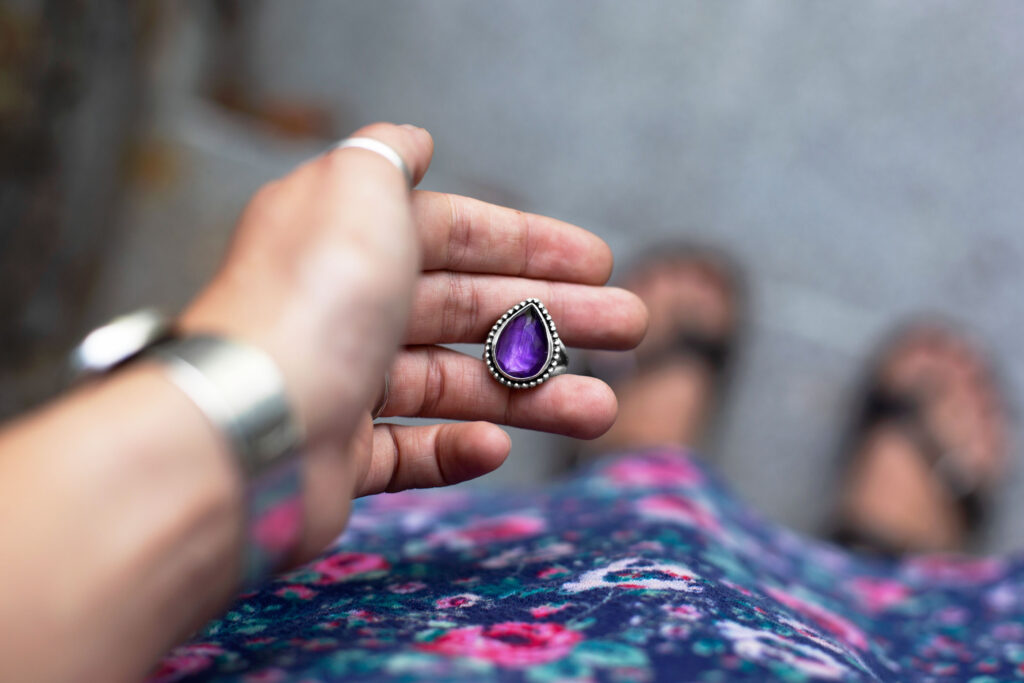 Irises are such an unapologetically beautiful flower, despite often growing in muck and mire. Rich in color, flamboyant in shape, pushing up between gray pebbles and shadows.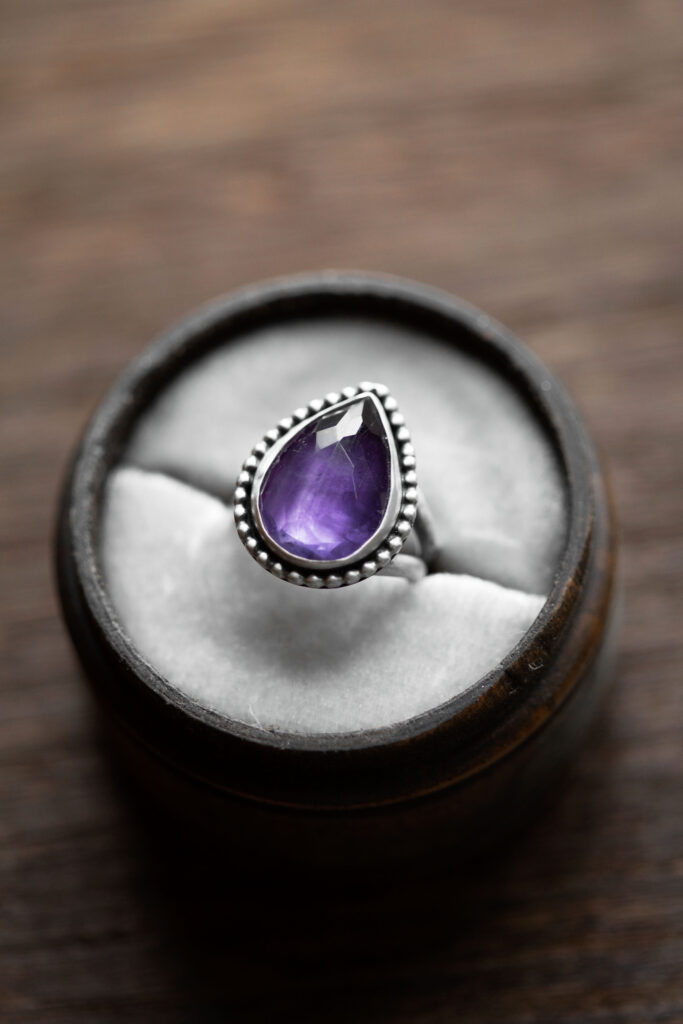 Irises need for very little, finding purchase at the waterside or roadside ditches. They are lovely splashes of color where many other flowers cannot grow.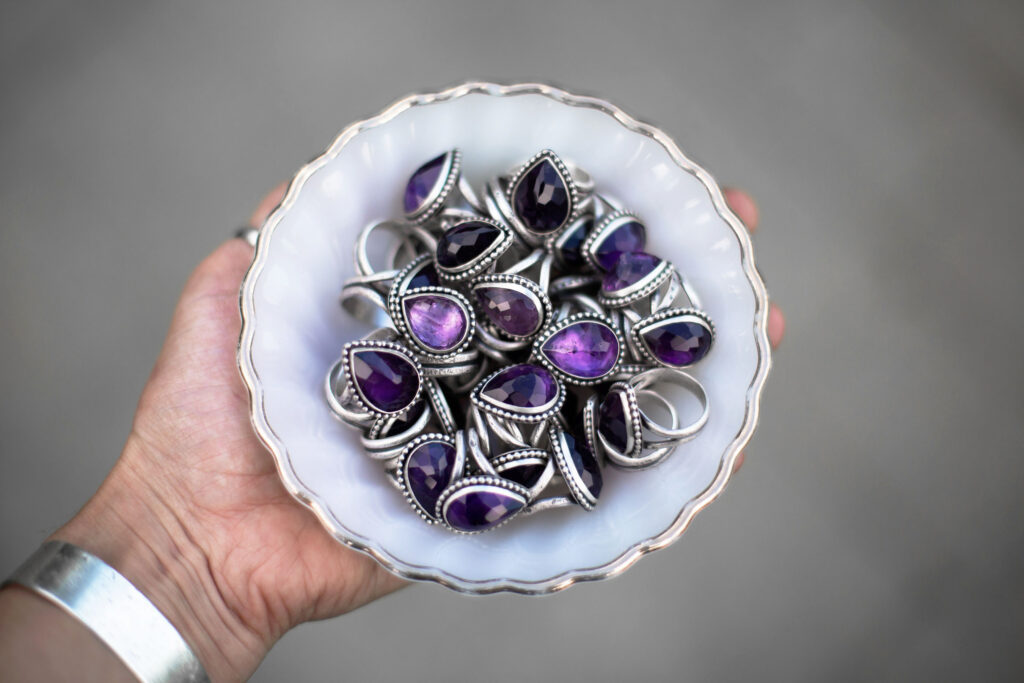 A reminder to be bold and strange, even in a landscape devoid of other flowers.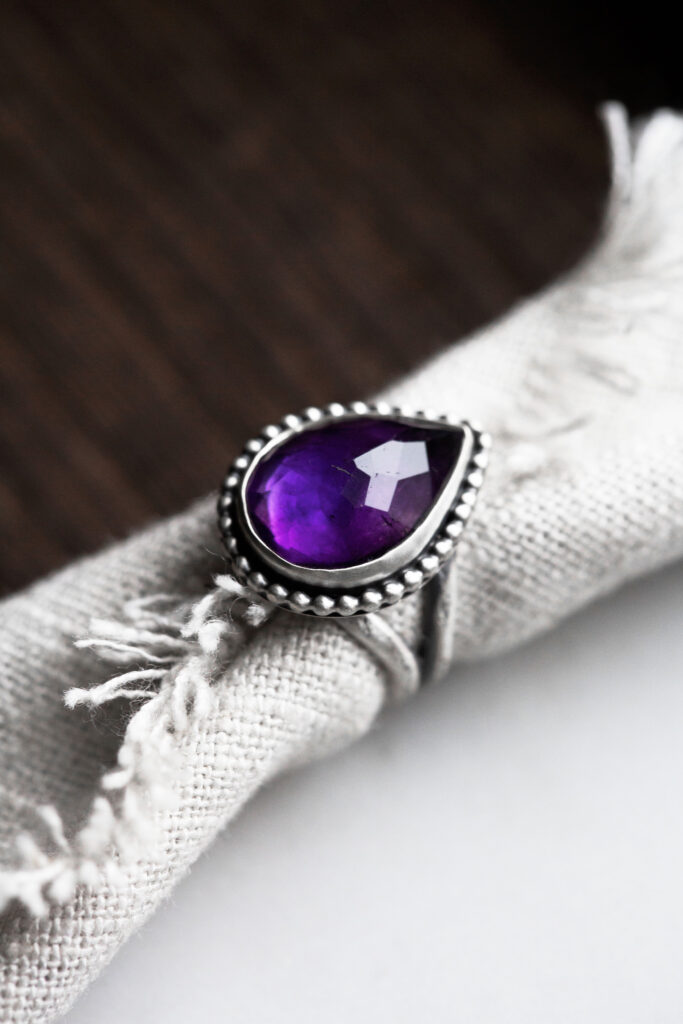 Each of these rings features a unique amethyst gemstones, all are different in hue, dome height, and inclusions. Some of the stones are light and watery, like a delicate springtime flower. Others are so inky purple to nearly appear black, except for when held to the light.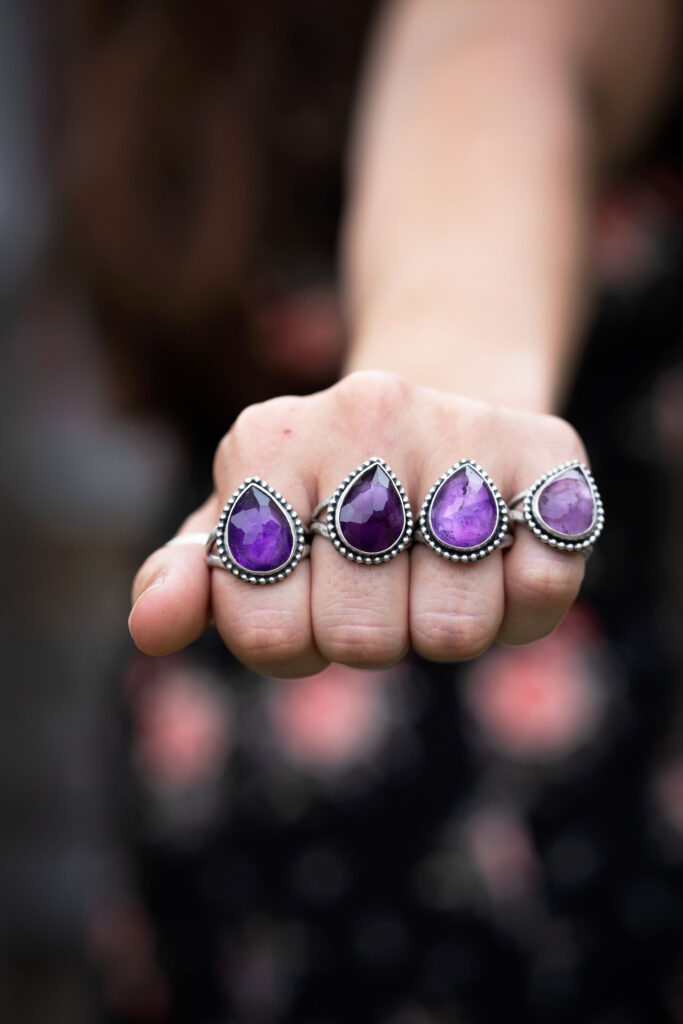 Around the gemstones are a pebble border, and the ring is set upon a split double half-round band. The band has been textured to give it a very rustic feel, like something you picked up in a forest meadow.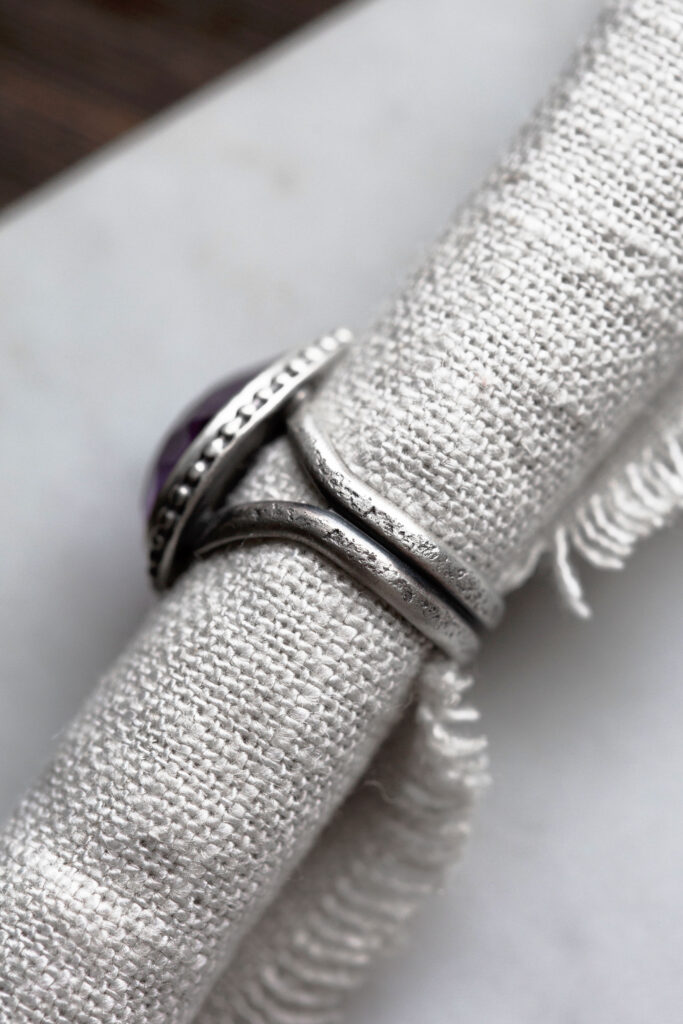 ---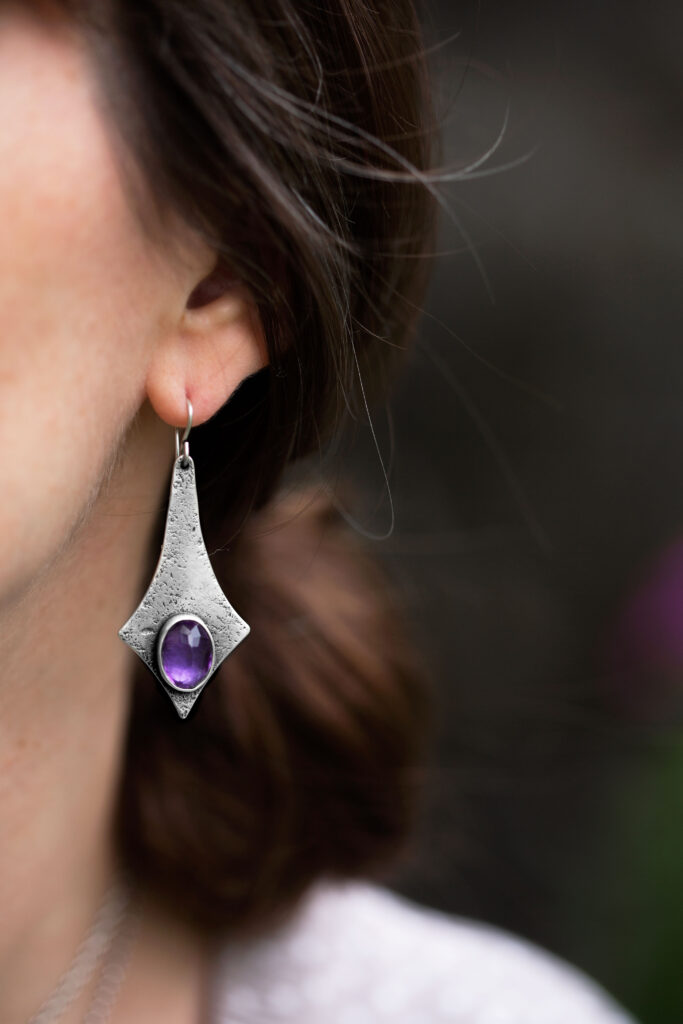 Harebell Earrings
There will be 21 pairs of earrings available.
Earrings measure about 2″ (50mm) from the top of the earwire to the bottom of the earring.
Each earring weighs about 5g, which is the same as a US nickel.
Price: $130 per pair of earrings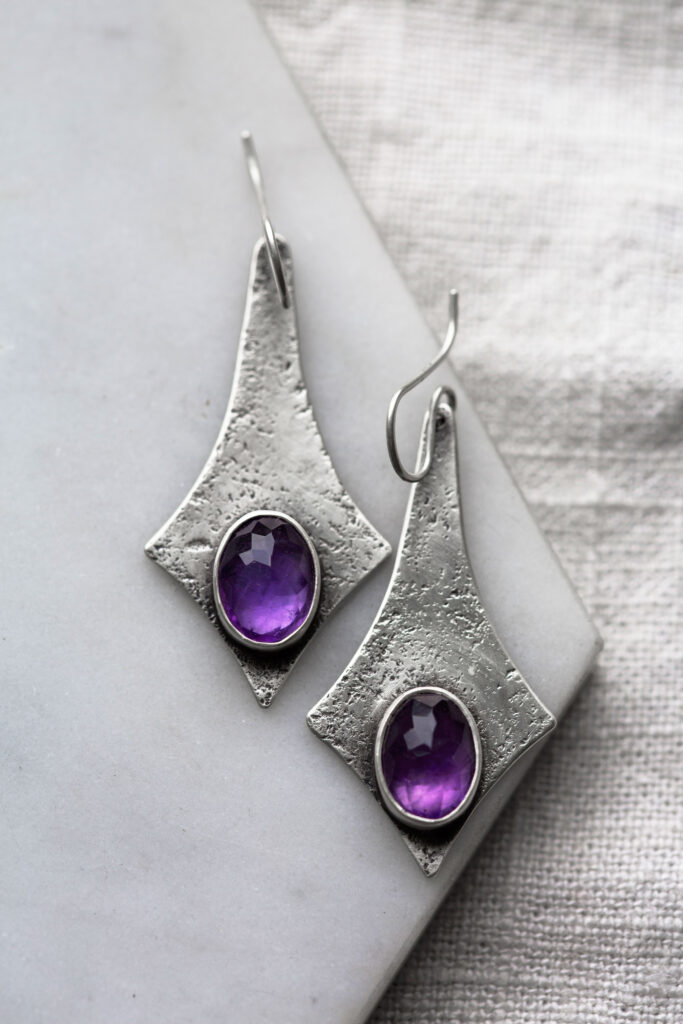 Named for that endlessly resilient flower often found clinging to granite cliff-faces above the alpine-line. Delicate flowers nodding their bell-shaped flowers, collecting dew on their flared petals. A delicate beauty that keeps itself alive despite being battered by wind and rain.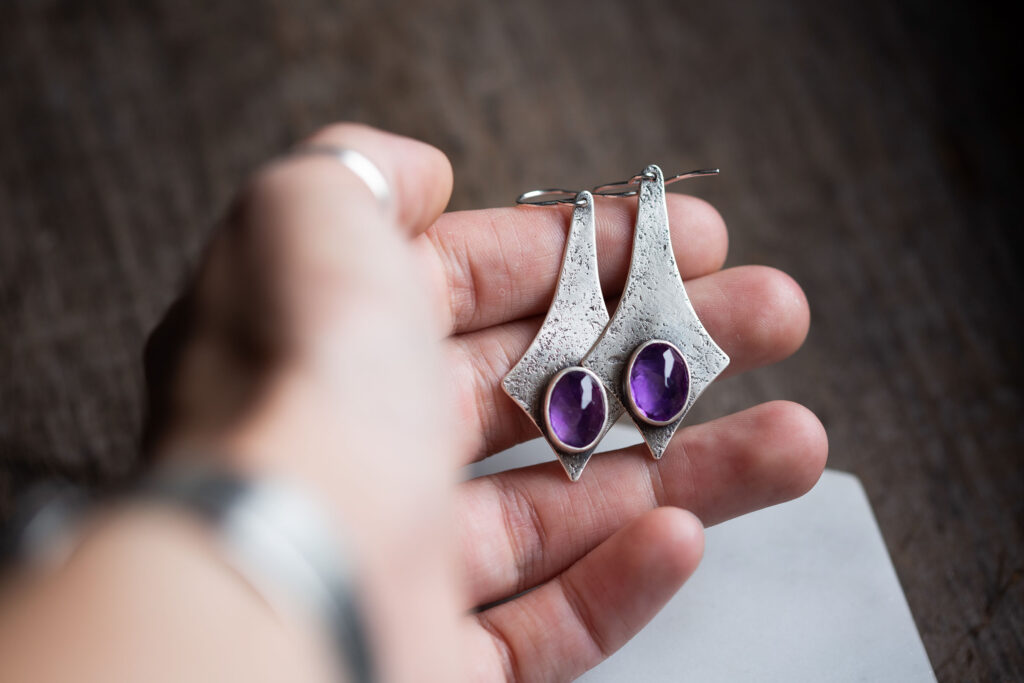 Over a hundred years ago, Christina Rossetti wrote a poem called "Hope Is Like a Harebell." I had never read that poem before this year, though I studied her poetry in college. And it seems as though Rossetti felt the same thing as I about that humble flower: "Hope is like a harebell, trembling from its birth."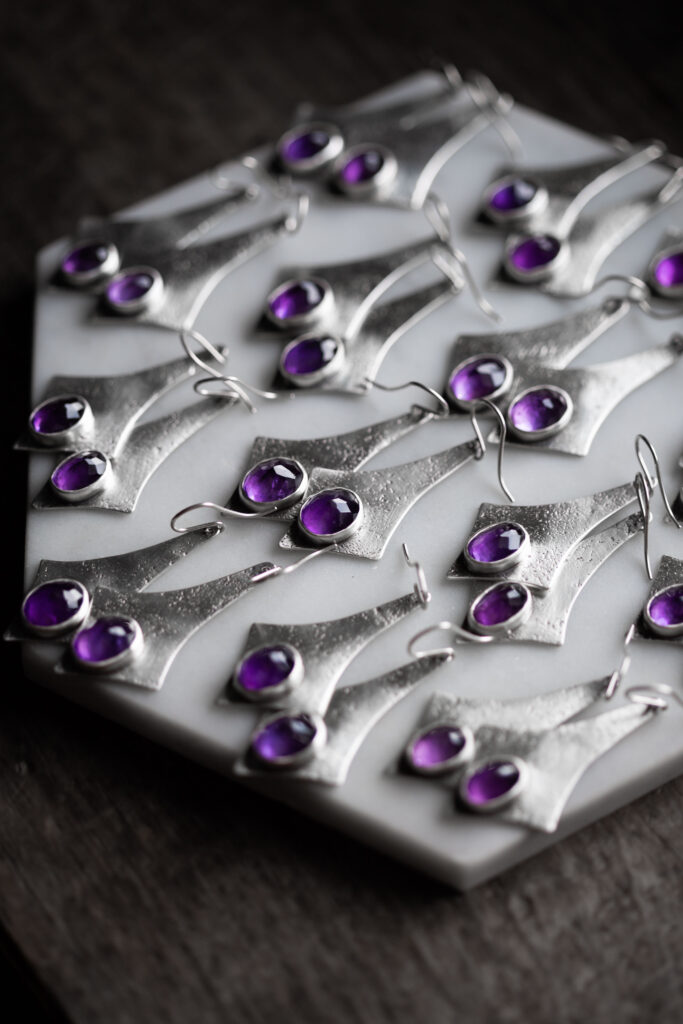 This design, this collection, is my humble interpretation of that idea. Amethyst growing amidst rough silver granite feels like a hopeful thing to me.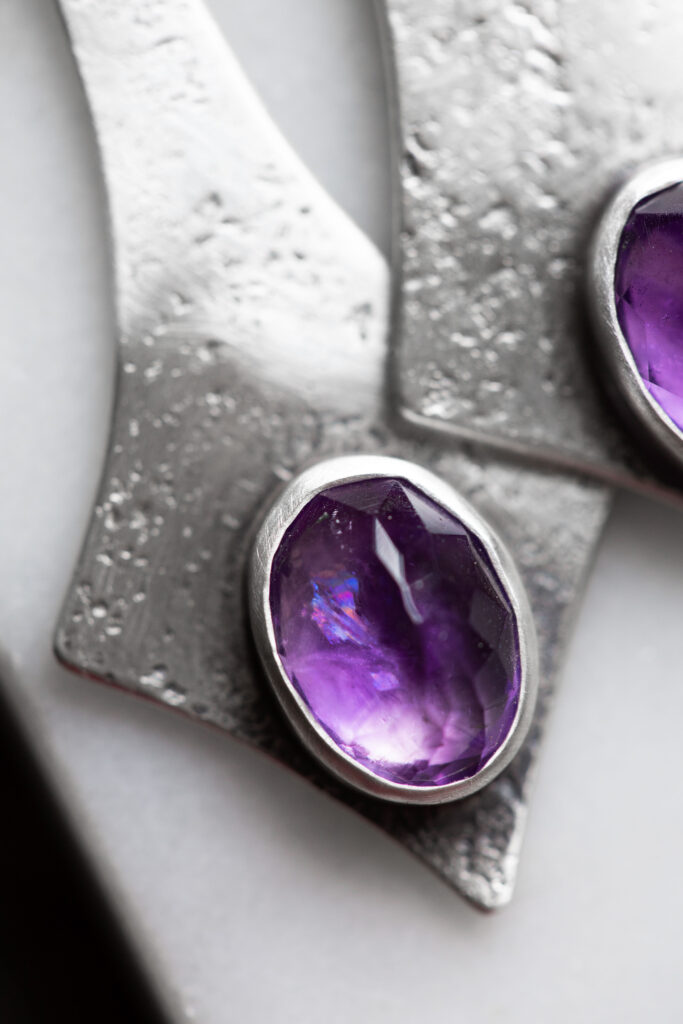 These earrings feature rich purple, faceted amethysts set at the bottom of a beautifully flared sterling silver base. Seemingly spilling below the ear.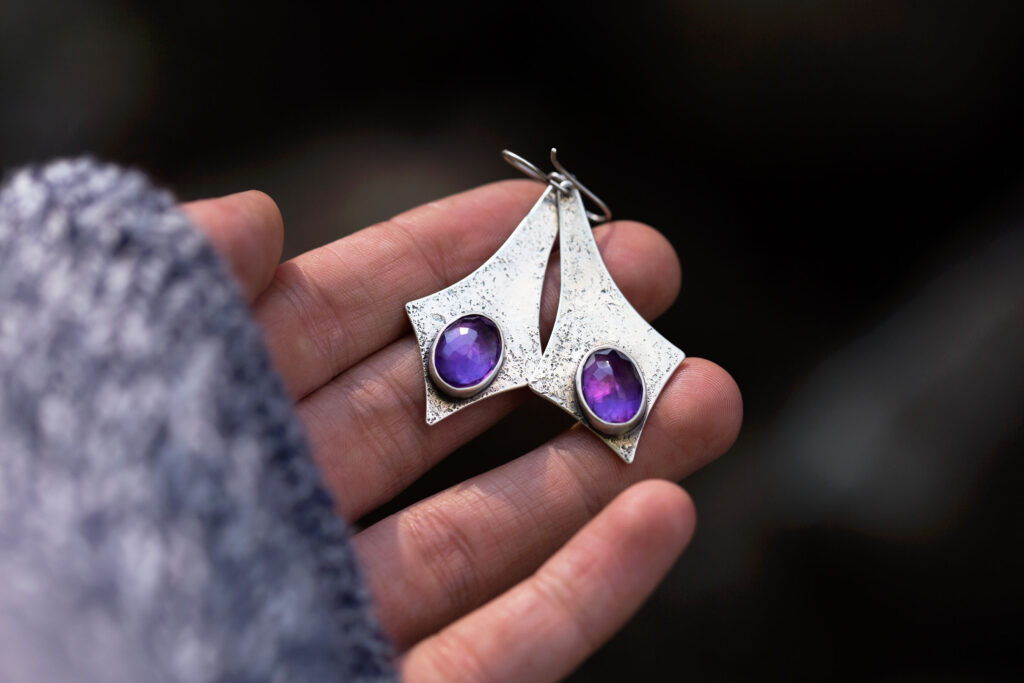 The earrings has been roughly textured and oxidized, and then the surface of the silver finished with a soft satin finish.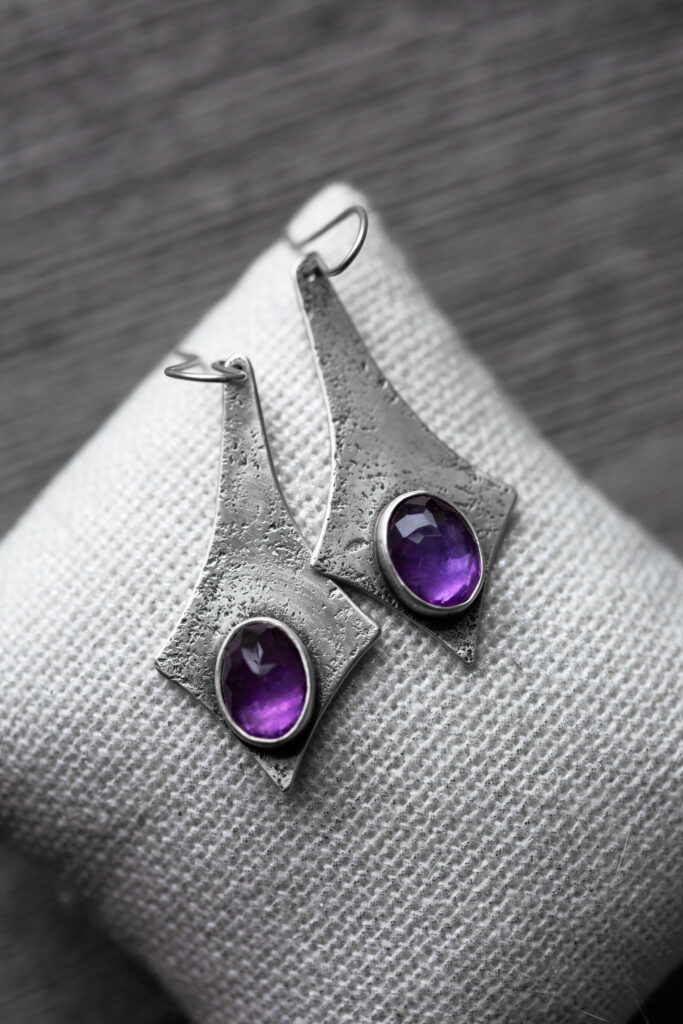 ---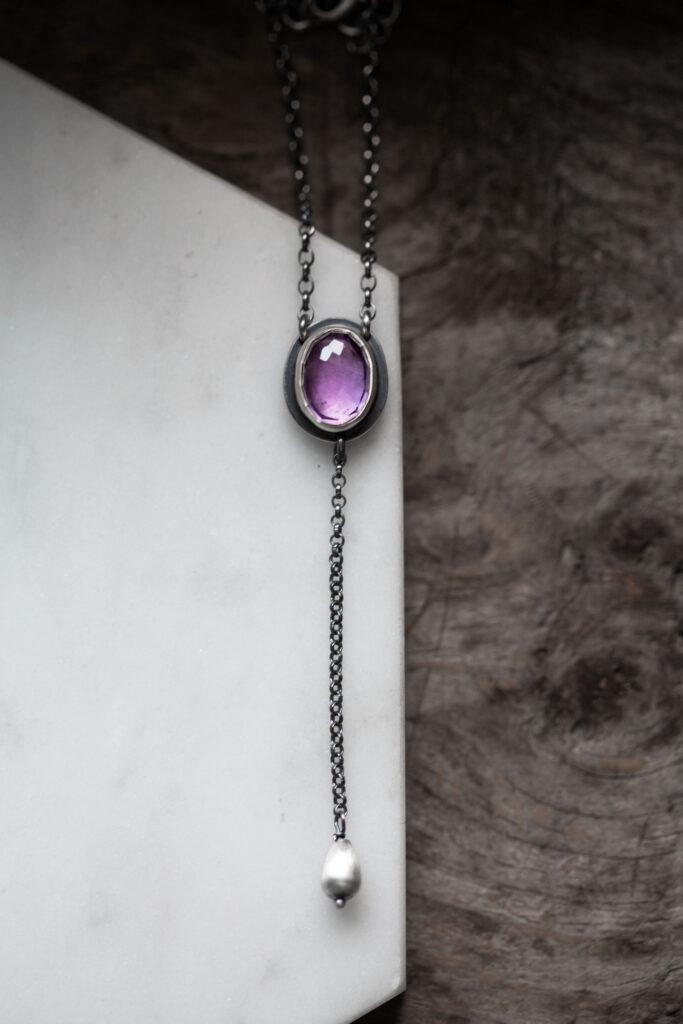 Becalm Necklaces
There will be 49 necklaces available.
Necklaces will be suspended from a chain adjustable between 16-20″
Price: $119 per necklace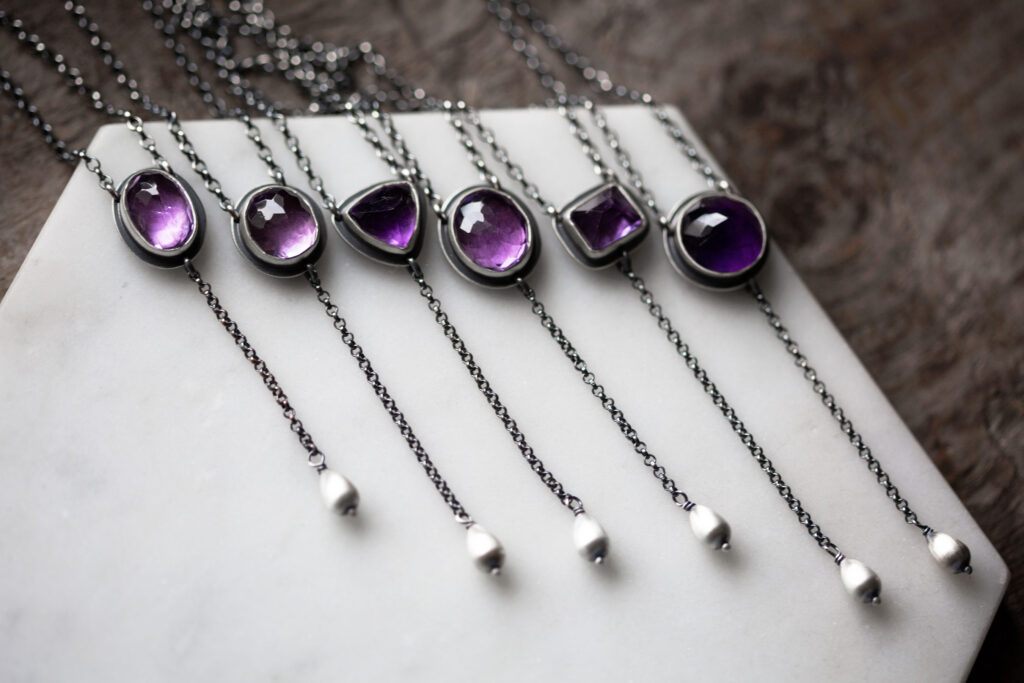 This necklace I did not give a botanical name, I didn't create it with any subtle nods to resilient wildflowers. I didn't have poem or image in mind as inspiration when I made it.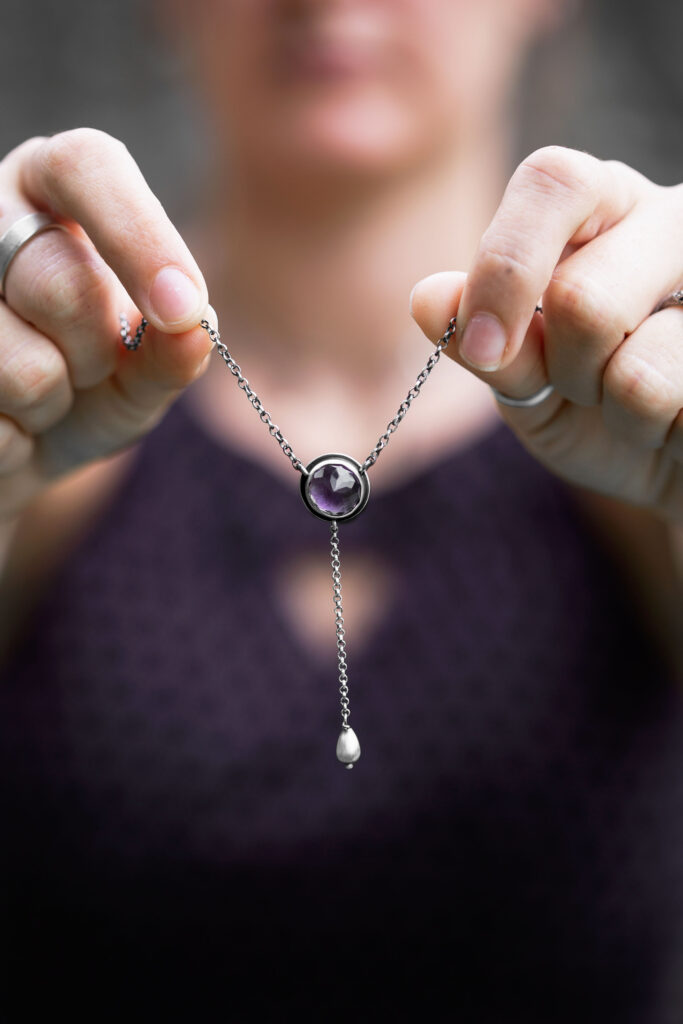 I created this necklace to soothe. There are a lot of objects people use to calm anxiety; some people have a spinner ring, others have a worry stone. I myself am a necklace tugger. When I am thinking or uncomfortable, I tug and twirl whatever necklace I am wearing.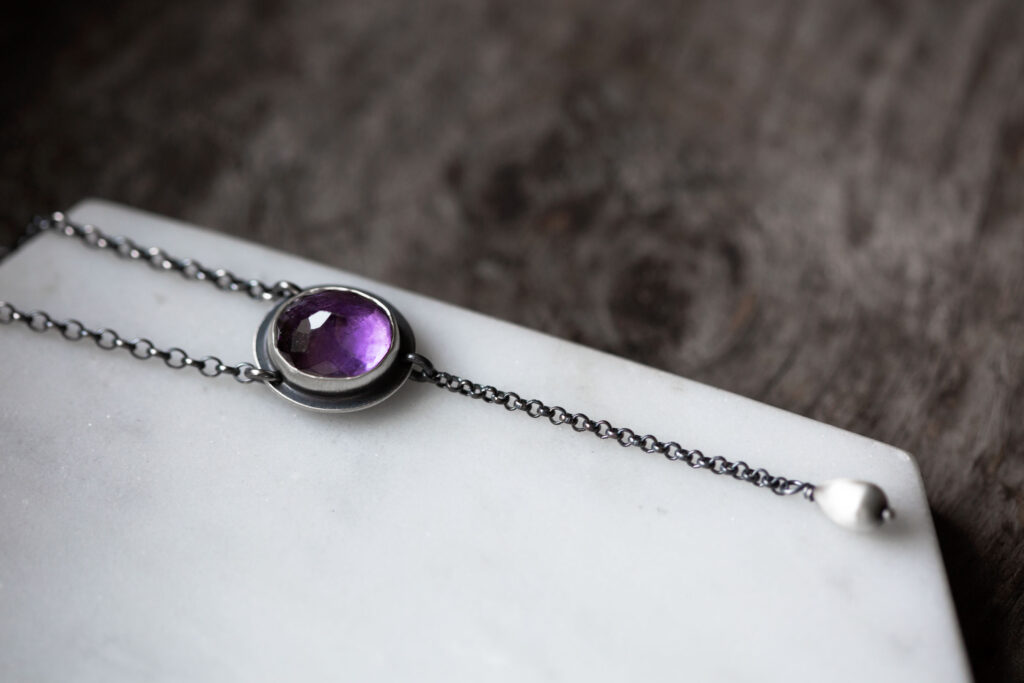 When this summer became really stressful, one day I noticed myself tugging on the little onyx necklace I constantly wear these days. But the onyx is small and difficult to grip, and the chain is short, which made it awkward. And in that moment sitting at my bench, I imagined a simple amethyst necklace with a length of chain swinging gently below. A lariat for when days feel overwhelming.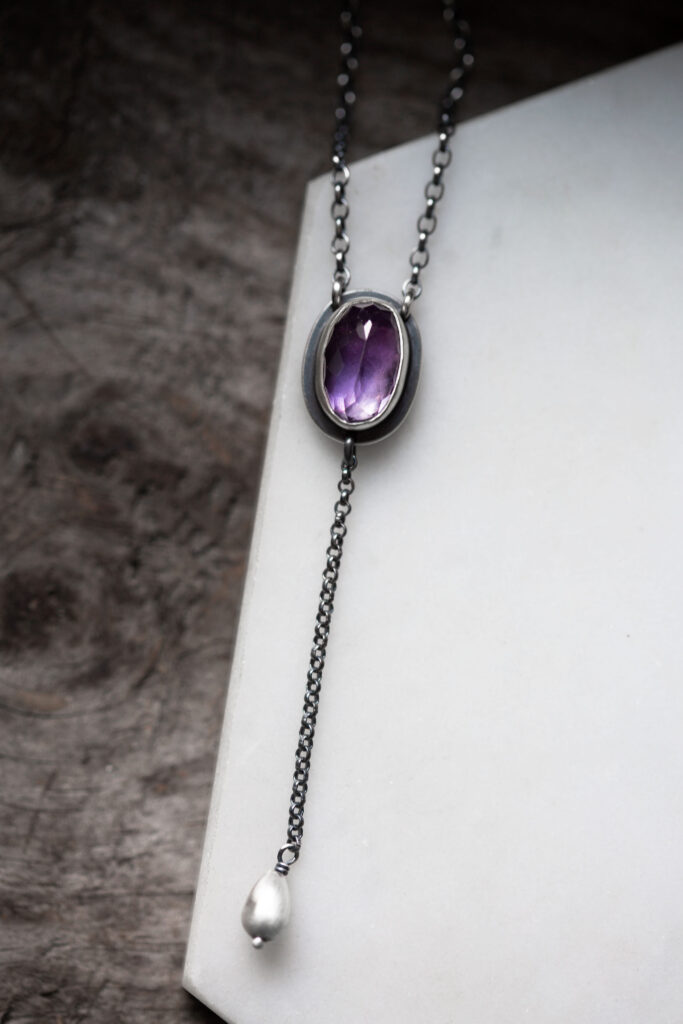 I kept the very first one I made, and have worn it every day since. It is a reminder to let the breath you've been holding in out, to plant your toes firmly in the ground, and say "Okay."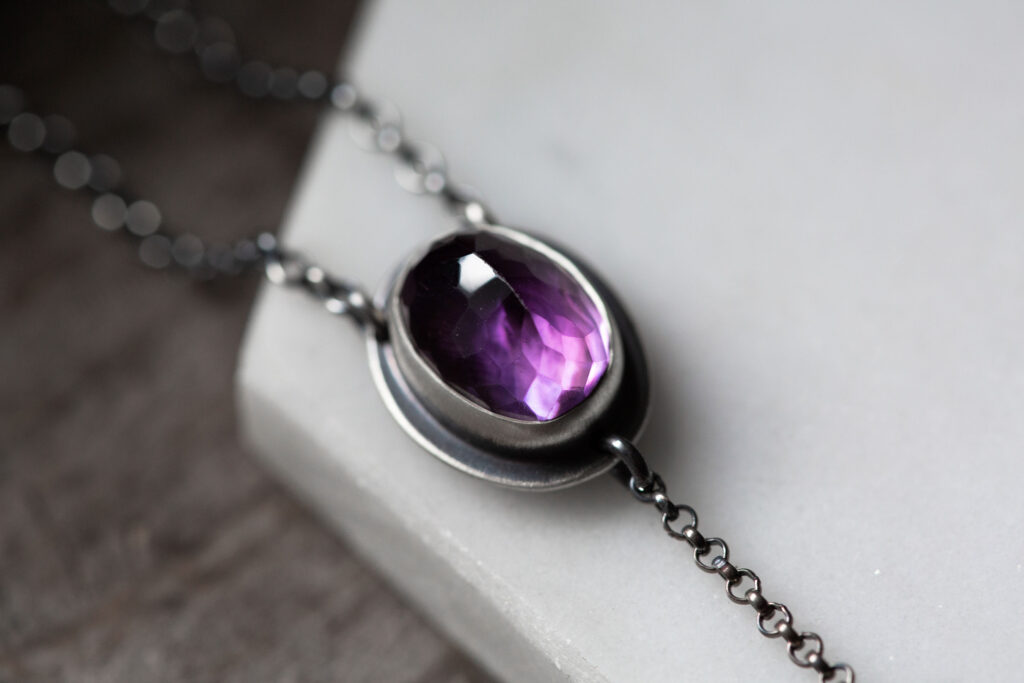 Each of these necklaces feature a small, faceted amethyst; the sweetest, gentlest gemstones I had.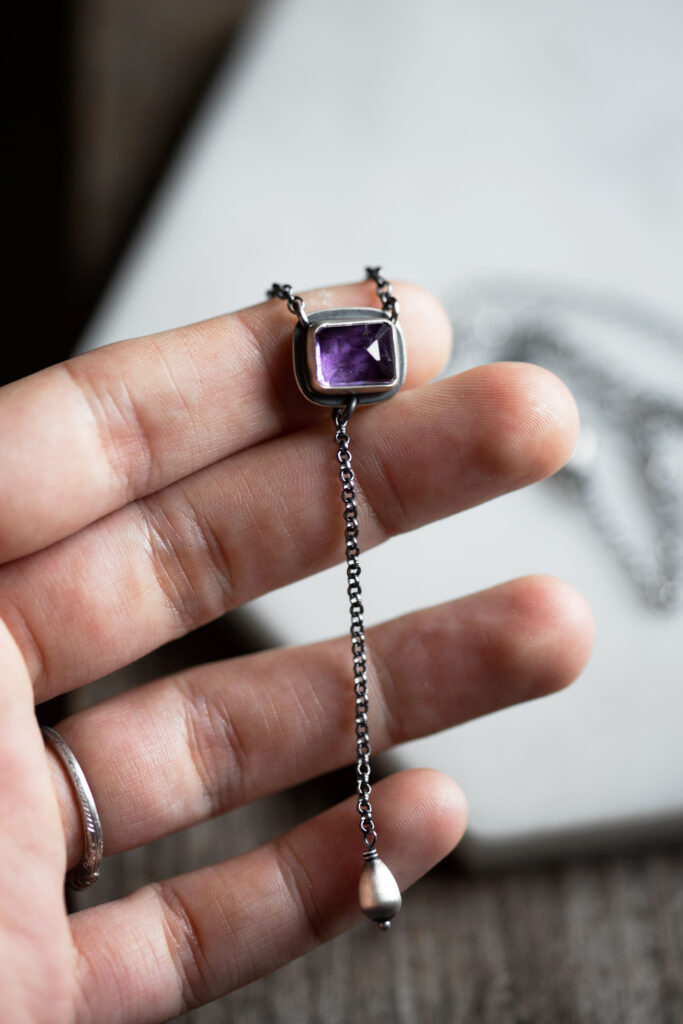 Below the stone is a short length of chain with a tiny silver drop. The silver drops swings about 2" below the gemstone. A bit of necklace to twirl between your fingers when things feel overwhelming.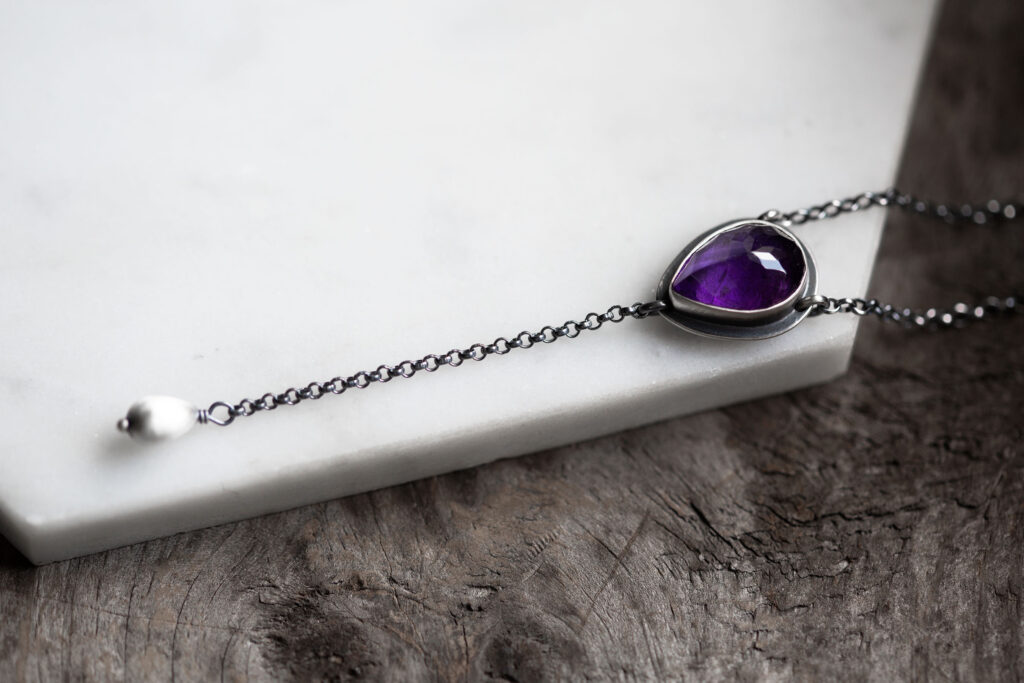 I built these necklaces into somewhat short chains, adjustable between 16-20". They are meant to be worn high, gemstone around the clavicle, with the silver drop swinging comfortingly below. But there is enough chain if you prefer your necklaces a bit longer (worn at 20″). But if you'd like yours even shorter, leave a note during checkout with how many inches you'd like me to snip out. (They can be shortened, but not lengthened.)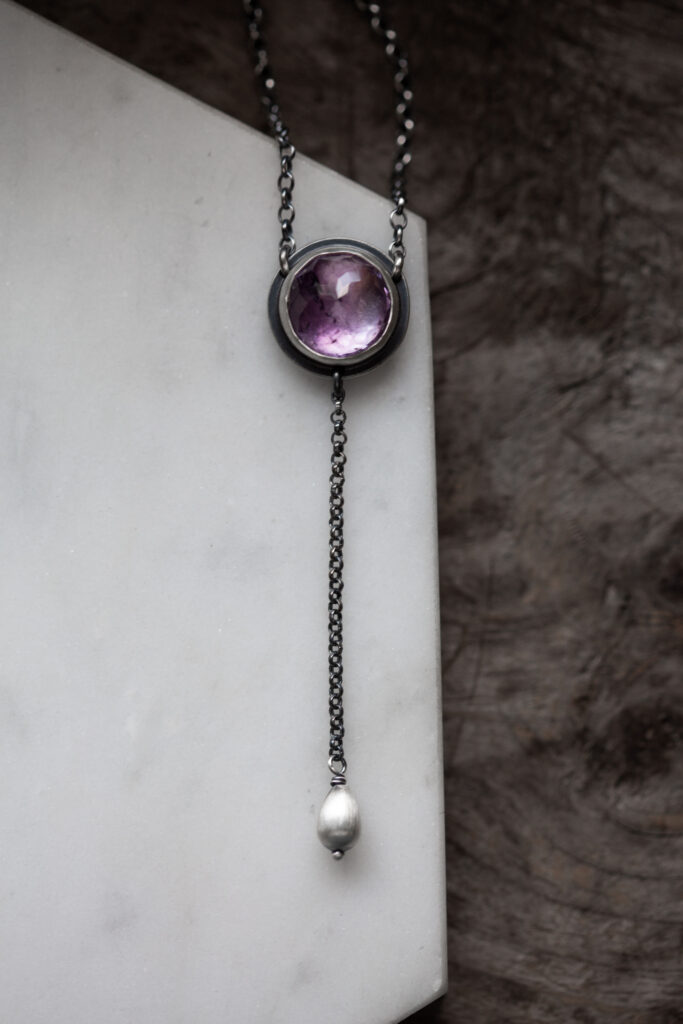 ---
And that's everything that will be included in Part I of the amethyst collection!
Violet Linings Collection Release, Part I: Sunday, August 29th at 7PM EST in the Etsy shop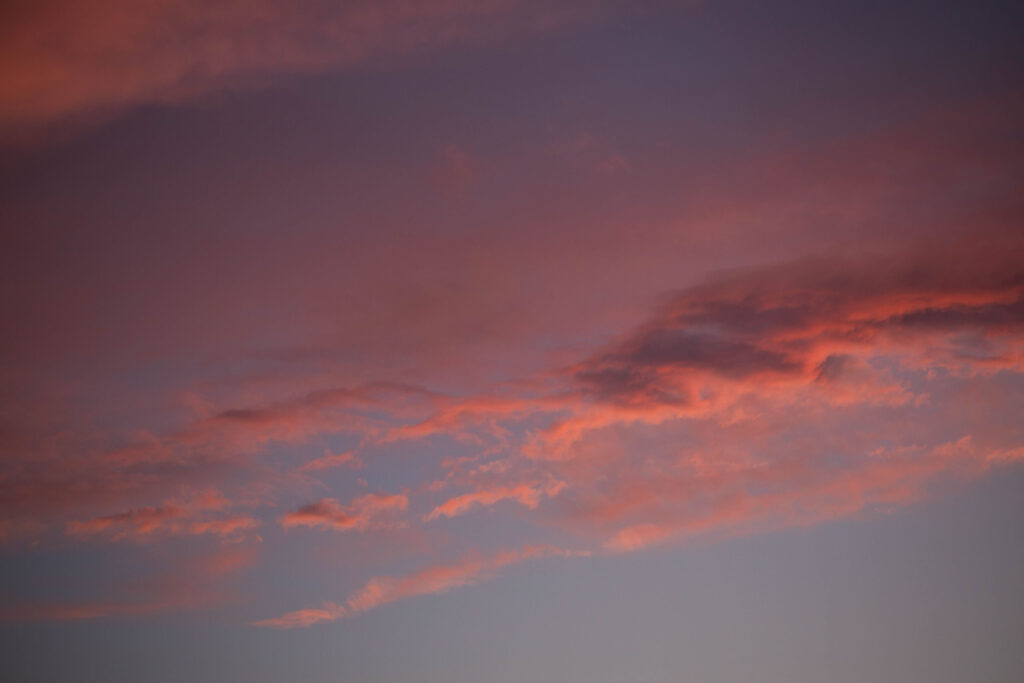 "Softly the evening came with the sunset." – Henry Wordsworth Longfellow
Tonight I am feeling hopeful for the autumn. The amethyst collection has truly been such a balm for me; resilience and hopefulness encapsulated in metal and stone. After ruthlessly hammering and roughening every piece of silver on my bench, the amethysts soothed what was left. And now, with all of these little violet linings photographed and tucked safely away while they await the collection release, I am feeling hopeful and soft. And this sunset felt particularly soft, as well.
Ahead of this collection release, I just want to say a thousand times thank you for being here. Every time you leave a sweet comment, share my work, or joy of all joys, claim a piece of my jewelry for yourself, you are supporting a dream and a family, and four very demanding cats. Your ongoing support is every day a violet lining for me, to be able to do this work, even when everything else can be frustrating, disappointing, or lackluster, means everything. My endless thanks to you.