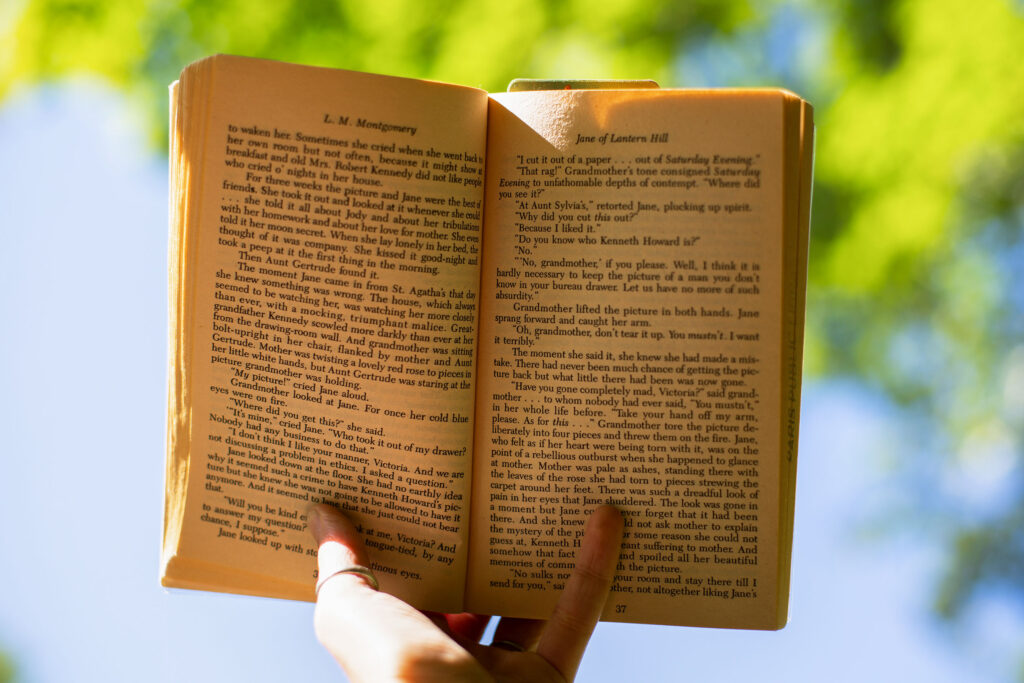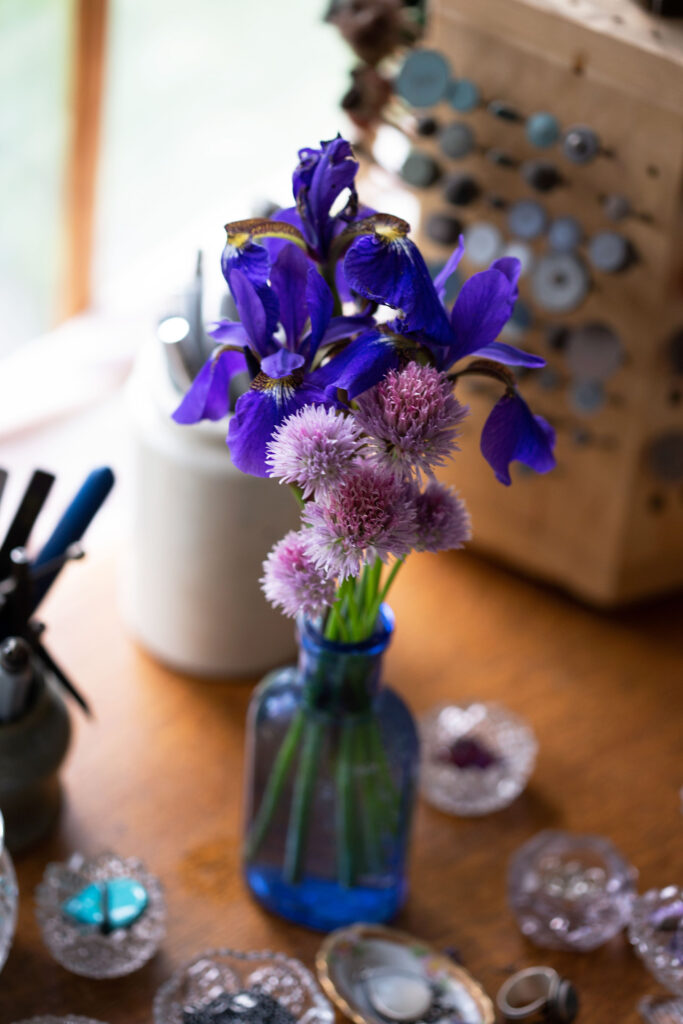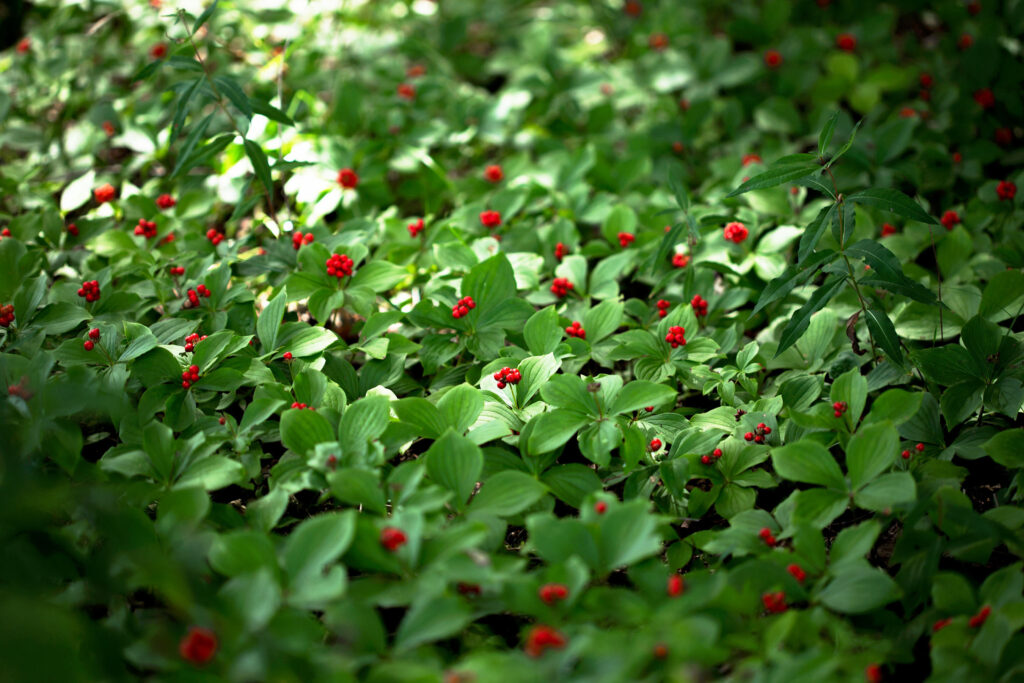 Summertime goes so quickly, doesn't it!? Anywho, on with the collection preview!
---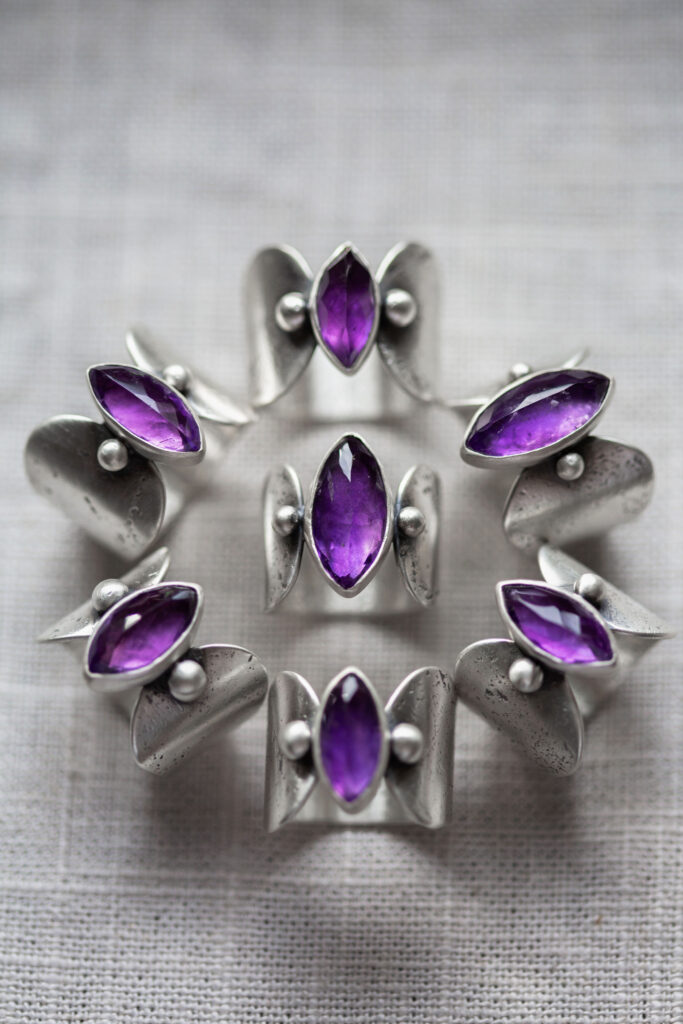 Purple Coneflower Rings
There will be 13 rings available.
Available sizes: 6, 6, 7, 7, 8, 8, 8.25, 8.5, 8.5, 8.75, 10.25, 10.25, 10.75
Set on wide saddle bands, so they fit about 1/2 size small.
Price: $155 per ring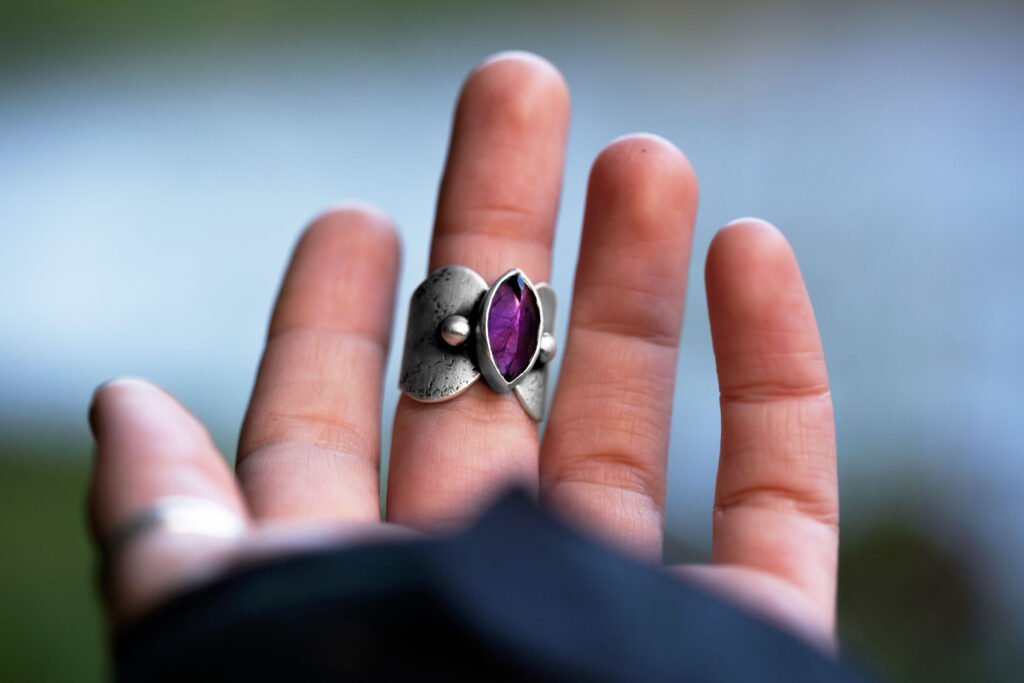 Named for that strong, summertime wildflower that can thrive anywhere from bright, dry prairies to misty forest glades.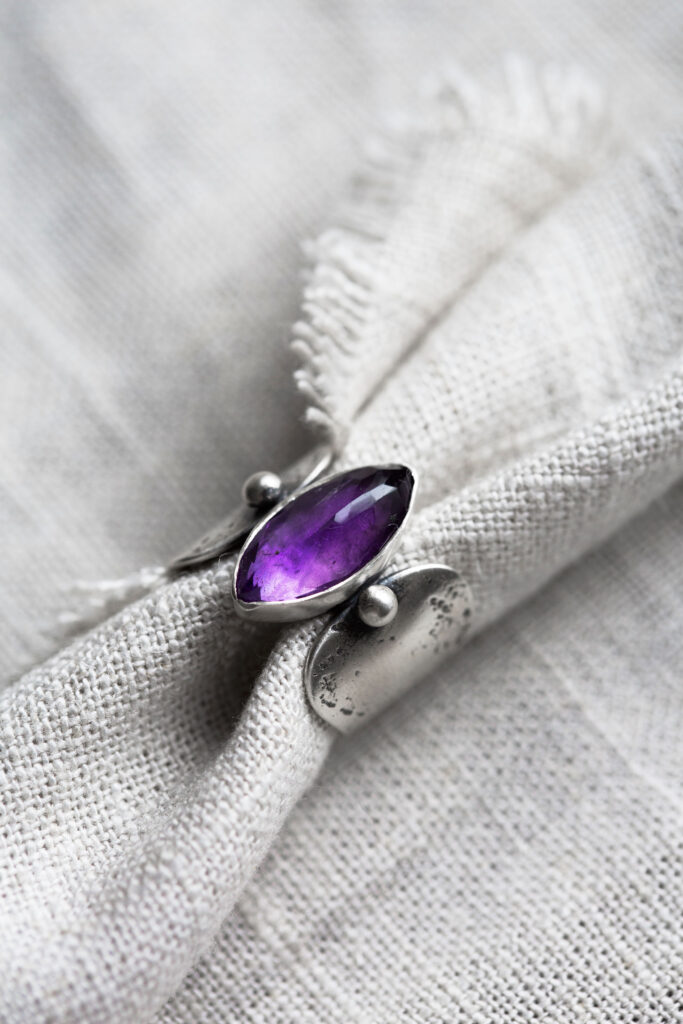 Coneflowers have strong, stiff stems, allowing them to be resistant to wind and reliably hold up their beautiful, purple crowns.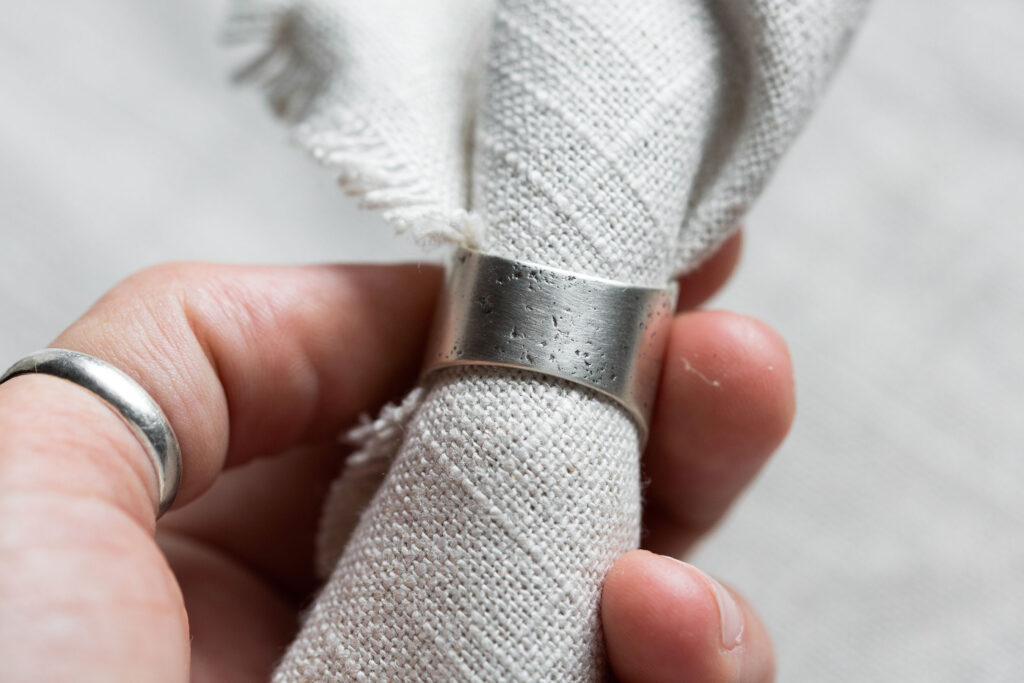 The petals are sharply marquise-shaped, like the amethysts I chose for this ring. The band has been given a rough, stony texture with a few sterling pebbles off-setting the stone on either side.
(Remember! These are wide bands, and will fit snugger than regular rings. So when you are looking for a ring, make sure it is at least 1/2 bigger than your normal size. For example, if you are usually a US size 7, look for a 7.5.)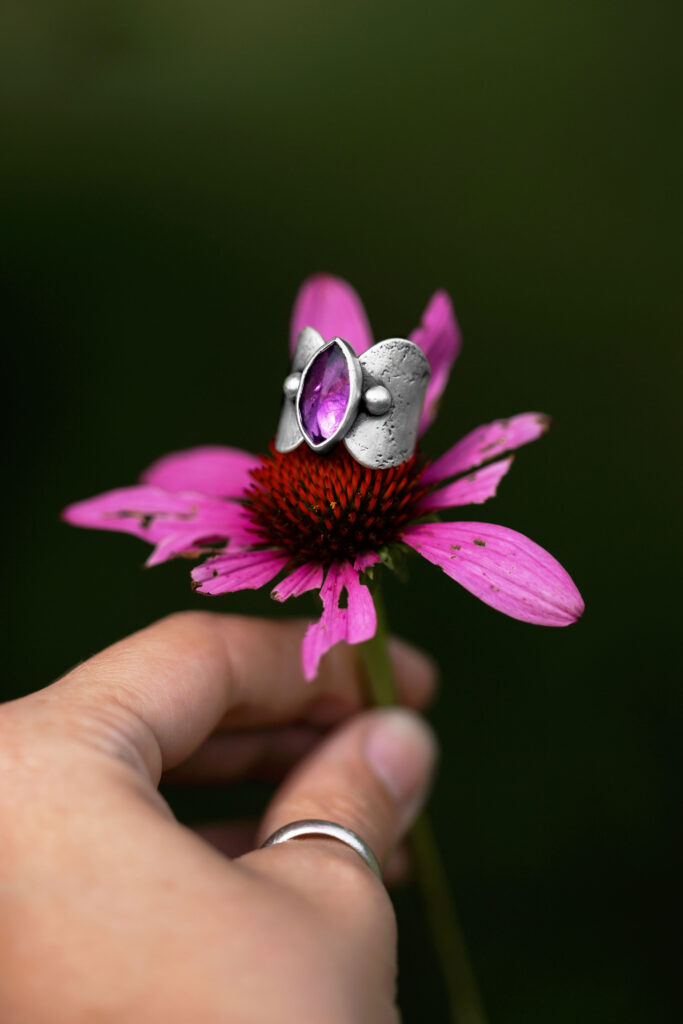 A sturdy ring for blooming where you're planted, just like a coneflower.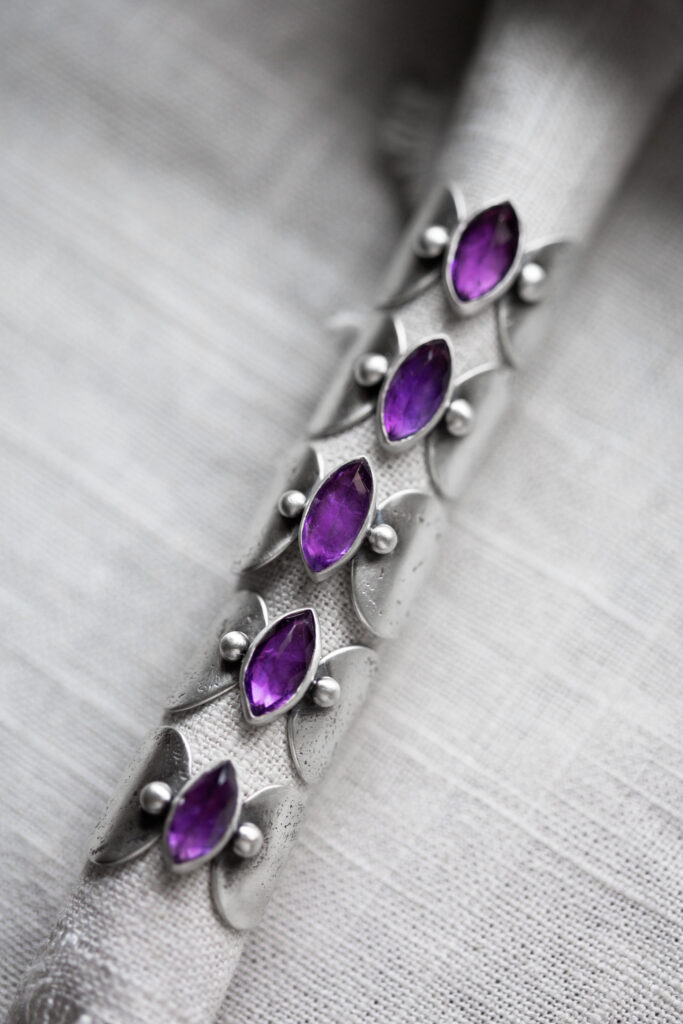 Sharp amethyst petals springing from stony sterling silver. Rings for scooping up handfuls of wildflowers from stony embankments and sunny roadsides, the places where only the most resilient flowers thrive.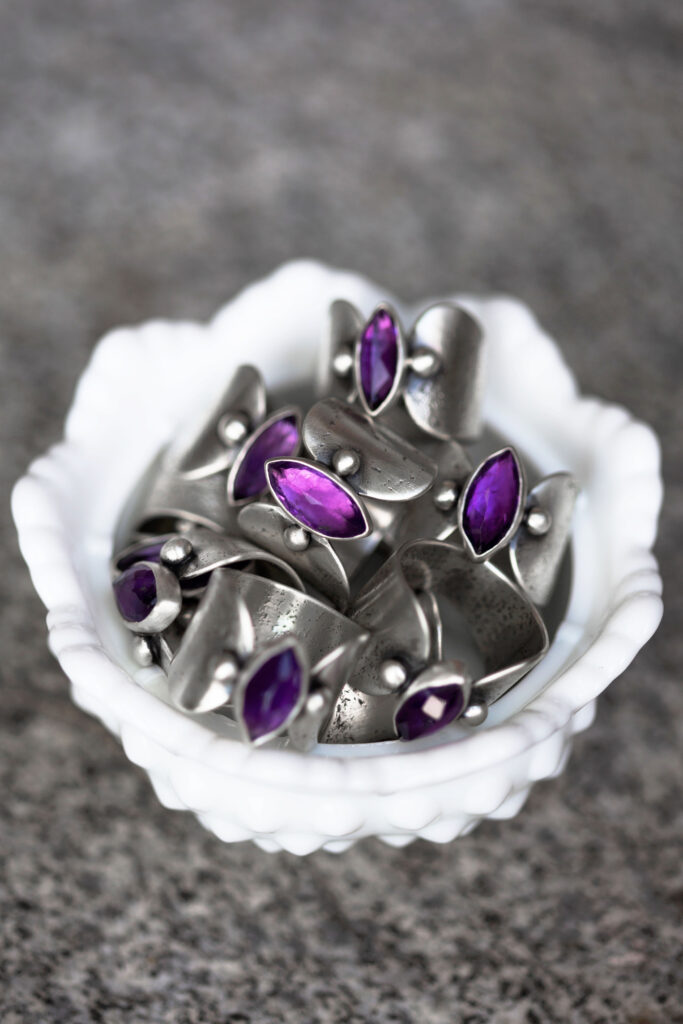 I just had to take a family portrait of all the the Coneflower Rings. I love to try to put the rings on all at once so I can see the variations; the shifting hues of the amethyst, the different shapes of the marquise petals, the varying textures on the bands. I love to see them all together before they are claimed during the shop update and fly off to their intendeds.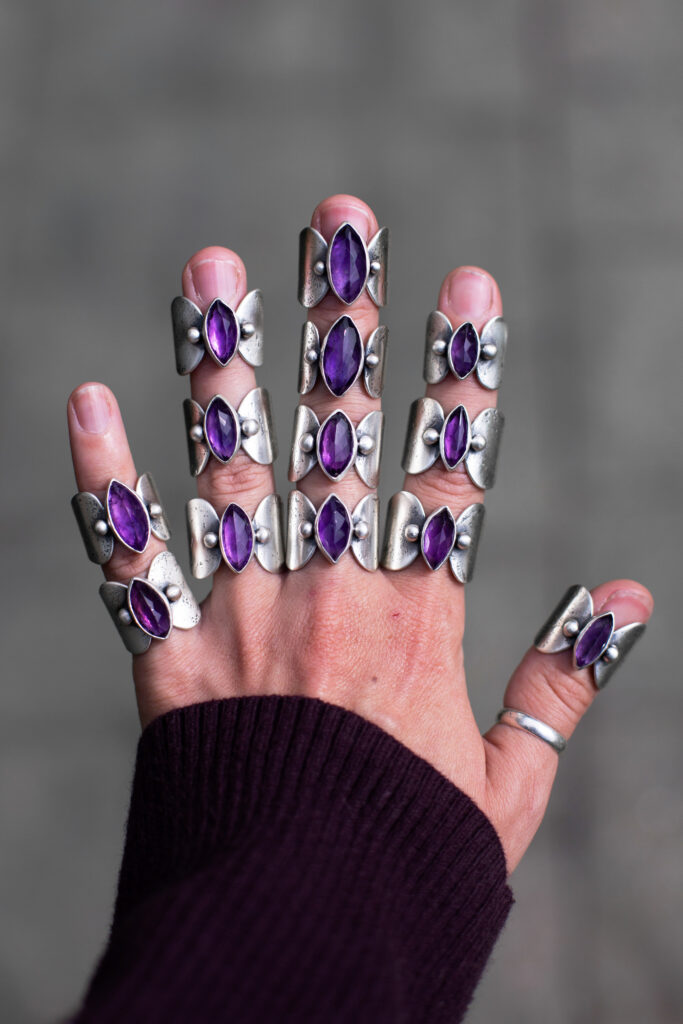 ---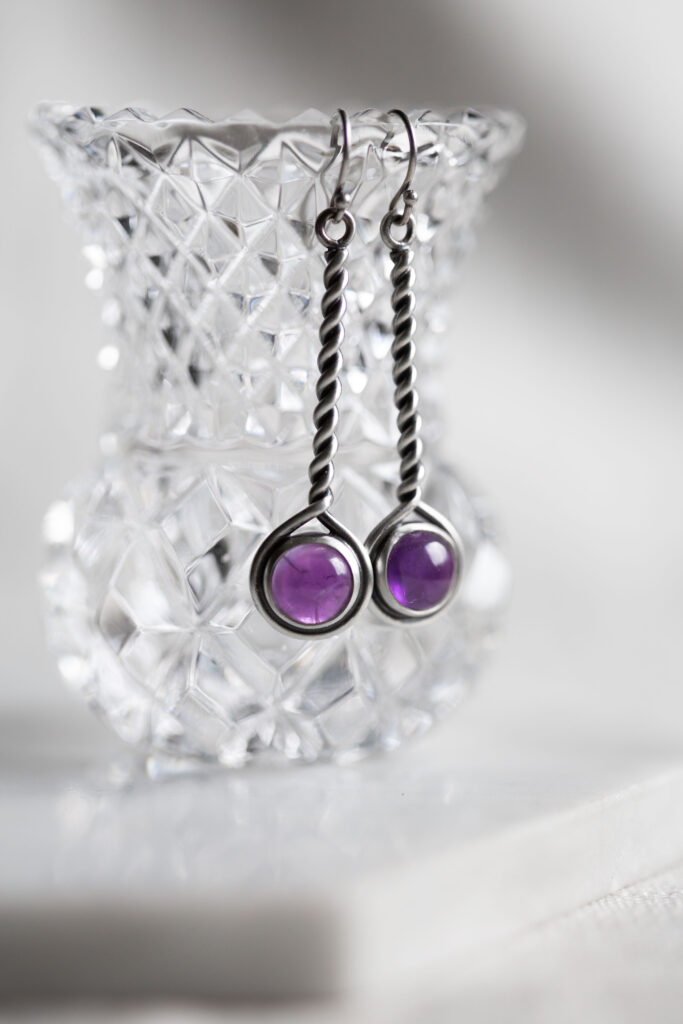 Enduring Vine Earrings
There will be 27 pairs of earrings available.
They measure about 2″ from the top of the earwire to the bottom of the earring.
Suspended from french ball earwires.
Price: $68 per pair of earrings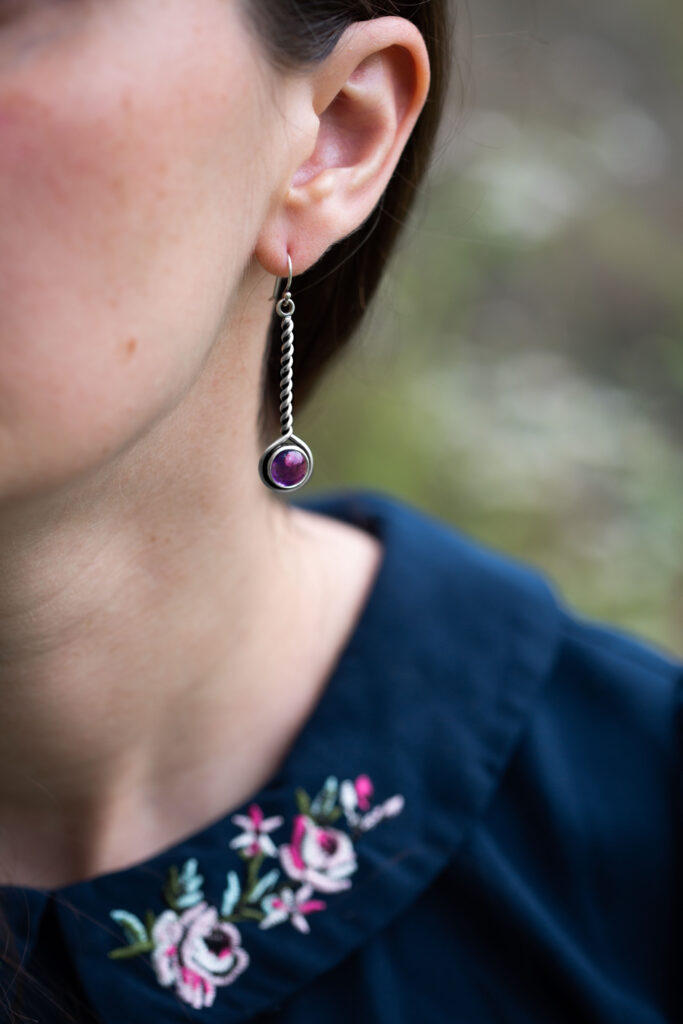 Vines that cling and climb are such an impressive key innovation; one that some of the most resilient plants in the world have evolved. We see a flower, like a morning glory or a clematis, and marvel at its delicacy and vulnerability. But the vine is a truly impressive innovation of a survivor: twining stems that climb other, stronger supports, clinging roots allowing growth anywhere, tendrils with sticky pads that allow them to stubbornly grip otherwise impossible surfaces, vines with hooked branches or thorns to render removal near impossible.
Vines are a symbol of stubborn resilience, and these earrings honor self-protection and resolve.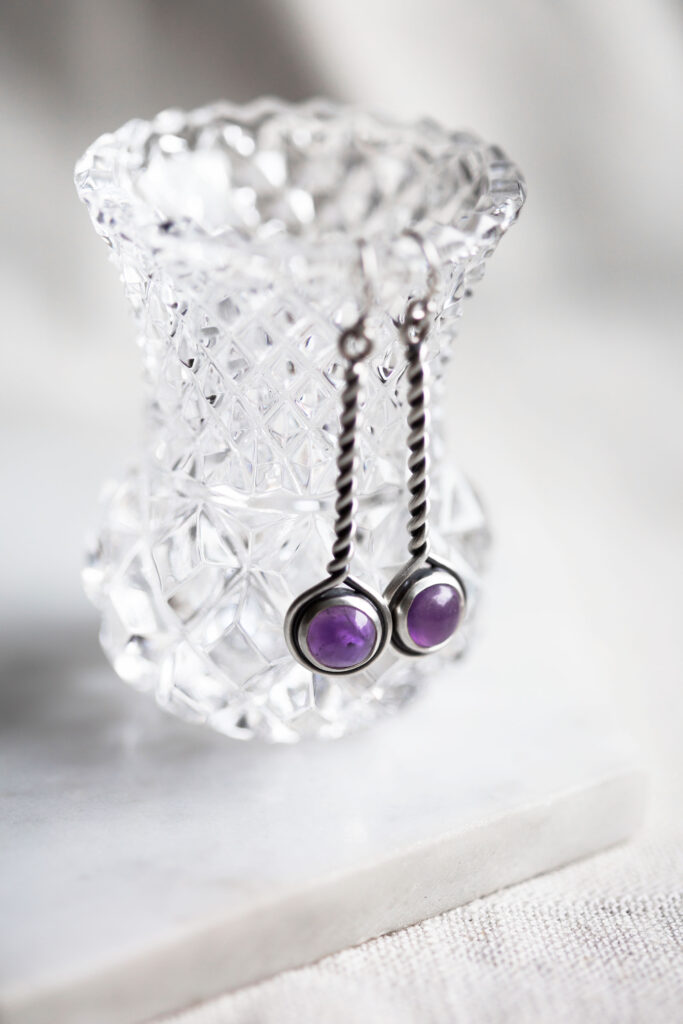 And here, my amethyst twisting vine earrings. An echo of my Twirling Vine Earrings from the Mossflower Collection.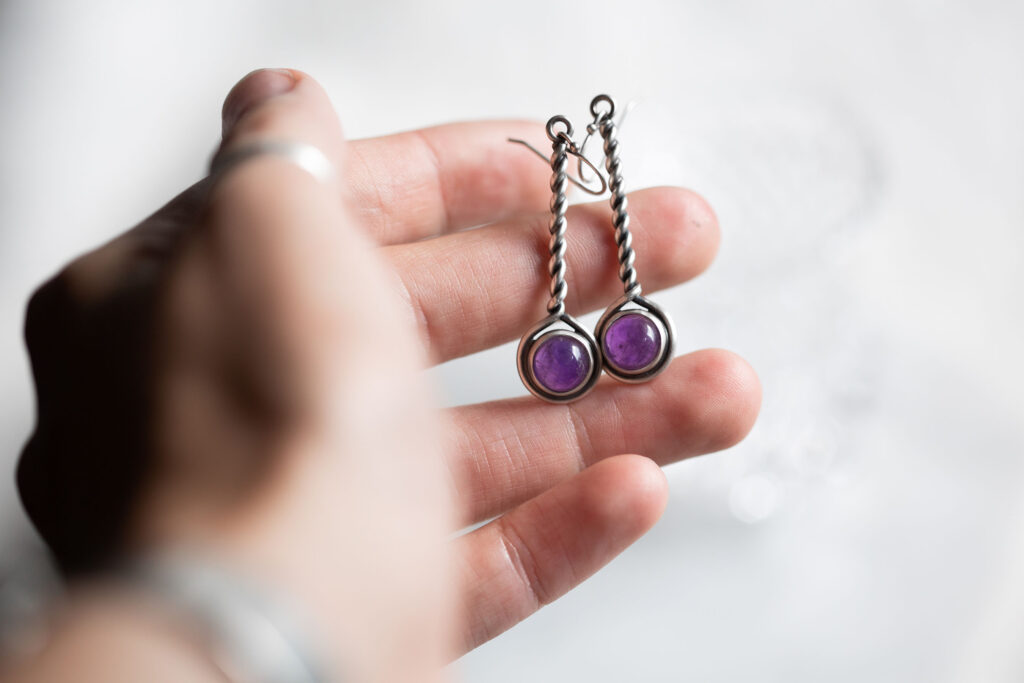 Amethyst gemstones being held by an enduring sterling vine. They have the most lovely twirl and swing while being worn, like a hanging tendril in the breeze. I have sawn a window behind the stone so these gemstones truly glow below the ear.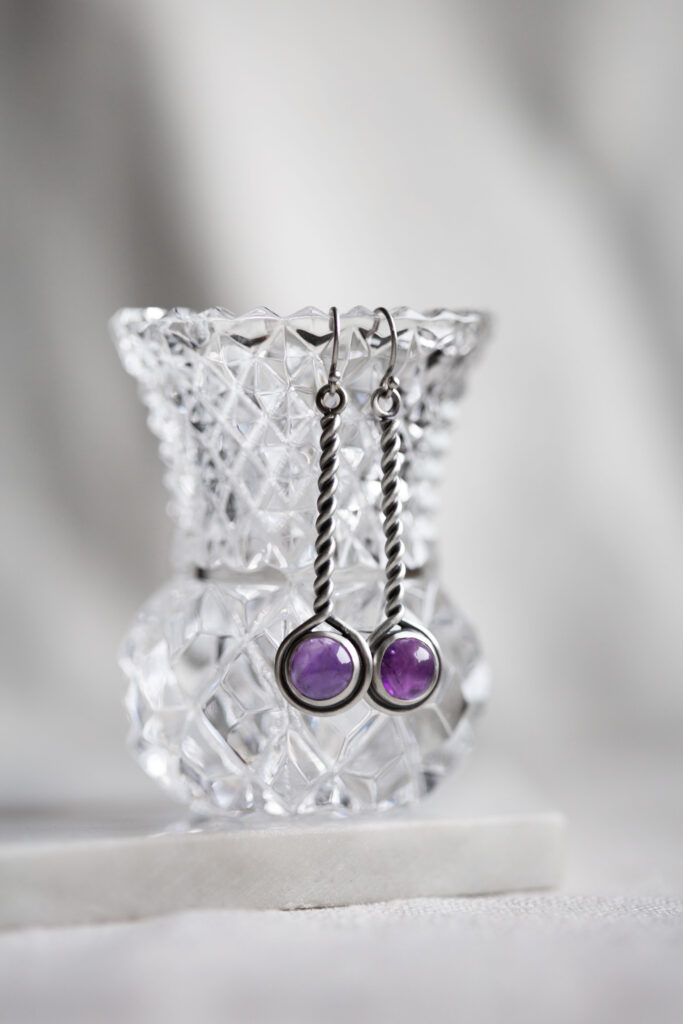 ---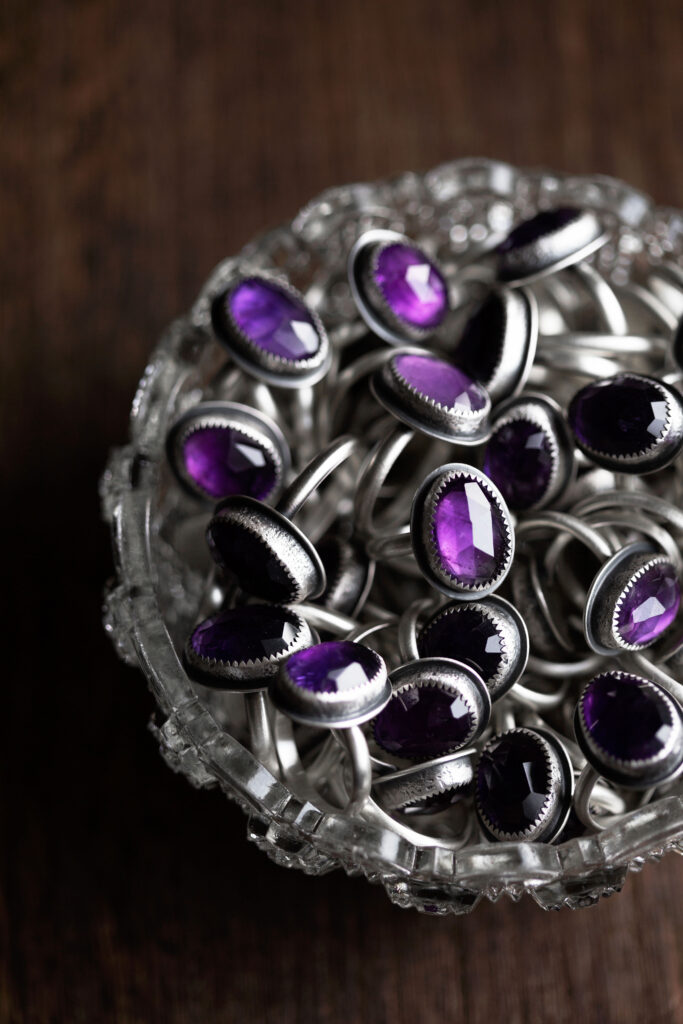 Violet Rings
There will be 68 rings available.
Sizes range from 4.5 – 11, with quarter sizes in between, with multiples of popular sizes.
Price: $110 per ring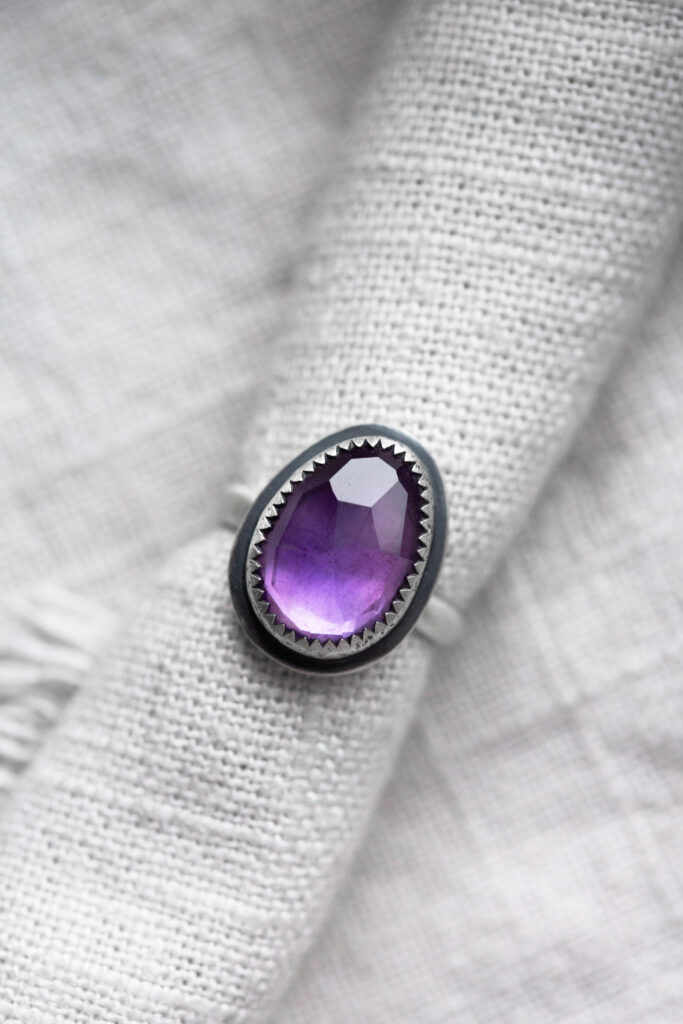 "Do you think amethysts can be the souls of good violets." – Lucy Maud Montgomery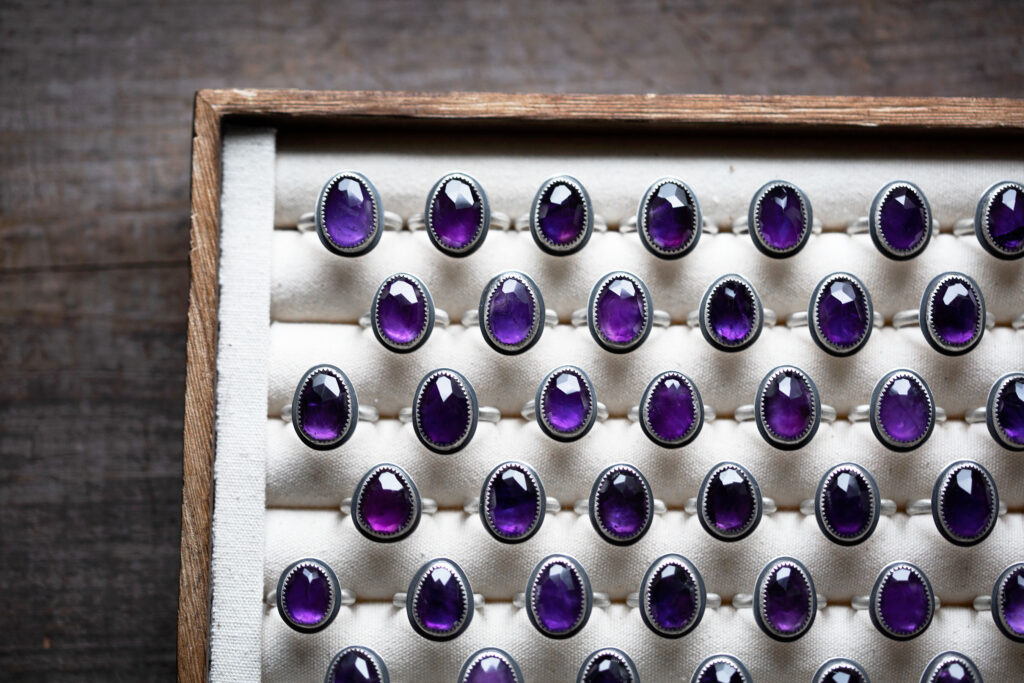 I wrote this quote in my metalsmithing sketchbook many, many years ago and wrote in bold letters beside it AMETHYST! I have read "Anne of Green Gables" many times, and I always delight in some new part of the world through Anne's eyes.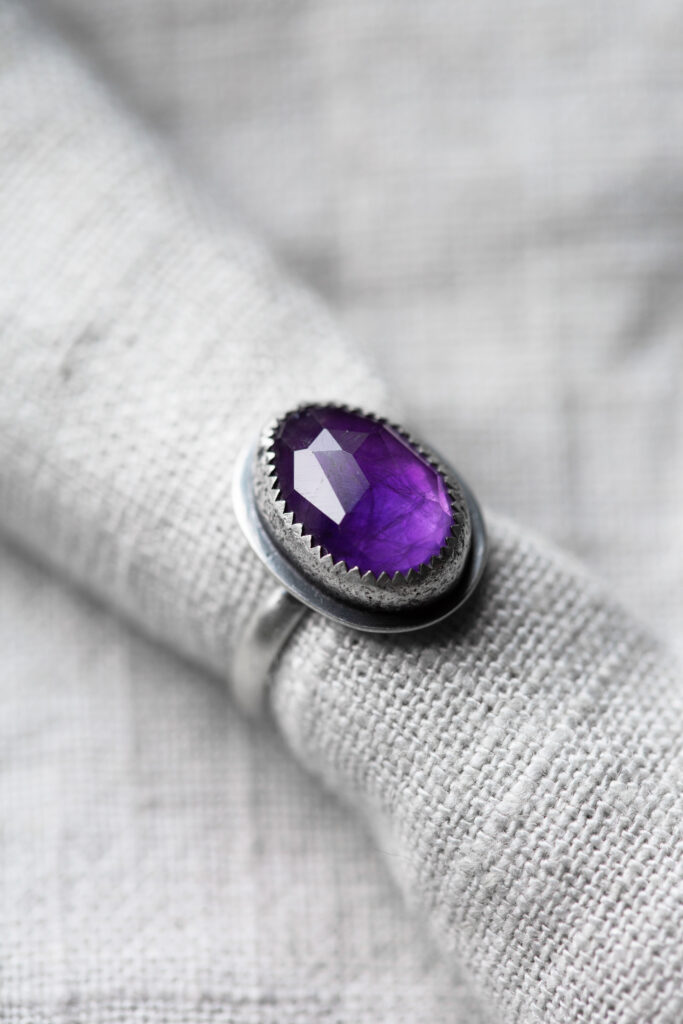 And when I wrote that quote down, I knew I would someday create a sweet, little amethyst piece and name it Violet. And so, this is my simple design made to honor that delicate, ubiquitous wildflower. The ones with souls of amethyst.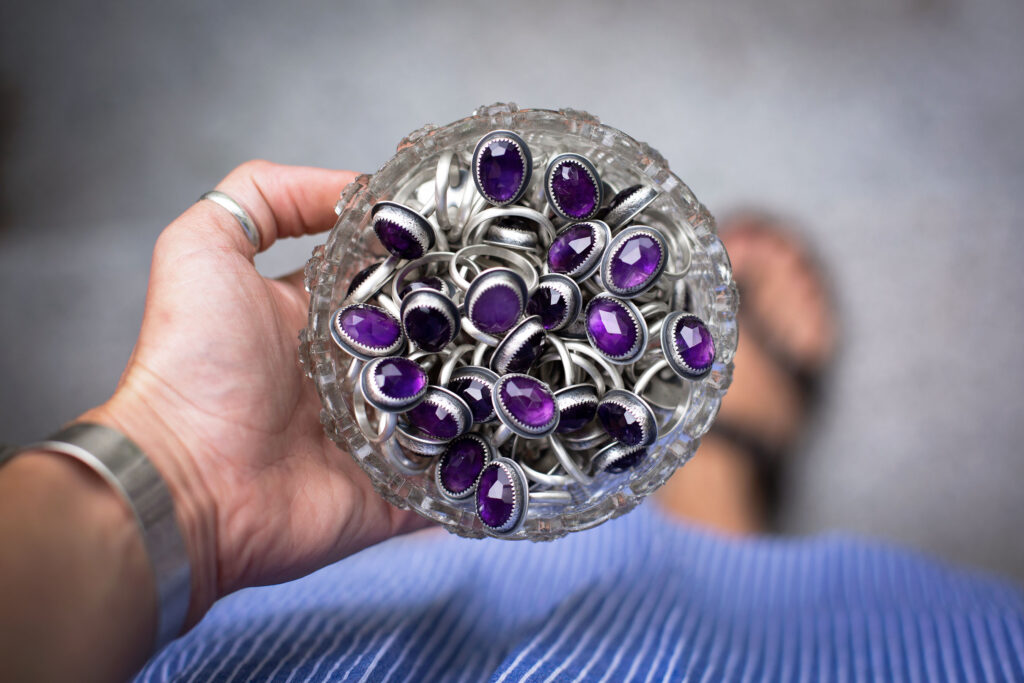 As understated as a violet, these rings each feature a unique, faceted amethyst gemstone. Some are perfectly oval, others are slightly teardrop shaped. Some are the lightest, most delicate shade of purple, while others are dark and murky. Some even have tiny little rainbows in them! They are all so different, each intended for a unique person.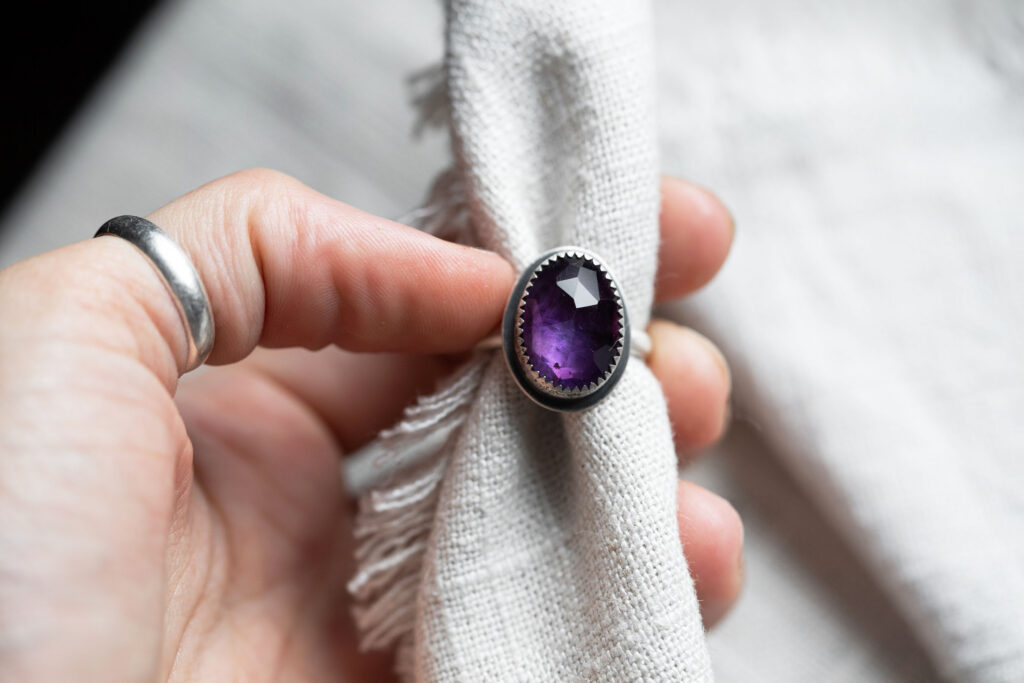 They are set simply in a heavily textured serrated bezel. Textured to look like granite, the stuff of mountains.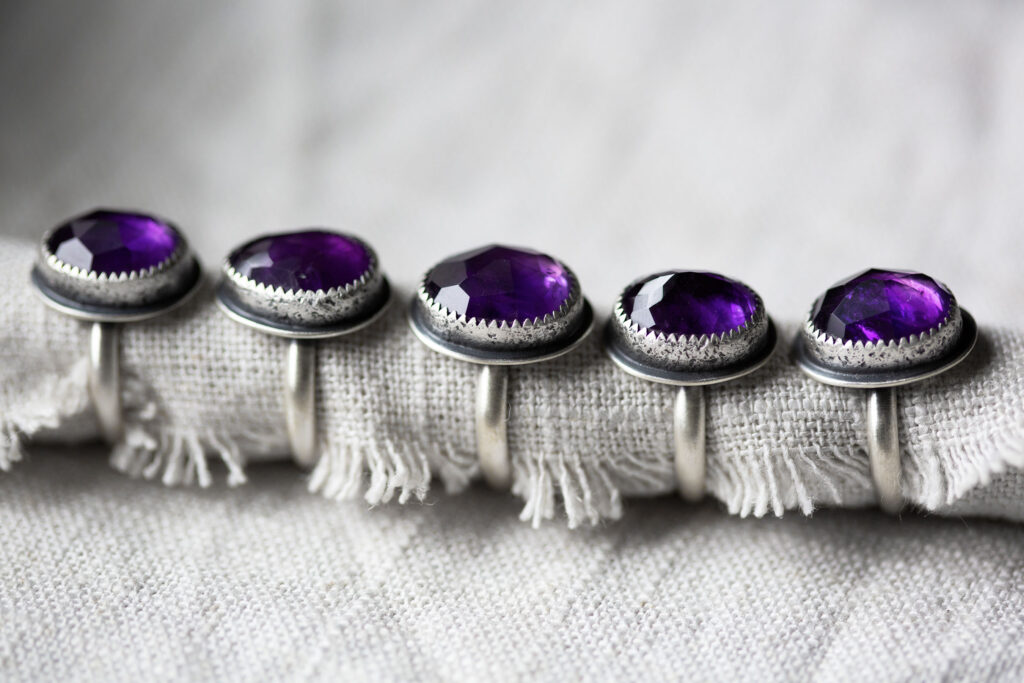 They are set atop a half-round band and oxidized then polished to accentuate the stones and the lowlights.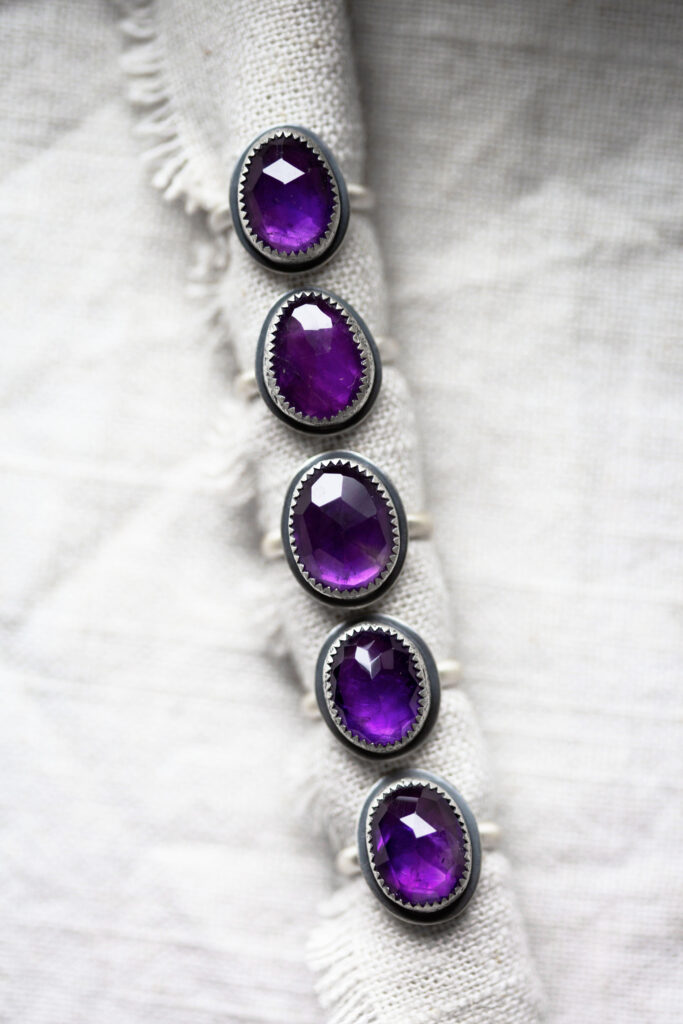 I know this type of solitaire gemstone rings get claimed awfully quick, so I made as many as I could in sizes ranging from US 4 – 11, with quarter sizes in between and multiples of popular sizes. I made so many because I don't want anyone who would like one to miss out, especially since this isn't an annual collection and in Part II I won't be repeating anything from Part I. These are on single half-round bands so they fit true to size.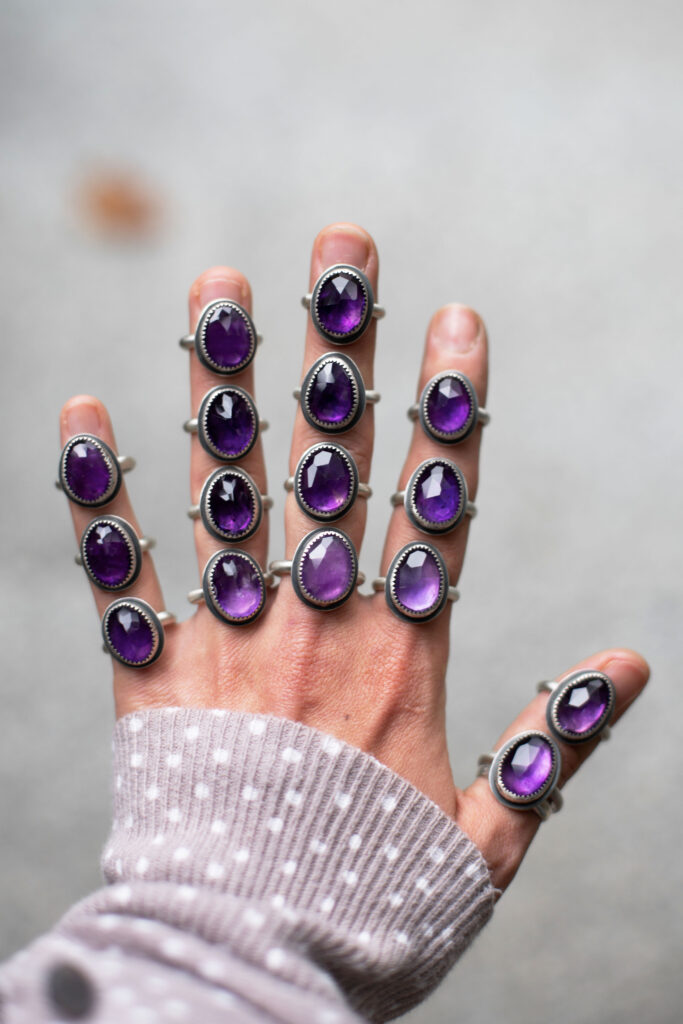 I have also been thinking about the strength of delicate flowers during this collection. I once read a play called "Camino Real" by Tennessee Williams, and he had a lovely observation about violets. I had to search for it again because I couldn't quite remember how it went, but here it is: "The violets in the mountains have broken the rocks." Isn't that beautiful? Despite being delicate and diminutive, there is a great strength in violets.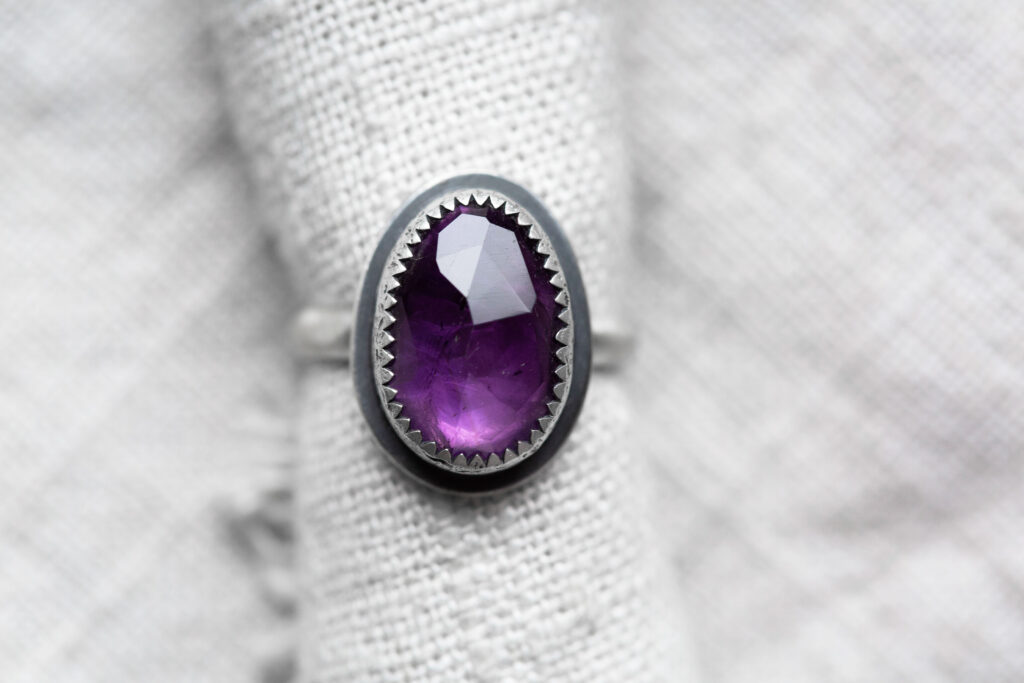 ---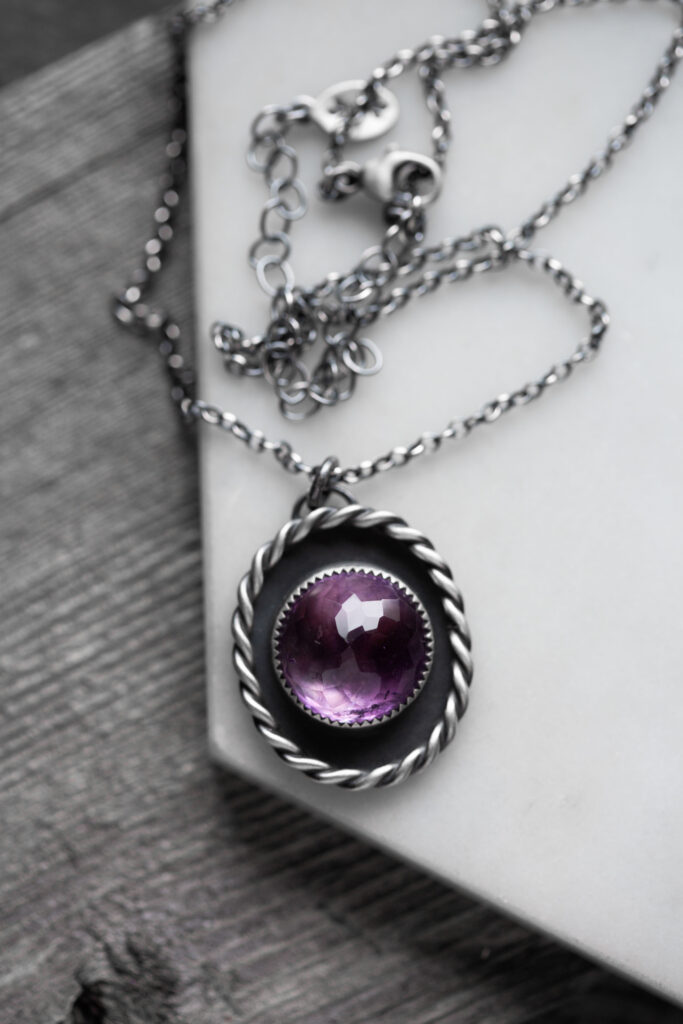 Wisteria Necklaces
There will be 22 necklaces available.
Necklaces will be suspended from a chain adjustable between 17-20″
Price: $130 per necklace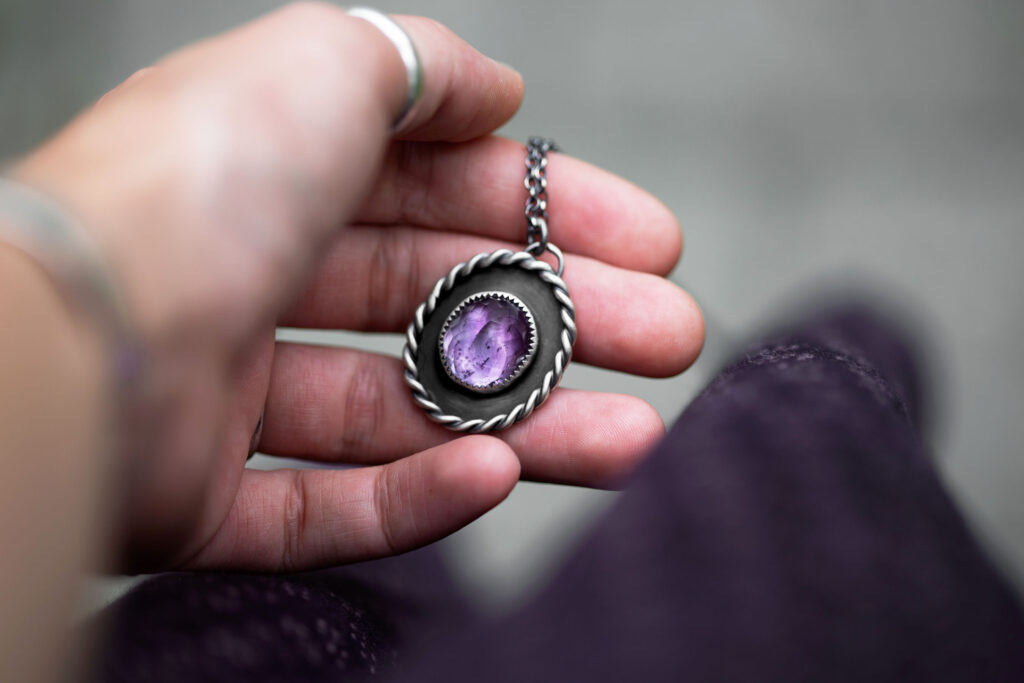 Named for the powerful wildflower that has been known to tear apart houses and crumble stone walls; a wildflower that takes the bitter cold, ferocious cutting back attempts, and poor growing conditions, in stride.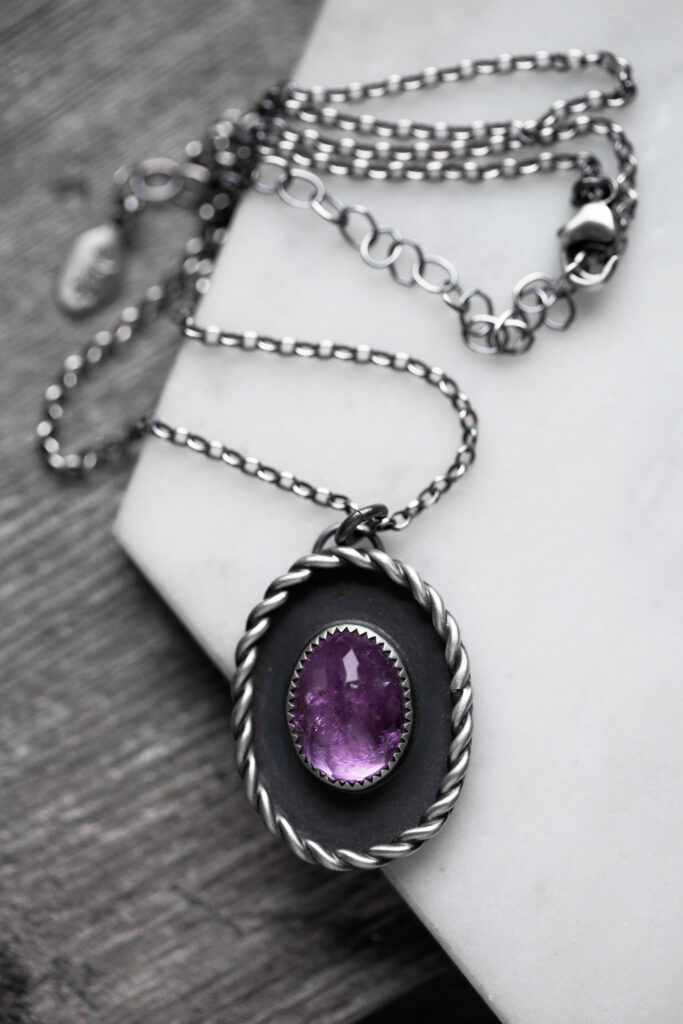 It catches hardship and climbs atop it, vining up an over any impediment. And all the while, it throws forth the most exuberant blooms.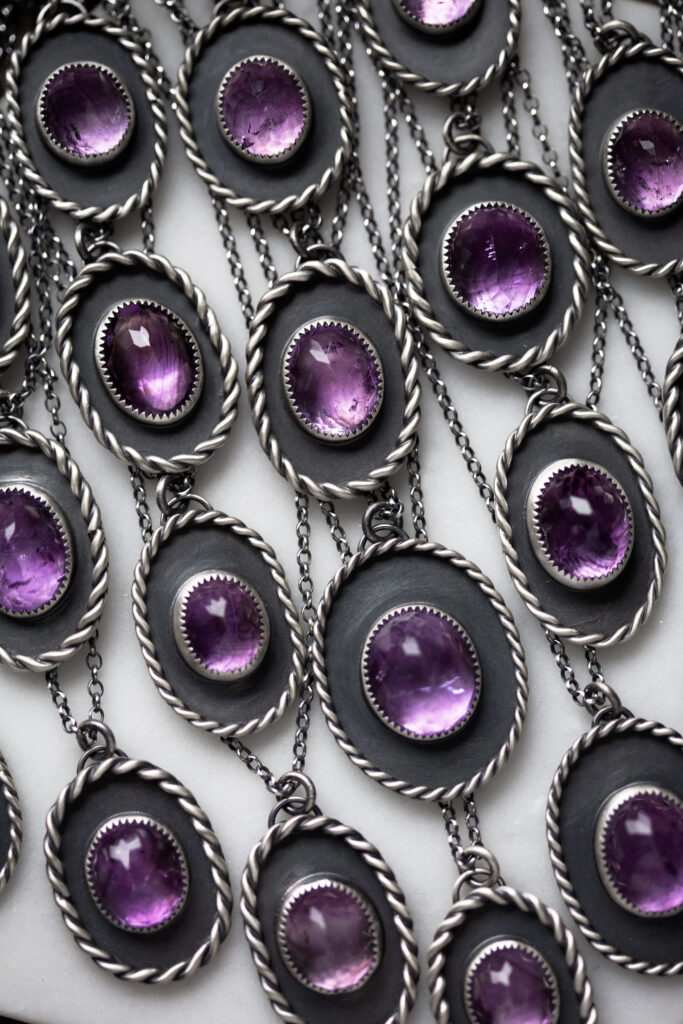 For this design I chose the amethysts that were the closest in hue to that gorgeous wildflower. Soft in its purple hue, faceted to look like a cluster of blooms.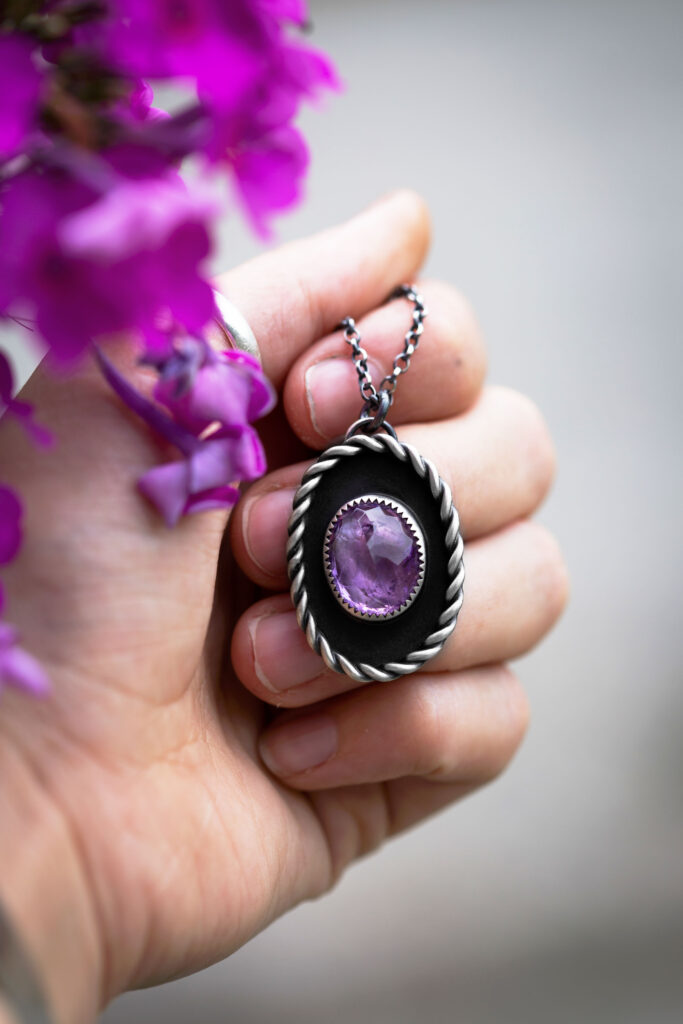 The facets catch and hold the light, making it positively glow. And laying around the gemstone is a twirl of sterling silver, like the twining stems of the wisteria.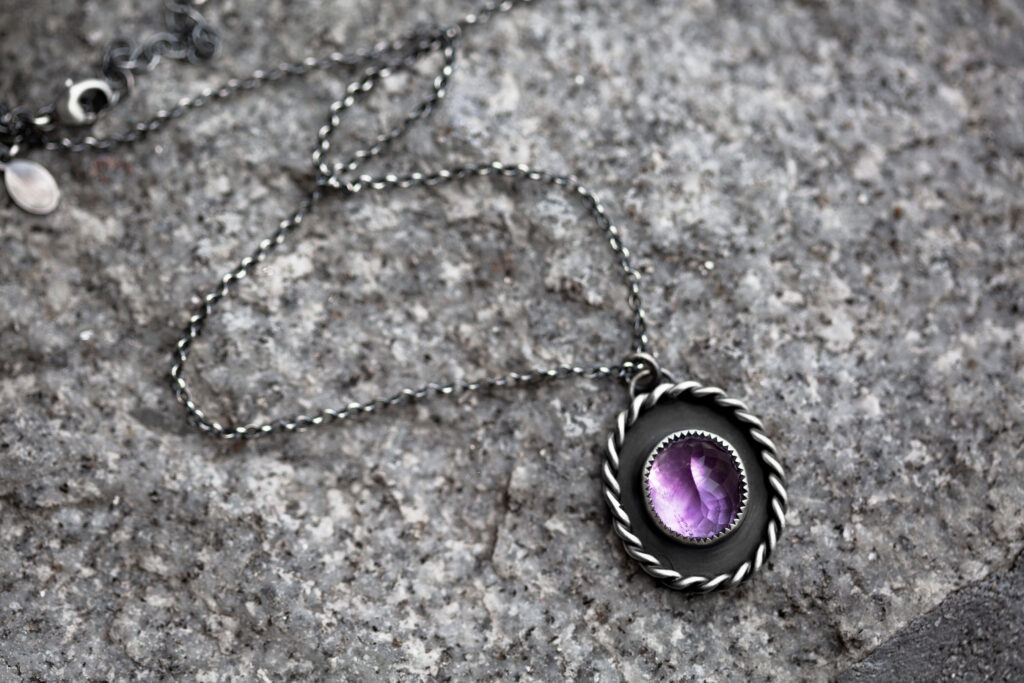 ---
I will have one more preview for this weekend's release, so check back!
Violet Linings Collection Release, Part I: Sunday, August 29th at 7PM EST in the Etsy shop