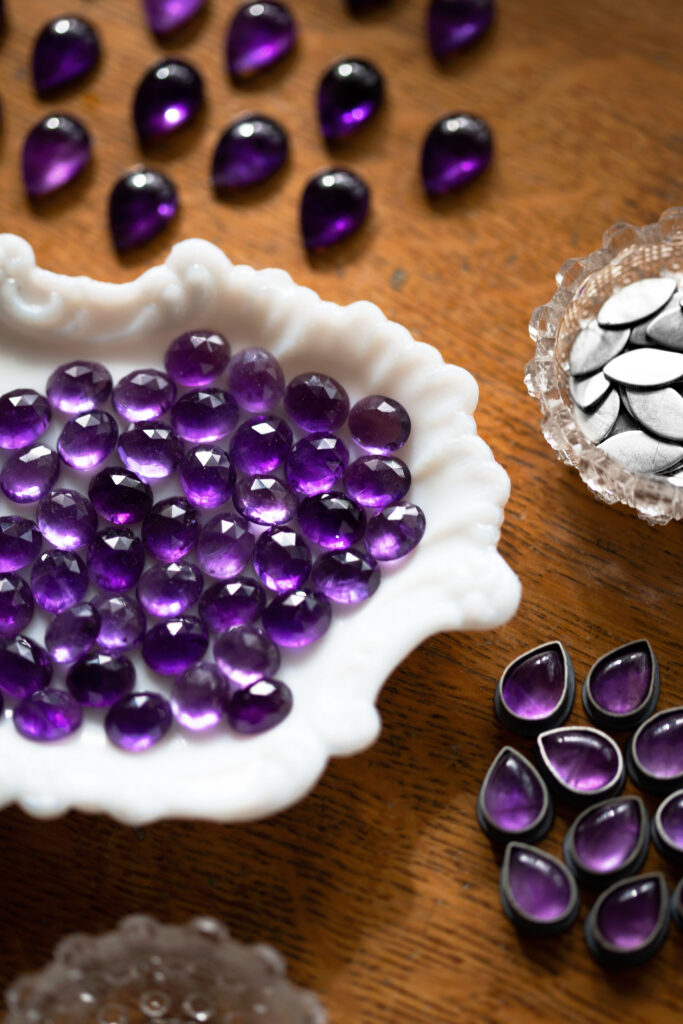 When I first began the amethyst pieces, I had visions of a polished, elegant collection. I wanted smooth lines, dainty stones, understated designs, and a high-polish finish. Silky purple and whisper chains.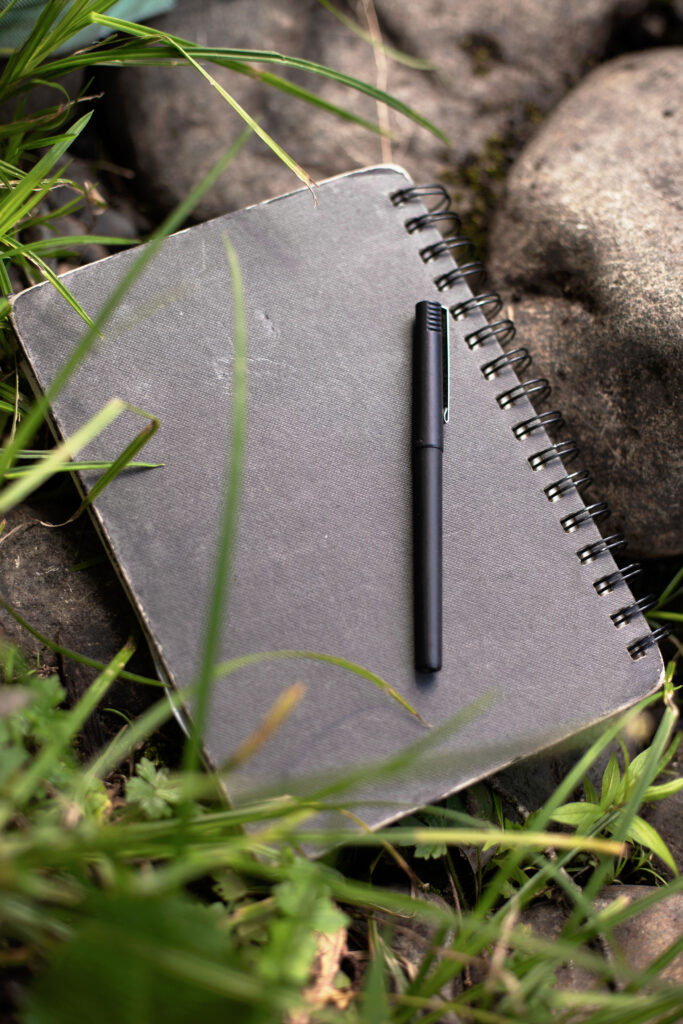 But as the summer churned and roiled with our plans being dashed, bad news delivered unexpectedly, and moments of "what now?", the designs became more and more weathered. And as I look back on the last few months, the last few years, that feels perfectly right.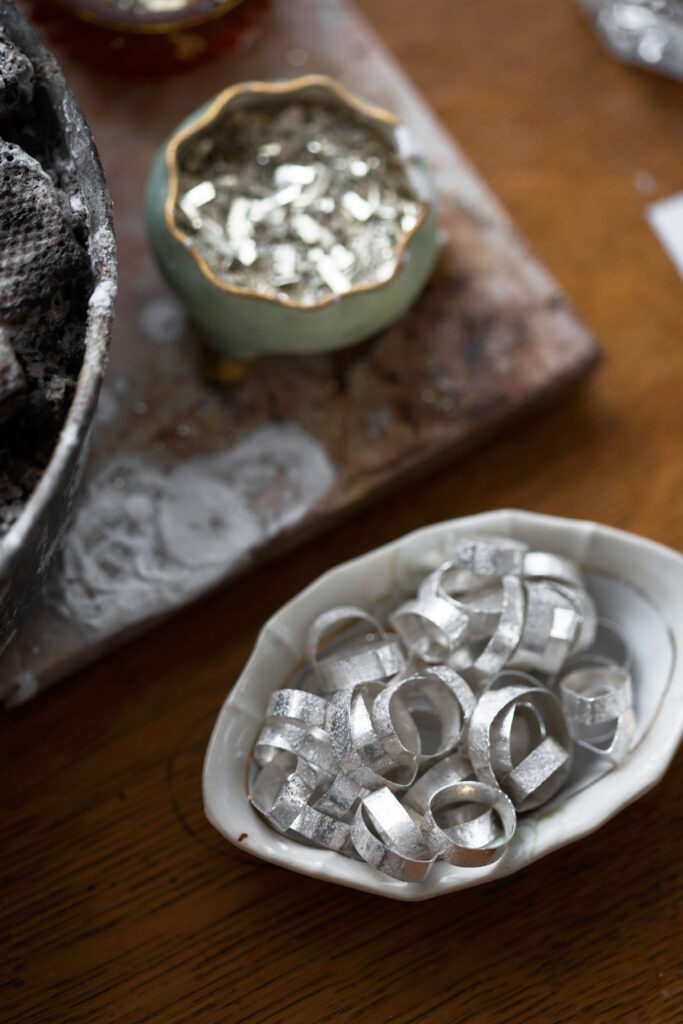 When things have felt overwhelming, we would walk down to the pond behind the house and crouch amongst the weeds to just BE for a moment. The garden there is untended, and I would look at the irises, crocuses, and milk-vetch pushing up through the stones. Here and there were blue skimmer dragonflies resting on slabs of granite. Patches of bright loveliness amongst rough. And that is what this collection began to reflect.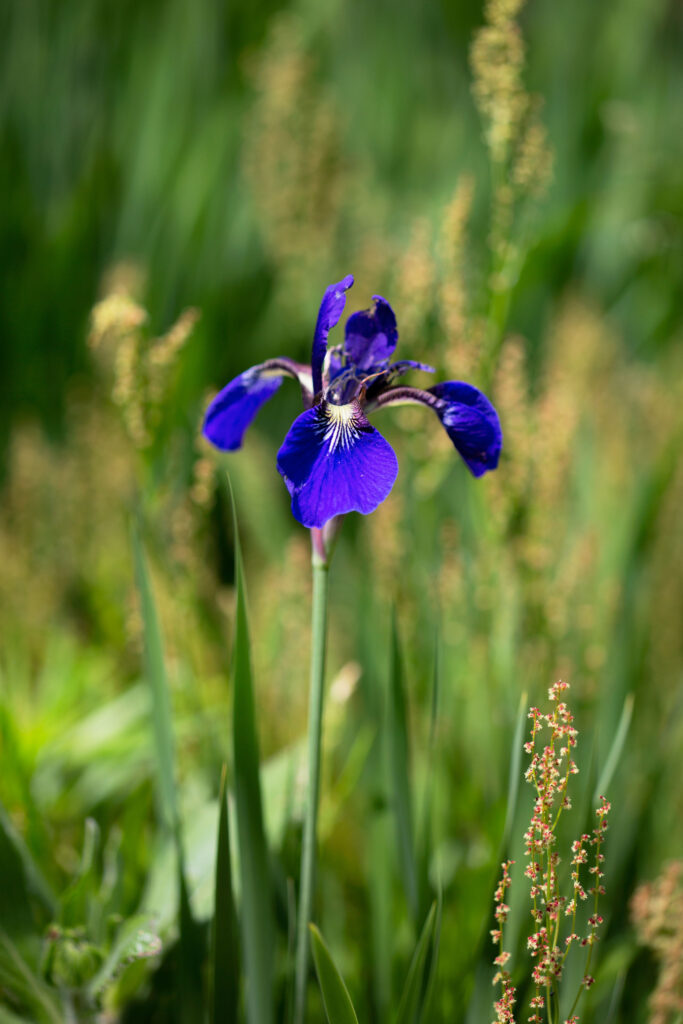 As the summer wore on, I found myself texturing nearly every surface: ring bands, bezels, backplates. I used stone and rusty tools to give the silver a battered look. I hammered into oblivion. The simpler designs became decidedly more organic than their sketches. I even tossed in a few leaves here and there, textured to look like stone. I found the joyousness of the gemstones tucked between ragged sterling particularly hopeful. Amethyst growing amongst shards of silver granite, like mountain heather above the alpine-line.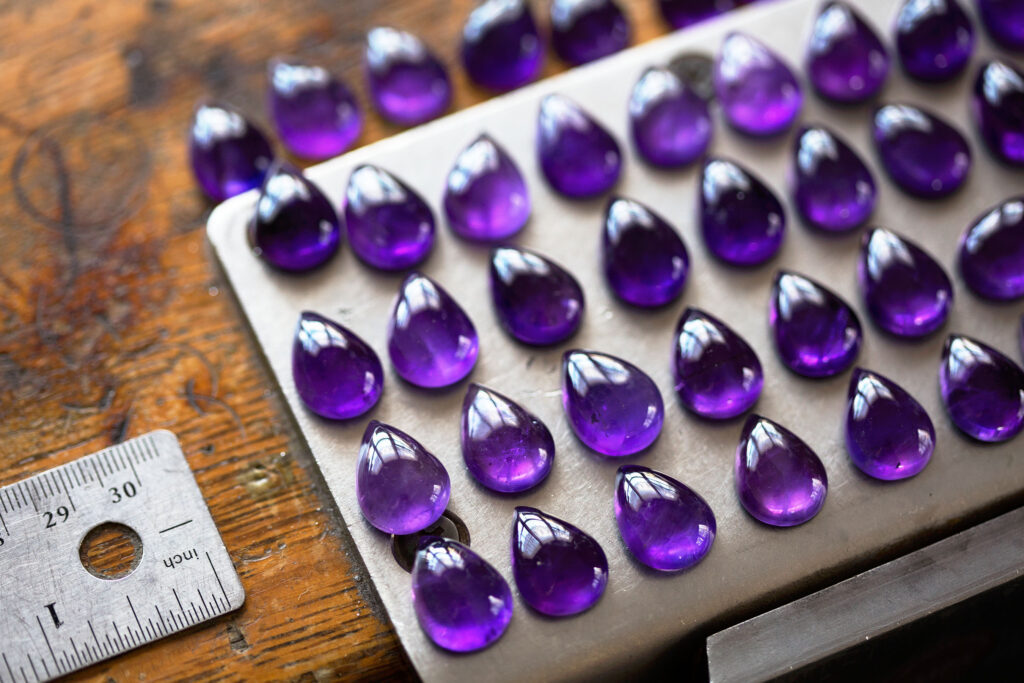 And so, the Violet Linings Collection, because I am already always awash in silver, but a lining of violet seems like a very hopeful thing to me.
---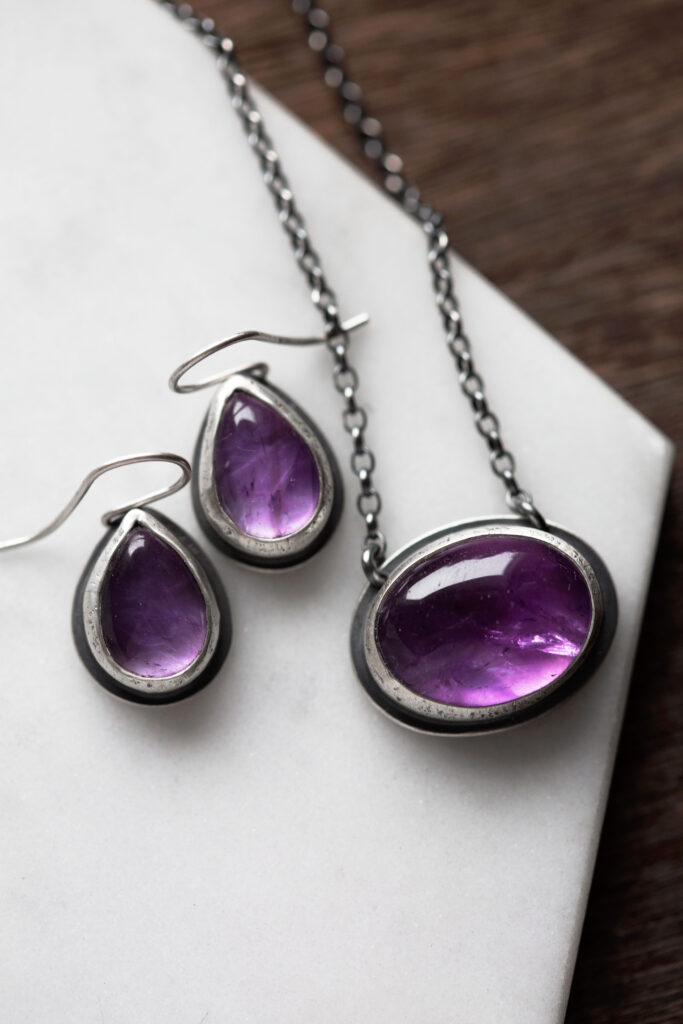 Violet Linings Necklace and Earrings
There will be 9 necklaces and 9 pairs of earrings available.
They will be listed separated in order for you to mix and match to make a set.
Necklaces will be suspended from a chain adjustable between 17-20″
Price: $95 for a necklace and $85 for a pair of earrings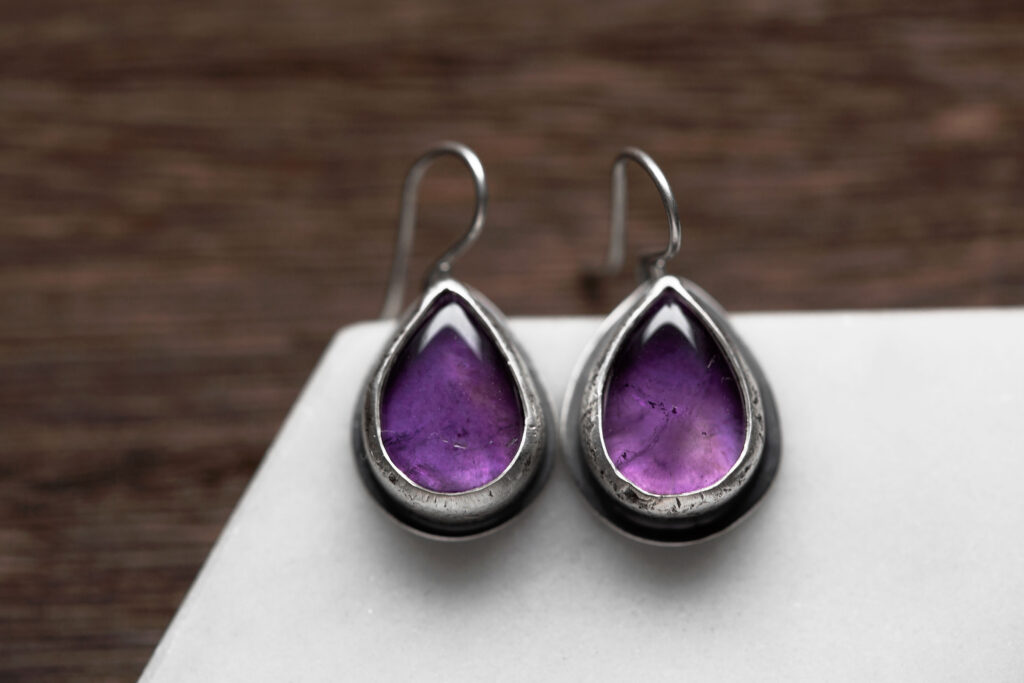 This was the very first design I made for this collection. As I mentioned before, I had planned for this amethyst offering to be all smoothness and polish.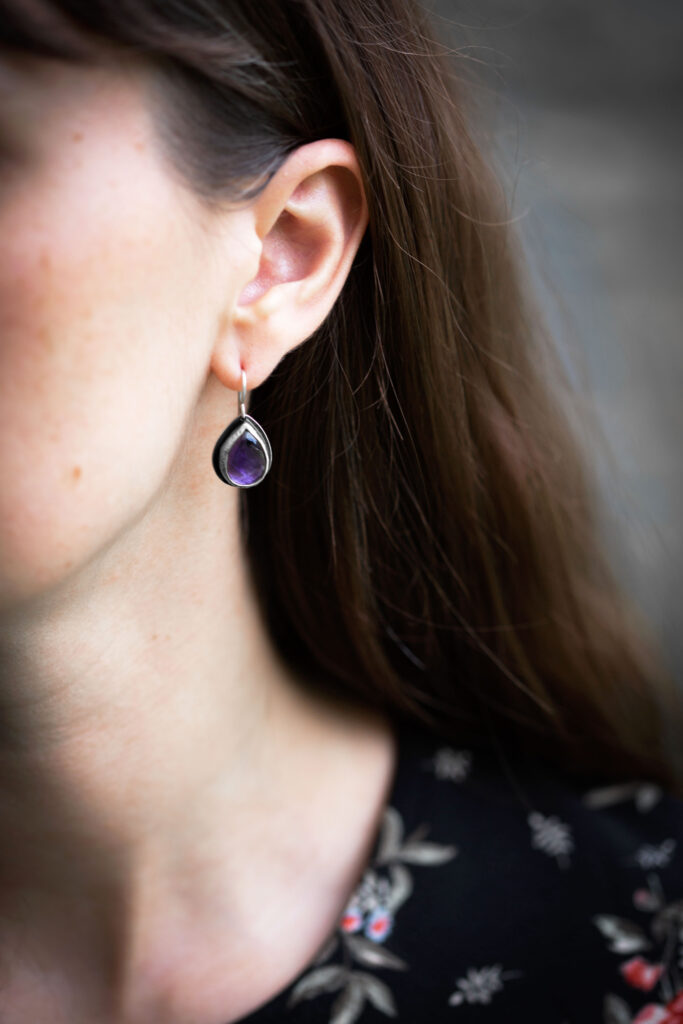 But when the summer turned upside down for us, and things began to get tough and uncertain, the texturing of these pieces became cathartic. It just felt good to hammer metal into granite, and just keep swinging past the point where I thought it was rough enough.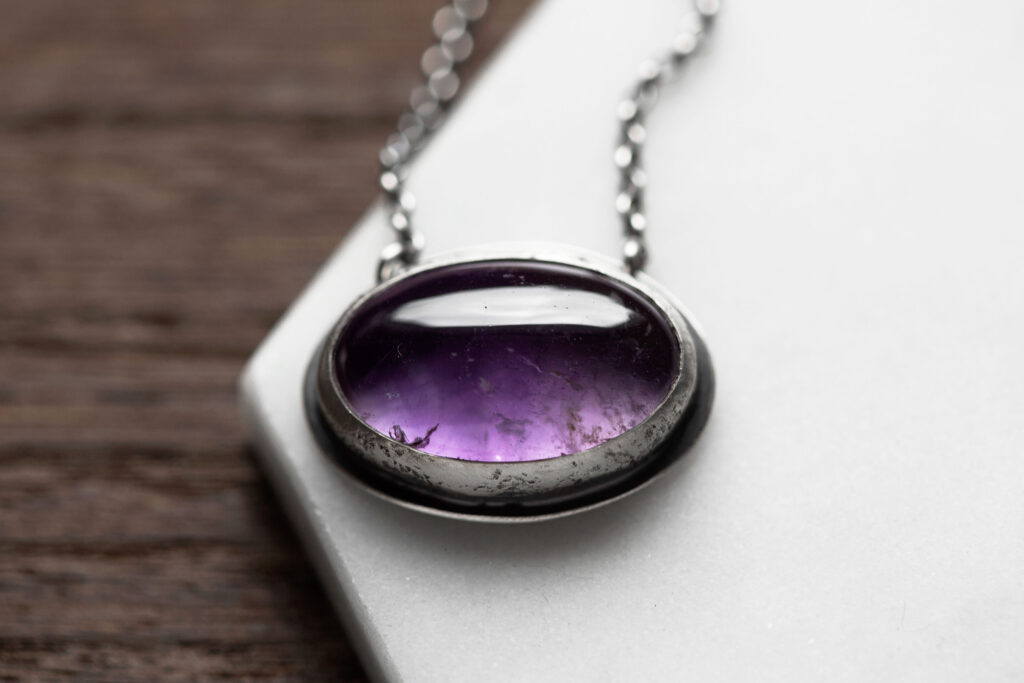 For these particular pieces I chose the stones I had originally set aside; some had slight fissures on the surfaces, others didn't quite have a perfect match for the other earring. I chose them for their imperfections. I only made a few of these necklaces and earrings, but I knew after I made these that the collection had shifted.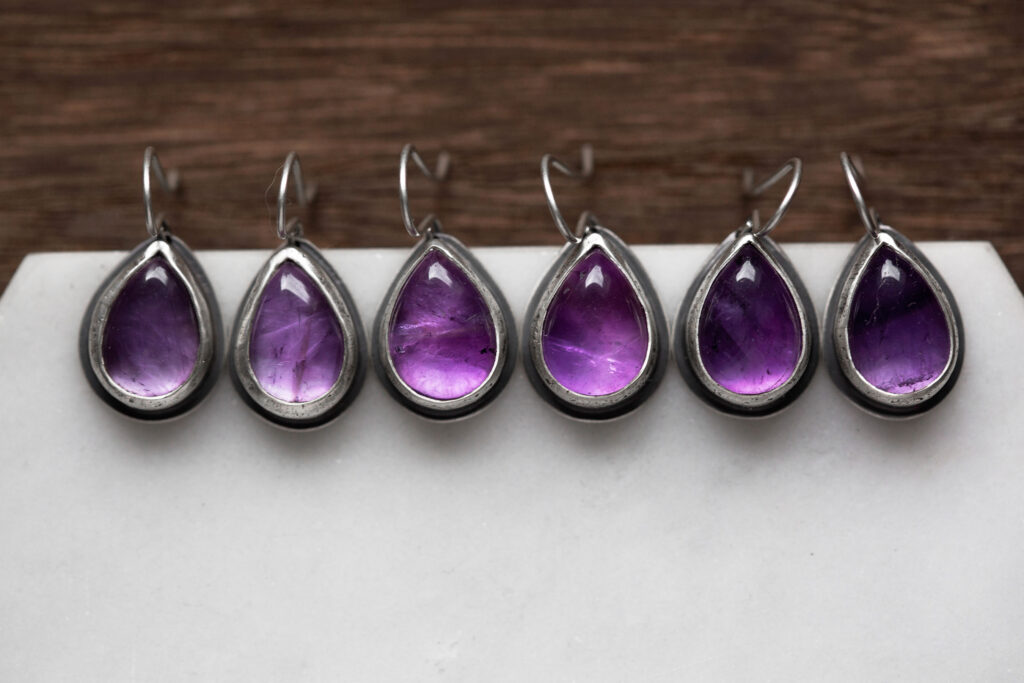 As I designed more pieces and hammered to my heart's content, I felt better. I felt hopeful. I could see that things were not always going to be frustrating and disappointing, and we were already moving towards a better place. The amethyst itself cheered me a bit, it is such a deep, soothing stone. The proverbial silver lining was beginning to show, and this collection became the Violet Linings Collection.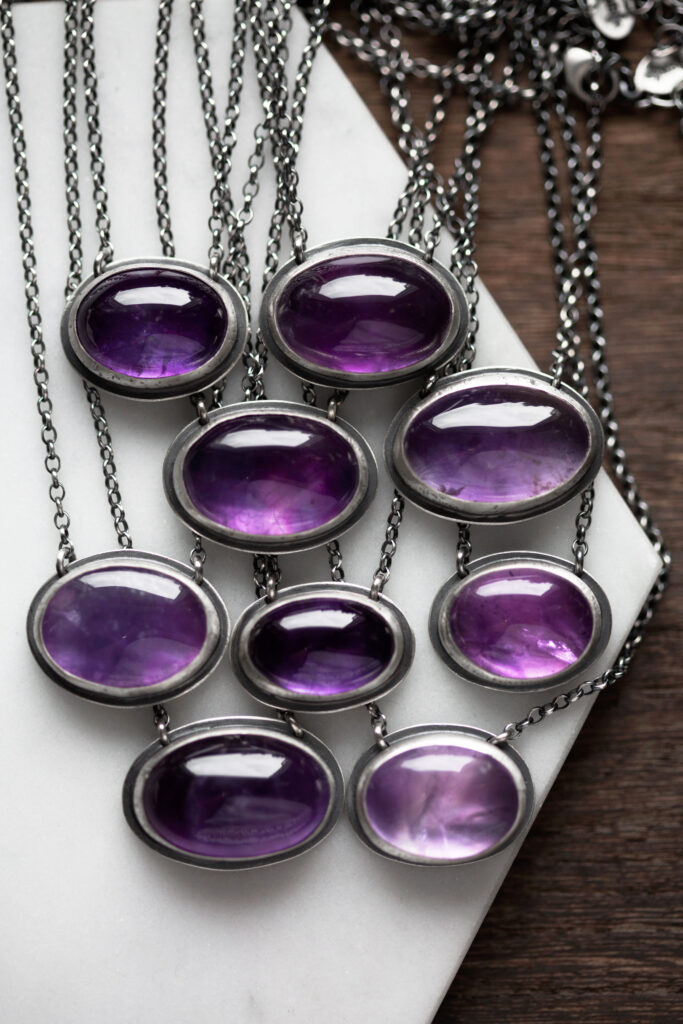 And since this was the first, cathartic piece I created, it only felt right to give it the namesake.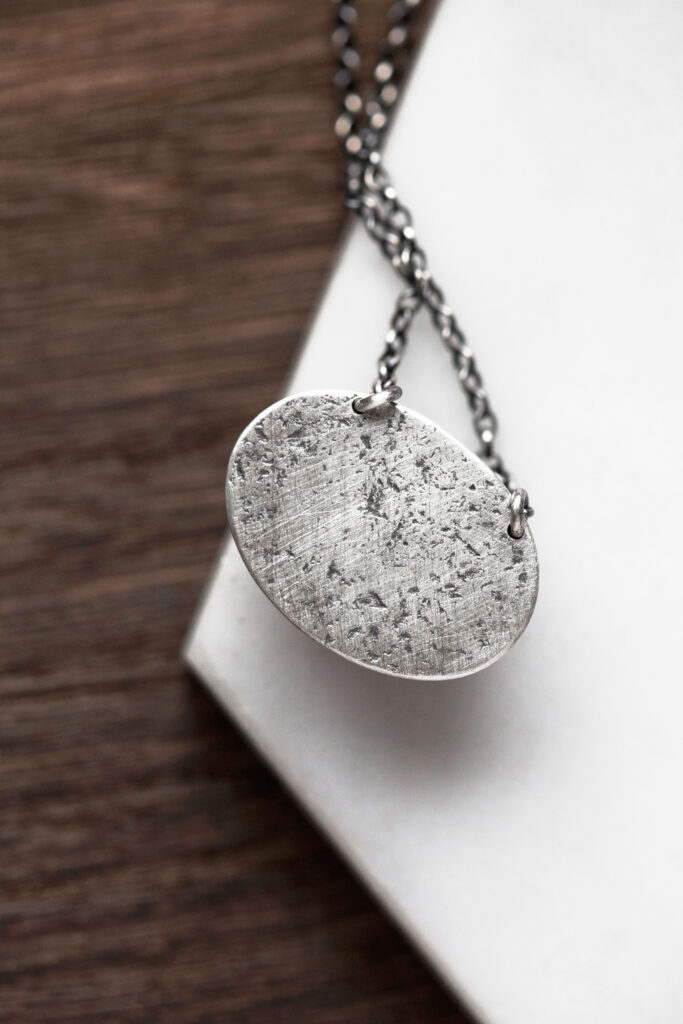 In each necklace and earring there is a solitary smooth amethyst cabochon set in a heavily textured bezel. There is a thin rim around the stone to accent the stone. The back of the base has also been textured.
---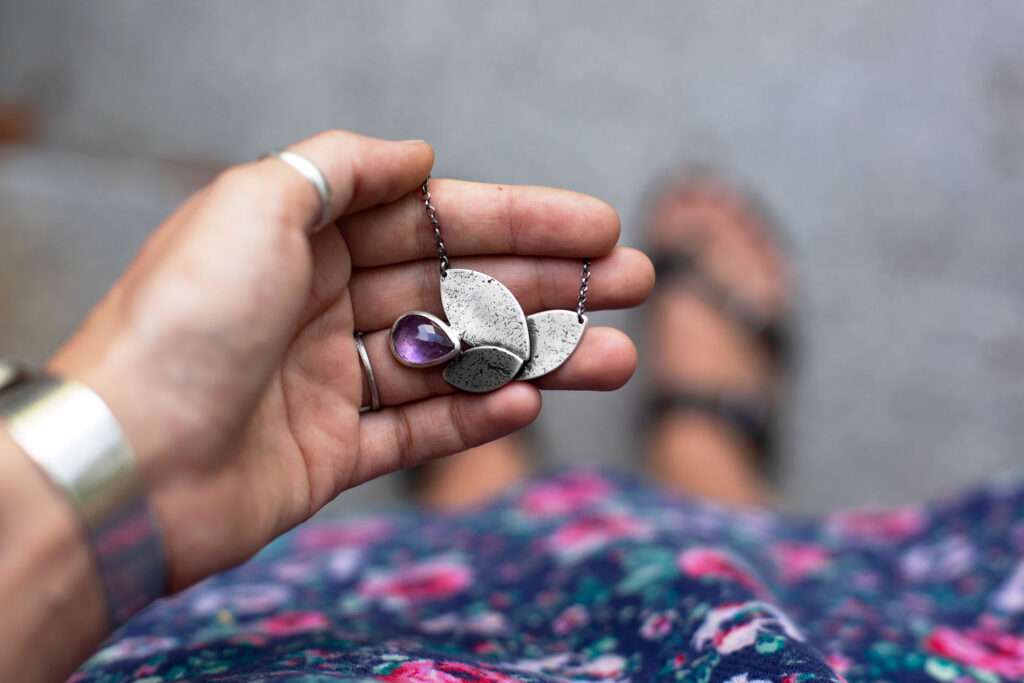 Rock-Cress Necklaces
There will be 18 necklaces available.
Necklaces will be suspended from a chain adjustable between 17-20″
Price: $148 per necklace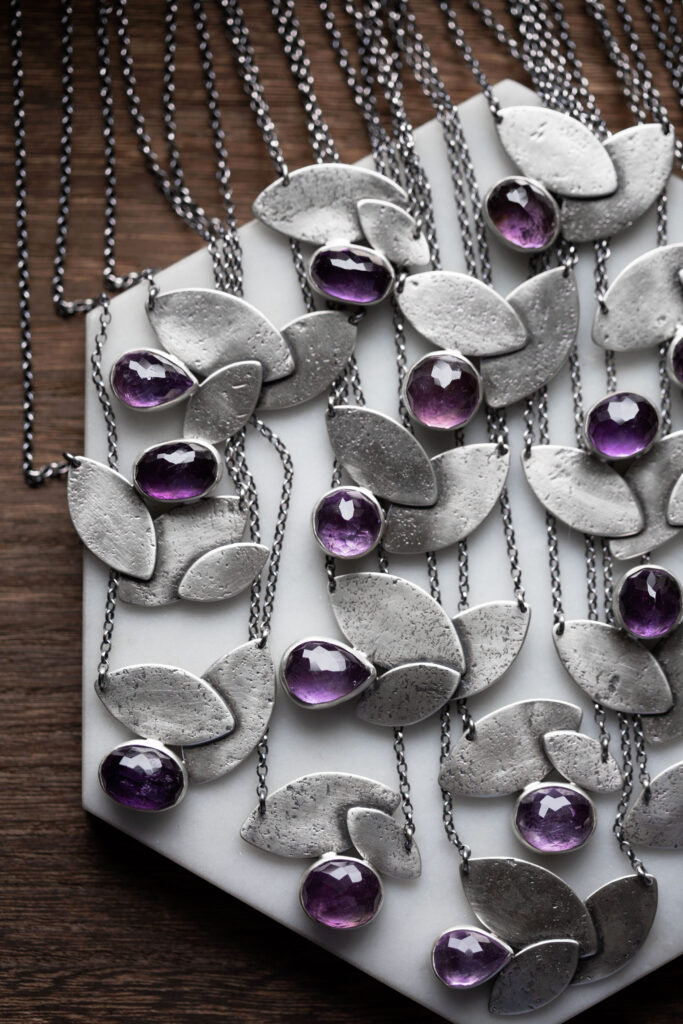 Named for that sparkling purple flower that pokes from the cracks of stone walls and tumbles down cliff-faces.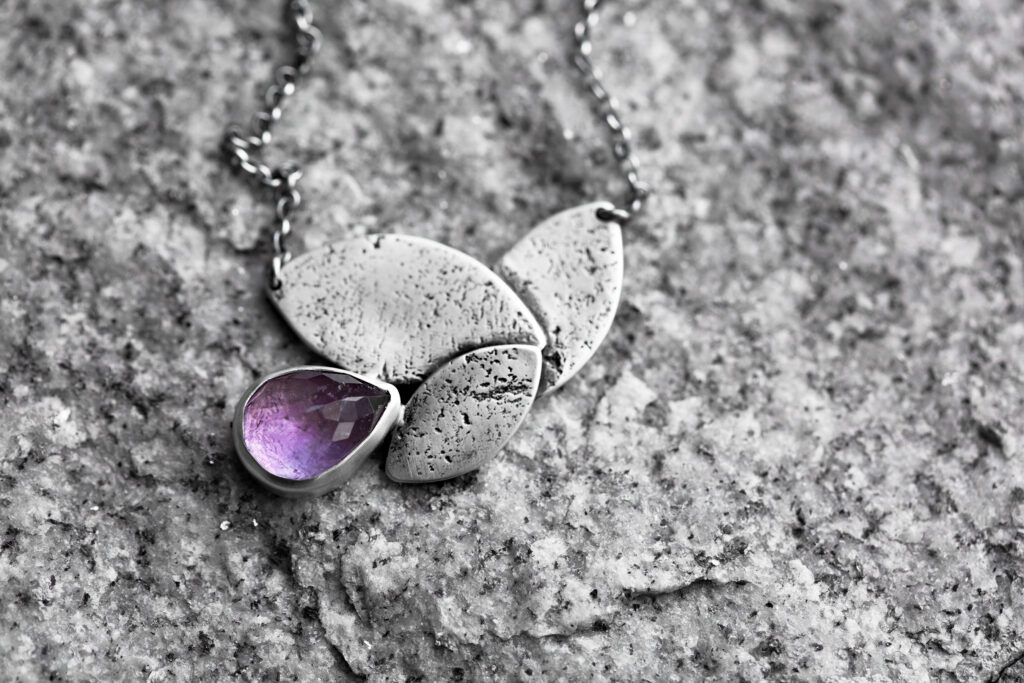 It is an alpine flower and thrives where other plants wither.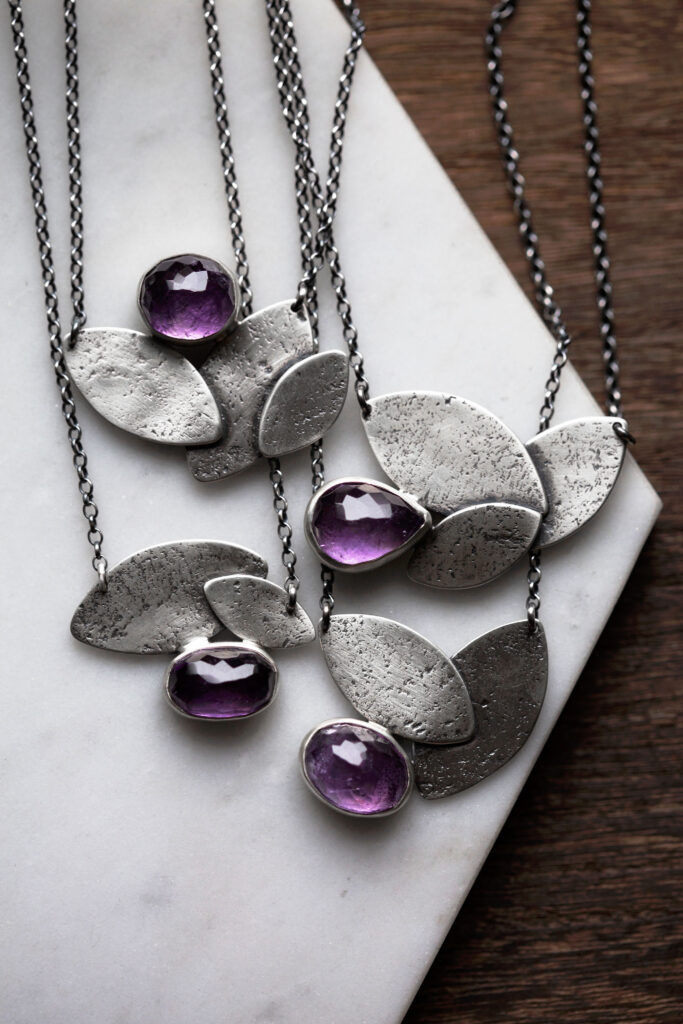 It returns every year, and holds on despite dreadful growing conditions. A lesson in optimism.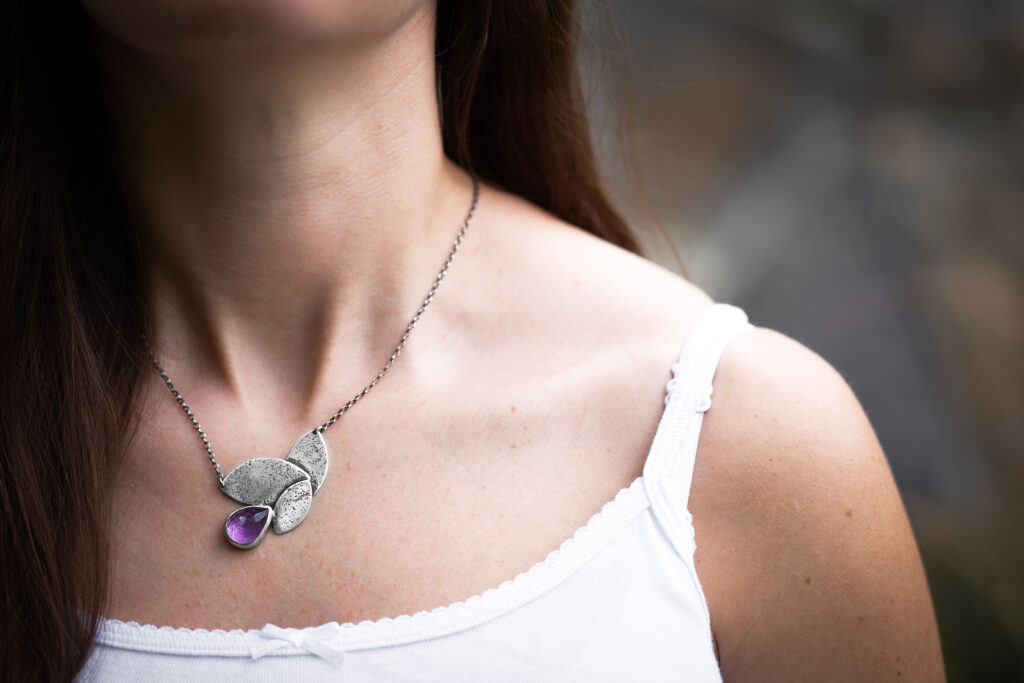 For the rock-cress necklaces, I chose a handful of my most gorgeous faceted amethysts.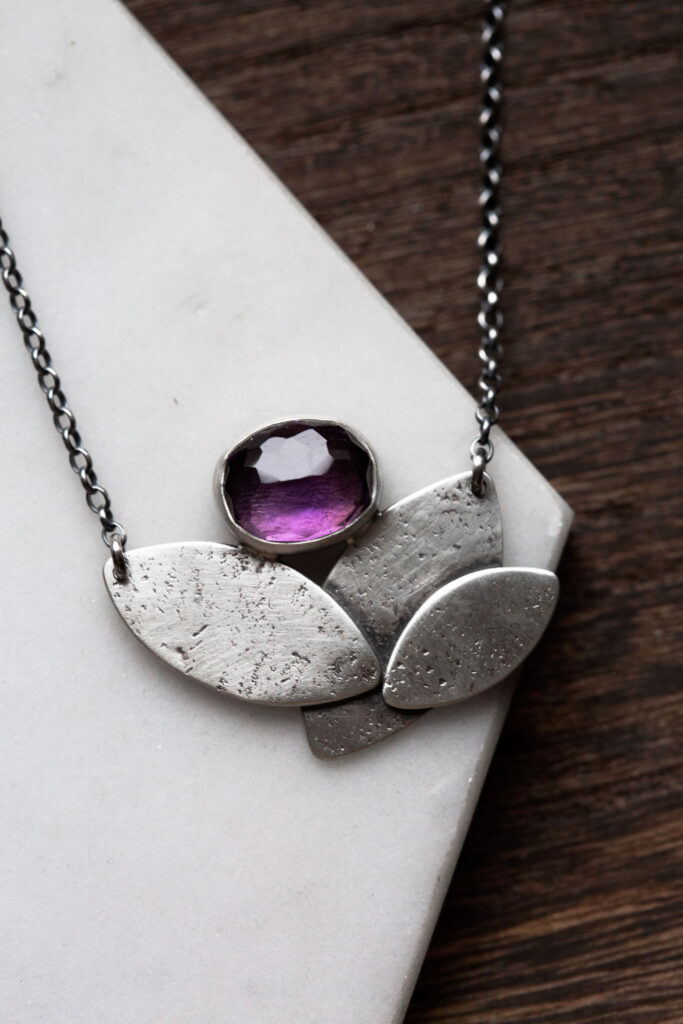 I sawed out a few leaves of various sizes, textured them to look like granite, and strew them about the gemstone. The asymmetry of the stony leaves and the gemstones makes these pieces feel very wild and organic to me.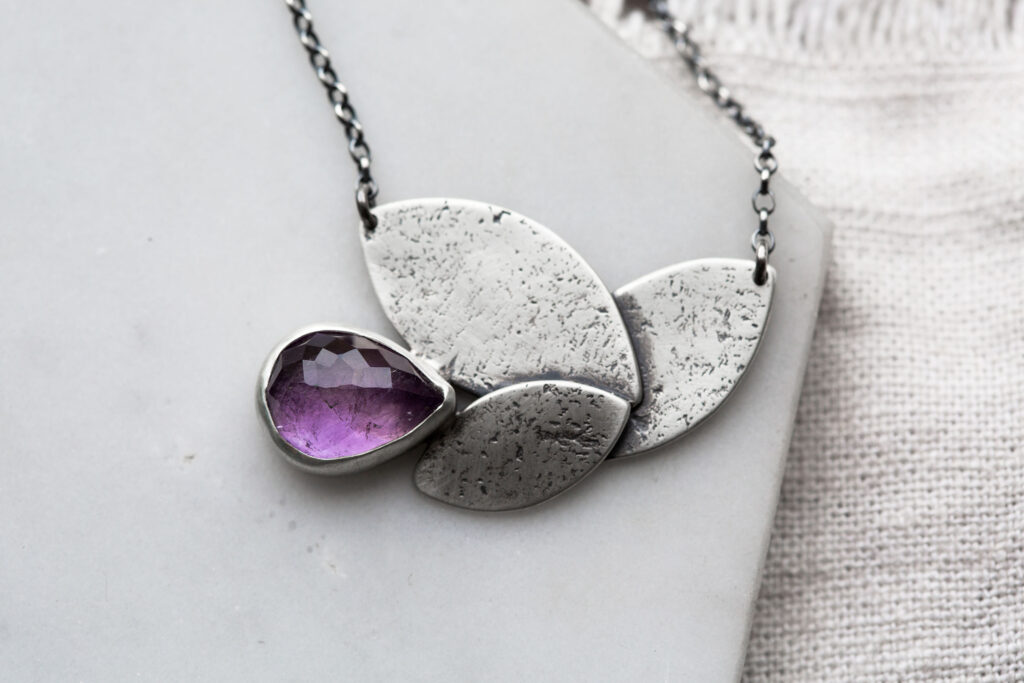 ---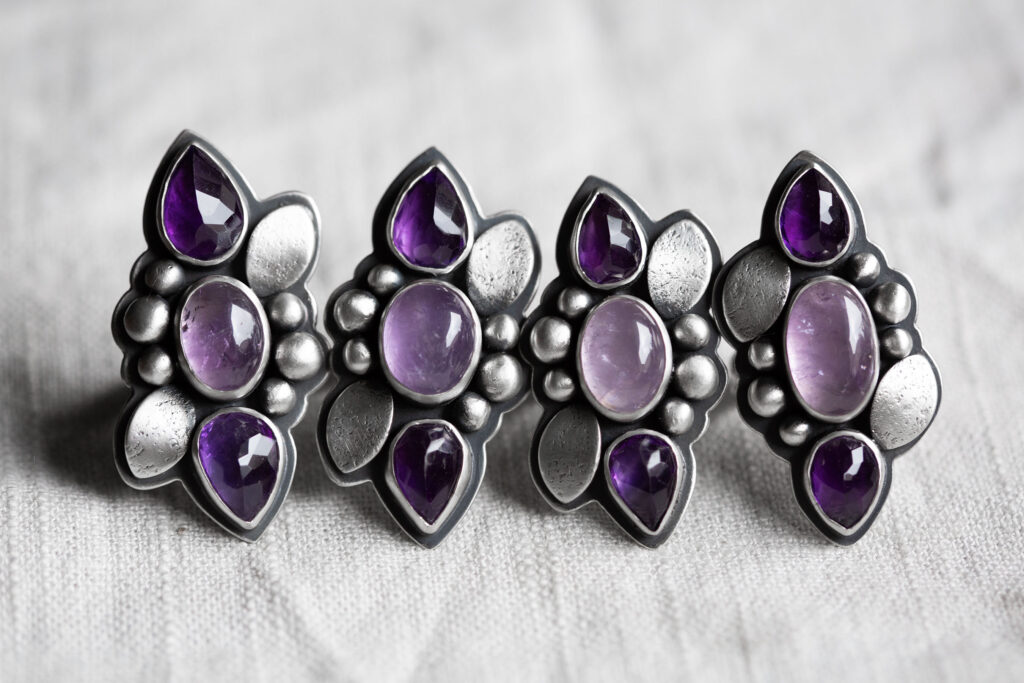 Hyssop Rings
There will be 12 rings available.
Available sizes: 5.5, 6.25, 6.5, 6.75, 6.75, 7.25, 8.25, 8.75, 8.75, 9, 9, 9.5
Set on split double half-round band, so they fit a bit snug.
Price: $185 per ring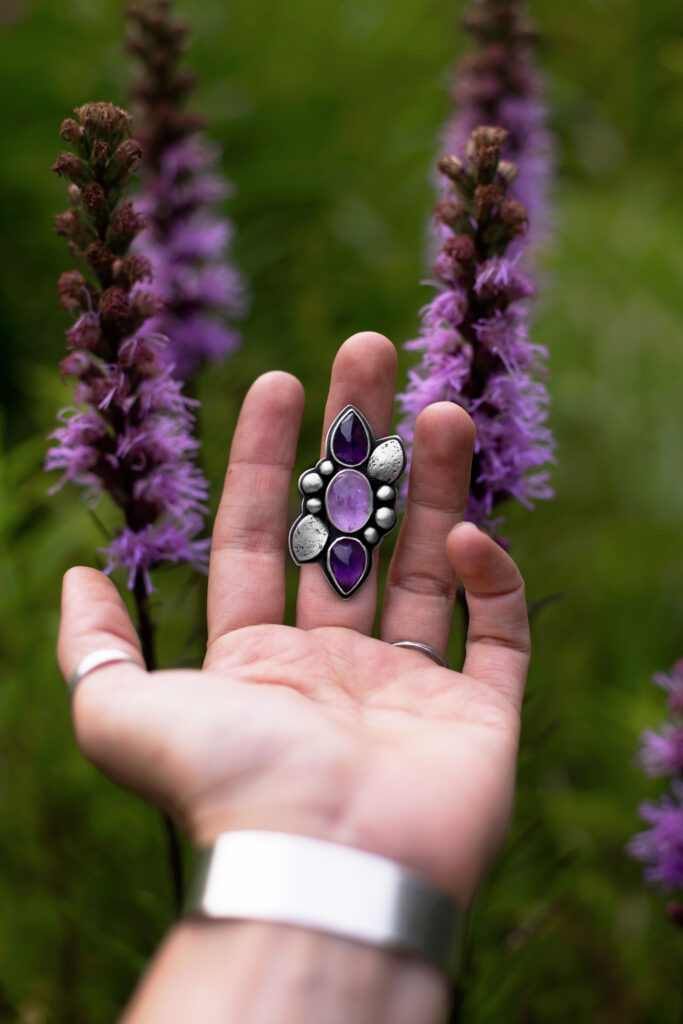 Named for a tall wildflower that can grow in even the driest, sandiest conditions.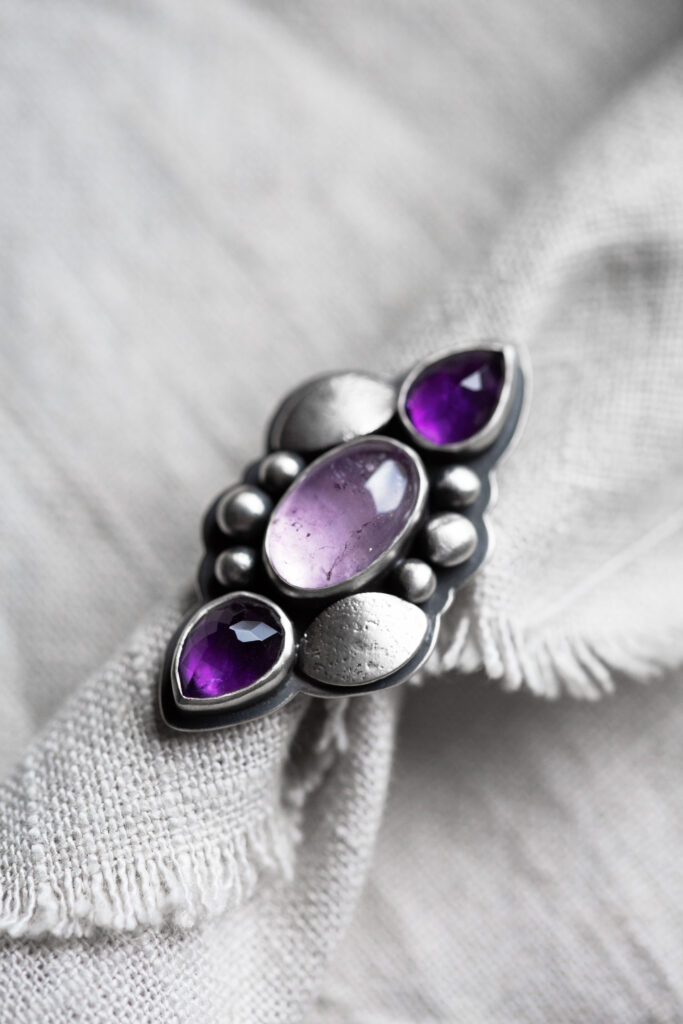 The hues range from the deepest of plums to the gentlest of lilacs. It asks for very little, and thrives when other flowers wilt and fade away. Able to withstand scorching sun and little water, it remains bristling and fragrant.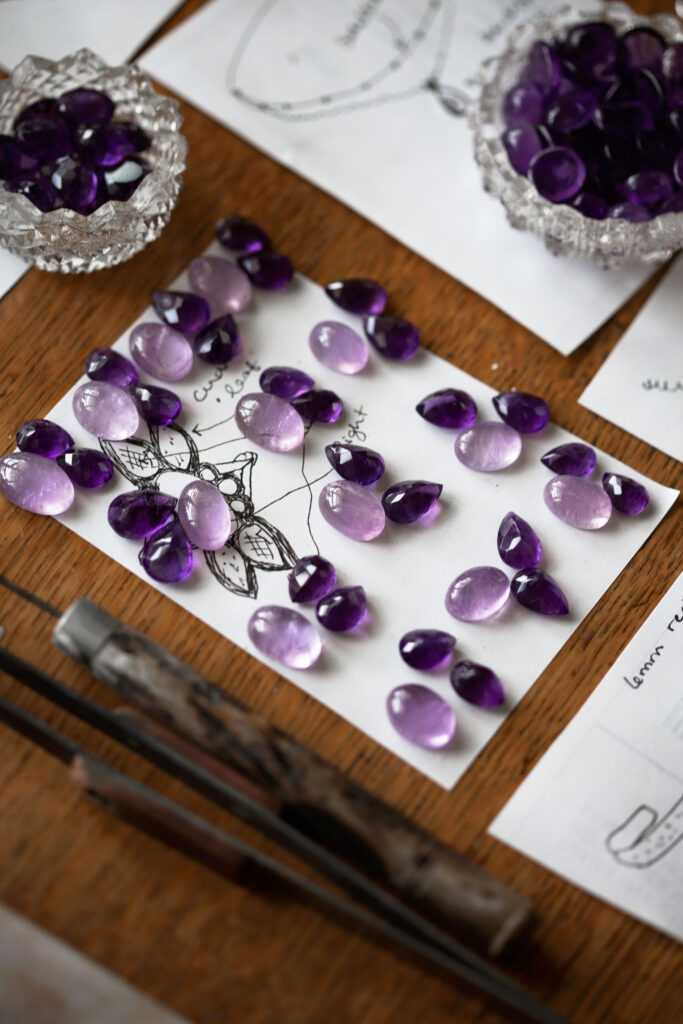 In this ring I chose two different hues of purple, rising in a bold stalk amongst shadow, pebble, and weathered leaf. The ring base sits atop a split double, half-round band, also texture slightly.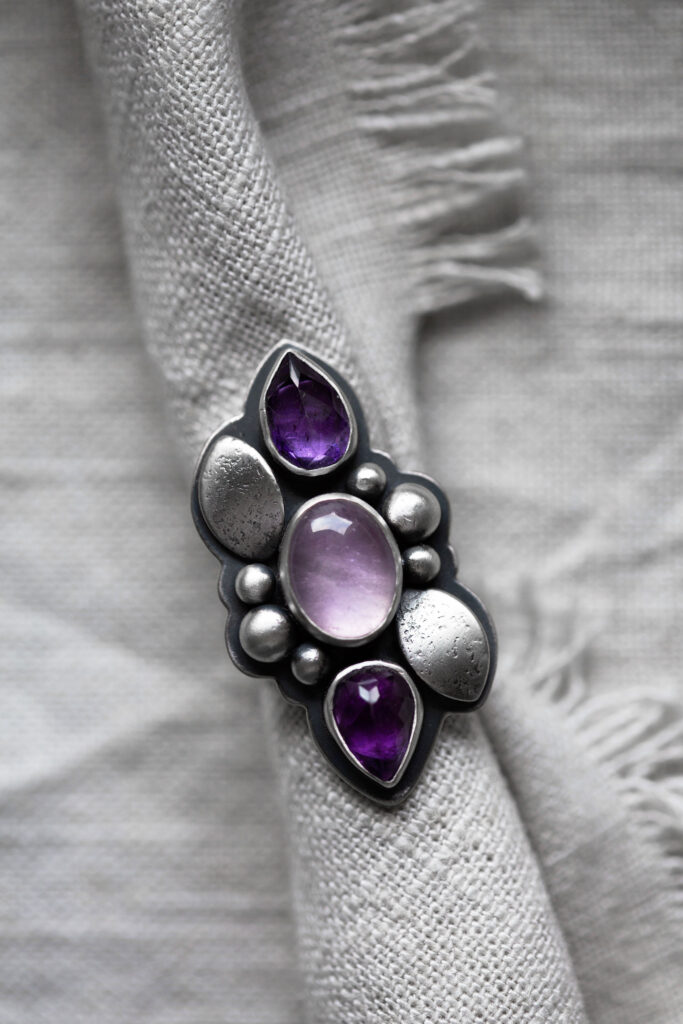 A ring for boldness and self-sufficiency.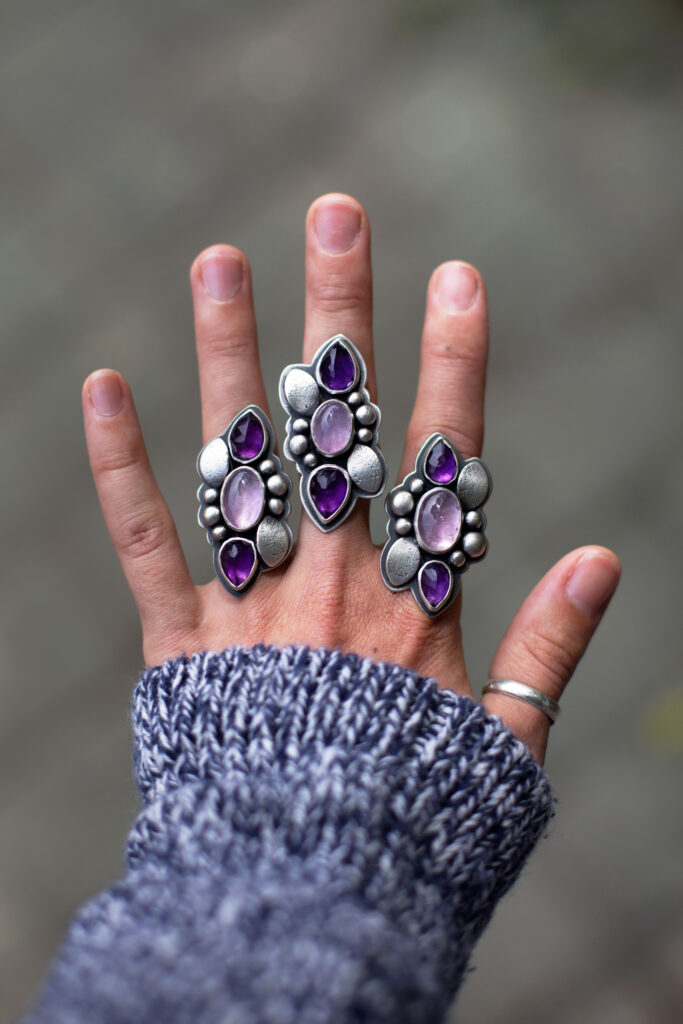 Since these are on split, double half-round bands, I suggest sizing up about 1/4 (.25). For example, if you are an 8.5, look for an 8.75. The split band keeps the ring from swinging around the finger, but it does make for a sliiiightly snugger fit.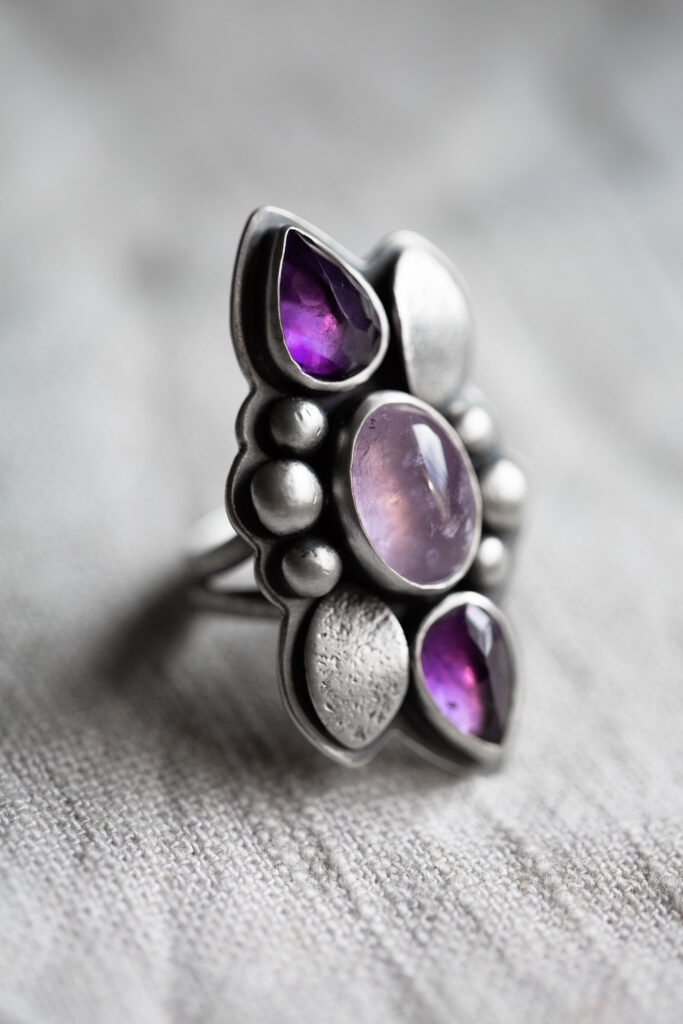 ---
I will be putting up more previews for this weekend's release, so check back!
Violet Linings Collection Release, Part I: Sunday, August 29th at 7PM EST in the Etsy shop