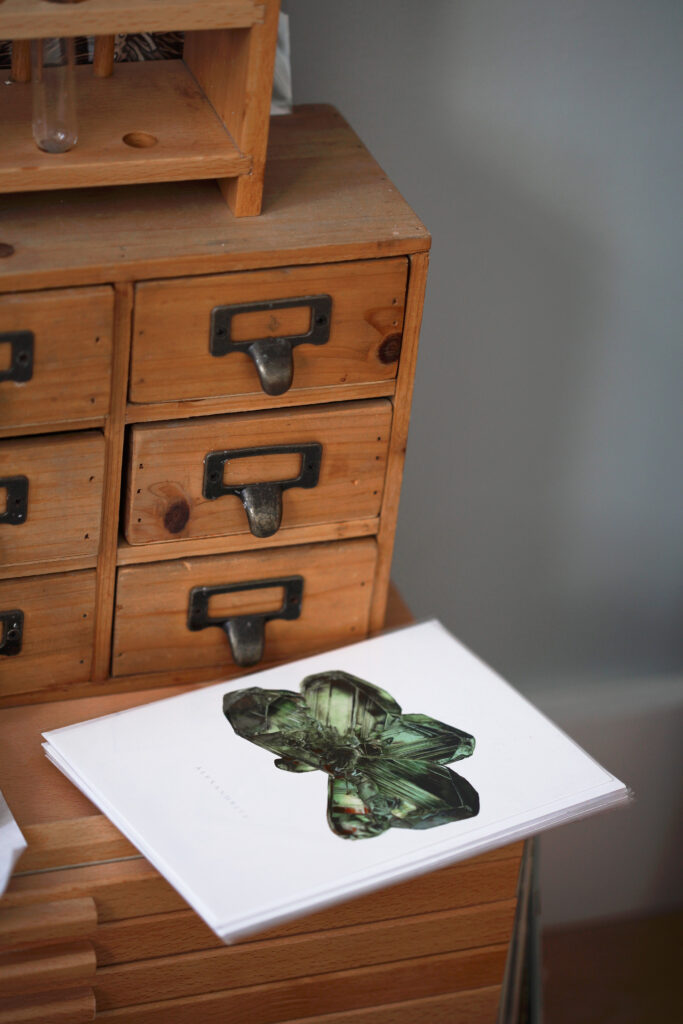 My studio is brimming with ravens at the moment. They have been squabbling and clacking at me while I have been working on them for the last month. Shaking their feathers when I am trying to focus, spreading Picasso jasper all over my bench. I think they are still miffed that the spiders took their place in the November restock.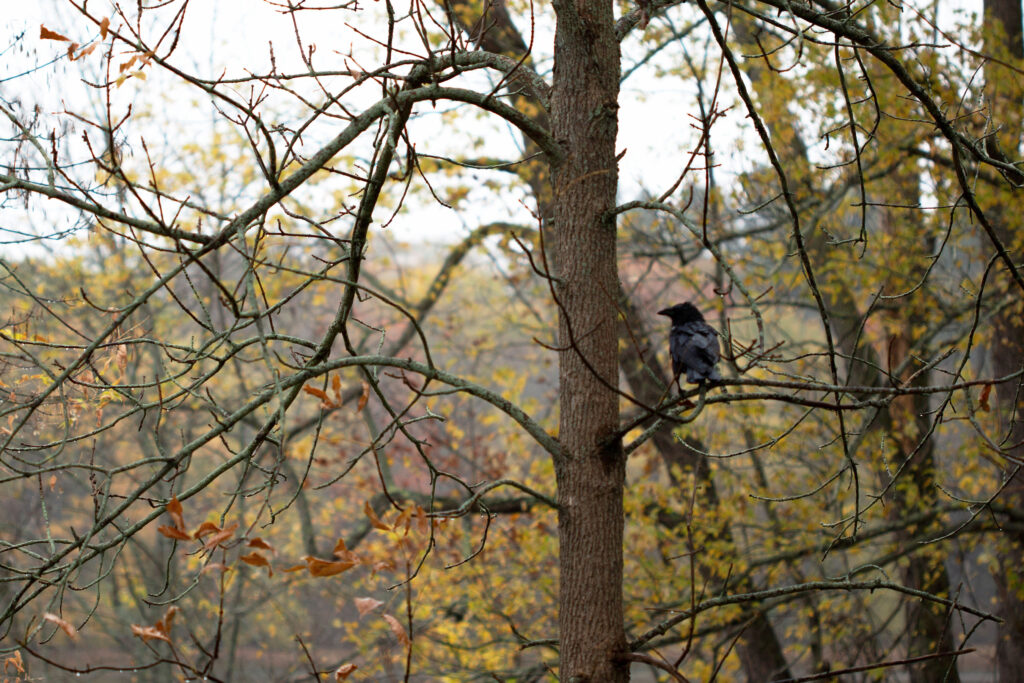 Anyways! I have finally finished up the Waiting Raven Collection for you patient souls. There will be lots of Picasso jaspers necklaces with raven silhouettes on the back, onyx Talon Rings, spinel raven earrings, onyx and raven cuff bracelets, and one new design.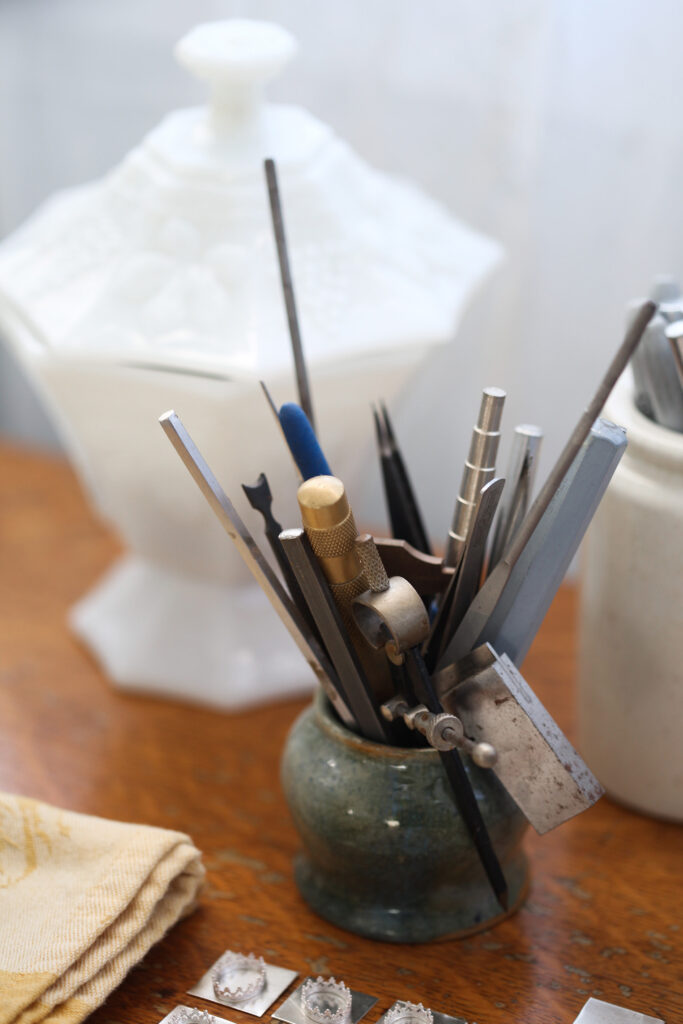 Since I am taking a good, long break from many of my annual collections to make room for new ideas, this Raven offering will be the last for a few years.
---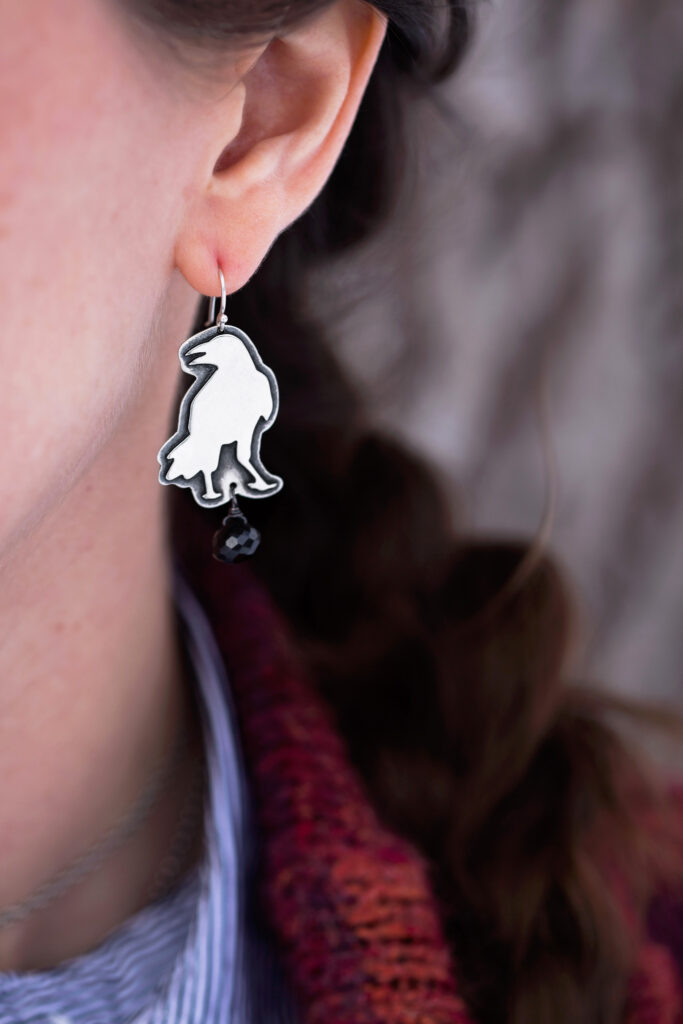 Raven Earrings
There will be 22 pairs available.
Price: $125 per pair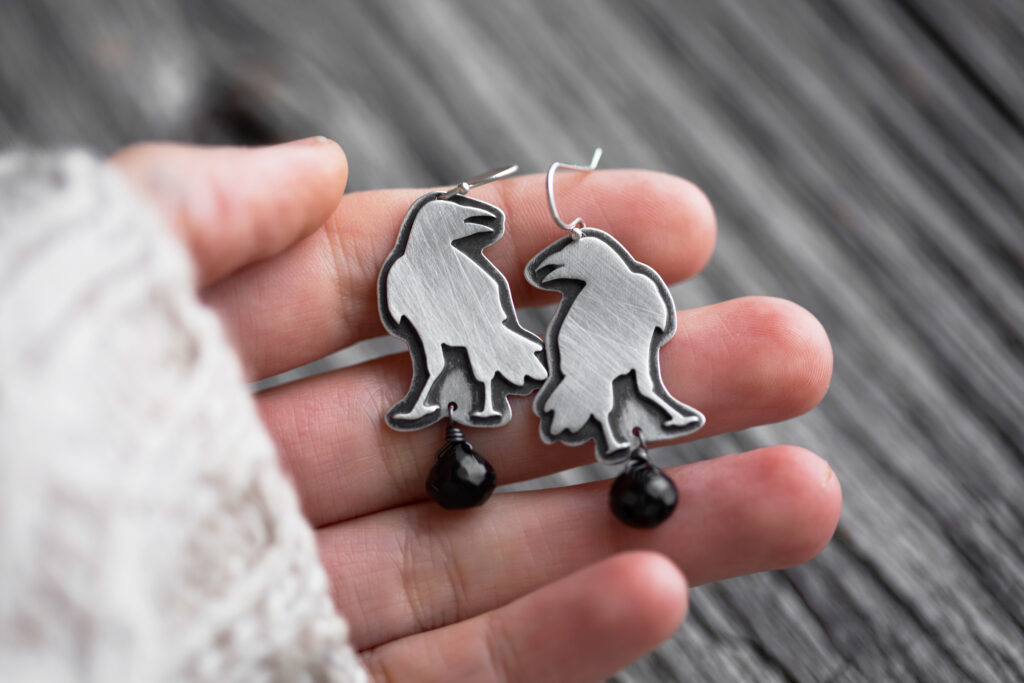 Winter has shaken down a dust of snow, and with it, a flock of tiny Ravens.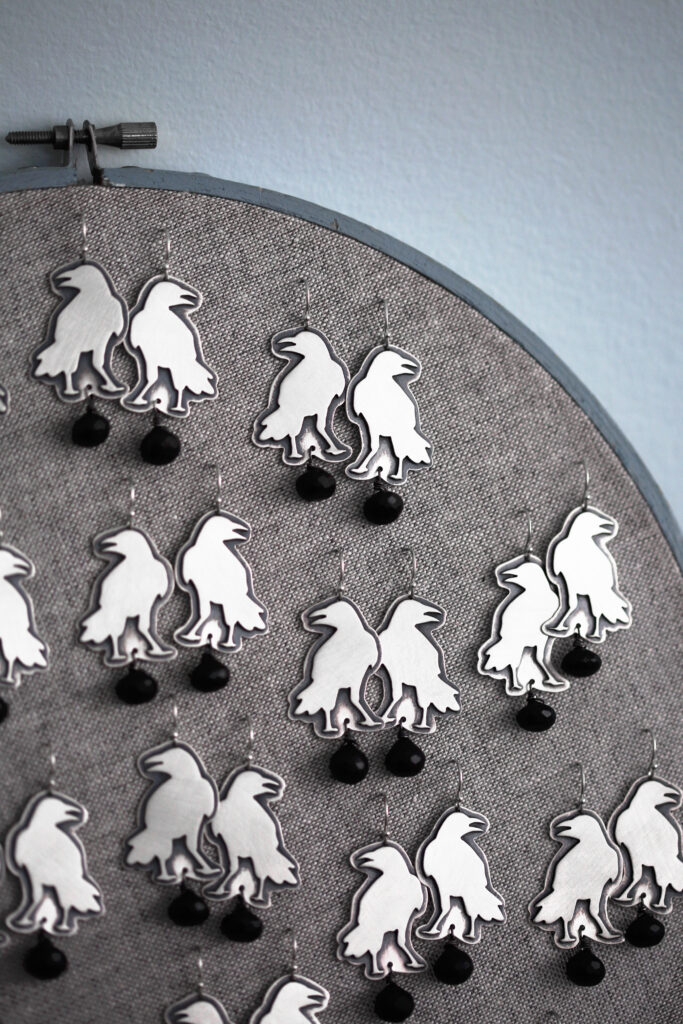 I believe this might be the first time the Ravens have arrived in my studio mid-winter, and I am all the happier for their company.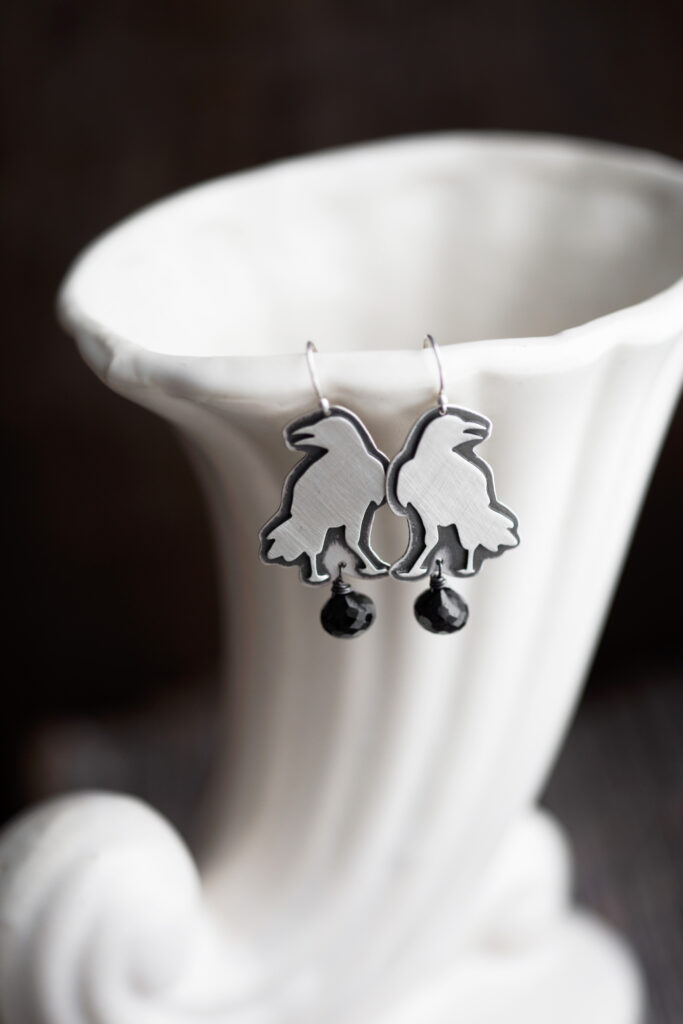 As a little aside, just a few days prior to finishing up the rough solders of this collection, we watched one of the Christmas episodes of Northern Exposure (my absolute favorite show!) wherein the raven was a harbinger of Christmas and winter. And I have been thinking about that, and the timing of these ravens, ever since.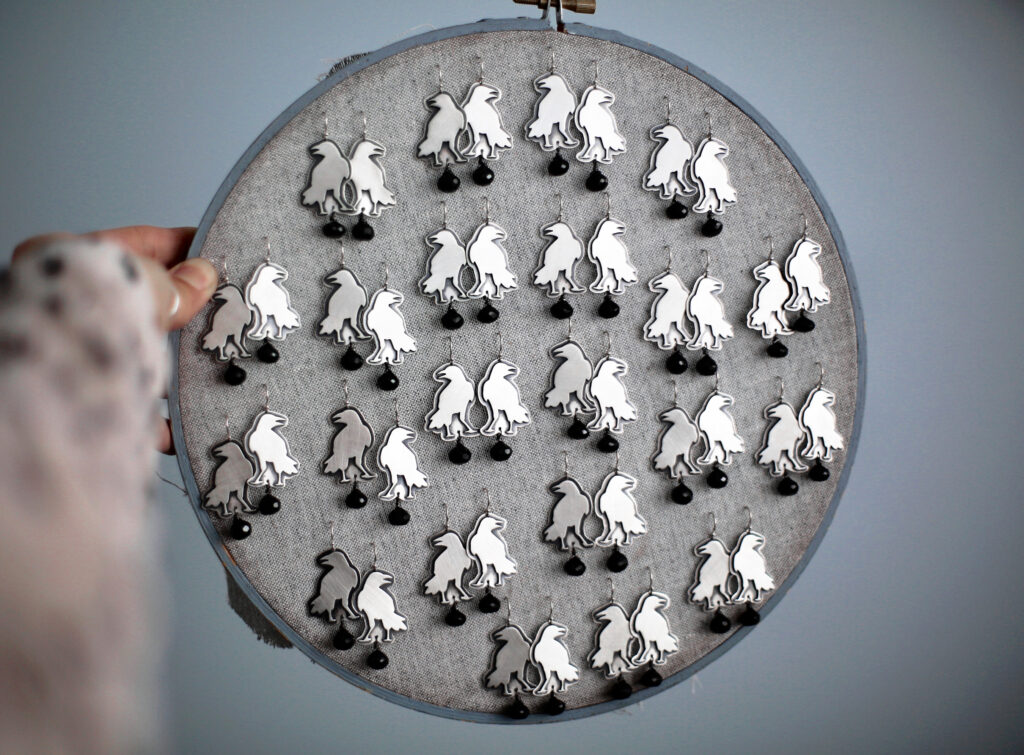 Anyways! For the first time, there will be Raven Earrings in this last Waiting Raven Collection.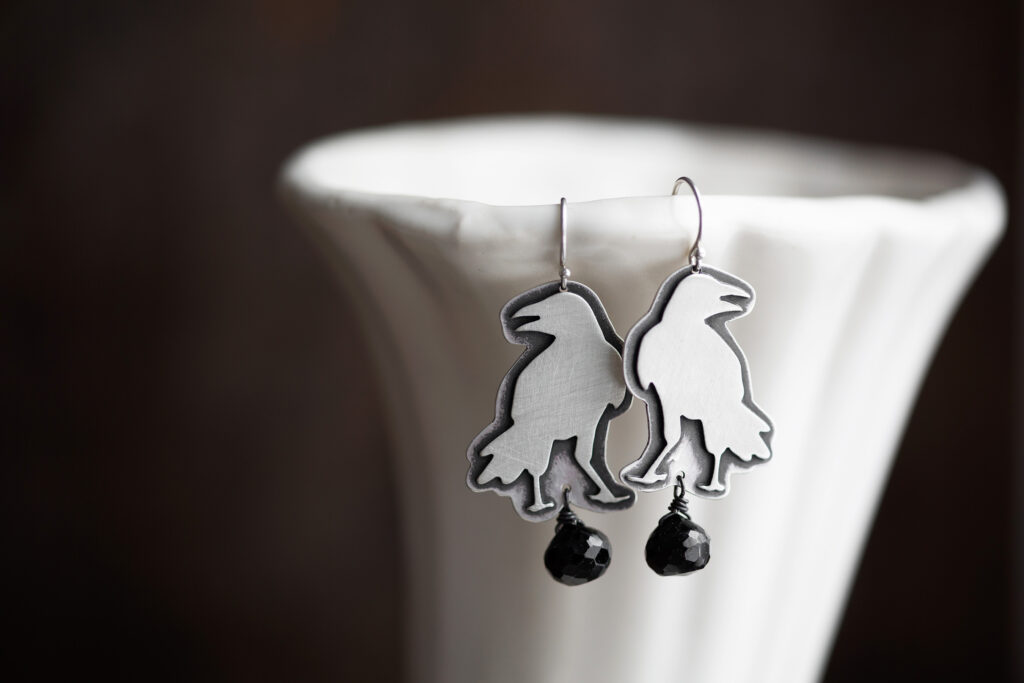 Sweet, little corvids outlined in shadow. And below are spinel briolettes, swinging furtively as though from a midnight branch.
---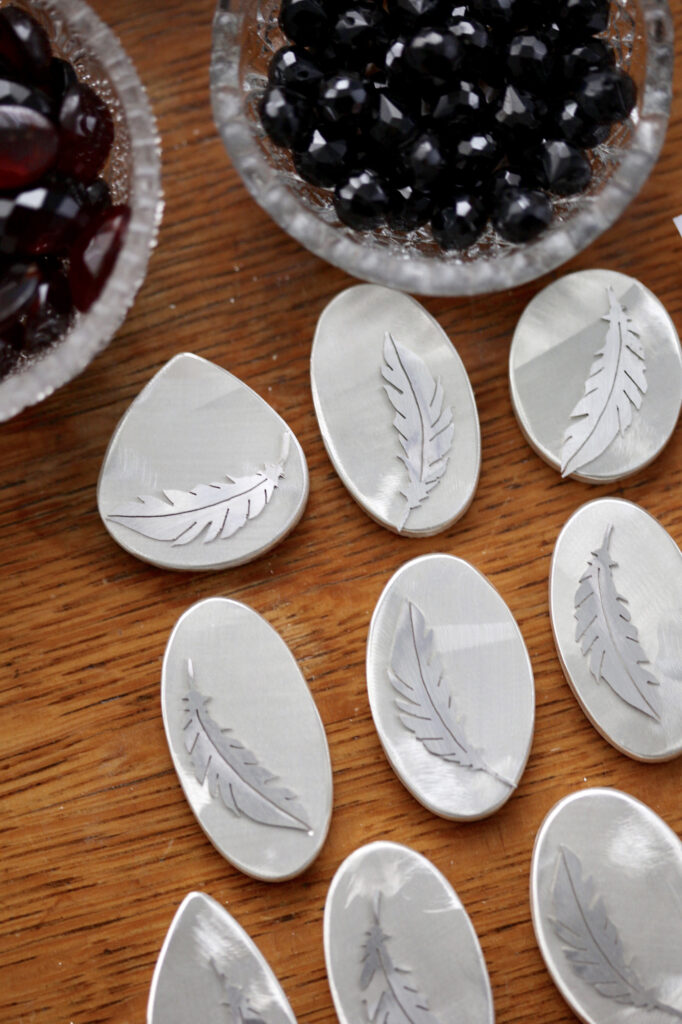 Dust of Snow Necklaces
There will be 10 necklaces available.
Price: $135 per necklace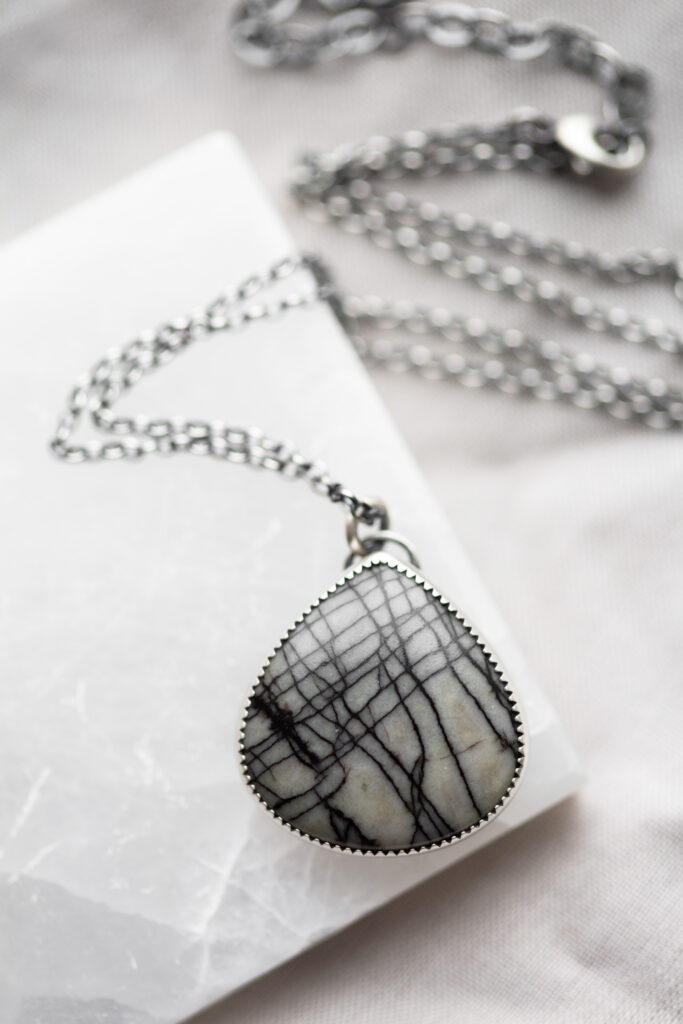 "The way a crow
shook down on me
the dust of snow
from a hemlock tree
Has given my heart
a change of mood
and saved some part
of a day I had rued."
– Robert Frost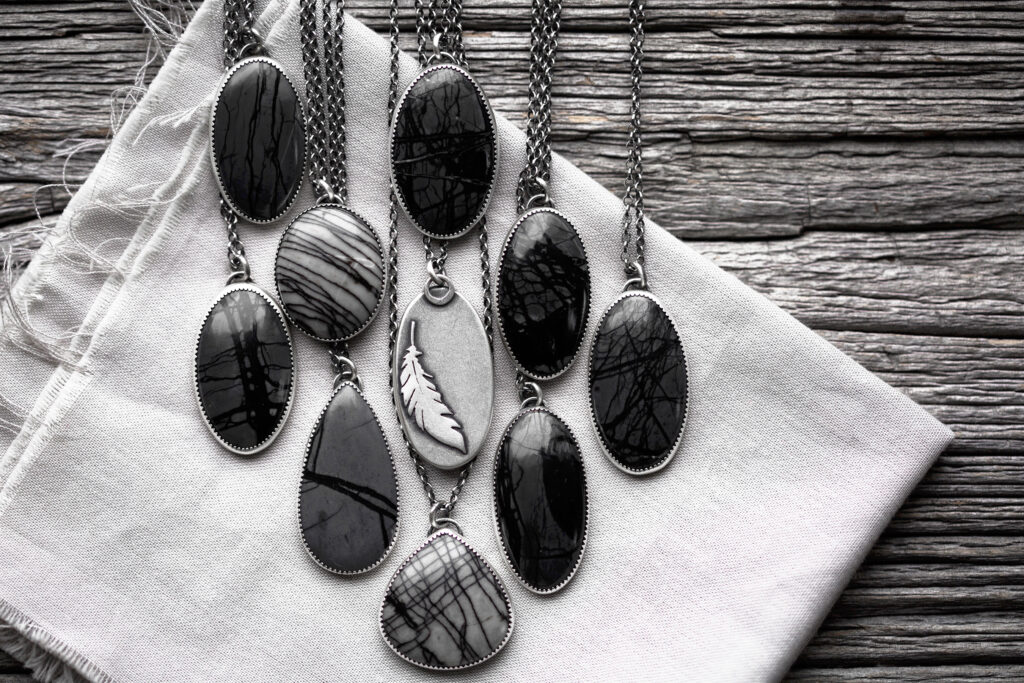 The fronts feature Picasso jasper of various hues, dark branches silhouetted against a gray winter sky.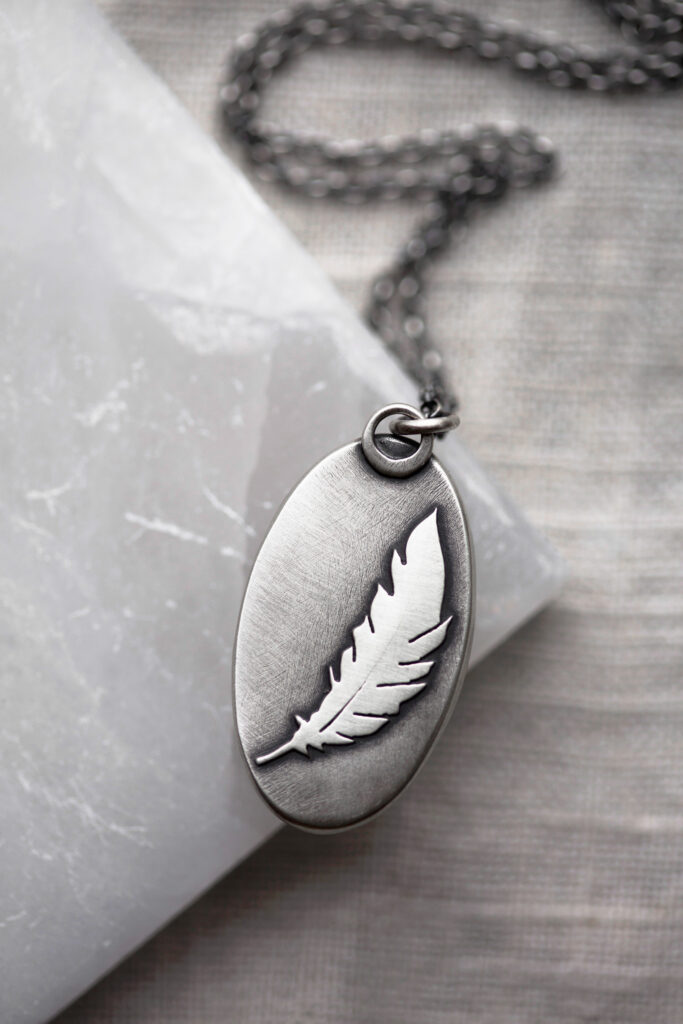 The backs each feature a single feather silhouetted against matte gray silver, cascading through the air as though shaken from a raven perched in a tree.
---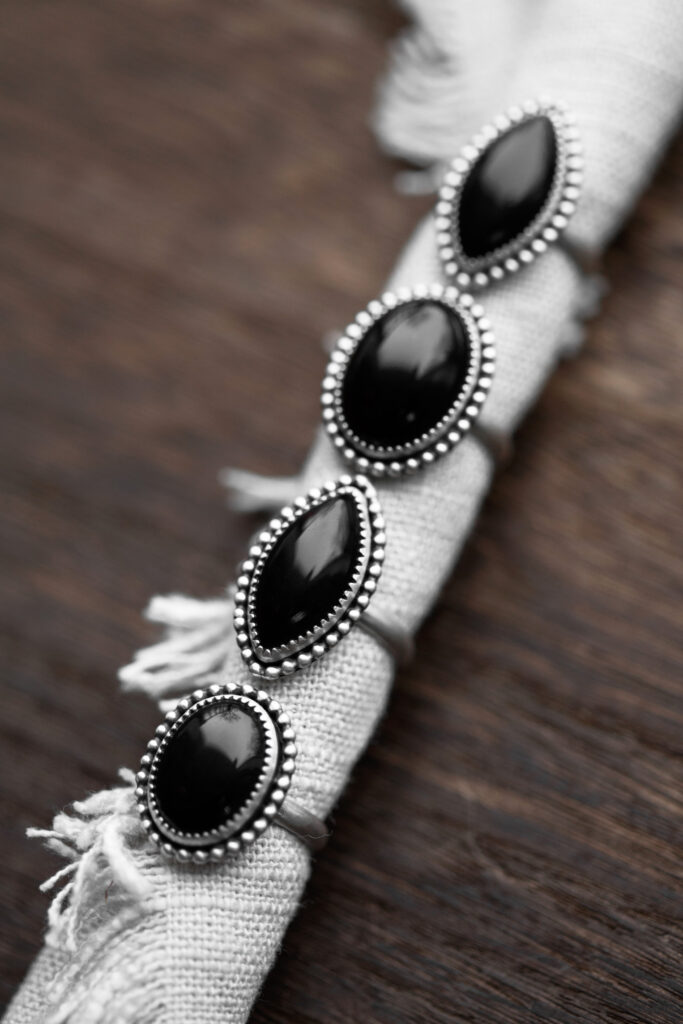 Corvus Rings
There will be 13 rings available.
Price: $85 per ring
Sizes: 5.75, 6, 6.25, 6.75, 6.75, 7, 7, 8, 8, 9, 9.5, 10, 10.5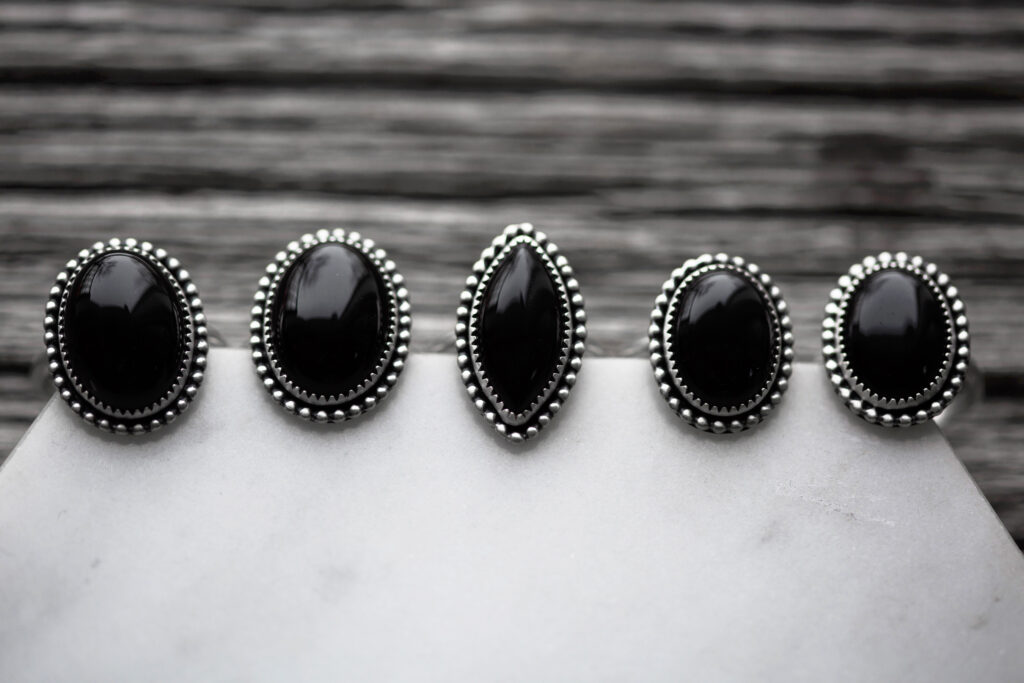 Smooth onyx, sleek black as a raven's wing.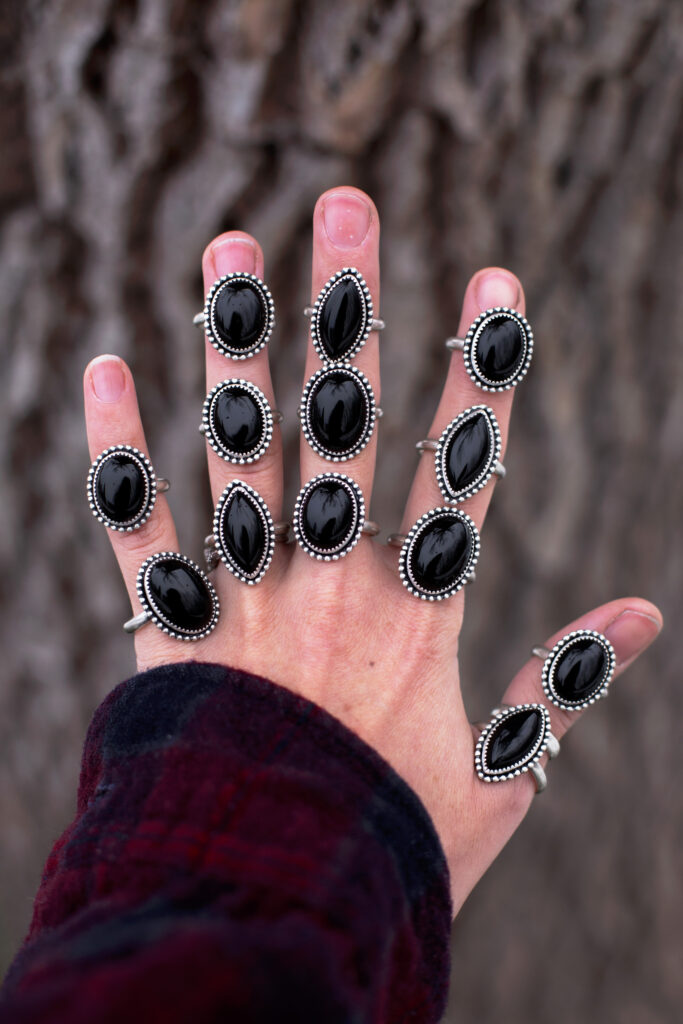 A beaded circlet.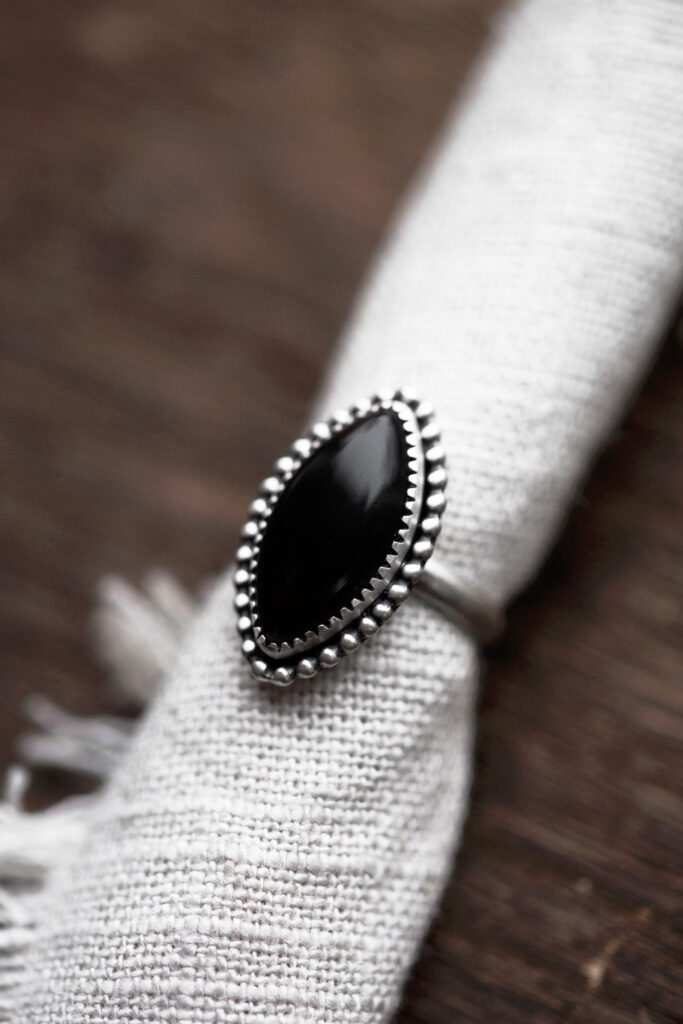 And a toothy serrated bezel holding the gemstone in place.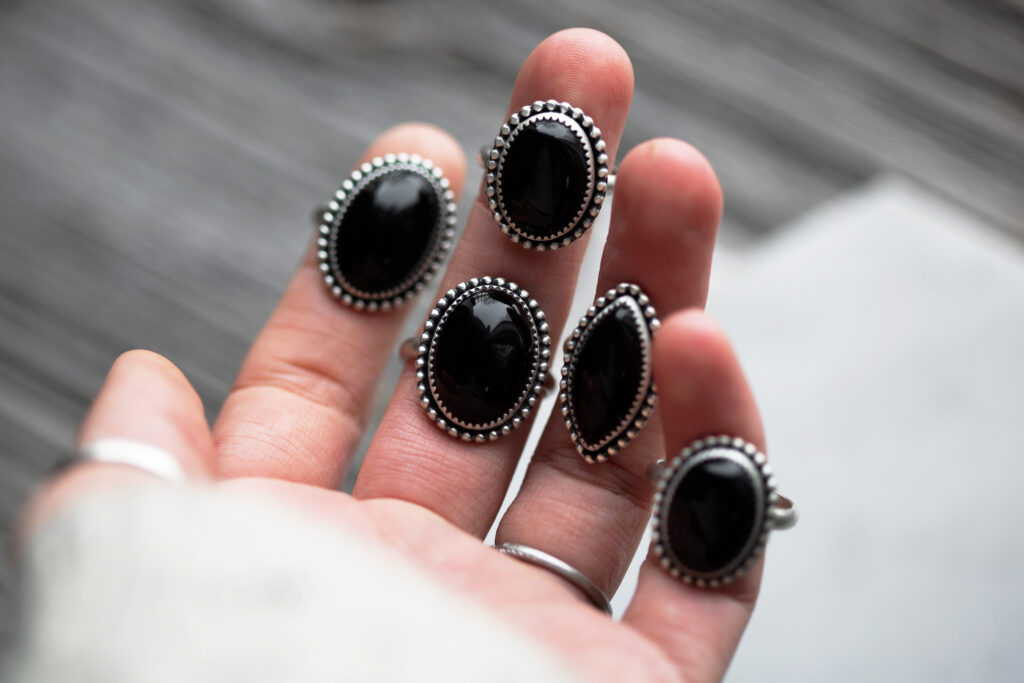 Since these are simple half-round bands, they fit true to size.
---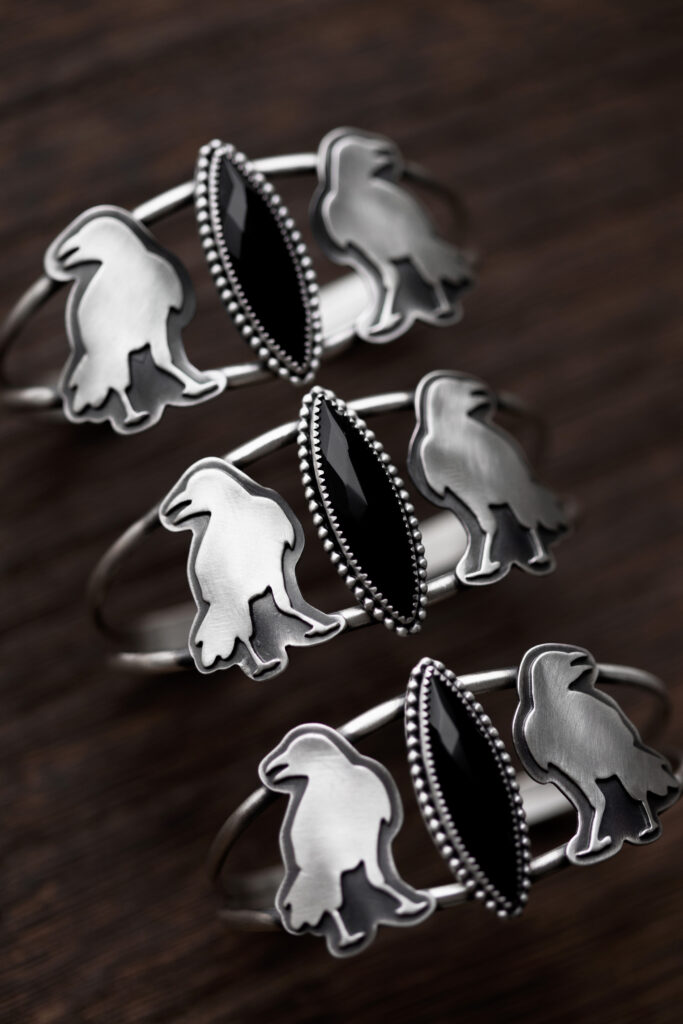 Waiting Raven Cuff Bracelets
There will be 8 cuff bracelets available.
Price: $195 per ring
Sizes: Six S/M (5.75″) Bracelets; Two M/L (6.75″) Bracelets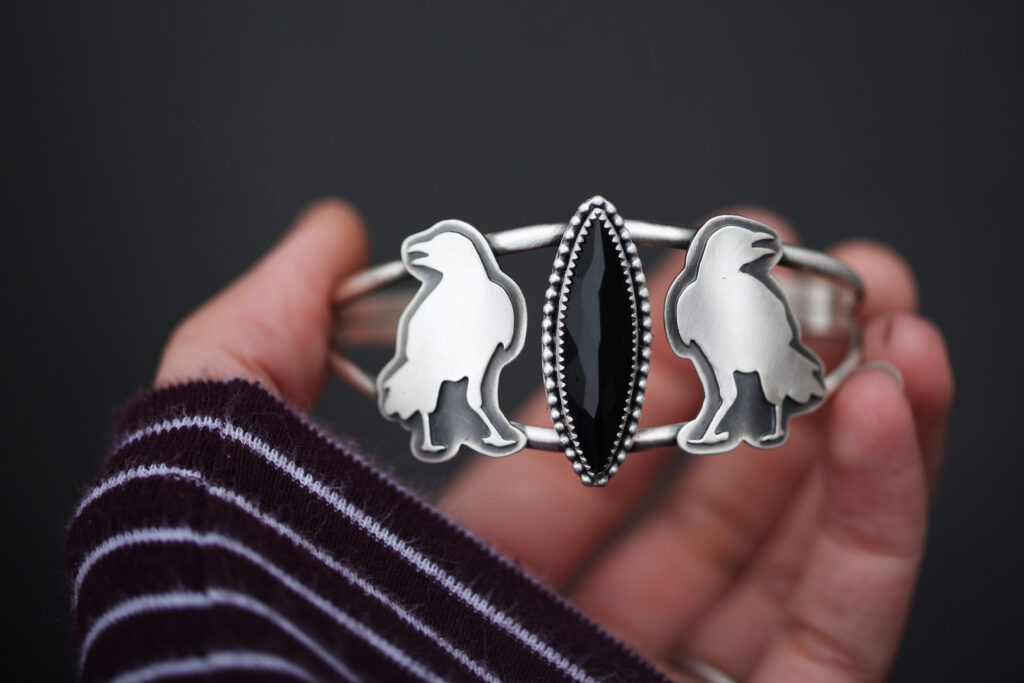 Faceted onyx marquise focals. Beaded accents. And two ravens waiting patiently one either side.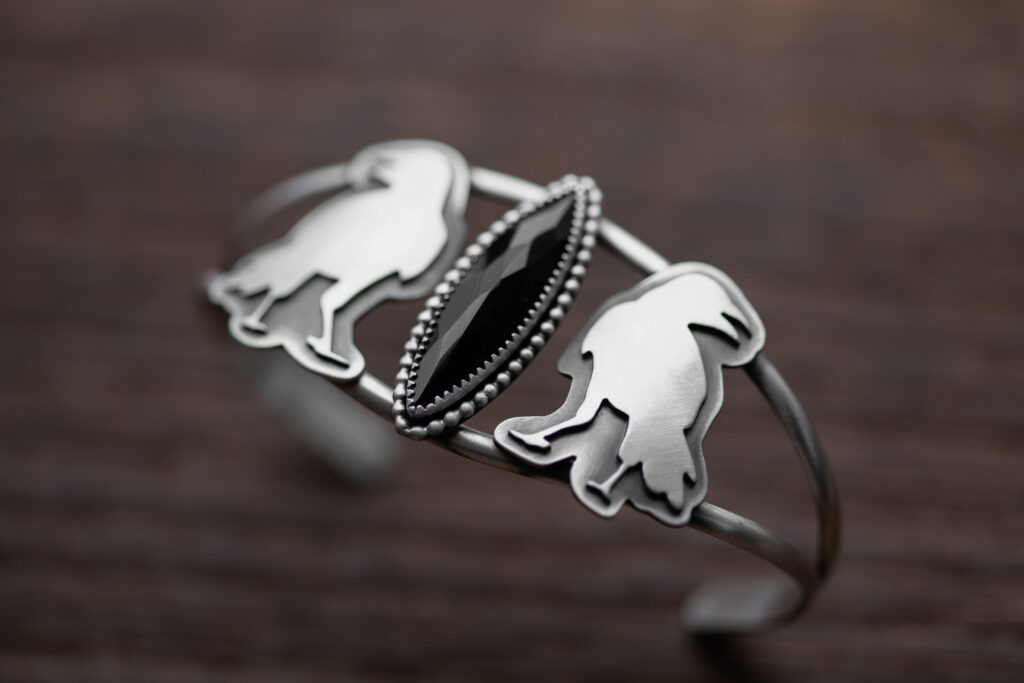 The small/medium bracelets measure about 5.75″ (+ a 1″ gap) and the medium/large bracelets measure about 6.75″ (+ a 1″ gap). They are easily adjustable.
---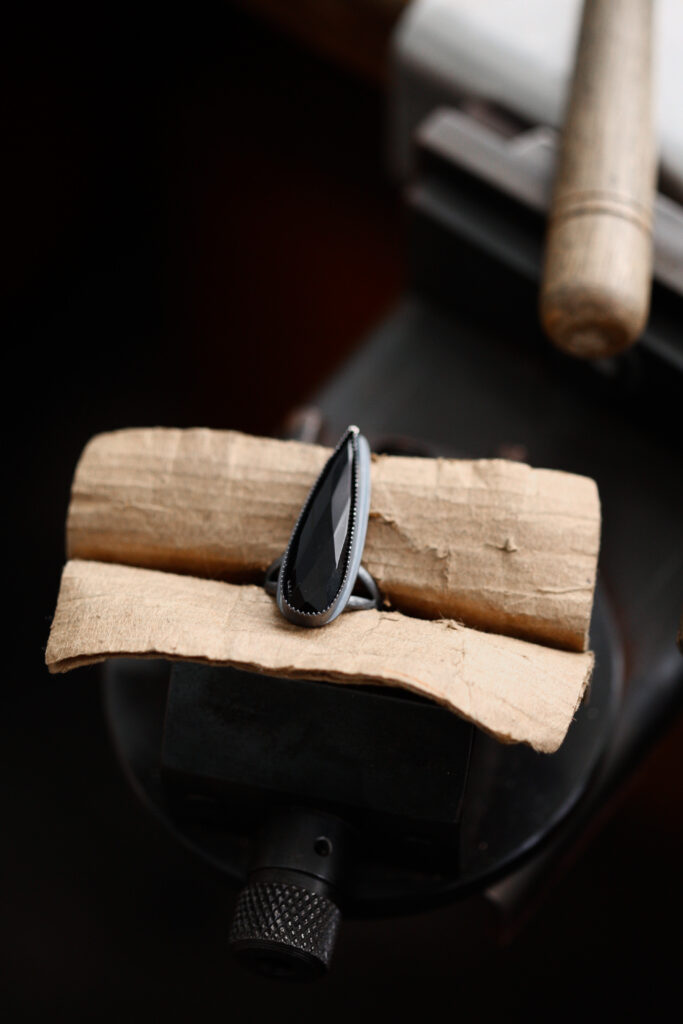 Talon Rings
There will be 18 rings available.
Price: $125 per ring
Sizes: 5.5, 6, 6.25, 6.5, 7, 7, 7.25, 7.5,
7.5, 7.5, 7.75, 8, 8.25, 8.75, 9.25, 9.5, 9.75,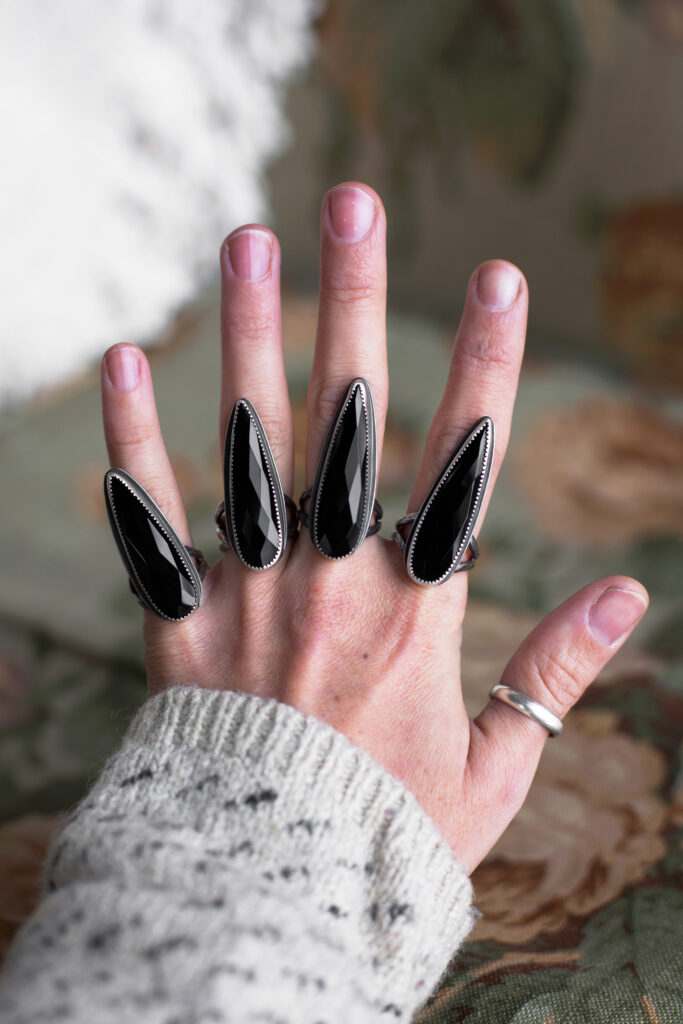 It has finally happened. I spent so much time with the crows and ravens, I've grown great, black talons of my own. Although mine are made of onyx it seems.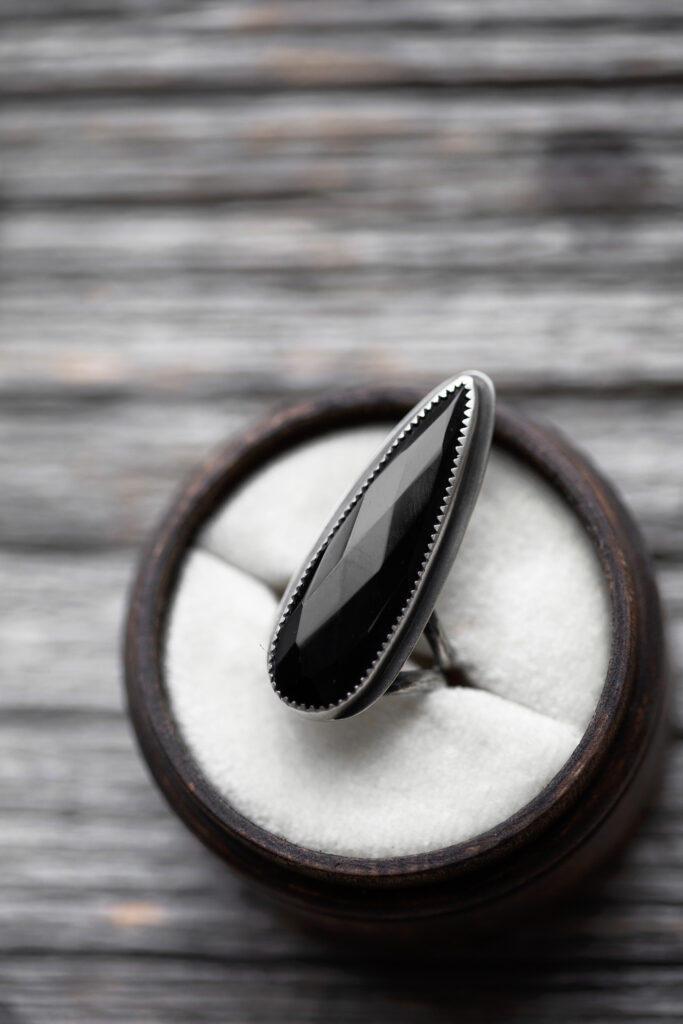 Midnight black onyx gemstone, serrated bezel, subtle rim around the top, and split double half-round bands with a branchy hammered texture.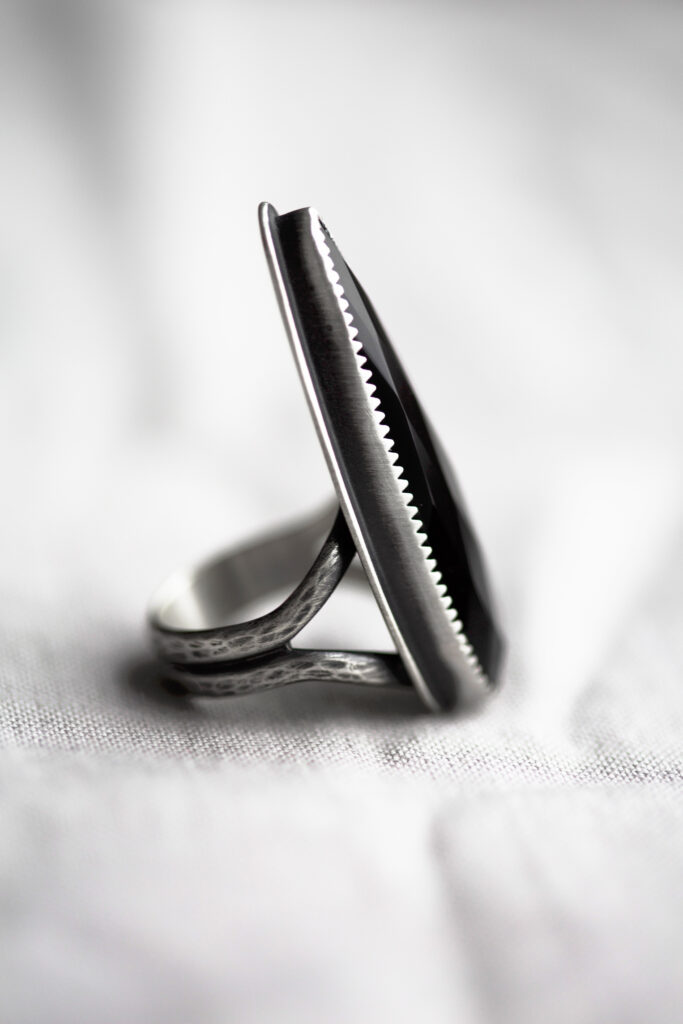 A ring fit for the queen of crows.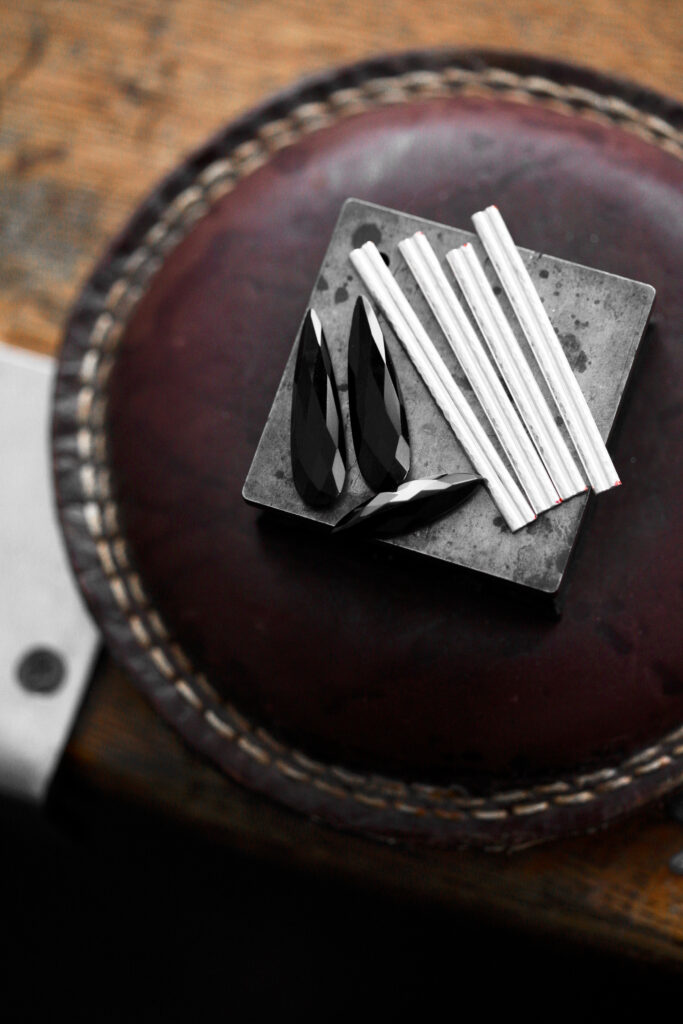 This fits a smidge snug because of the split band I wear my true size with this band, but I know others prefer about 1/4 bigger for breathing room.
---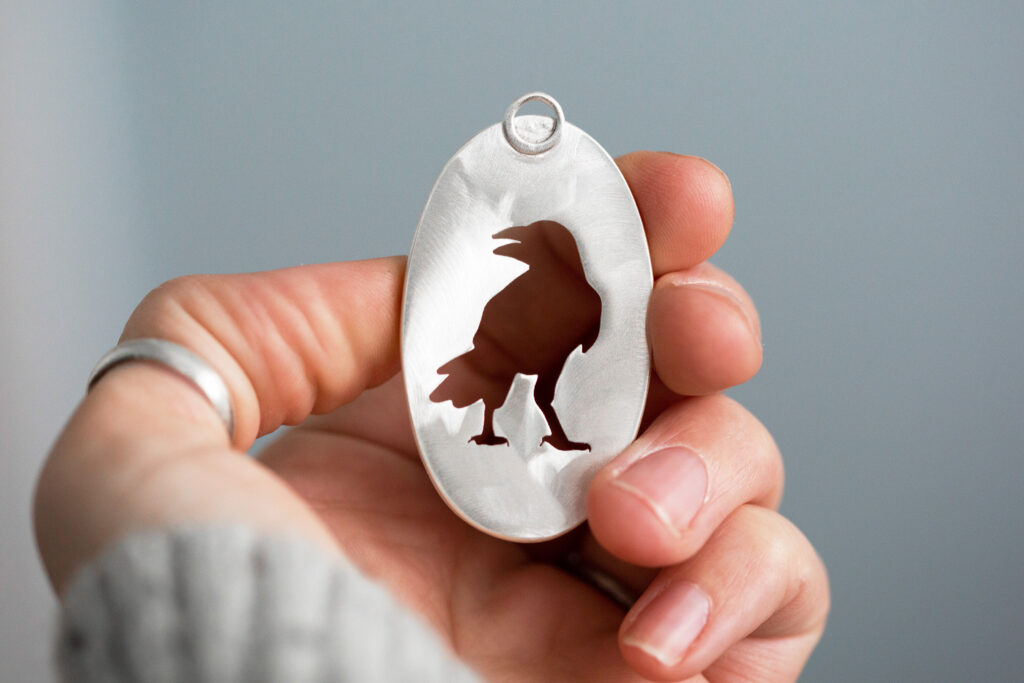 Waiting Raven Necklace
There will be 59 necklaces to choose from.
Prices range from $135 – $165 depending on size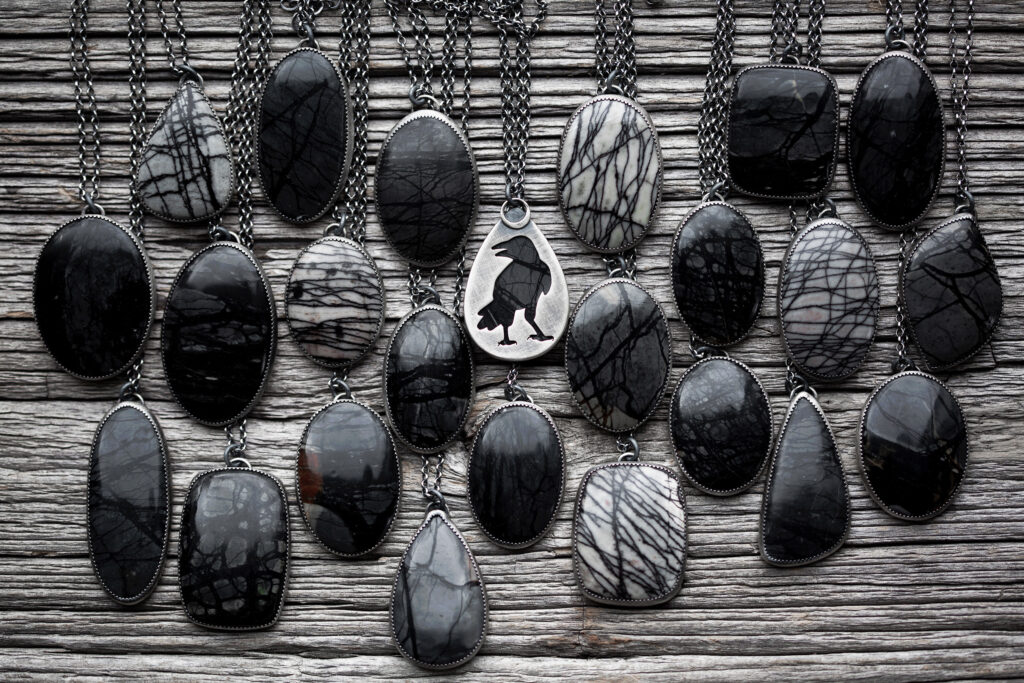 And of course, the very first Raven design I ever made, the Waiting Raven Necklace.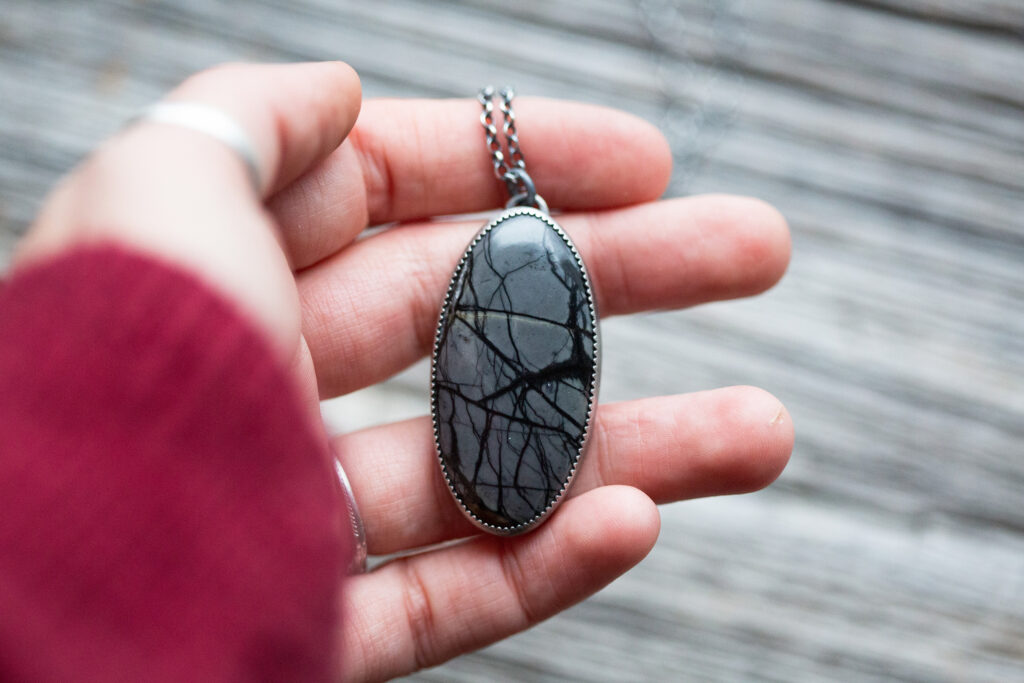 I tried to make so many, not just because I won't be revisiting the ravens for a while, but also because it wont be available for custom requests during the presold collection.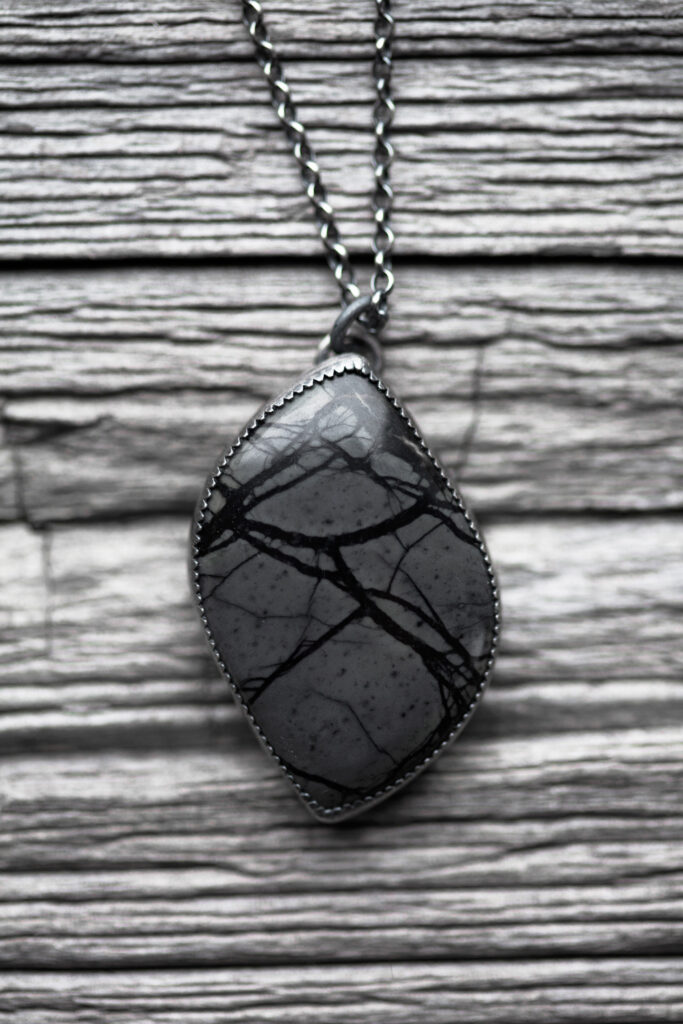 So I hope that if you've had your heart set on one, you catch the perfect little raven as they soar by!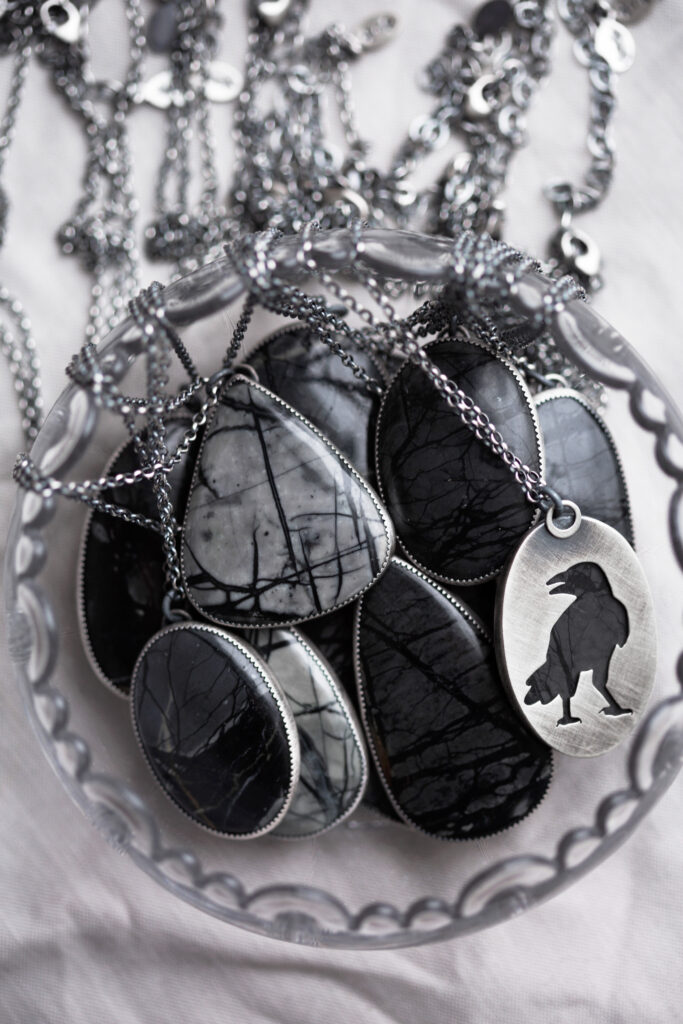 To make it easier to to quickly choose the right necklace, I split all the necklaces up into the following size ranges, measuring from top to bottom of the pendant, not included the loop.
Small – 25-35mm
Medium – 35-45mm
Large – 45-55mm
Extra Large – 55mm+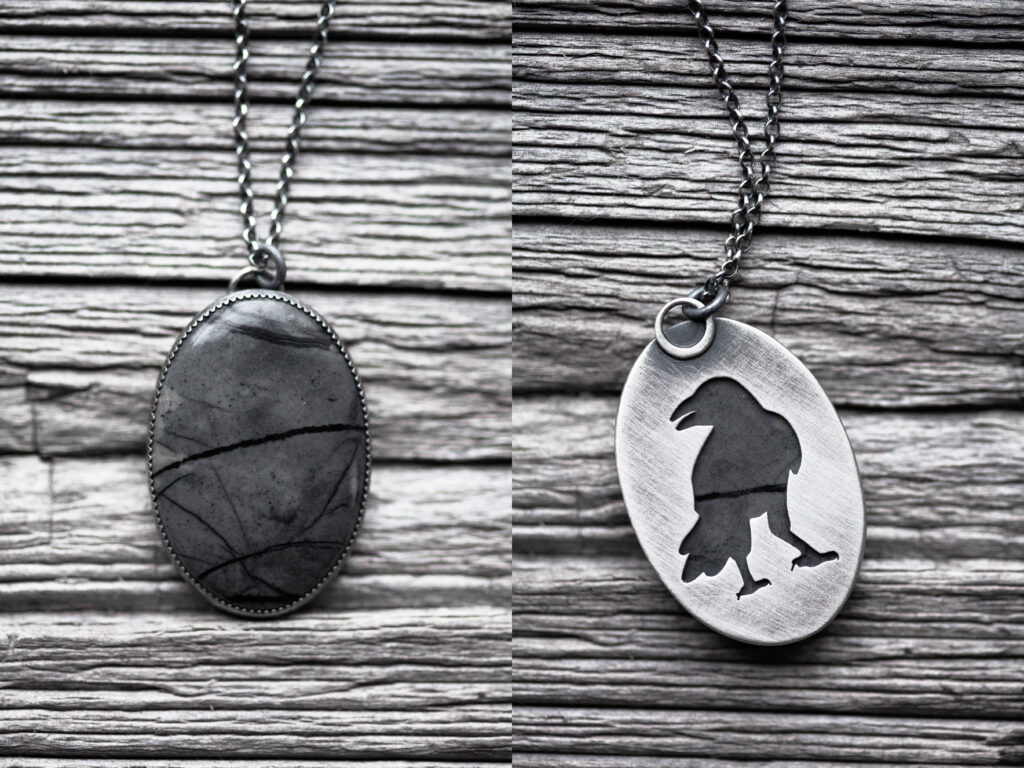 Since this is the last of these designs for quite a while, I used up the very last of my store of these stones. Every darkly laced jasper I could find in my gemstone cabinet, or have cut since last year, will be included in this offering.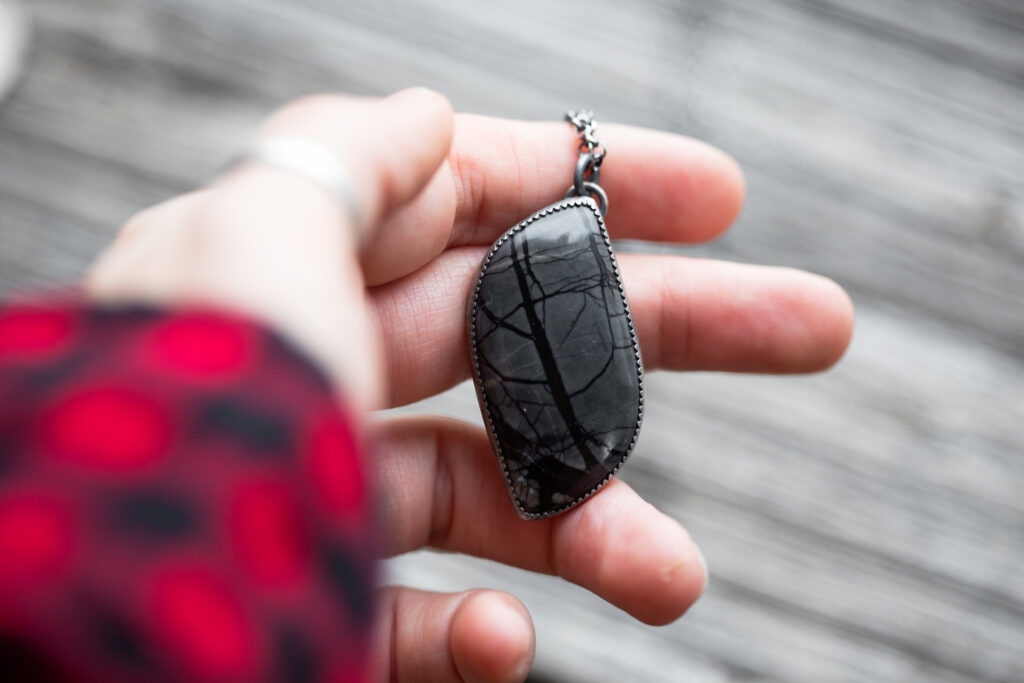 I am certainly going to miss having these sweet little fellows rustling around on my bench, but I know they will make wonderful companions for you, if perhaps a little cheeky.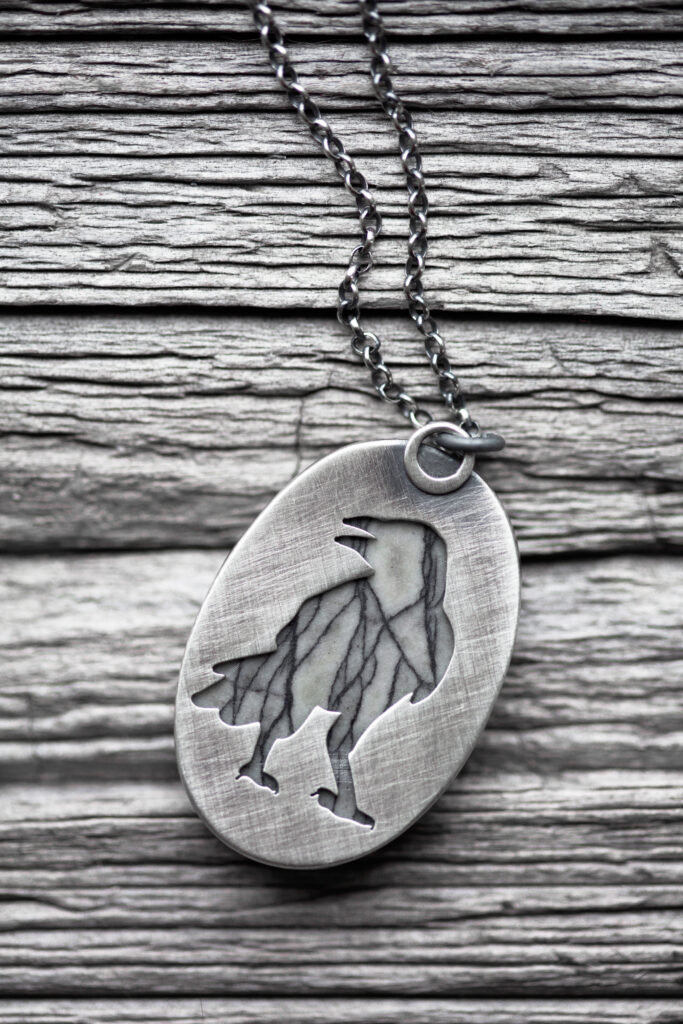 ---
And that's everything that will be included in this final Waiting Ravens Collection!
Waiting Raven Collection Release: Sunday, January 9th at 7PM EST in the Etsy shop