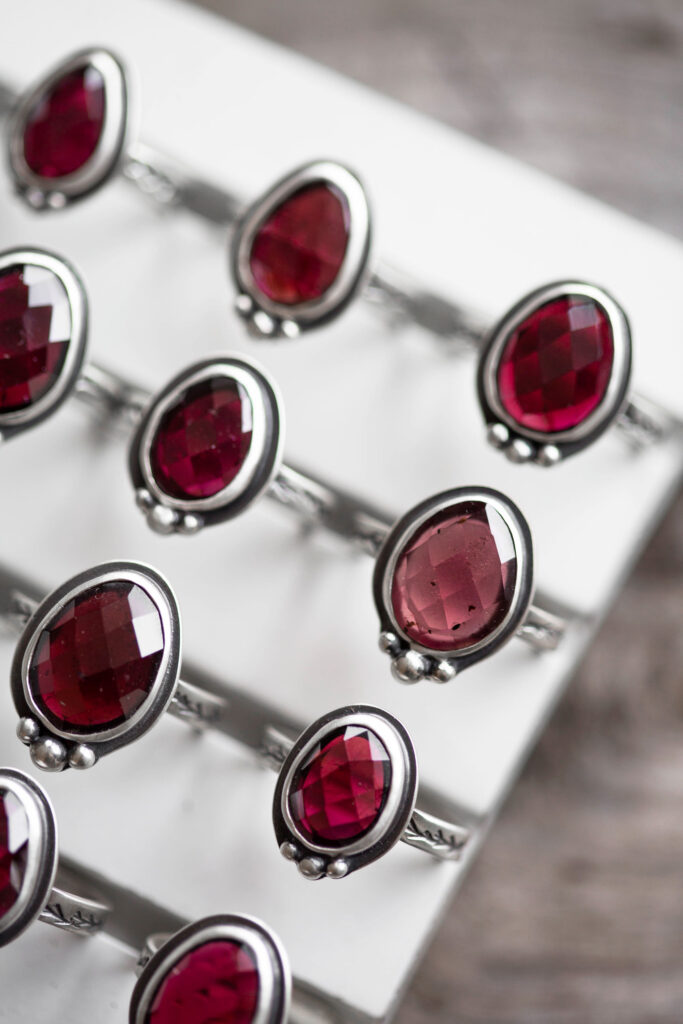 Winter Berry Tea Rings
* There will be (48) rings available.
* US Ring Sizes: 4.5, 4.75, 4.75, 5.25, 5.5, 5.75, 5.75,
6, 6, 6, 6, 6.5, 7, 7, 7, 7, 7.25, 7.5, 7.5, 7.5, 7.5,
7.75, 7.75, 7.75, 8.25, 8.25, 8.25, 8.25, 8.5, 8.5, 8.5,
8.5, 8.5, 8.75, 9, 9.25, 9.25, 9.75, 9.75, 10.5, 11.5
* 3mm wide band, so they fit true to size.
* All sizes are as read on the mandrel.
* Price: $108 per ring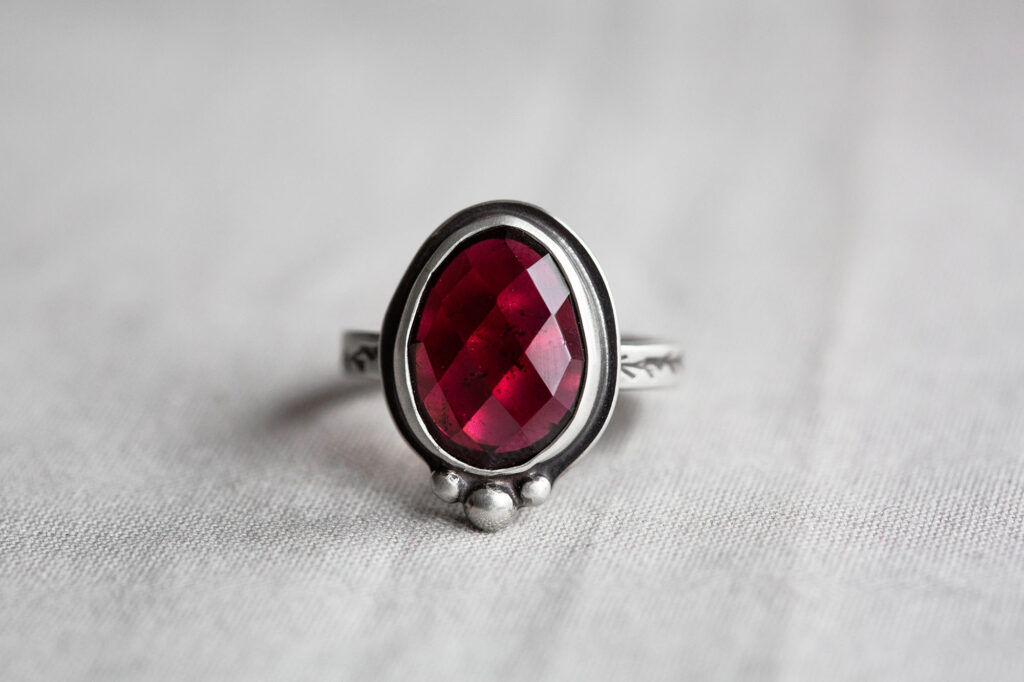 Garnet is the perfect stone for January.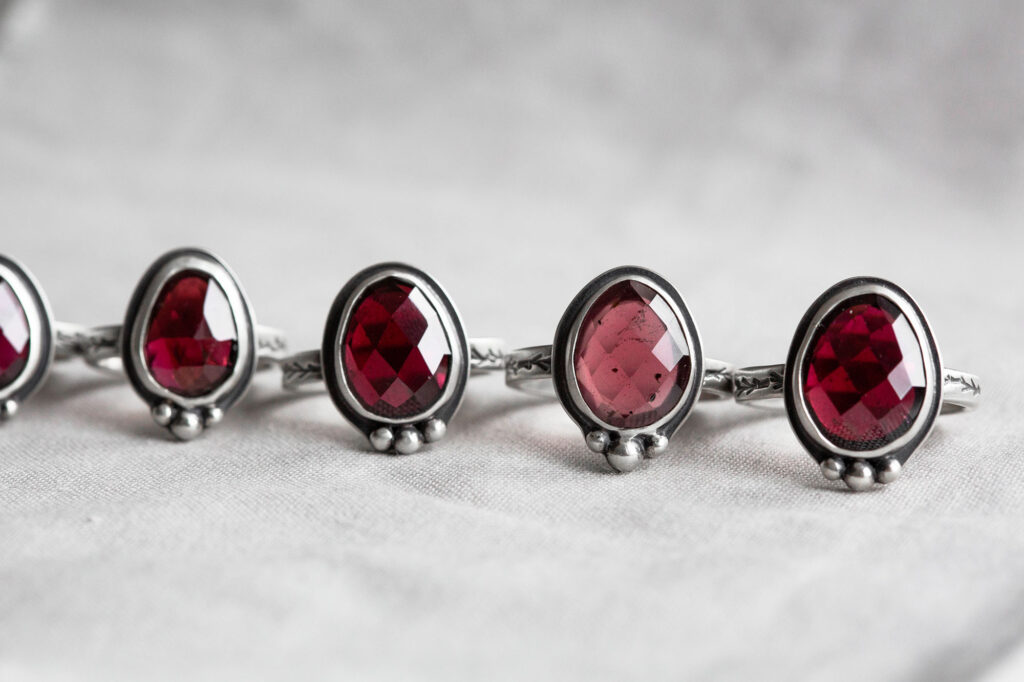 Like this dusky, restrained month, rhodolite garnet is often quite dark. That is especially so in a low-dome cut, such as in this batch of gemstones. The color is rich, but furtive.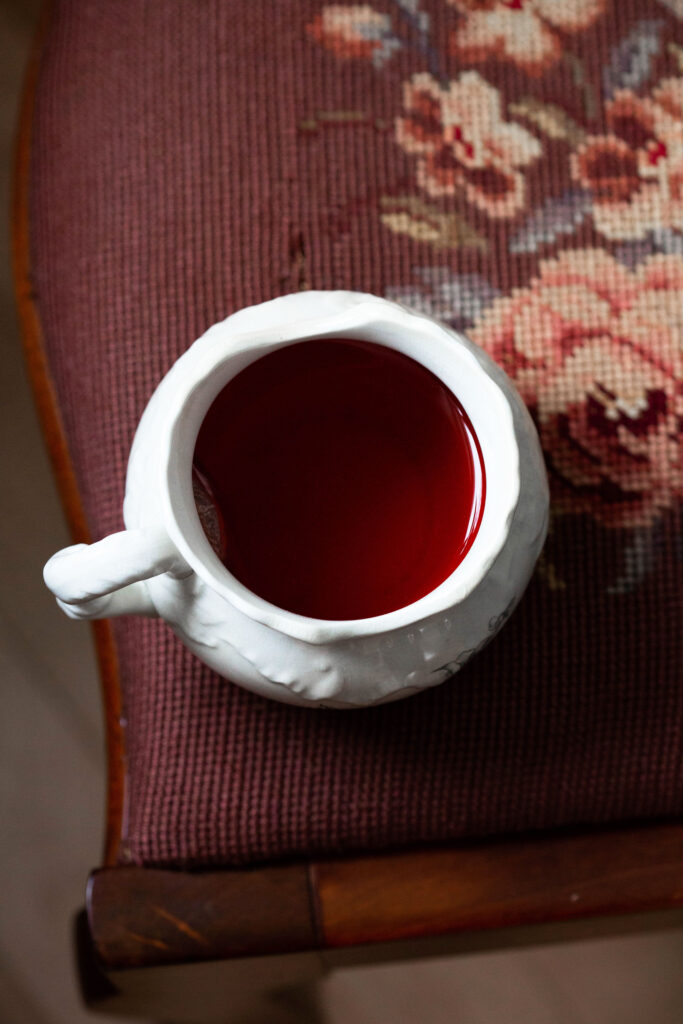 When encased in silver, rhodolite garnet darkens to a deeply shadowed purplish red.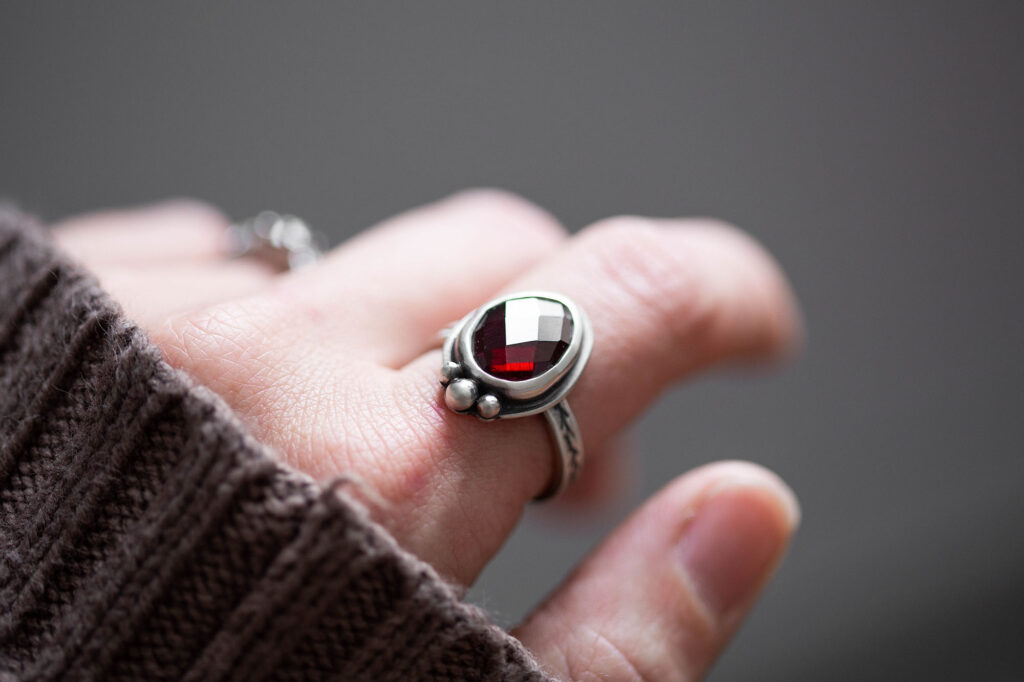 But then, like those shining, bluebird days that we sometimes catch during January, the right conditions give the most saturated colors, light reflecting and refracting off every facet.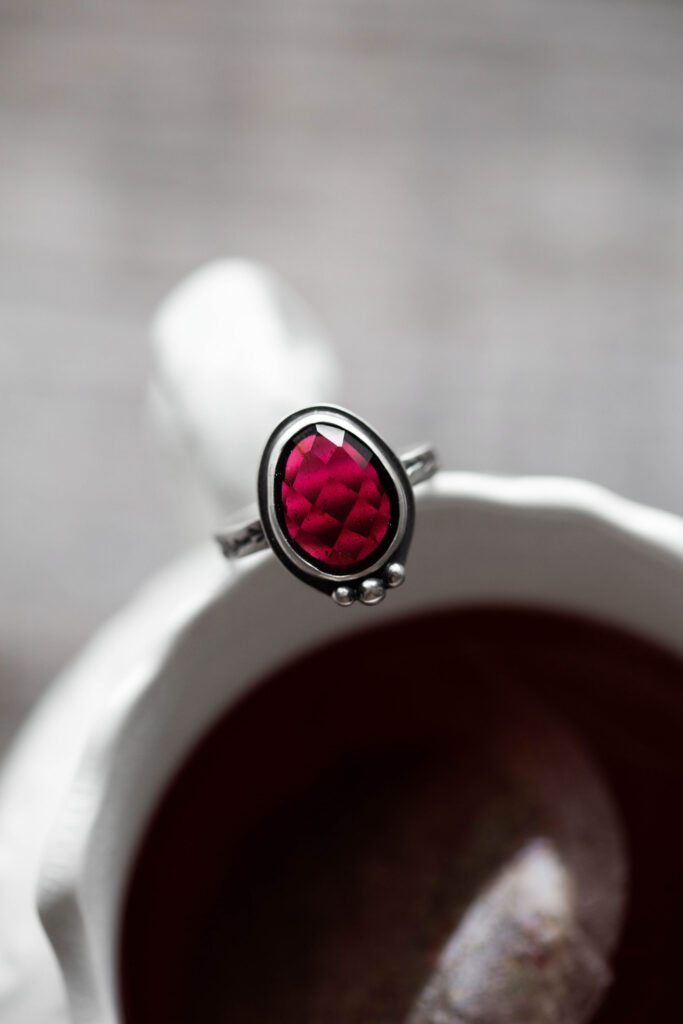 When you wear these rings, they will be dark with flashes of berry red in the right light. On the hand, they look like dusky cups of the strongest pomegranate tea you can imagine.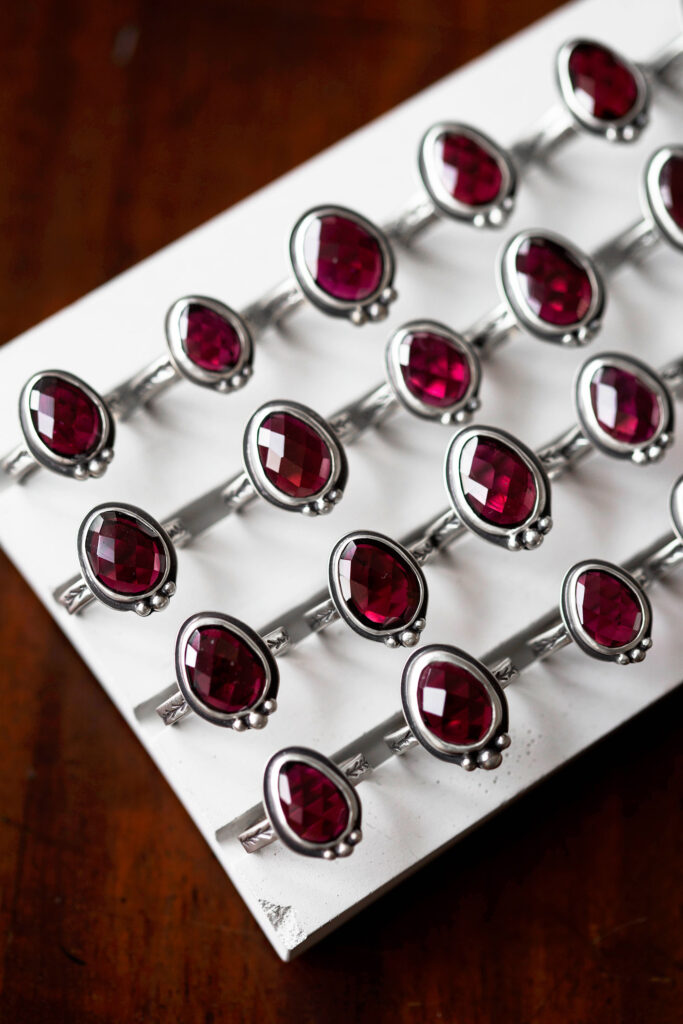 But since I have sawn out the backs, the promise of light and color is there for you.
If it be a dark day and you need the bright comfort of a cup of tea, you can take your ring off, hold it to the light, and let it sing the warmest song you've ever heard.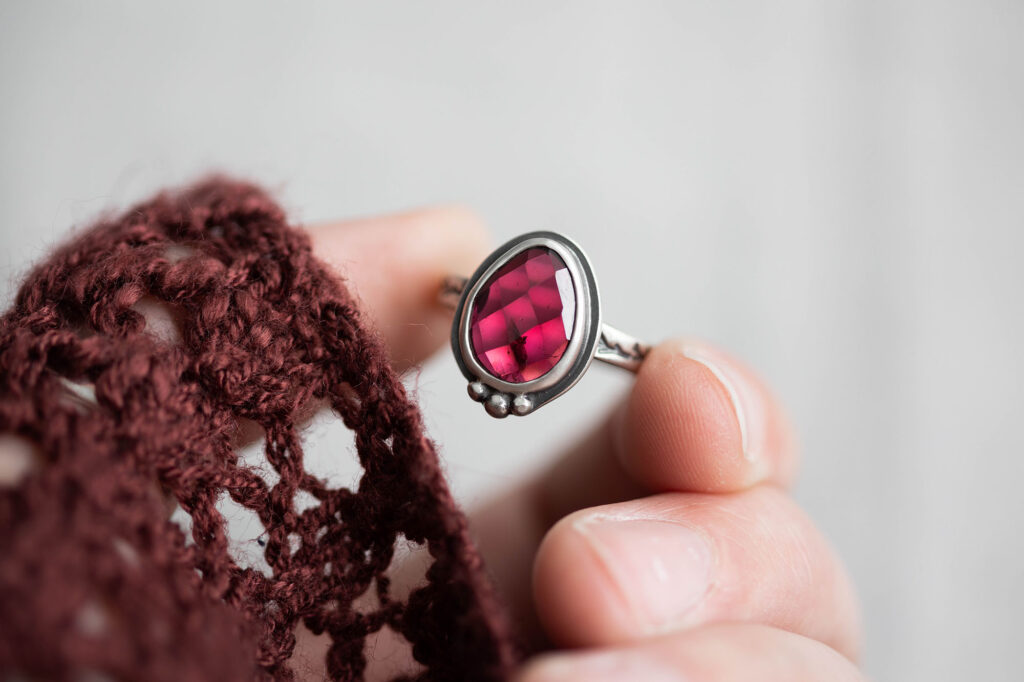 Whoever chose garnet as a birthstone for January, I see what you did there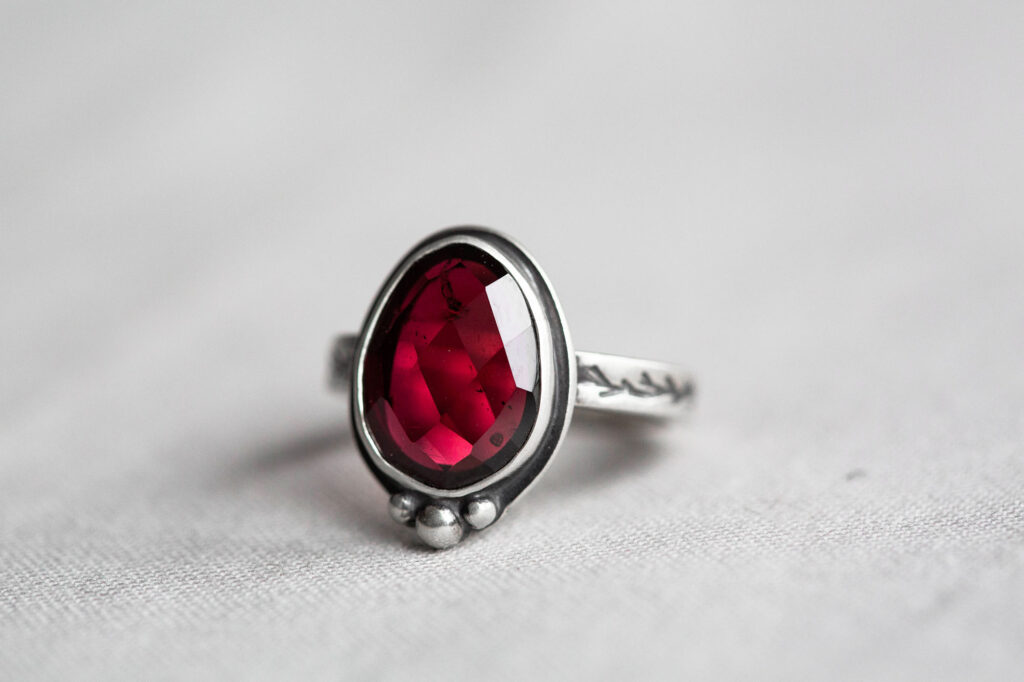 And so, these rings! They feature dark, brewing rhodolite garnet faceted to catch and hold the light.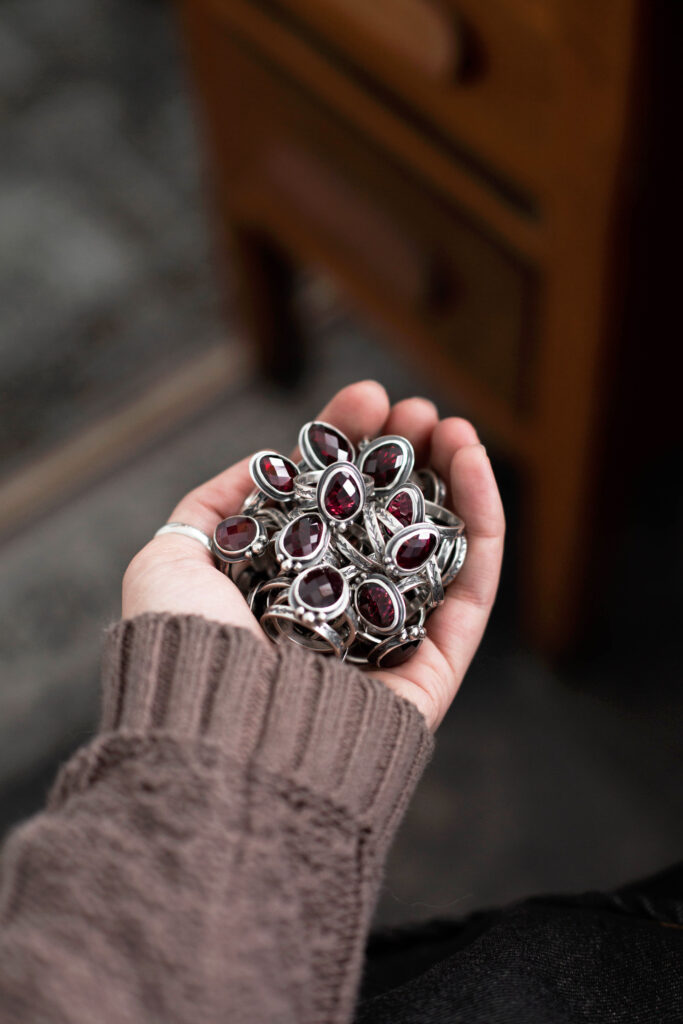 I have sawn out the backs of the rings so that when you take the ring off and hold them up to the light, they positively sing.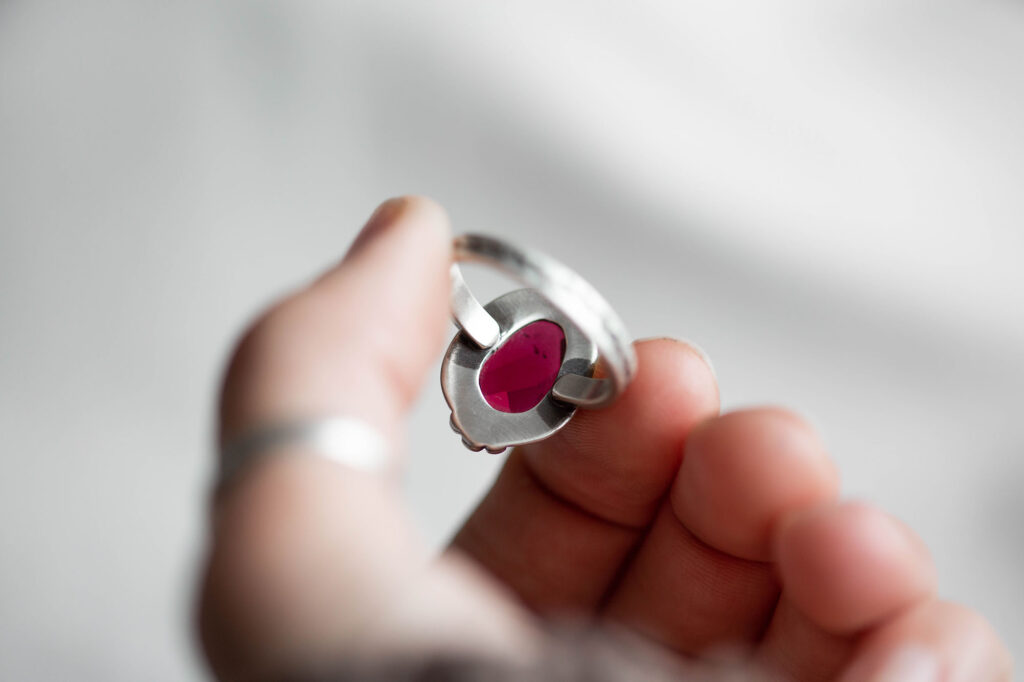 Below the gemstones are a few forged sterling silver rounds, like a cluster of winter berries clinging to the shadows.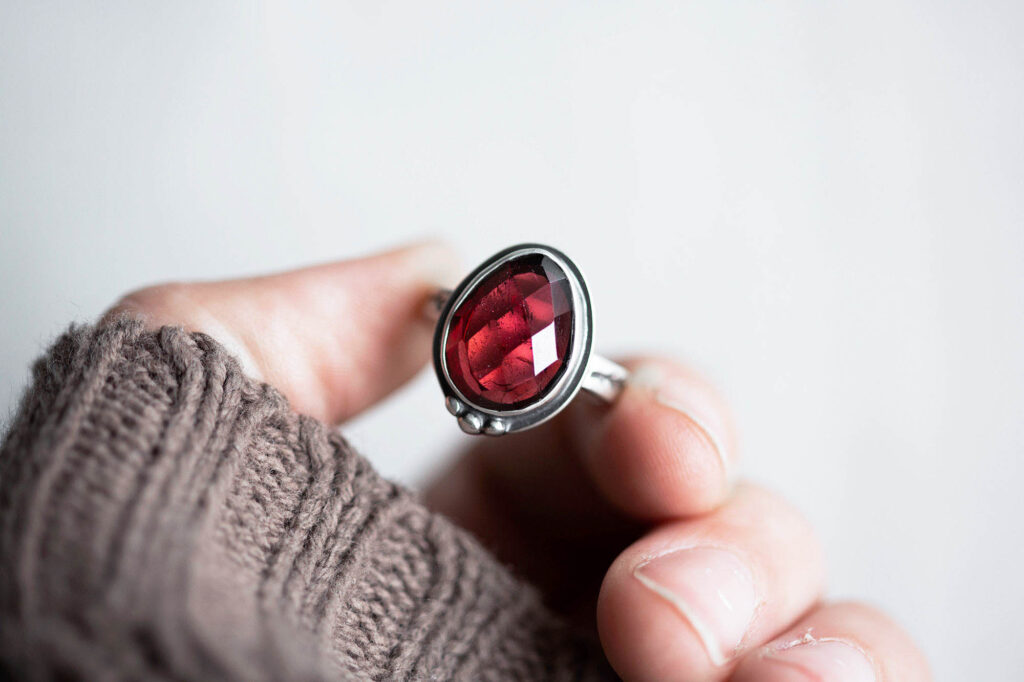 Around the bands are twining sprigs, like trails of tea leaves.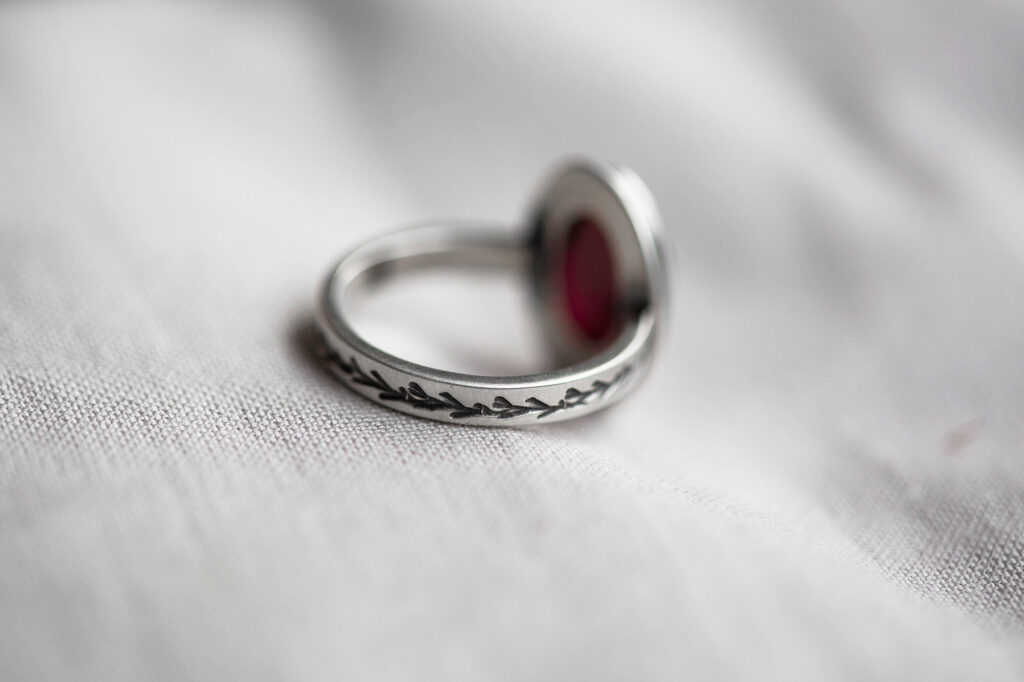 I like to imagine that each of these is a cup of tea I have made for you cozy souls. You would tell me whether you prefer yours sugared or no, and I would ask what novels you've been reading lately.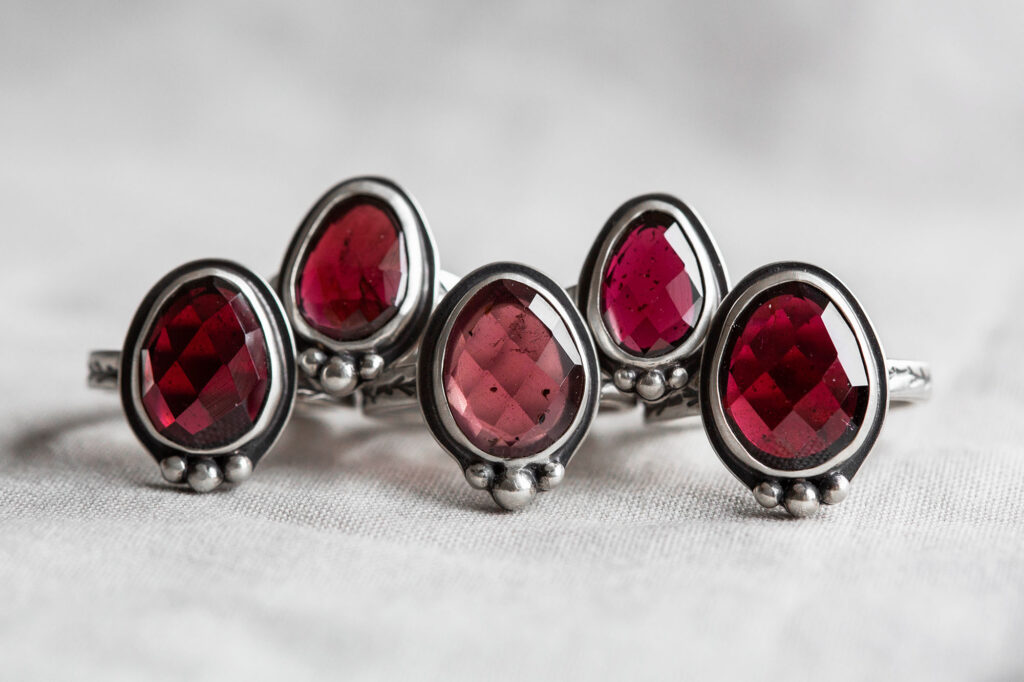 We would drink our berry tea before it got cold while we watched the gannets meander down the river.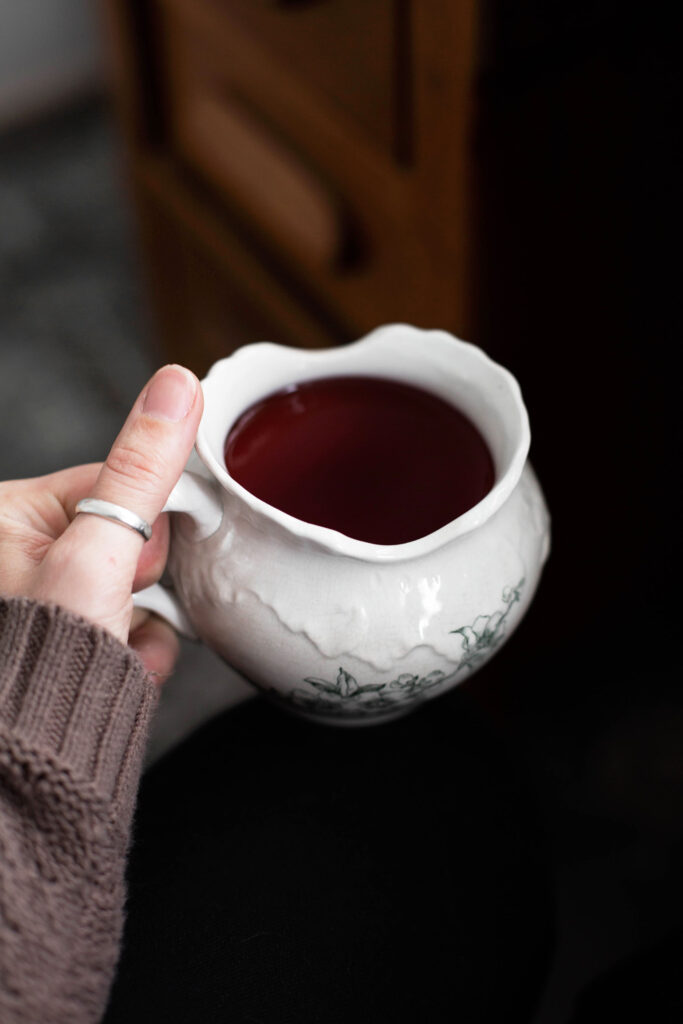 And I would also be watching the sky for snow.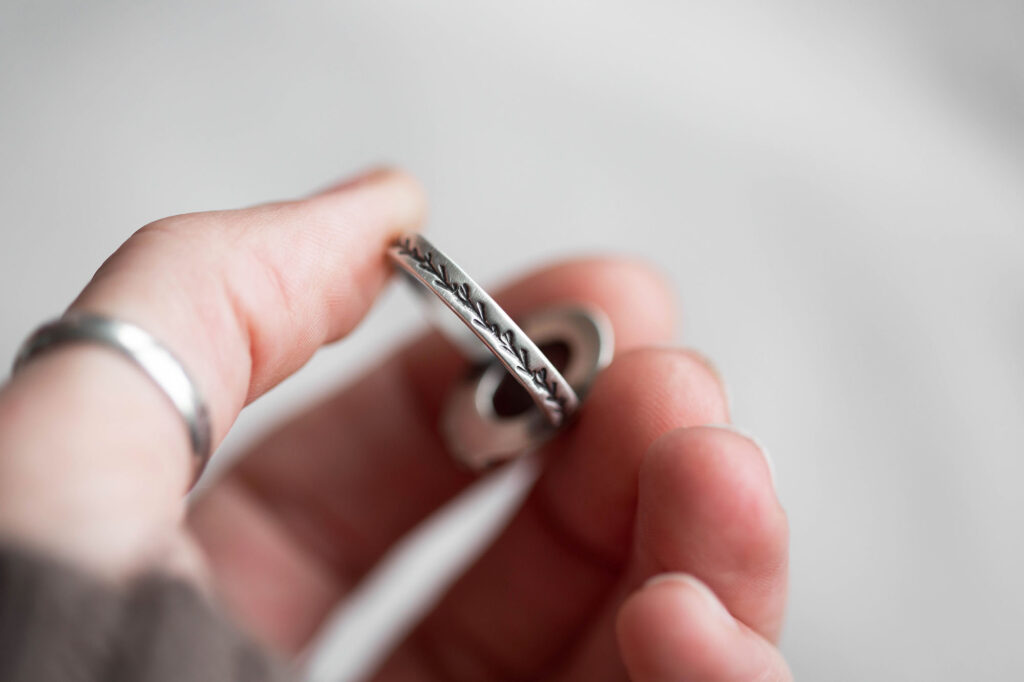 I was hoping to have these rings release in a Shopify shop, but it is taking me longer to set up than I anticipated.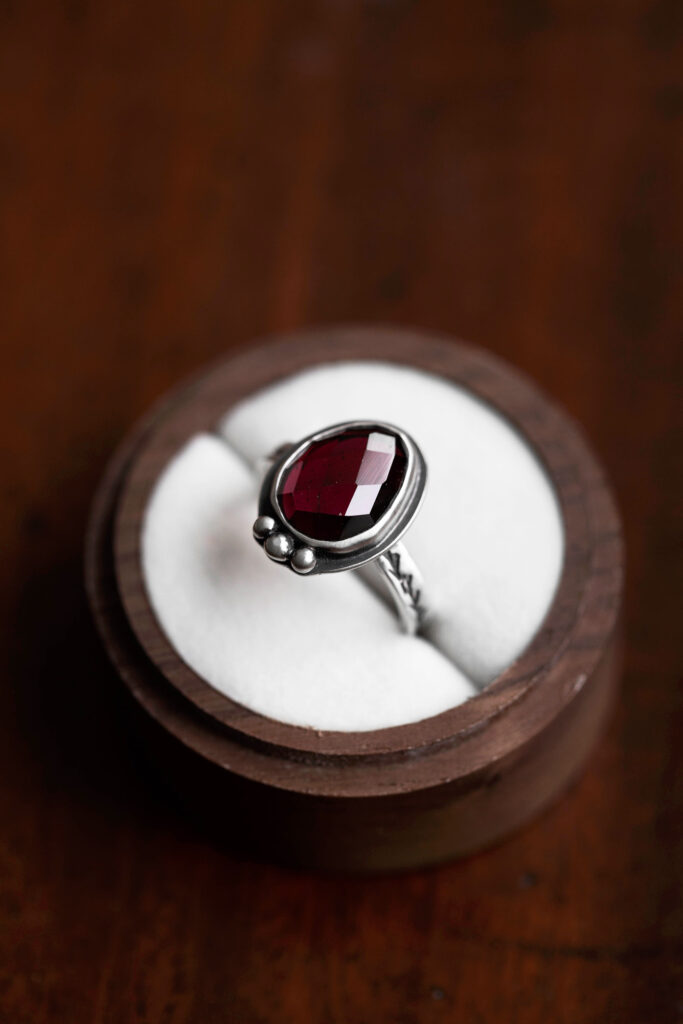 It is in the works though. I think I will still use Etsy for my really big releases (Mossflower is coming back this year!!), but we shall see.
Also! I have had a few comments and messages asking if I will still be revisiting the garnet design from last year, and the answer is yes!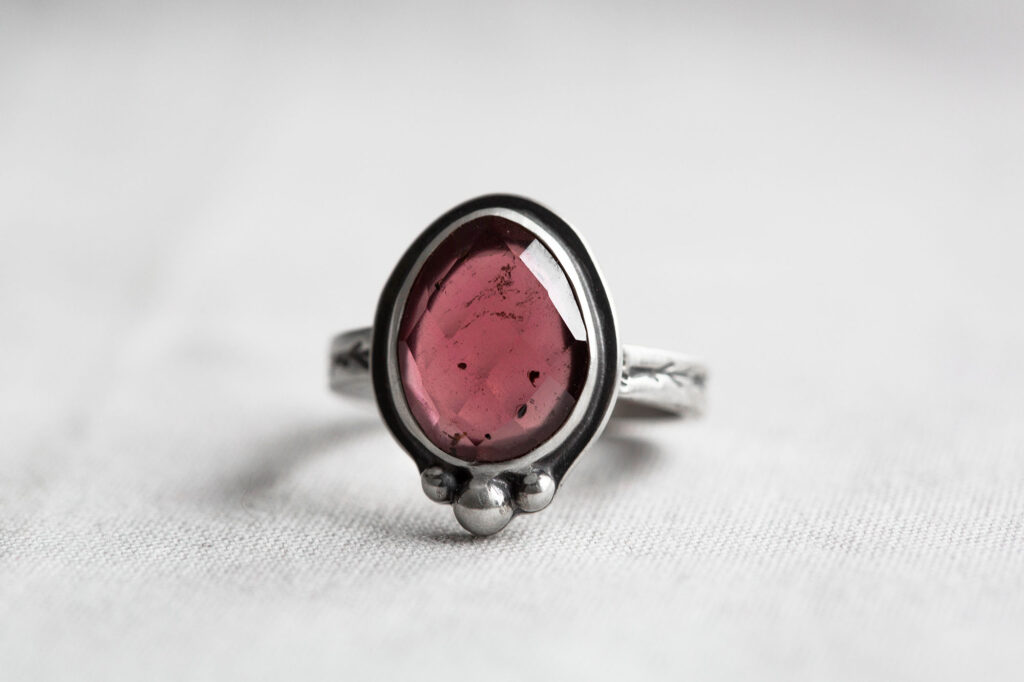 These rhodolite garnets, which are cooler and pinker in hue, will be in a batch of a few dozen rings releasing this Sunday.
The hessonite garnets, which are warmer and more orangey in hue, and will be in a smooth cut, will be coming next month! (Scroll back on my Instagram to last year if you'd like to take a peek at what those pieces will look like.)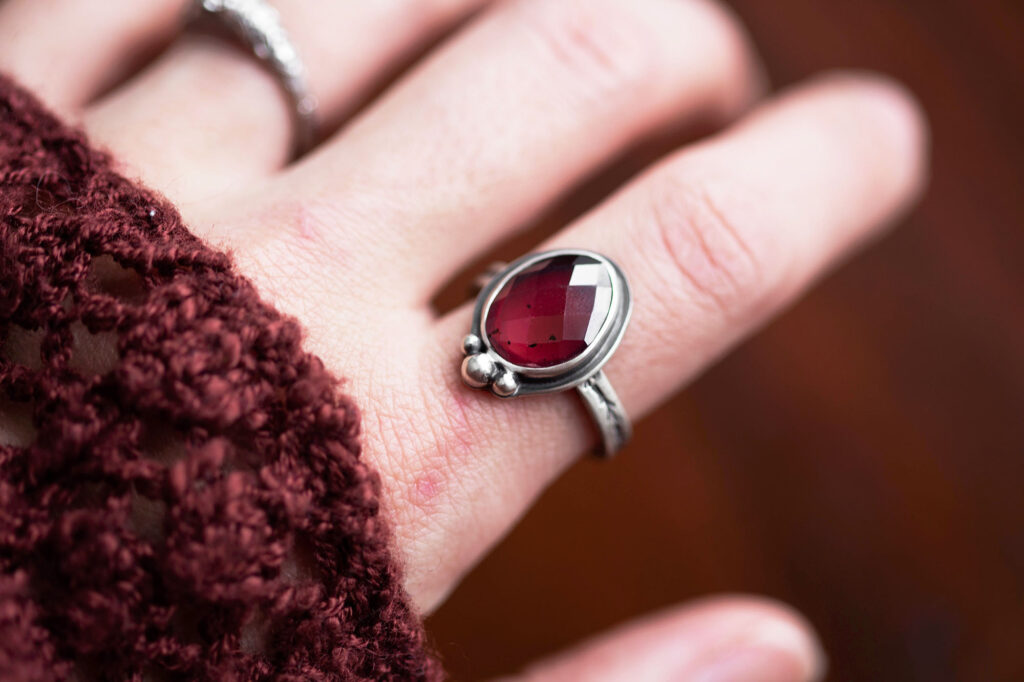 And that's everything!

The Winter Berry Tea Rings will alight in the Etsy shop at 7pm EST on Sunday, January 22nd. Click here for a direct link to the section they will appear in.

And remember, refresh your page often once the clock strikes 7:00, until they all appear!