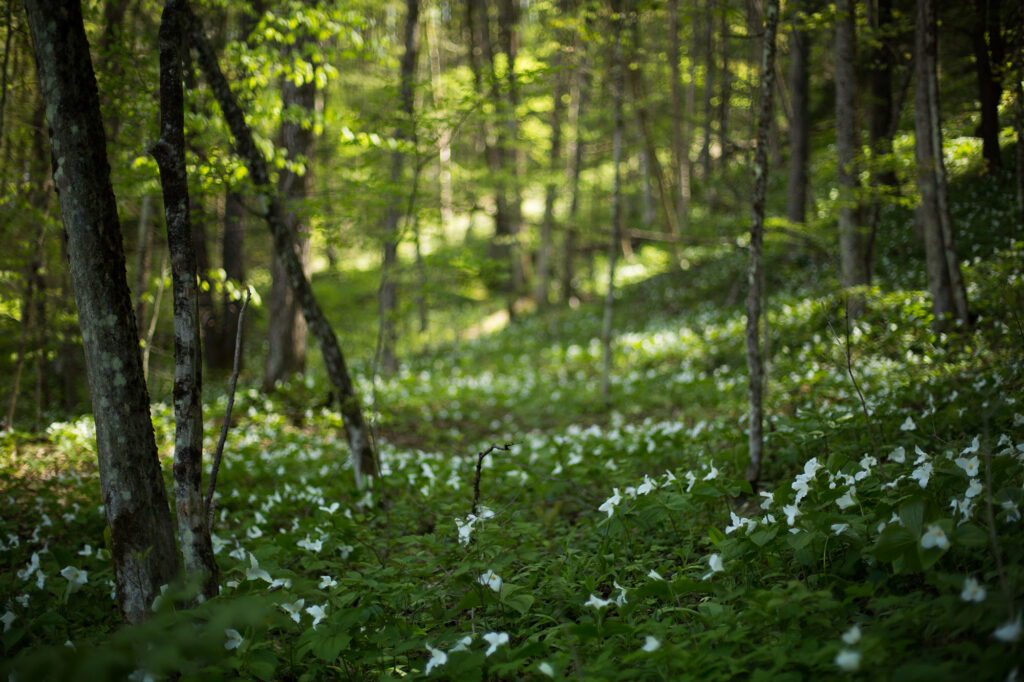 Luthien was based on Edith Tolkien, J.R.R. Tolkien's wife. And story of how Beren fell in love with Luthien in the hemlock glades reflected the forest walks Tolkien would take with Edith in 1917 in Roos, England. On their gravestones, both Tolkien and his wife have their Silmarillion monikers inscribed:
Edith Mary Tolkien – LUTHIEN – 1889-1971
John Ronald Reuel Tolkien – BEREN – 1892 – 1973
Tolkien's reverence and love for his wife is endlessly evident in the tale of Beren and Luthien: "Among the tales of sorrow and of ruin that come down to us from the darkness of those days there are yet some in which amid weeping there is joy and under the shadow of death light that endures. And of these histories most fair still in the ears of the Elves is the tale of Beren and Luthien."
And here, my pieces dedicated to the incomparable Luthien, J.R.R. Tolkien's beloved.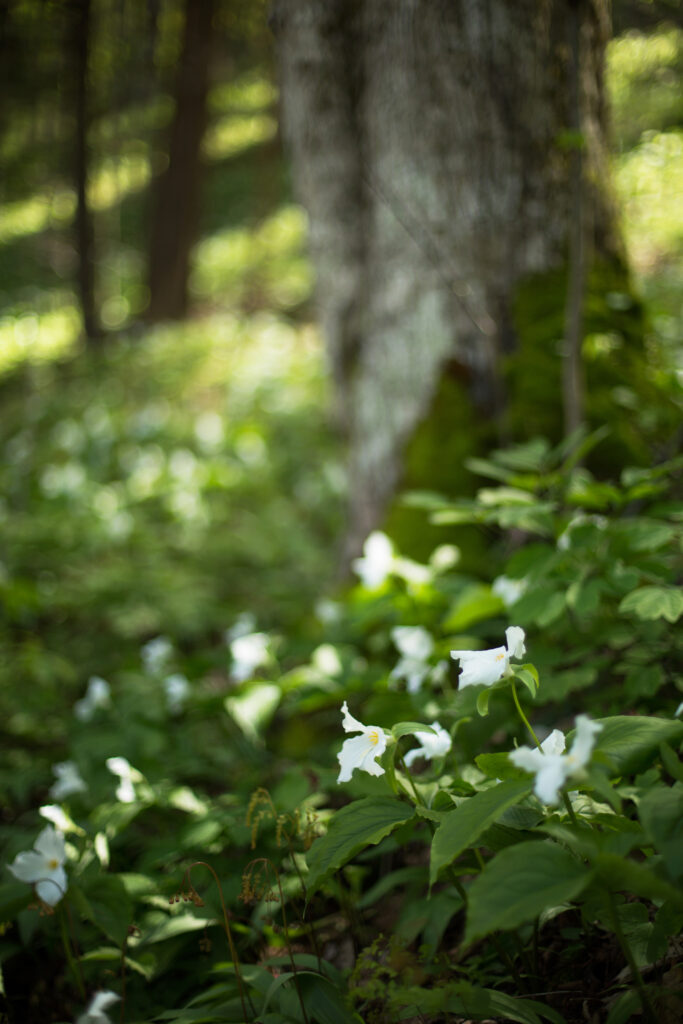 ---
Luthien Cuff Bracelet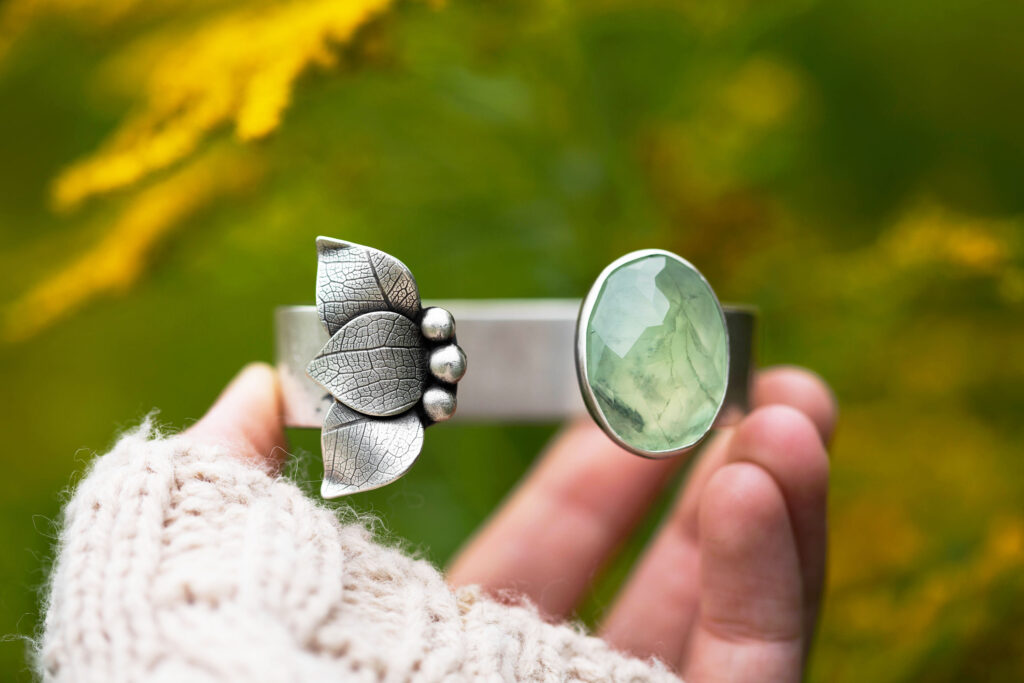 Cost: $225 per bracelet
Sizes that will be available:
6 Small/Medium (6″ + gap) bracelets
8 Medium/Large (7″ + gap) bracelets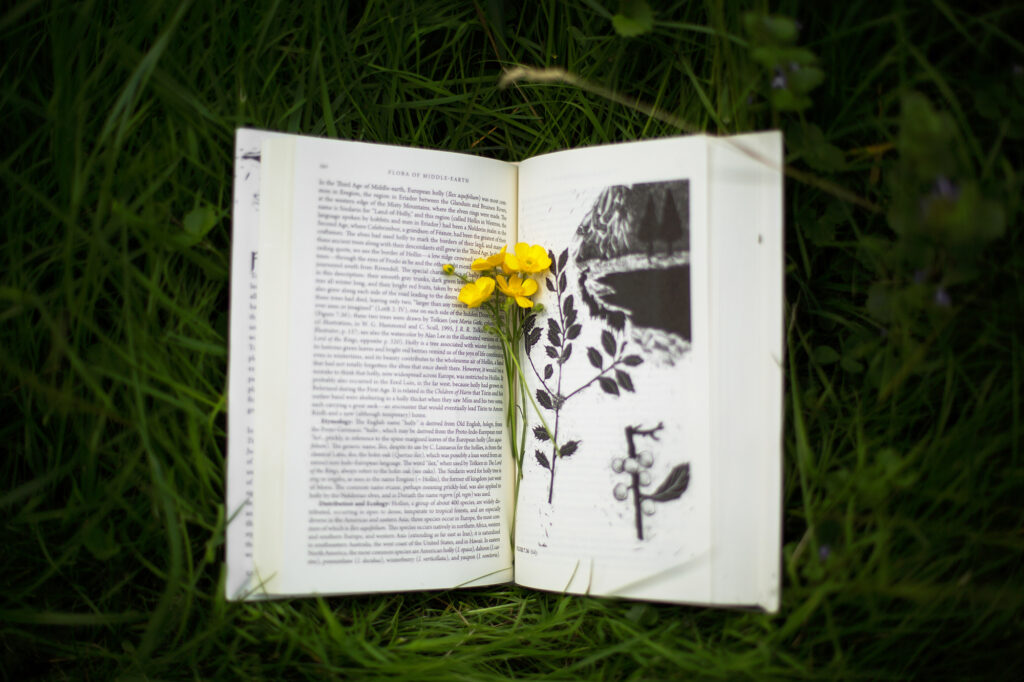 "She dwelt in the enchanted land
while elven-might yet held in hand
the woven woods of Doriath:
none ever thither found the path
unbidden, none the forest-eaves
dared pass, or stir the listening leaves."
– from "The Lay of Leithian", J.R.R. Tolkien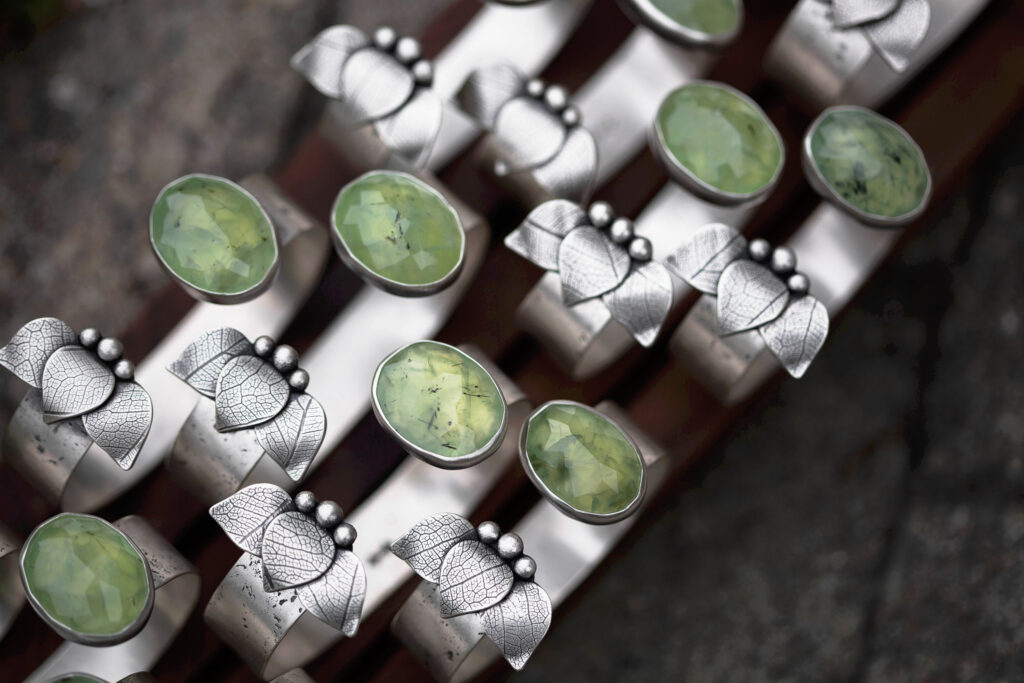 My first of two designs for Luthien Tinuviel, the elf maiden of Doriath, daughter of the Maia, Melian, and beloved of the mortal, Beren. It is hard to know where to start in my love for Luthien, perhaps my favorite of all in J.R.R. Tolkien's "The Silmarillion." I am in awe whenever I revisit her passages.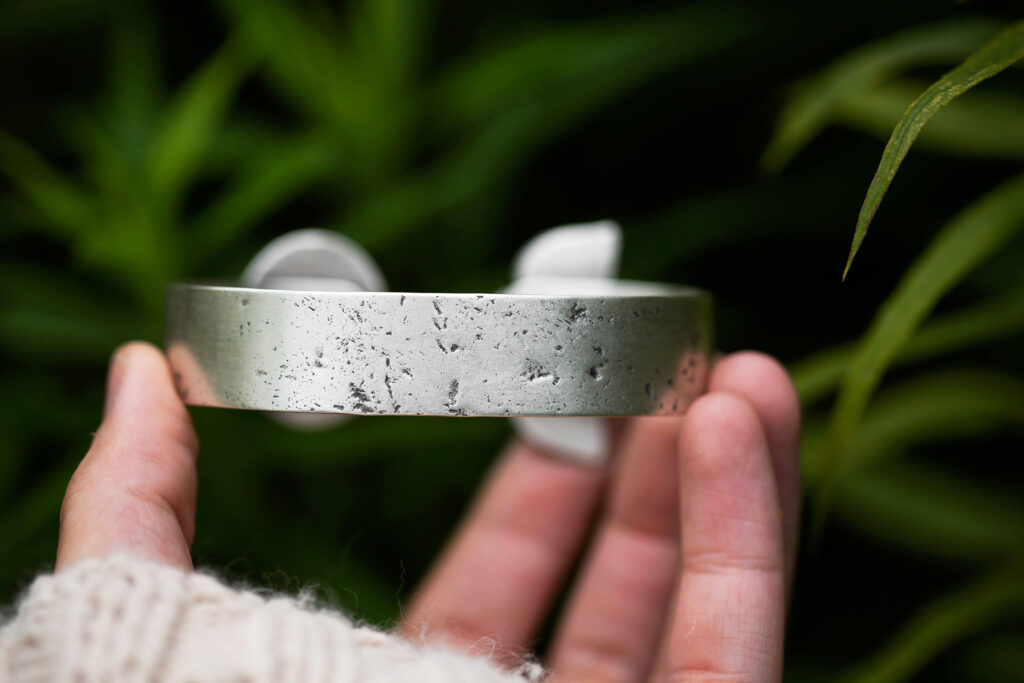 In order to translate her into metal and stone, I had to choose which aspects of her to honor. Luthien was incomparably beautiful and graceful, with a voice so glorious that winter melted into spring when she sang. "…beneath the Moon, beneath the Sun, Lúthien Tinúviel, more fair than Mortal tongue can tell." I could have created a piece that was lilting and delicate, captivating and glowing; a design to reflect her beauty.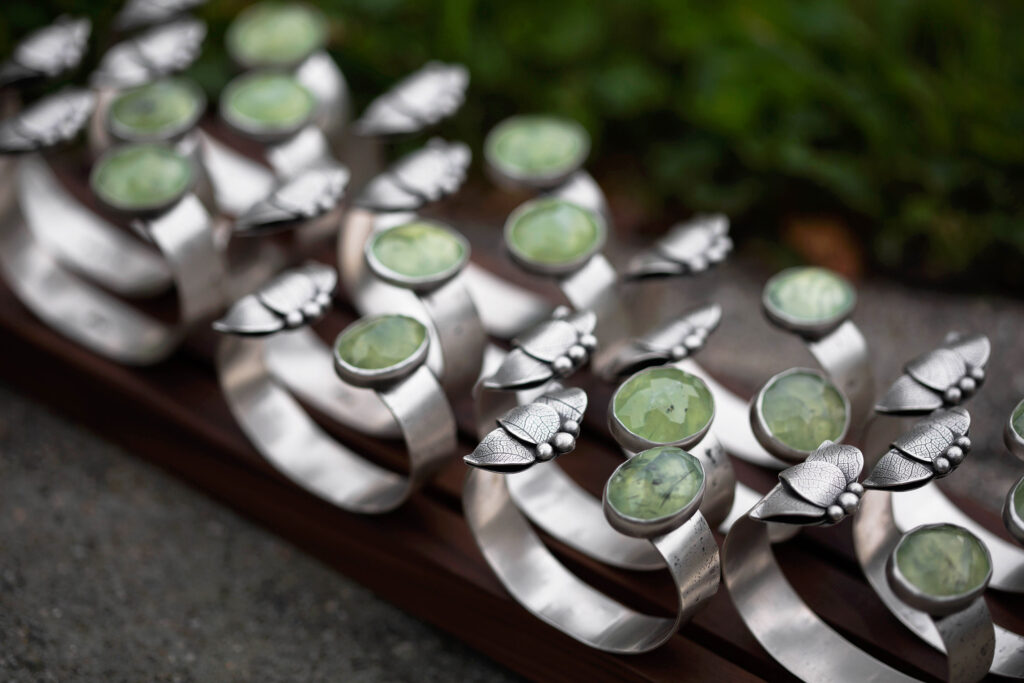 But instead, I chose to honor her unimaginable strength and bravery.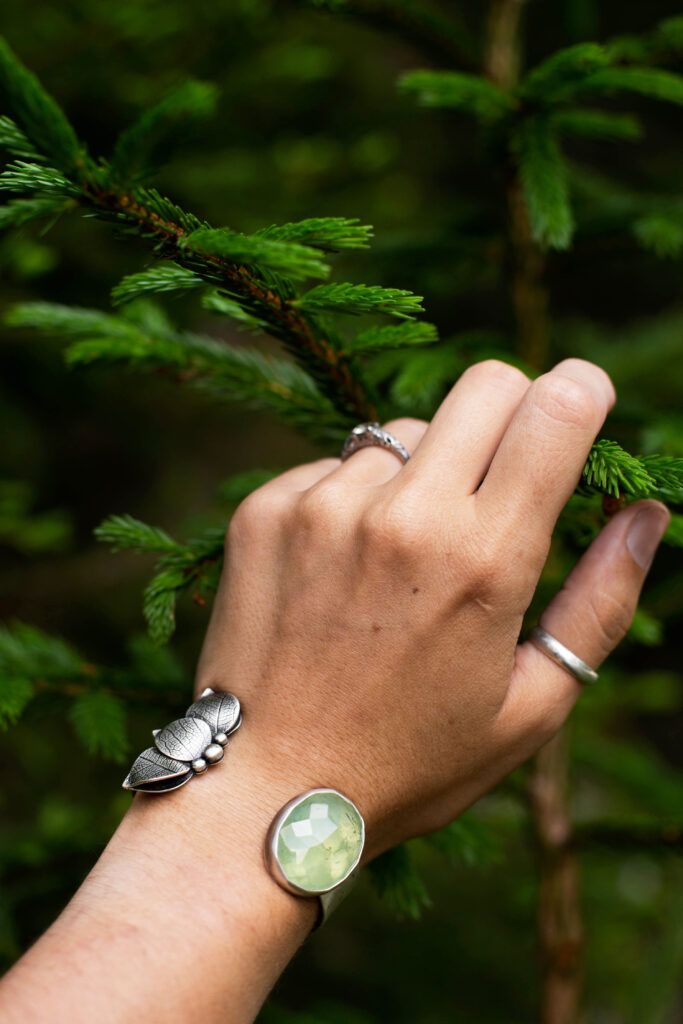 When her beloved, Beren, was captured by Sauron in the beginning of his unachievable quest for the Silmaril, it was Luthien who saved him. She defied her father to find him, and with the help of Huan the Hound cast Sauron out of his own stronghold. She crumbled the very stone walls of Tol-in-Gaurhoth with her voice, and found Beren in the dungeons there. Because Beren could not complete his quest for the Silmaril alone, she accompanied him to try again. Through her power, they were able to pass the gates of Angband. She was then able to weave a spell over Morgoth and his court to send them all to sleep, allowing Beren to take a Silmaril from Morgoth's crown. She achieved things no other had; she faced Morgoth's malice and was undaunted, and sent Sauron fleeing over the hills.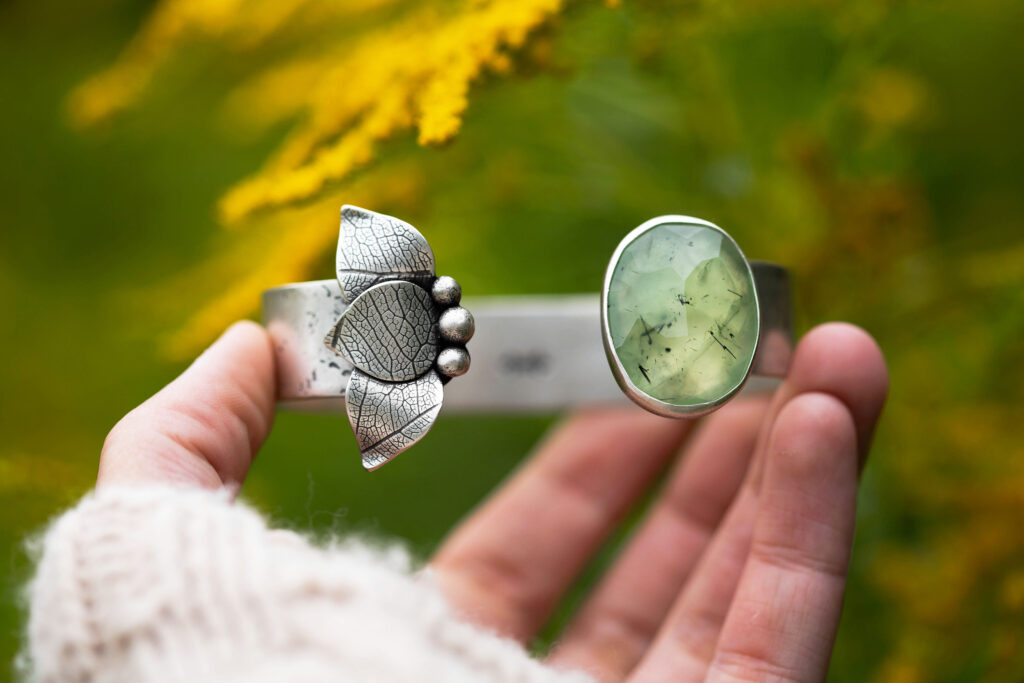 And so, this piece is for Luthien in the first part of her life. Luminous prehnite glowing from within, like the light of the trees of Valinor passed to Luthien from her mother. It is offset by a swath of leaves, as Luthien was ever found dancing amongst the hemlocks of Doriath. These two beautiful elements are set atop a sturdy, weathered cuff band. Wide like armor, and malleable enough to shape to your wrist.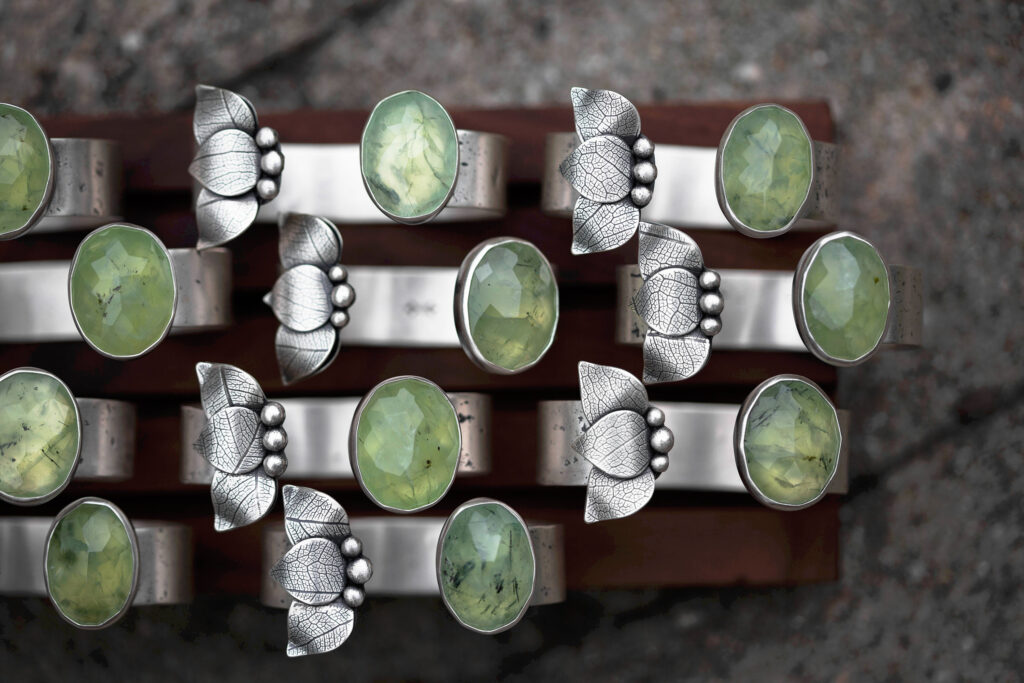 Undaunted and luminous, like Luthien.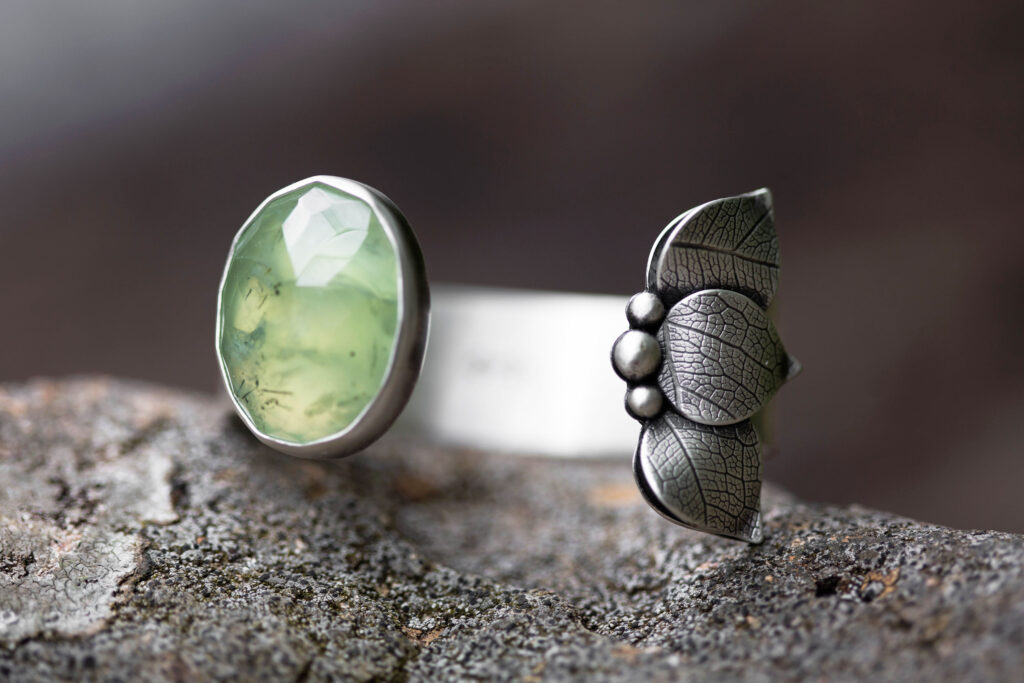 ---
Luthien Post Earrings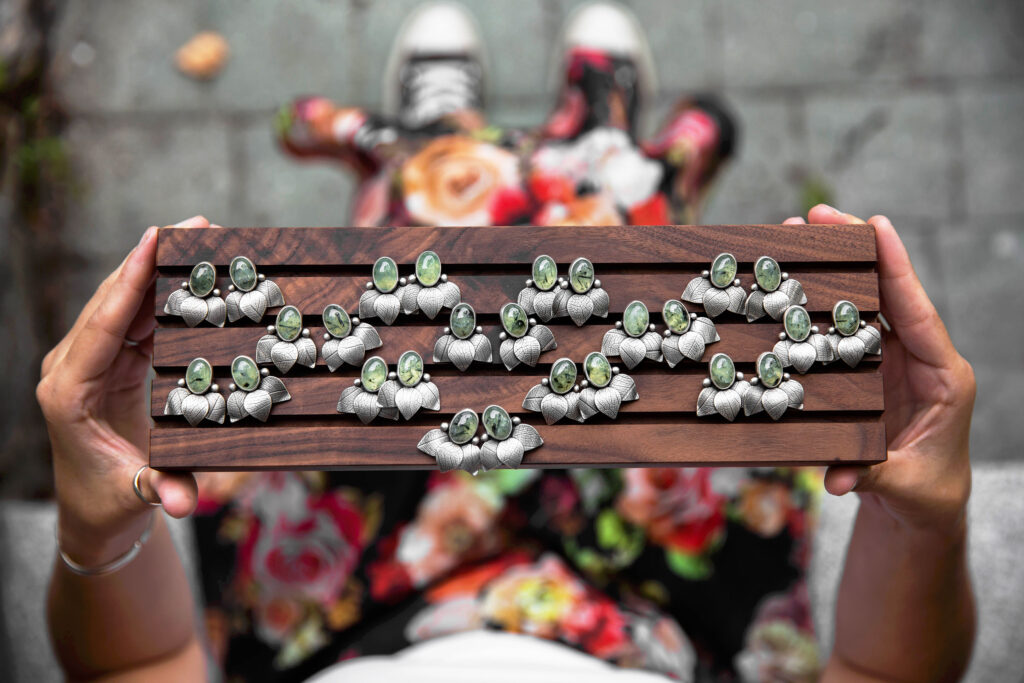 Cost: $155 per pair
There will be thirteen pairs available
Post earrings measure about 1″ x 1″
Somewhat heavier than my other earrings, be sure you are comfortable with slightly heavier post earrings.
"The leaves were long, the grass was green,
The hemlock-umbels tall and fair,
And in the glade a light was seen
Of stars in shadow shimmering.
Tinuviel was dancing there
To music of a pipe unseen,
And light of stars was in her hair,
And in her raiment glimmering."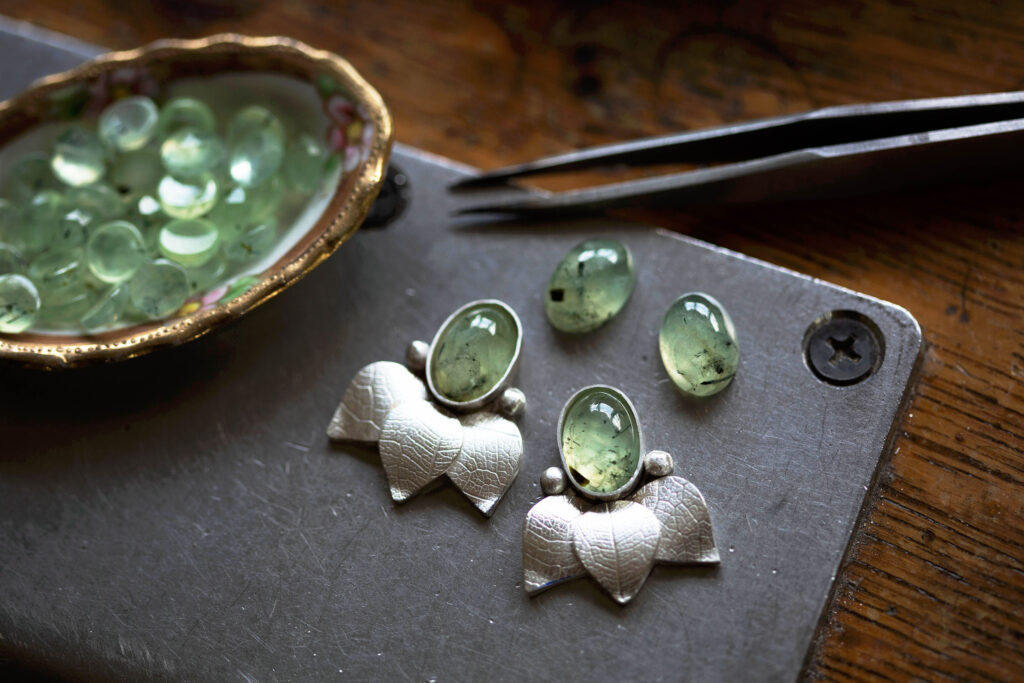 And here is my other piece to honor Luthien Tinuviel, of J.R.R. Tolkien's "The Silmarillion."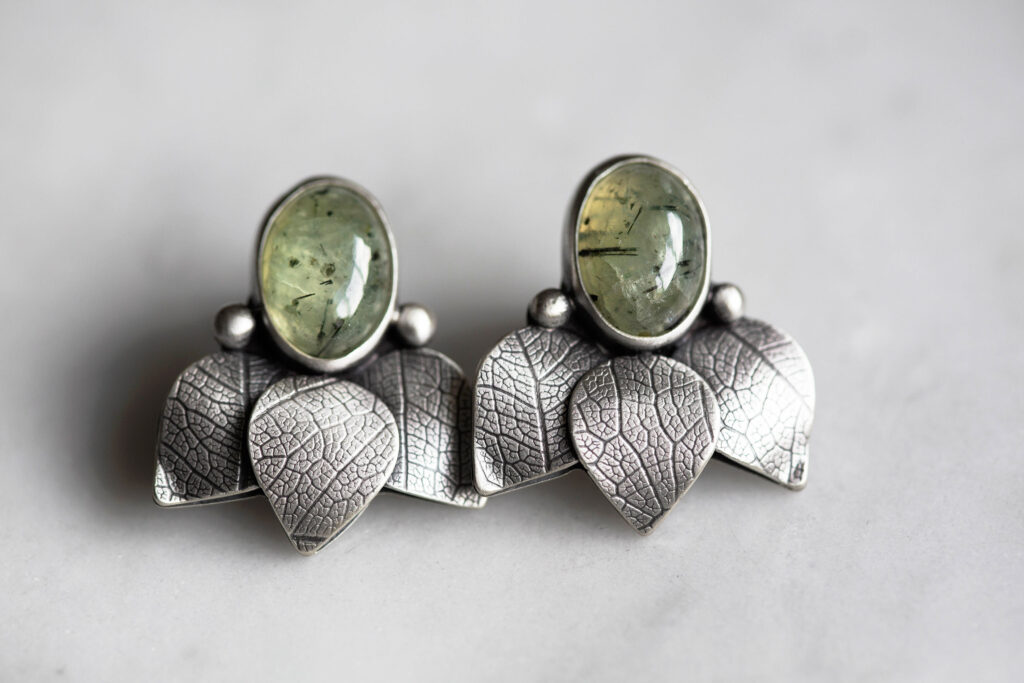 After her heroism regarding the capture of the Silmaril from Morgoth and her rescue of Beren from Sauron, Beren was killed by the great wolf Carcharoth. Luthien sought Beren in the underworld and sang of her grief so beautifully that she moved the heart of Mandos, the Doomsman of the Valar, who granted her a unique fate. He would allow her to return to Middle-earth with Beren in exchange for her Elven immortality: "But she chose mortality, and to die from the world, so that she might follow him…"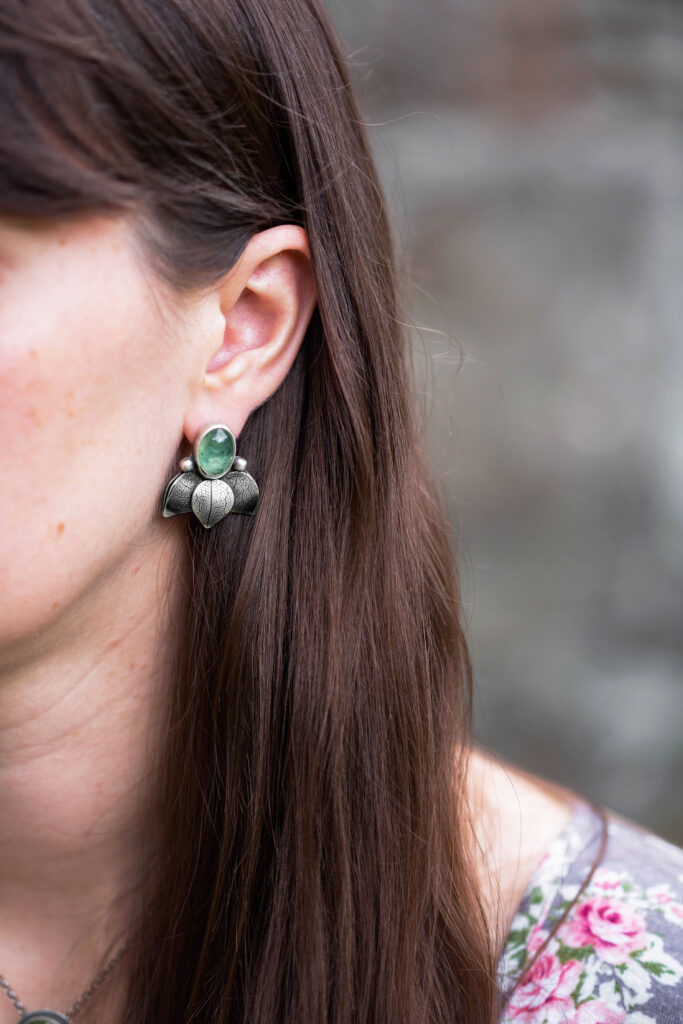 And so she gave up her kinship with the elves and went with Beren to Tol Galen: "…it is sung that they met again beyond the Sundering Seas, and after a brief time walking alive once more in the green woods, together they passed, long ago, beyond the confines of this world." And there they lived together in the cool darkness of the forest of Ossiriand, and faded together in love and contentment.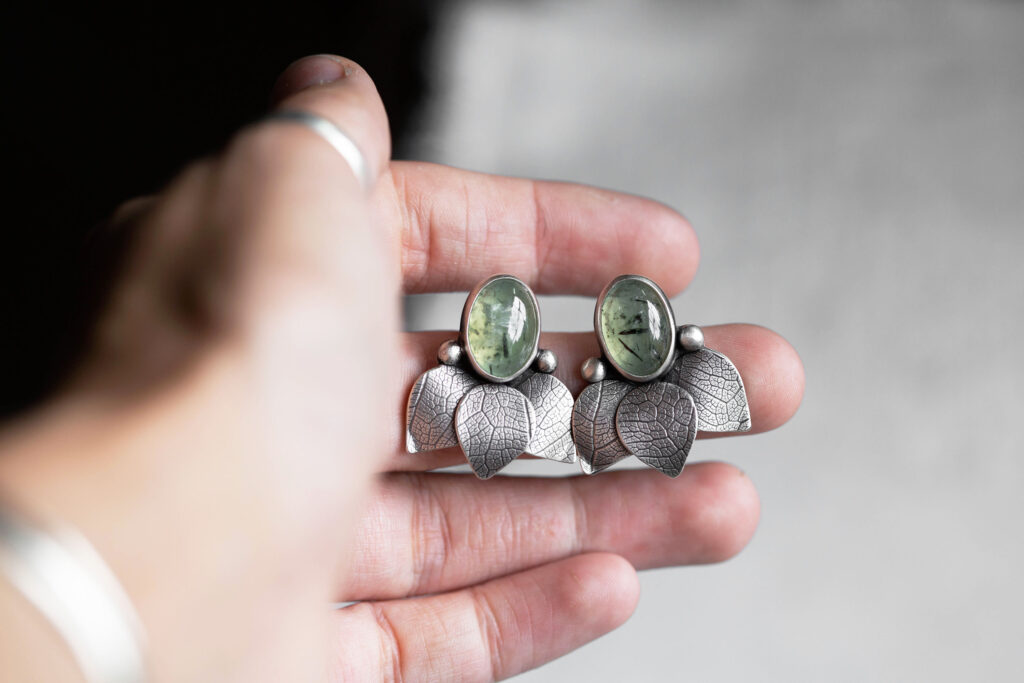 And so these earrings are my translation of the second part of Luthien's life. There are the echoes of the former design, a swath of tree leaves and a few sterling silver pebbles. But for the stones in these, I chose subdued and modest prehnites. Many are heavily rutilated, like a forest thicket. These stones differ from the bold, luminous stones in the cuff bracelet, as she also differed from her former self when she forsook the Blessed Realm and gave up her immortal light. Luthien faded, but she retained her form and dwelt in happiness and seclusion with Beren. And so, these strong but subdued earrings felt like a fitting translation of this second part of Luthien's life.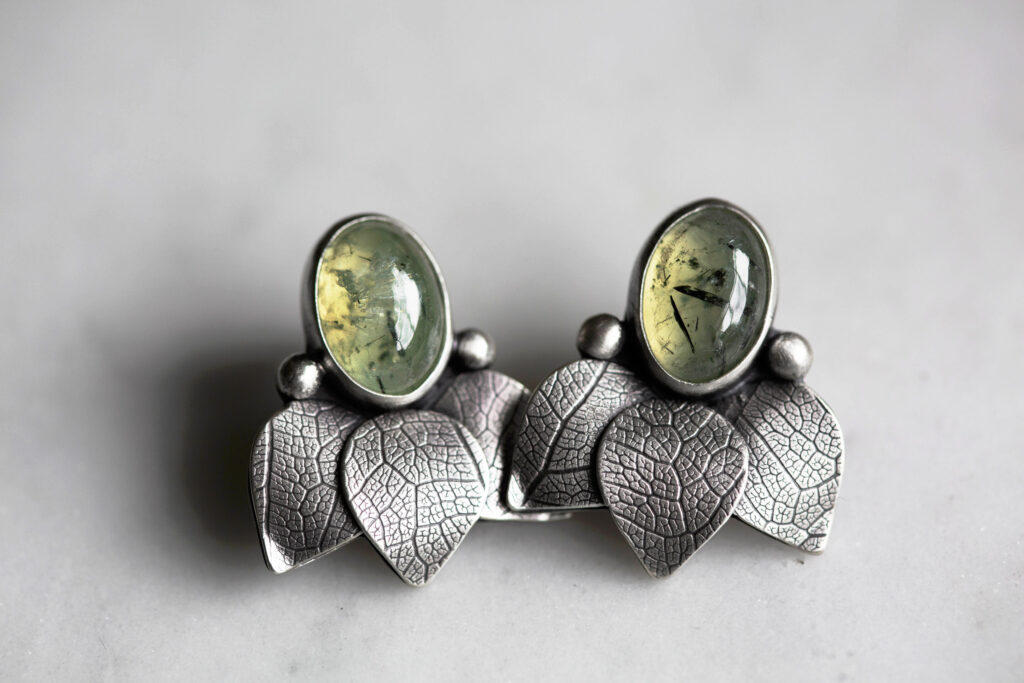 Though her light was diminished, she was utterly happy in the shade and tranquility of the forest. And here is my design to echo this.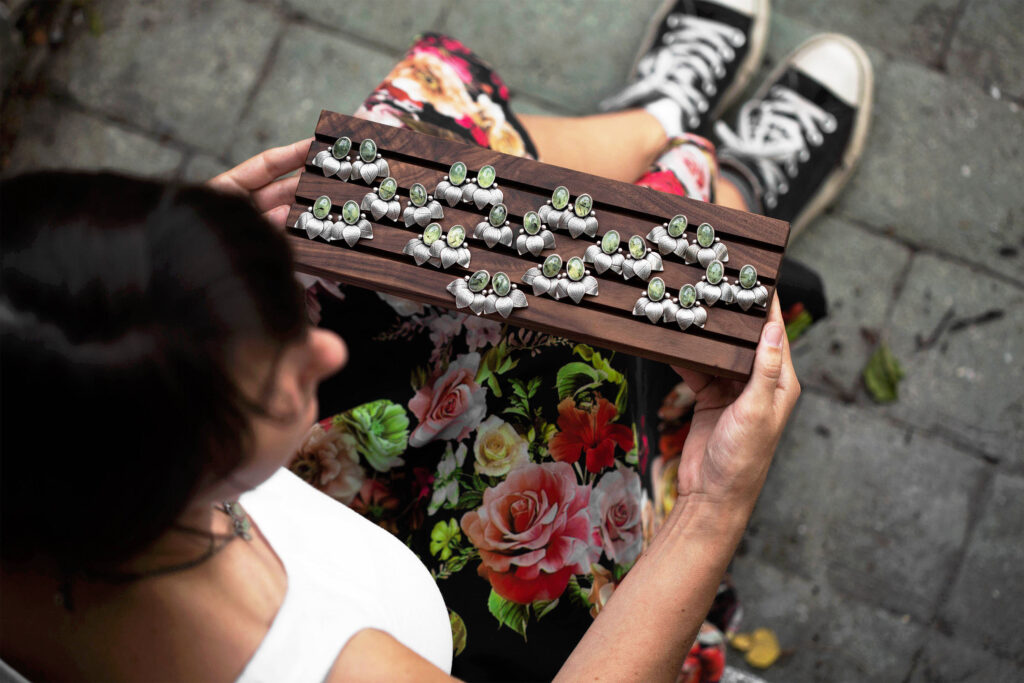 Keep an eye out for more previews of the upcoming release!
✖️ Mossflower Collection Release (PART I):
Sunday, August 23 at 7pm EST in the Etsy shop ✖️