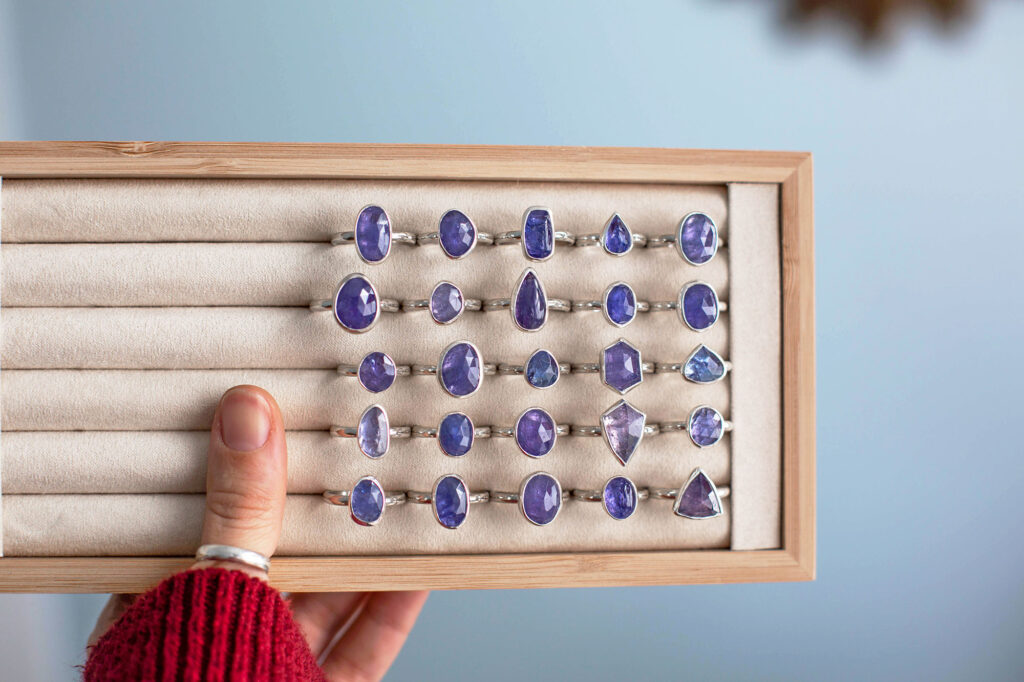 Tanzanite Rings
* There will be (100) rings available.
* US Ring Sizes: 4, 4.25, 4.5, 4.5, 4.75, 4.75, 4.75, 4.75, 4.75, 5, 5, 5, 5, 5.25, 5.25, 5.25, 5.5, 5.5, 5.75, 6, 6.25, 6.25, 6.25, 6.25, 6.25, 6.25, 6.25, 6.5, 6.5, 6.5, 6.5, 6.5, 6.75, 6.75, 6.75, 6.75, 6.75, 6.75, 7, 7, 7, 7, 7, 7, 7, 7, 7, 7, 7, 7, 7, 7, 7.25, 7.25, 7.25, 7.25, 7.25, 7.25, 7.5, 7.5, 7.5, 7.75, 7.75, 8, 8, 8, 8, 8, 8, 8, 8, 8, 8, 8, 8, 8.25, 8.25, 8.25, 8.5, 8.5, 8.5, 8.75, 8.75, 8.75, 8.75, 9, 9, 9.25, 9.5, 9.5, 9.75, 9.75, 9.75, 9.75, 10, 10, 10, 10, 10.25, 11.5
* 3mm wide band, so they fit true to size.
* All sizes are as read on the mandrel.
* Prices: range from $80 – $130 per ring, depending on the size and the stone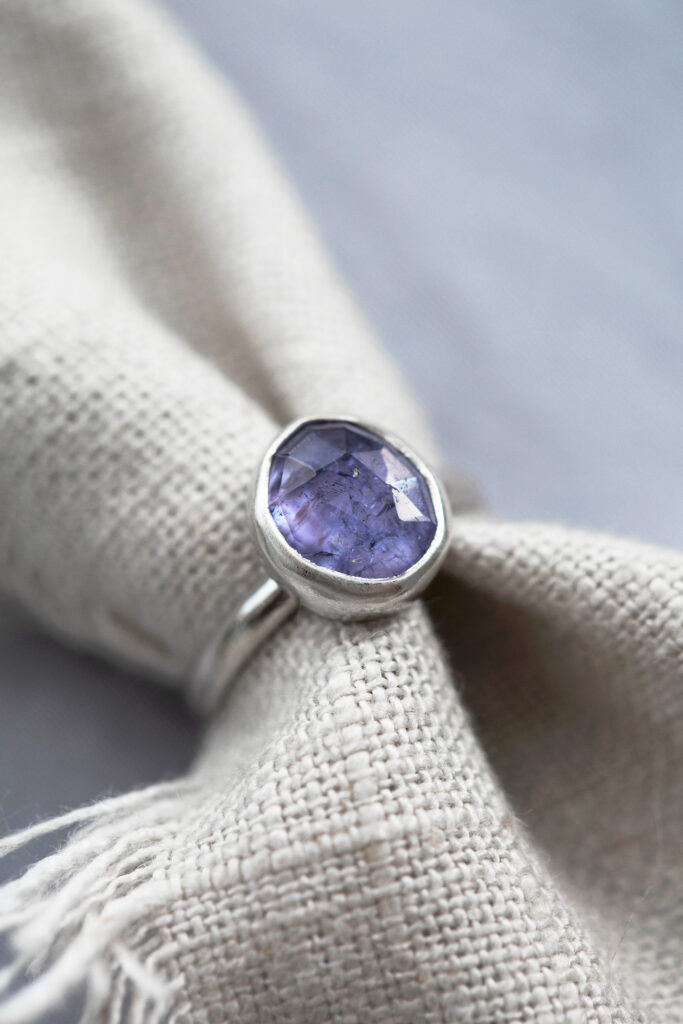 For the past several days, I put every waking moment into getting my new webshop ready for you, and this will be my first release on Shopify. I worked hard to open up the new shop ahead of time so you could get comfy with the layout before the collection release.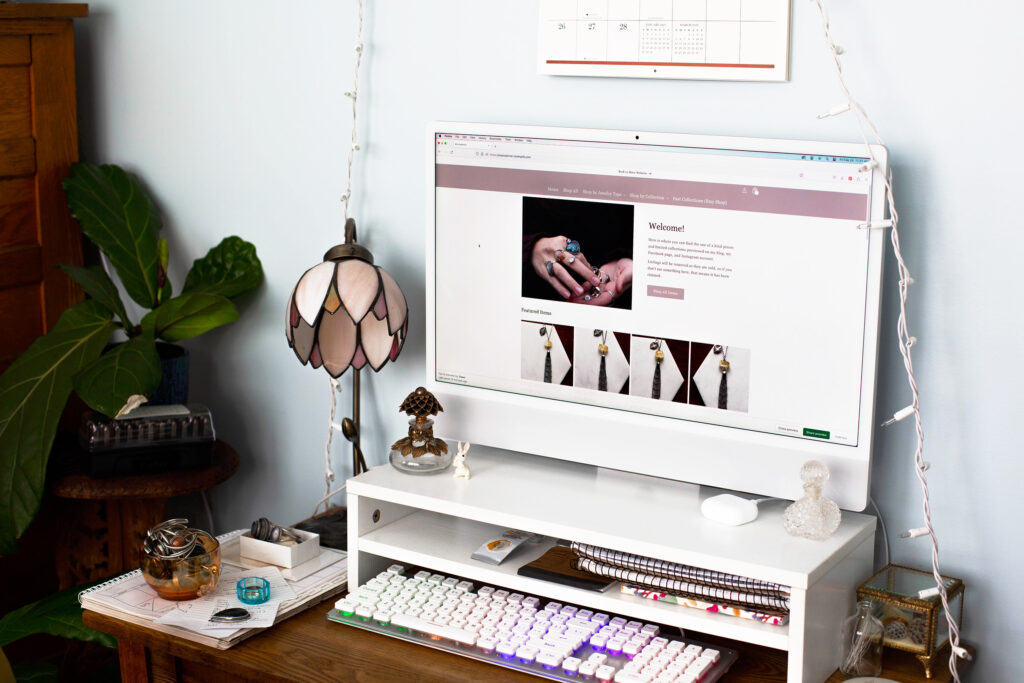 With the new shop, you can also make your own account to keep track of orders, and if you are signed in during the release, some of information will preload, which will make for faster checkout.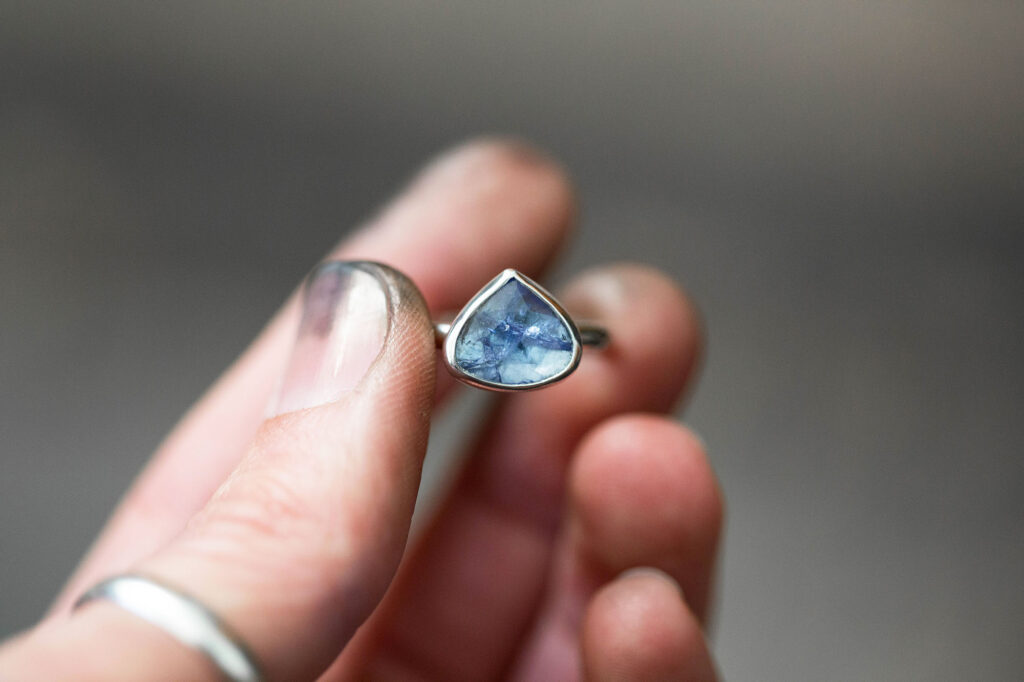 I am hoping that with making so many pieces (over 100 rings!), everyone can get acquainted with the new format without much fuss or frustration.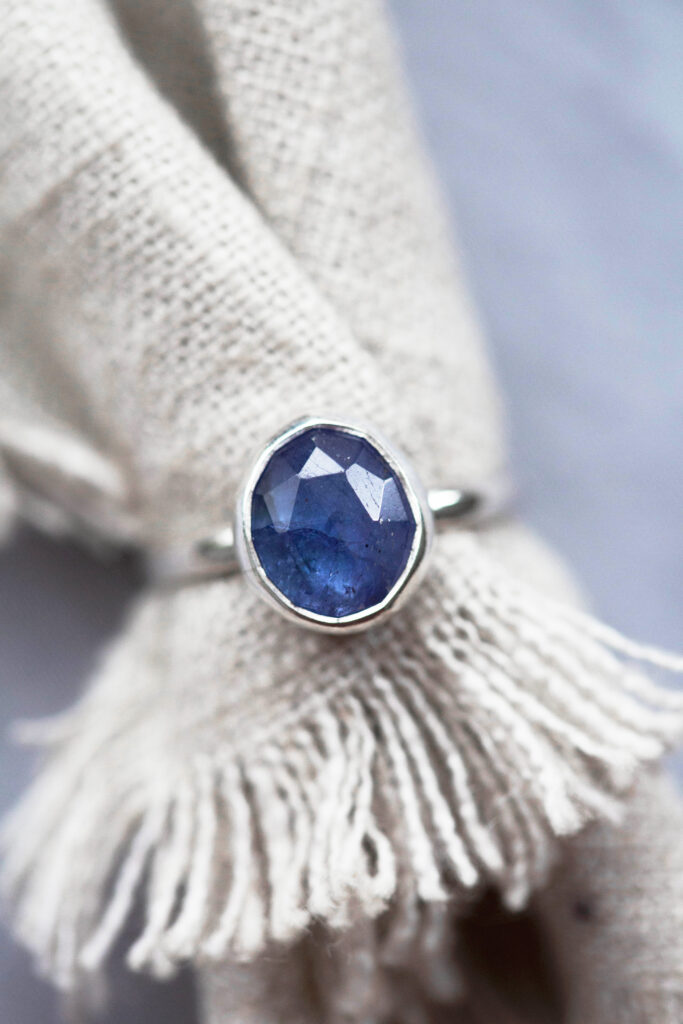 In the future, I hope to have early access for newsletter subscribers for all you release whizzes who like to catch your pieces quickly.
(Some of you are so fast, my hat is off to you!)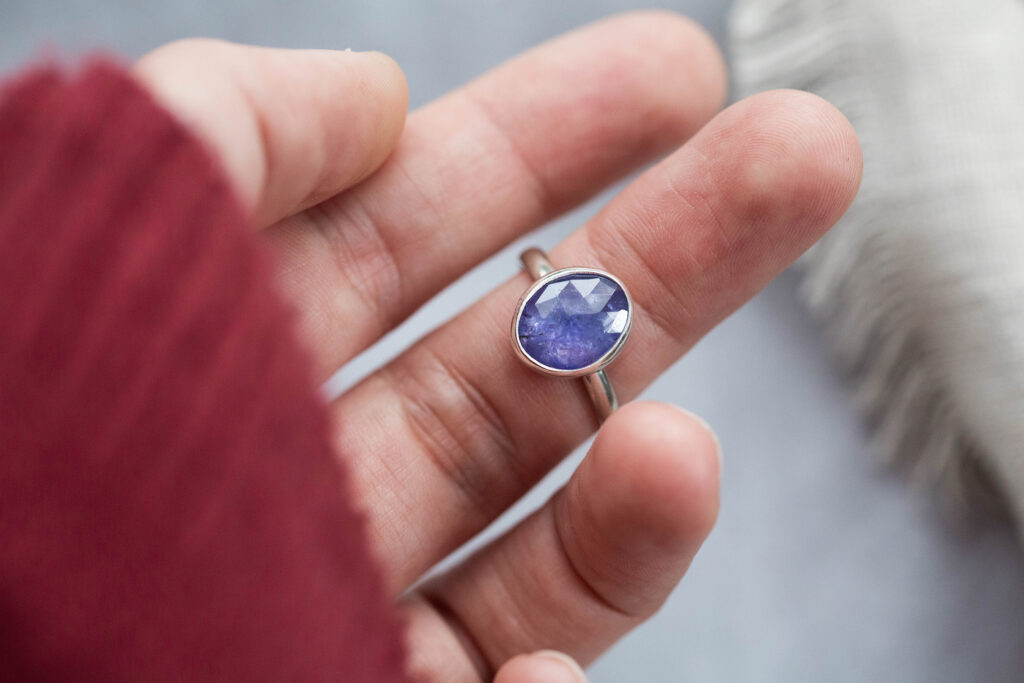 And after lots of work and neck pain, the last of the tanzanite rings are ready for tomorrow's collection release!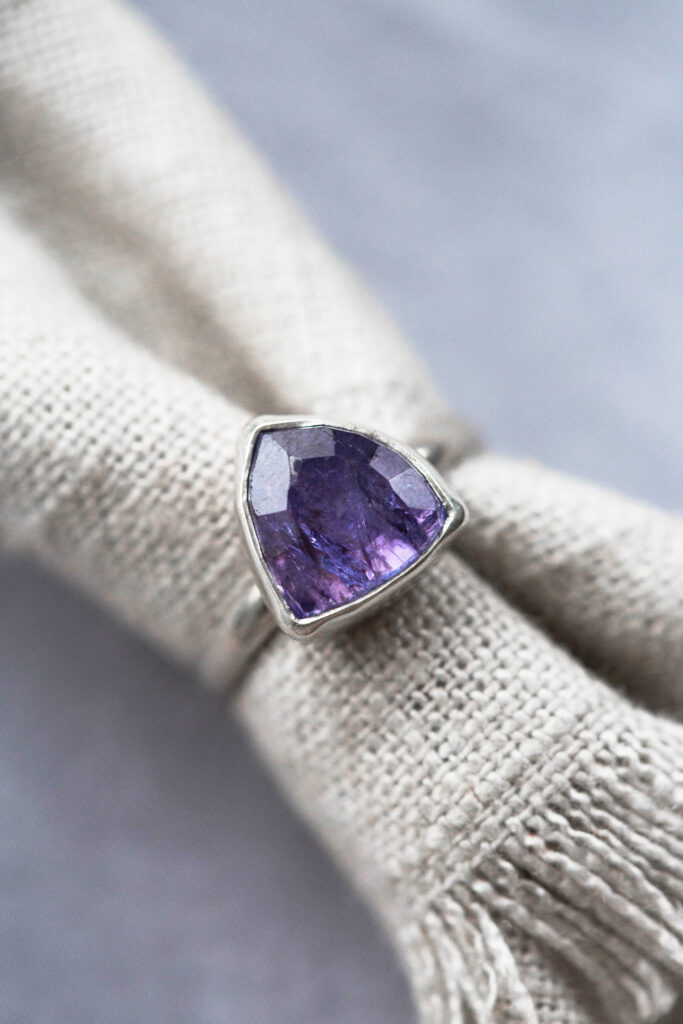 I have saved these gemstones for years. Tanzanite isn't usually a stone I collect, but a lapidarist I used to work with retired and sold me whole lots of his back stock for incredible prices. And I just couldn't say no to the tanzanite, and took the lot.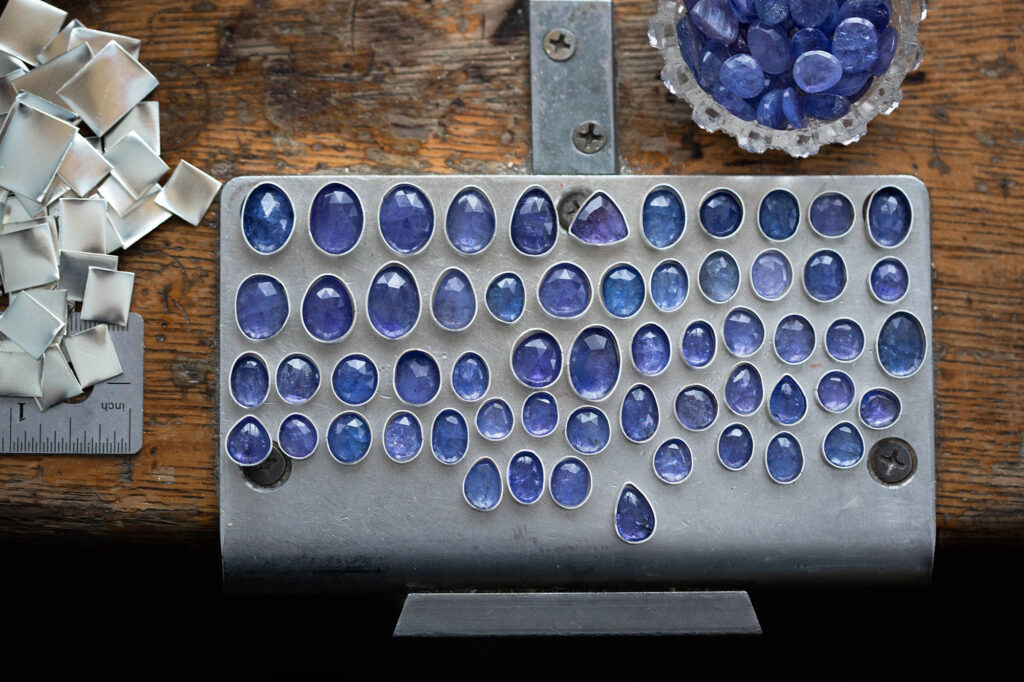 For this offering I tried to use up all my ring sized stones, including some of the ones that have slight surface imperfections. I try to never use stones that have flaws that are too evident, but I just cant say no to the ones with teeny chips, or visible layers, or dips that can be felt with the fingernail.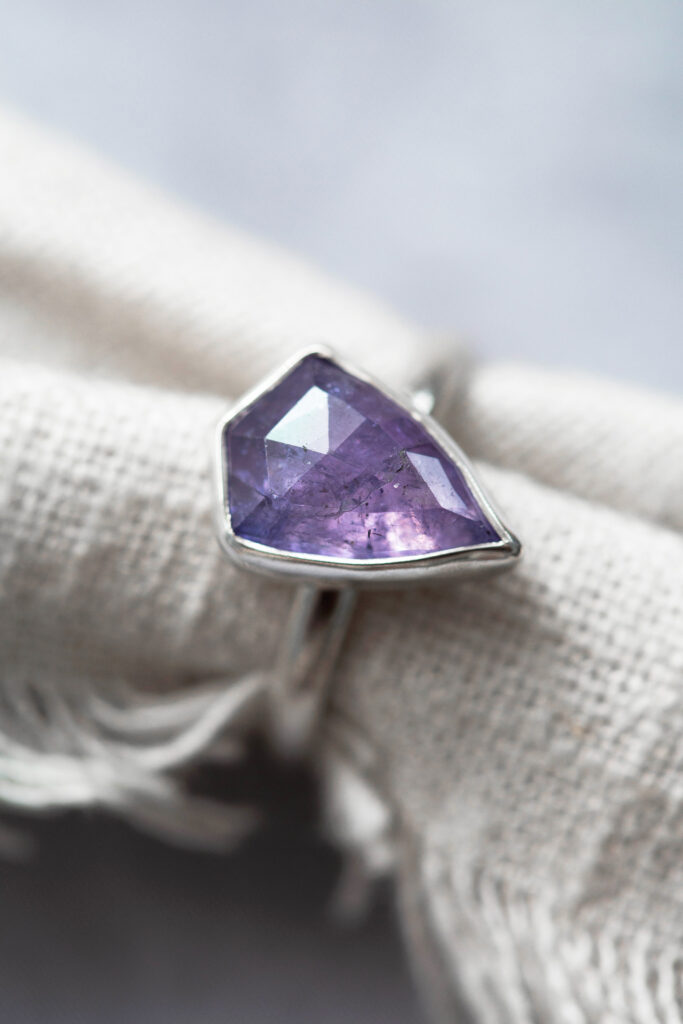 I certainly feel impressed when I see eye-clear gemstones with no inclusions or striations, but I always come away thinking they look too much like tinted glass. And so I tend to prefer an organic-looking stones, all lovely freckles and frizzy hair.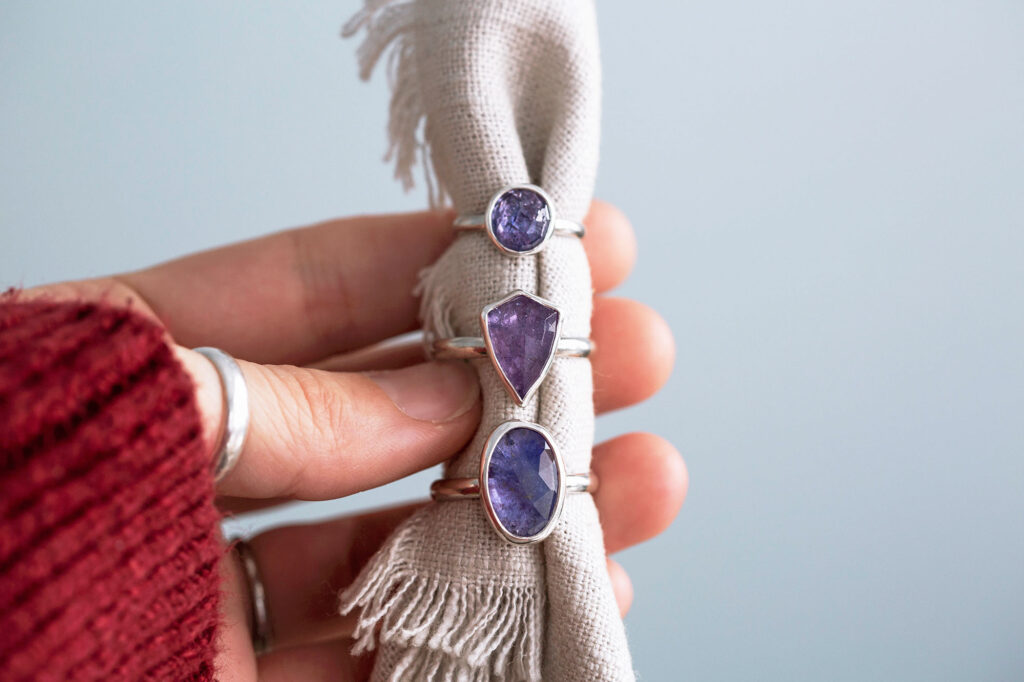 Slight flaws in a gemstone tell the story of a stone that has traveled through the earth, tumbling through brimstone and withstanding tectonic grinding. The thought of tossing a stone away because of a surface fissure gives me the jitters. Especially when they are as beautiful as these and have come such a long way. I price them accordingly and photograph them from all angles so you can choose the pieces that are right for you.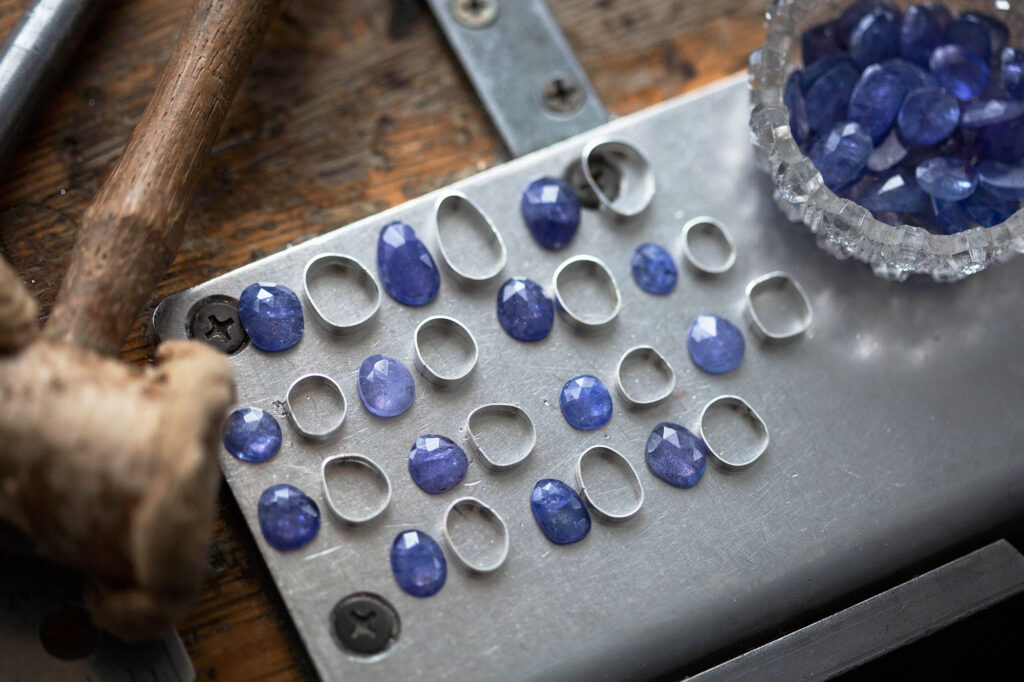 Let me tell you, it makes my heart swell knowing so many of you love the little natural stones as much as I do.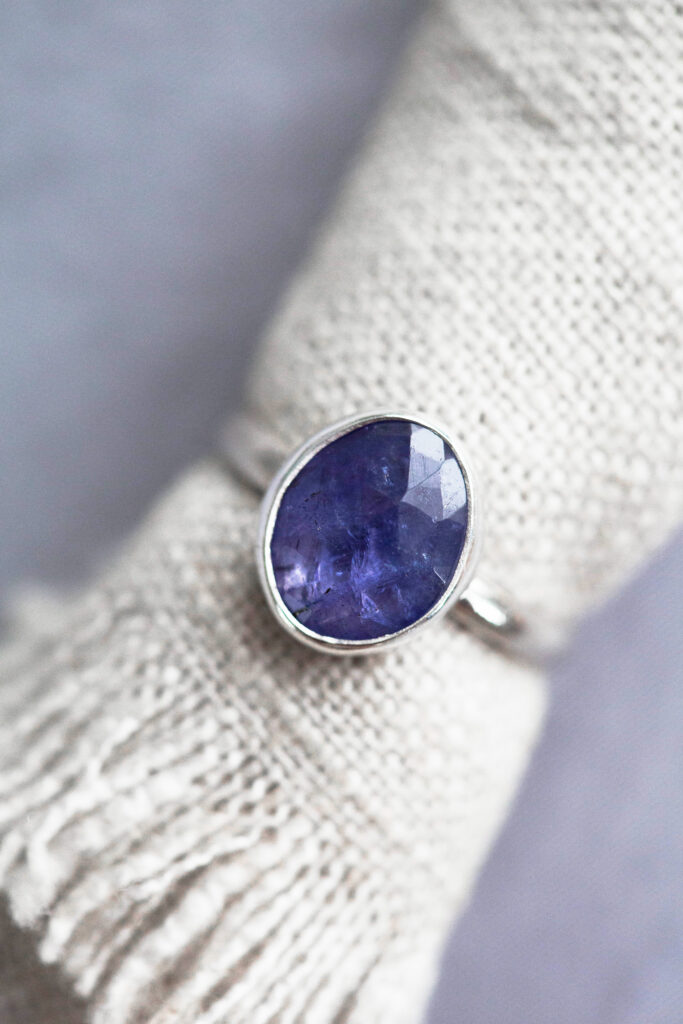 And with that, this last offering of Tanzanite Rings. Don't they look like fairy ice? Tanzanite is such a magical stone. All crackle and soothing periwinkle.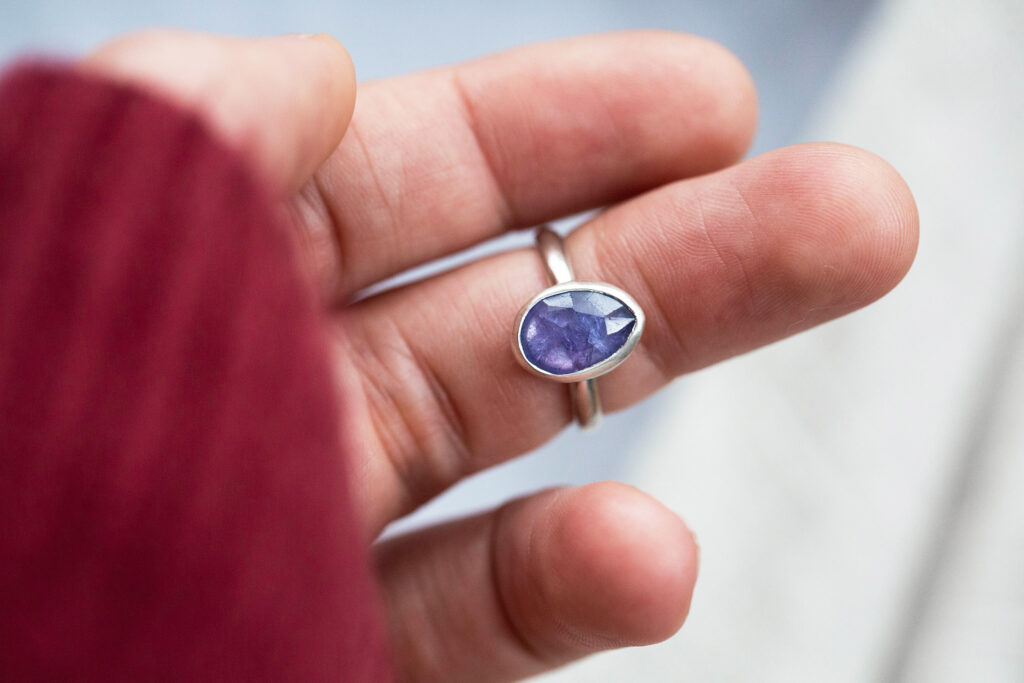 There will be quite a range in sizes, gemstone cuts, and prices on these pretties! There will be some petite stones, quiet friends to accompany you unassumingly throughout the day. Others are big and bold and demanding attention.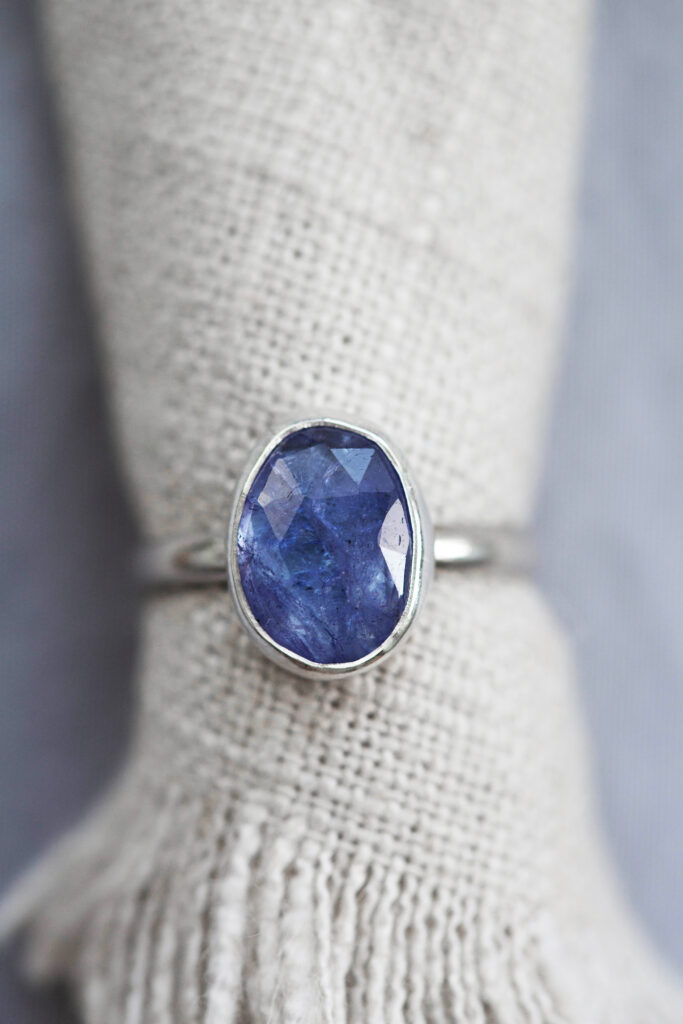 (Be sure to look at all the photos if you want a ring with a particular gemstone size! I show each one on my hand for size reference. And the prices of the rings vary depending on the size and cut of the stone.)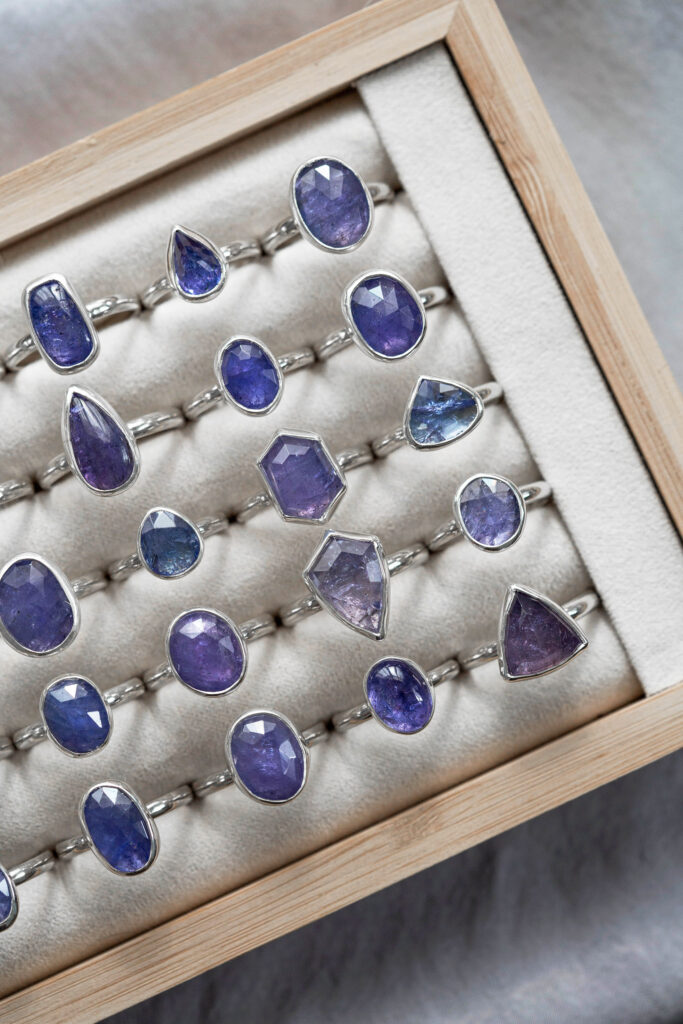 Some are cool and opaque, others are sparkling and bright.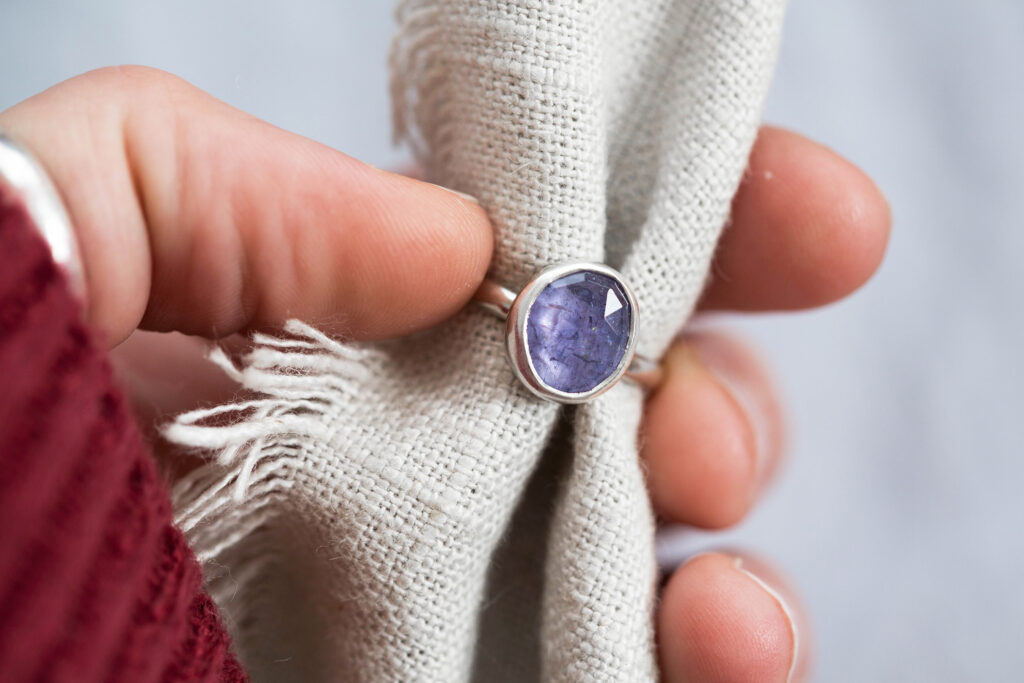 Some of these tanzanites are full of rainbows, and goodness, they are magical!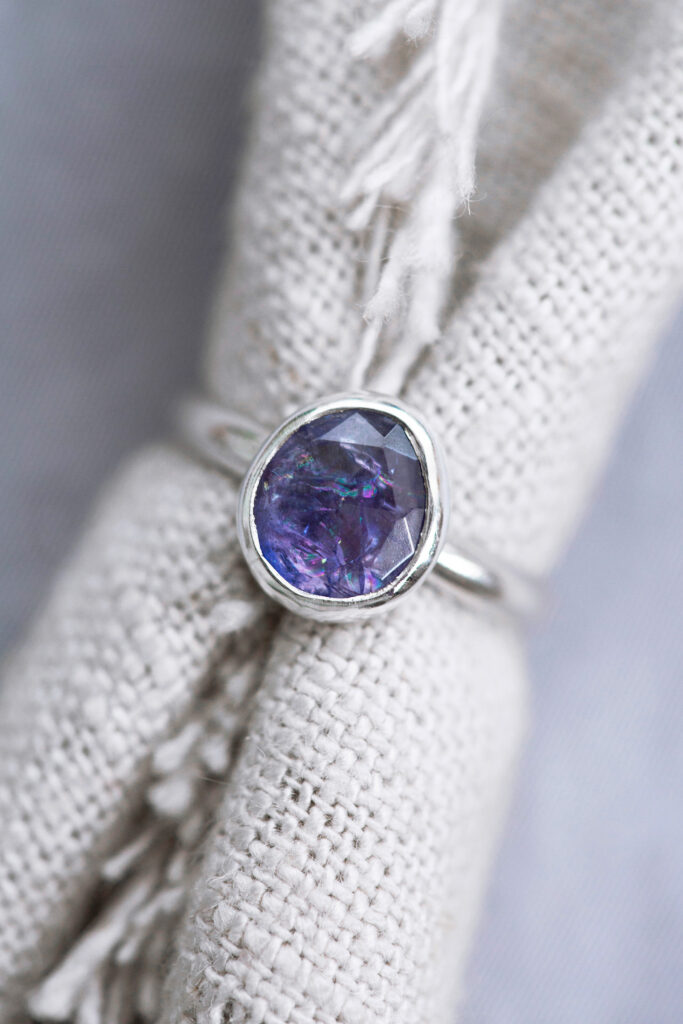 I tried my darnedest to make as many as possible since I will be moving away from tanzanite after this. I wanted there to be enough for everyone to try out the new shop as well. I don't know if I succeeded at getting all the right sizes, but I made over 100 rings!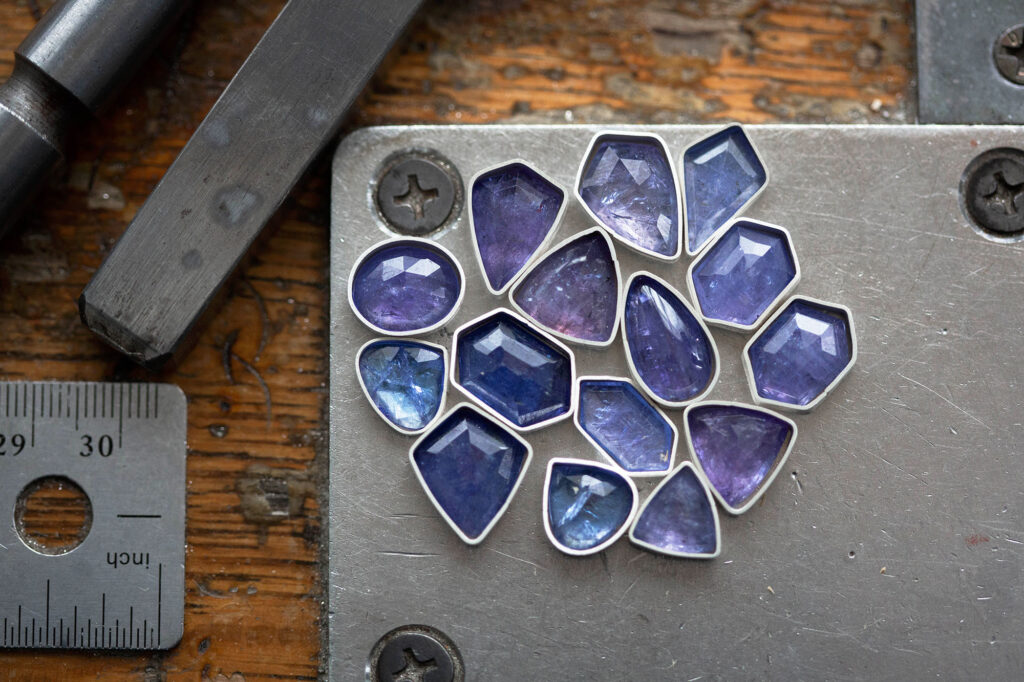 I even found a small handful of fancy cuts! I have a gemstone cabinet, which is really a very old printmakers cabinet that a friend of mine found for me at an antique shop. It has dozens of little shelves and rows that I lined with felt and put dividers in. That is where most of my larger stones and bigger collections live.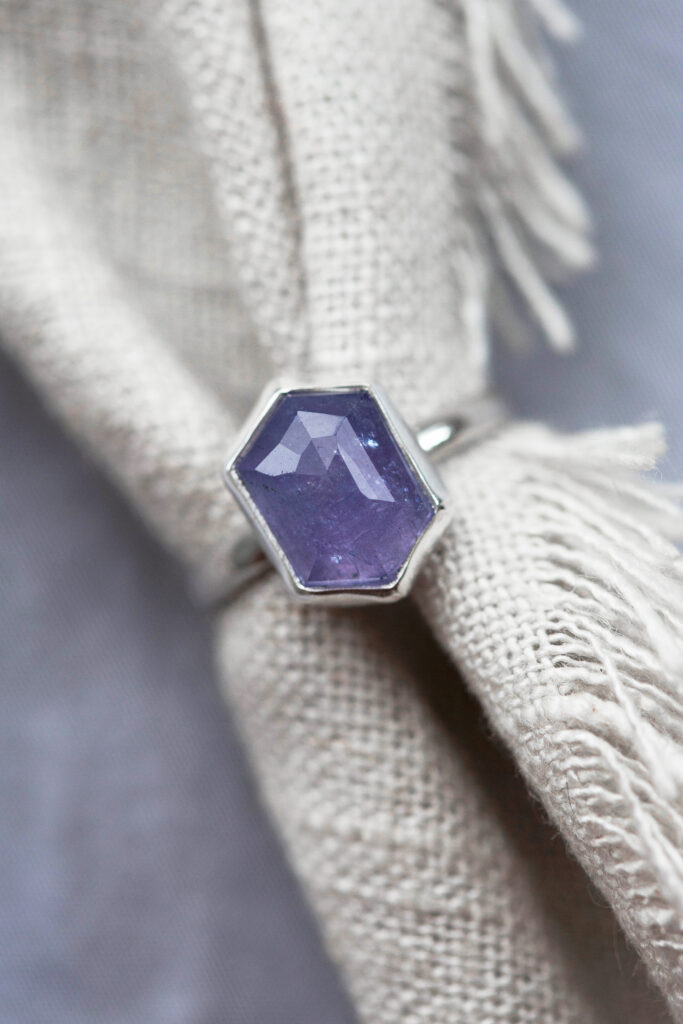 But sometimes, I pull stones from the cabinet with plans to make something for you, and then the bowl of selected stones gets a little lost in the shuffle of my overcrowded studio.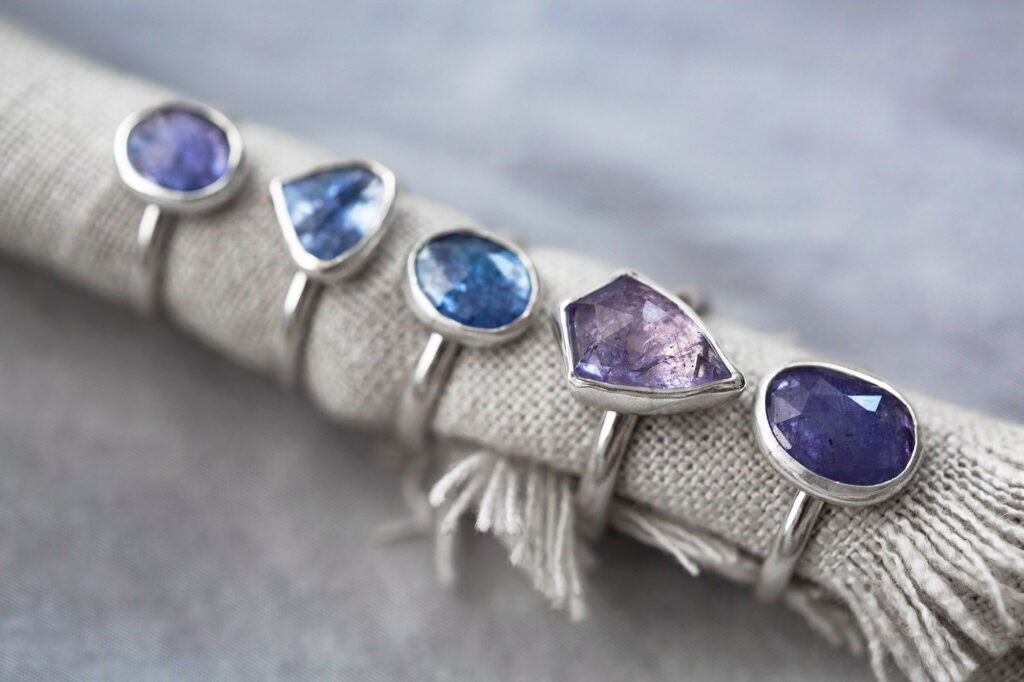 And that is what happened to about ten fancy cut tanzanites. I think I pulled them several years ago for something and never used them. And then a few weeks ago as I was pulling stones and checking stock for a few commissions, I found a little glass salt dip with these stones in it. Just in time for this tanzanite offering!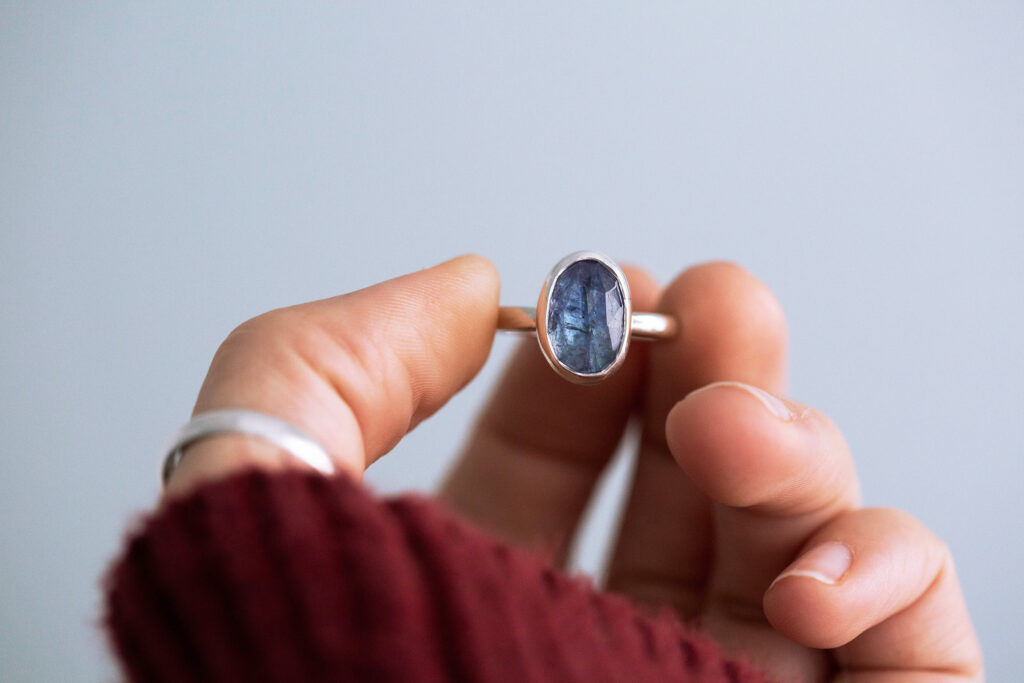 They must be meant for very particular people, because the timing was uncanny. I hope if you've had your heart set on one you catch the perfect one for you.
And that's everything!
The Tanzanite Rings Rings will alight in my new shop at 7pm EST on Sunday, February 26th.
Click here for a direct link to the section they will appear in.
And remember, refresh your page often once the clock strikes 7:00, until they all appear!
_______________________________________________________
A quick tip for if you are trying to catch something quickly:

The "Shop All Available" tab on the home menu takes you to everything that isn't sold out.

The "Shop by Collection" option will show you everything from the collection, including what has sold.

I thought I would leave the sold items on the collection pages for a little bit on each release night, so that if you are looking for a certain piece, you can actually see whether it has been sold on the collection page.

Whereas if you just want to see what's currently available in order to catch a piece more quickly, you have that option too.