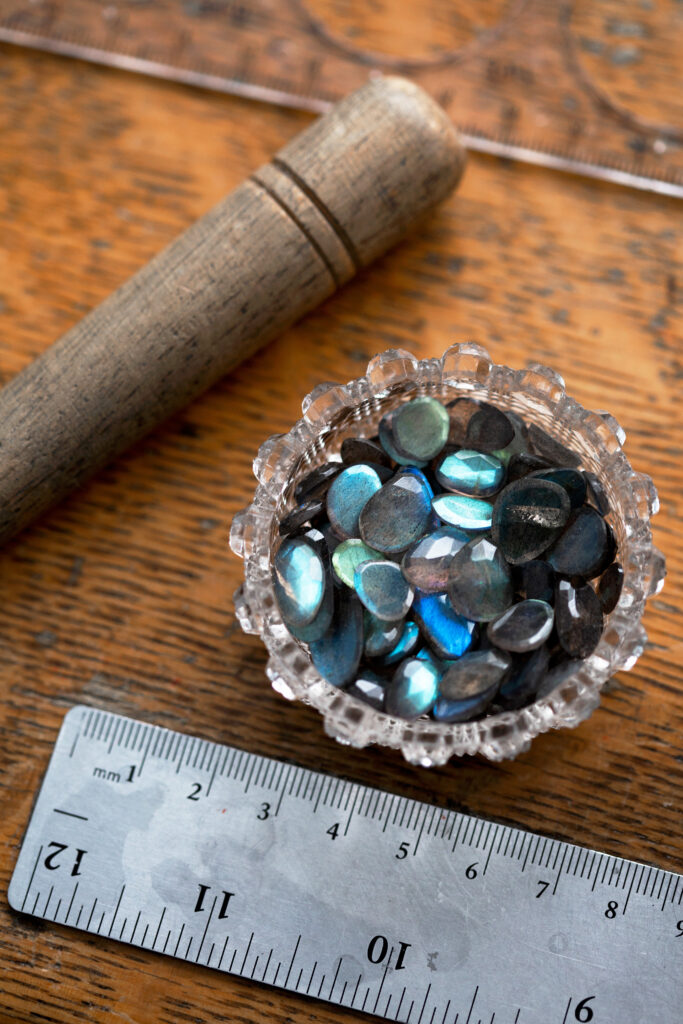 "If I had my life to live over again, I would form the habit of nightly composing myself to thoughts of death. I would practice, as it were, the remembrance of death. There is not another practice which so intensifies life. Death, when it approaches, ought not to take one by surprise. It should be part of the full expectancy of life." – Muriel Spark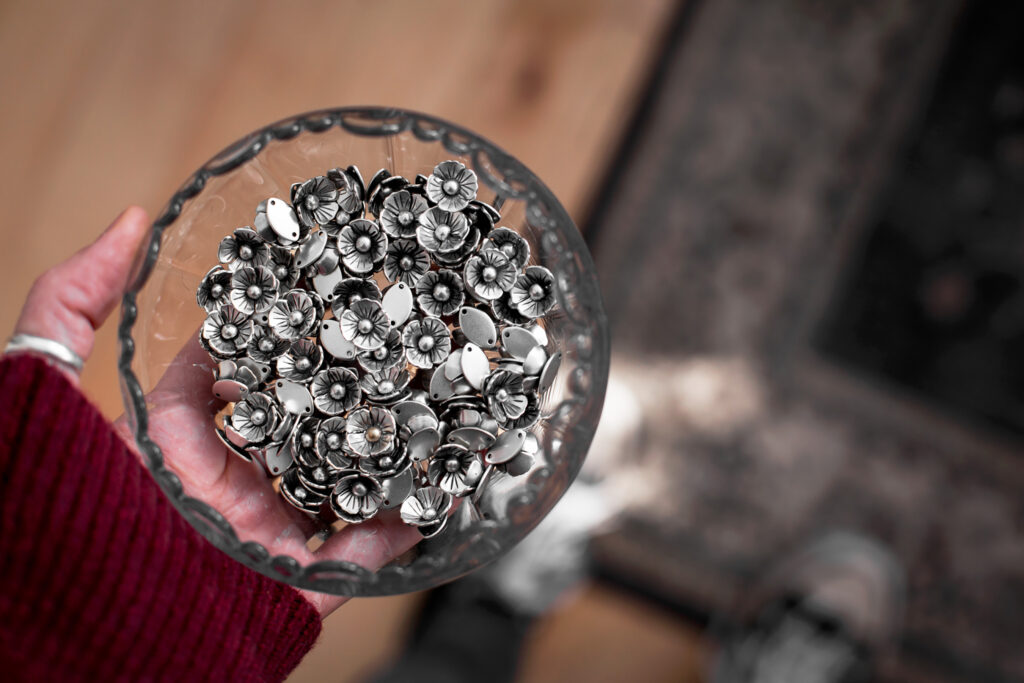 Symbolically, poppies are flowers of remembrance and consolation. Labradorite matches this sentiment, in my mind. They are somewhat somber, somewhat brooding, like a chilled rainy day. The base stone is a murky gray, or sometimes dark but clear like a rain puddle. But then when you tilt the stone in just the right way, there is a flash of brilliant blue or green, like a sudden memory. As such, these feel like perfect memento moris, tokens of remembrance.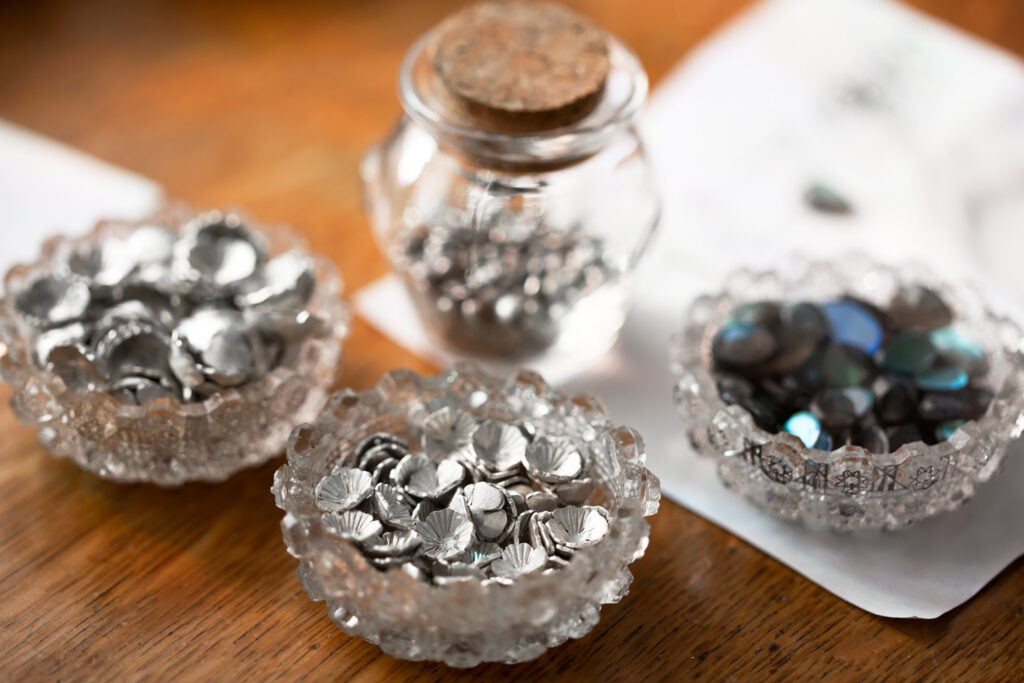 Despite their somewhat melancholy origin, watching these poppies grow and bloom across my bench-top over the past few weeks has been like pure, springtime magic. These flowers inspired me dig out an armful of dresses to wear around the house, because I am ready for summer sunshine, dappled forest shadows, and handfuls of wildflowers. And I am pleased as punch to share them with you now!
---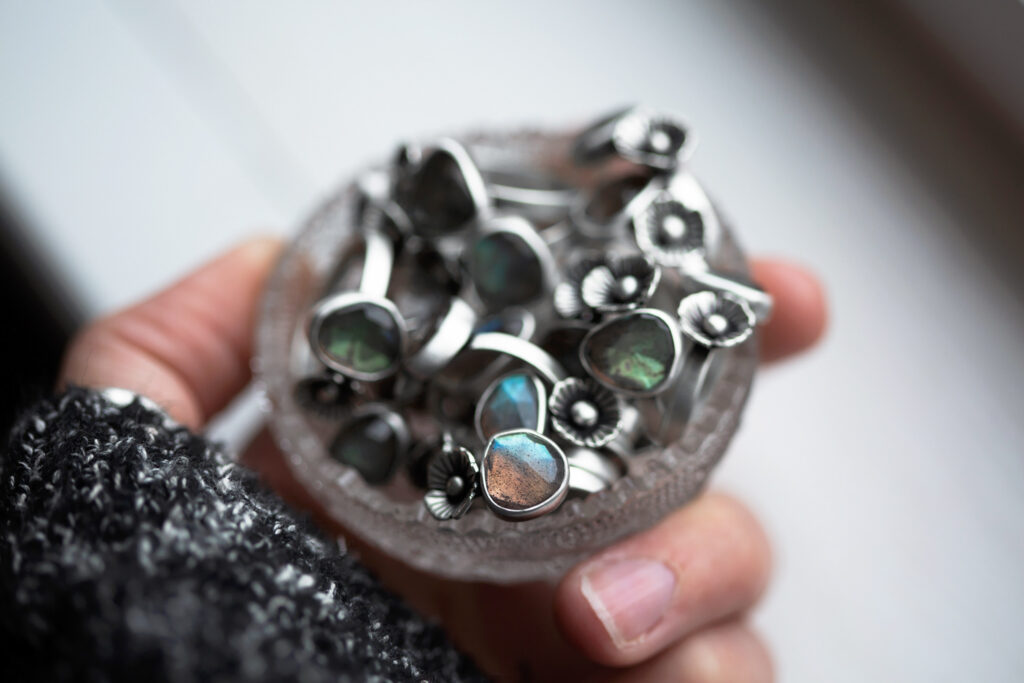 Memento Mori Rings
There will be 44 rings available.
Price: $126 per ring
Sizes: 4.75, 5, 5, 5.25, 5.5, 6, 6, 6.25, 6.5, 6.5, 6.5,
7, 7, 7, 7, 7, 7, 7, 7, 7.25, 7.5, 7.5, 7.5, 7.5, 7.75, 8, 8, 8, 8, 8,
8.25, 8.25, 8.5, 8.5, 9, 9, 9, 9.25, 9.5, 9.75, 9.75, 10, 10.5, 11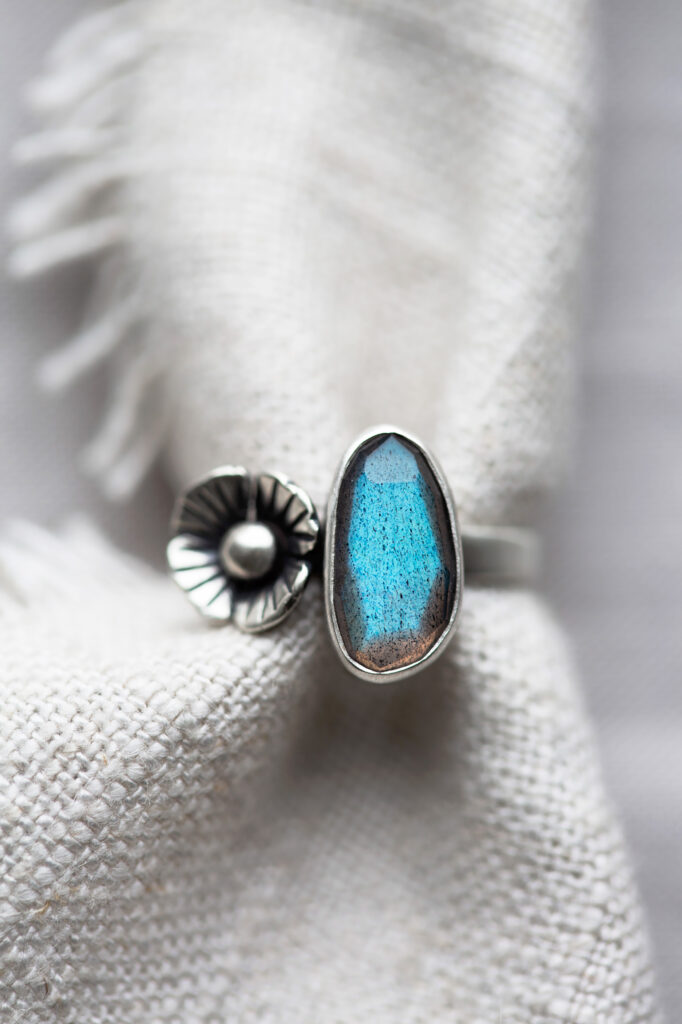 When I decided to revisit the Memento Mori Earrings for those who missed them during the Nocturne Collection, I knew I wanted to add a ring. Something simple and dainty, but unique. I knew that this design was going to be pretty, but I didn't know how I would fall head over heels for them!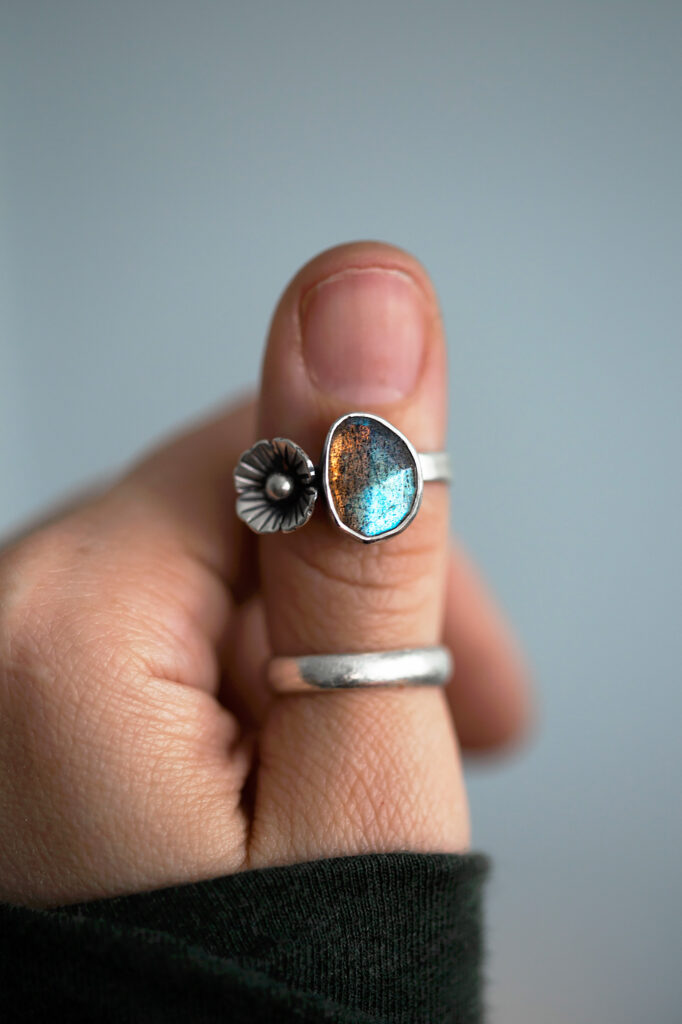 Whenever I make a new design, I always like to wear the prototype for a day to see how she handles. I want everything to feel just right before I make the others.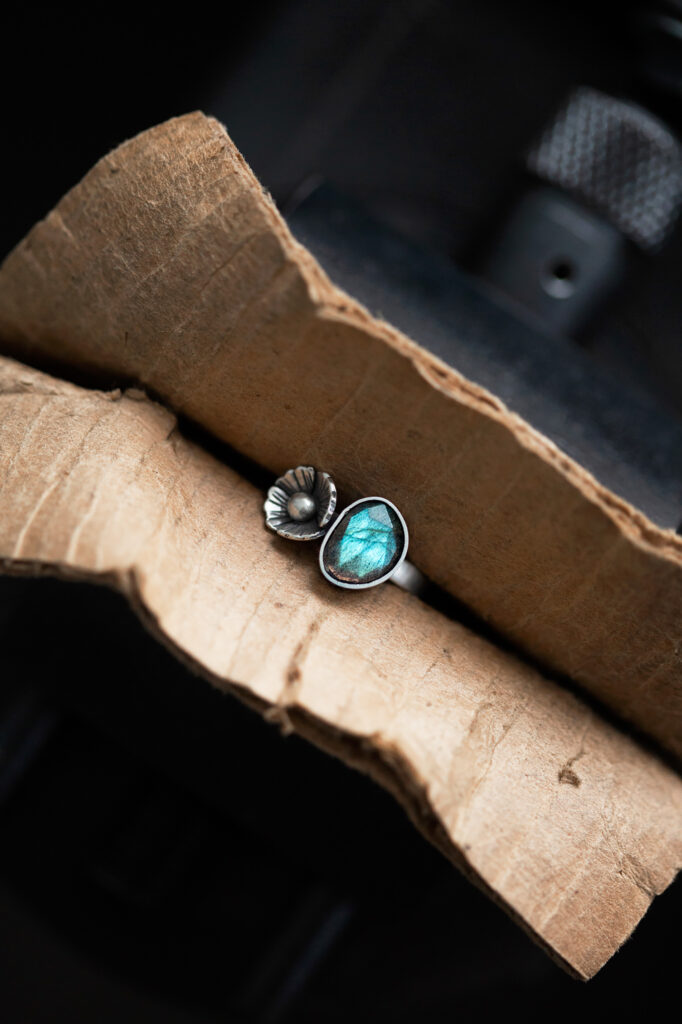 What I was not expecting was that I would spend the entire afternoon staring at the ring, tilting it in sun and shade, watching it as we drove to the ocean.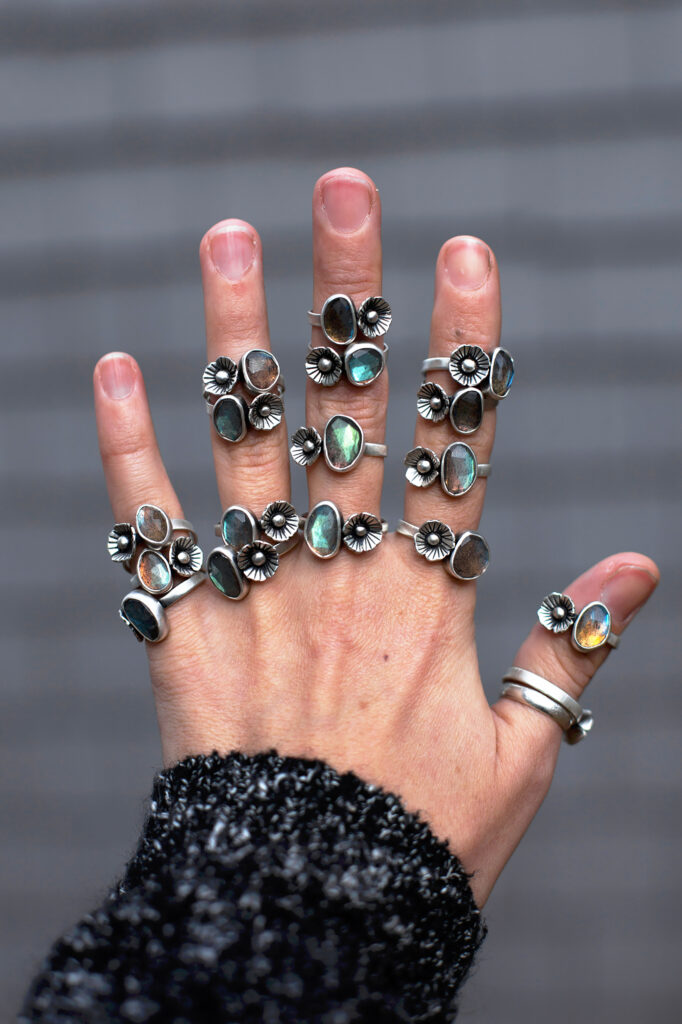 I find I love everything about this design, the way the gemstones catch and throw the light, the broody shadows of the poppies, how they rest so lightly on the hand.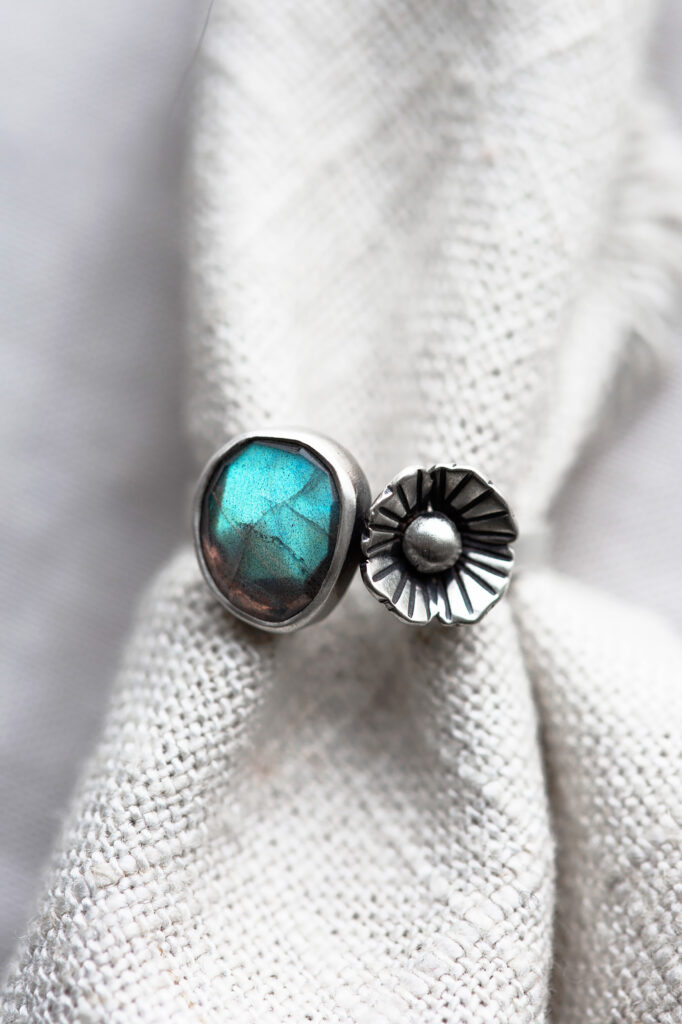 I tried to make as many of the requested sizes as possible. They will still be first come first served, so no worries if you didn't get a chance to call out your ring size. There will be a little over three dozen available.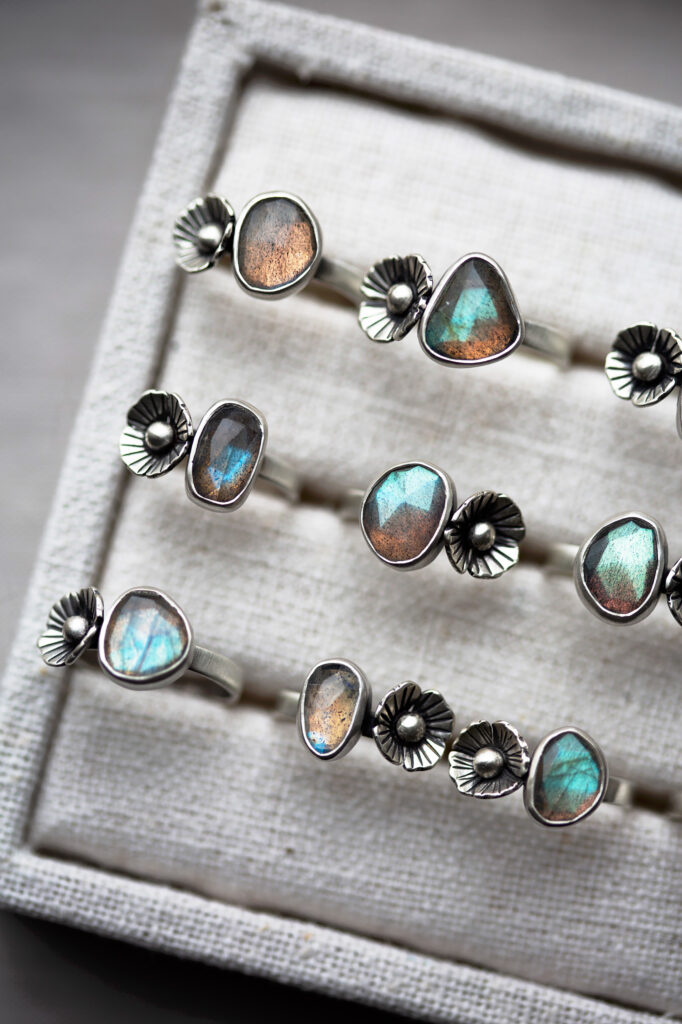 These rings have been hand-sawn and forged from all sterling silver. Fabricated petal by petal, this design features a poppy with gently curled petals to give the piece dimension and texture.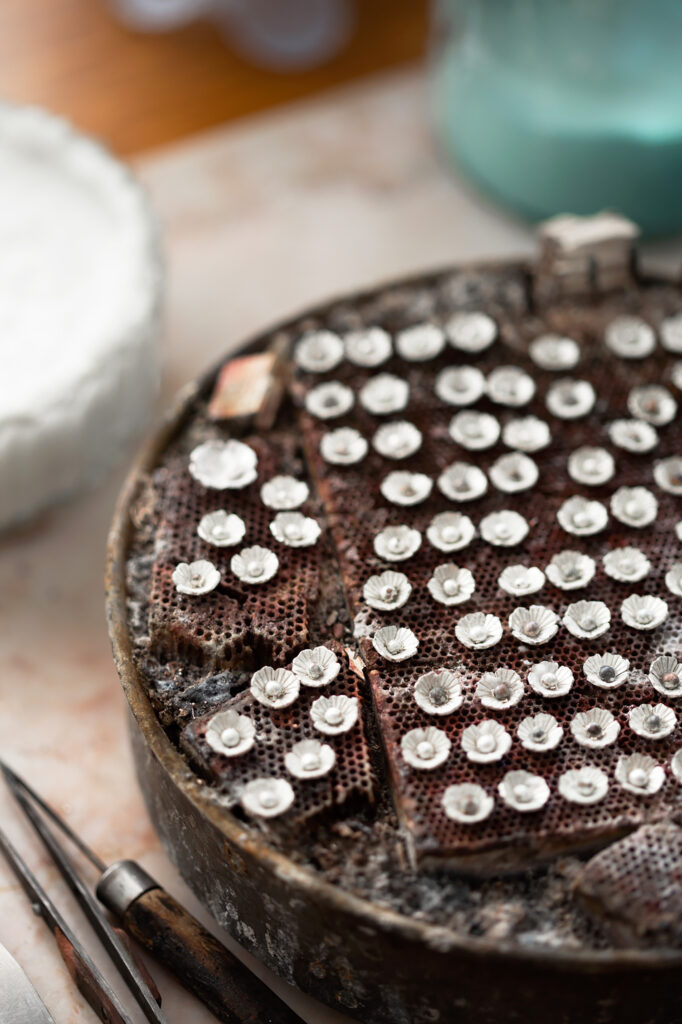 In the center of each flower is small sterling silver pollen granulation. The flower measures around 8-9mm, but each ring will be slightly unique in size and shape.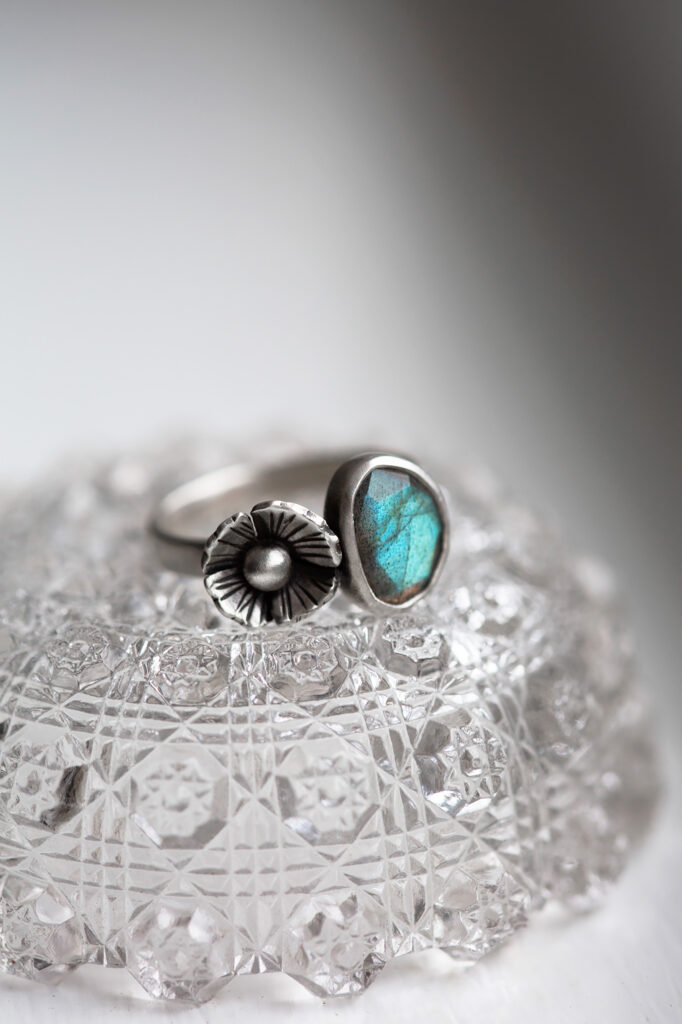 Each poppy rests gently against a shimmering, faceted labradorite gemstone. The stones in the rings have a liquidy glimmer across the top, and a warm glow from within. Pure, otherworldly magic in a stone.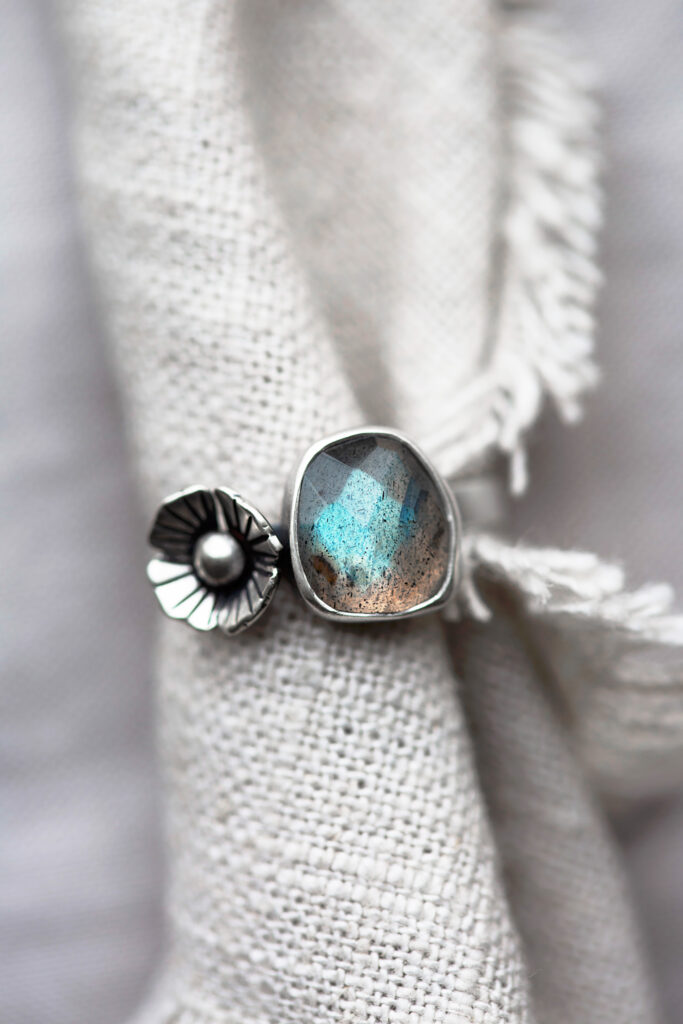 Each ring is set atop a 3mm rectangle sterling silver band and fit true to size.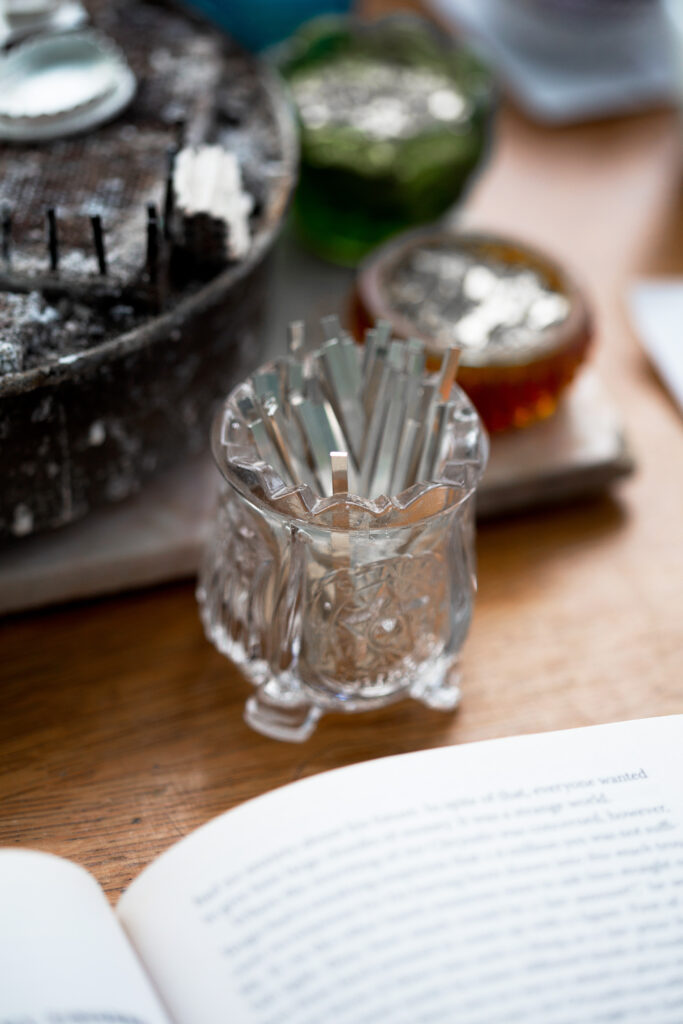 They have been oxidized and brushed to bring out the intricate detailing of the petals, and offset the bright flash of the stone.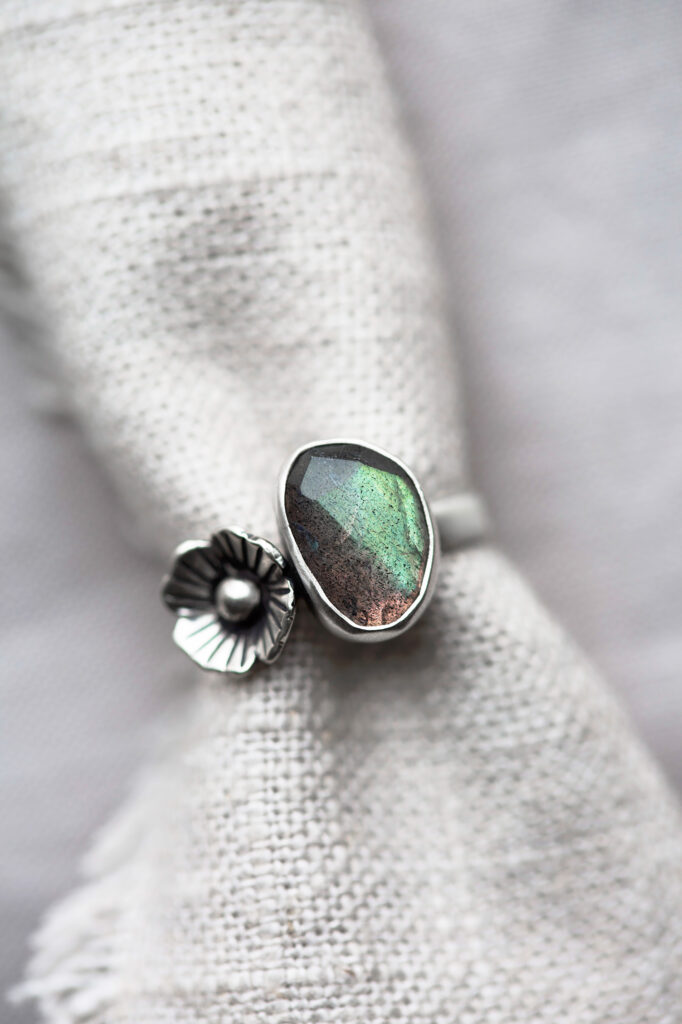 These rings truly send my heart a-patter. They are all flaunt and flash and furl!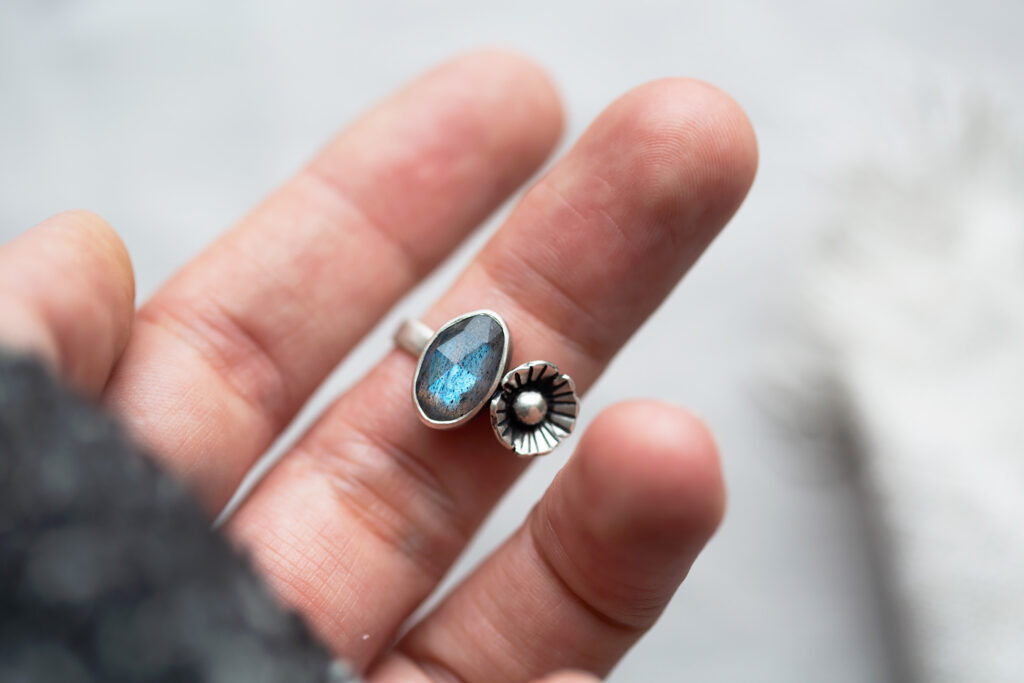 ---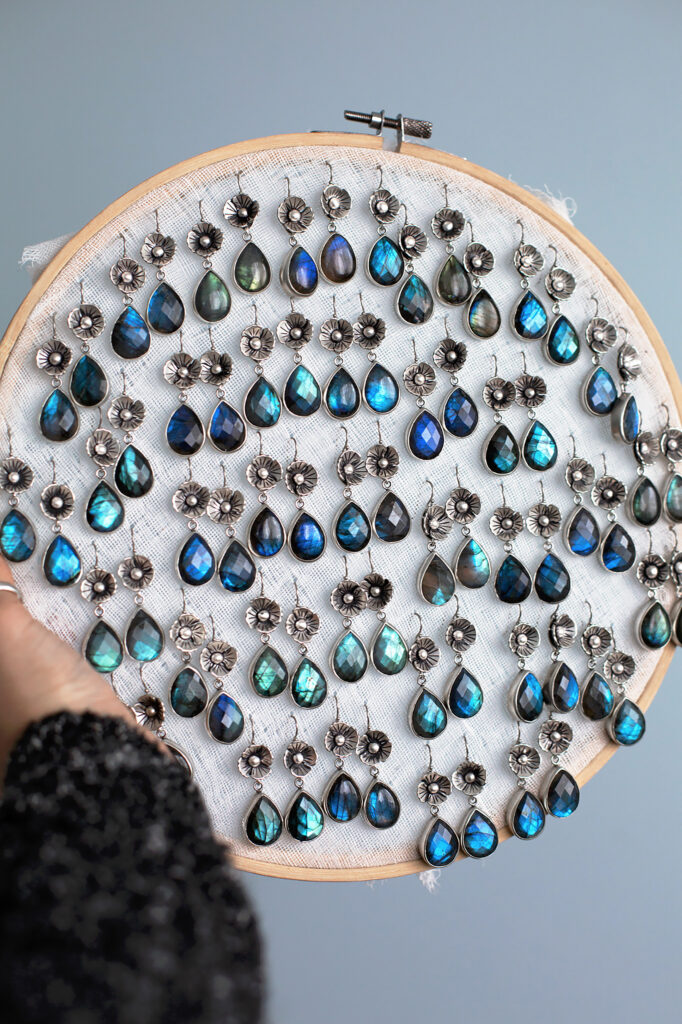 Memento Mori Earrings
There will be 35 pairs available.
Price: $148 per pair
They measure about 40mm from the top of the earwire to the bottom of the stone.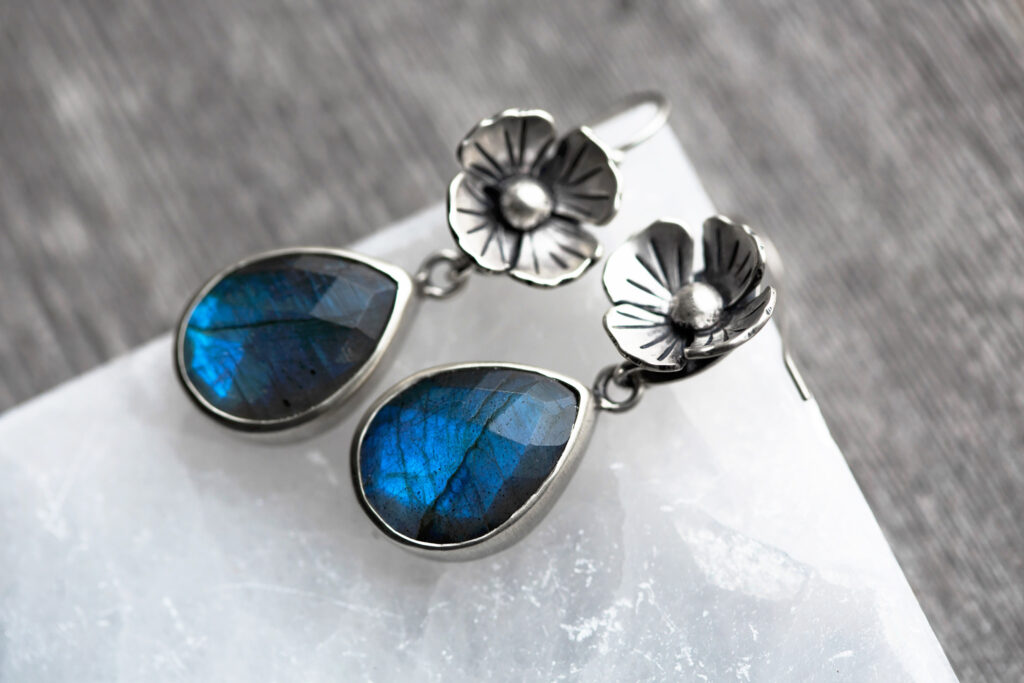 "Memento mori" is a Latin phrase which translates as "remember death." Throughout art history, there has been a wide range of memento mori objects: Rennaissance paintings of decaying fruit, marble sculptures of skulls, morbid prayer beads, and so forth. All to remind the viewer of the transience of life. And so, a poppy for remembrance, and a somber stone with a sudden brilliant flash of memory.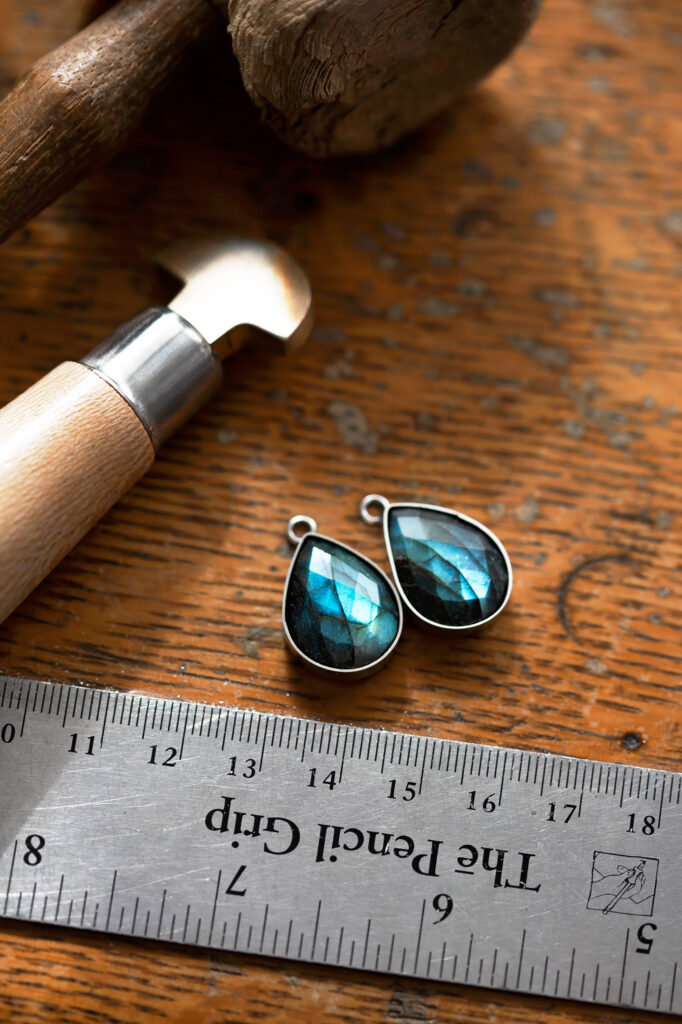 Can you even believe that the earth created such otherworldly, magic, thundery gemstones as these?? This teal is so jaw-dropping, especially in person.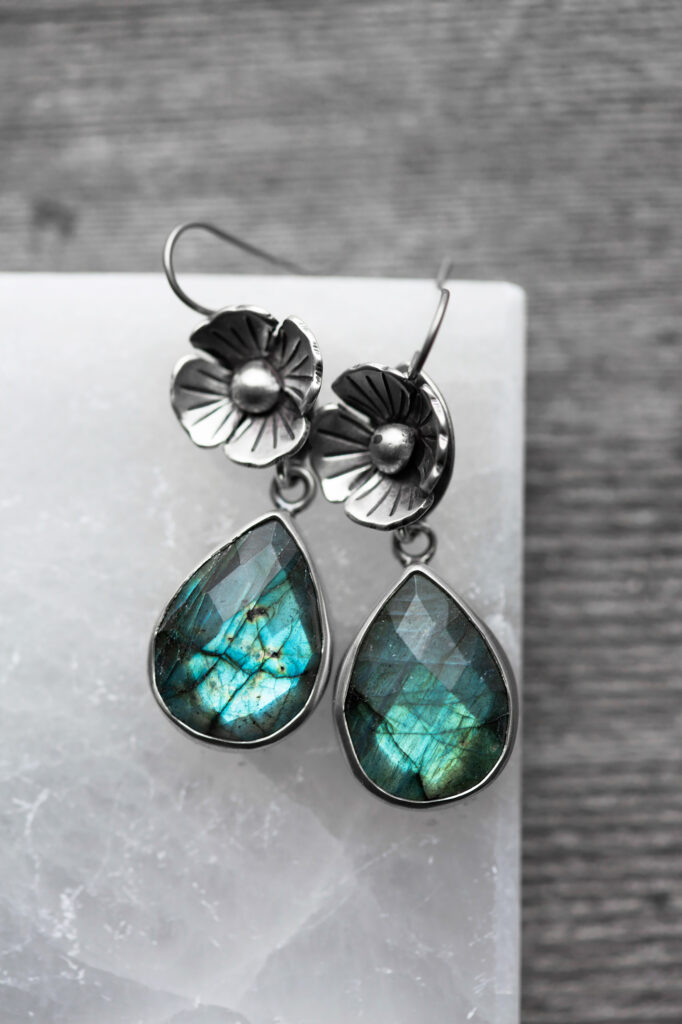 I kept a deep blue pair for myself, and find myself constantly tilting them in sunshine whenever I catch sight of them in a mirror or shop window. I am bewitched by these gemstones.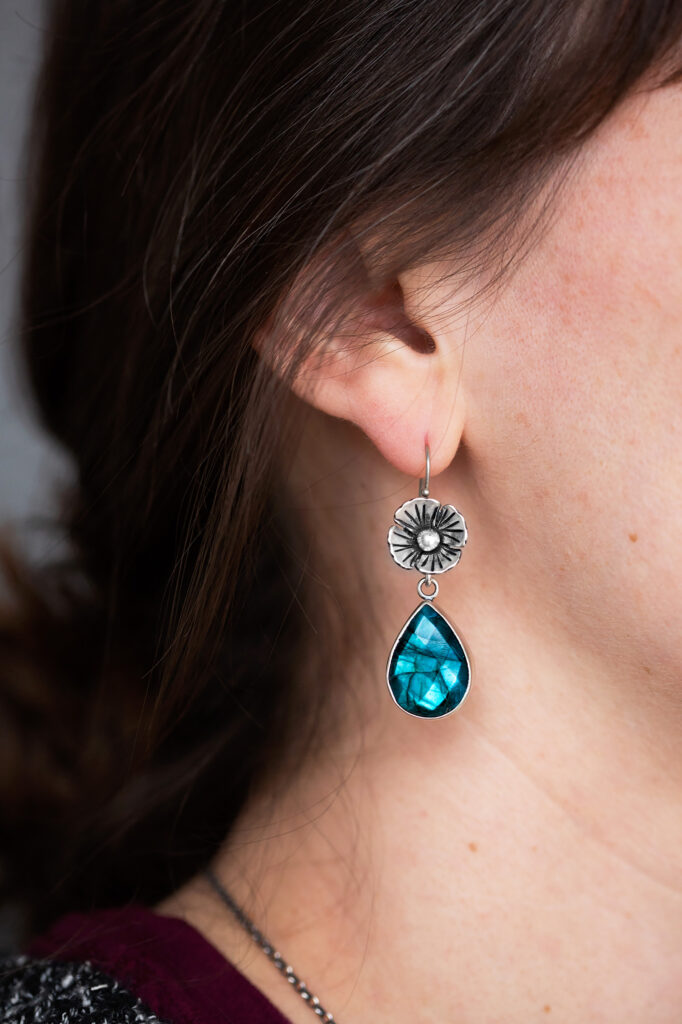 Labradorite can be somewhat hard to photograph. The flash can be furtive and selective, waiting for just right light before it will streak across the stone.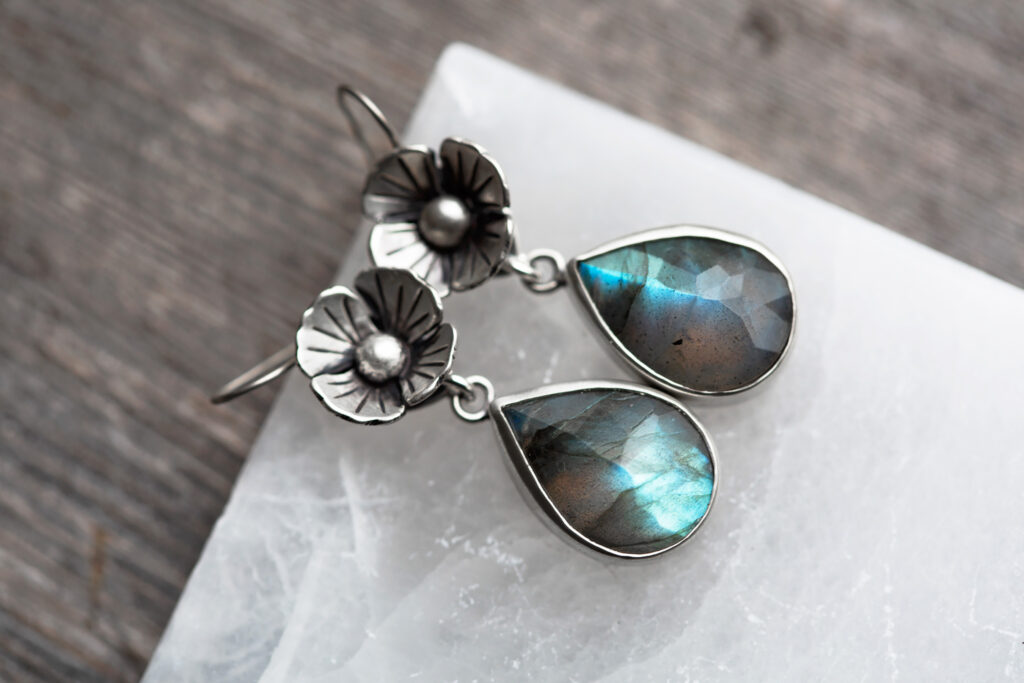 But there is something about dim afternoon light in winter that positively sets these stones aflame.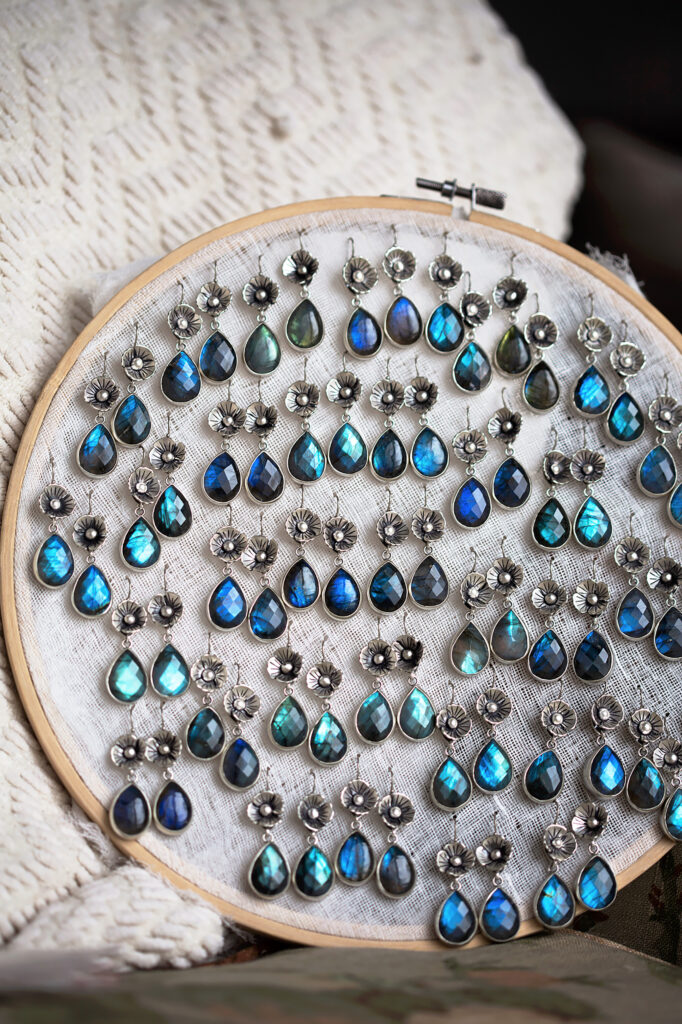 Like the rings, this design features beautiful labradorites, some are smooth and some are faceted. They range in color and hue from leafy green to deeply saturated teal to deep dark blue.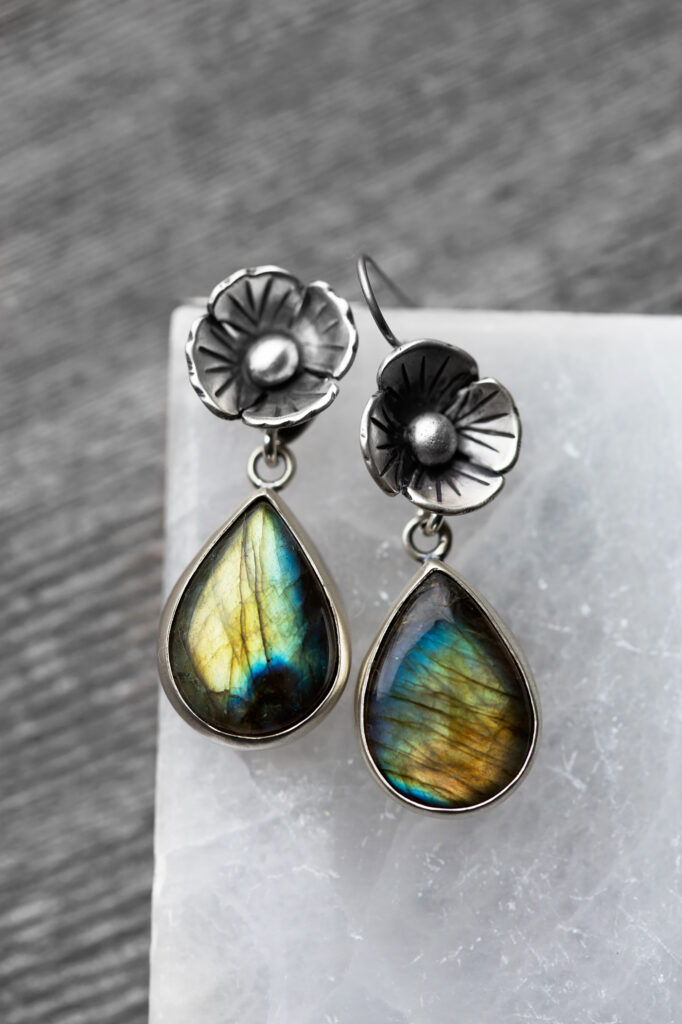 For the earrings, I used big generous cuts of labradorite, somewhat rough and organic. Many featuring crackles and fissures, bold flashes and sometimes irregularities on the surface. Like stones one would find tucked amongst wildflowers, weathered and natural.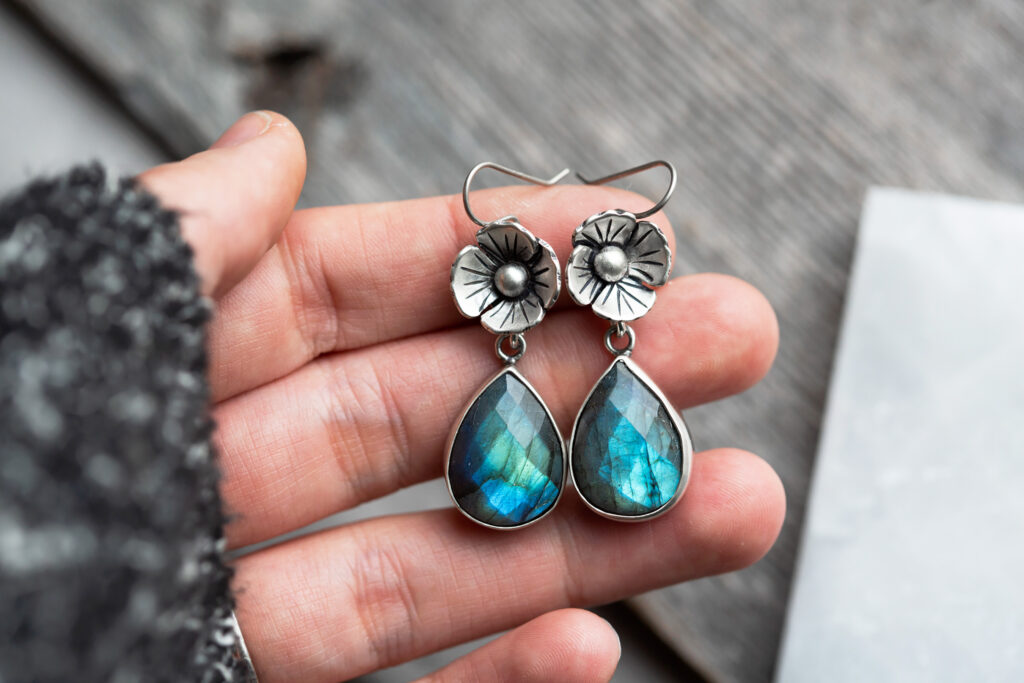 Each stone is suspended below a fluffy hand-forged poppy, and dangle from french ball earwires.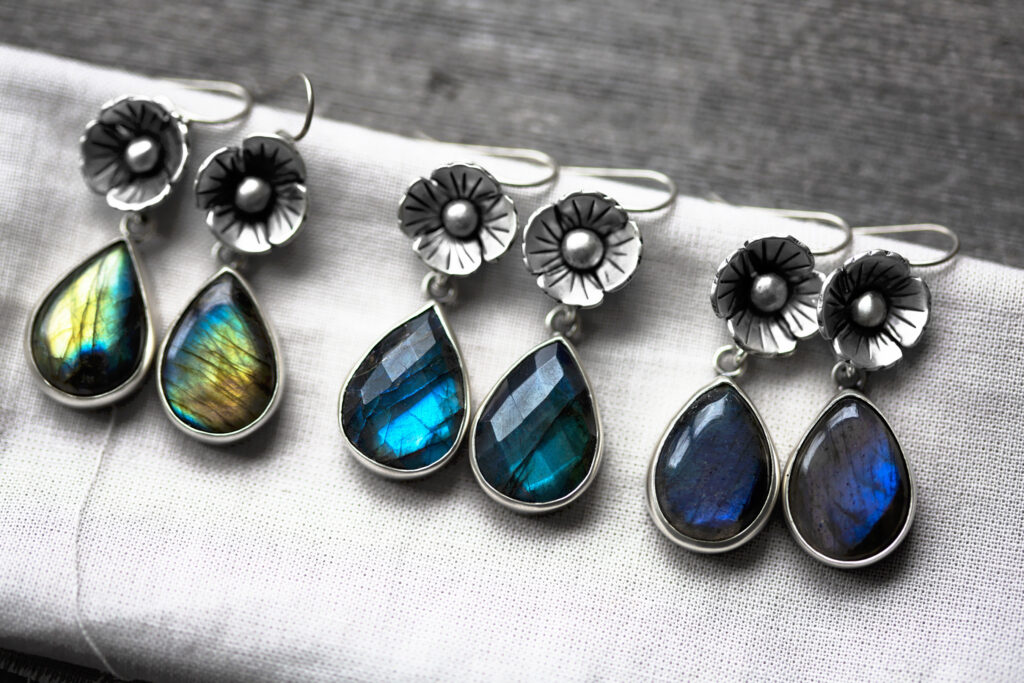 Like the rings, the earrings have been given a patina and hand-polished to give the pieces shadows and texture set against the brilliant flash of the labradorites.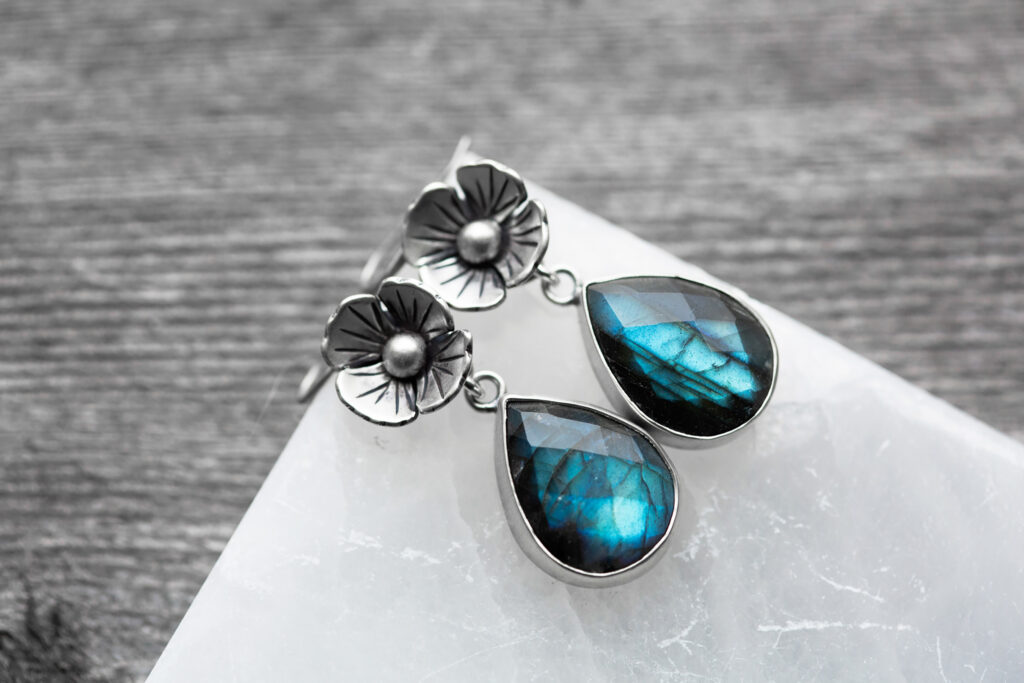 ---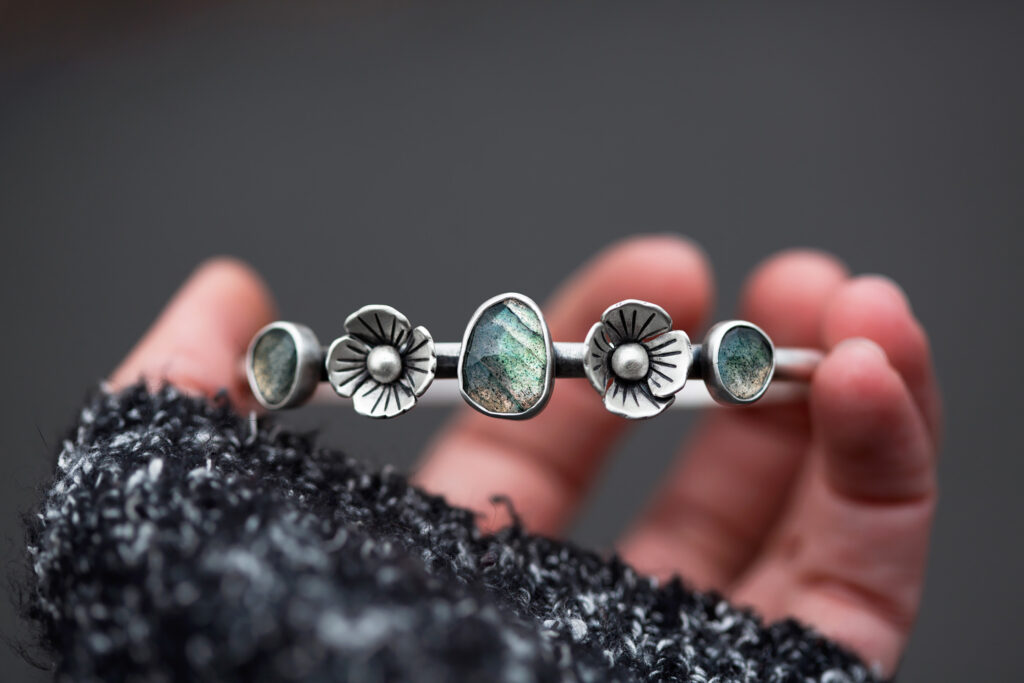 Memento Mori Cuff Bracelets
There will be (14) bracelets available.
Sizes: There will be (10) S/M bracelets, and (4) M/L bracelets available.
Price: $165 per bracelet
* S/M = 6″ around with a 1″ gap
* M/L = 7″ around with a 1″ gap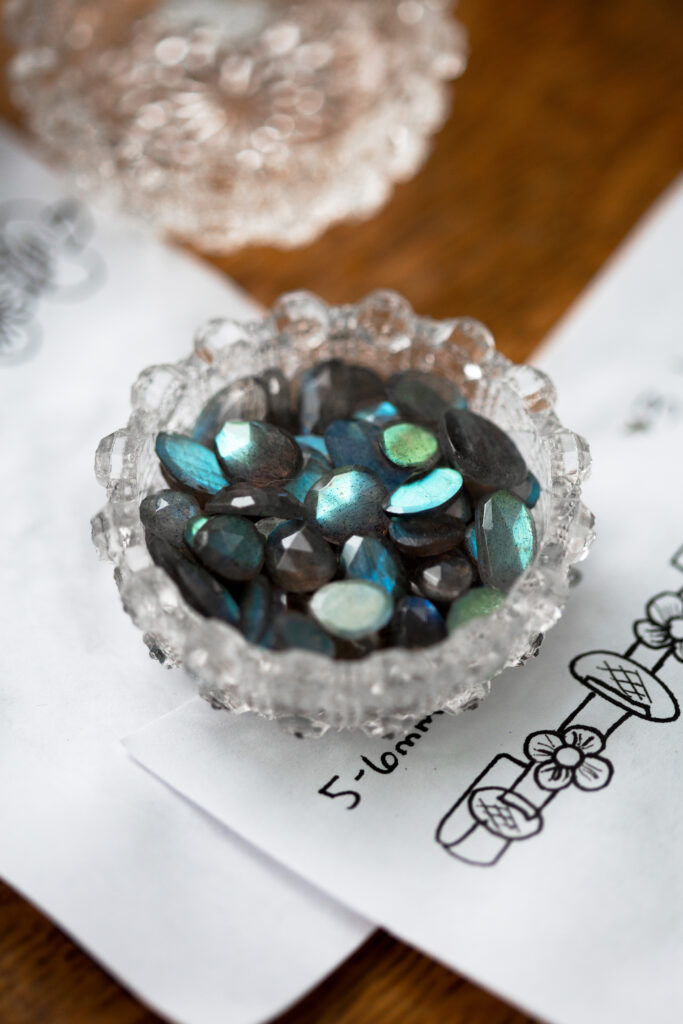 Is there anything better than having a handful of poppies blooming and thundery gemstones atop your wrist? I think not.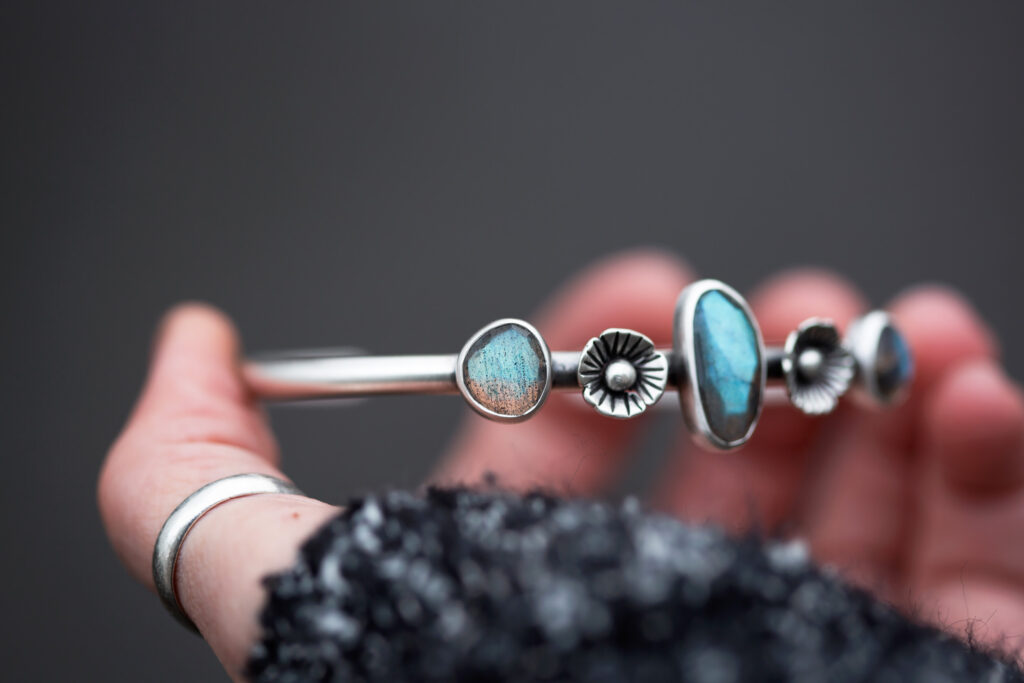 I could tilt and twirl these labradorite gemstones all day. The flash in each stone is so different, as is the clarity.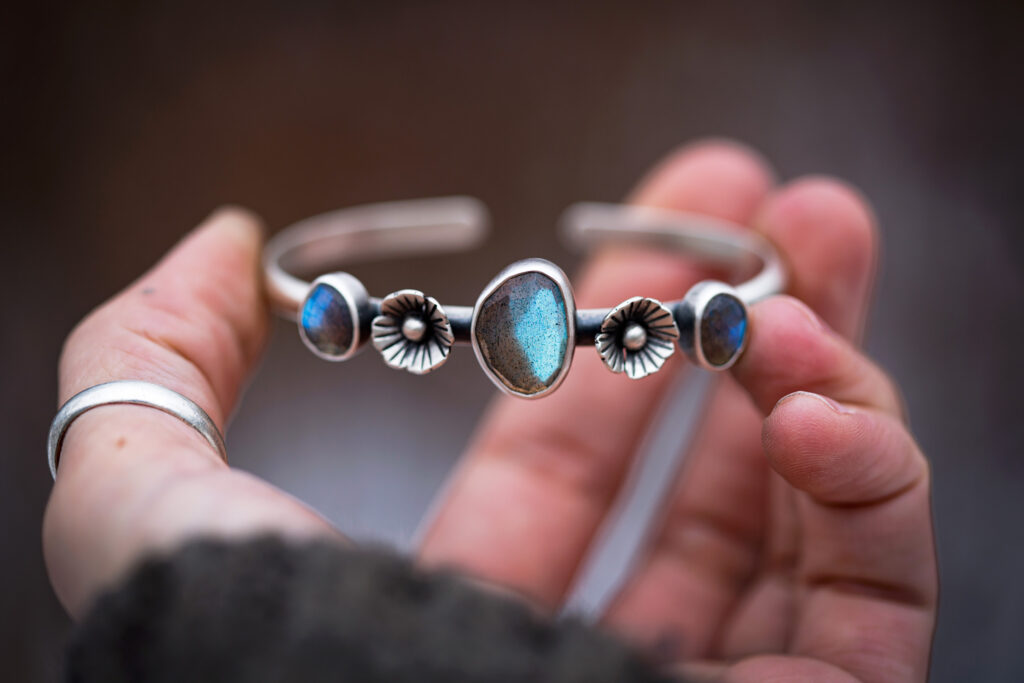 Some are somewhat rough and organic, with surface crackles and striations running through the stones. Others have the most unreal, uniform, watery shimmer across stones that looks like a bright, blue sky reflected in springtime sky puddles.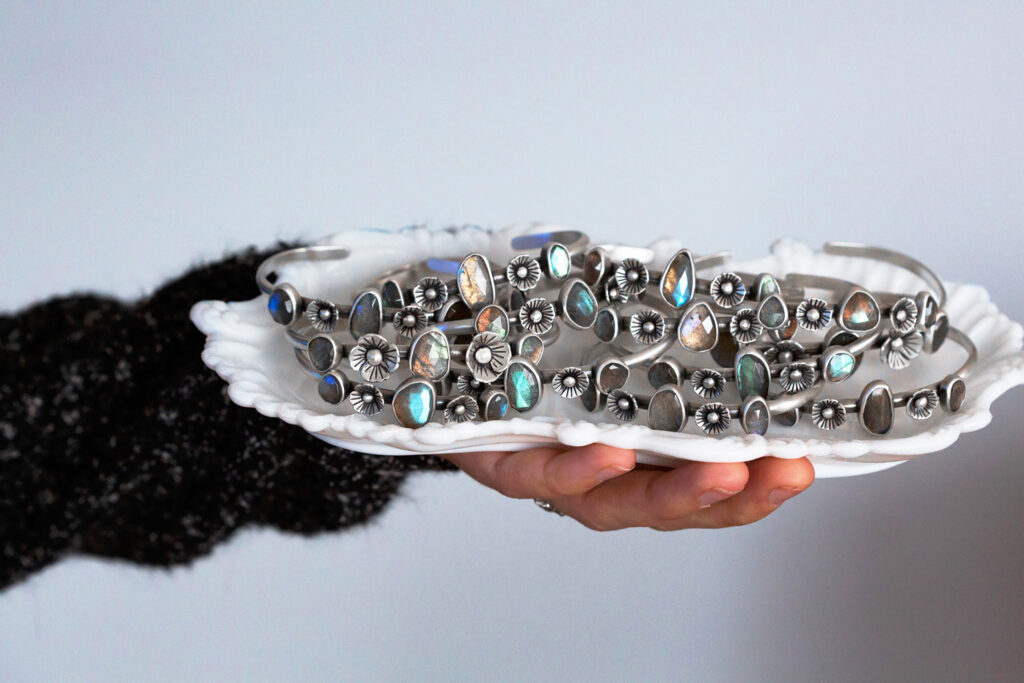 I tried to get a family photo of them all in a bowl, but I just couldn't tame them. They were flashing and blooming in all different directions, but I hope you can get an idea of them!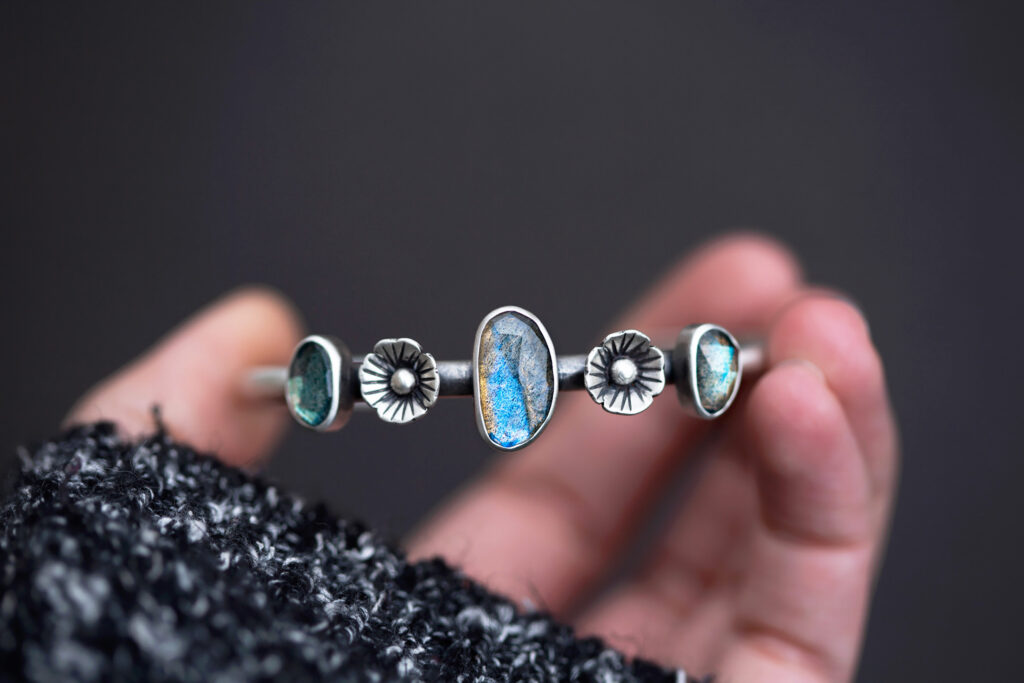 This design consists of a few beautiful cuts of shimmering, faceted labradorites, and delicately crafted poppies, dotting satiny bracelet bands.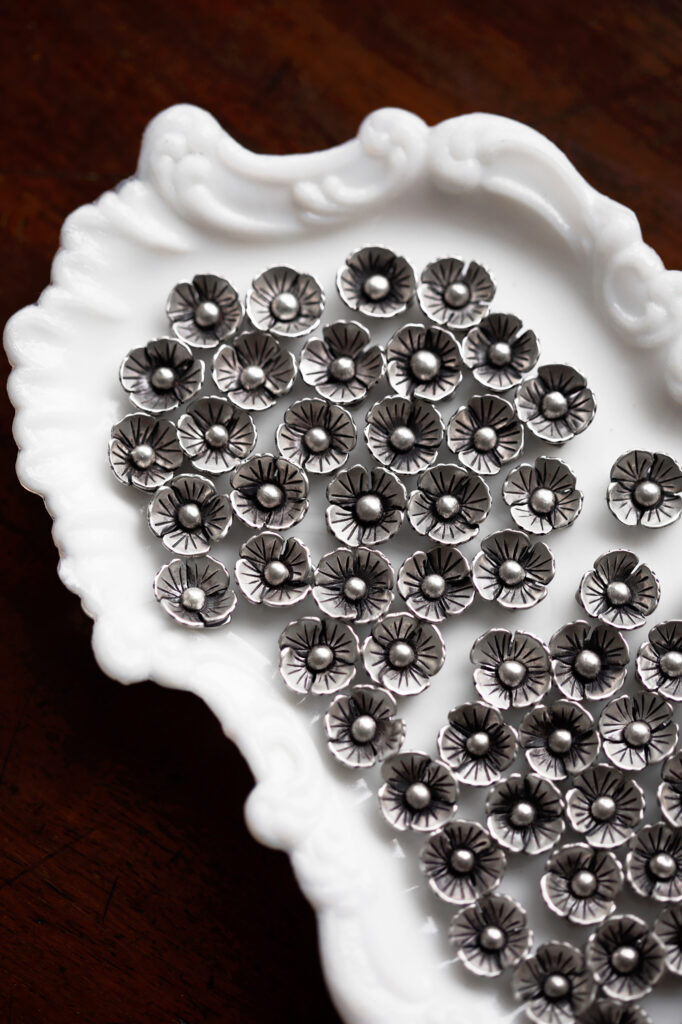 Unfurling poppies (for remembrance), thundery labradorite in various cuts and hues, and shadows in all the corners.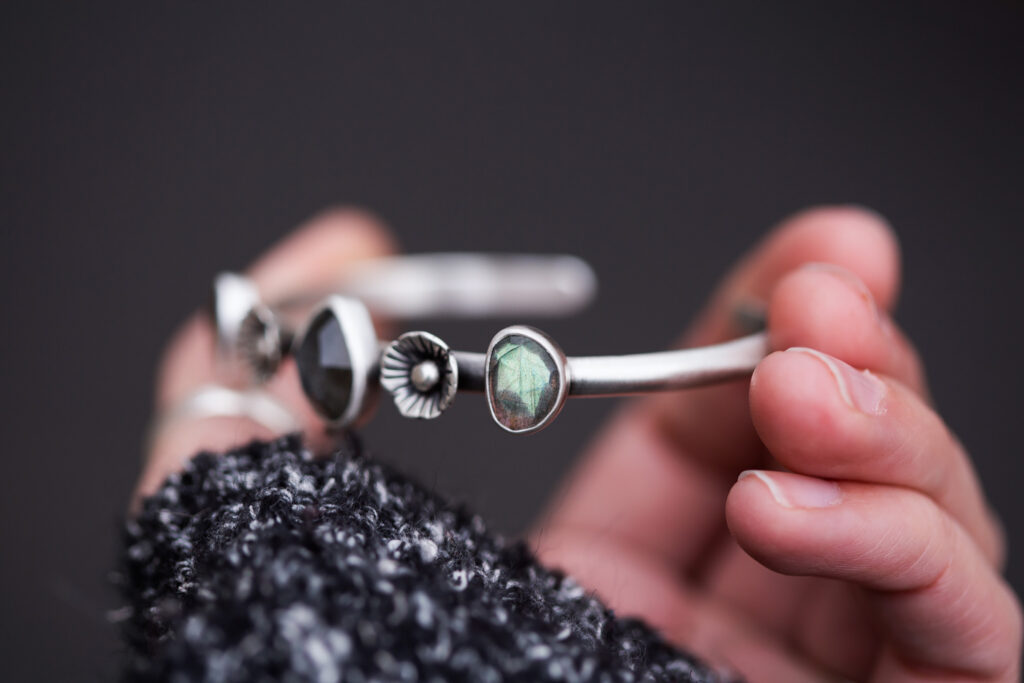 These cuff bracelets are easily adjustable and are hand-forged from sterling silver. The cuff band is made from strong half-round band for comfort.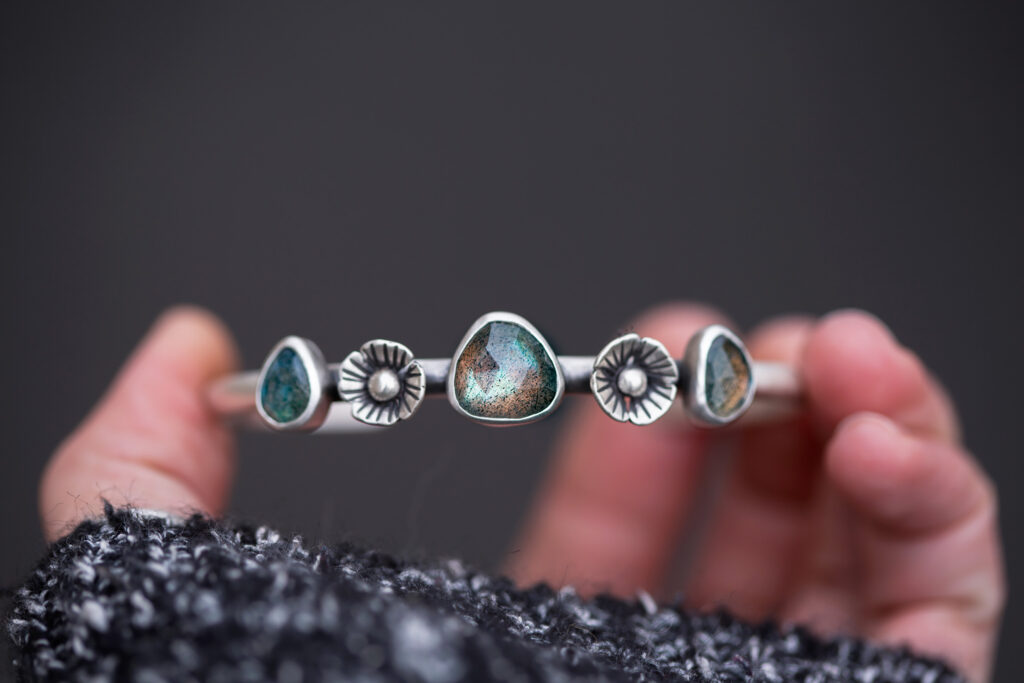 And that's everything that will be included in this final Memento Mori offering!
Memento Mori Collection Release: Sunday, March 13th at 7PM EST in the Etsy shop
---
A few things to keep in mind
Please double check your shipping address on your Etsy account before the release to make sure it is correct before you place an order.
Remember! Etsy won't reveal my new listings for you right at the release time, you have to refresh and reload my shop page, sometimes a few times, before they all show up. It even does that for me to see all my new pieces!
Etsy is often slow with populating my shop after I publish my listings, I believe because I list so many pieces at once. I have been told this is because they work out of the cloud now rather than dedicated servers.
So if you want to try for a piece at release time, start on the home page and move through the pages from there. If you click on the collection section on the left, sometimes it takes 15 minutes or so for listings to show up. A very strange glitch, but it happens. Refresh often!
Also, some have noted that the Etsy App is glitchy, so a web browser on your phone or on a computer is the most reliable way to go.
Make sure you look at all the photos of the pieces you are looking to purchase, because I try to photograph these pieces from every angle, in my hand for size reference, and in natural light, so you can see exactly what you will receive. I want you to be sure you are purchasing the perfect pieces for you!
That being said, an item isn't "yours" until you complete checkout. Meaning that other people can purchase items you are looking at, or that you even have in your cart. This is an Etsy feature that I cannot change.
My advice is that if you have a piece you have your heart set on, complete checkout with that item first. If you click "Buy It Now" the listing's page, you can purchase much quicker. And then go back for the other pieces you want. Checking out separately allows you to claim your pieces more quickly, and you have less of a chance of a piece being scooped out of your cart.
 In the days following the release, I will refund any shipping overages for those of you who place more than one order. 
Cheers!