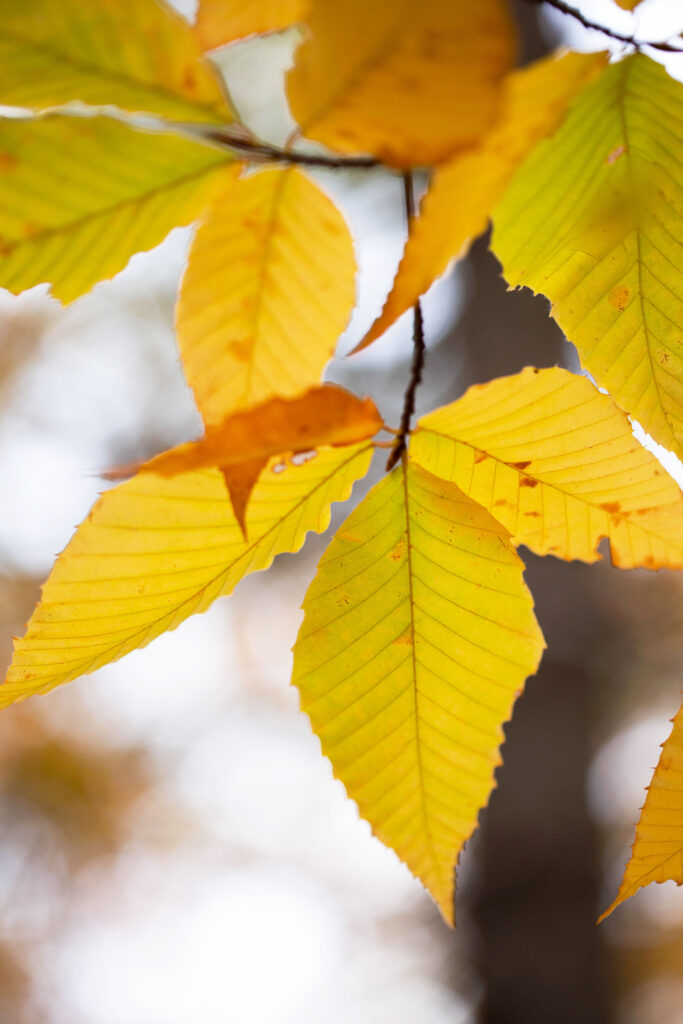 It has been a whirlwind since I last posted a blog preview. And I am now sitting cozily in that violet lining I dreamed of a few months ago. We are in our new (temporary) home, and this is the year things will shift for us. My heart is full of hope and anticipation for the next twelve months.
Anyways! It is spooky season, and for the first time in a few years I have a Nocturne Collection for you ghostly souls. I have wanted to create a Halloweeny series for the past few years, but the autumn just seems to slip away so quickly.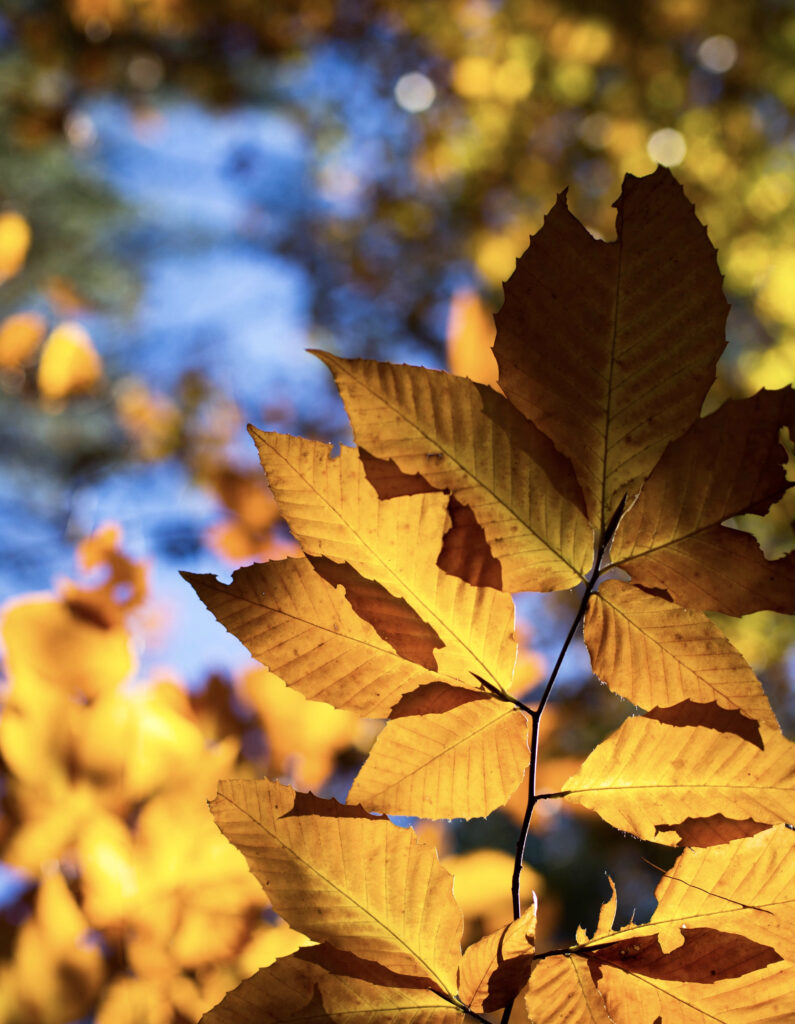 But this year, all that changed! I have been able to conjure up two Nocturne offerings, one before Halloween and one after. And this, my pumpkin pals, is the first.
---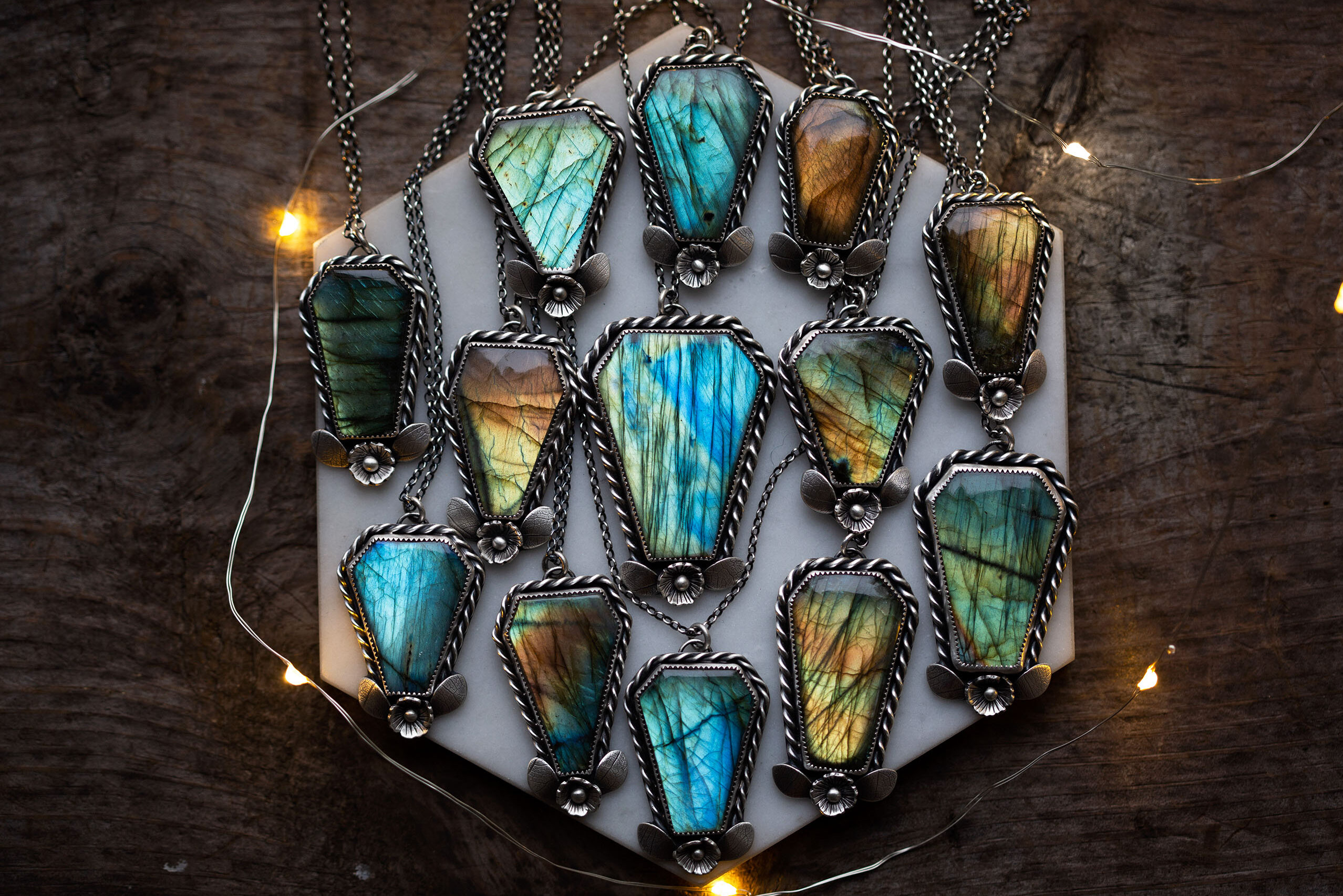 Memento Mori Necklaces
There will be 24 necklaces available.
Sizes range from Small (30-35mm), Medium (35mm – 45mm),
Large (45mm – 55mm), and one Xtra Large (57mm)
Price: ranges from $145 – $170 depending on size and stone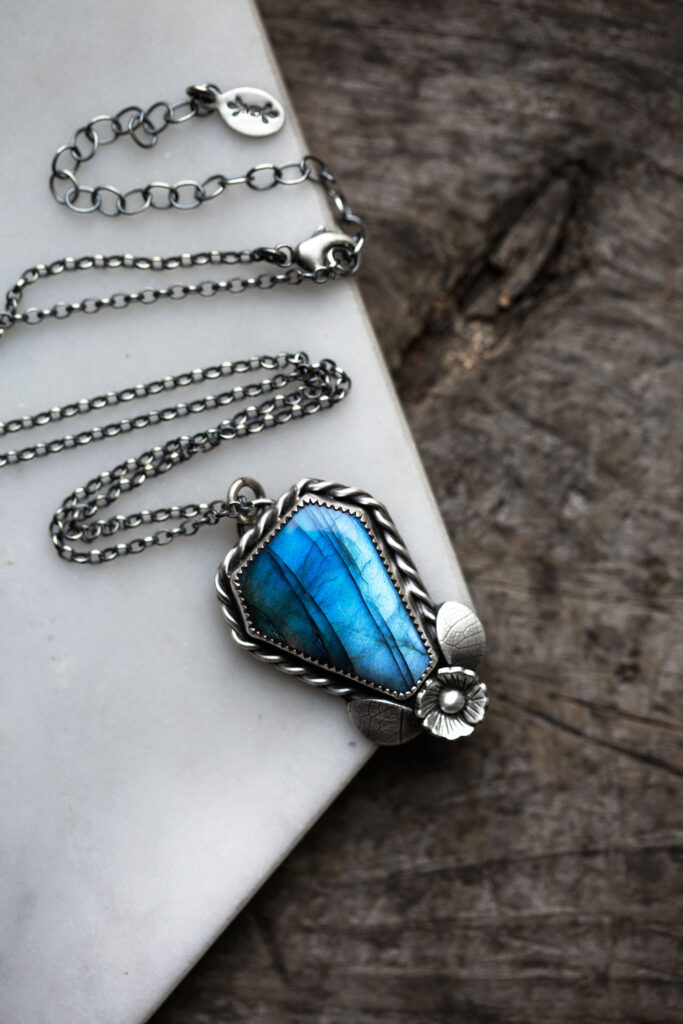 For this design, special coffin-cut labradorites are the feature, with single leafy poppies laid at the foot of the graves (the poppy means "peace in death"), viney twist borders wrapping its way around the stones (nature's reclamation), and the words "memento mori" inscribed on the backs (Latin for "remember death").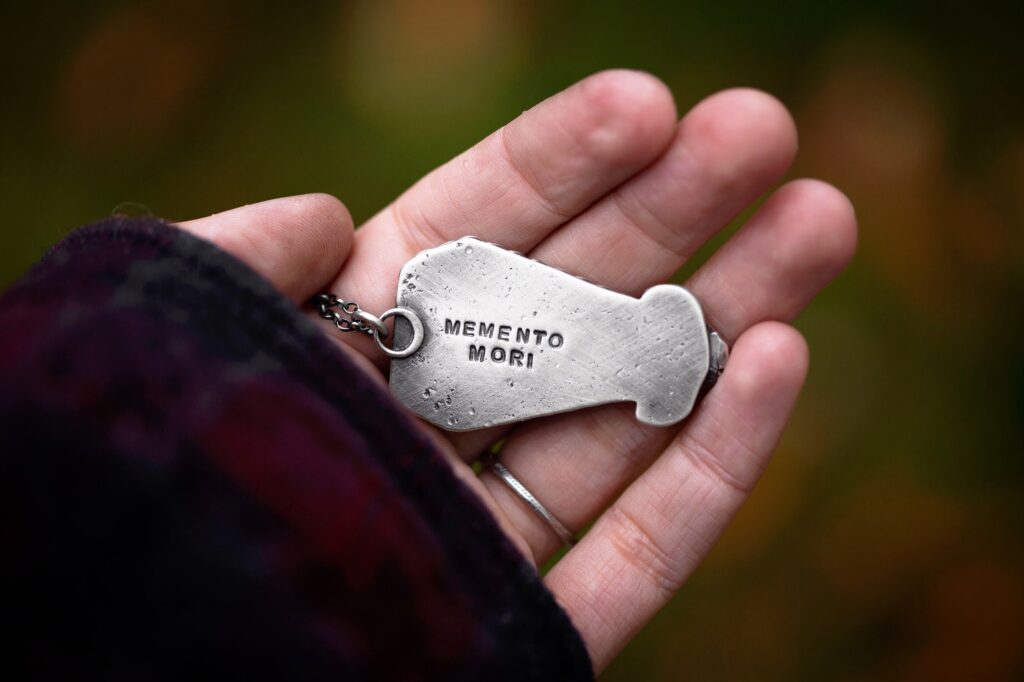 There will only be about two dozen of these necklaces, in a wide range of sizes and each color unique.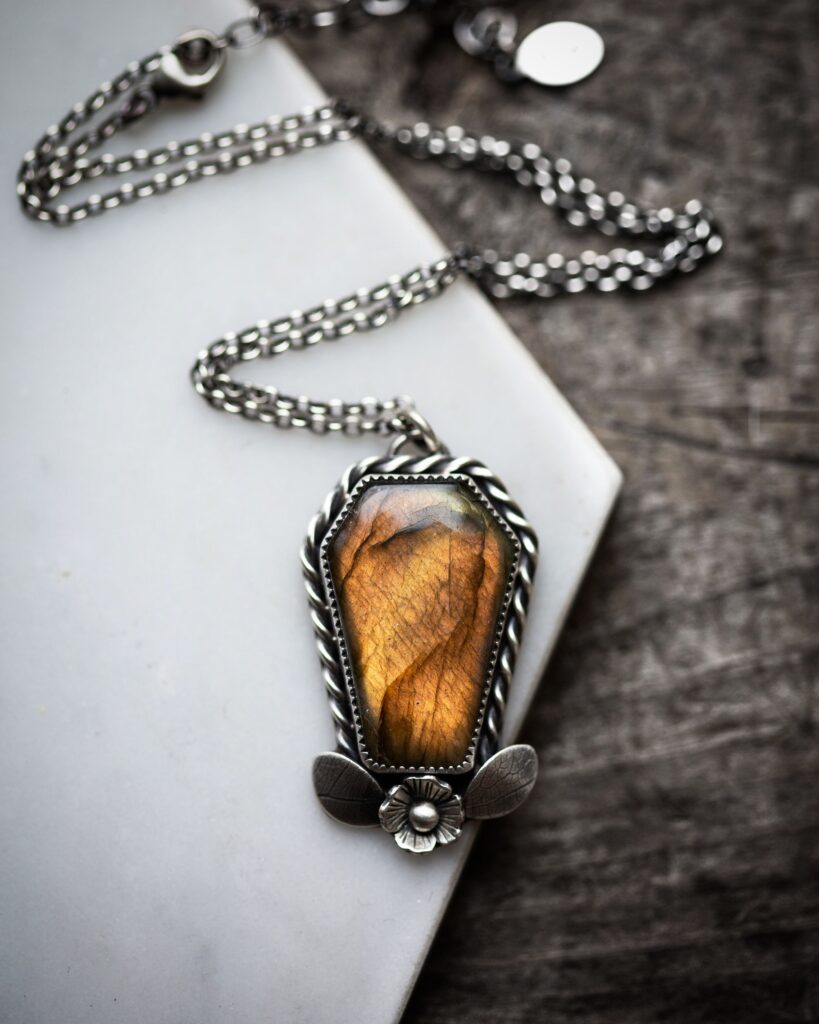 I know I shouldn't choose favorites, especially since it makes it so hard to let go during releases. But THIS gemstone, my goodness. This stone looks like autumn distilled.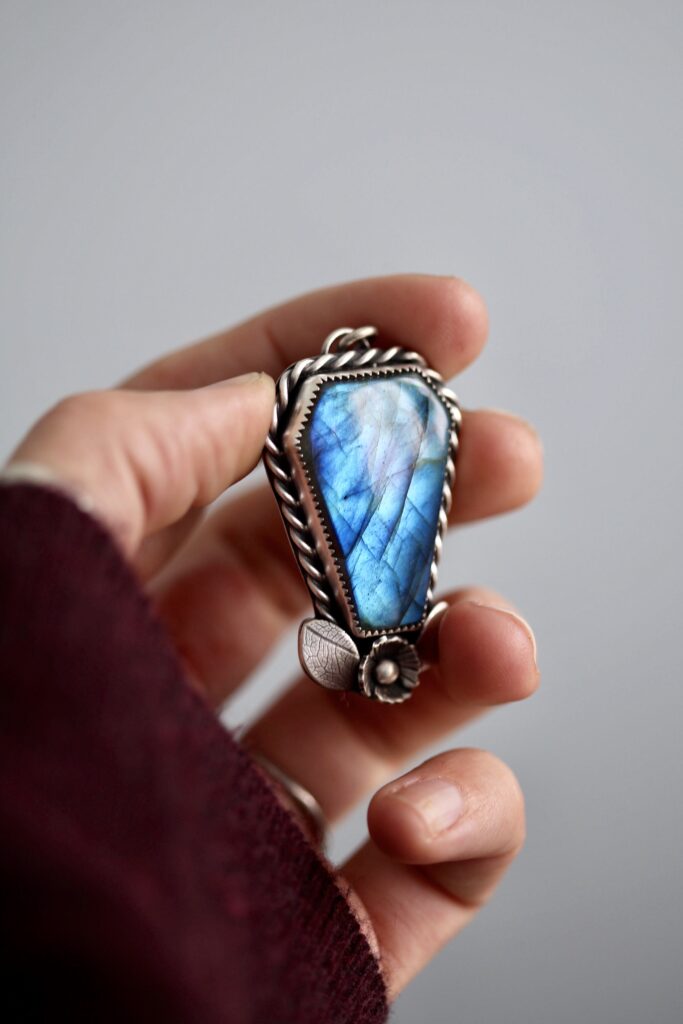 As though a pumpkin-headed alchemist pulled October and November from the world and mixed them in a giant cauldron with raven feathers and slate tombstones, maple leaves and night frights
---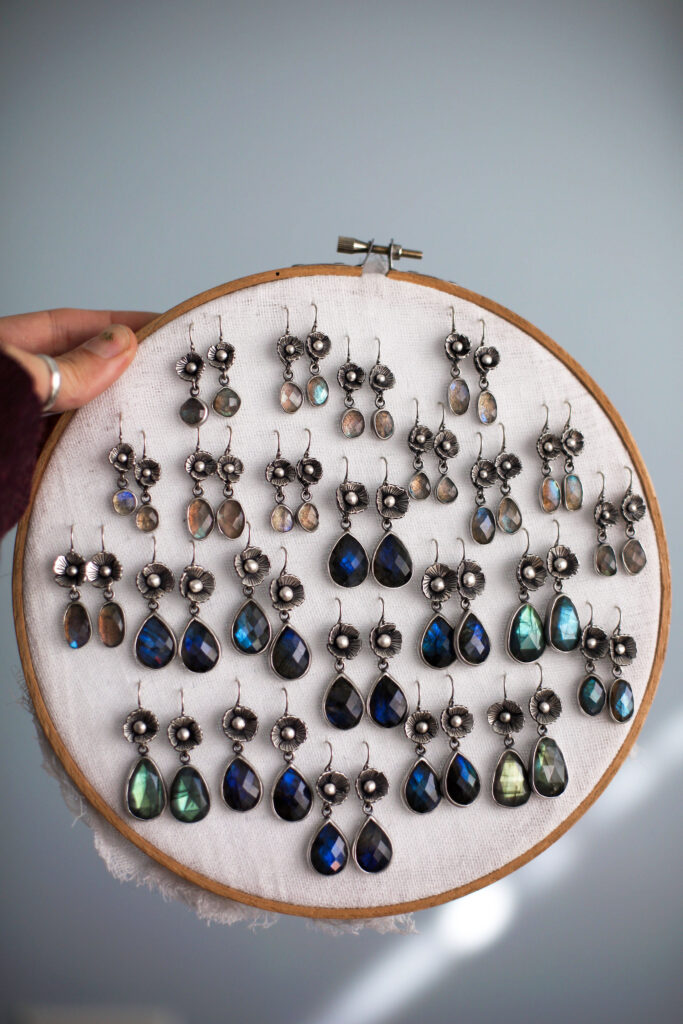 Memento Mori Earrings
There will be 24 pairs of earrings available.
Cost: Smaller Earrings – $75 – $84; Larger Earrings – $115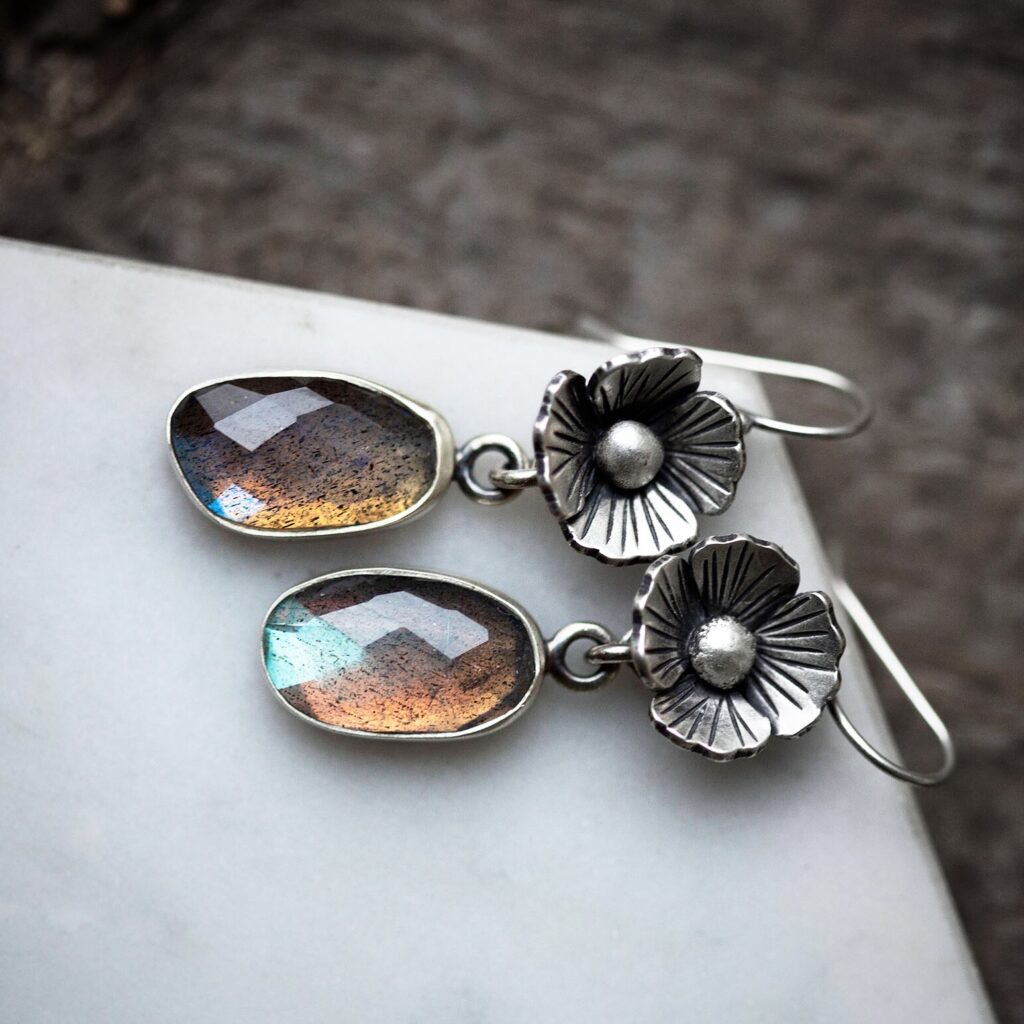 And here, the debut of my Memento Mori Earrings. Each earring has a single hand-forged poppy, with delicately curved petals and shadows collecting in the corners, and a flashy labradorite drop.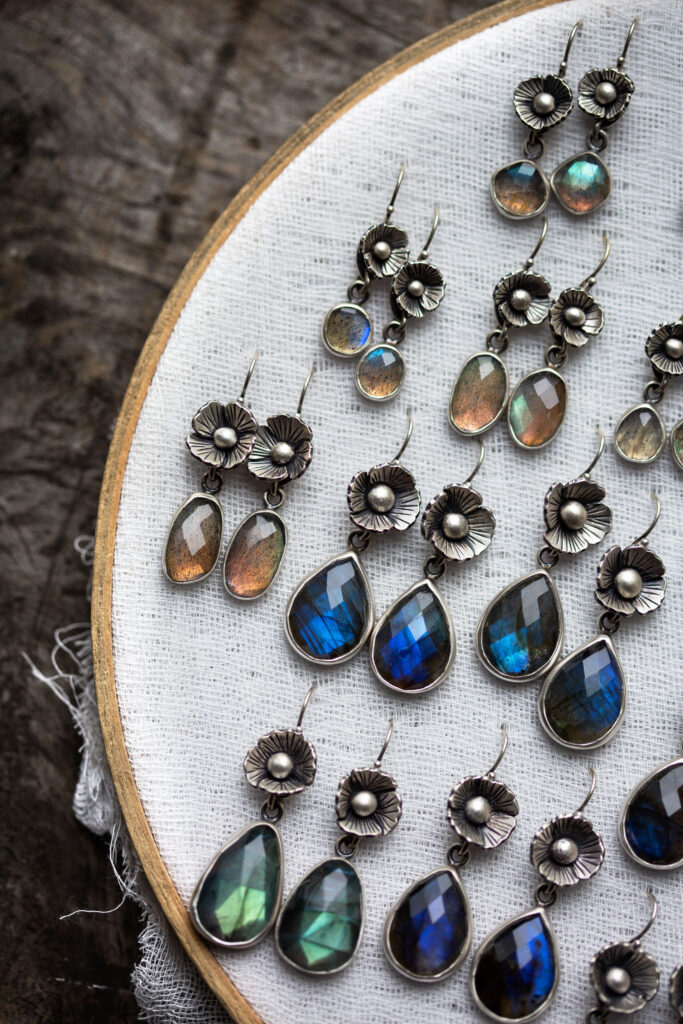 Some of the earrings pairs feature labradorite that are freeform and not perfectly matched, a little wonky like the tipping tombstones of a very old graveyard. Others feature matched teardrops in a deep flashing blue.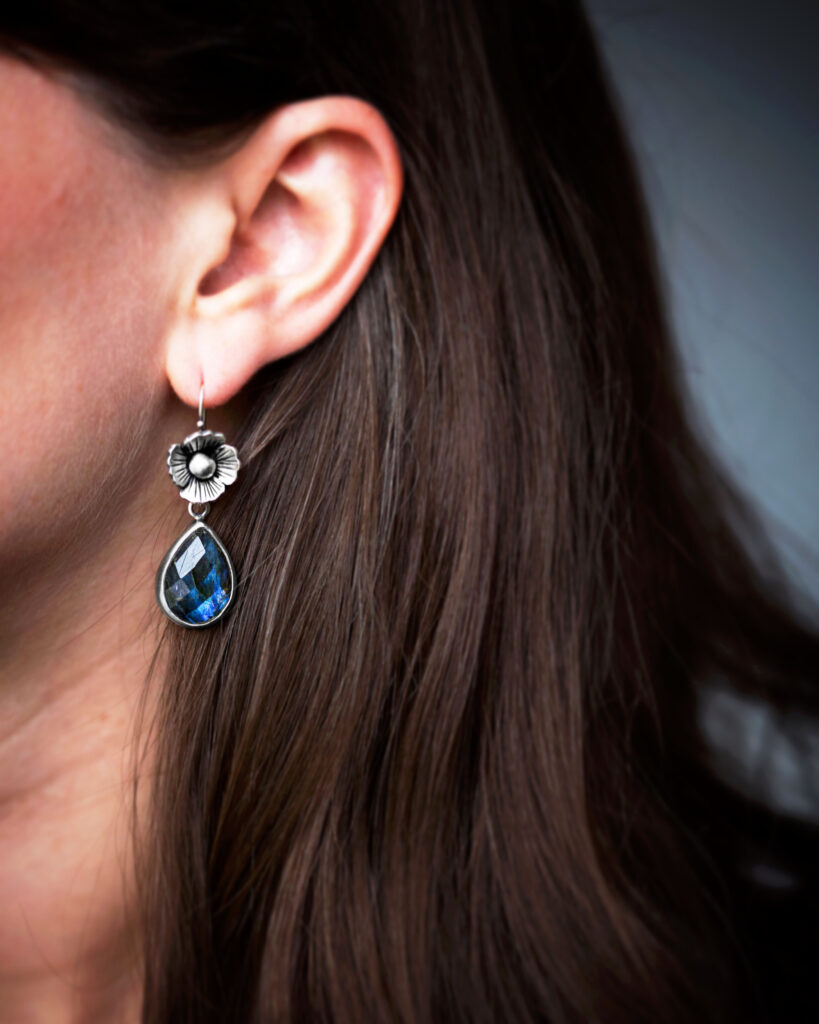 There are two size ranges of earrings in tonight's collection release. There are smaller ones, like the petite ones shown here. Those pairs have smaller poppies and stones, and are mostly around 25mm (1") from top to bottom (not including the earwire). The larger earrings, like the ones with the deep blue teardrops, have larger poppies and drop around 35mm. The size indicator will be in the title of each listing, and the approximate measurements will be included in the listings.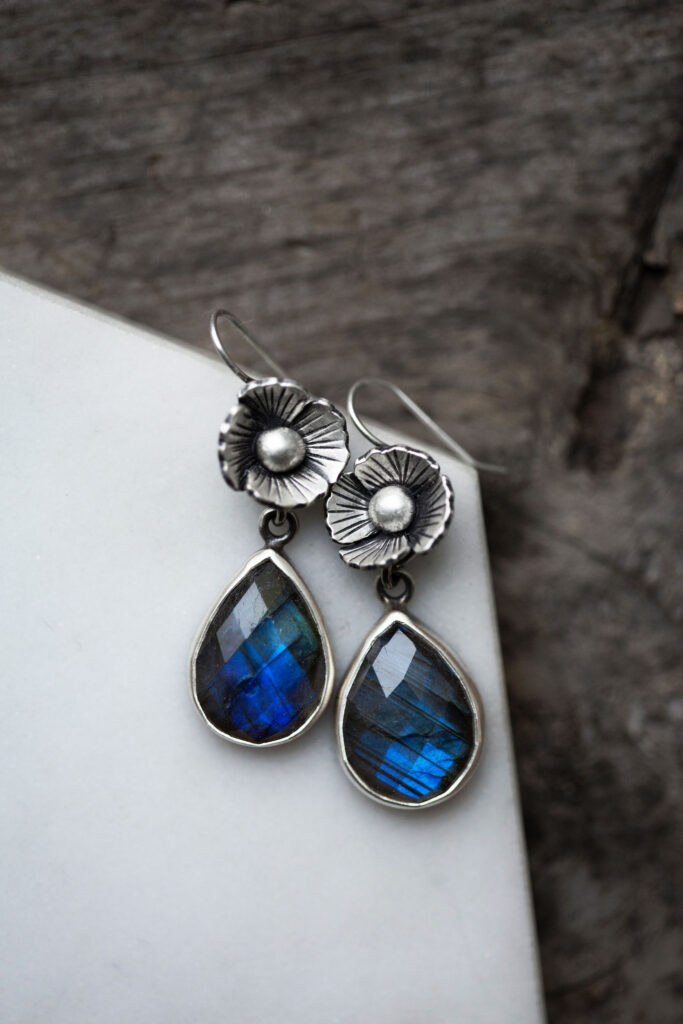 ---
I have gotten quite a few messages and comments asking whether I would have Memento Mori rings this year, and unfortunately I won't be. The lapidarist I work with for the labradorite coffins didn't cut enough small ones for a batch of rings. However! I did request that she cut a batch for next time, and she is already working on some coffins to replenish from this year's release.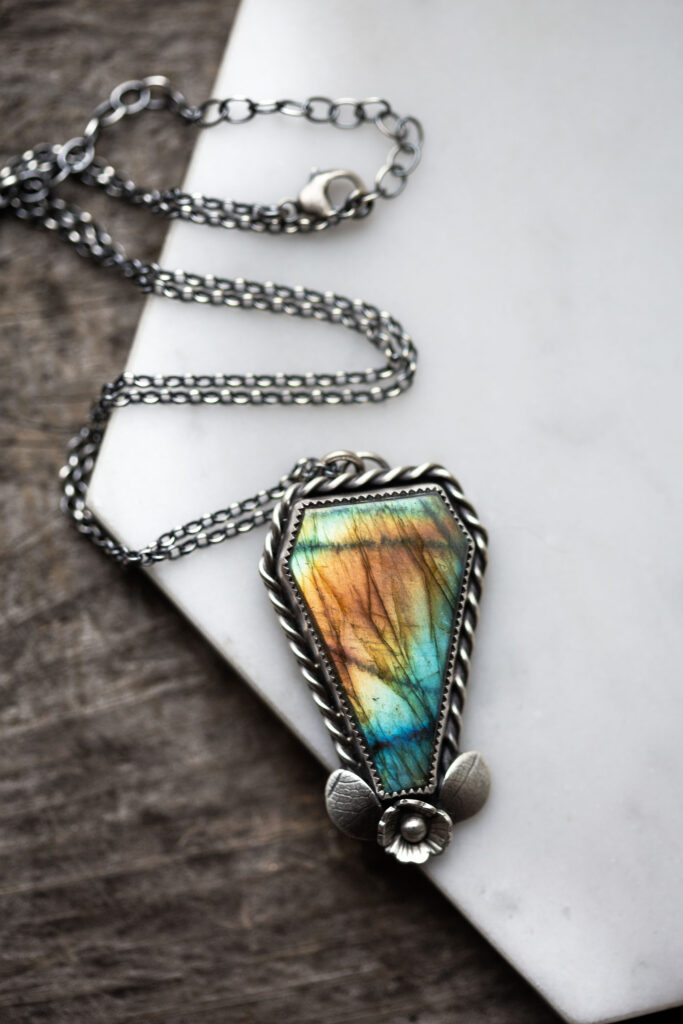 So these are the last of the coffin cut stones for this year's Nocturne Collection. But I miiiiight be able to squeeze in some lovely poppy rings for Part II if that is something you sweet souls would like. So let me know on Instagram if a Memento Mori Poppy Ring is something you'd like to see for Part II.
---
And that's everything that will be included in Part I of the Nocturne Collection! Keep an eye out for rare purple labradorite and creepy crawly spiders in Part II.
Nocturne Collection Release, Part I: Wednesday, October 27th at 7PM EST in the Etsy shop