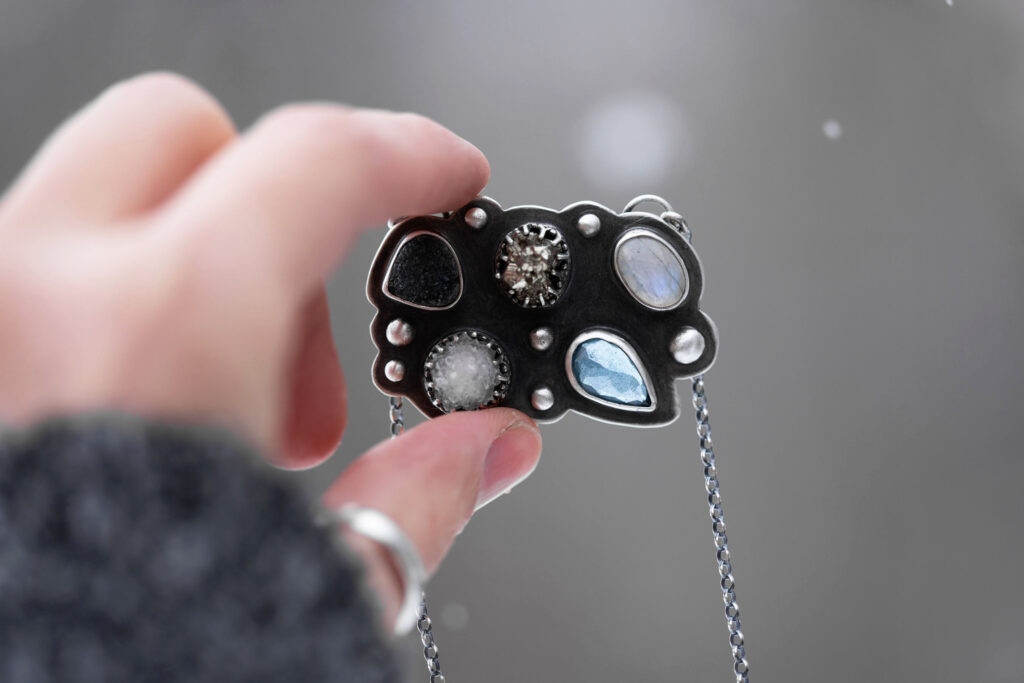 Pocketful of Winter Necklaces
There will be eighteen of these necklaces available.
Price: $185 per necklace
Pendants measure about 45mm (1.5″) across
Comes suspended from an adjustable oxidized sterling silver chain,
which measures between 17 – 20″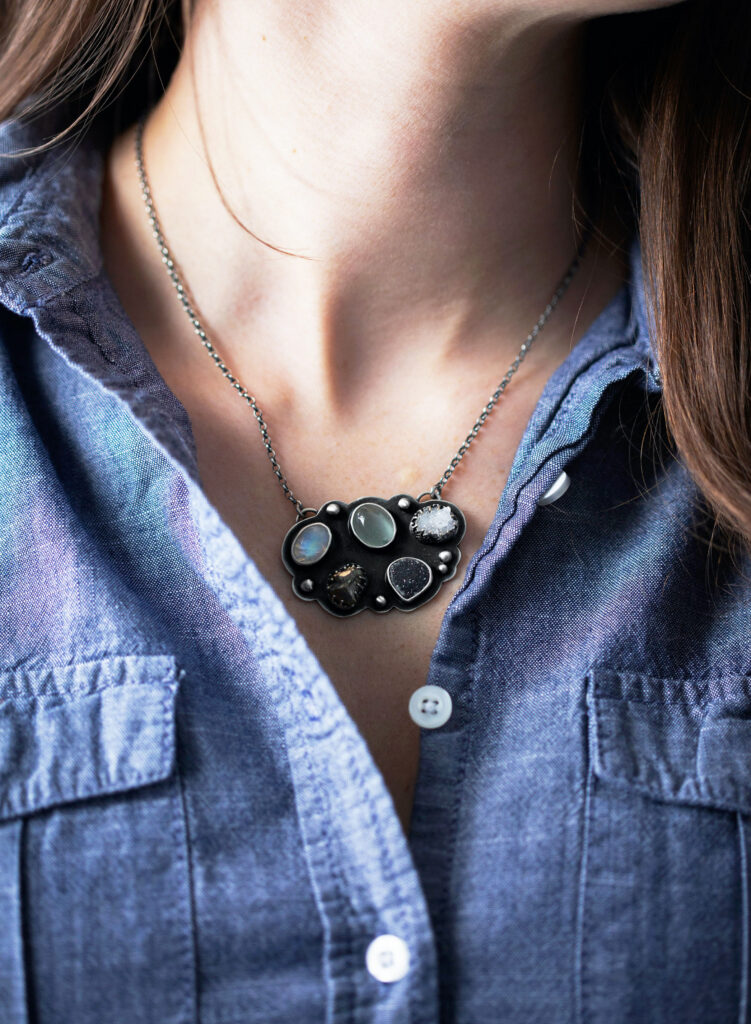 I first designed this necklace for myself, as it sings to some essential part of me. When I am out for a ramble, I cannot help but fill my pockets with the beautiful, interesting things I find. (My fella can attest to this.)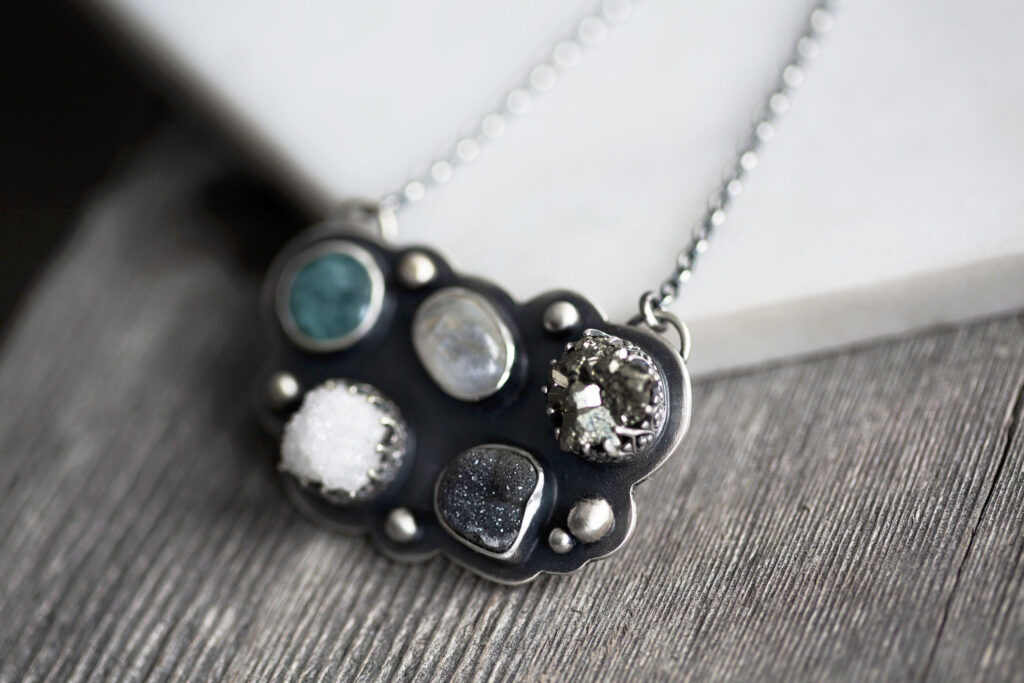 I come home with handfuls of sweet little acorns, tattered butterflies, strange lichen, empty shells from long devoured snails, handfuls of milk-vetch, smooth river pebbles, bits of wasps nest. I bring these things home and line my shelves with them, tuck the leaves into books, drop the dragonfly wings into ormolu caskets. Perhaps you do this as well?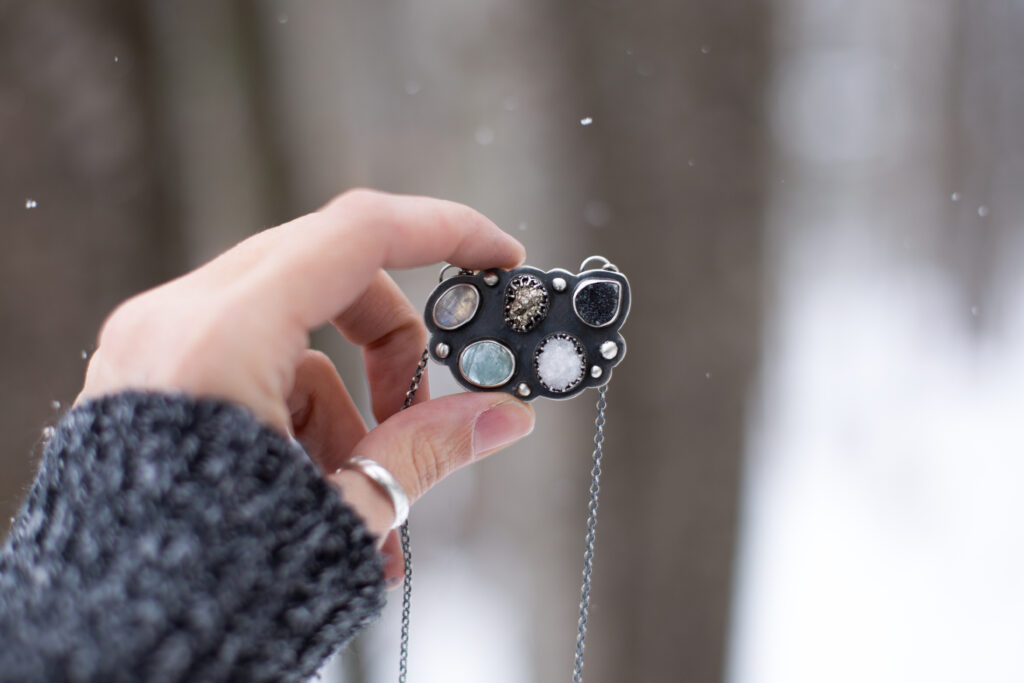 In this design, I wanted exemplify my naturalist inclinations. I wanted this piece to feel like a collection of winter you could tuck in your pocket.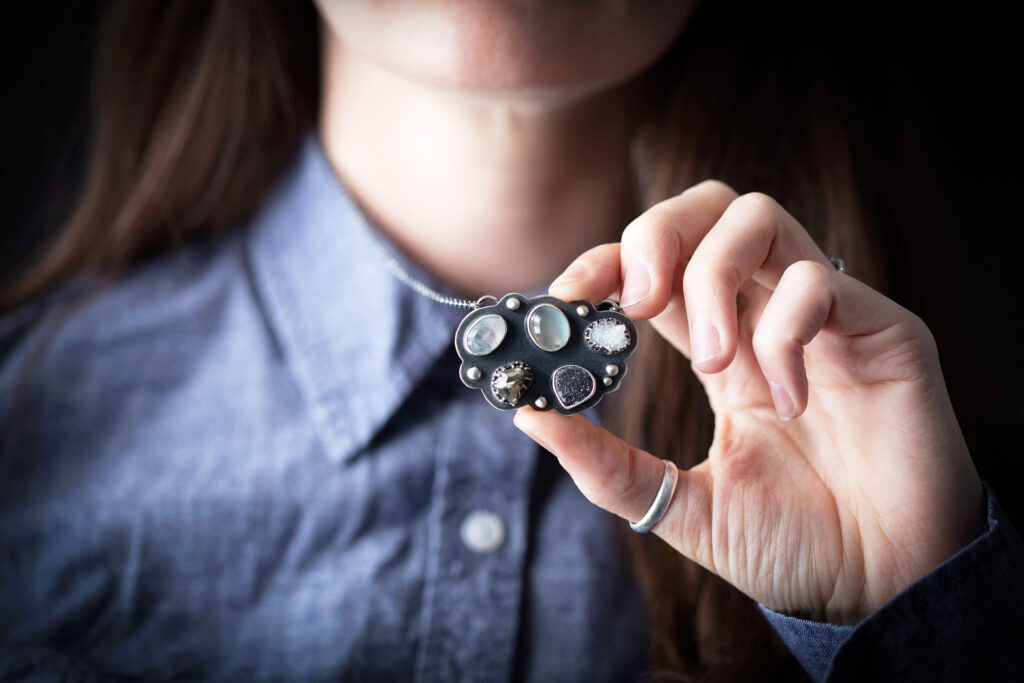 I scooped up the icy blue of glaciers, plucked some hoarfrost from an alpine tree, found a bit of fools gold at the bottom of a river, caught the northern lights shimmering blue over a frozen white landscape, and even gathered a bit of black ice.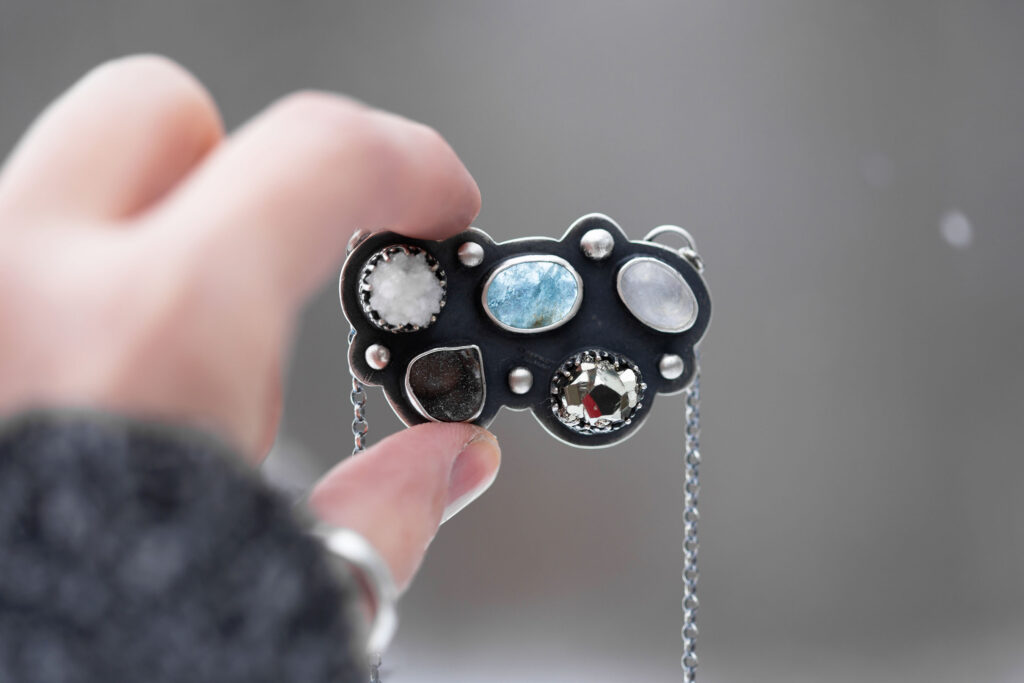 I pulled in rough textures and dark January shadows, and tossed about some sterling silver pebbles. Winter you can wear about the neck.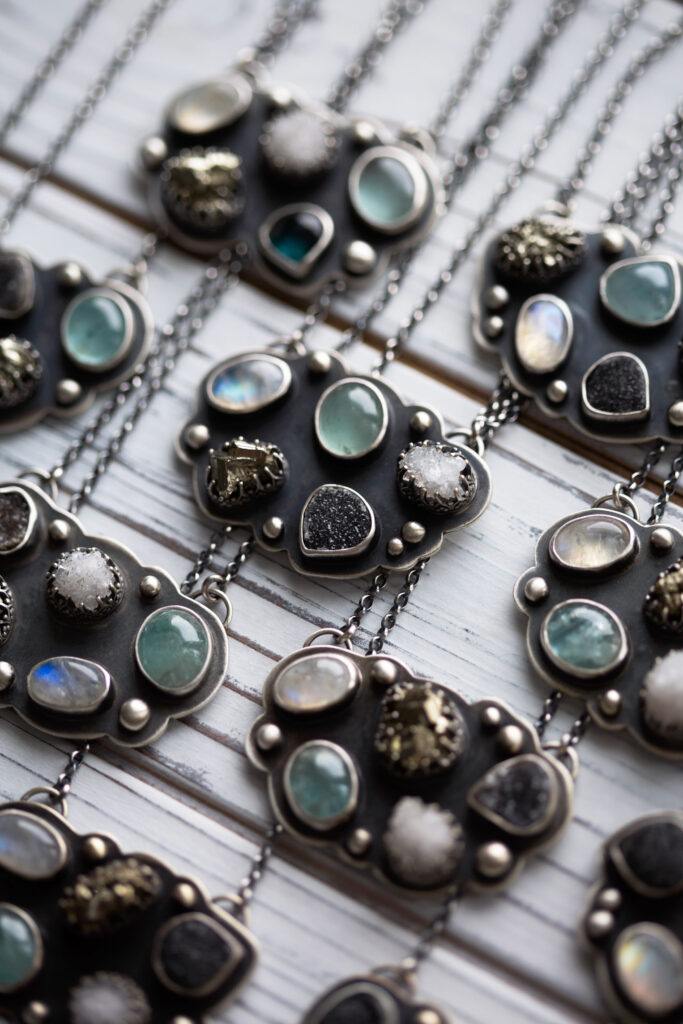 These necklaces feature a collection of wintery gemstones: aquamarine, rainbow moonstone, black druzy, pyrite, and little white quartz crystals that look like snowballs. They are arranged randomly with sterling silver pebbles strewn about.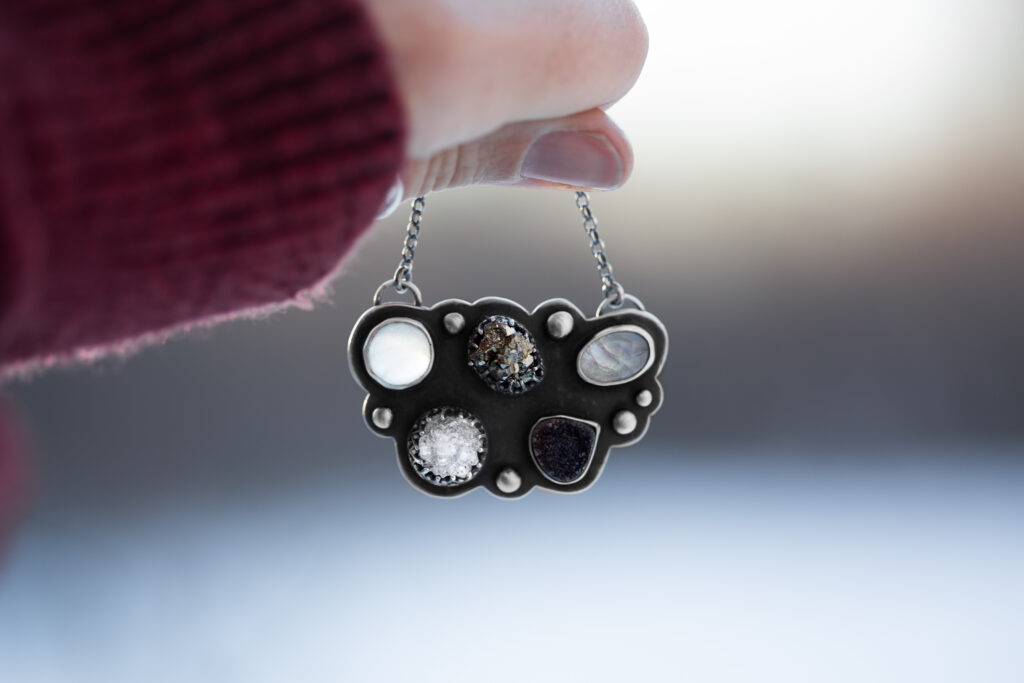 I have sawn a window behind the aquamarine so it positively glows when held up to the light. The back is textured to make it look natural and wintery.
____________________________________________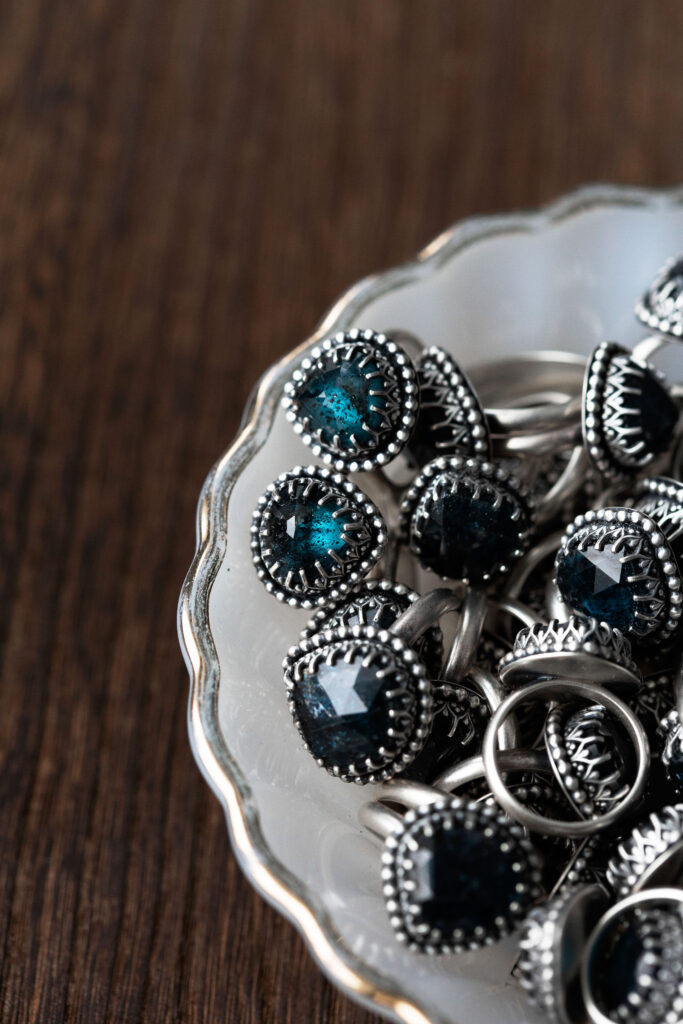 Winter Current Rings
Price: $124 each
Sizes range from US 4.5 – 11.5,
and since the bands are narrow they fit true to size.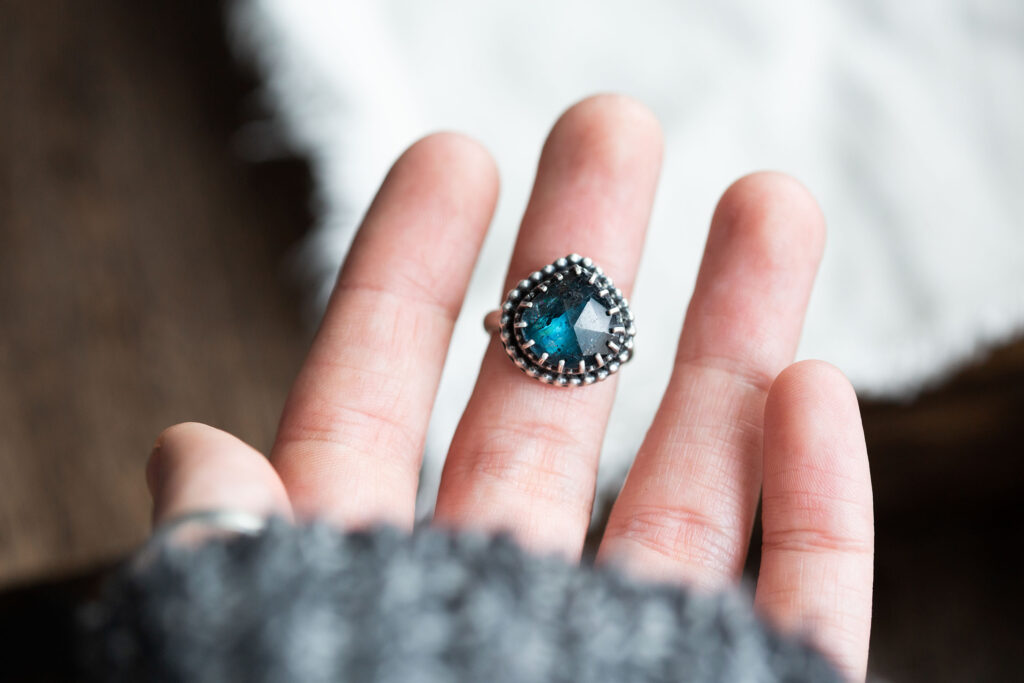 Looking into these stones is like looking up towards the light while underwater, dotted with crackling striations and dark inclusions like clusters of algae or leaves from nearby trees. Glistening facets refracting and throwing the light, like ripples on water.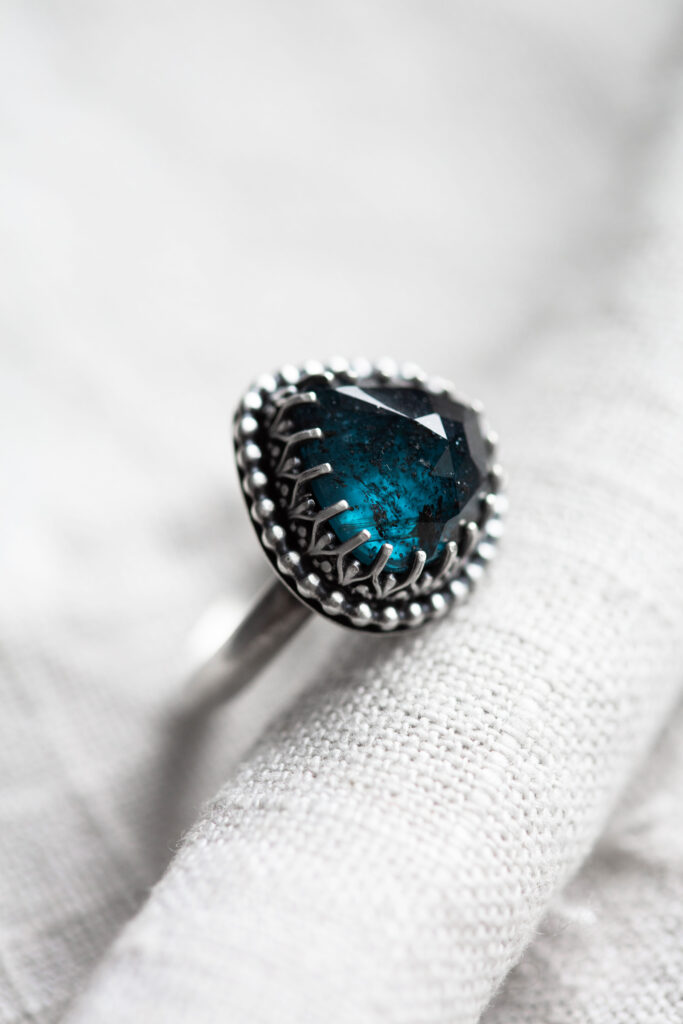 The gemstones in these rings are so different from one another. Some of the stones are high domed and positively sing blue for all to hear. They catch even the gentlest ray of light to reveal their glowing depths.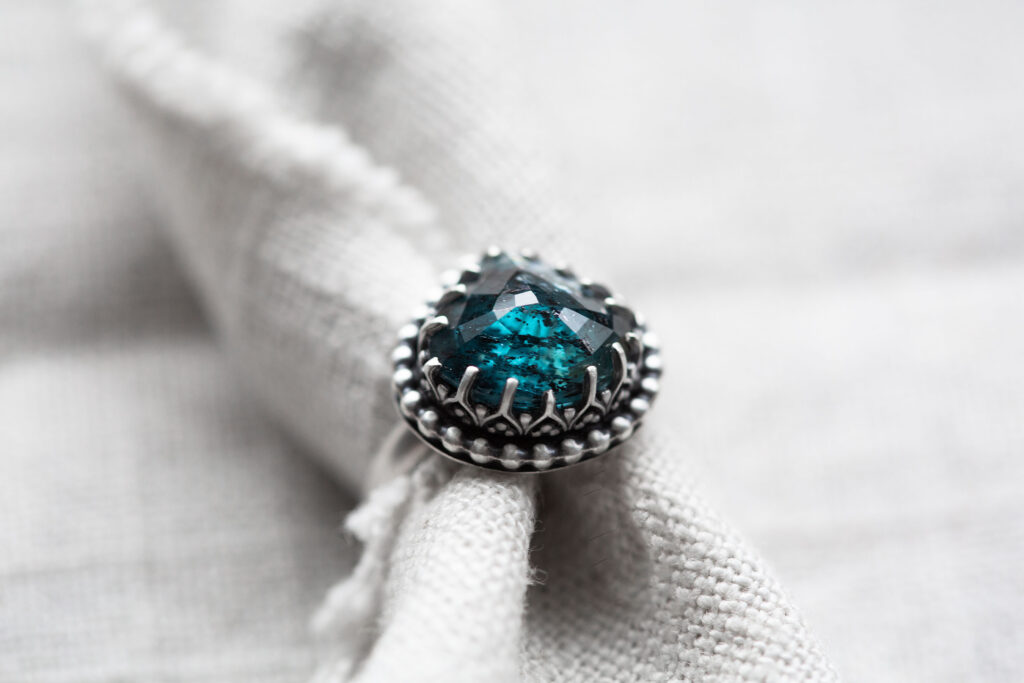 Other kyanites greedily drink up the light but remain dark and brooding, like a late-winter shadow. And only certain light from certain angles will reveal a furtive flash of blue.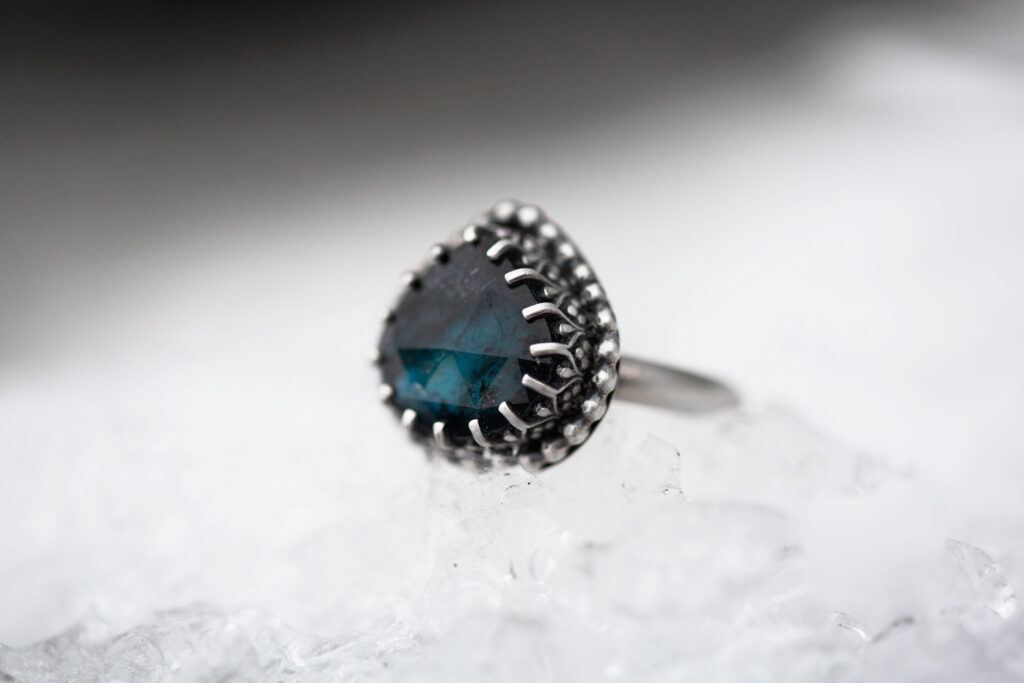 Some of the stones are clear and bright with tiny flecks of black crystalline inclusions.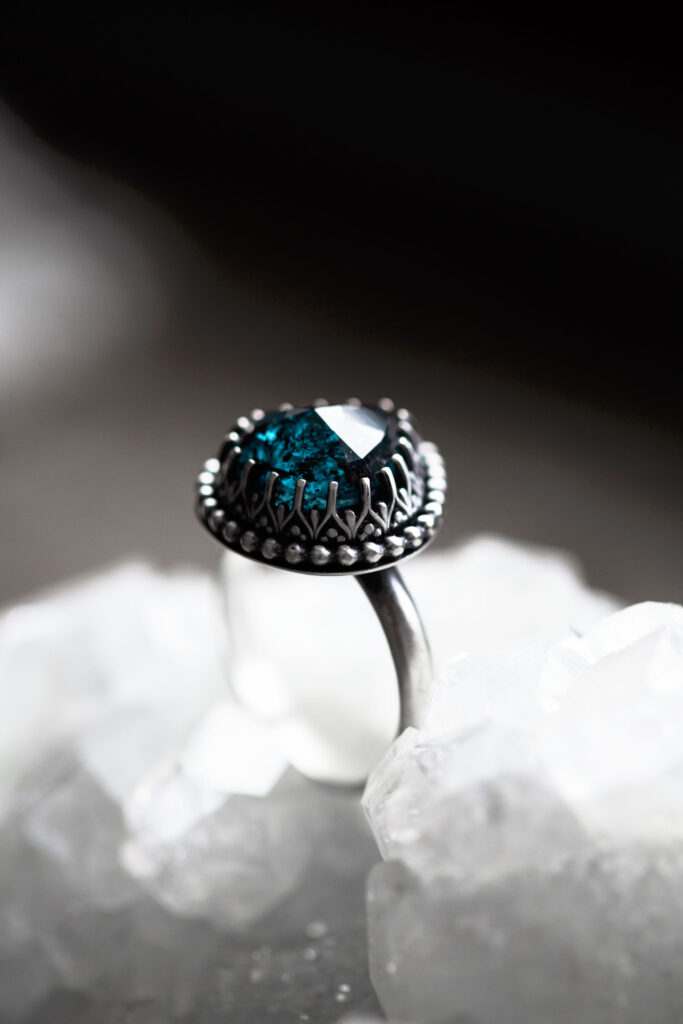 Others wear their crackles near the surface, like stress cracks on a deep, dark glacier.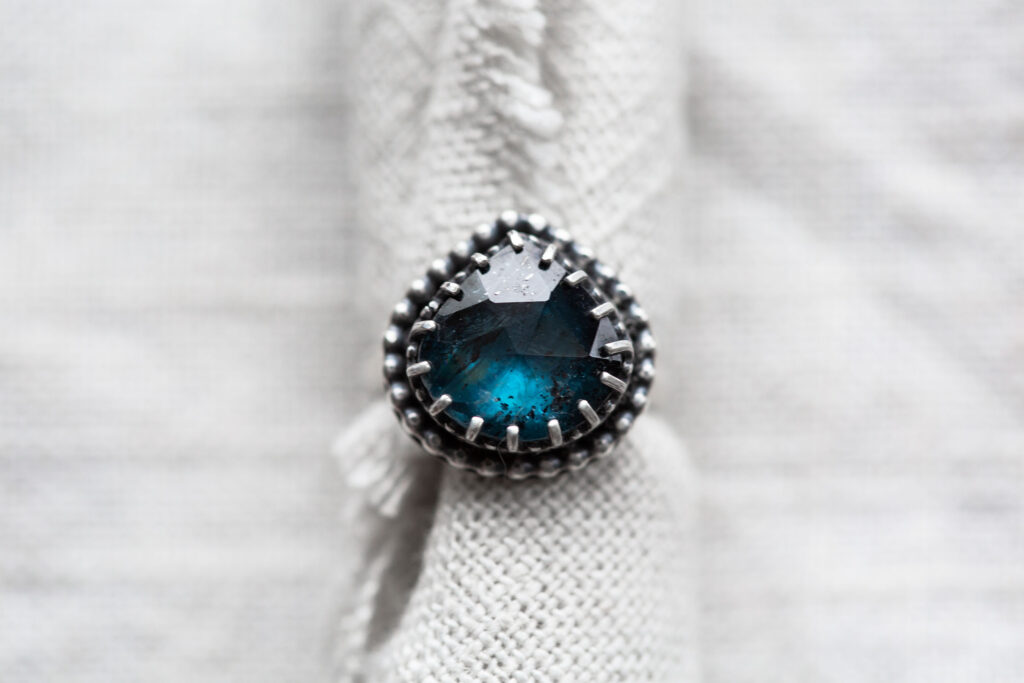 And just a few hold rainbows in their bellies and a have a bit of glitter on their cheeks.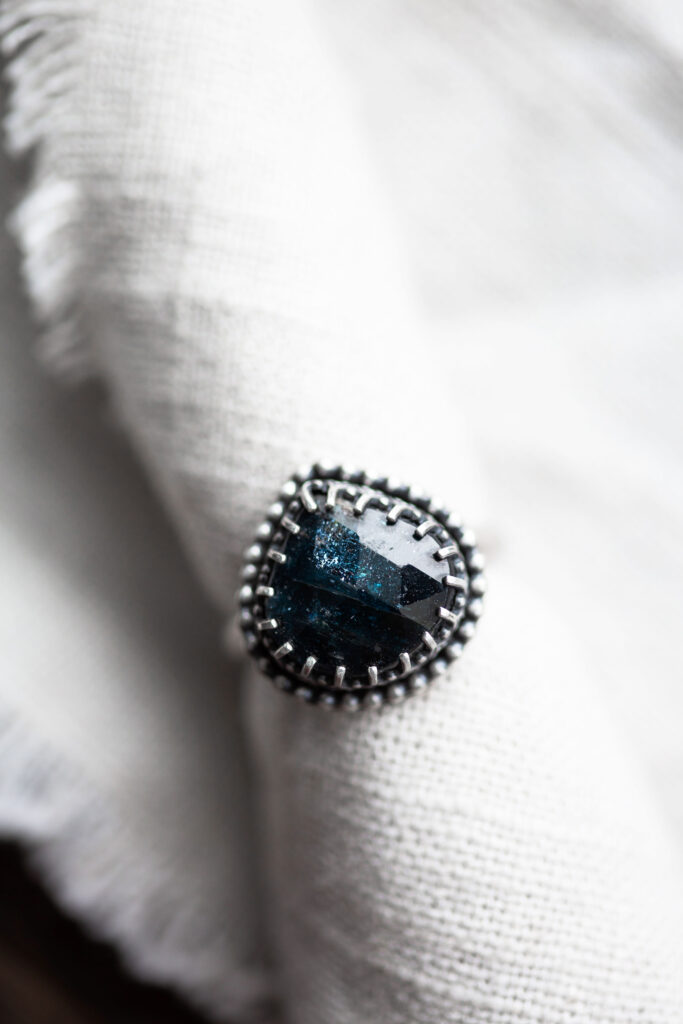 Rings for finding forest pools after the first snow melt, breaking icicles off roof edges, and exploring coves still sparkling with sea ice. Rings for the deep currents that run through winter, dark and saturated.
____________________________________________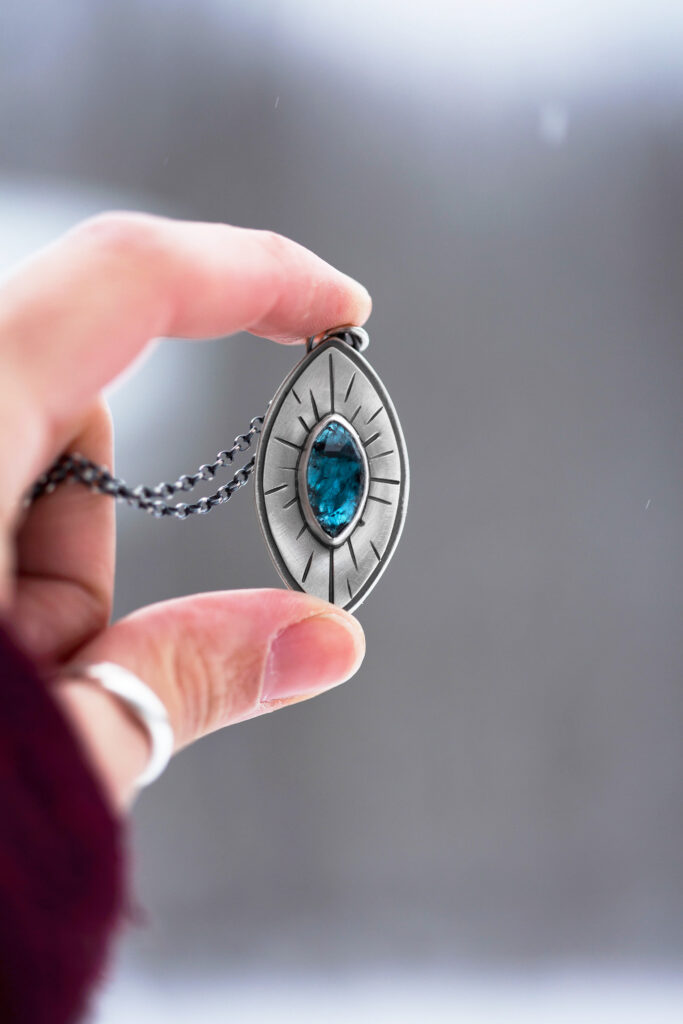 Winter Thaw Compass Necklaces
There will be 24 necklaces available.
Price: $155
Measures about 40mm from top to bottom
Comes suspended from an adjustable oxidized sterling silver chain,
which measures between 17 – 20″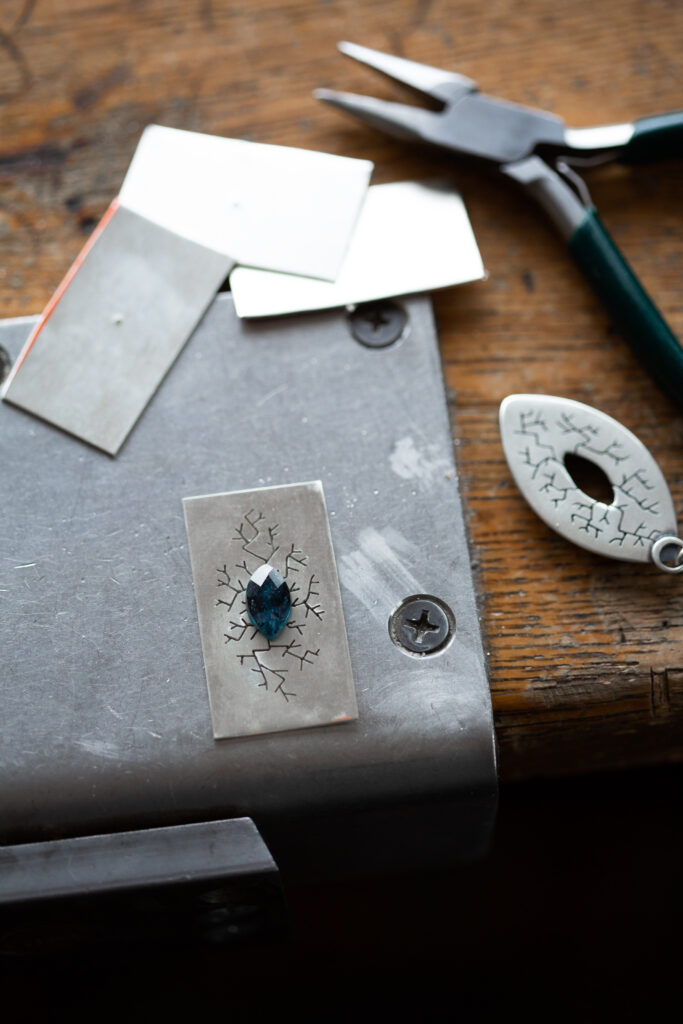 I sketched this design for last year's collection, but did not have time to complete it. I had been wanting to create a wintery version of my Honeybee Compass, and what a joy to now finally hold it in my hand.
In the center is a teal kyanite gemstone, cool and deep like the winter Atlantic ocean. I have sawn out the back of the pendant behind the gemstone so that when you hold it up to the light, it positively glows. I have inscribed lines radiating from the center, and it is double layered for weight.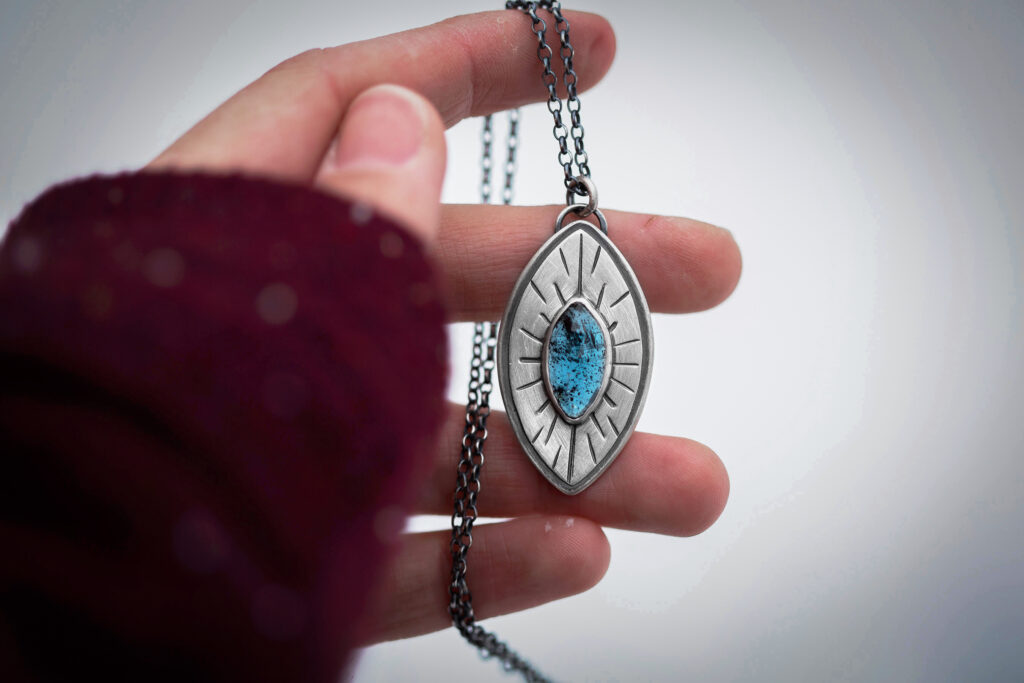 A tiny window showing the underside of a beautiful, deep teal kyanite gemstone. A window to let light spill through.
And branching out from the glow of the center, tiny irregular cracks in the sterling silver, like the late winter ice that fractures from the warmth of the sun.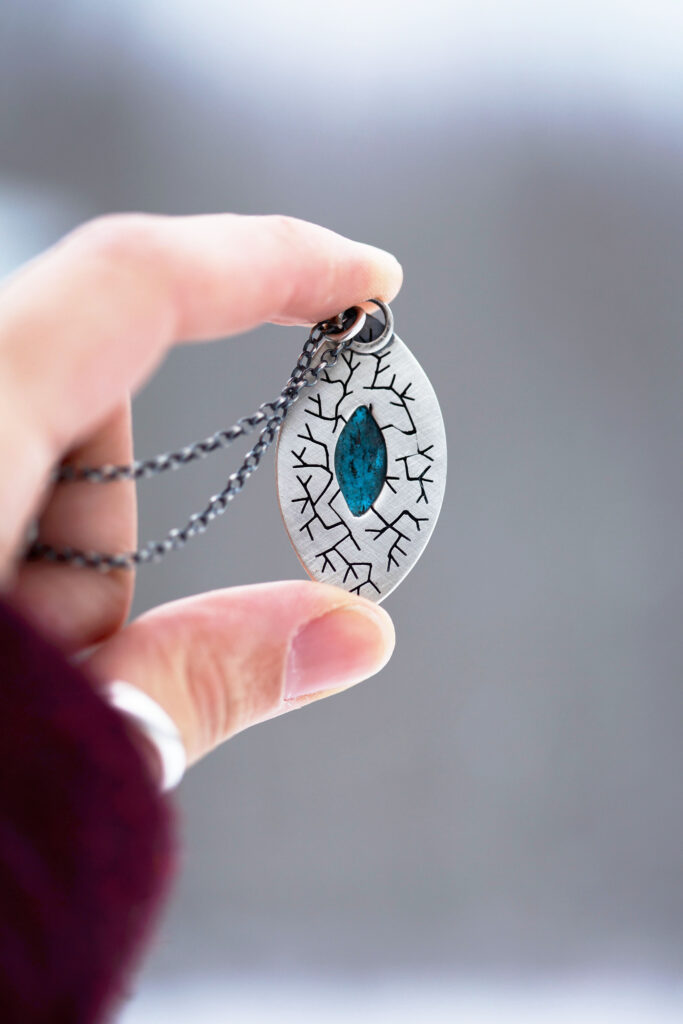 I tend to love all the pieces I create, but of tonights offering, I think I love the Winter Thaw Compass Necklace the best. The cracks were a labor of love to create, the kyanite positively glows when held up, and the shape of the pendant is so pleasing. A necklace for finding the light in winter.