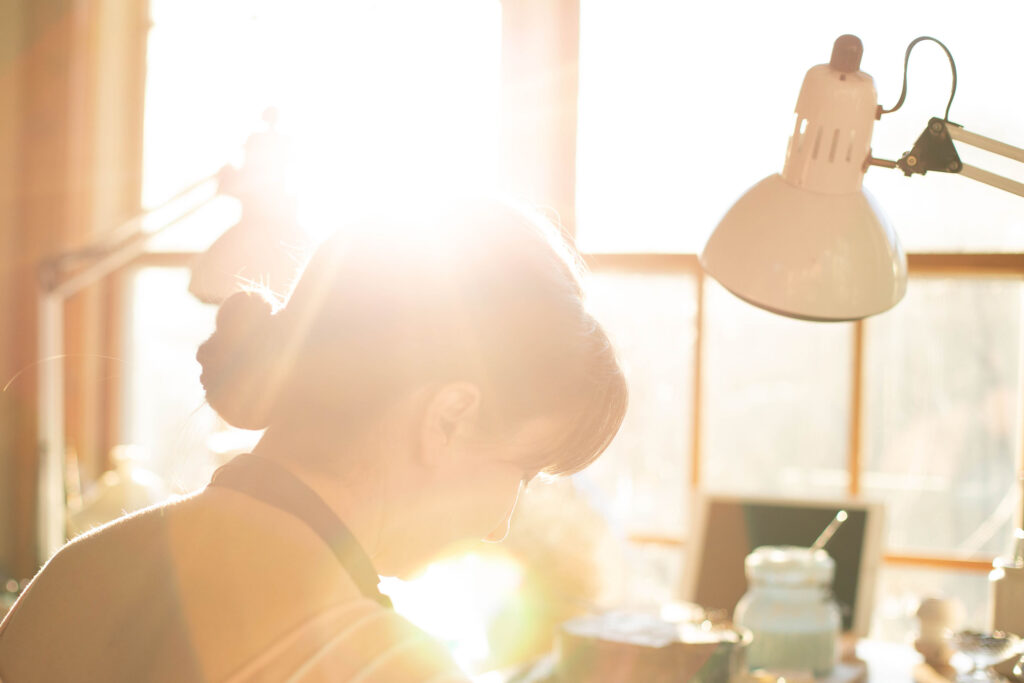 What an April this has been! Society feels unsteady and anxious, and yet the the natural world spent those weeks stirring as though from a blissful sleep, and is now stretching it's limbs in wakefulness.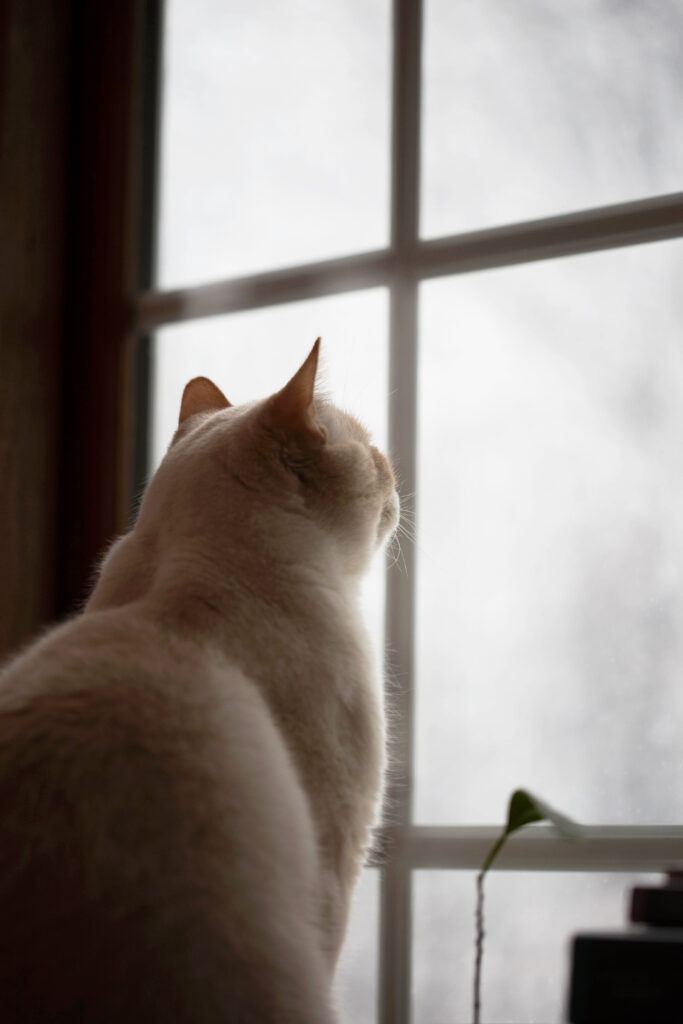 The view outside my window is fresh and glowing, paying no heed to the pandemic from which the world is currently reeling. What a strange juxtaposition.
Well, I can think of no better balm for these times than creation.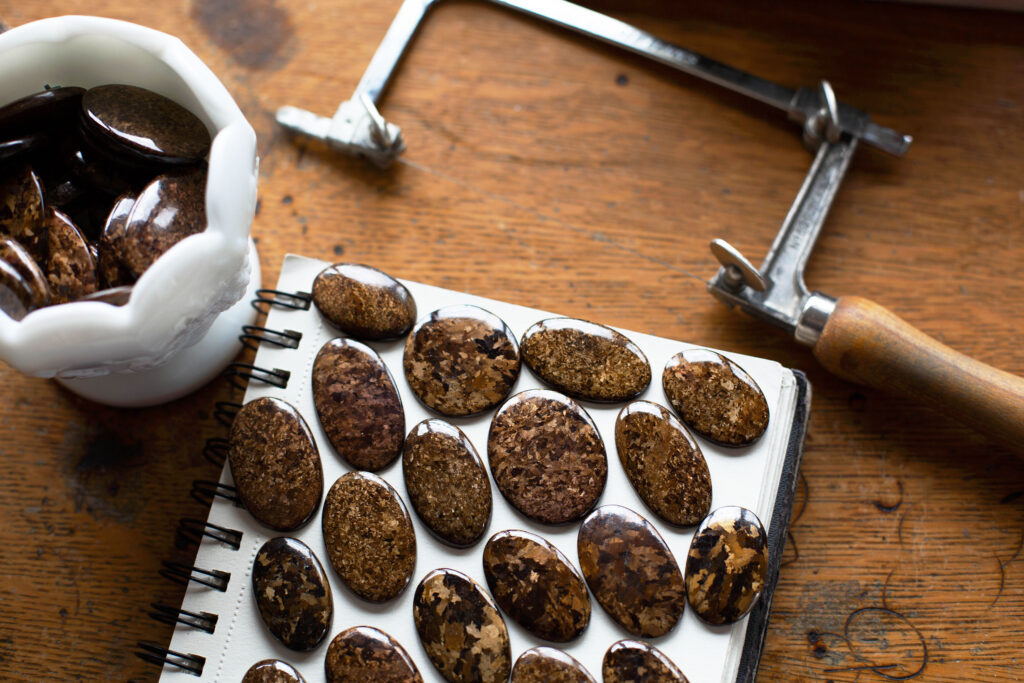 And out of this strange mixture of uncertainty and springtime came these owls. I spent my April days finding my way around bronzite feathers and porcelain, owls and bark edge.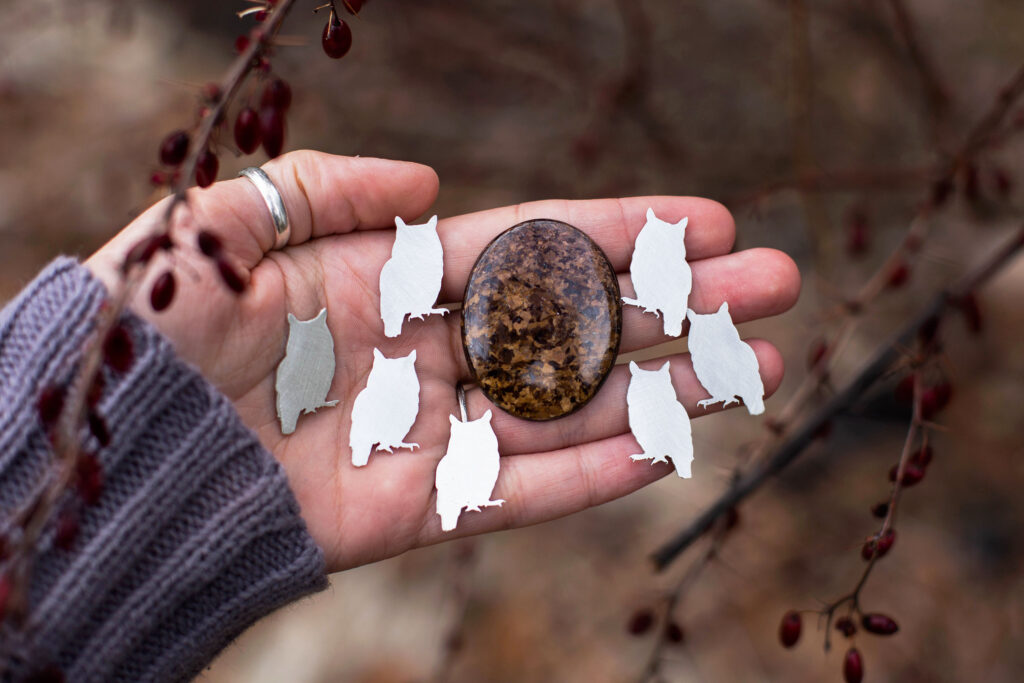 This stone is called bronzite. It is called this for the shimmering brown flakes of which it is comprised, which to me look like the brown plumage of a horned owl.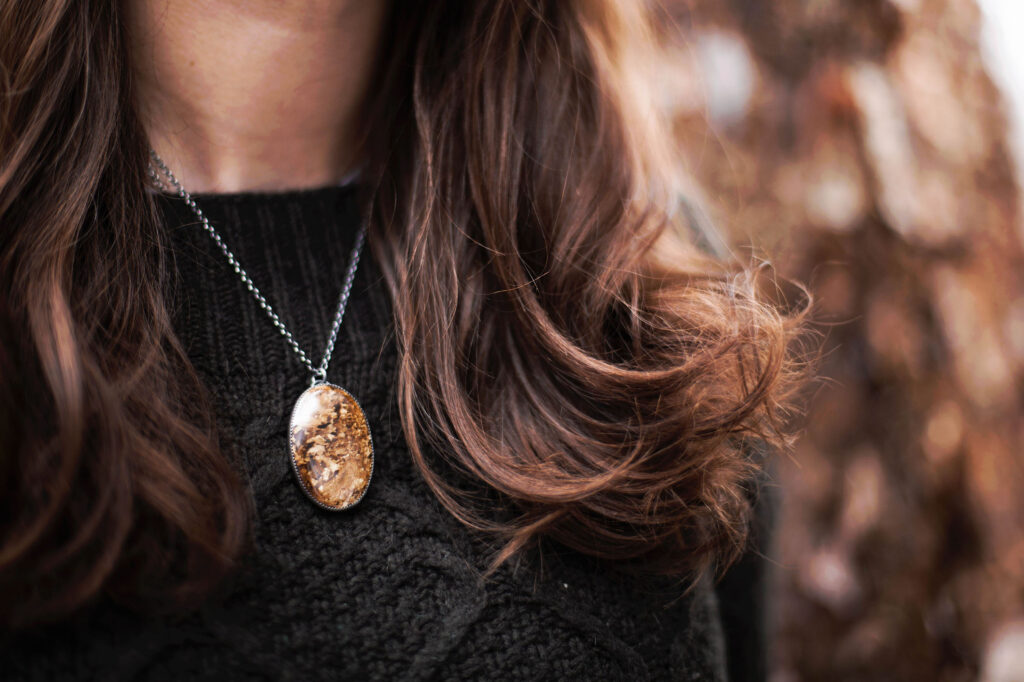 Overlapping and shimmering feathers, carefully preened and smoothed into beautiful cabochons.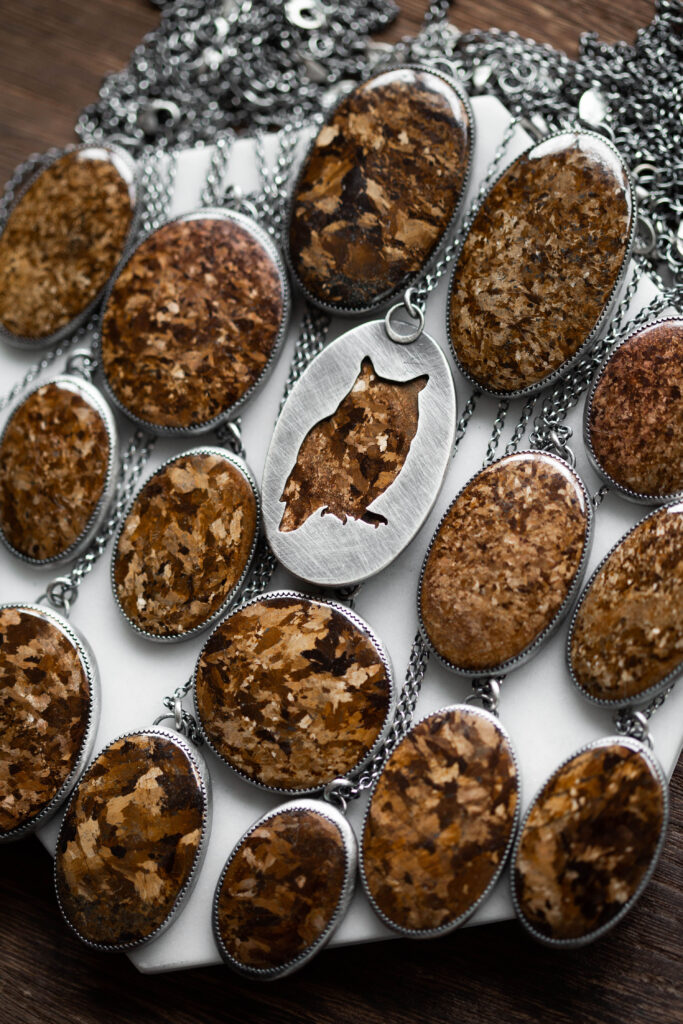 These necklaces were designed as a companion to my picasso jasper Waiting Ravens.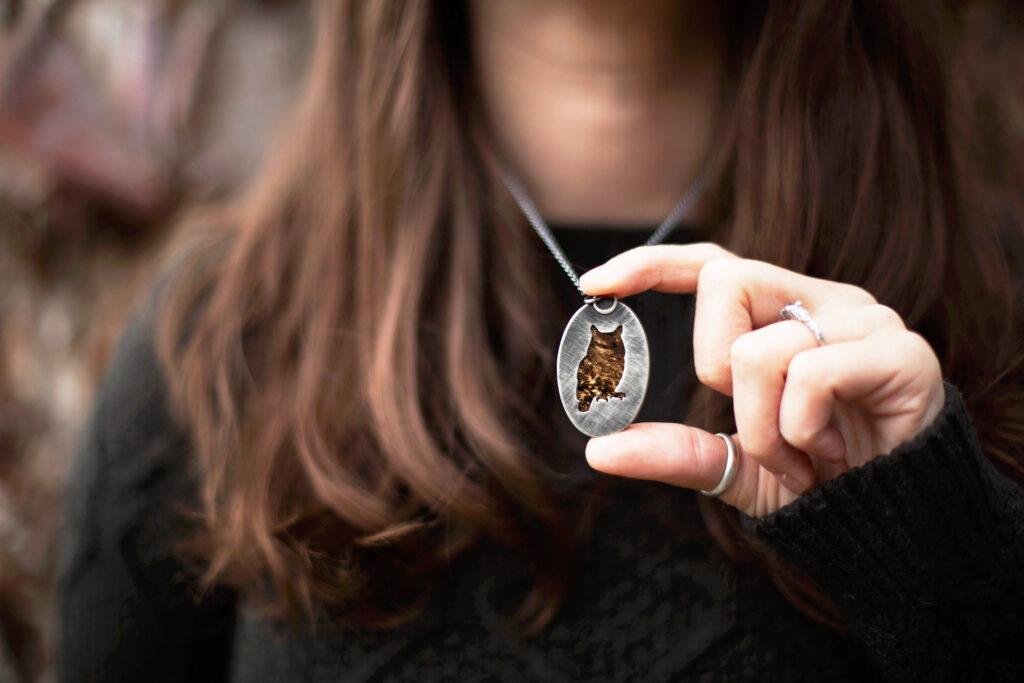 A necklace for moments of quiet in an early spring forest, after the snow has soaked into the earth revealing last year's leaves, and before the trees are once again flush with green. All is brown and layered, like the wings of a barred owl, like the feathering of a bronzite gemstone.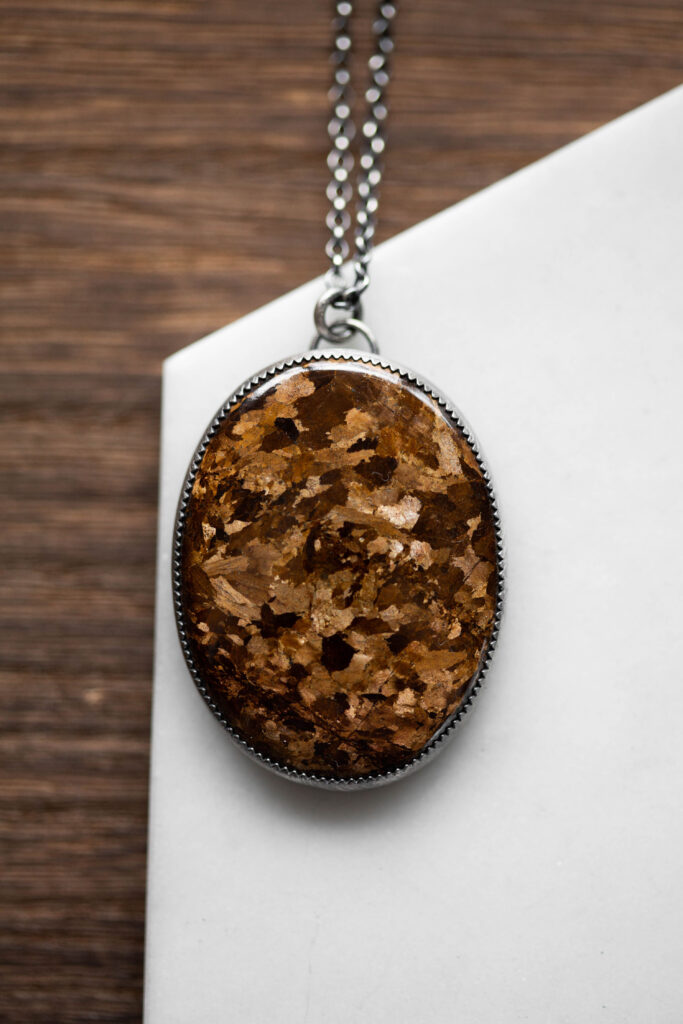 Each necklace has an owl hidden of the back, a tiny creature with shimmering brown plumage, overlapping feathers of varying shades of brown, all the better to perch amongst autumn leaves and watch a dimming landscape.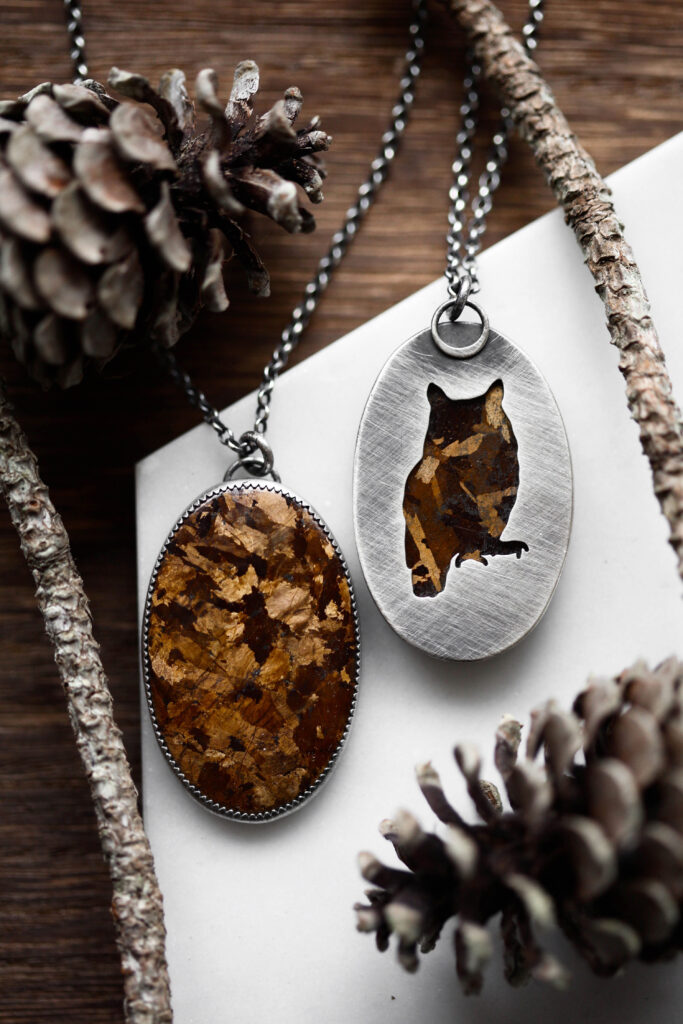 These vary in size, from 1" – 2.25". As such, there will be owls in every size; bold owls with long swaths of bronzite feathers, as well as petite ones with the gentlest hoots.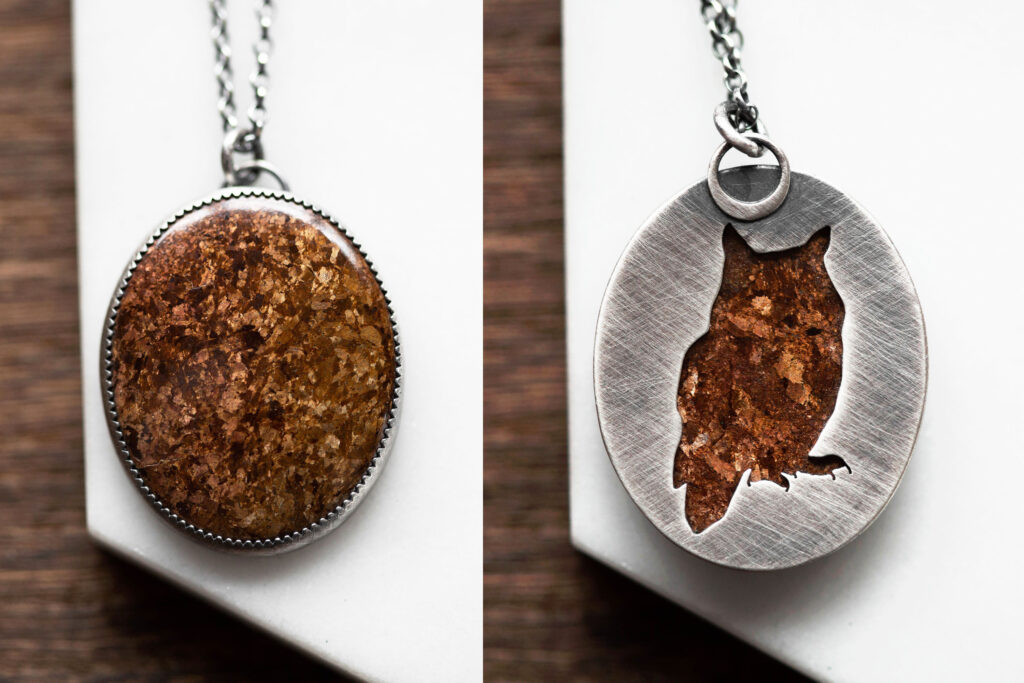 I have held each in my hand and can tell you they are the sweetest familiars one could ask to carry around throughout the day.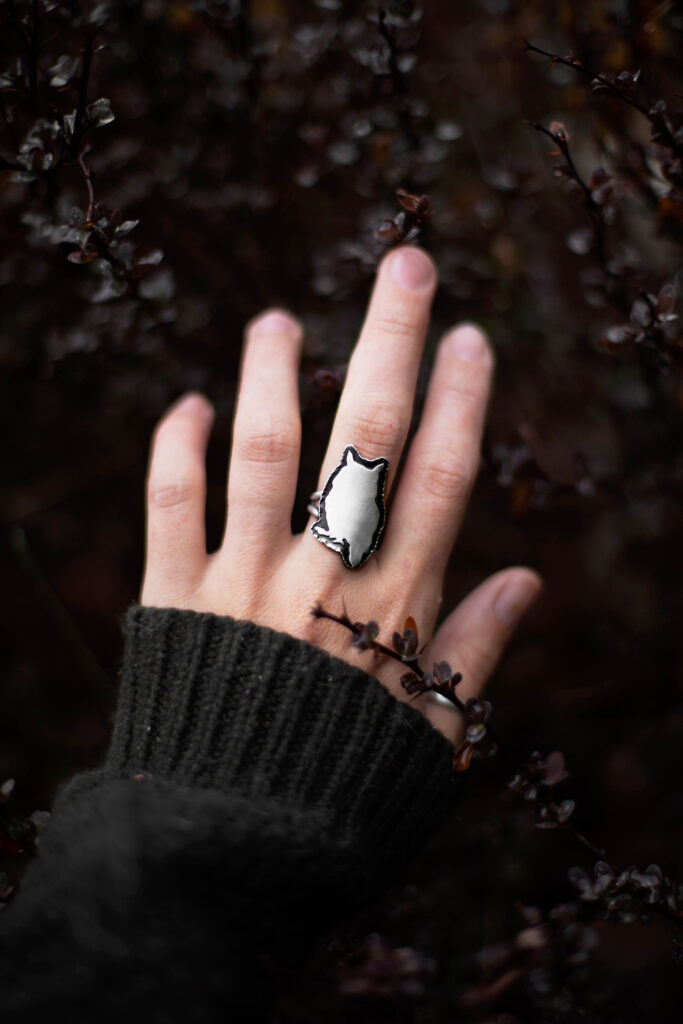 There will also be these rings made of sterling silver. Solitary owls to rest upon the hand, companions to the raven totem rings I used to make.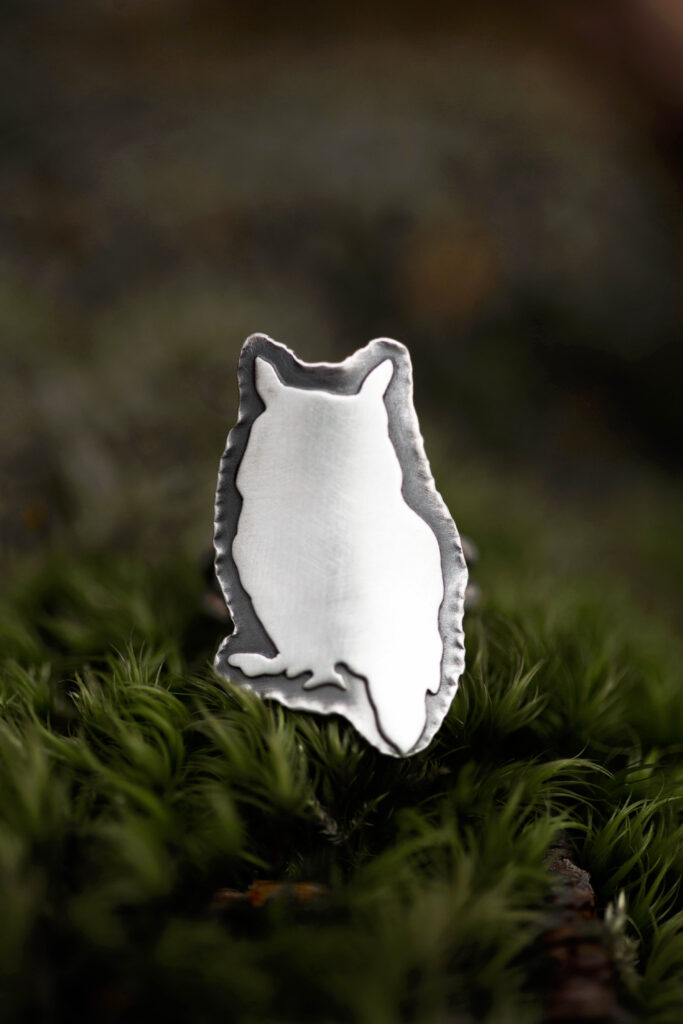 The edges are textured to look like bark, and the owl rests atop a split double half-round band.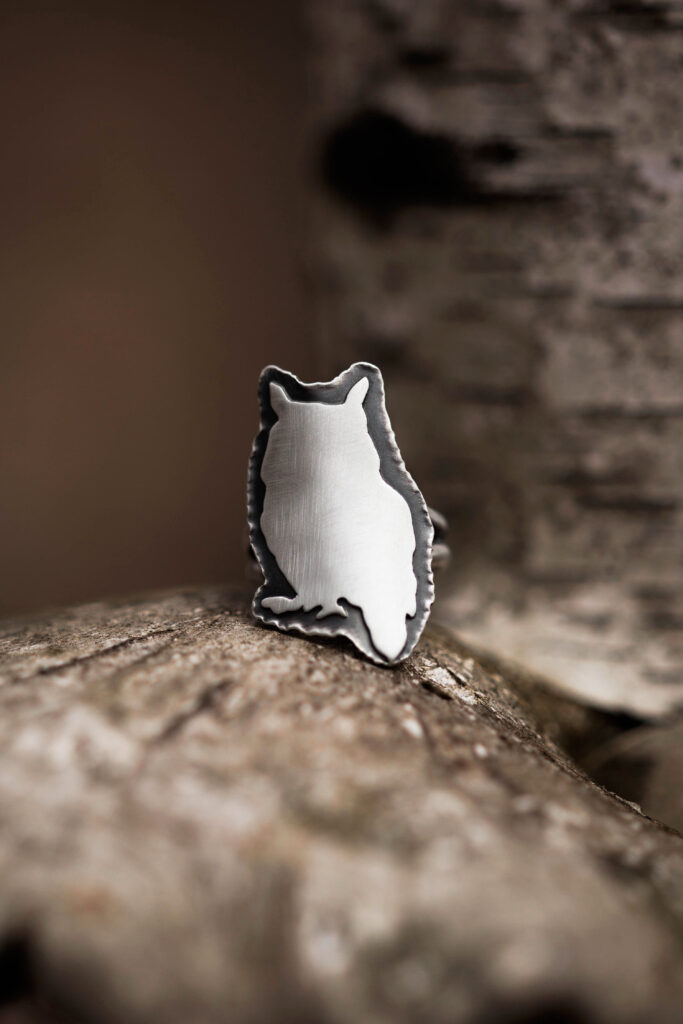 There will be a handful of these available in the shop update, ready to finish in your size. There will be one listing to purchase with a dropdown menu for sizes. And when all the made to order owl rings are claimed, the listing will say sold out. I hope that isn't confusing! I thought it would be nice to make these in the exact sizes wished for.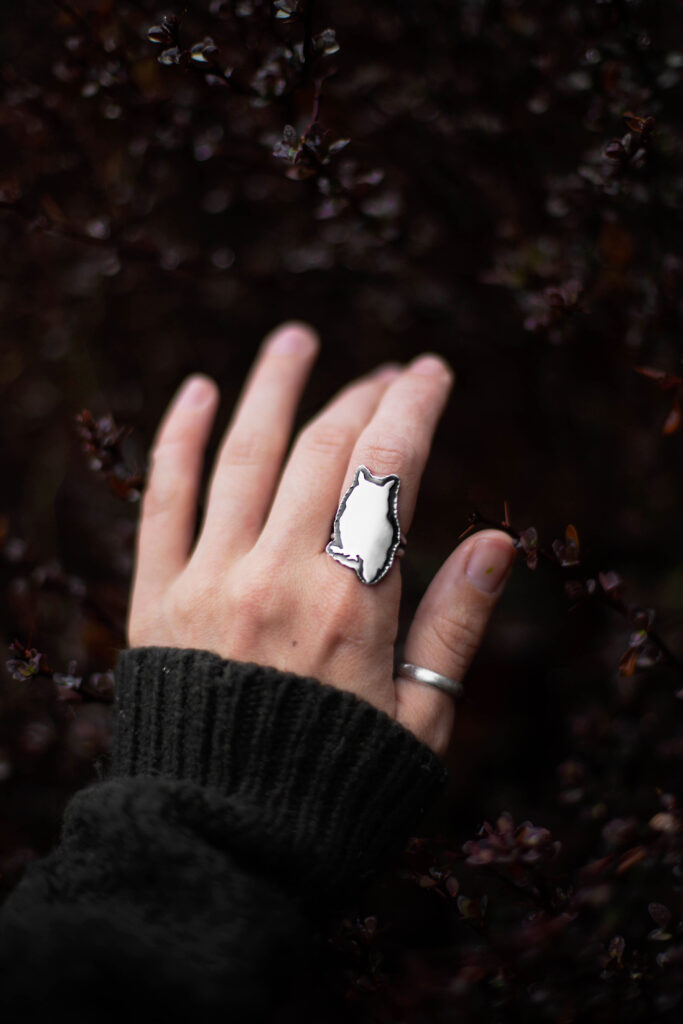 The rings fit true to size and are curved slightly for comfort. The direction the owl faces will be random, though if you have a preference, you are welcome to let me know in a note when you checkout and I will do my best!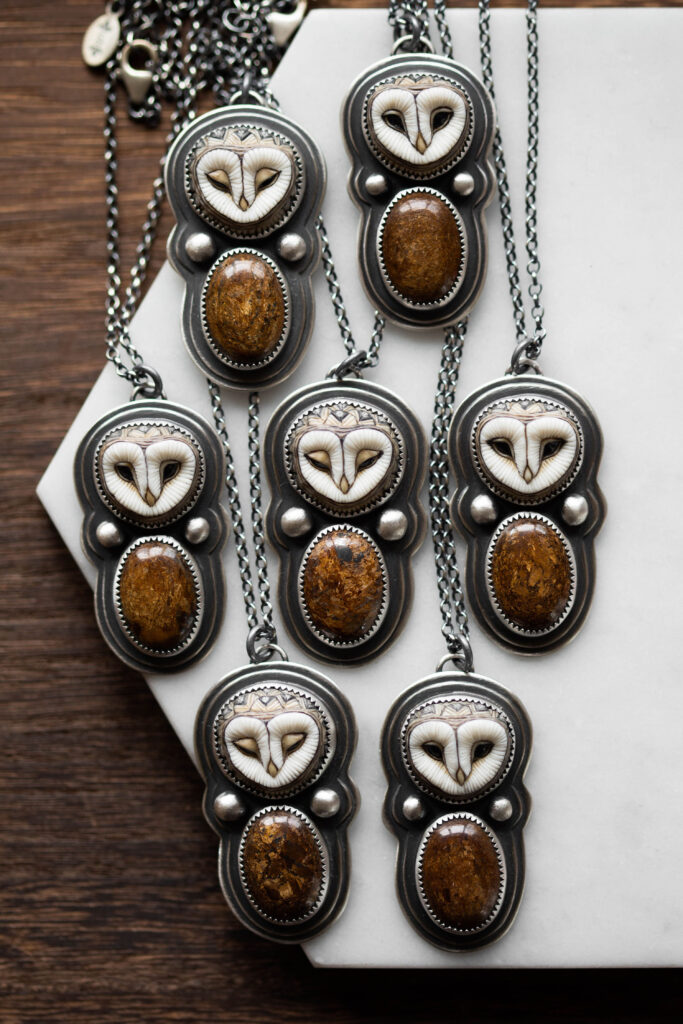 And miracle upon miracles, there will also be a small parliament of owls with Laura Mears porcelain faces and bronzite-feathered bellies.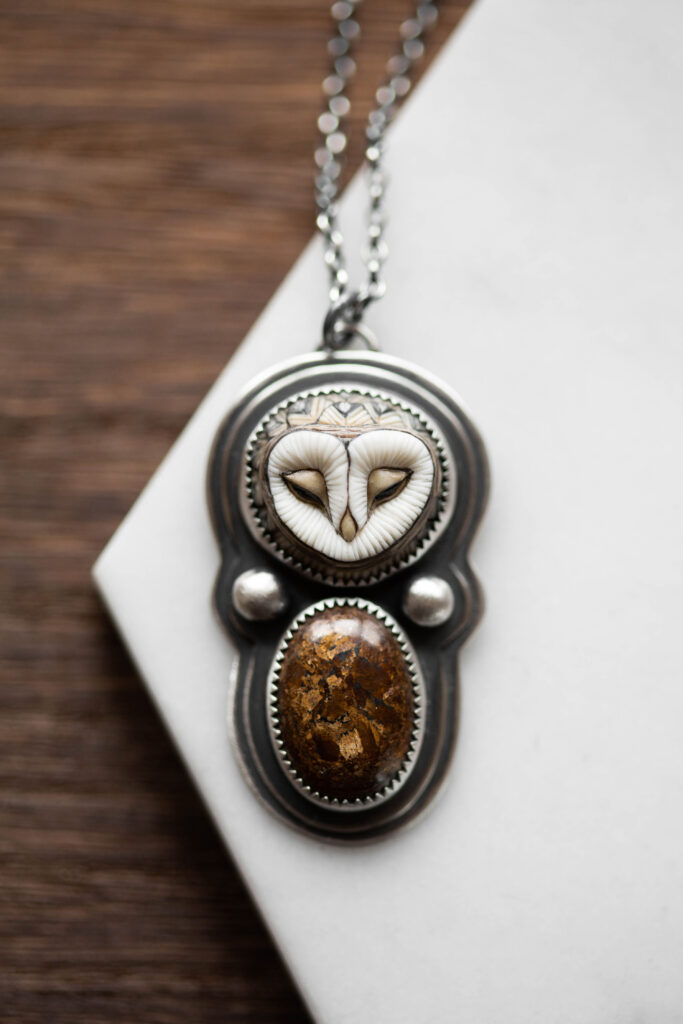 And on their backs are swaths of stars. Creatures of the evening forest, fading into bark and limb.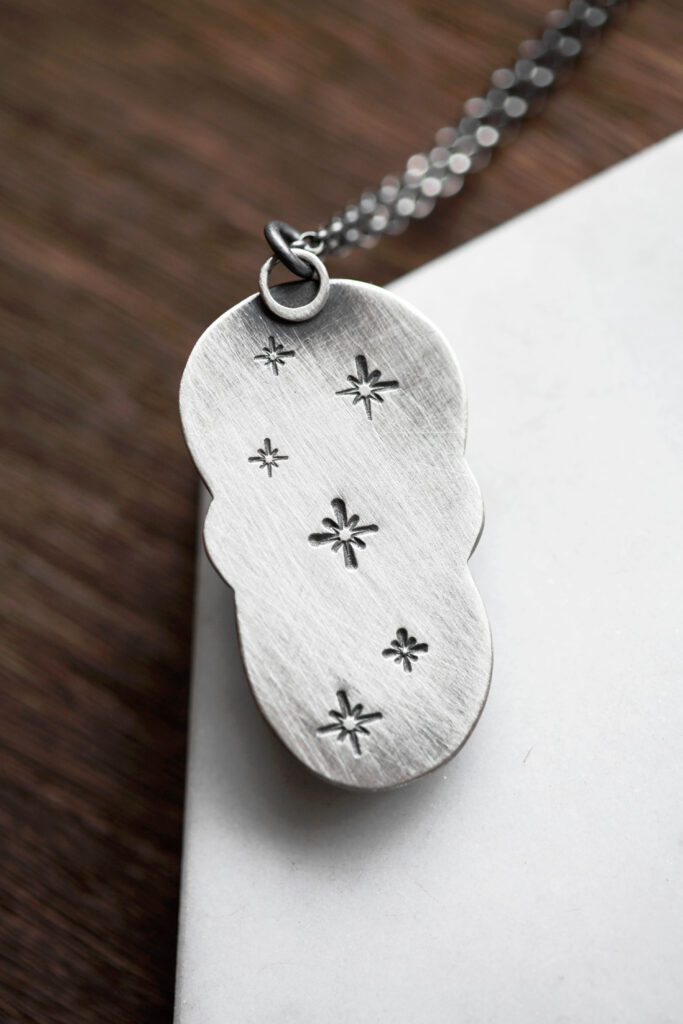 The owls are getting so anxious for tonight's release! They are scritching at all the windows, hopping from bench to chair to gemstone cabinet, clacking their beaks in excitement, and making a general ruckus with no regard for my trying to work.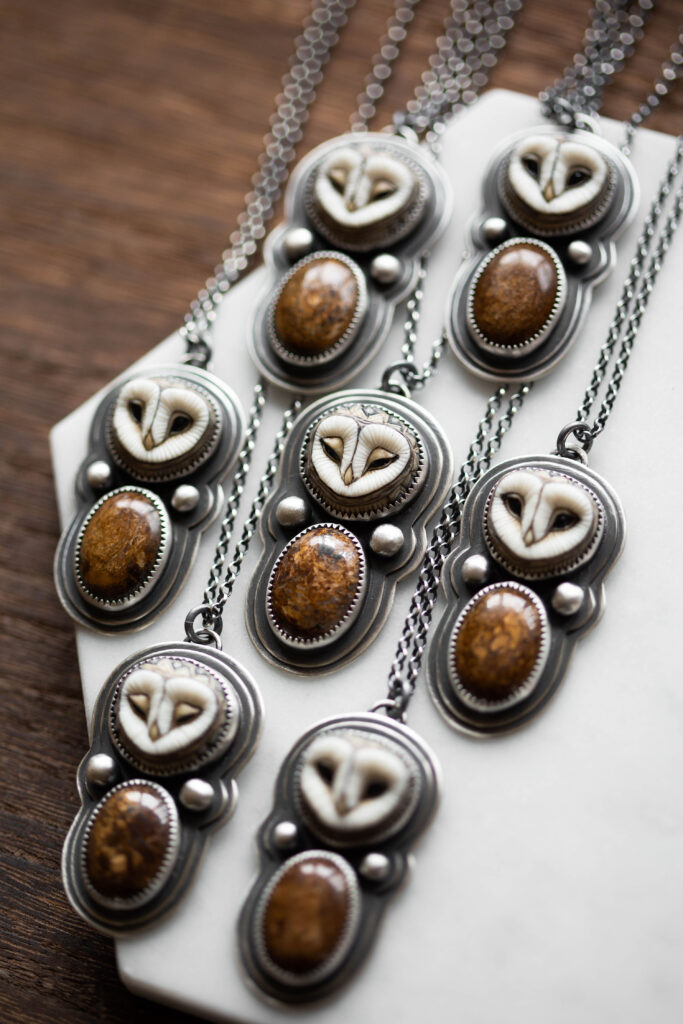 Thankfully tonight, I will be able to unlatch the window and let the owls hop into the night air and wing their way towards their intendeds.
See you tonight at 7pm in the Etsy shop! (Click here to visit the shop!)