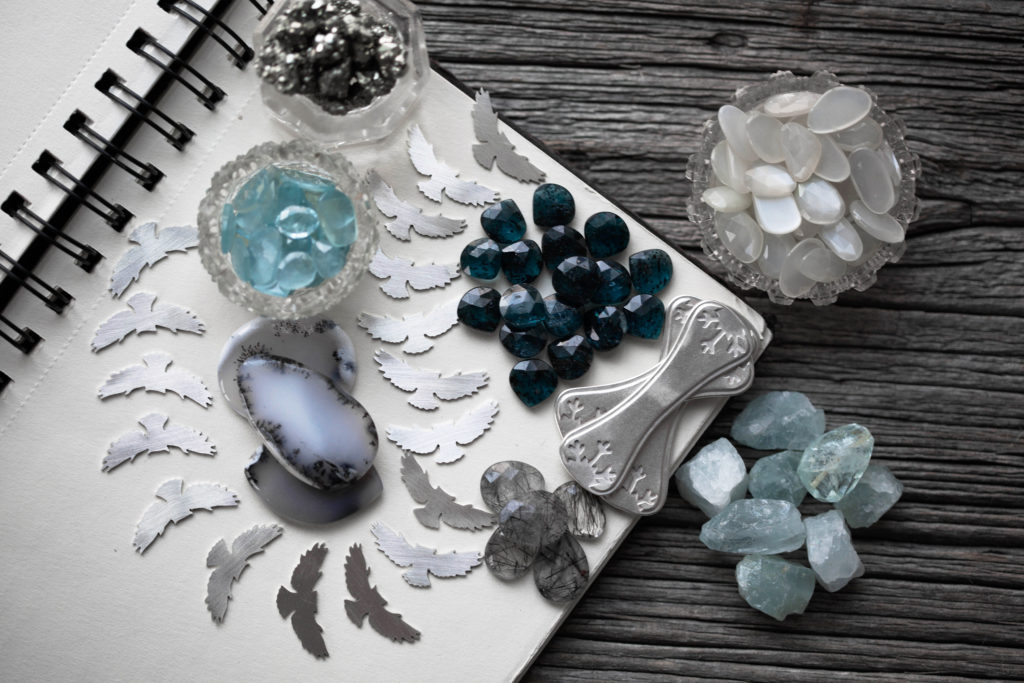 Over the past few months, I spent my days scooping fresh snow, pulling up the cracking cold, catching owls as they passed overhead, pulling deep teals out of mountain pools, and plucking icicles from tree boughs, all to work into metal and stone. And in the end, I collected an entire season for you.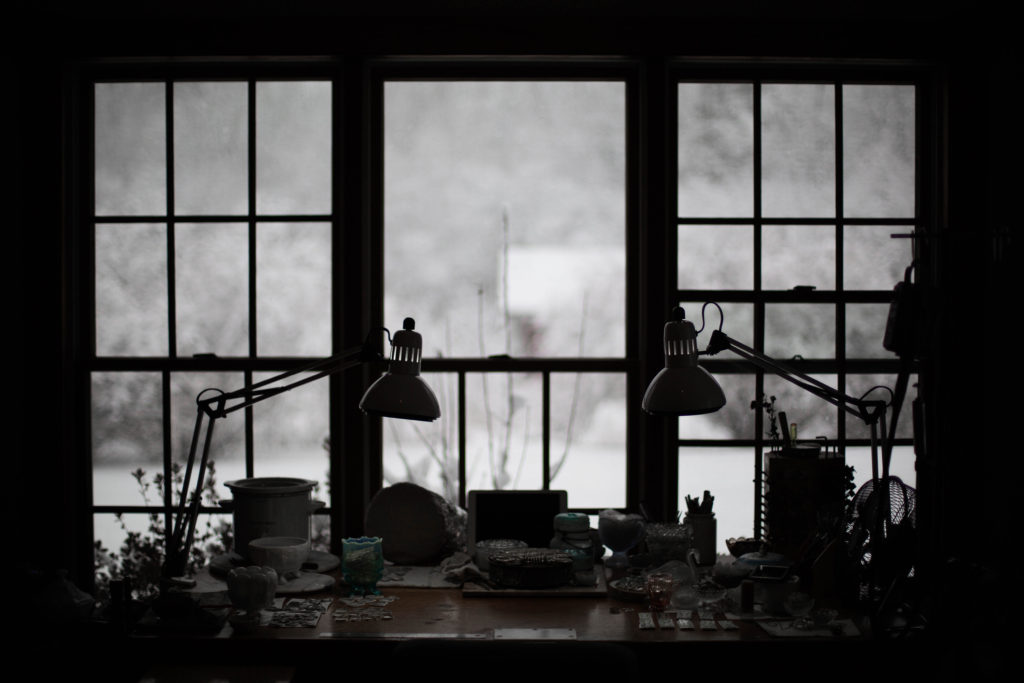 I gathered up as much winter as I could fit in my arms and imbued in these pieces my boundless love of winter and my bliss at being back in Maine.
_________________________________________________
OF THE NORTH NECKLACES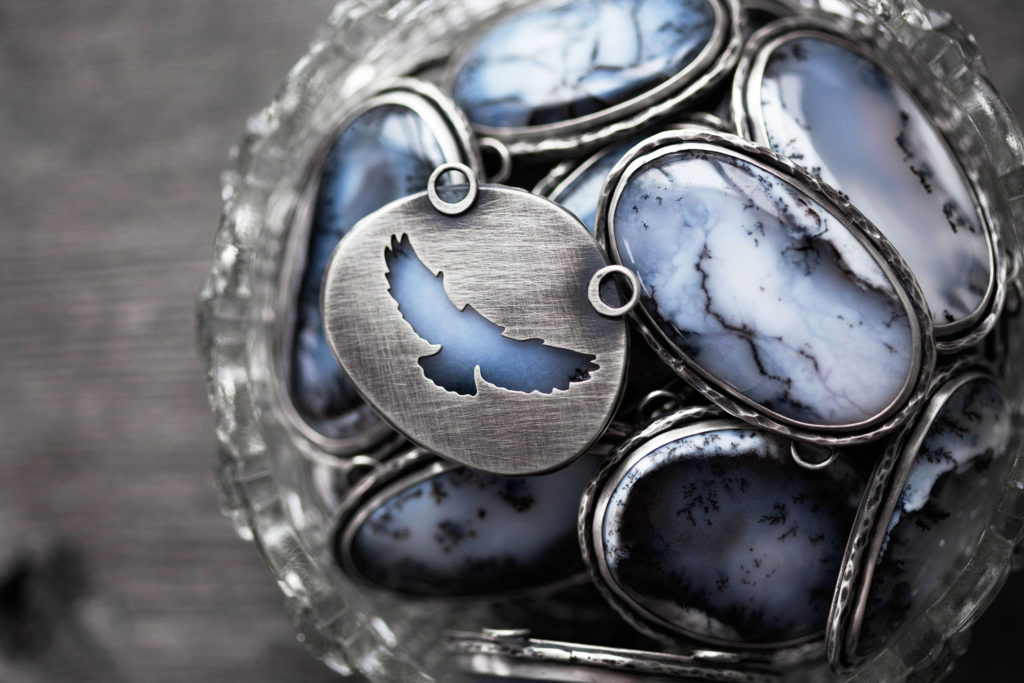 The first design I revisted was my dendritic agate owl necklaces. These were the focal of the very first North Wind Collection two years ago. Despite how long it had been since making them, it didn't take long for my hand to remember the path for the saw blade to take around owl feathers and tufts.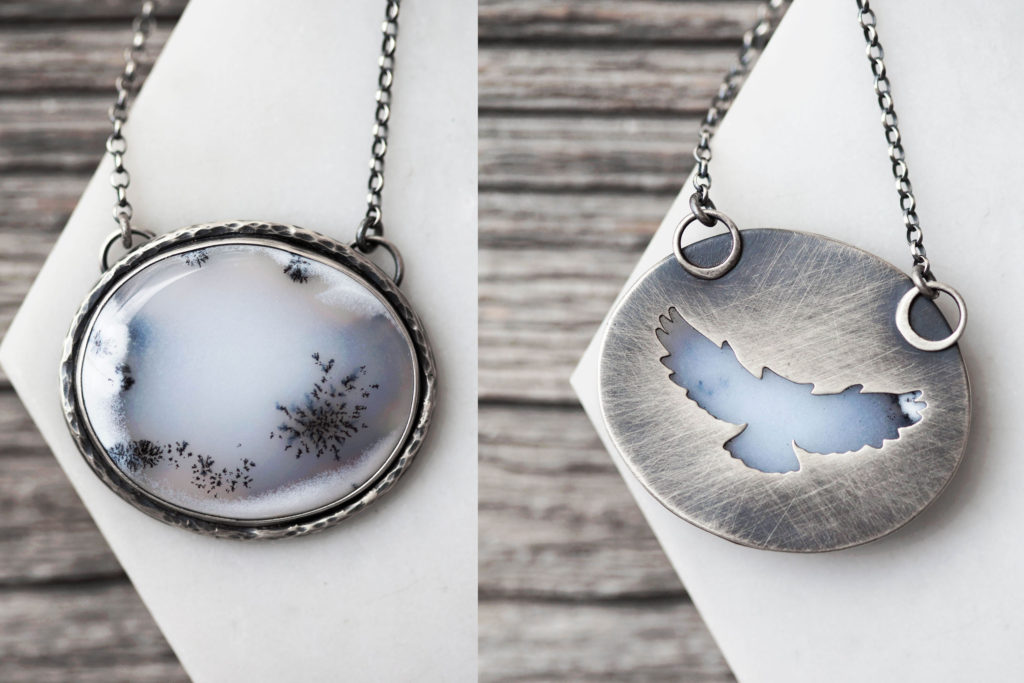 Silhouettes of solitary owls in flight are sawn out of the backs of each of the dendritic agate pendants, which reveal the wintery backs of the gemstones. Owls made of ice and snow, silent watchers of silent winter forests. The first design I revisited was my dendritic agate owl necklaces.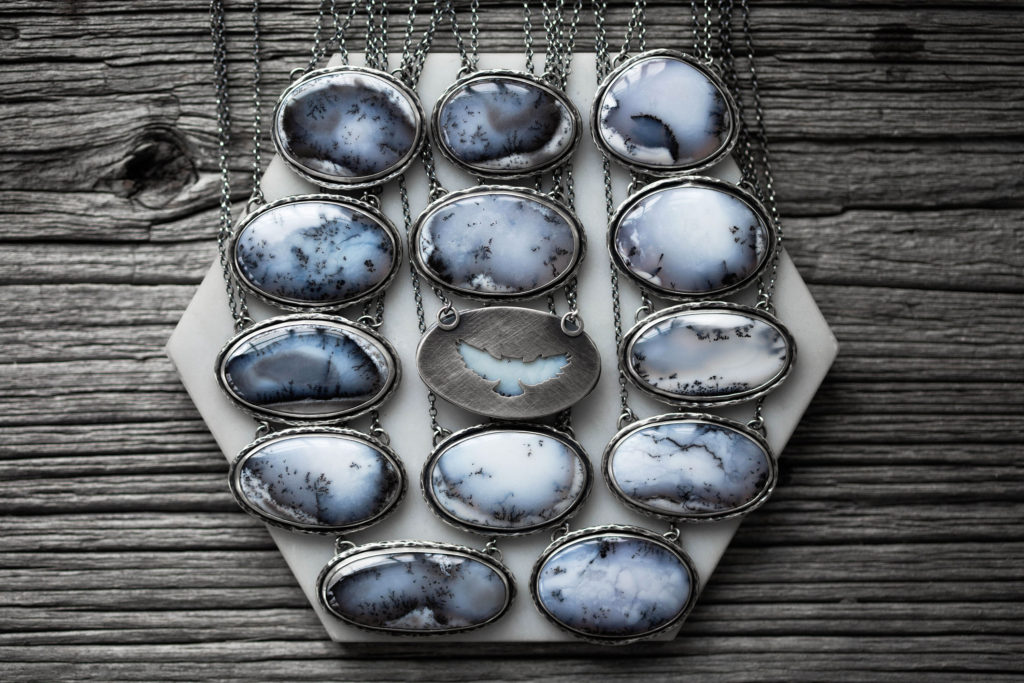 I made so very many of these, the owls have been flapping and fluttering for days in my studio. I can feel how anxious they are to spread their tail feathers and leap out my windows to fly off toward their intended keepers, each destined for different parts of the world.
_________________________________________________
NORTH WIND EARRINGS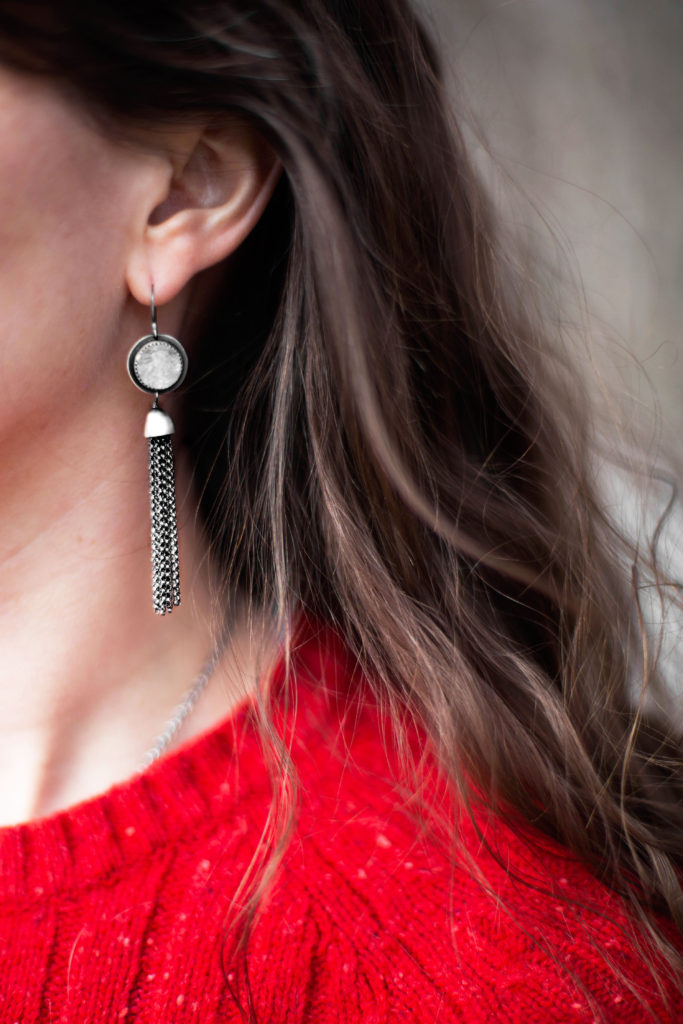 It seems only proper that on the day I finished these earrings, there would be a gale lashing the birches outside our house, as these earrings are my ode to the north wind.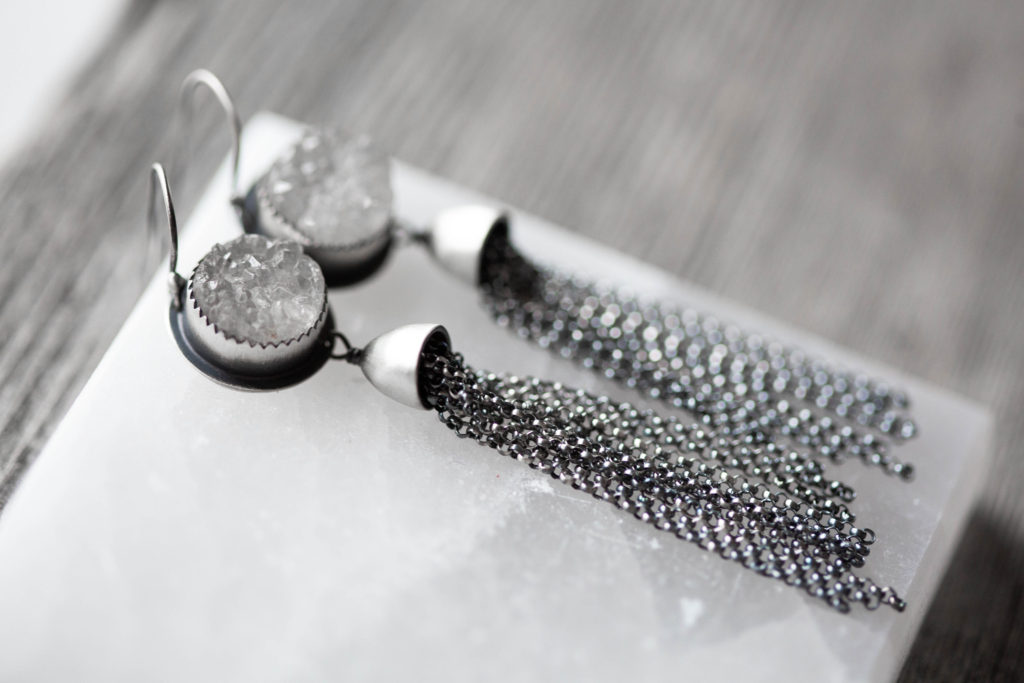 They are comprised of hand-cut rock quartzes cut from the insides of druzy geodes, icy white like the hoarfrost that clings to wind-whipped mountainsides.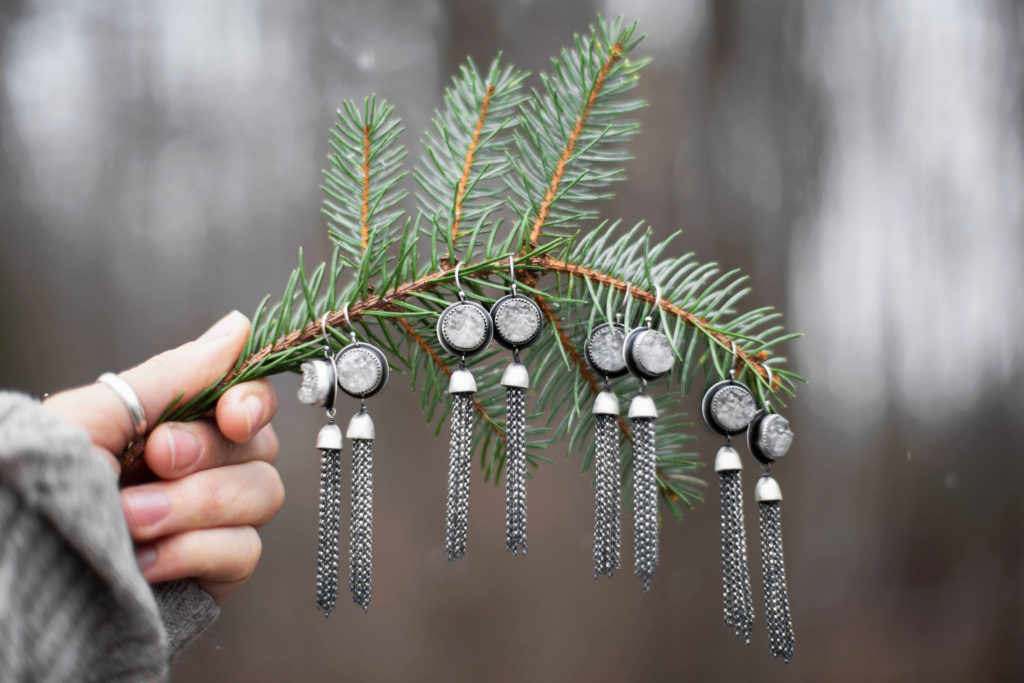 And below is a swath of chain, to help you feel the wind as it twines through your hair.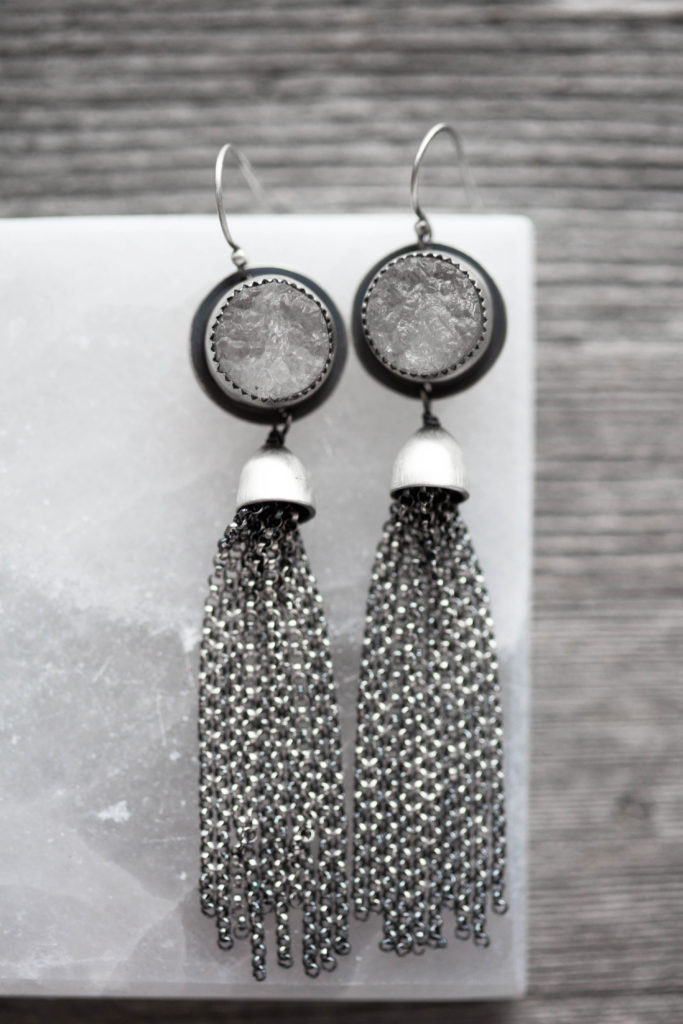 Earrings made of delicateness and movement, ice and the north wind.
_________________________________________________
WINTER OWL EARRINGS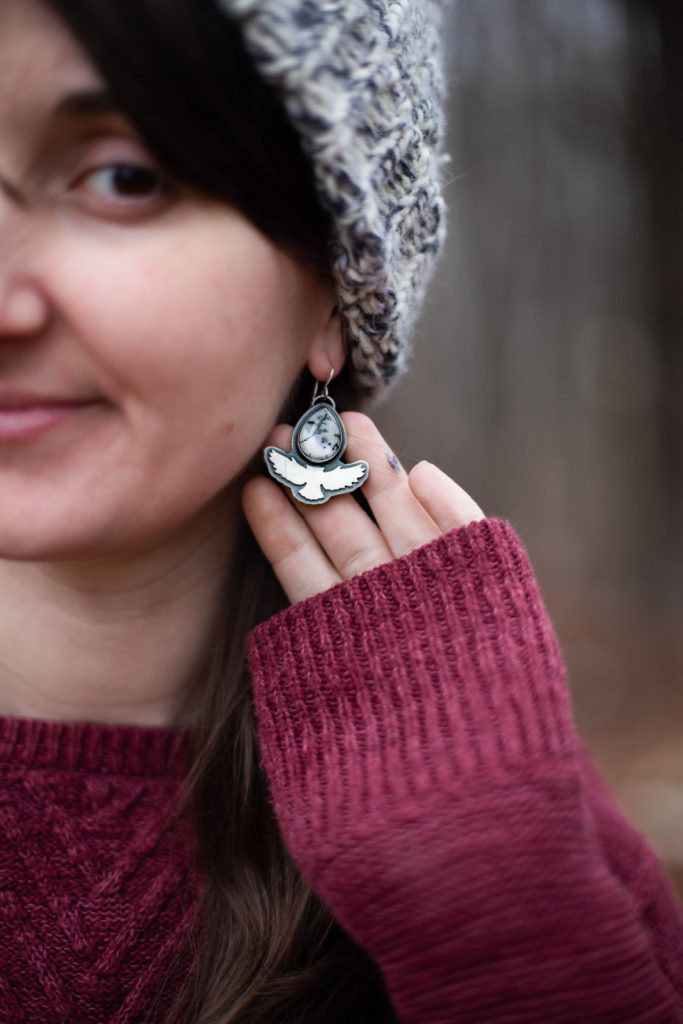 And this a new design, my Winter Owl Earrings. Tiny matching dendritic agate gemstones with owls soaring below them suspended from simple french earwires.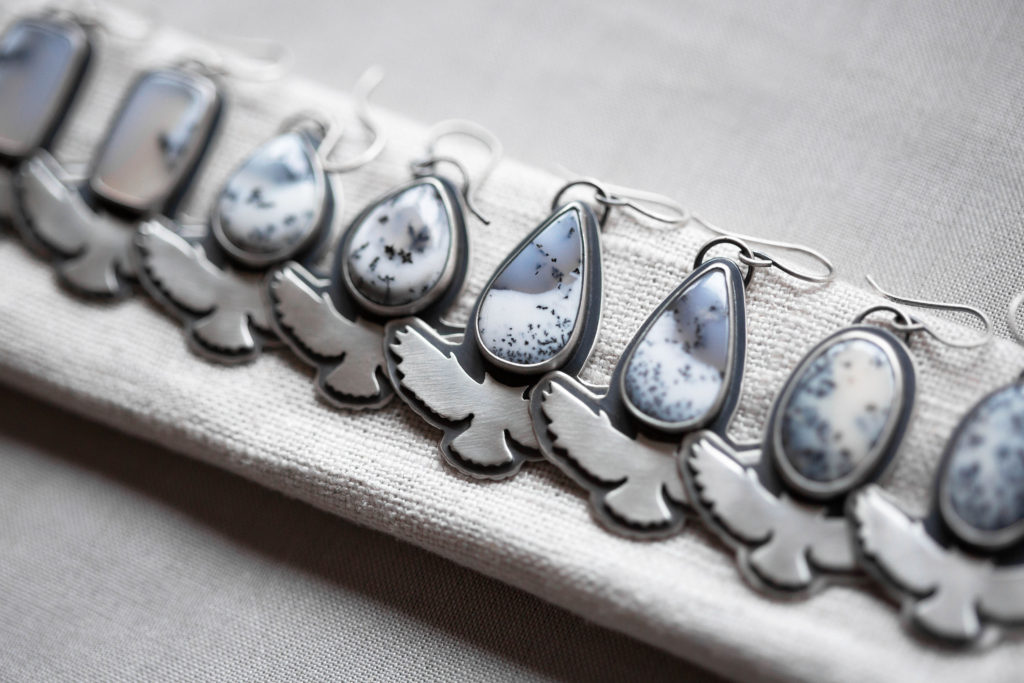 Bold statement earrings for views from the winter sky.
_________________________________________________
WINTER OWL RINGS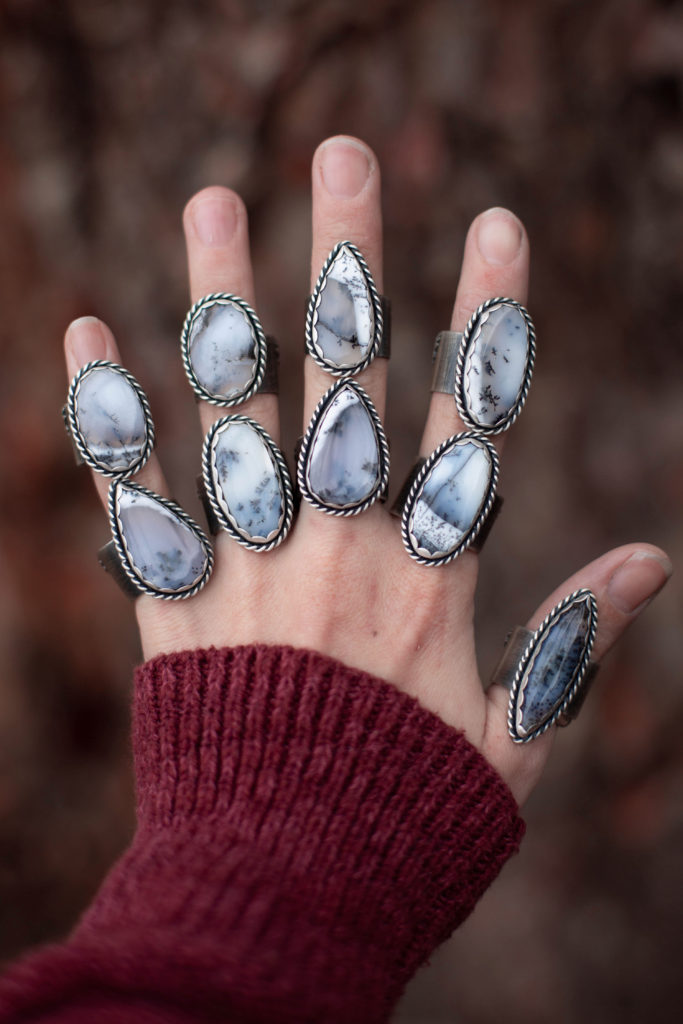 There are also a handful of Winter Owl Rings as well.

Measured on the mandrel, there will be sizes 6.75, 7, 7, 7.25, 7.25, 7.25, 7.75, 8.25, 8.5, 8.5, 9, 9.25, 9.5, 10.5. (Remember with the wide bands to purchase a size 1/2 – 1 full size larger than your normal ring size. (Most people prefer 1/2 size bigger, but I like the breathability of a full size bigger.)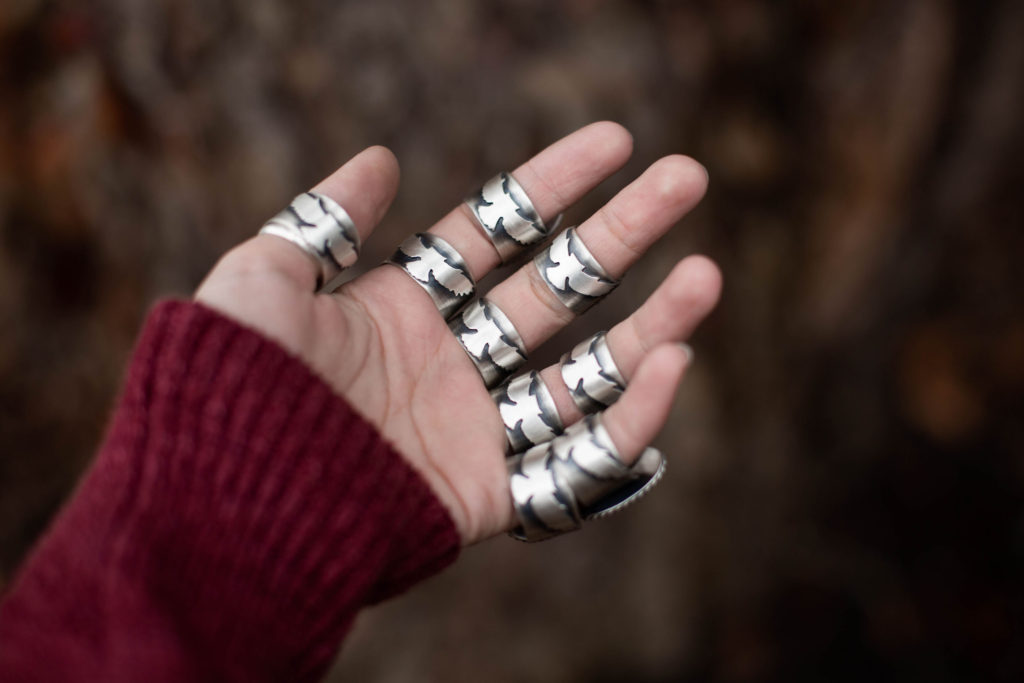 I have even convinced a few of the little owls to settle your open hands, if you happen to claim one of these rings. Furtive familiars to carry through the day.
_________________________________________________
TAIL FEATHERS NECKLACES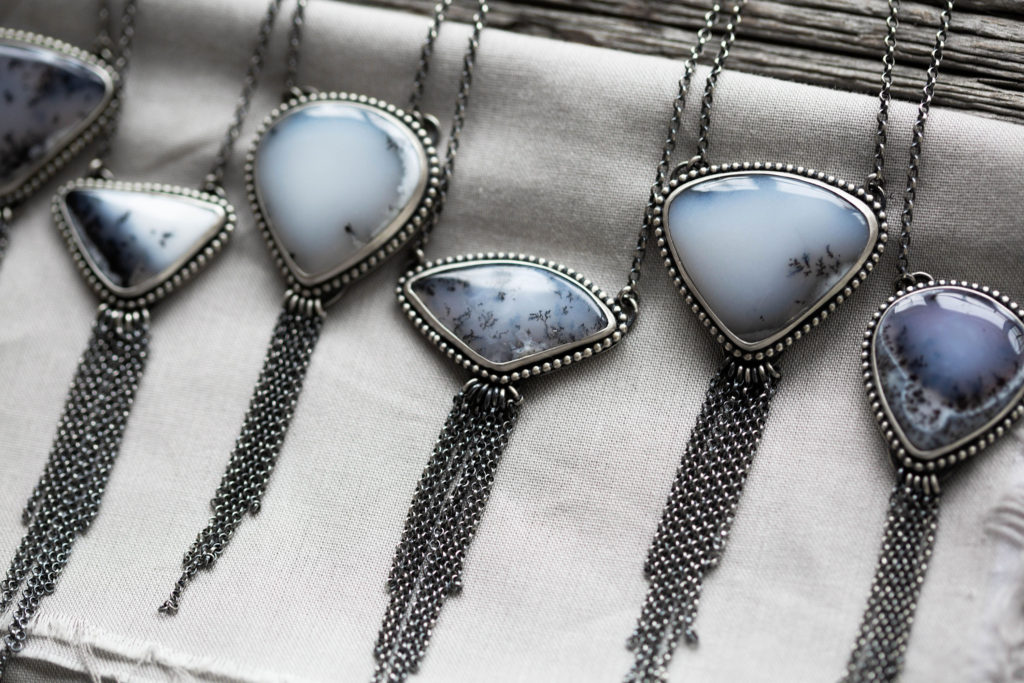 There will also be a version of the dendritic agate owl necklaces with chain fringe.
Below the stones, long, tapered swaths of chain to resemble tail feathers.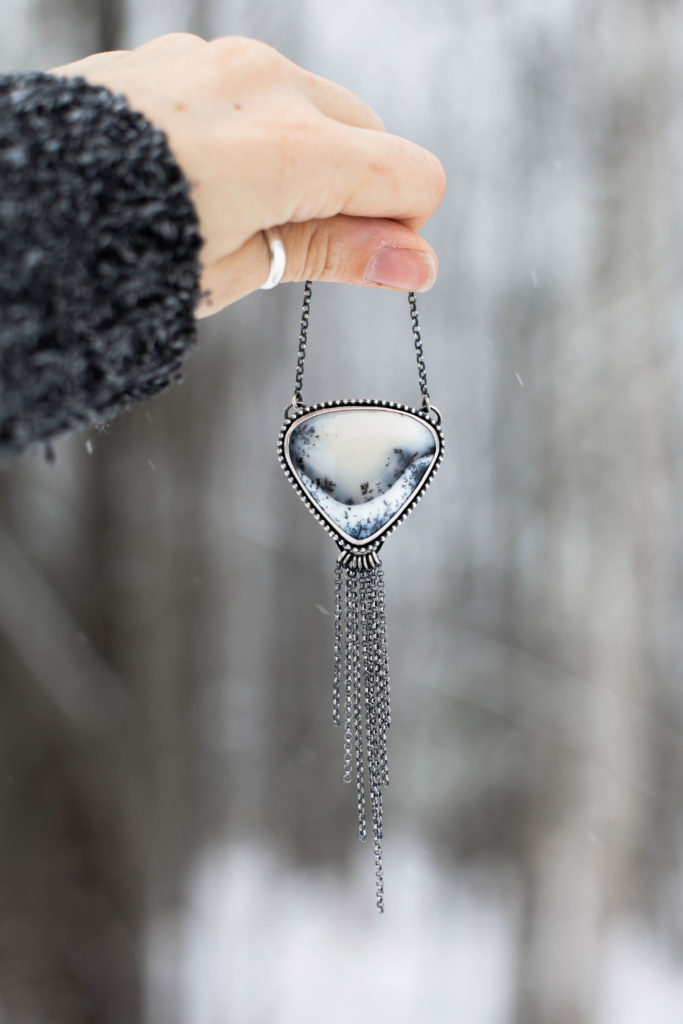 For awareness of the wind and immediate course correction, as with the owl.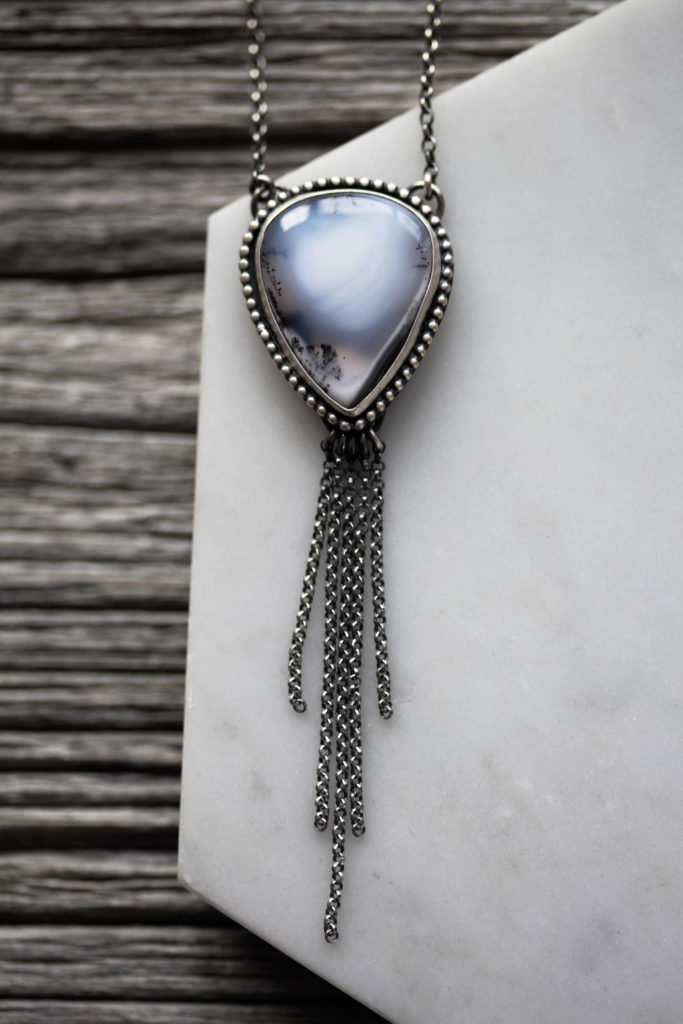 From the backs of these I have sawn a window, revealing an owl made of snow and shadow.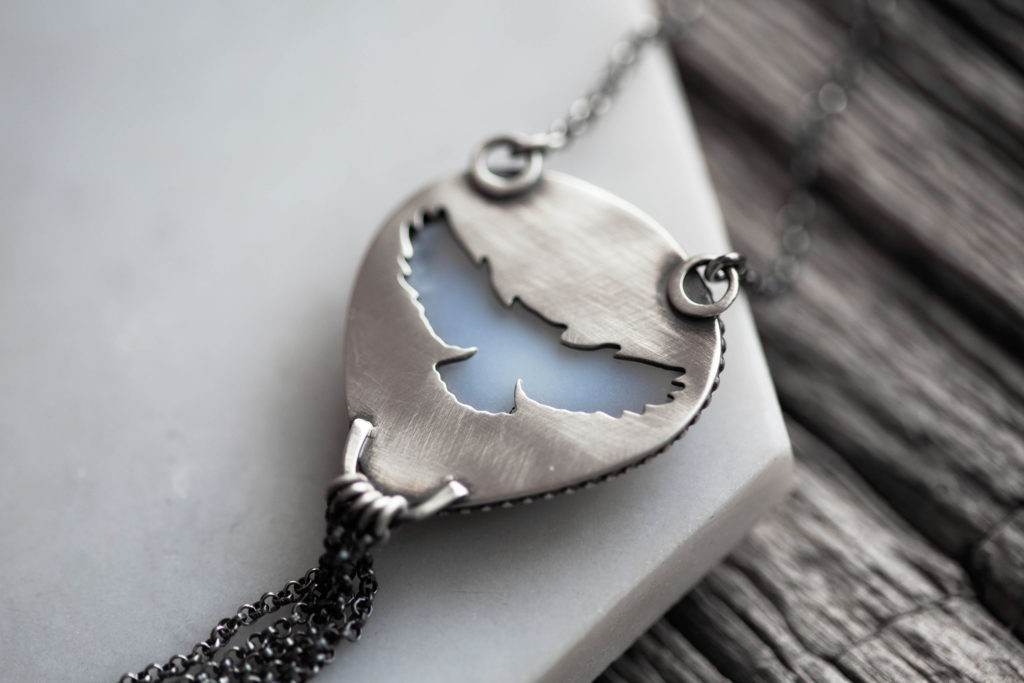 A familiar to wear against the chest.
_________________________________________________
FLURRY NECKLACES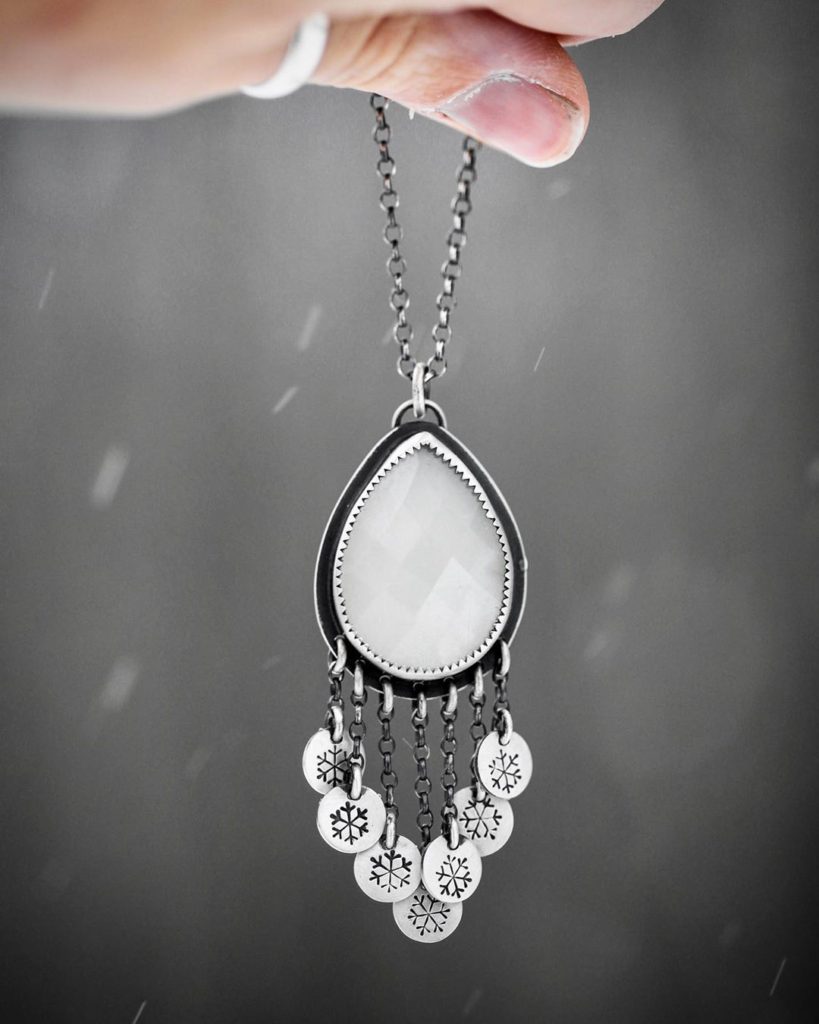 With numb fingers and a few attempts, I was able to catch you a few snow flurries!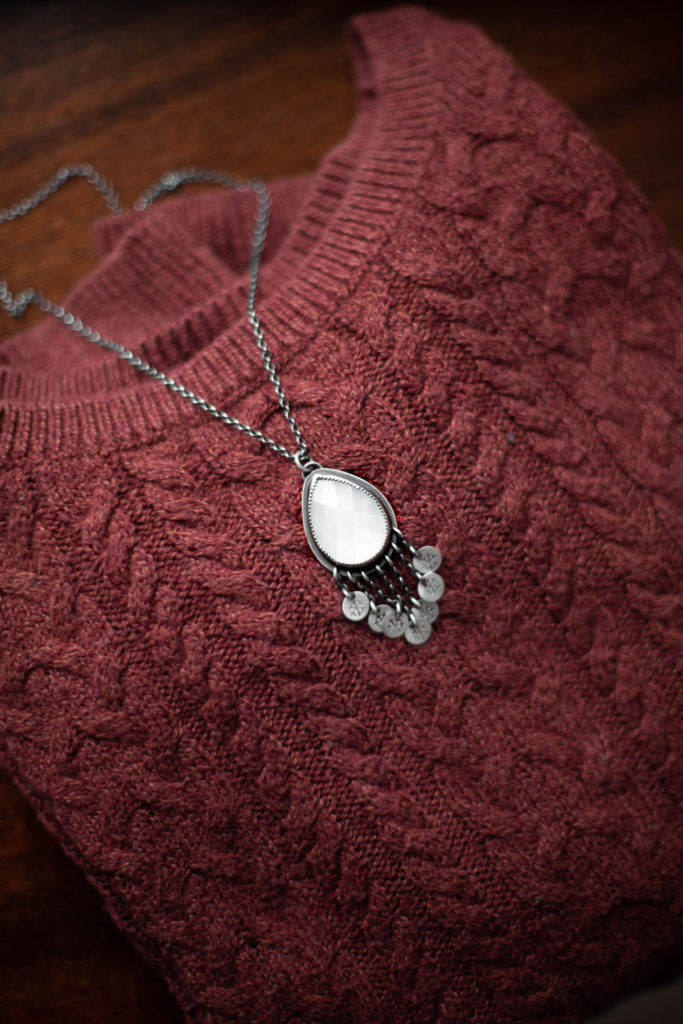 White and swirling, and biting cold to the touch, but I still managed to pull a squall from the sky and into my studio to be encased in soft white moonstone and fluttering sterling silver.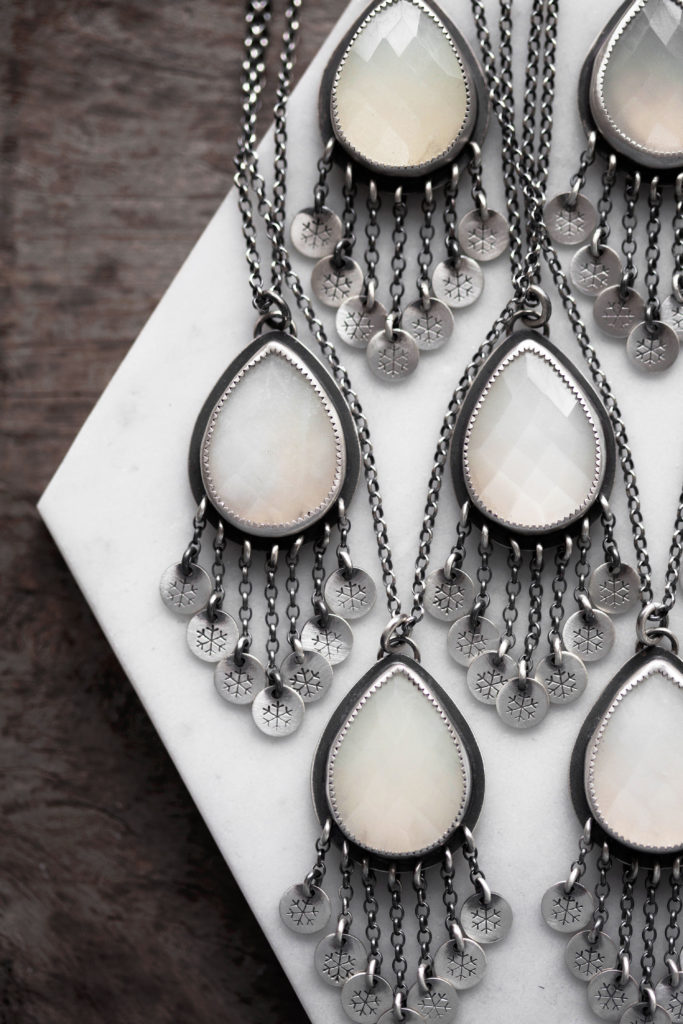 A tiny snow flurry to wear about the neck.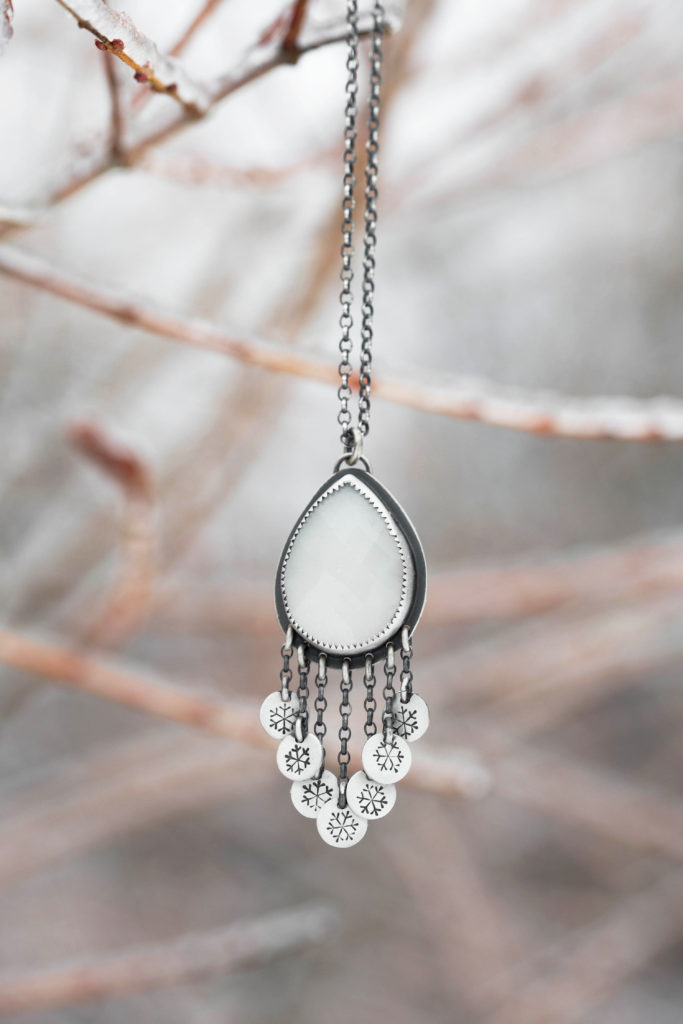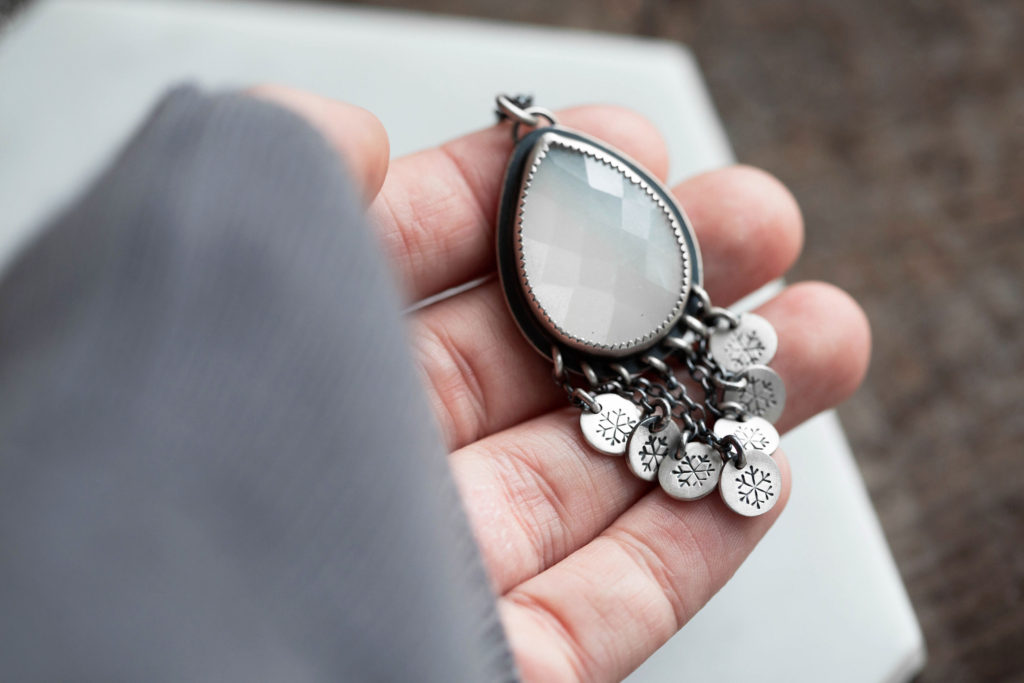 _________________________________________________
WINTER CURRENT RINGS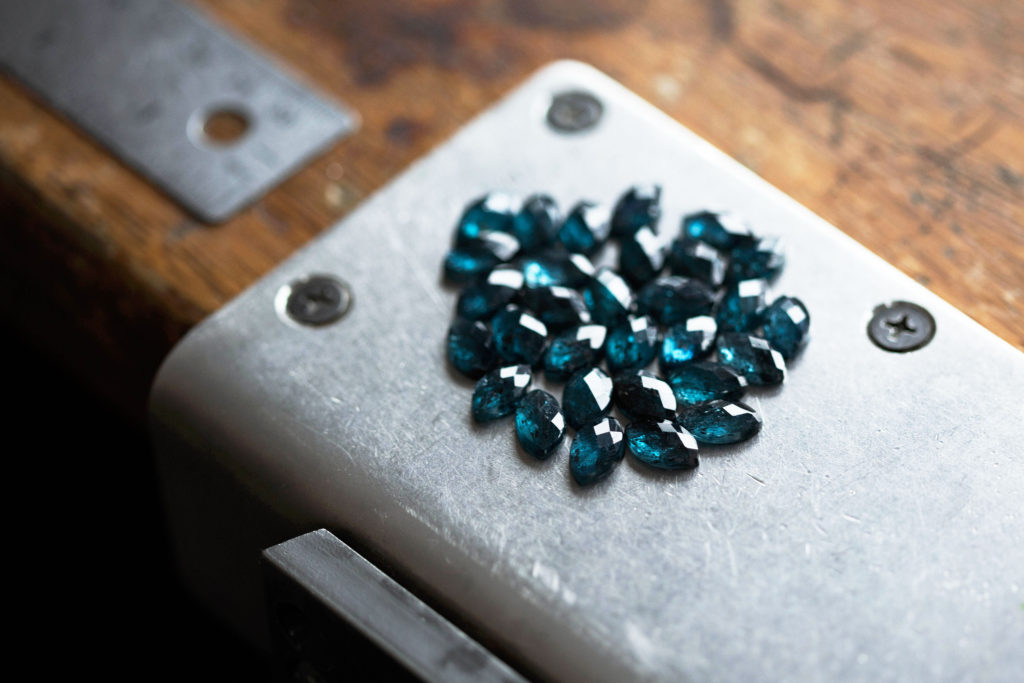 Made with teal green kyanite gemstones that drink the light and hold it within their interiors.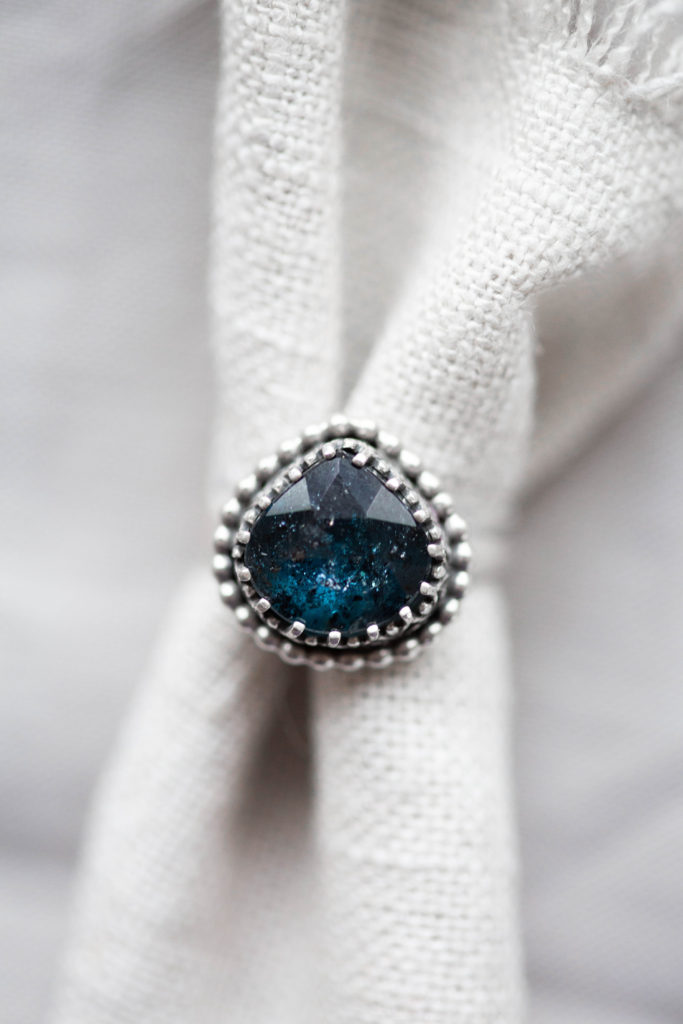 Looking into the stones is like looking up towards the light while underwater, dotted with crackling striations and dark inclusions like clusters of algae or leaves from nearby trees.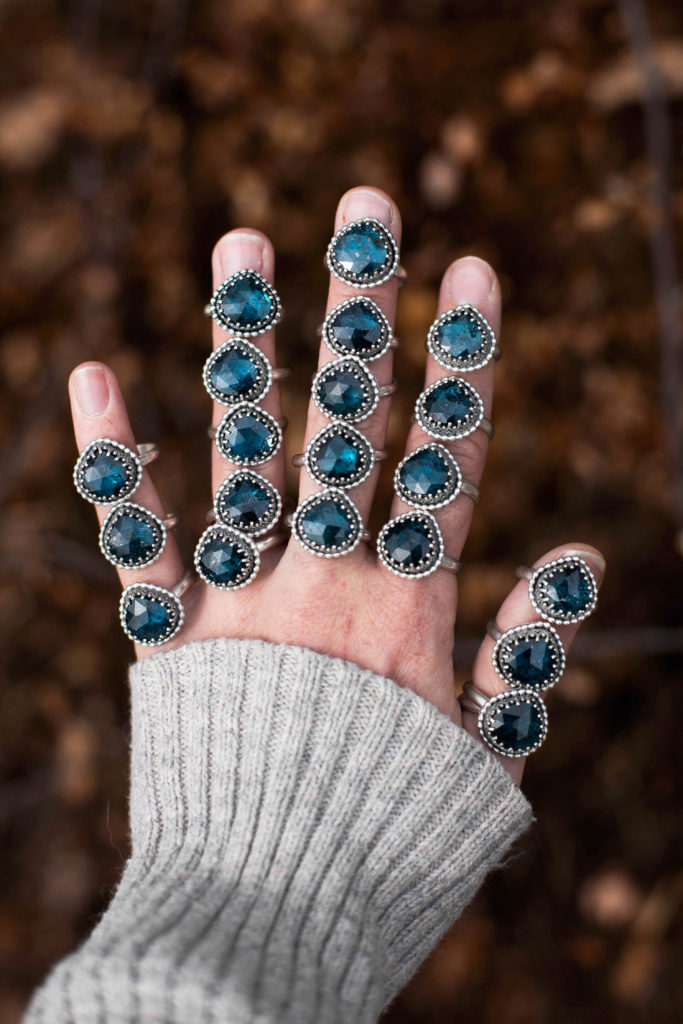 Glistening facets refracting and throwing the light, like ripples on water.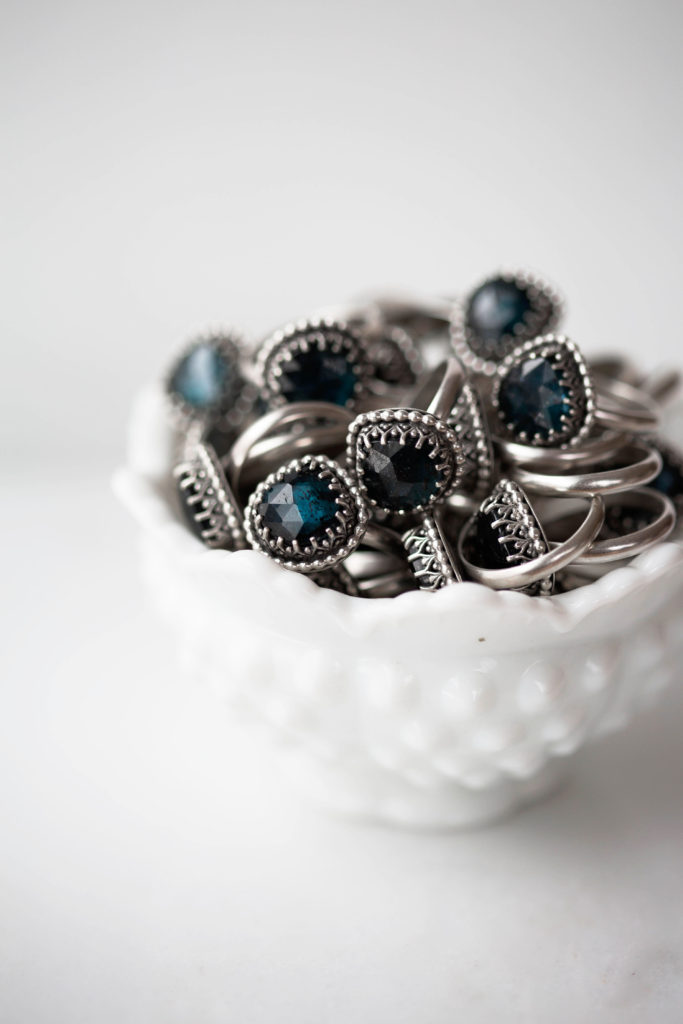 A ring for finding forest pools after the first snow melt, breaking icicles off roof edges, and exploring coves still sparkling with sea ice.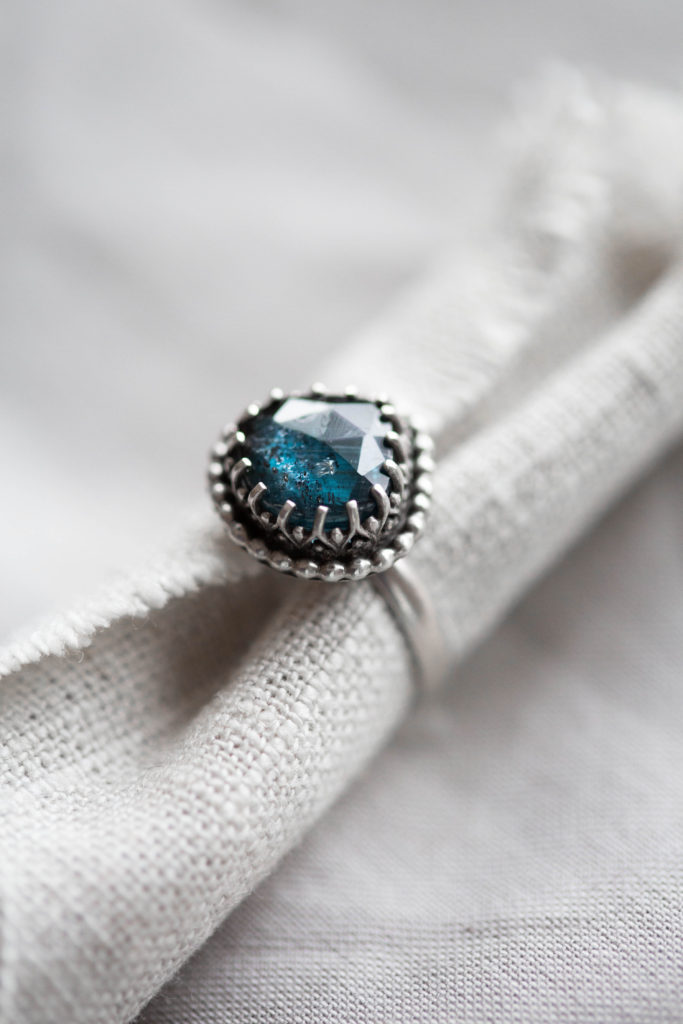 A ring for the deep currents that run through winter, dark and saturated.
(Sizes range from US 4.5 – 11.5, and since the bands are narrow they fit true to size.)
_________________________________________________
OF THE NORTH CUFF BRACELETS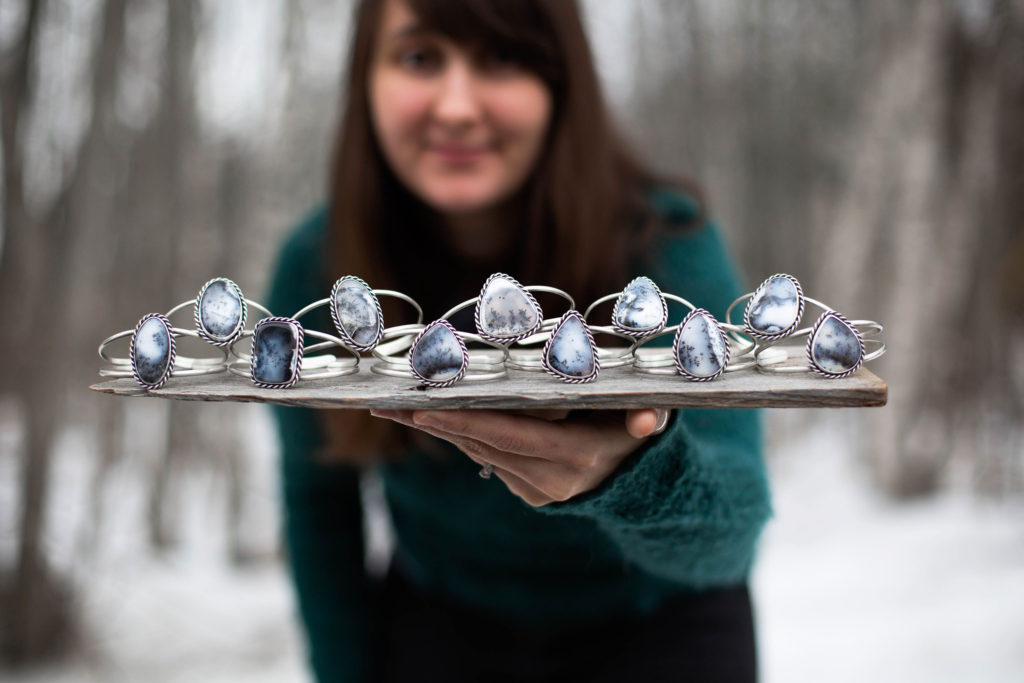 Dendritic agates are like actual slices of winter. Snow covered chalcedony fields bordered by tiny dendrite forests.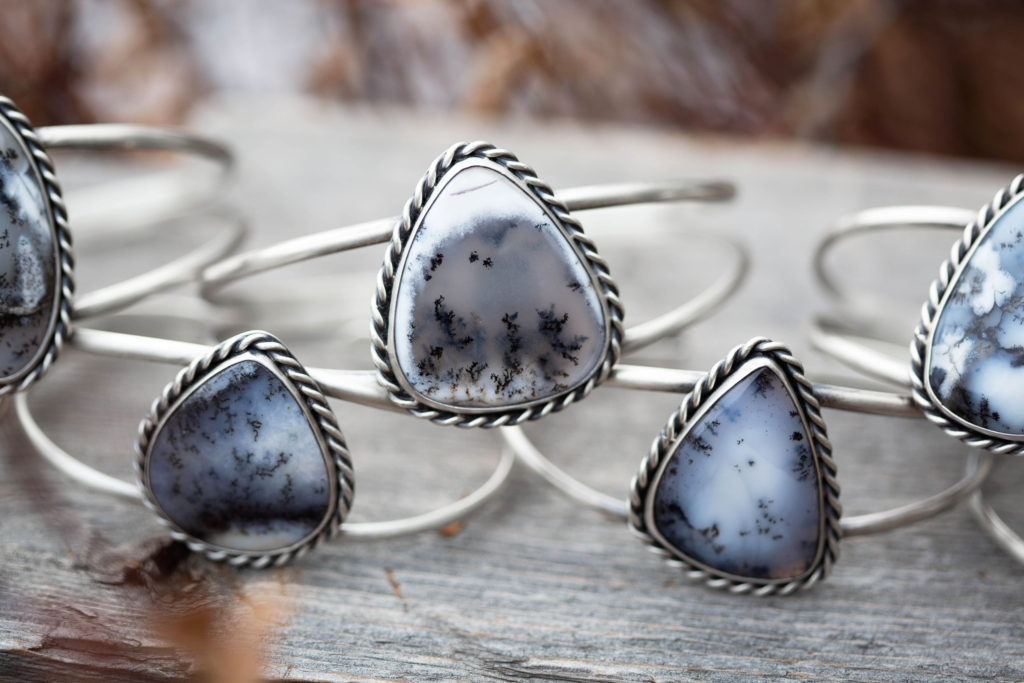 Each entirely unique with the grays, whites, blues, and blacks it chooses to borrow from winter.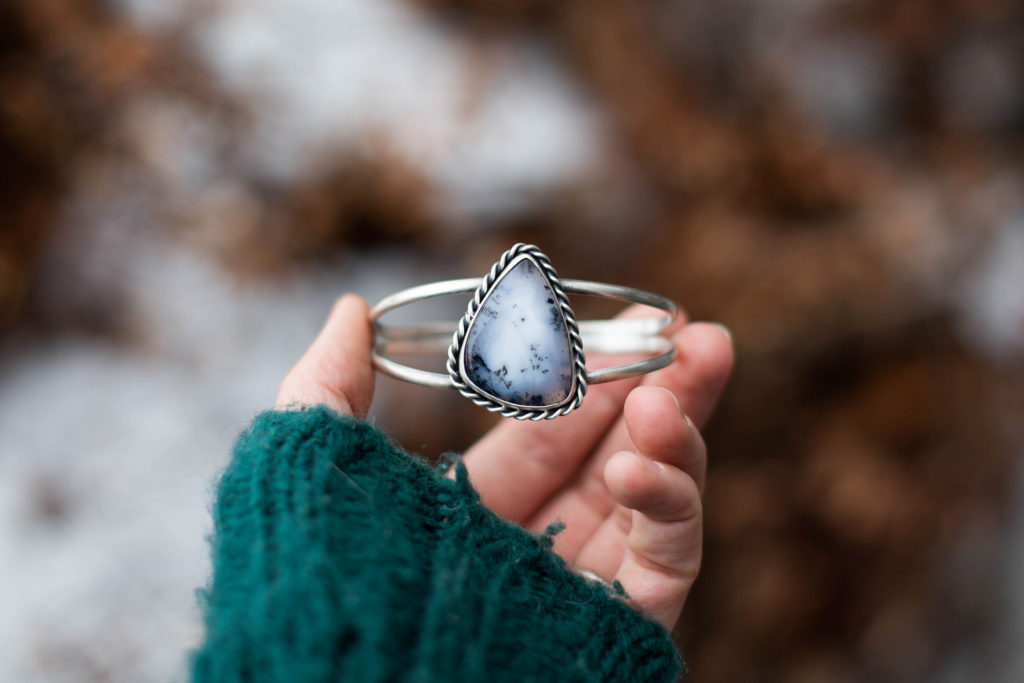 And so I made a handful of cuff bracelets very simply adorned to allow the stone to be the focus.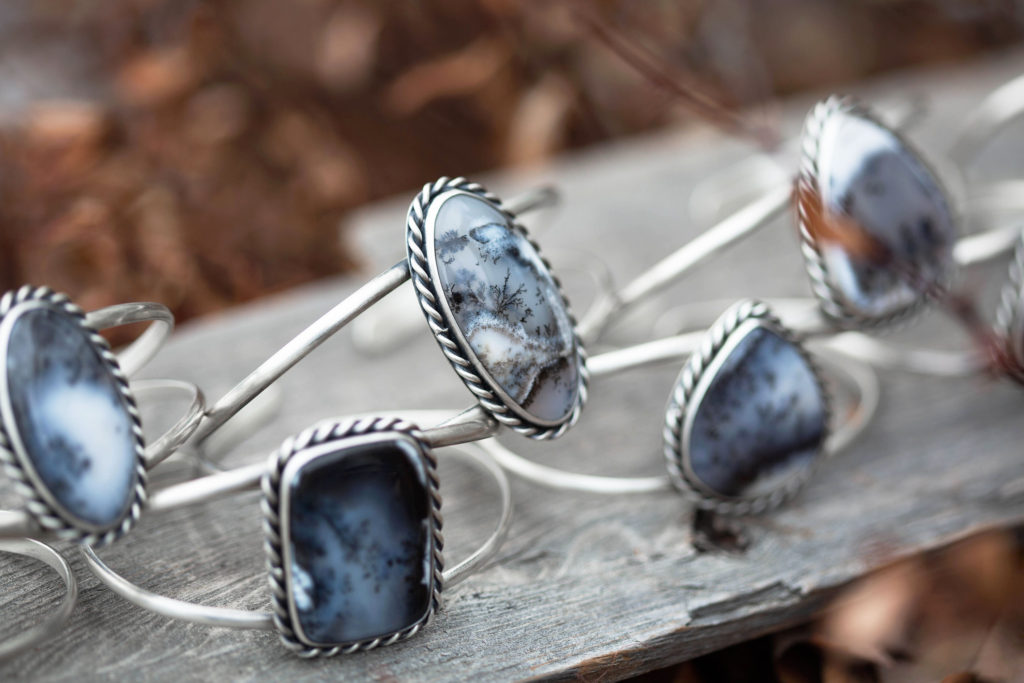 Silver twisting around the gemstone, like a cold wind falling around trees and glacial boulders.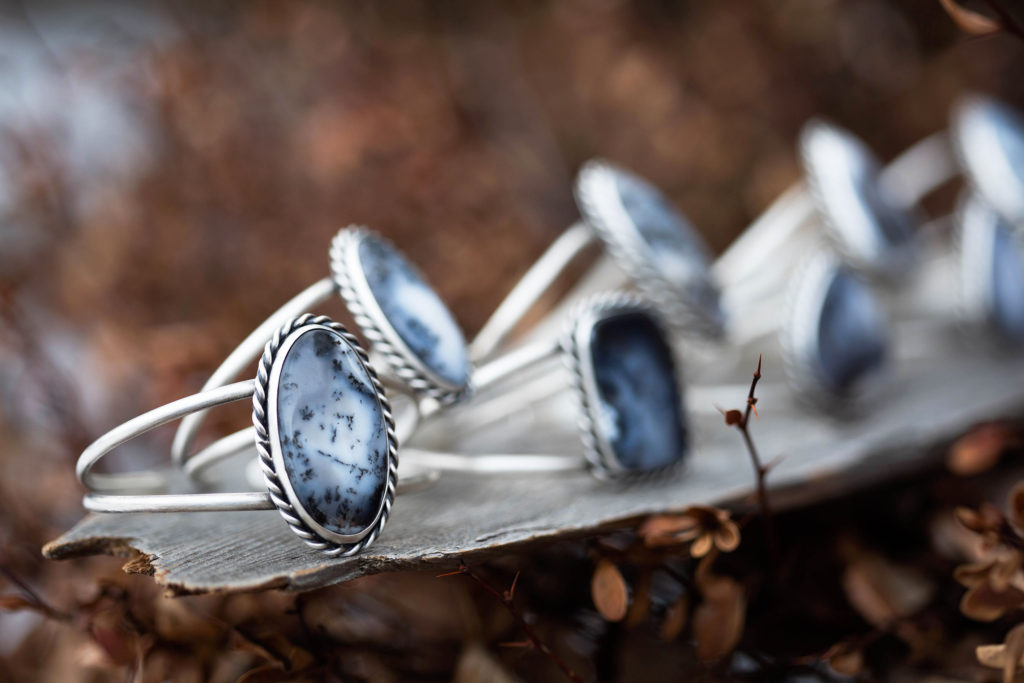 And hidden on the backs of these cuffs is a tiny snow flurry engraved into the silver.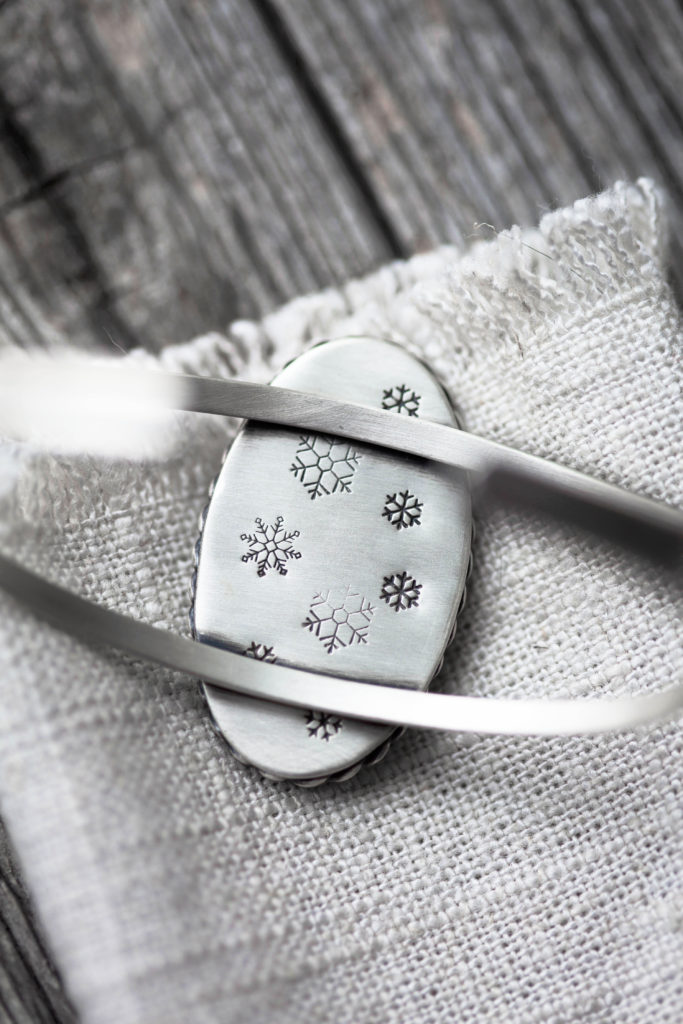 _________________________________________________
JANUARY NECKLACES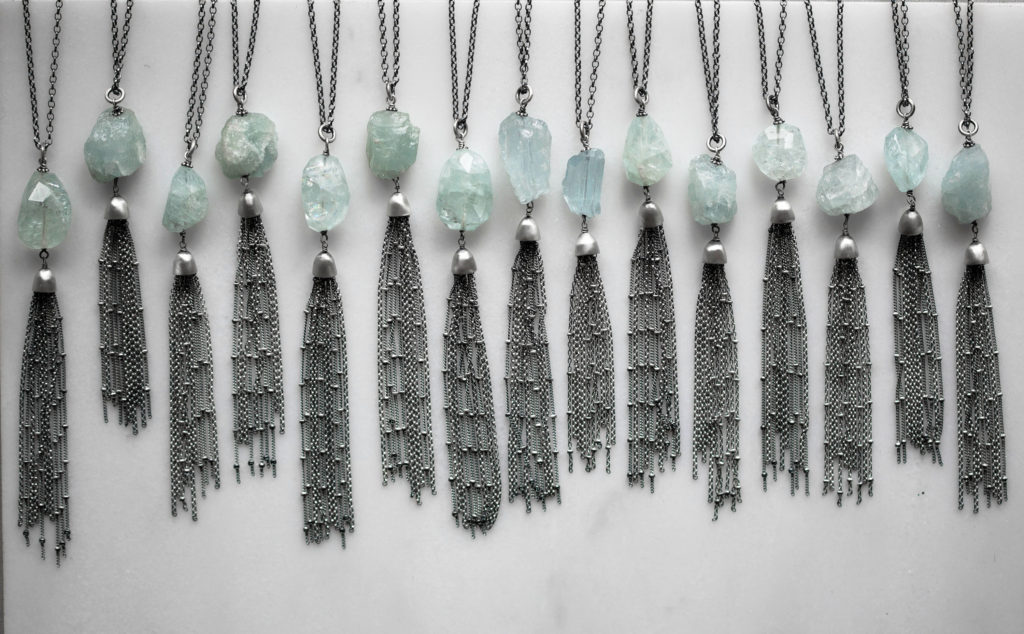 Rough and weathered, like January.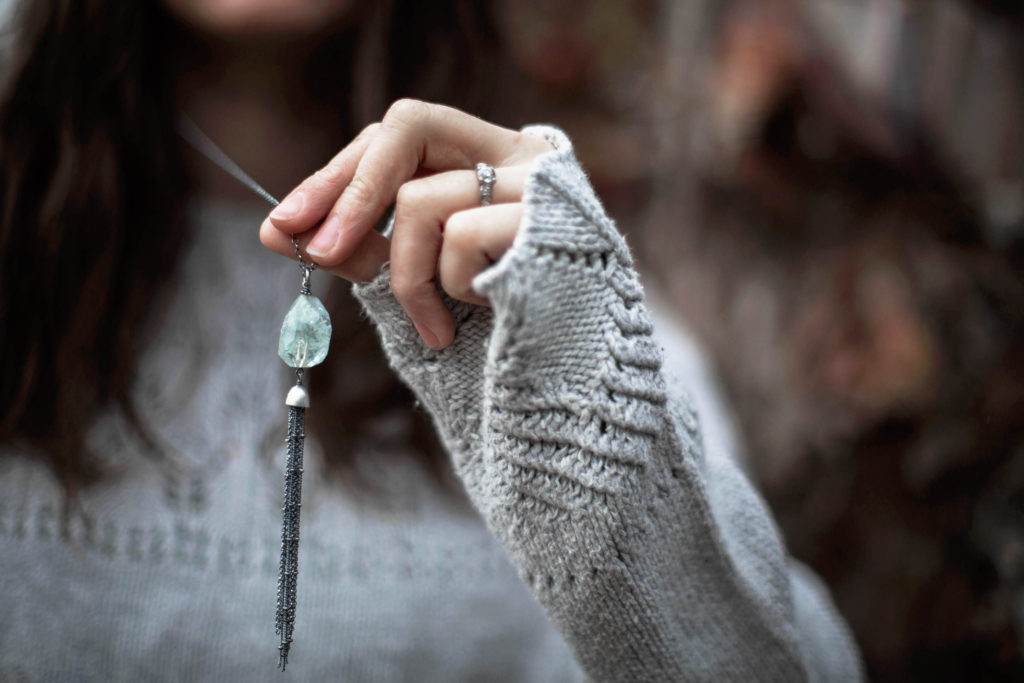 These necklaces features freeform aquamarine gemstones.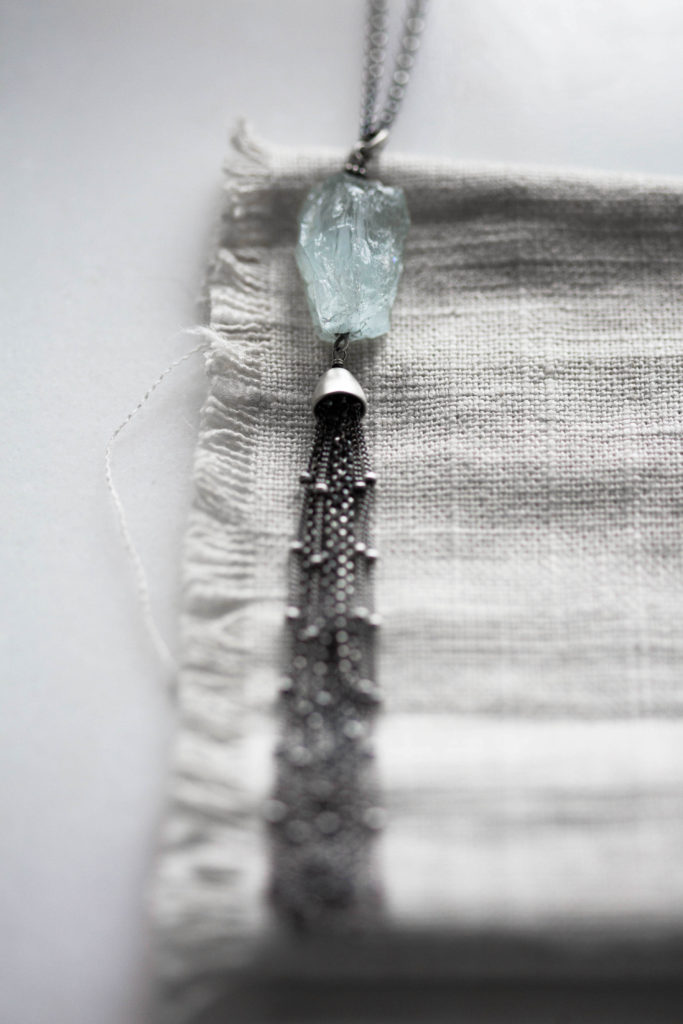 Some of the aquamarines in this design are smooth and polished, others are raw and natural. The hues of the aquamarine range from saturated aqua to powdery blue.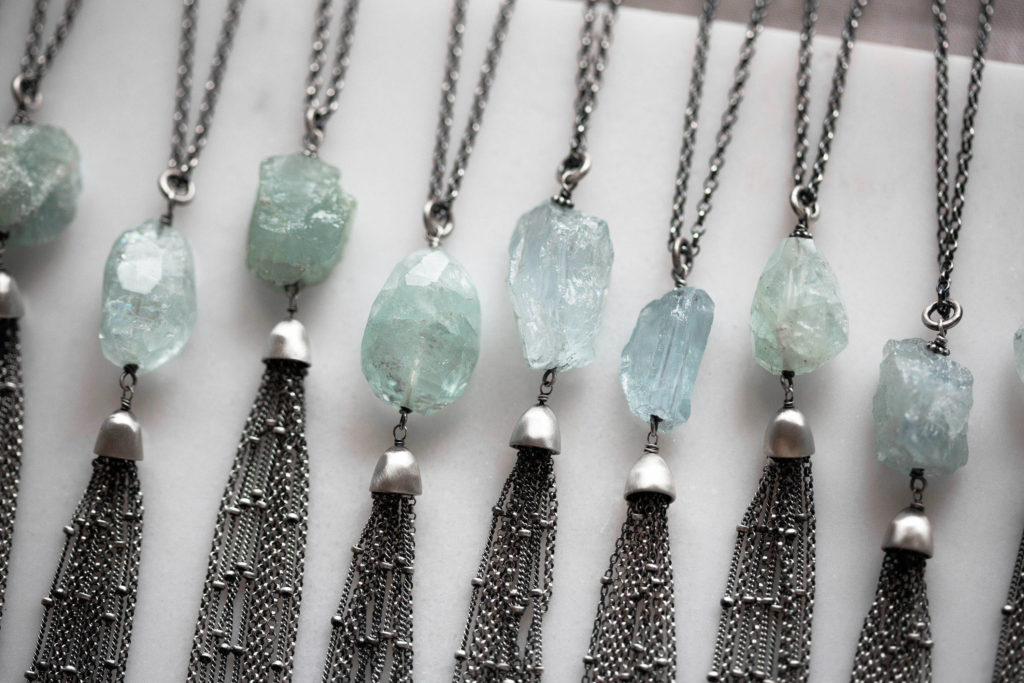 The gemstone is set above a chain fringe, some strands of which have tiny sterling orbs built in, like falling snow.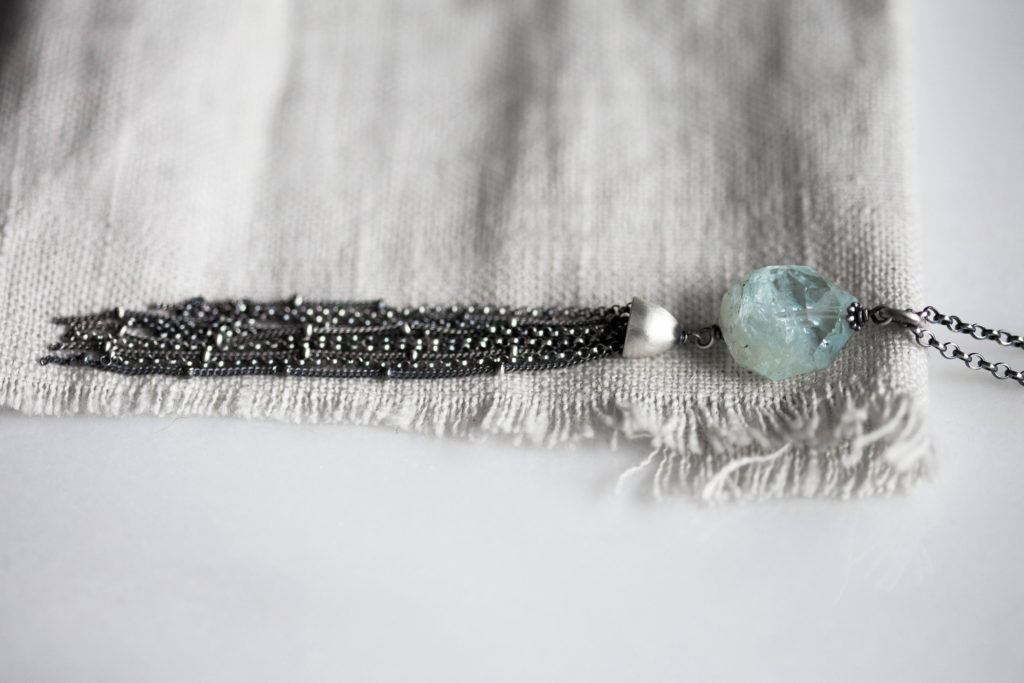 _________________________________________________
FLURRY EARRINGS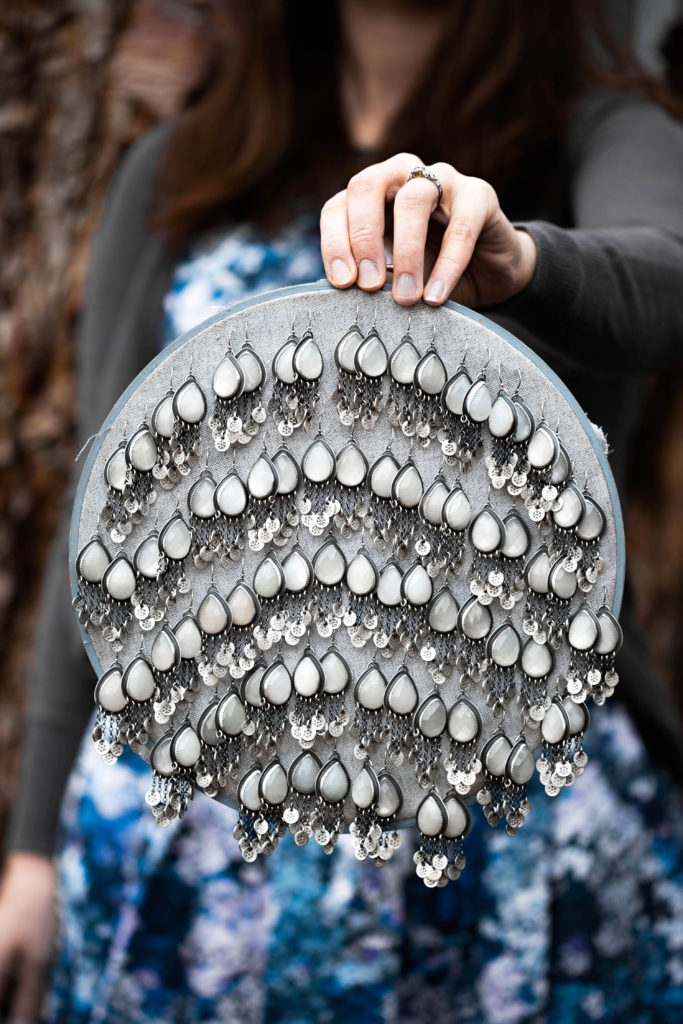 This earring silhouette is perhaps one of my most recognizable designs, first created for the Mossflower Collection with luminous prehnite. And this is my iteration for the North Wind Collection.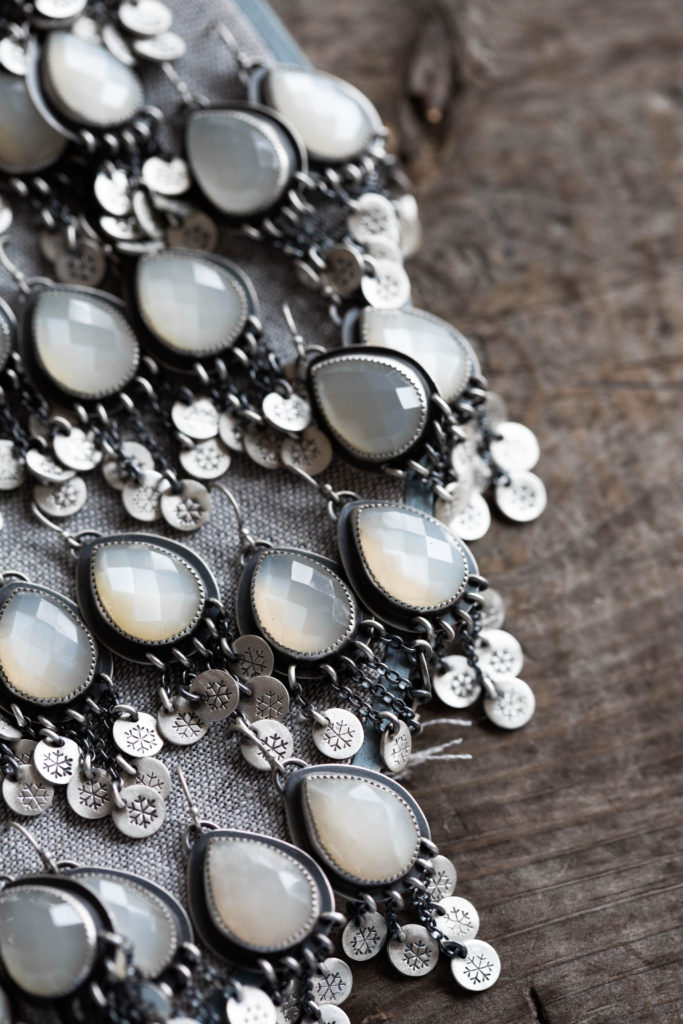 I chose shimmering moonstones that range from subtly gray to bright white to a touch of peach, like snow early in the morning, bright noonday, and during the golden hour of sunset.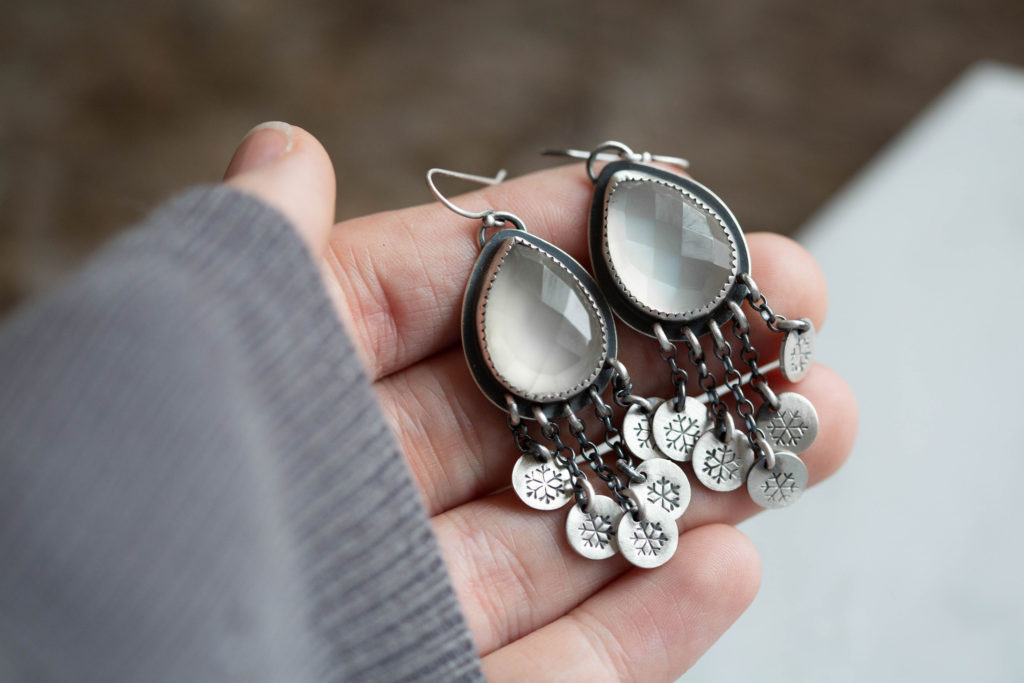 Some of the stones are completely opaque, others with slightly more clarity, rendering them somewhat liquid-looking. Others have internal fissures and feathery inclusions, which to me look like the quick-frozen cracks in lake ice.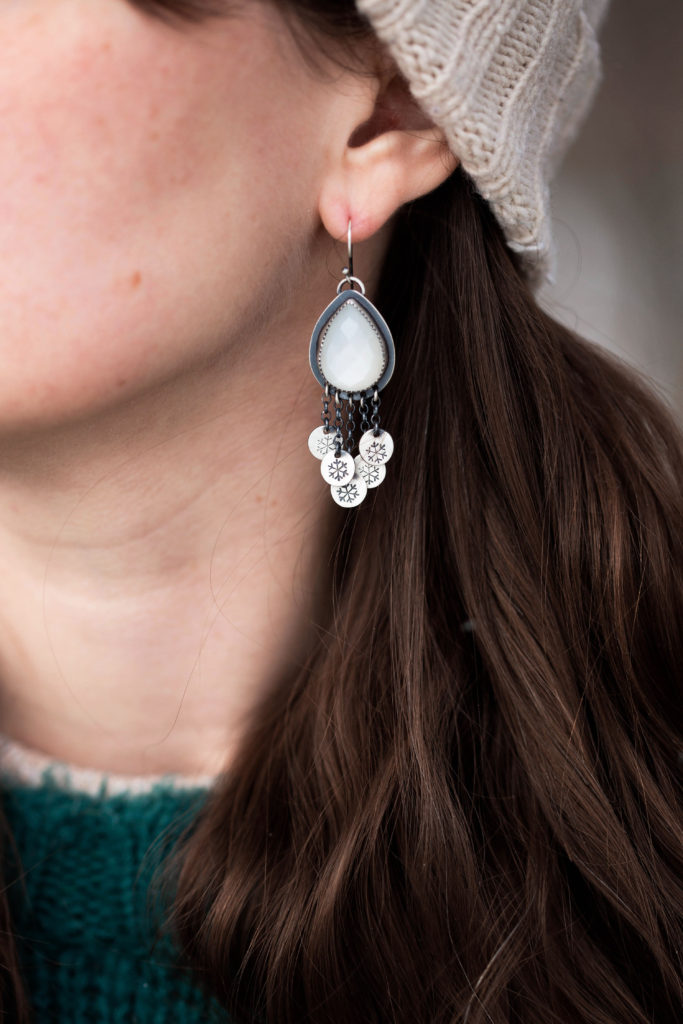 My wonder at the spectrum of these stones and their subtleties never ceases.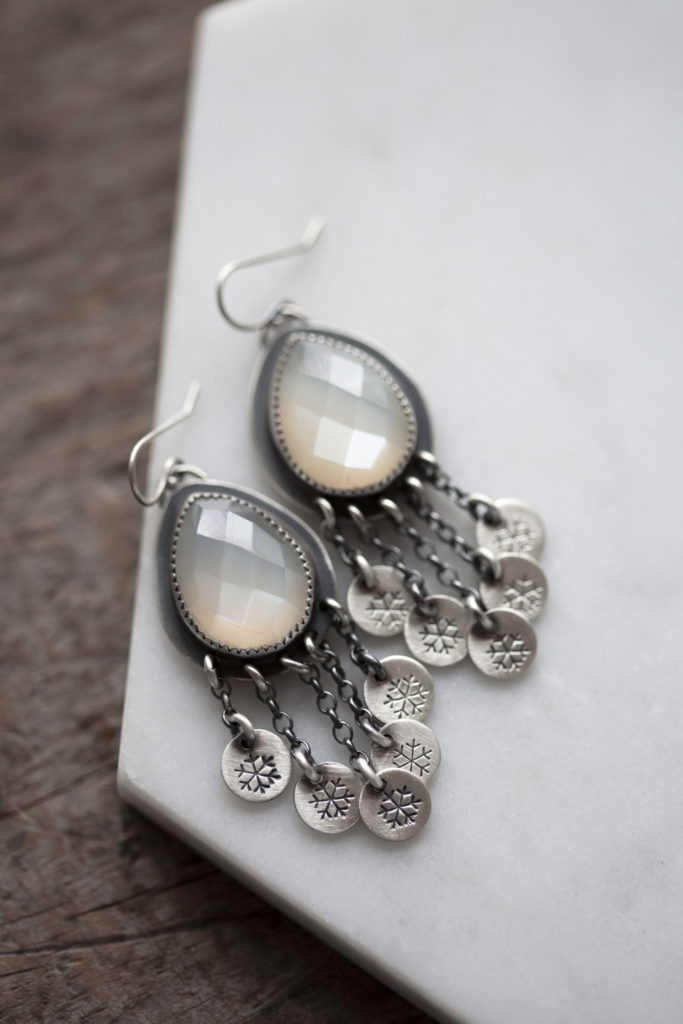 Because I swoon to see so many of these earrings all together with their shimmy and shimmer, I made a few dozen pairs for you. Soft, wintery moonstones and swirls of snowflakes to flutter beneath your ears.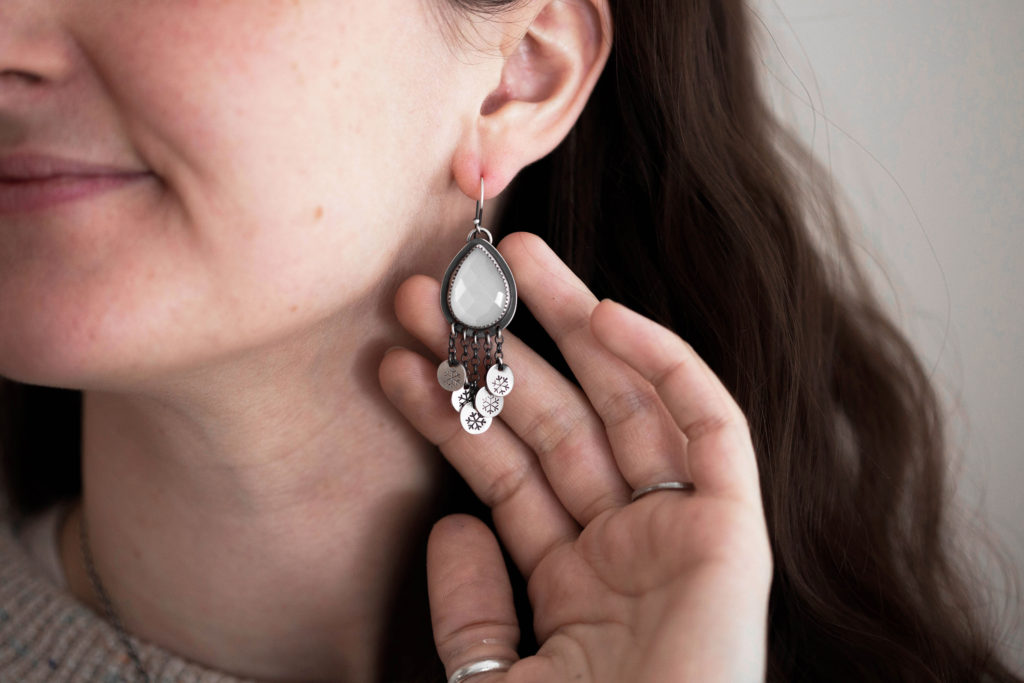 _________________________________________________
JANUARY RINGS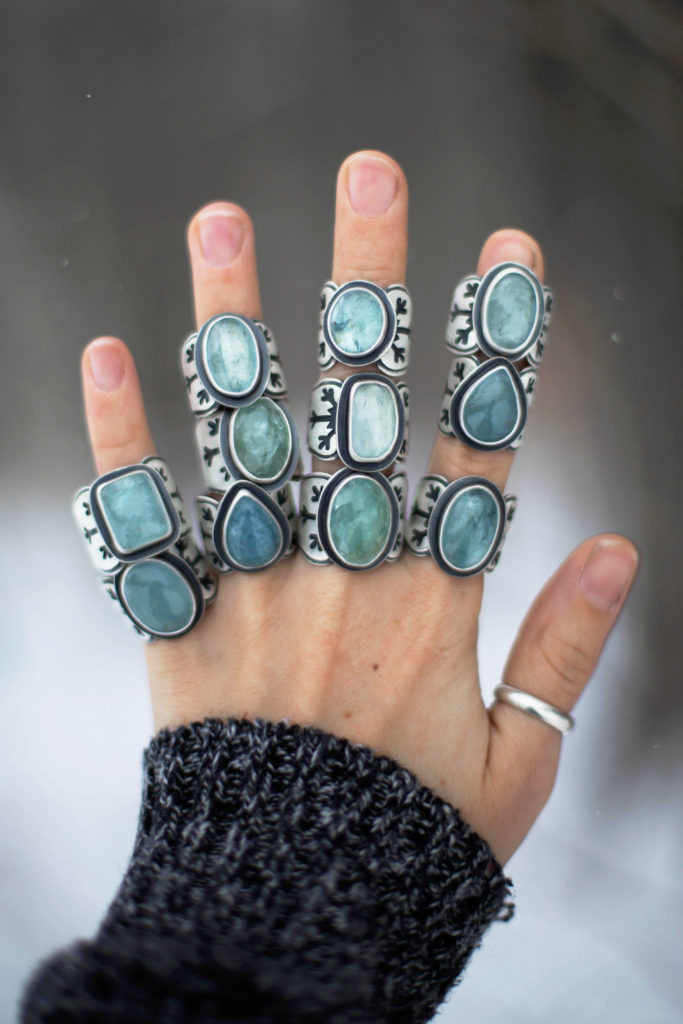 This ring silhouette and double layering technique has become a staple in every one of my collections.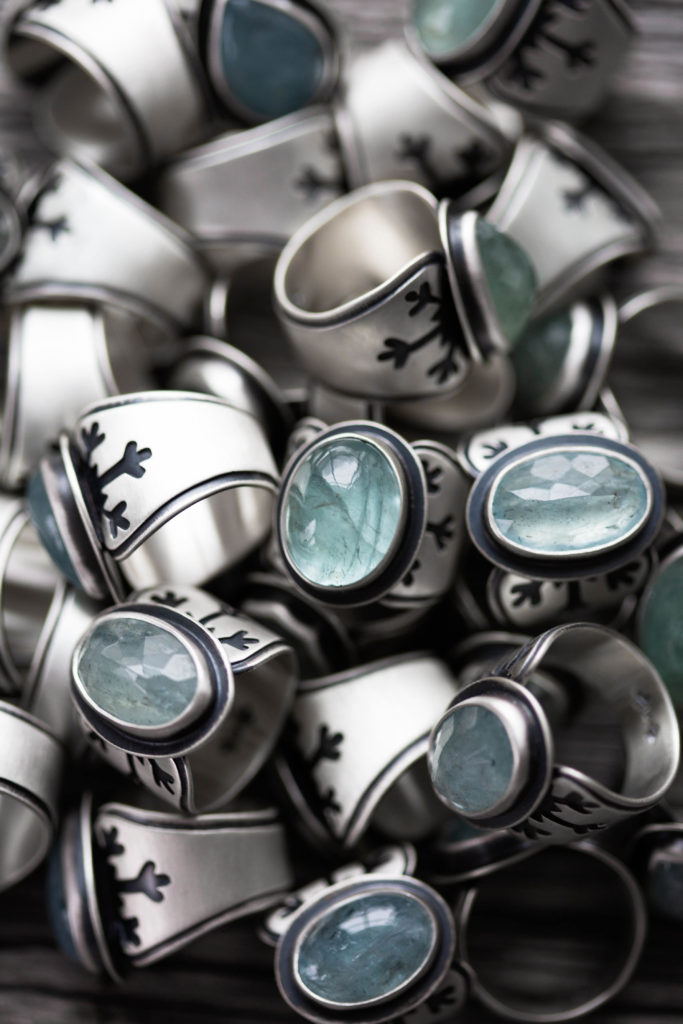 These rings feature icy aquamarines, some smooth, others faceted, as varied as the ice of winter. They crackle with inclusions, like the hastily formed ice of a forest lake.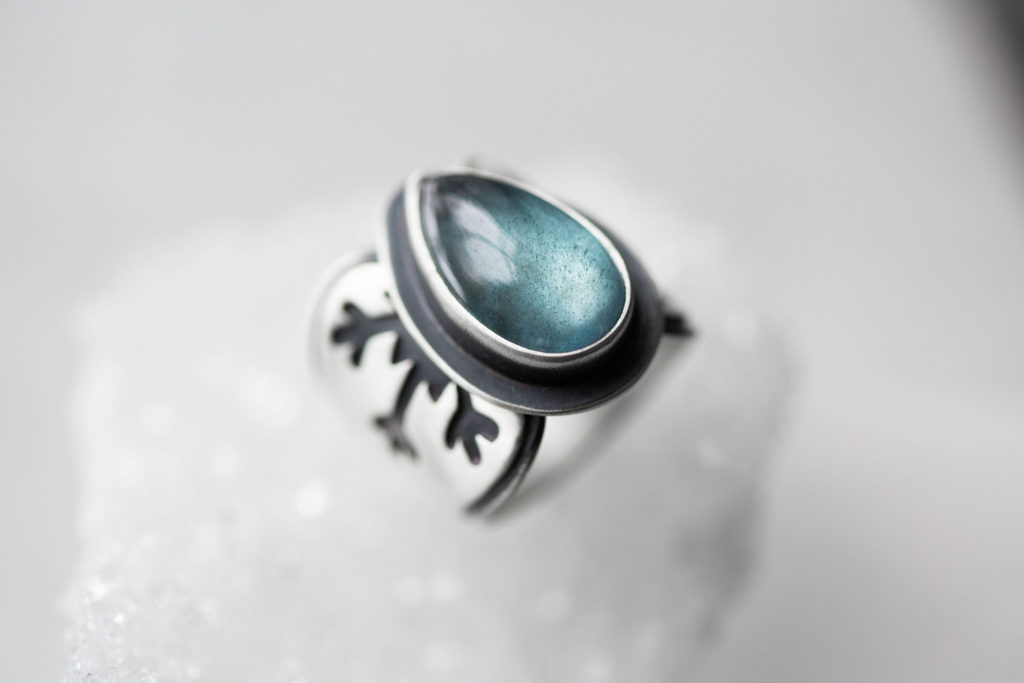 Large slices of winter set atop sloping double-layer bands with snowflake silhouettes tucked under the bezels for safe keeping.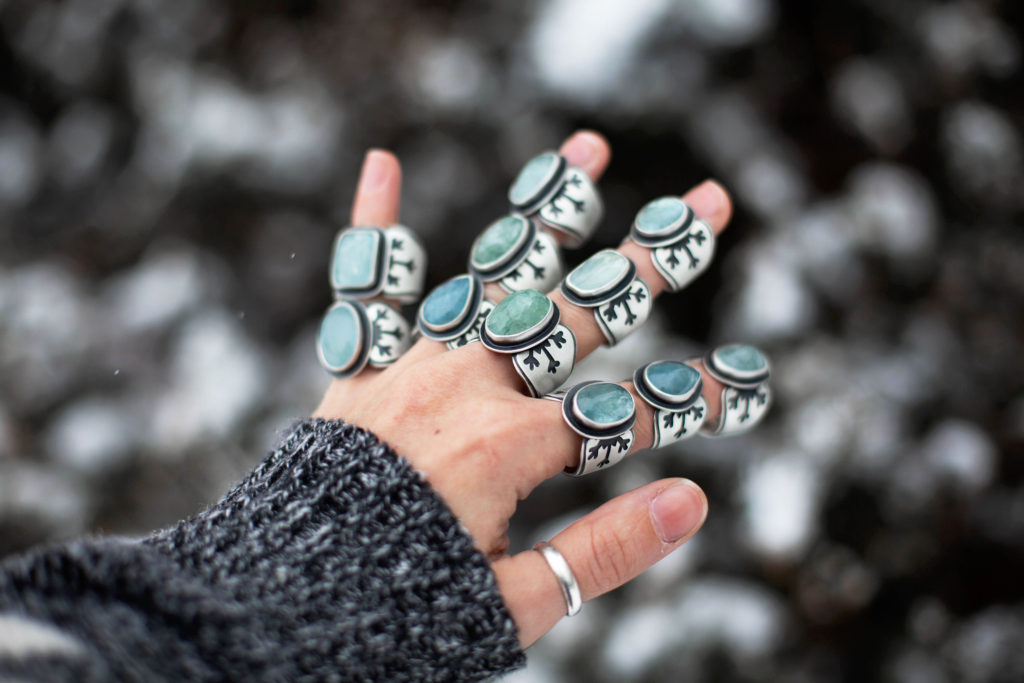 These are sturdy rings made for pulling winter storms down from the sky, and gathering ice shards from mountain runoffs.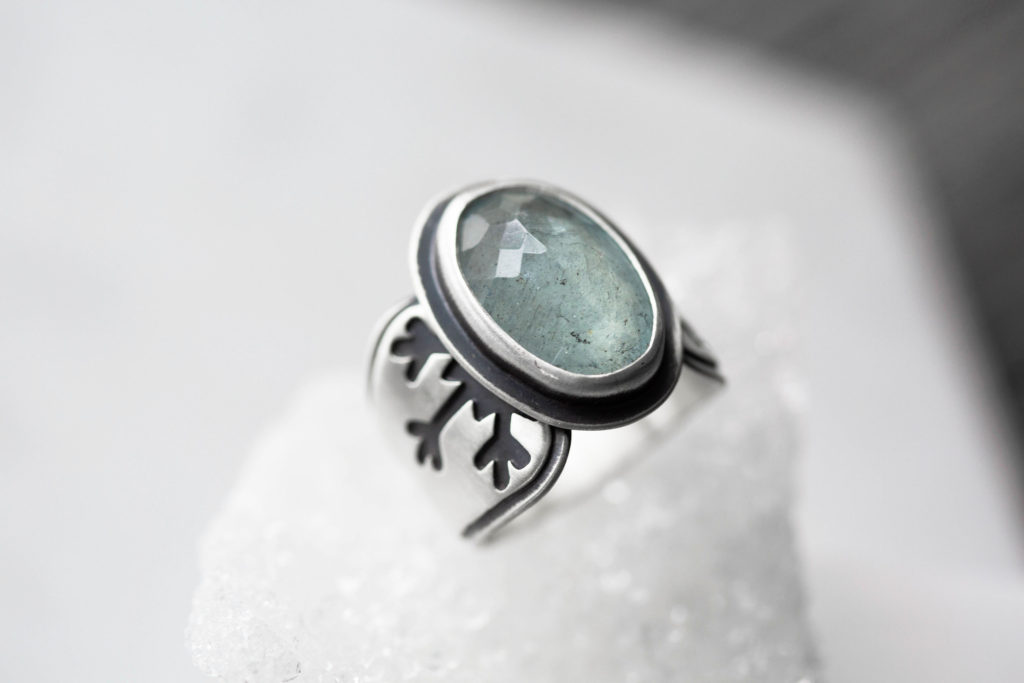 _________________________________________________
FEBRUARY FOREST EARRINGS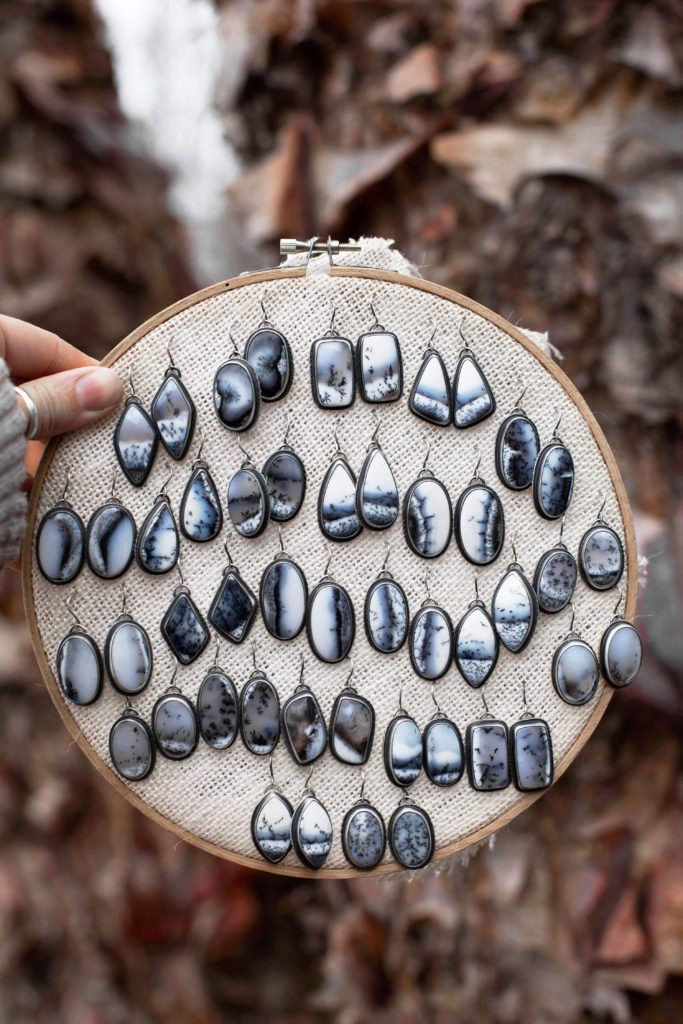 In addition to the light and fluttery earrings I made for this collection, I also made this handful of dendritic agate beauties.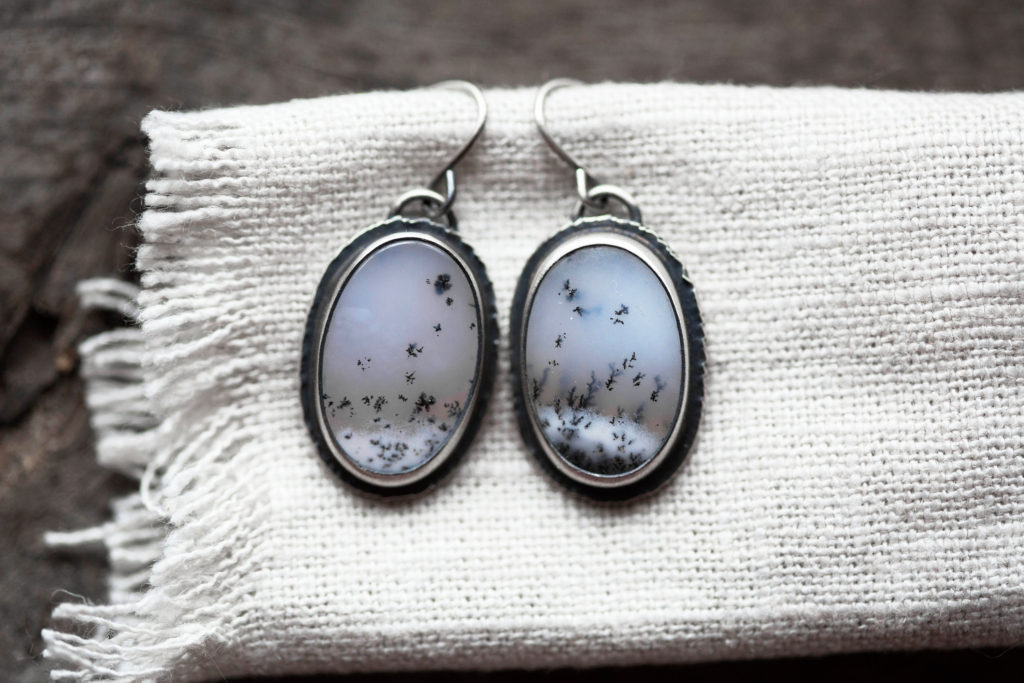 The stones in each pair were cut from the same rough, meaning that they match very well and in some cases are the mirror image of the other.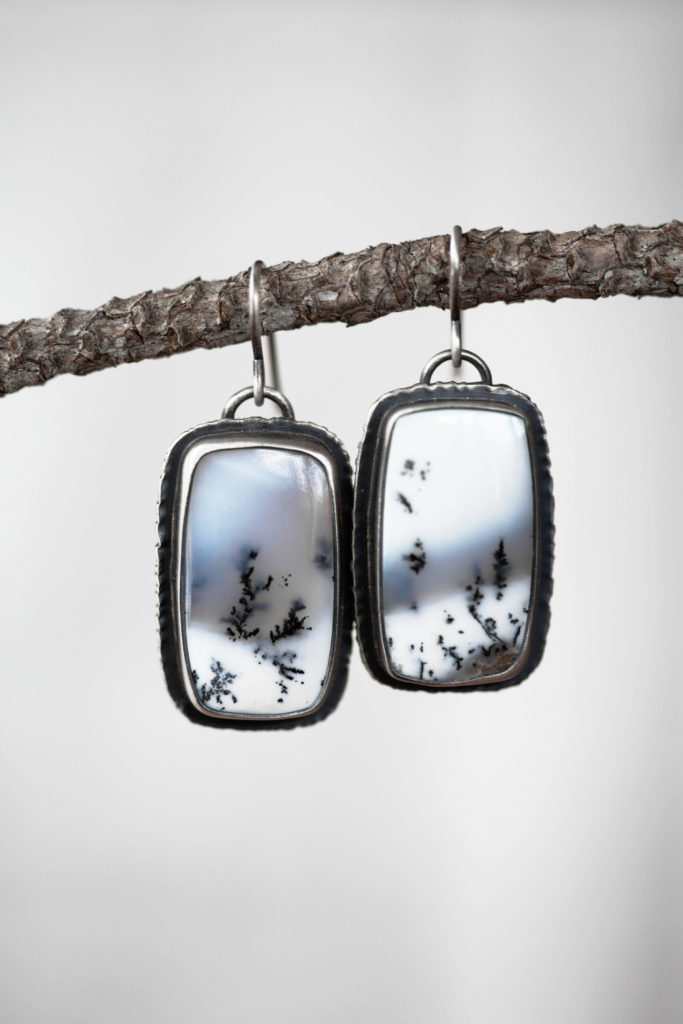 Like on a February forest hike and encountering snowy fields and stark forests both on the way in and on the way back.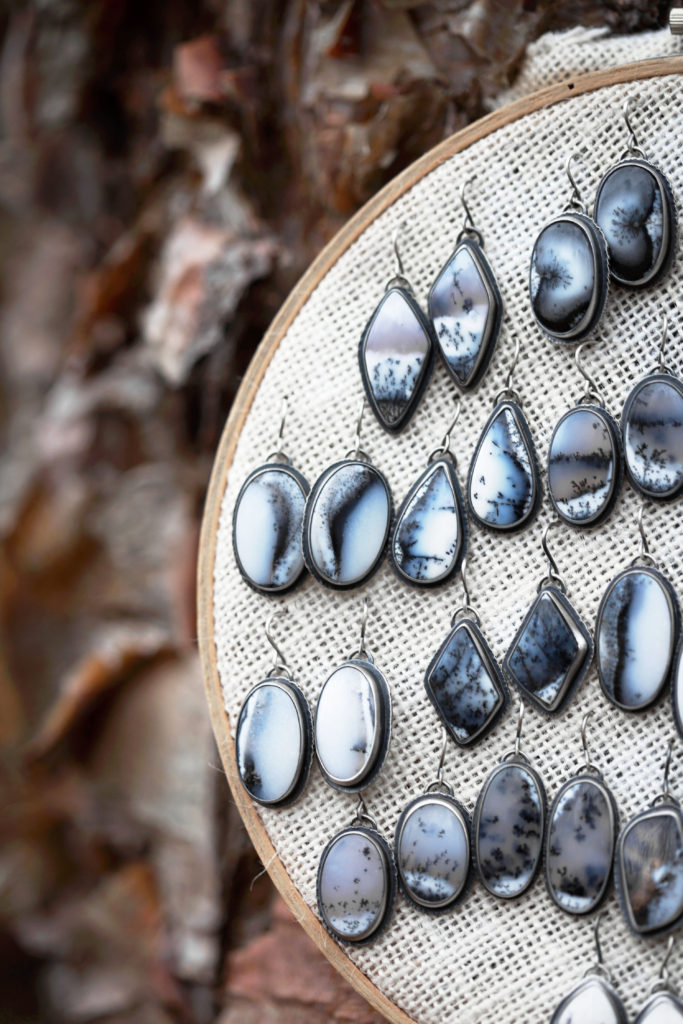 I have sawn them with rims around the stones and then textured them to look like tree bark.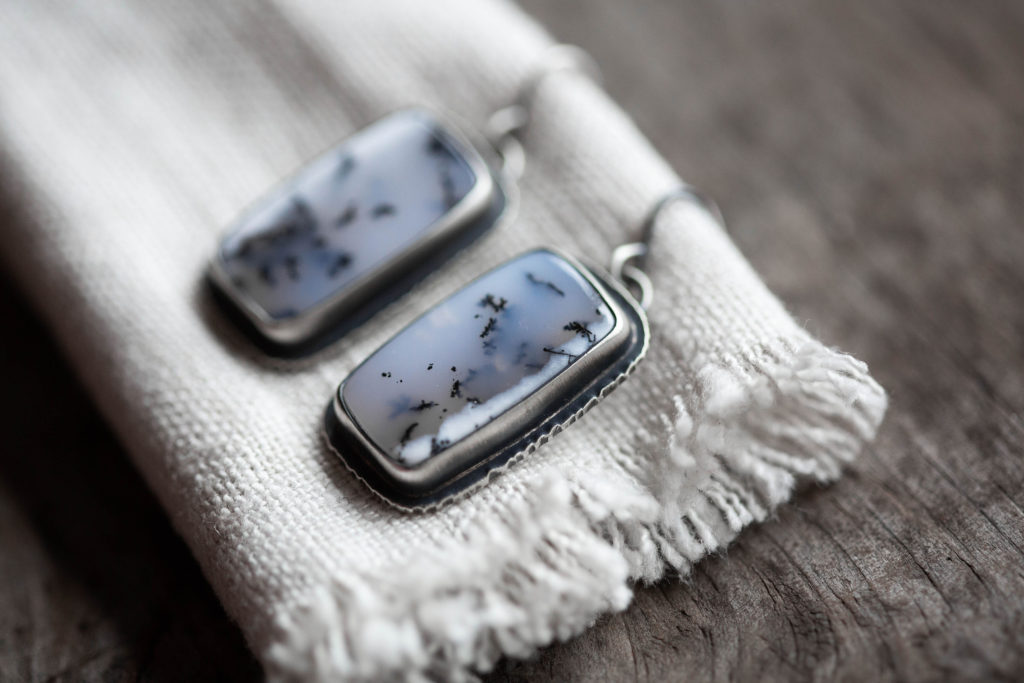 Rough and silver, like a wintery pine.
_________________________________________________
CRYSTAL CAVE NECKLACES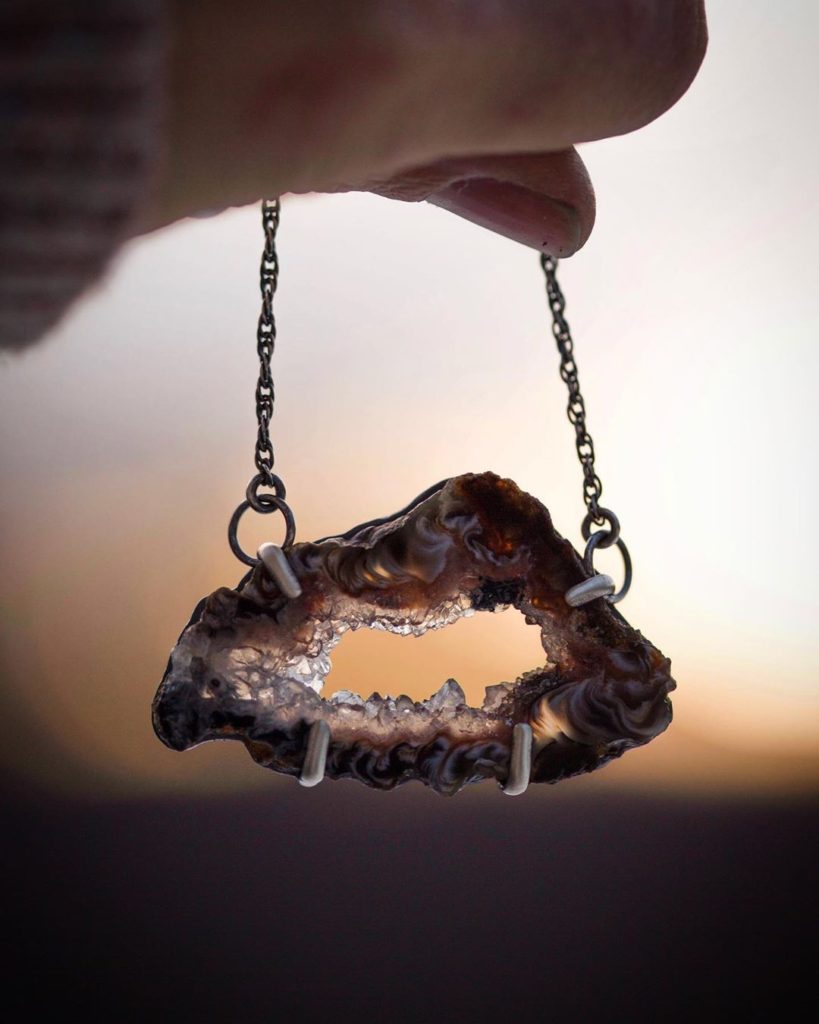 "It's the great, big, broad land 'way up yonder,
It's the forests where silence has lease;
It's the beauty that thrills me with wonder,
It's the stillness that fills me with peace."
– Robert Service, The Spell of the Yukon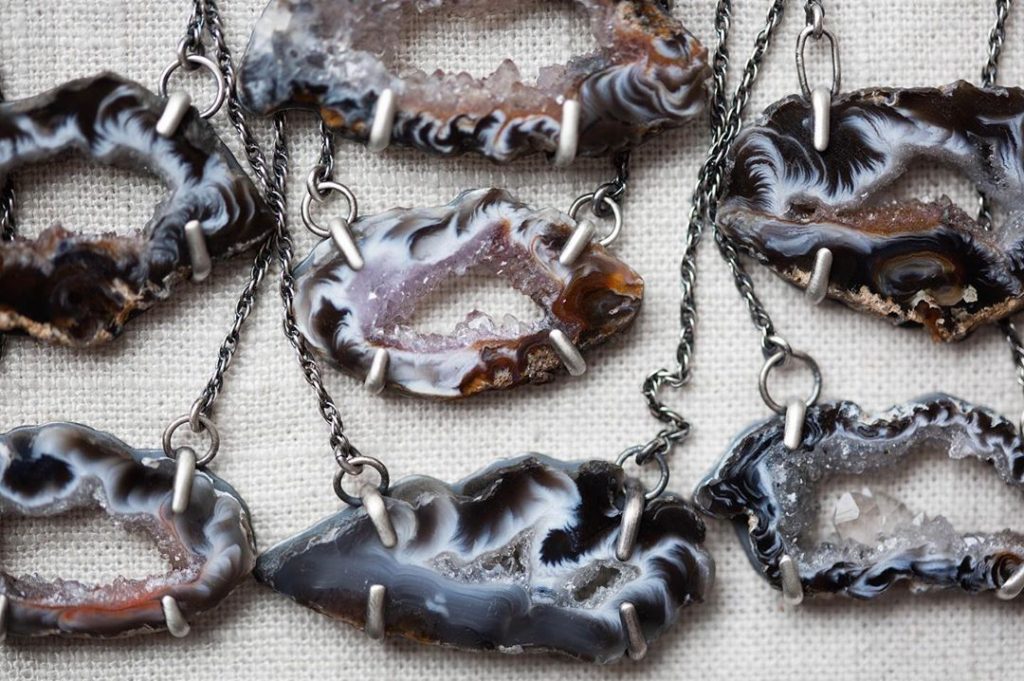 This collection began with Robert Service, bard of the north. I go back to this collection of verse every winter, songs of crest and crag, tales of ice and isolation.
These necklaces in particular make me think of Robert Service.
_________________________________________________
FEBRUARY FLIGHT CUFF BRACELETS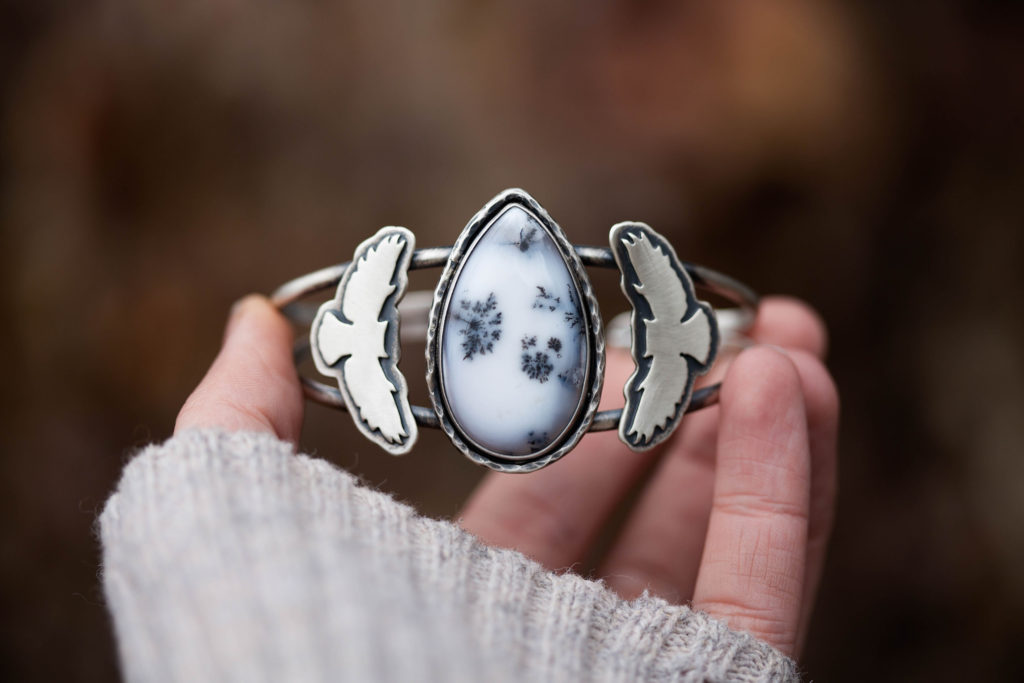 Holding a dendritic agate is like peeking into different snow-covered vistas; some have tiny fields of snow beneath dusky skies and others show veritable snow-squalls amidst leafless trees. All swirl and chill.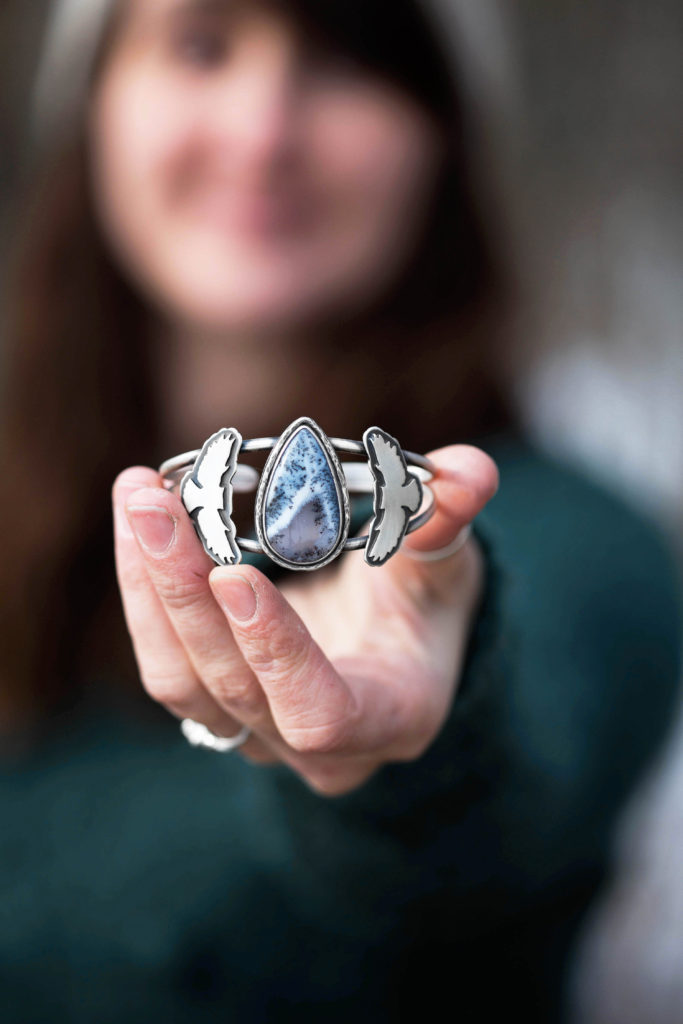 And for these cuff bracelets, I have added two owls in flight over a snow covered field of dendritic agate. Patiently circling, stewards of winter.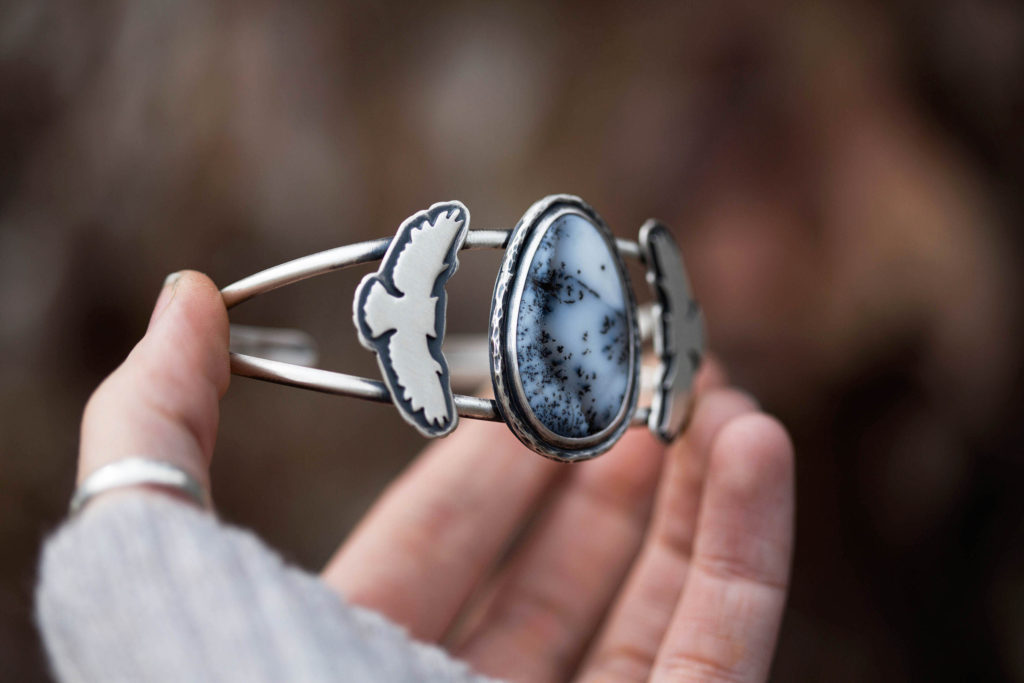 Set atop a double half-round adjustable band. There will be eight cuffs, six measuring 5.75″ with a 1″ gap (S/M) and two measuring 6.75″ with a 1″ gap, (M/L).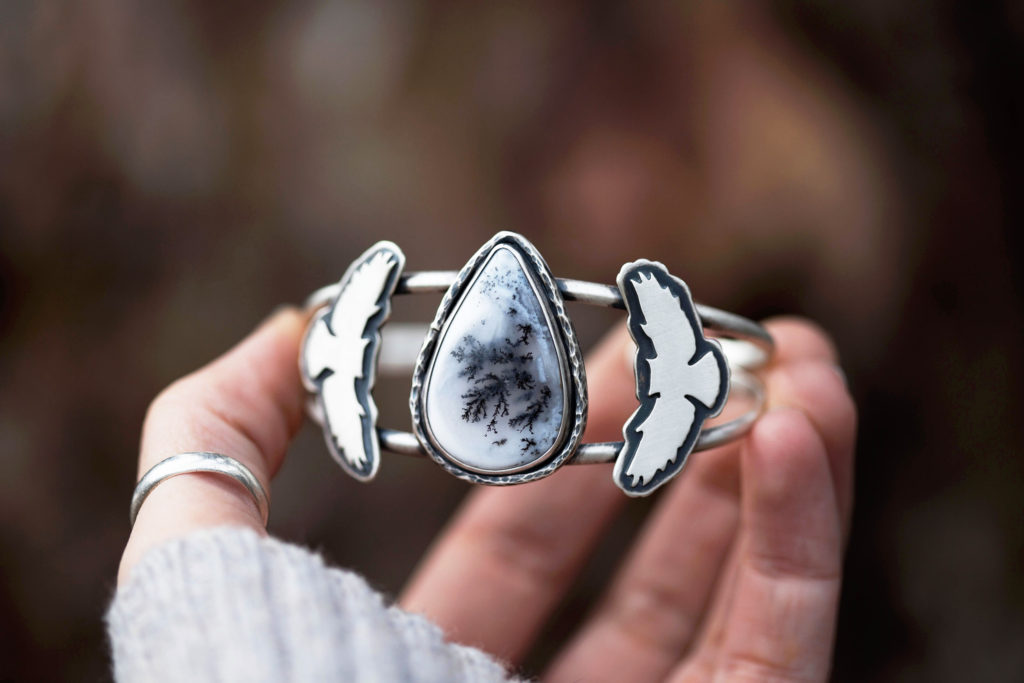 _________________________________________________
WINTER SAPLING EARRINGS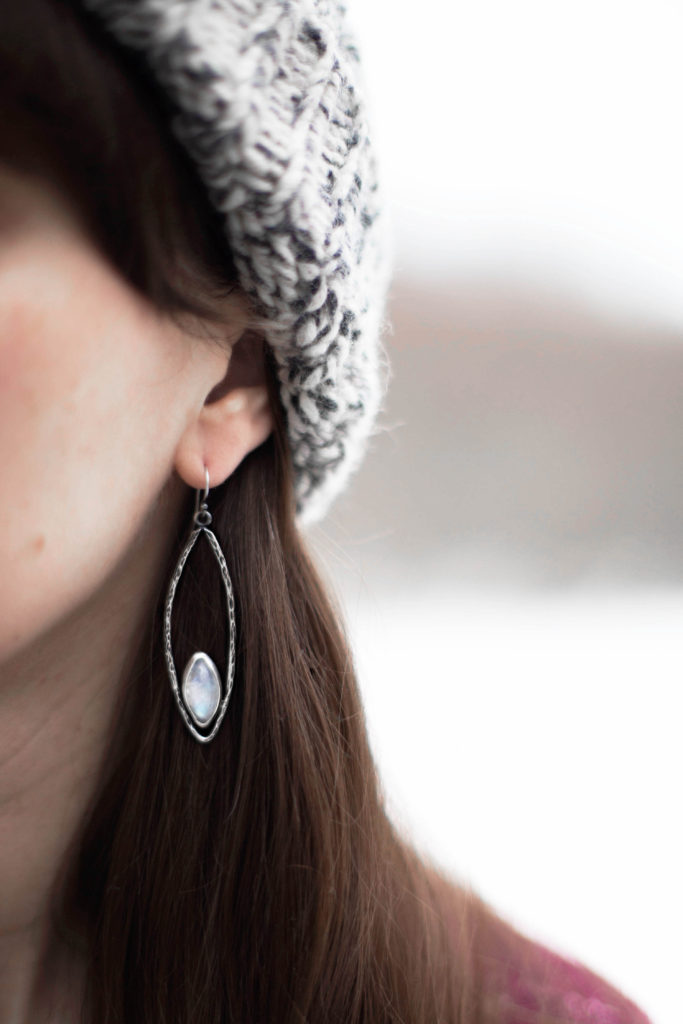 Perhaps my favorite earring design. Each earring features a delicate rainbow moonstone flashing icy blue.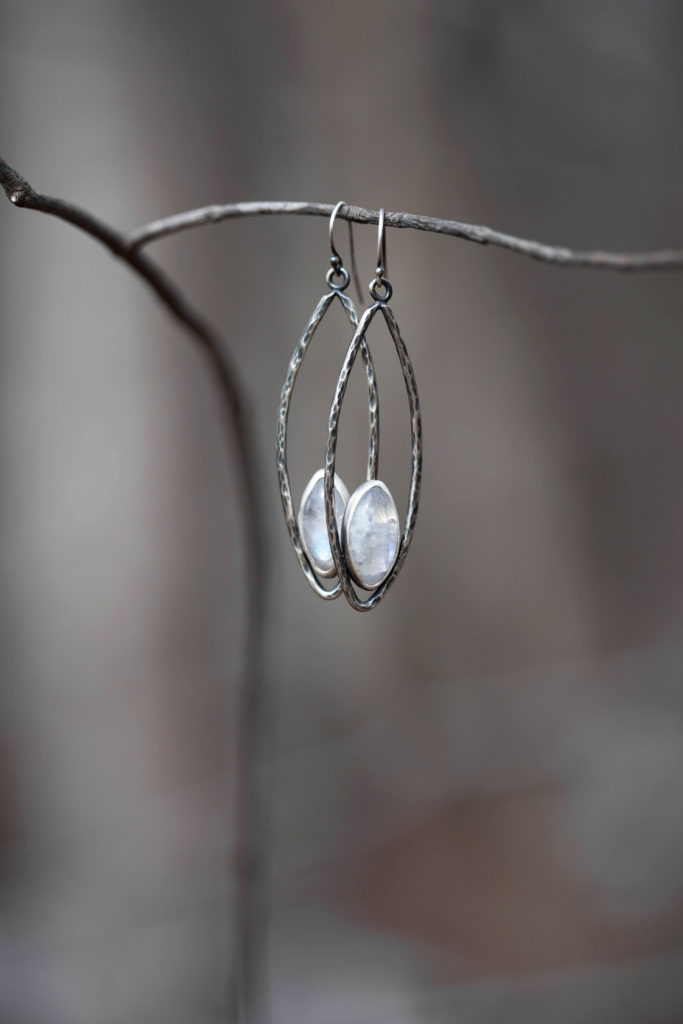 It is suspended amidst a bent sterling twig, like a drip of ice caught by an outstretched branch.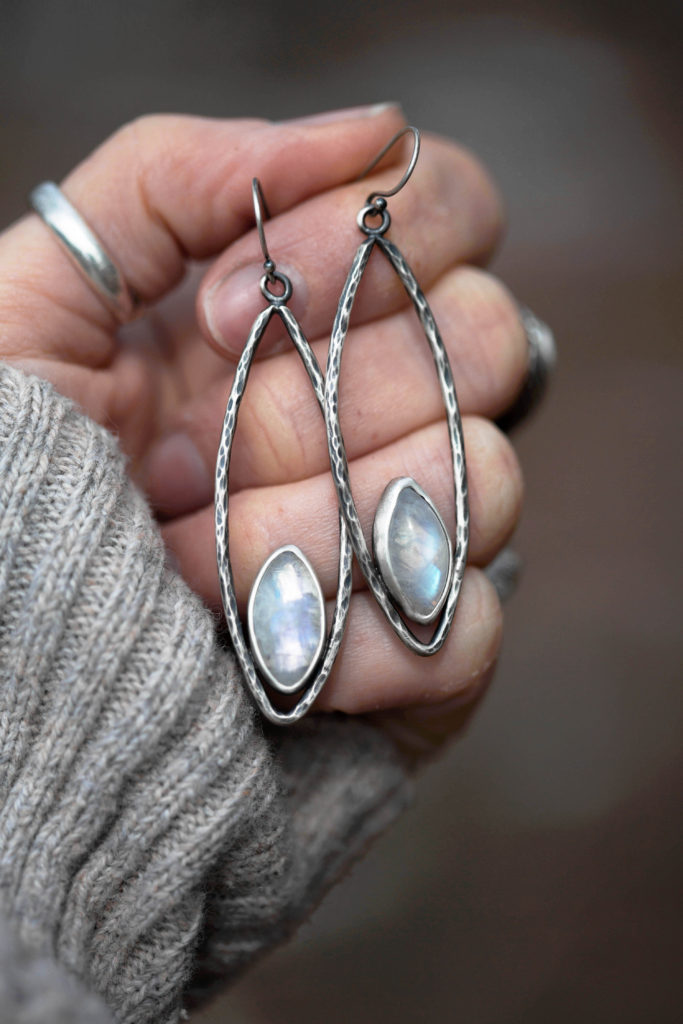 SPECIAL NOTE: The release of these earrings is going to be delayed by a few days. I was hoping to finish them in time, but alas, I was not able to. Keep an eye on my Instagram page for an announcement regarding when they will land in the shop. Likely it will be in the next week or so. There will be a few dozen pairs available.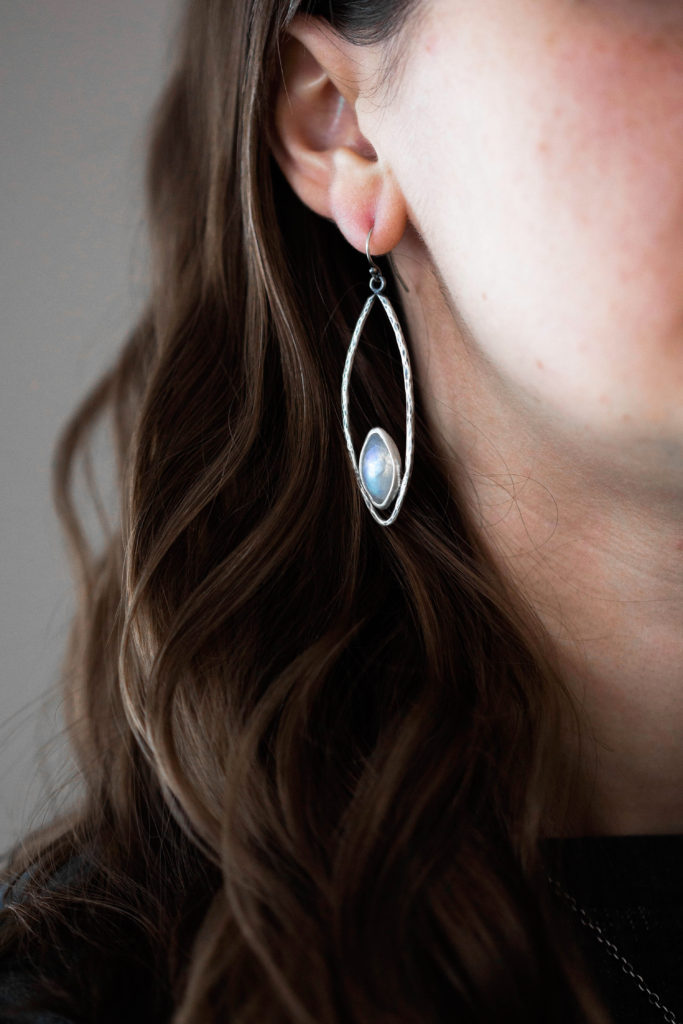 _________________________________________________
And that is everything that will be included in this year's North Wind Collection!
One thing I did want to mention is that it is unlikely these designs will be repeated next year, as I was only able to complete about half of my planned designs for the release. I have sketches and gemstones that were reluctant to be tucked away until next year, so next year I will focus on all new designs in the next North Wind offering. So if you have fallen in love with a design from this year's collection, just a heads up that it will likely be a few years before I revisit it.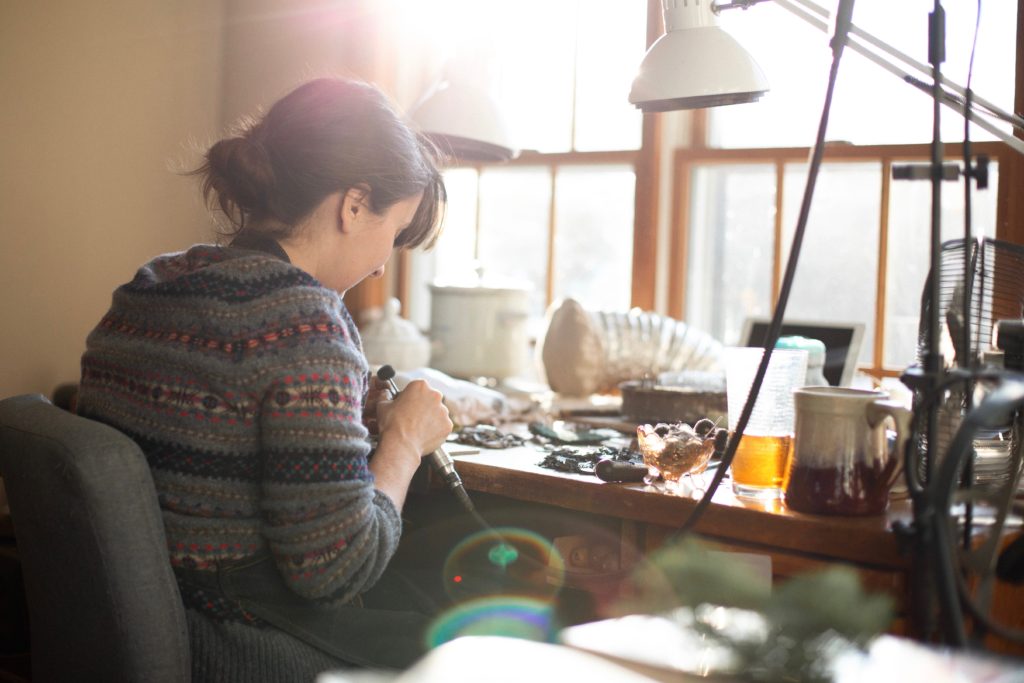 Also, since we find ourselves in a rather precarious public health situation due to Covid-19, for those of you in states/countries where there are shipping restrictions due to Corona, or for those who just wish to be cautious, I can hang onto any purchased you make and ship at a later date of your choosing. Since these are first come first served, I cannot reserve items, but I can delay shipping for as long as is needed. All you have to do is leave a note in your order or send a message on Etsy after checkout.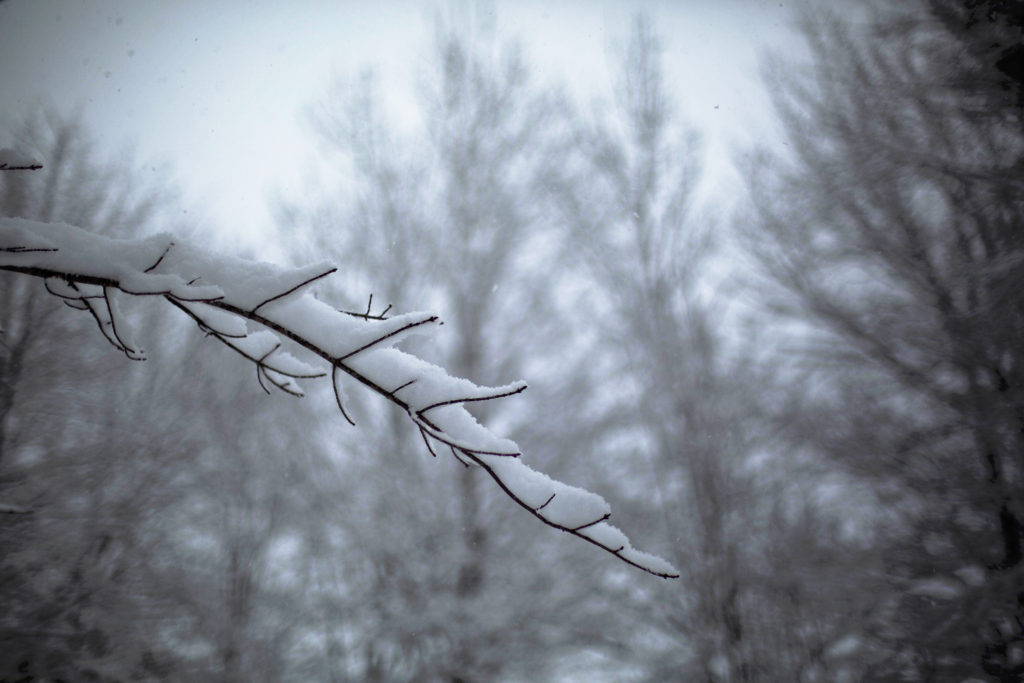 All the North Wind pieces I have been previewing the last few months will be in tomorrow's shop update. Everything lands in the Etsy shop at the same time, Sunday, March 22nd at 1:00 p.m. EST. It is first come first served, to give all a fair chance to claim the pieces that are calling.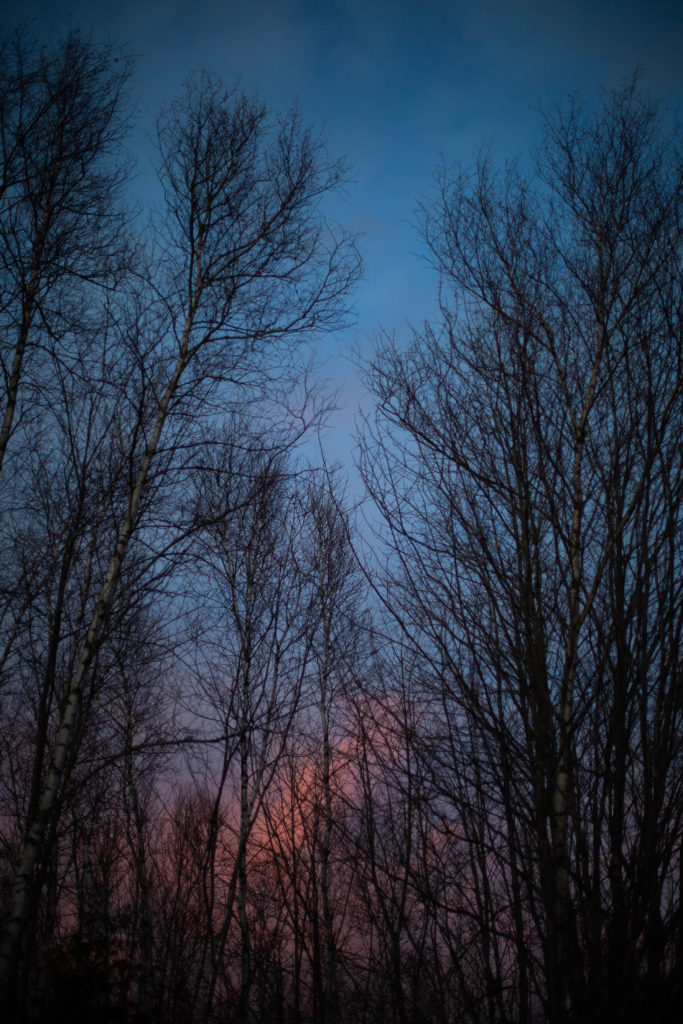 See you tomorrow!